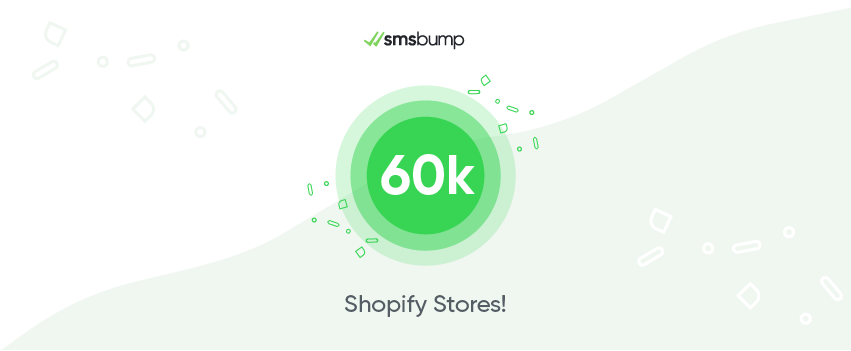 Celebrating a New Milestone: 60k Shopify Stores!
They say celebrations are just as important to businesses as they are to families. We at SMSBump are very proud to announce that this month we reached our 60,000th store!
The business grew out of a friendship between Mike Stoychev and Georgi Petrov, who, despite facing a lot of doubts, could foresee the benefits of text marketing and envisioned its bright future.
Regardless of the few obstacles they had to overcome on the way up, their hunch turned out to be right: the company reached its first milestone of 10,000 stores in June 2019. Only three months after, we celebrated our 15,000th user. SMSBump started 2020 with 24,000 stores and managed to double this number in just 5 months!
Our 60,000 active Shopify users have built a substantial SMS subscribers base of 80,000,000 people, or almost the number of citizens living in the top 3 of the most populated states in America - California, Texas and Florida! Imagine all the SMS and MMS flying around the globe!
Actually, the text messages we've sent in the last 2 and a half years generated over $276,000,000 in revenue for our brands, and more than 3.5 million orders.
All of this comes with great pride, but with even greater responsibility - to keep providing merchants with the most advanced and highly-competitive features, and help them grow with us. And the key to continuous development - always learn from past mistakes, know what your strong sides are, but be aware of where your weaknesses are, too.
That is why we decided to pause for a moment and share our insight on the challenges and lessons we learned on the way to winning the trust of over 60,000 brands.
Importance of Agility
"There is nothing like a challenge to bring out the best in man." Sean Connery
Throughout the years, the eCommerce world kept changing, and so did we. Trends shifted, customer behaviours changed, but we always managed to keep up and stay ahead of the curve, adjusting our platform accordingly.
But 2020 surprised all of us and brought us something that changed not just our lives, but how the world works. COVID-19 made us reconsider what's really important and showed us exactly how susceptible we are to change. The global pandemic challenged businesses, industries and entire countries in an unprecedented way and we all had to learn how to adapt to the new reality.
But it is not what happens to you, it's how you react to it that matters. And we are happy to say this crisis has made us stronger, better. Even separated, working remotely from the comfort of our homes, our team is more united than ever. We proved that with extra effort and agility we can overcome any obstacle.
They say a new challenge keeps the brain kicking and the heart ticking… and boy, did we do some serious kicking and ticking in the past few months!
March, April and May 2020 were one of our busiest and at the same time - strongest months overall. Since we figured small- and medium-sized businesses would be affected the most by the circumstances, we focused our efforts on helping them remain competitive. Amidst the outbreak, we launched our COVID-19 response, giving merchants some extra support in the form of resources, free trials and bonus startup credits. We also released templates and materials to help merchants address the situation appropriately, and navigate these uncertain times. In the meantime, we had to quickly reorganise work schedules, create new routines and make sure all team members had the necessary resources to continue fulfilling their daily tasks from home.

In the last 3 months our teams continued to work on features that would help merchants scale their businesses and give marketers creative ideas how to create engaging and successful campaigns - taking advantage of big retail events to grow.
Our main goal, as always, remains to give store owners the right tools at the right moment of their growth. Тhat is why in the beginning of May we introduced our new pricing plans with updated packages. They are focused on helping merchants use some of the best SMSBump features and tools with pricing - tailored to their marketing goals.
To say that we were busy would be an understatement :)
Importance of Inspiration
"When inspiration doesn't come, I go halfway to meet it." Sigmund Freud
We have talked before about the many lessons we have learned along the way, but with the celebration of our 60K Milestone we would like to reflect on the importance of inspiration.
And where do we find ours? In the amazing contacts and partnerships we continue to expand and nurture! Each of these partnerships taught us new lessons, gave us new business perspectives, reminded us to stay humble and always play nice, but most of all - fueled our inspiration to reach new heights! And now we feel more confident than ever of our platform's bright future, and that of text marketing as a whole.
The last several months showed us how important it is to always stay connected with the leaders and bright minds of today's eCommerce world. Not only are these friendships impactful for our team, but they help us in our mission to educate more merchants on the benefits of SMS marketing and how best to use the channel to its fullest potential.
This is why we want to give a big shout out to people like Kamil Sattar, Ricky Hayes, Andy Mai and many other inspirational & influential people, who believe in the power of SMS and keep spreading the word to their communities.
Since the beginning of the year we've been working on providing our users with the opportunity to truly embrace omnichannel marketing, and engage with subscribers on multiple platforms. Connecting their SMSBump with some of our new partners, such as Yotpo, Swell, Reamaze, Optimonk, Privy and more, can help merchants offer a truly unique and personalized customer experience.
Among other recent initiatives, it's also important to mention some really valuable webinars we joined, such as Flows on the Fly with Blend, Conversational Marketing Strategies for Uncertain Times with Recart, and Alex Fedotoff's interview with our co-founder Mihail Stoychev.
And last but certainly not least… Shopify!
In January Shopify added SMSBump to its Shopify Marketing activities, which allowed merchants to set up and send text marketing and automation campaigns with just a few clicks! Furthermore, in late May we earned our spot in the list of Shopify Certified Partners which is a major accomplishment for us!
We strongly believe that through our constantly growing network of contacts and partners we become better and better in what we do. And what is even more important - thanks to them we have gained an even better perspective of what our merchants need to be successful. And we are more determined than ever to improve and deliver just that!
Importance of Evolving
"What`s dangerous is to not evolve" Jeff Bezos
It is important to always look forward, especially in the increasingly competitive, constantly changing, progress-driven tech world. If you stop for just a second, you are already running behind. Led by this, we aim to stay ahead of the curve and evolve.
In the last few months, our team worked tirelessly not only to enhance and improve some of our current features, but managed to release new ones such as:
- Predictive Gender Segmentation - our brand new gender predictive algorithm allowing better customer targeting
- Conversational Flows - new automation feature that tremendously improves communication with customers, allowing merchants to ask questions engage in conversations, put customers in special lists depending on answers and target even more precisely with special offers
- New Revamped Analytics tool
- New Enhanced Chat
We couldn`t be more proud of our latest product improvements! All these new features and perks came to be thanks to all of you who shared your feedback with us and gave your amazing ideas and suggestions.
We have many upcoming surprises up our sleeves and are very excited for what the future holds.
Celebrate the Past by Looking Forward
In order for a(ny) business to become successful and be sustainable, you always have to think at least one step ahead, try to plan better, forecast global trends, and adapt.
And that is why we feel that the best way to celebrate this important 60K milestone is not only to take a moment to reflect on the past, but also to share some of our future plans and goals.
And who can give better insight than our CEO and Co-Founder Mike Stoychev:
"SMSBump will carry out its mission to bring conversations back to where people engage with them - in their text inboxes. We will pursue our goal to reach even more eCommerce merchants and arm them with all the necessary tools to engage in SMS marketing and make it one of their top revenue sources. True to our values, we will underpromise, overdeliver and continuously improve".
And here's to many more achievements and milestones to come!
Mariya Arabadzhieva Todorova
Start growing today
Sign up today and join 90,000+ eCommerce businesses making it big with Yotpo SMSBump