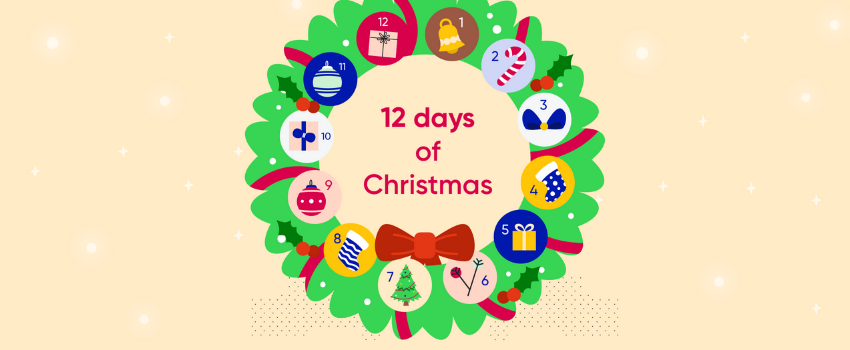 12 Days of Christmas: How to Spoil Your Customers
What special treatment are you giving your SMS subscribers this holiday season? Get inspired by this song that we've written for an upcoming holiday campaign. Christmas carolers get in formation, fill up your tank with reindeer fuel — you're in for a jolly good ride!

Hot Tip: You shouldn't send messages every day until Christmas. Instead, choose a few templates you find engaging from below and space them out accordingly during your Christmas campaign, to avoid overwhelming your subscribers.
Day 1: Send a Warm Welcome
On the first day of Christmas, my favorite store gave to me: $50 off an ultra Smart HD TV.
"Hey Jon, Welcome to the family. You deserve a gift. Here's a $50 coupon to spend on any Smart HD TV of your choice. Gather the kids, it's time for a Home Alone marathon!"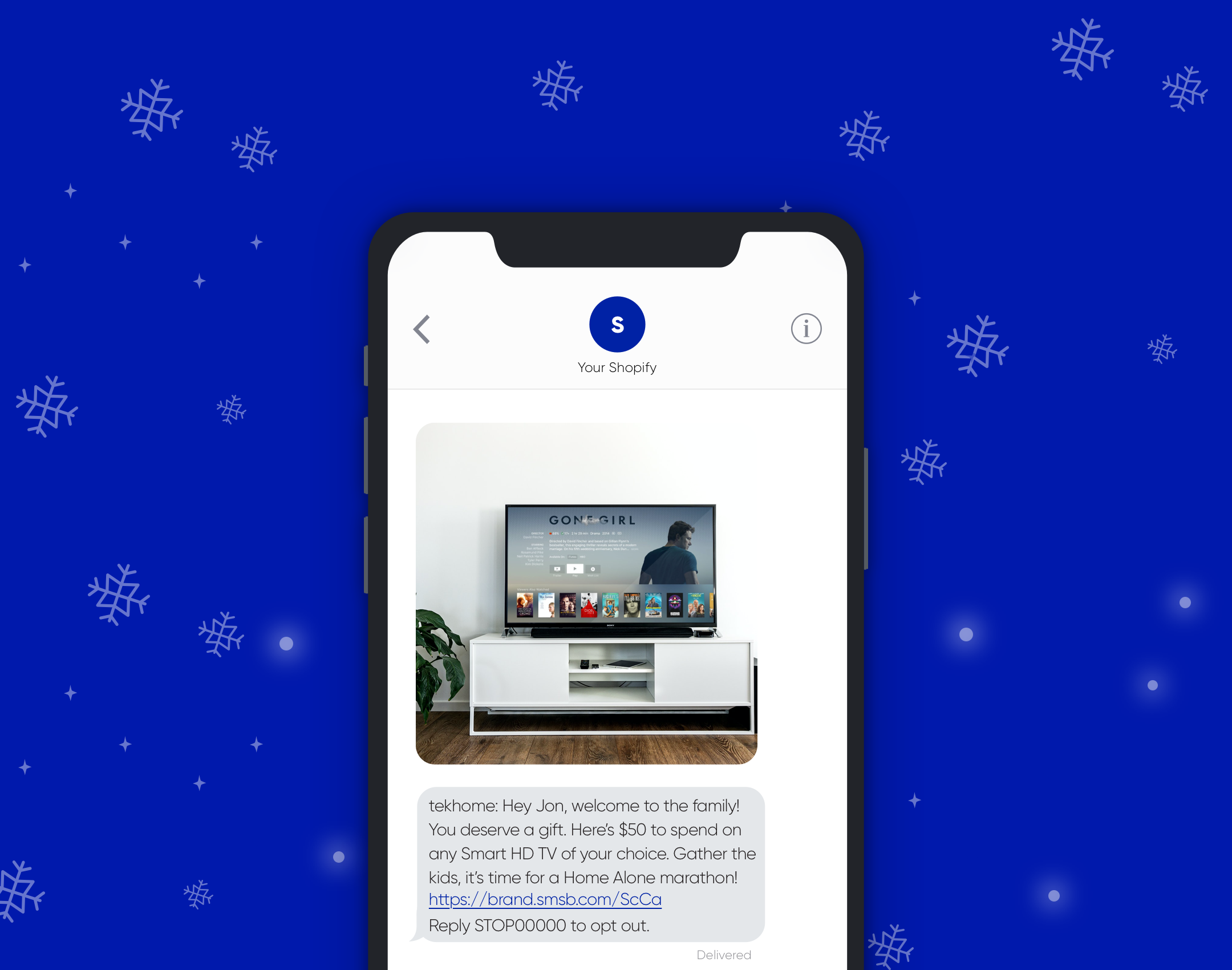 The Benefits:
Makes new SMS subscribers feel valued by offering an exclusive deal on a hot item.

A chance to break the marketing barrier of sounding "salesy" and initiate brand trust and familiarity with a personalized message including the subscriber's first name.

The Set Up:
To learn how to set up a Welcome Flow in SMSBump check out this article.

Day 2: Upsell a Complementary Item
On the second day of Christmas, my favorite store gave to me: a great deal on a TV accessory.
"Ho ho ho Jon, hope your holiday is merry and bright! Ready for the greatest movie night ever? Add a soundbar to your home theater and bring the action to the max. All audio systems now 50% off."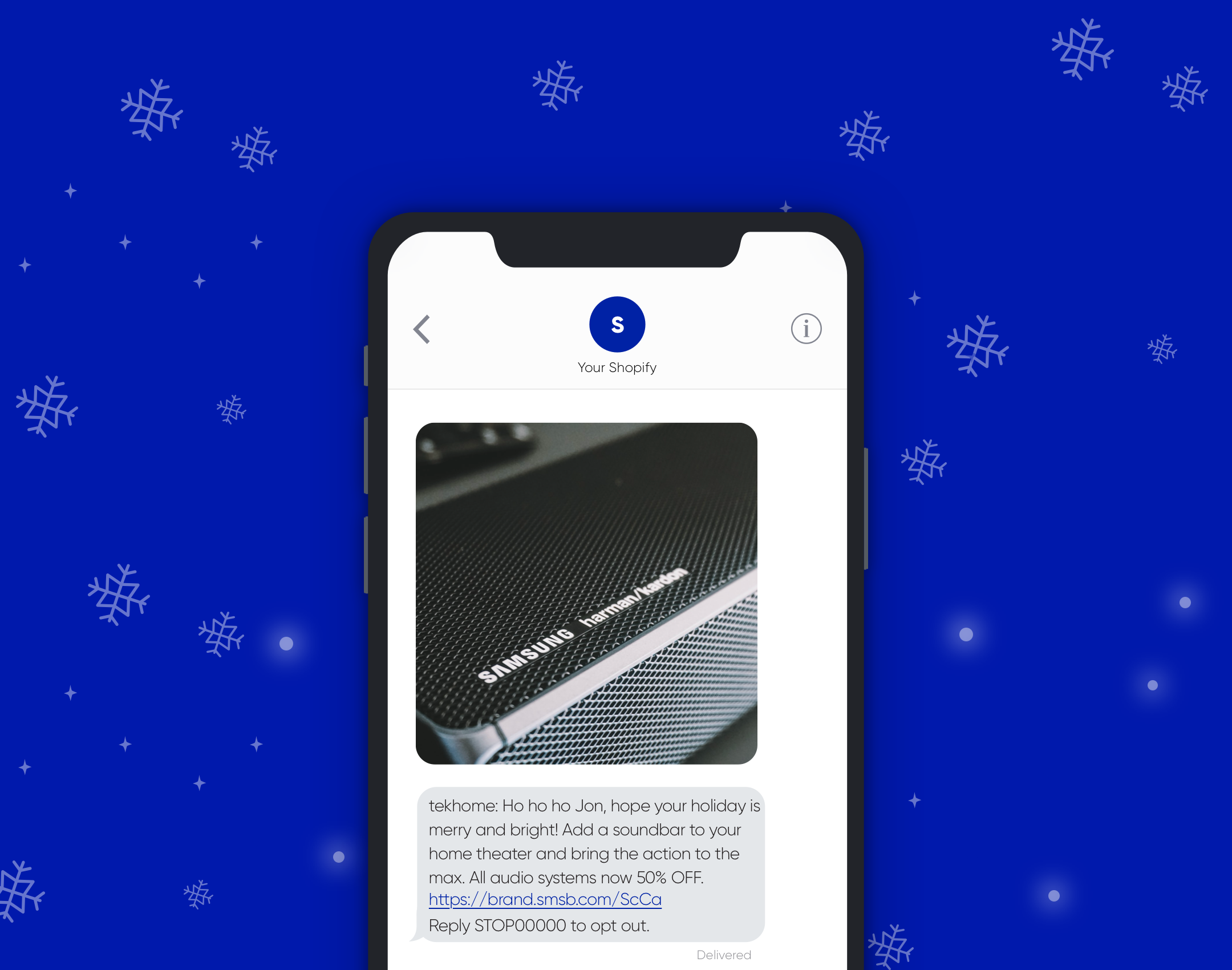 The Set Up:
Follow the steps in this article on how to build and launch a successful upsell flow.

The Benefits:
Boosts profit by making customers purchase additional items.

Increases customer loyalty by offering more product options.

You become an expert at customer needs and start suggesting instead of selling.
Day 3: Add a Popup Offering a Gift
On the third day of Christmas, my favorite store gave to me: an ornament to hang on my tree.



The Set Up:
Read here to learn how to set up a popup in SMSBump Make sure to include an attention-grabbing header text.
The Benefits:
The popup incentivizes customers to make a purchase by adding a gift to their cart after an order quantity or cost limit is reached.

The popup will not only serve as an announcement to your current SMS subscribers but also be an incentive to capture new ones.


Day 4: Let Customers Grow Your Lists
On the fourth day of Christmas, my favorite store gave to me: a $5 coupon.
Omg, is it really Santa? Share this link and the elves might just hand you over $5 in store credit: https://tekhome.smsb.co/AVCO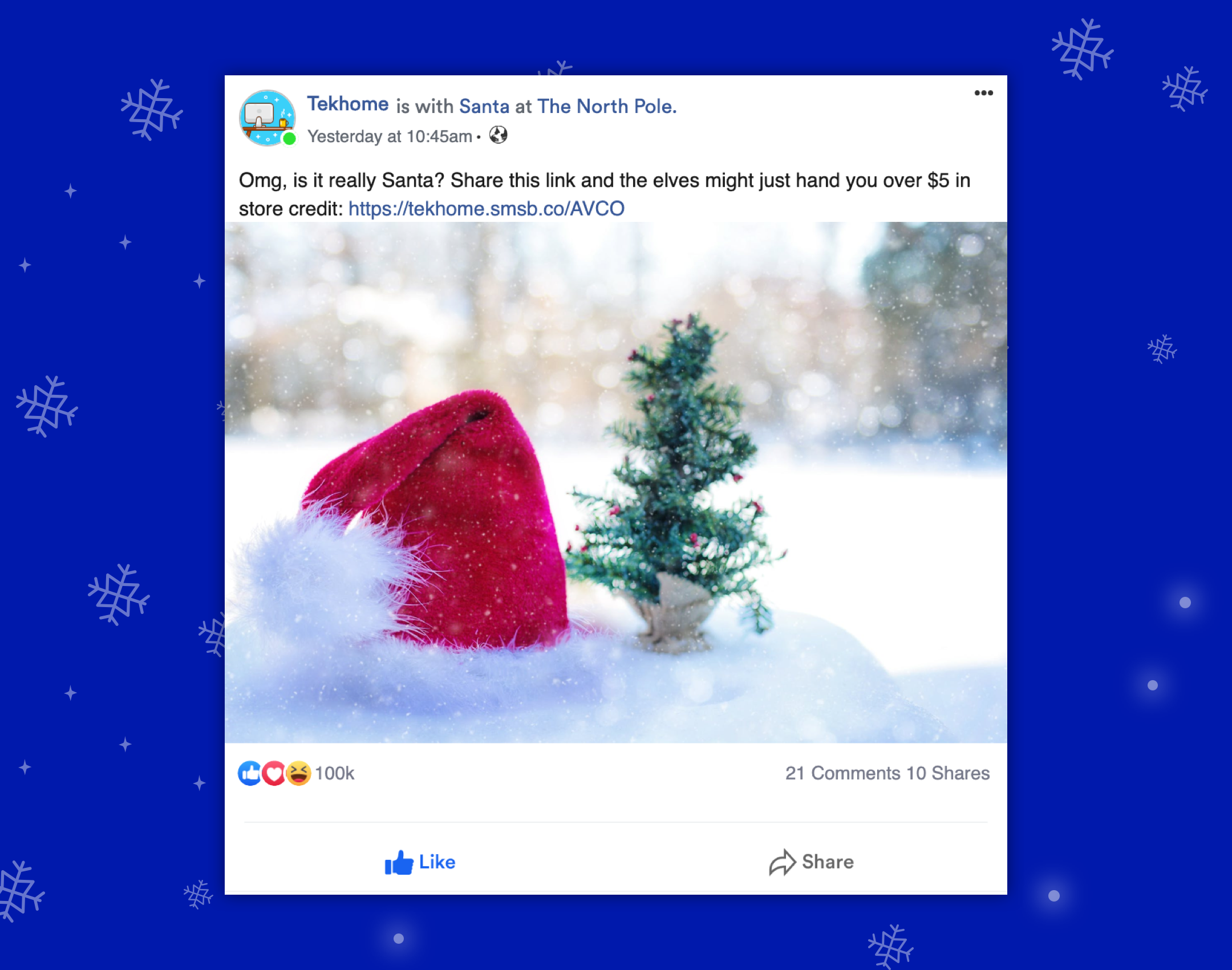 The Set Up:
First you need to create the shareable link that your SMS subscribers will share with their friends. This is how you'll gain new subscribers. Learn how to do that here. Then, post a competition on social media including the link, encouraging customers to share it for a chance to win a $5 store coupon. Use a random result generator to draw your winner, and notify them with an SMS including their coupon.

The Benefits:
An easy and interactive way to grow your SMS subscribers.

Greater exposure on your social media pages and an increase in brand recognition through reliable recommendations from friends.
Day 5: Be a Friend
On the fifth day of Christmas, my favorite store gave to me: gift recommendations for my family.
"Hey Jon, make your mom's heart melt with a digital picture frame that creates a slideshow of your most cherished memories together. 20% оff today only."




The Set Up:
Read this article to learn how to launch a text marketing campaign. Remember to include an irresistible deal on a relevant product you're sure the family member would love to receive as a gift.

The Benefits:
Shows you care about your subscribers by offering them helpful advice during the rush of last-minute holiday shopping.

Gives you a chance to selectively promote products and reduce your inventory.
Day 6: Launch a Gift Box Subscription
On the sixth day of Christmas, my favorite store gave to me: a curated box with awesome gadgets.
"Hey Jon, thanks for subscribing for the tech gadgets box! Next payment of $39.99 will be on 25.1.2020"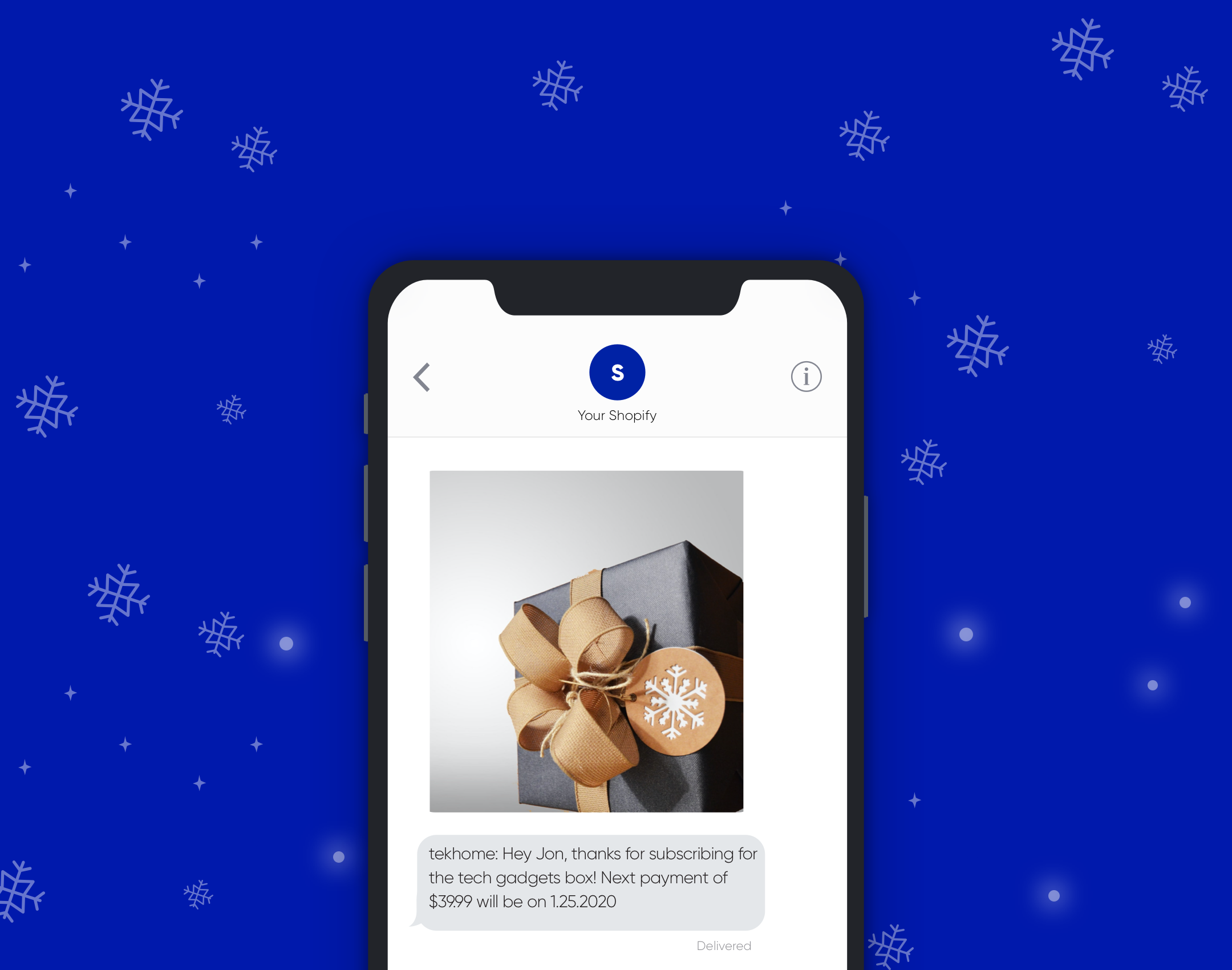 The Set Up:
First, you will need to build a unique box with your best-selling products. Afterwards, you'll need to create a subscription program with Recharge. Read this article to learn how to connect Recharge in SMSBump. You'll be able to notify customers by SMS when their subscription payment has been activated.

The Benefits:
It makes your subscribers feel special by receiving a personalized gift box with hot new items each month.

Creates excitement around your brand and builds anticipation keeping your subscribers eager to open the next package and discover what's inside.


Day 7: Gain Insight with SMS Keywords
On the seventh day of Christmas, my favorite store gave to me: a sports watch band.
"Text WRIST to 81787 to vote for your favorite watch band and a chance to win it!"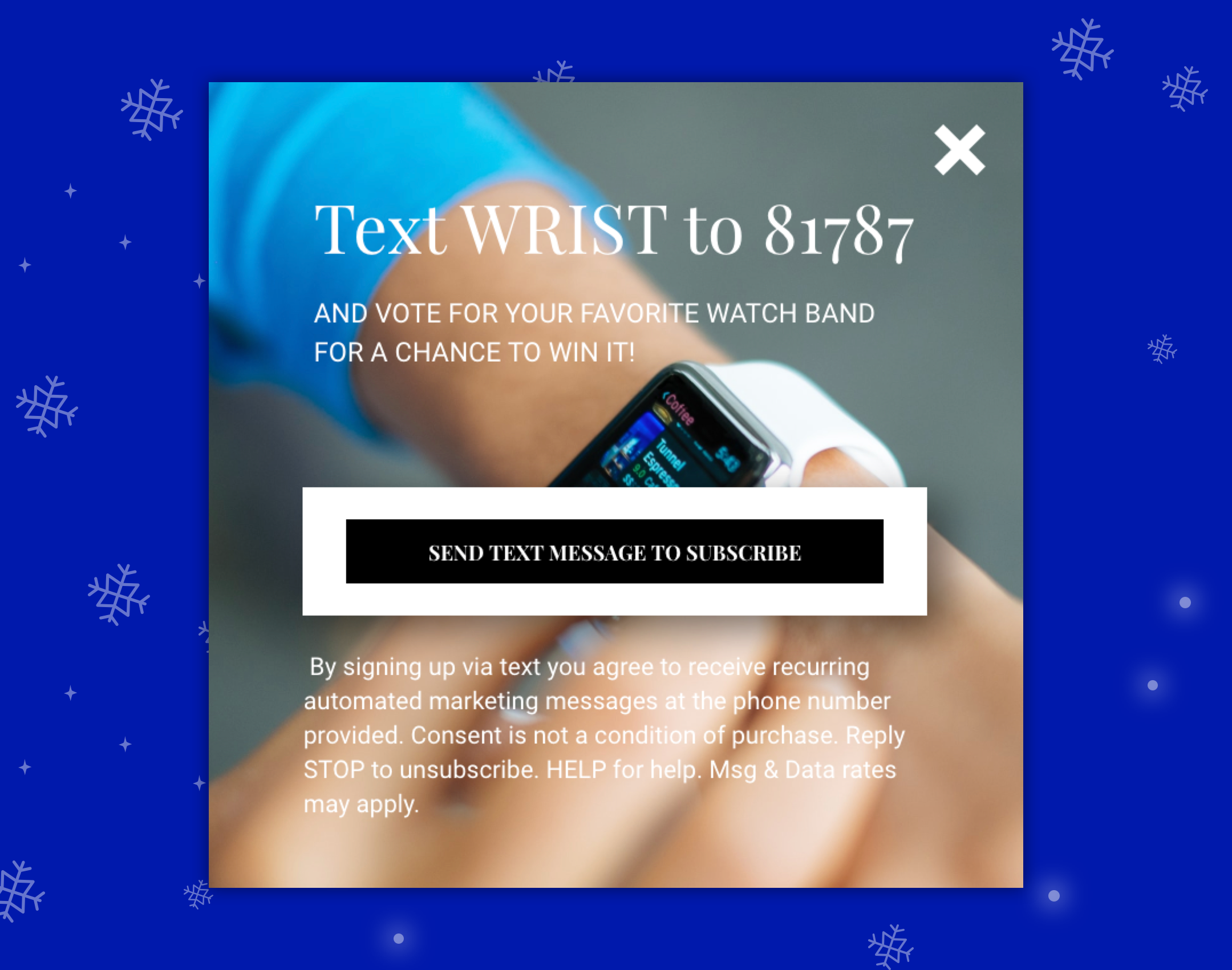 The Set Up:
The process is simple: choose a relevant keyword, encourage your subscribers to text it back to you for a chance to win a store item, and your marketing list will grow with each response. Use a random result generator to select the winner and notify them through a personalized text message. Check out this article to learn how to launch a keyword text marketing campaign.

The Benefits:
Make your SMS subscribers feel appreciated by valuing their input on current trends and related product variants your store offers.

Gain insight on product popularity so you can create relevant collections.


Day 8: Listen to your Customers in SMSBump Chat
On the eighth day of Christmas, my favorite store gave to me: personalized attention.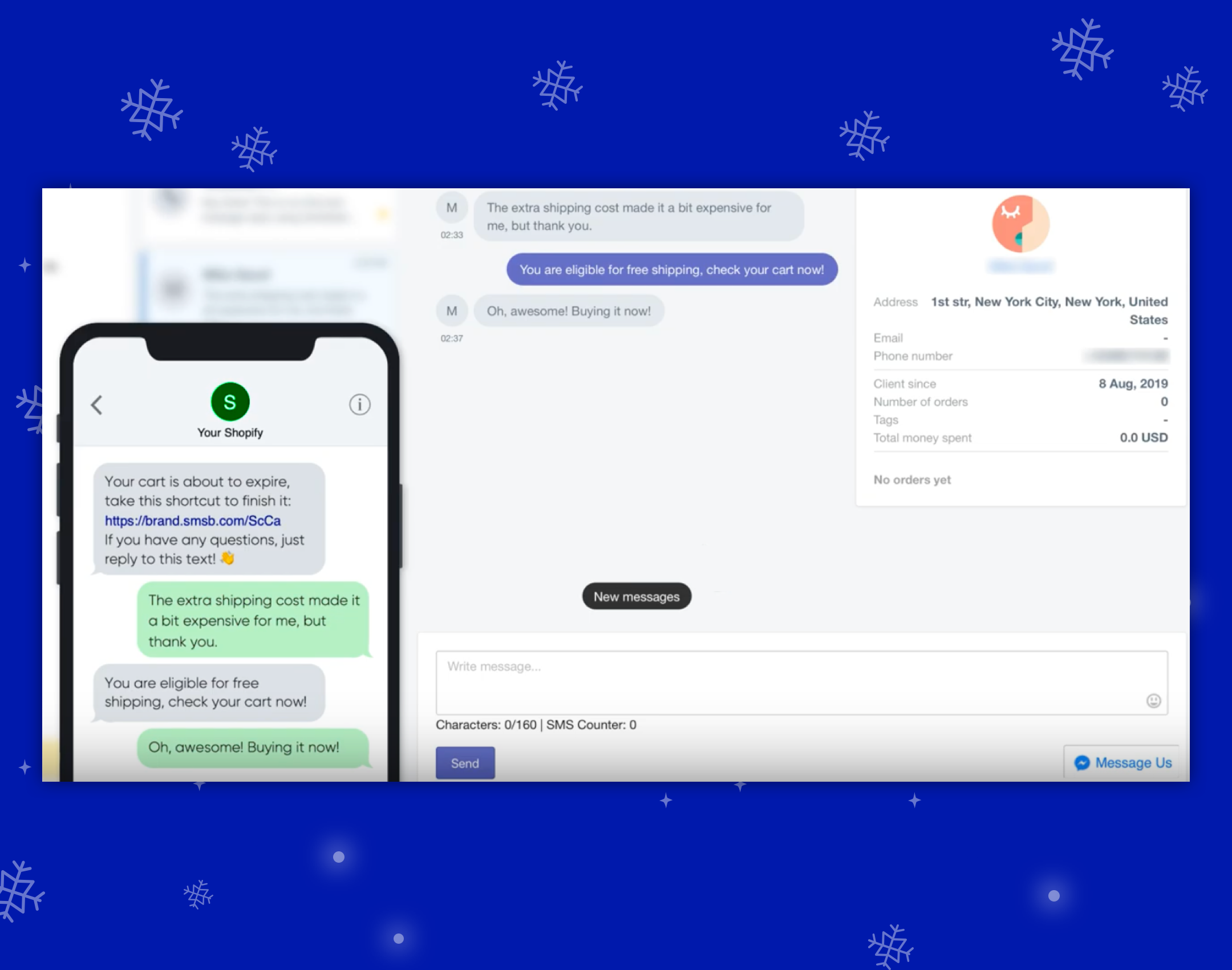 The Set Up:
The conversation starts the moment a customer replies to a text message you sent, and a thread opens in SMSBump Chat. Find out how to enable the feature by watching this video. Use the opportunity to go beyond the sales talk, and try to understand their overall customer experience. In the end, having these types of conversations scores sales by helping make your site more customer-friendly. Some efforts may include creating an order tracking page, adding additional payment options, and editing your checkout page.

The Benefits:
Making changes to improve your store with direct advice from the customers themselves makes the process a lot easier than doing the guesswork yourself.

Spending time talking to your customers without trying to sell them something proves that there are other important factors to a successful store than making a profit.


Day 9: Turn Your Holiday Shoppers Into Loyal Customers
On the ninth day of Christmas, my favorite store gave me: 100 loyalty points.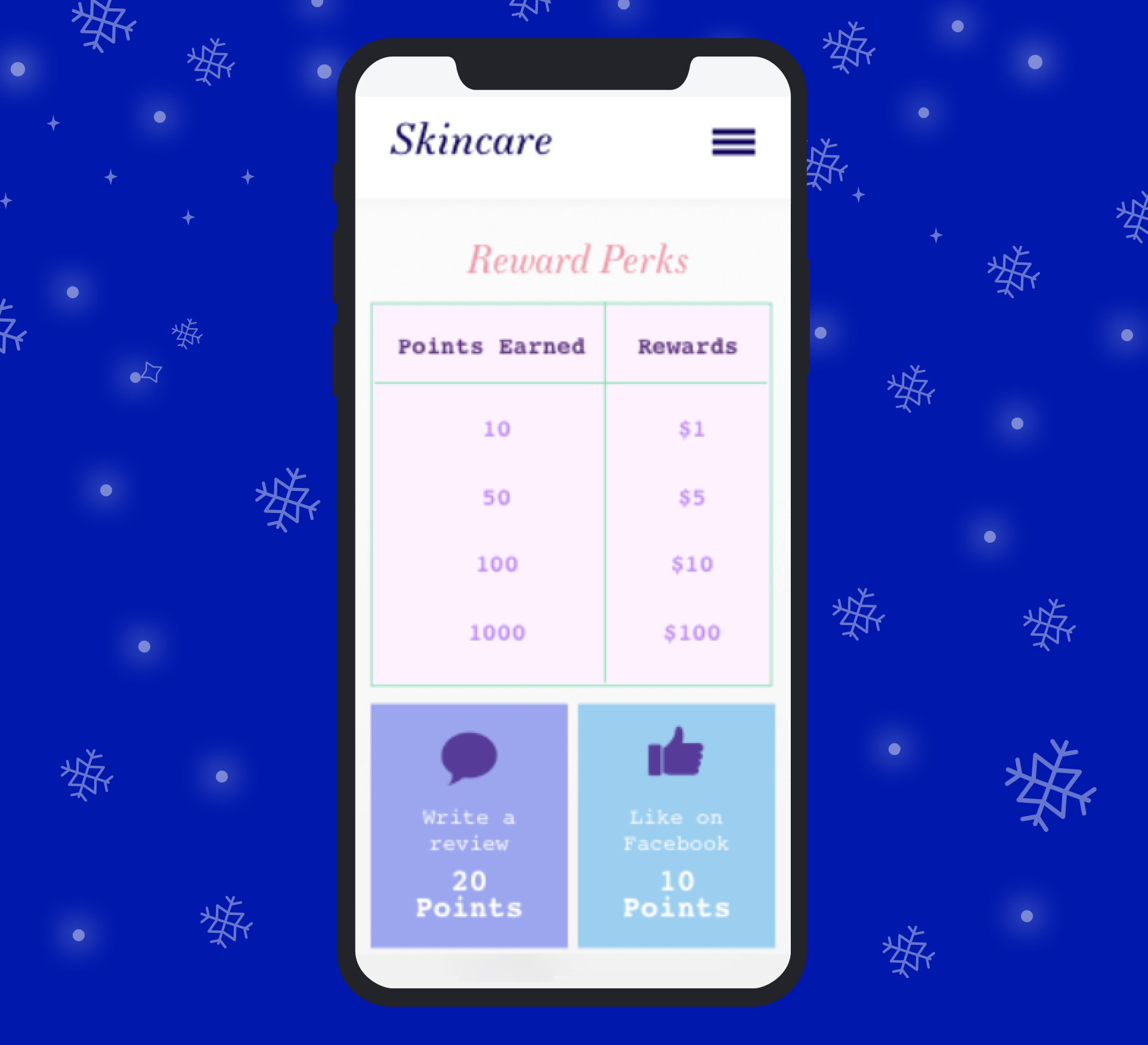 The Set Up:
Use Yotpo Loyalty & Referrals to build a thorough loyalty program for you customers. Then read here how to integrate it with your SMSBump account to update your subscribers on the status of their reward points through SMS notifications.

The Benefits:
You build an emotional connection with your customers by rewarding them each time they make a purchase and soon enough, they begin associating it as a positive and exciting experience.

By using Yotpo Loyalty & Referrals you can build a referral marketing program that turns customer advocacy into your most cost-efficient revenue driver.
Day 10: Hold a Raffle Contest
On the tenth day of Christmas, my favorite store gave to me: a $10 gift card to spend.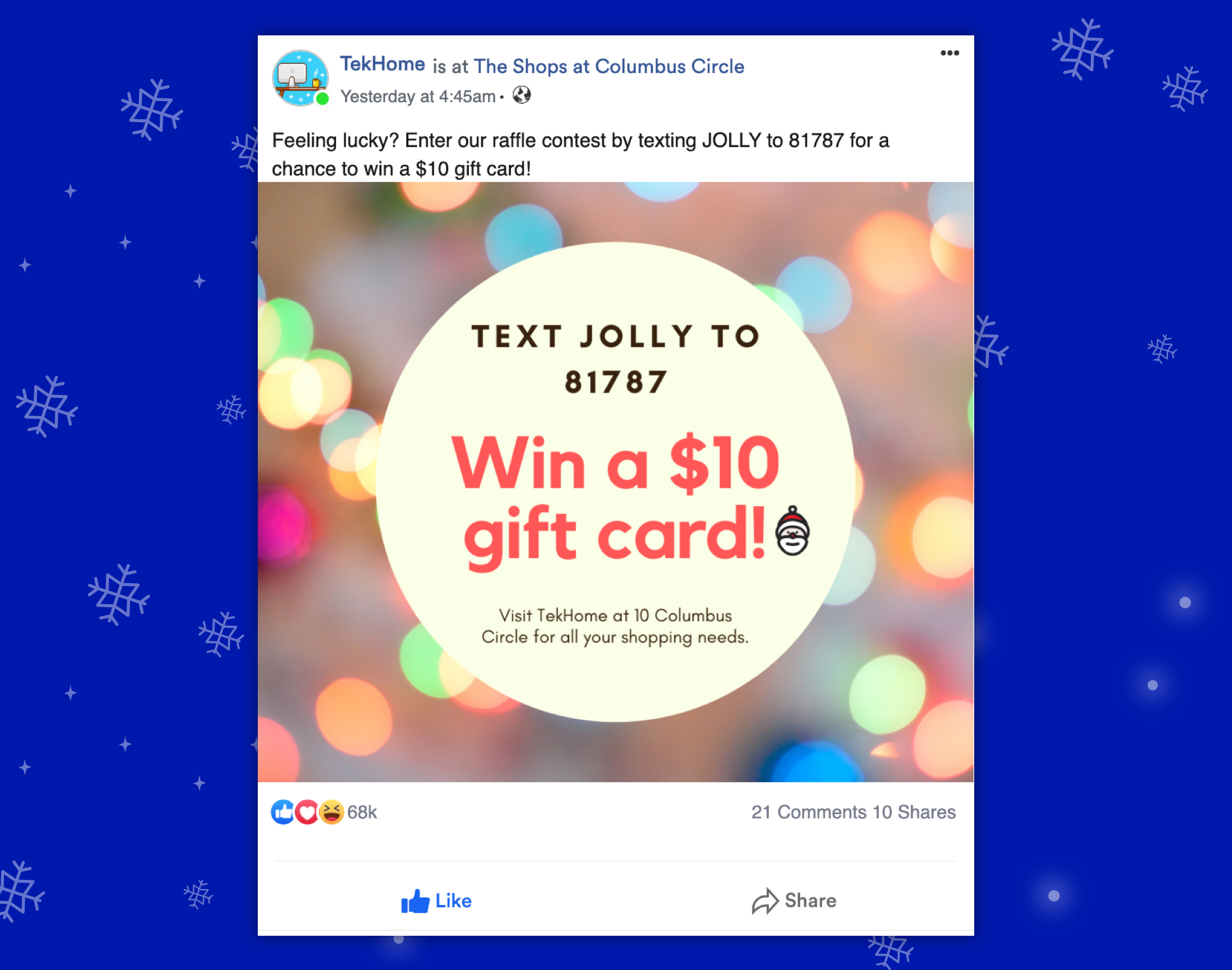 The Set Up:
If you are a brick and mortar store, segment based on location to target customers living in your area. Find out how to segment customers based on location here. Then, you should announce a raffle contest by creating a campaign around an SMS keyword and sharing it on social media. Those who text the keyword will be added to your list and there will be a draw of the winner in your store. They will win a product of a set value (i.e. 50$) and the losers will win gift cards of a lesser value for their participation.

The Benefits:
This is a very engaging way to stimulate subscriber growth and drive new customers straight to your store.

The contest builds a greater community of friends and family who share the value and quality of your store's products amongst each other.


Day 11: A Gift to Remember
On the eleventh day of Christmas, my favorite store sent to me: a free set of cable holder clips.
"We've checked our naughty or nice list: you're amazing. You deserve a gift. Expect a knock on the door with a package from your favorite store!"



The Set Up:
From the Shopify menu, head over to Analytics > Reports > Customers. Then, click on Loyal Customers to view their data including total spent to date as well as average order value. (Note: Loyal Customer data is only visible to Shopify Advanced and Plus users). Take your top 3 loyal customers and send them a personalized text message notifying them that a free gift is on its way. Take the time to review their past purchases, and choose a product that you know they'll love. Make it a gift to remember.

The Benefits:
You are increasing lifetime customer value by taking the extra mile to explore all aspects of your customers and delivering an experience that is both personalized and unique.

Sending a customer something they didn't know they wanted and actually need, proves you are both aware and proactive when it comes to understanding your customers.
​
Day 12: Social Media Live Event Invite

On the twelfth day of Christmas, my favorite store sent to me: an invite to a mystery product unboxing party.
"Hey Jon! Join our live Facebook celebration: a mystery product reveal party tonight at 8PM CET."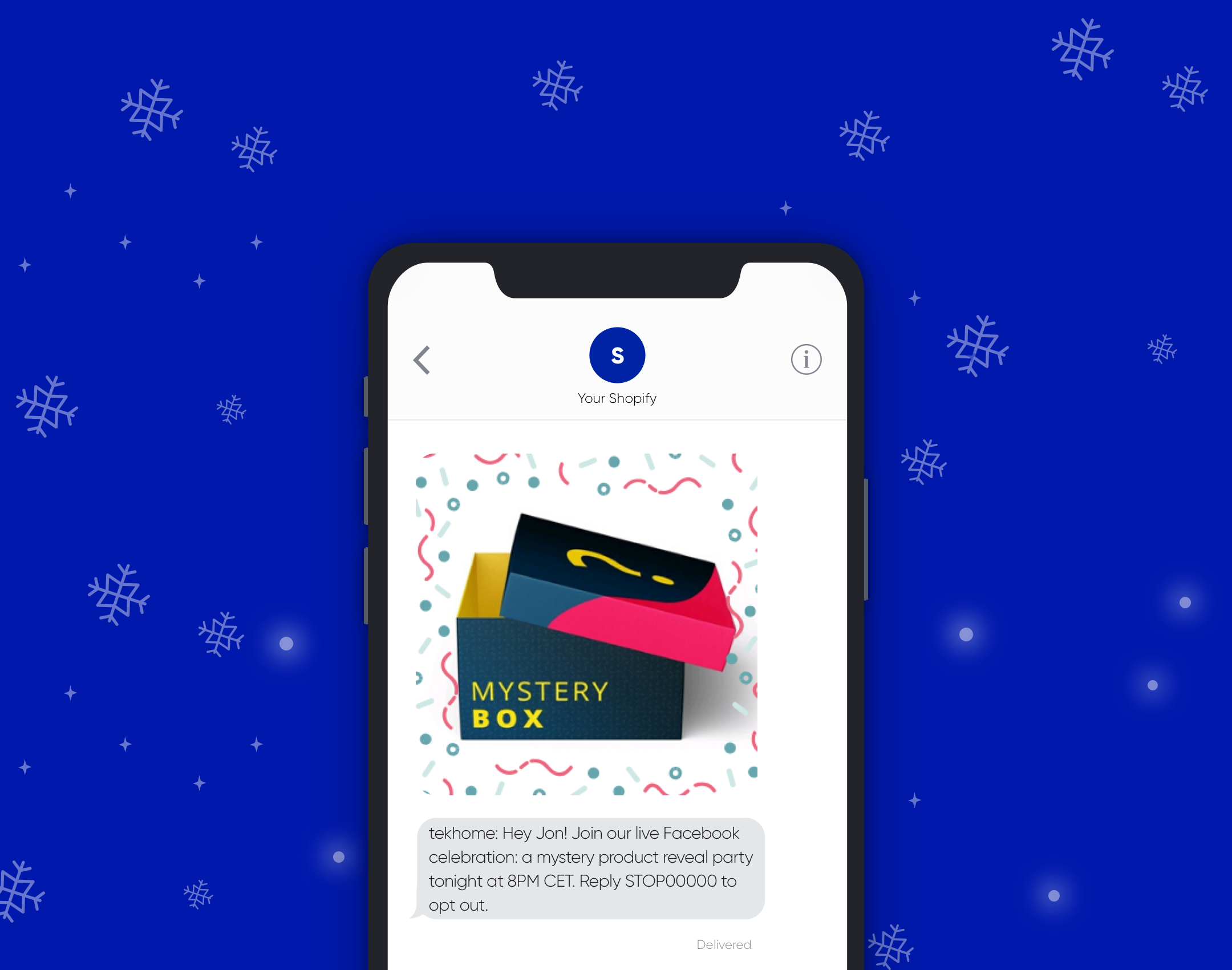 The Set Up:
Showcase one of your newest product by featuring it in a live Facebook or Instagram show. Keep it a mystery until your big reveal. You may choose to invite customers who haven't made a purchase in while by using the "not ordered since" segment filter. Learn how to create segments based on customer behavior in this article.

The Benefits:
Unboxing events help reassure customers that they are making the right buying decision following a live demonstration of the product's function and quality.

The event triggers emotions and creates excitement around your brand.

Since the event is live, a sense of trust is created as potential customers view how the product works in real time.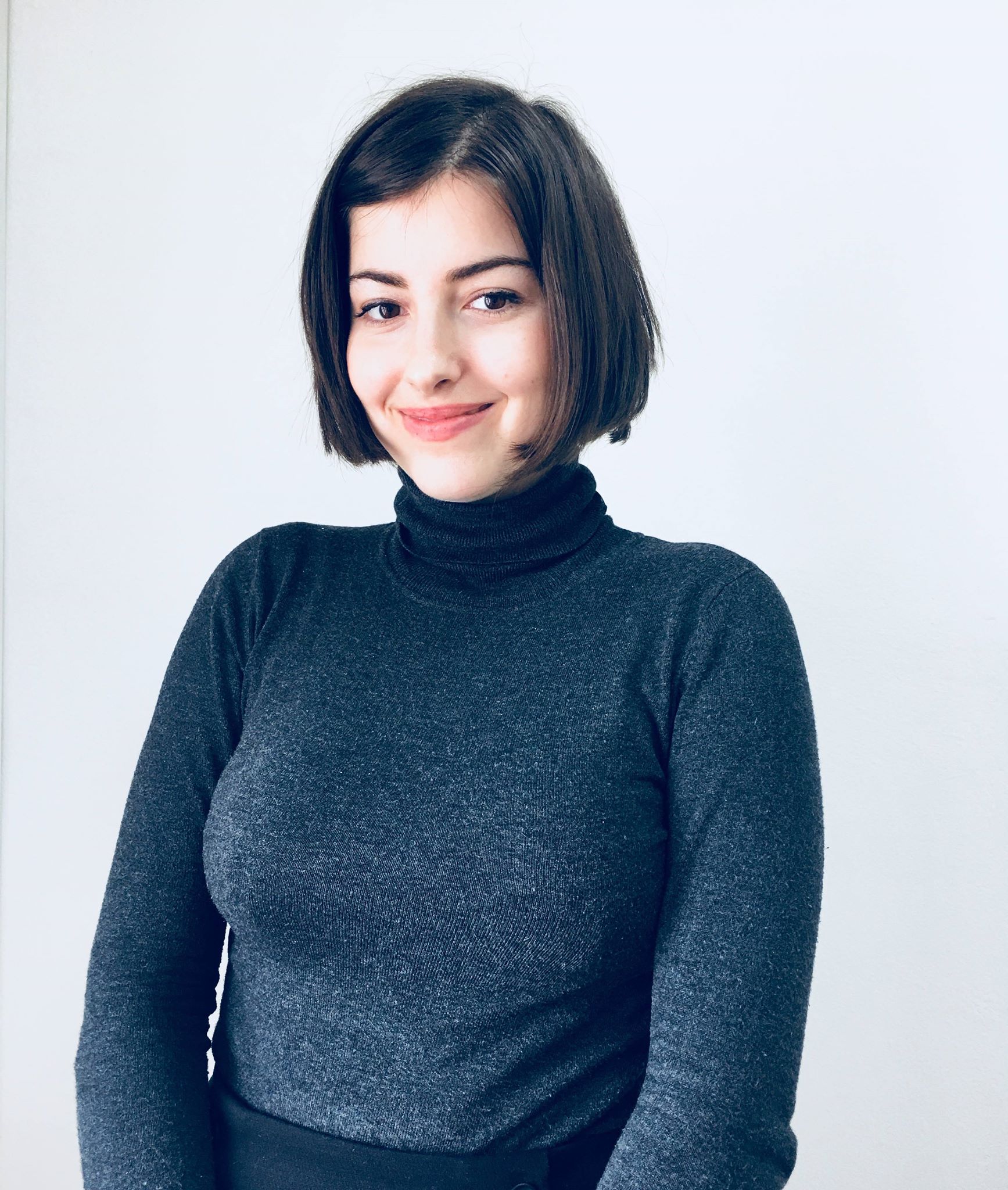 Start growing today
Sign up today and join 90,000+ eCommerce businesses making it big with Yotpo SMSBump