How to Buy and Use Opt-in Keywords
Getting a customer to subscribe to receive SMS marketing shouldn't be a challenge. Luckily, with SMSBump it can now be as effortless as simply offering customers a keyword to text you back with.
This post will cover how to buy opt-in keywords in the SMSBump app and further actions you can take afterward. A keyword is assigned to a specific list and stores all new subscribers in it. Keep in mind, that this feature is currently available for customers that are based in the United States and Canada only.
By using specific opt-in keywords strategically, you will be able to get customers to easily subscribe to receive huge deals and special promotions on your Shopify store merchandise through:
SMS Marketing Campaign
Add your keyword in a text message marketing campaign, and once a customer replies back with it, they will be added to your SMS marketing list.
​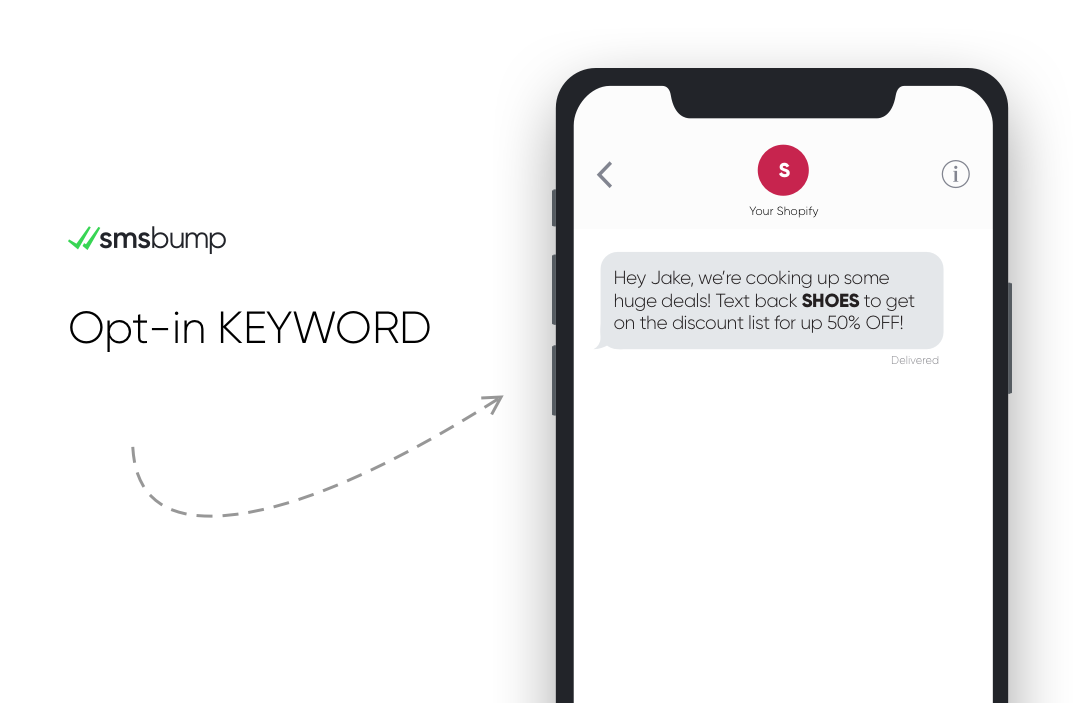 Social Media
Maximize your reach by creating and personalizing a post on Instagram, Facebook or Twitter. Write a catchy text including your keyword along with a strong visual to lure customers to subscribe.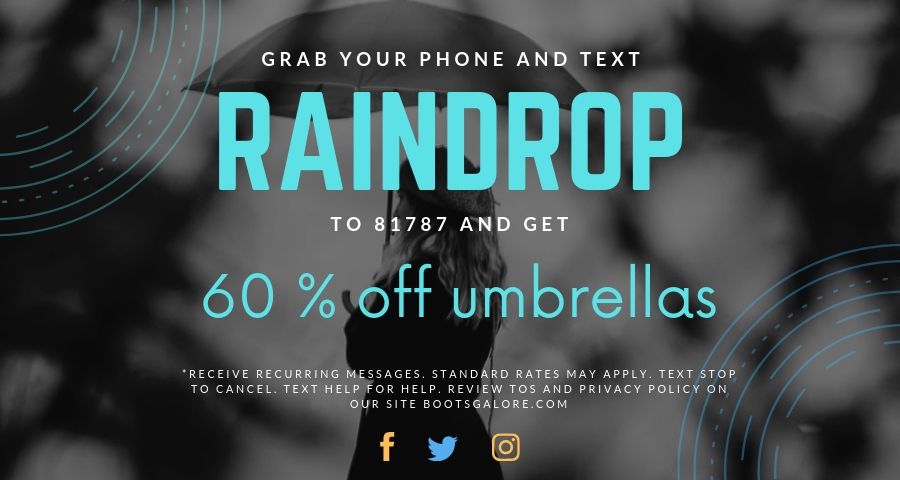 Important To Include
It's critical to make sure customers are properly informed on the costs involved in text messaging, how to opt out, as well as the ability to review your store's Privacy Policy & TOS. Make sure to always include the following important information when sending an opt-in keyword:

"Msg rates may apply." This lets customers know that there might be costs from their carrier when responding to a text message.


"Text STOP to cancel." Customers are notified that they have successfully unsubscribed and will no longer receive text messages from you.


"Text HELP for help." For further help customers will be provided with an email address they can reach you at.


"Recurring messages." Let your customers know that they will be getting more than 1 message from you.


"Review Privacy Policy & TOS on our site." Provide a hyperlink that leads to the Privacy Policy & TOS section of your site.
How to Buy a Keyword
1. From the app side menu, navigate to Lists & Segments and click View on one of the lists you would like the keyword assigned to. Then, click on Buy Premium Keyword.
Important: Your first keyword is free of charge. Afterwards, there is a monthly $10 charge per keyword.



2. You will be taken to your Keyword page where all your keywords are saved.

Click on the Buy a keyword button to continue.

3. Before buying your keyword, you will be required to fill in the following fields:
Enter keyword: Give your keyword a name and write it in. Keep it short (less than 7 characters) and without any symbols (@!-?). Make it easy to remember.


How many texts per month can your subscribers expect to get: Enter the number of monthly texts you predict your subscribers will be receiving from you.


Assign to list: Choose the list you would like to assign your keyword to.


Keyword monthly payment: After your first free keyword, this option will display $10 a month.

Important: Once you buy a keyword, you are subscribed to it and will be required to make a monthly payment. To cancel your subscription, simply delete the keyword under Actions on the Keywords page. Once deleted, your keyword becomes available for purchase to others.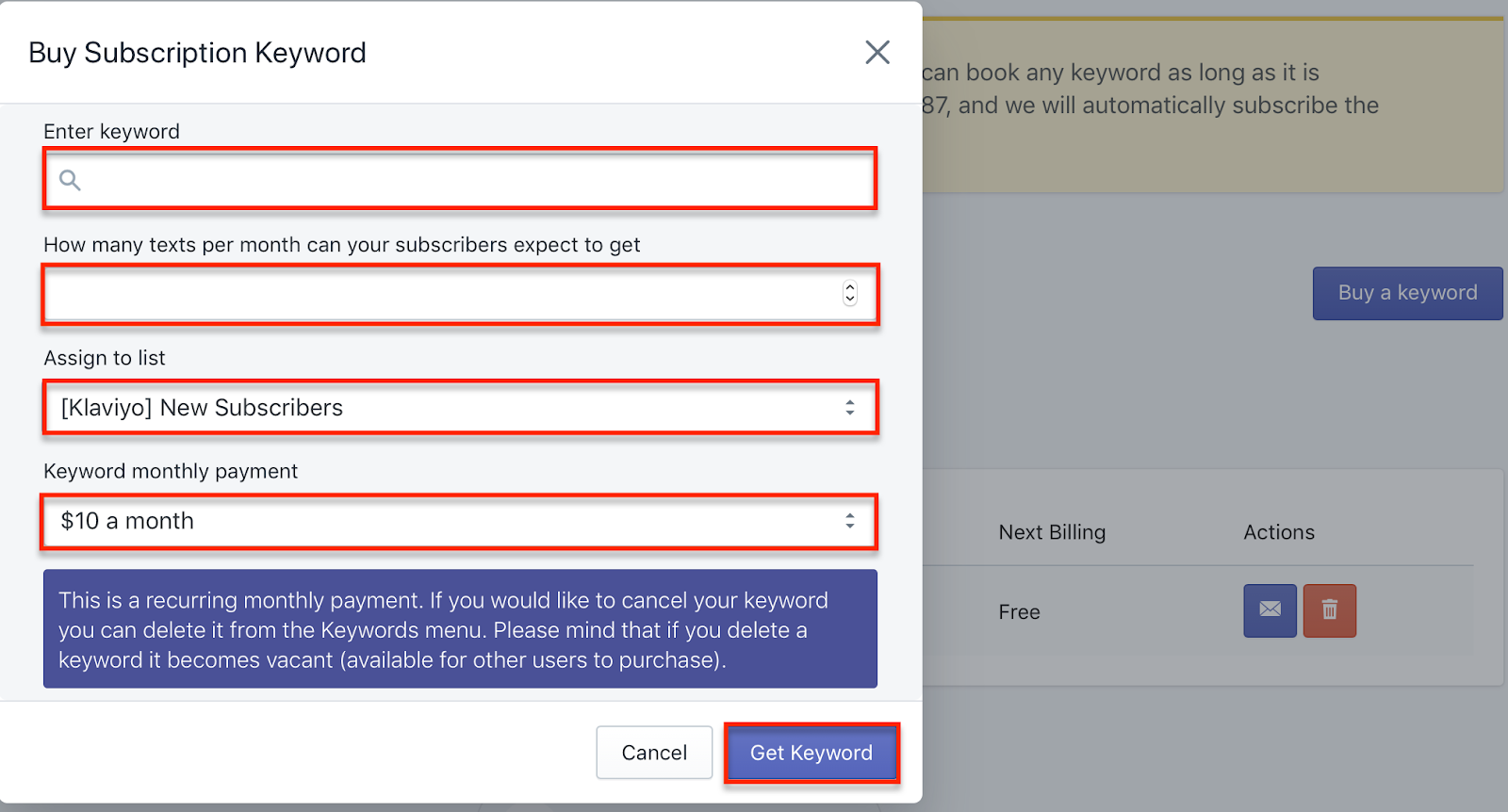 After you've filled in all of the fields, click on Get Keyword to continue.



Good job! Your keyword has now been assigned. Click on OK to confirm the recurring charge.
4. Your request will be sent, and you will need to wait a few minutes before the keyword is added in your account.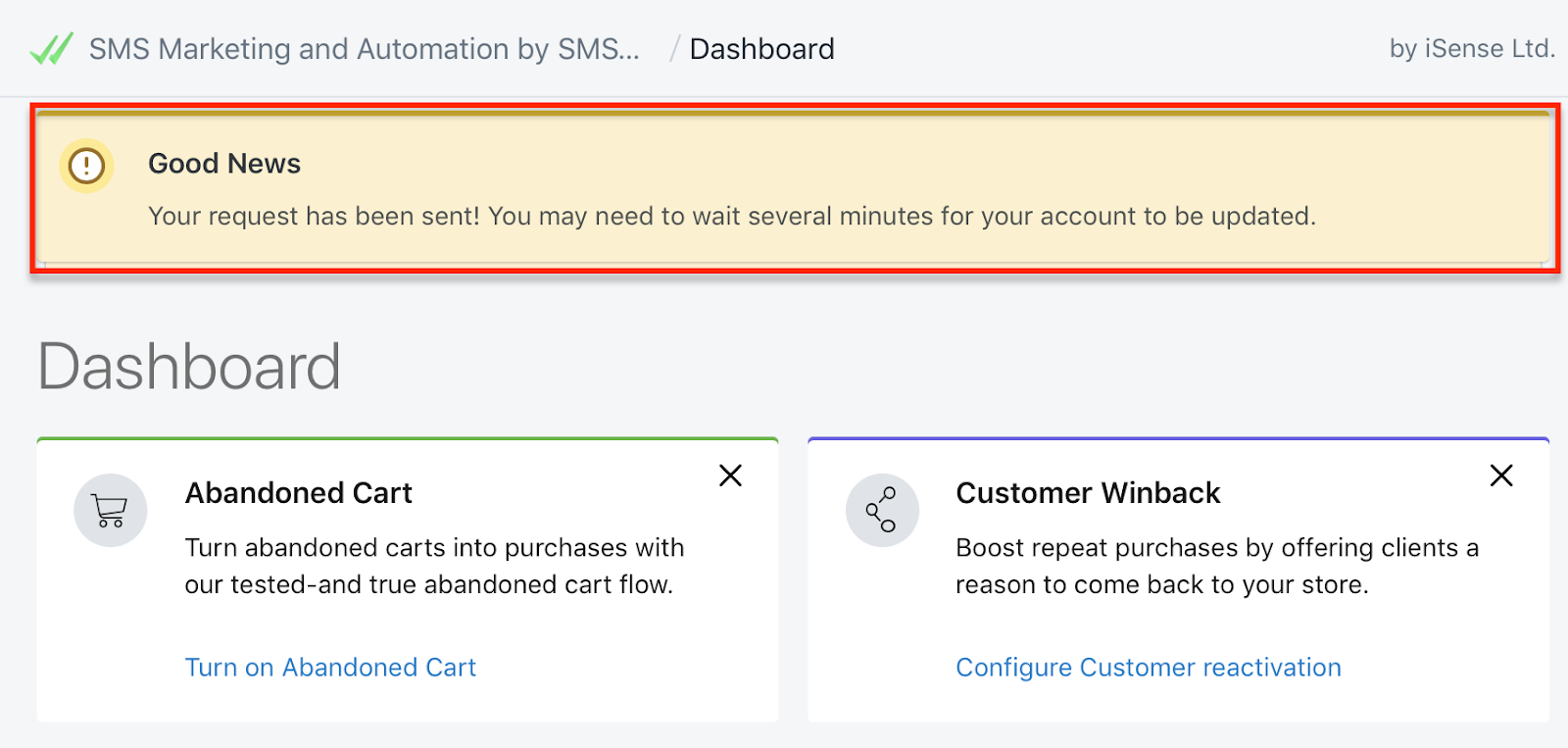 5. In your Dashboard, in the sales data section click on Keywords.

6. You will be able to see all of your keywords on the Keywords page. On the page you are able to view:

Keyword: The name assigned to your keyword.


Number of Contacts: The number of contacts in your list.


Assigned to List: The list your keyword has been assigned to.


Next Billing: This is the upcoming date you will be billed for your keyword subscription.


Actions: You can either Send a Campaign to your customer list or delete it.

Activating Your SMS Keyword
In order to customize the automatic response your new subscribers will receive once subscribed to your SMS marketing service, head over to your automations and select the New subscriber confirmation automation.



We recommend disabling the delay so your message gets sent right away.



Make sure to keep an eye on the Strength Meter, which will give you hints on how to make your message stronger.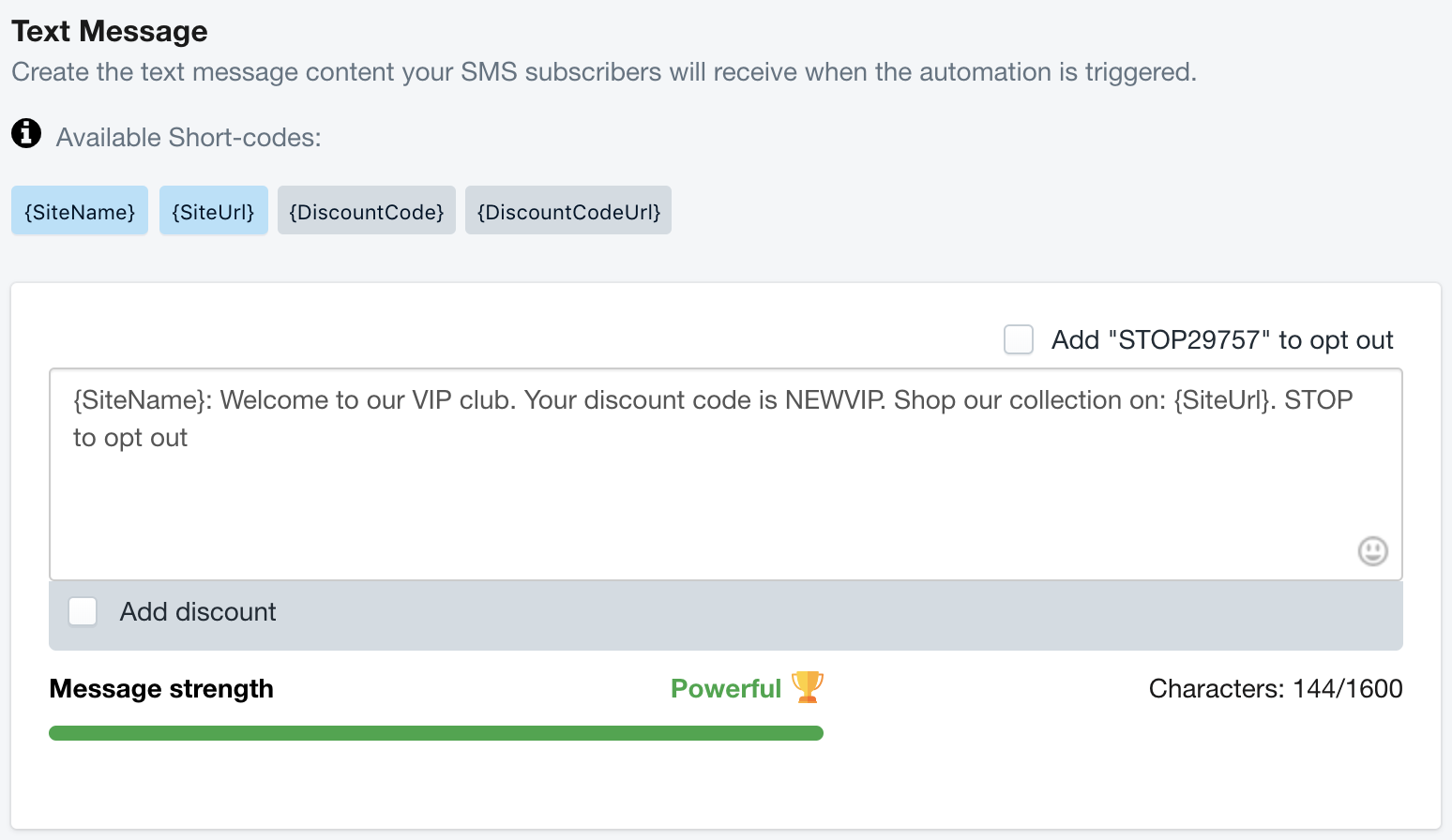 Click on the bottom Save button to launch your new subscriber confirmation automation and activate your SMS keyword.
---
Related articles