The Basic Steps of Creating the Perfect Flow
Flows are something the whole team has been looking forward to for the longest time now and it will transform the way you use SMSBump.
The main purpose of the flows is to create a sequence of automated actions based upon different triggers, covering the entire sales funnel. It will optimise the process of setting up automated text messages and will make your marketing efforts much more personalised and focused.

Before we delve into the different options we have developed for flow structures, let's take a quick look at the basics behind creating a flow.

You can access Flows from your SMSBump dashboard and are available to every SMSBump user out there.


Here you can see 3 main fields. Under My Flows, you will see the flows which you've created. If you have activated any predefined flow, it will appear here as well.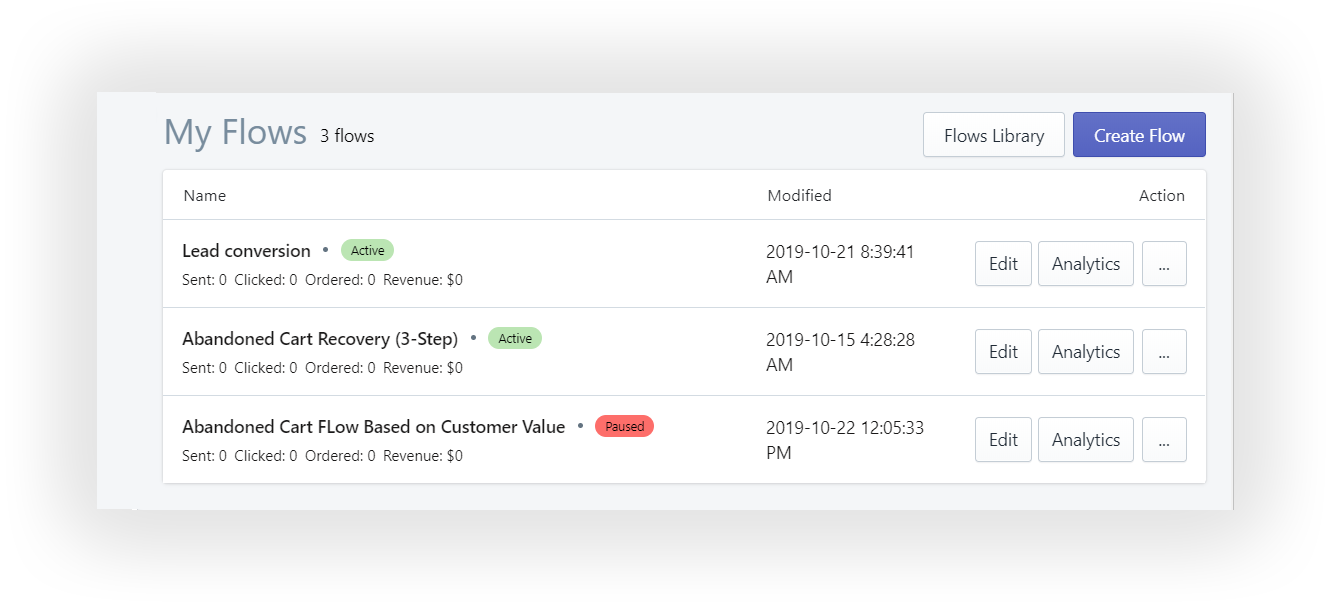 The next section Drafts will store all flows, which you have't finished yet. Once you Save a draft it will move up to My Flows section.

Because we know that setting up a whole flow for the first time can be a bit overwhelming, we've also created a pre-set Flow Library, where you can use our ready-made templates. For all of our new users: you will be able to see several of our predefined Flows upon entering the Flows section.


​

Otherwise, you can access them from 2 other parts of the page - in the Flows Library section at the button of the page or in the top right corner next to Create Flow button.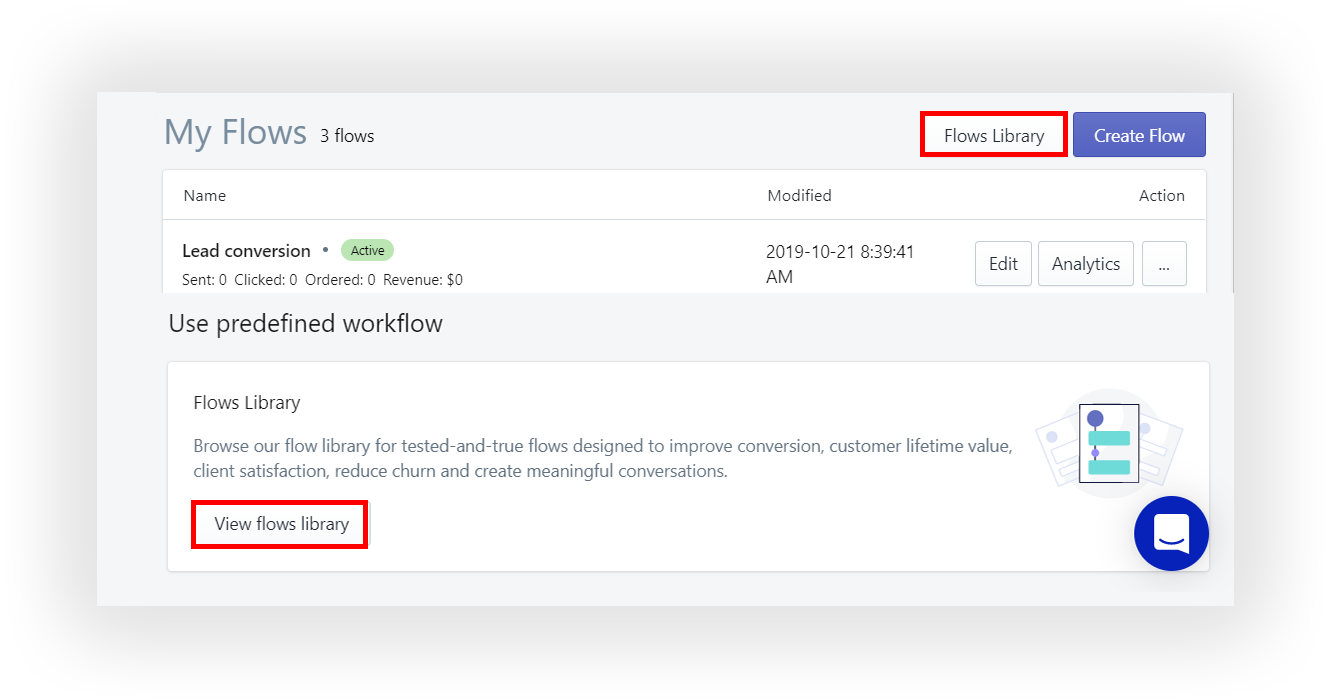 ​
Activate a predefined flow

One you are in the predefined flows menu, you will see a list of pre-made flows created by us or our partnering agencies. They are divided into different groups:
- Retention
- Customer care
- Shopify Events
- Integrations
You can filter through them by selecting the relevant categories. For instance if you want to segment out all of your Shipping Confirmation and Order Confirmation flows, just check the Order Created and Shipping Confirmation boxes and you will only see the flows, relevant to those two categories.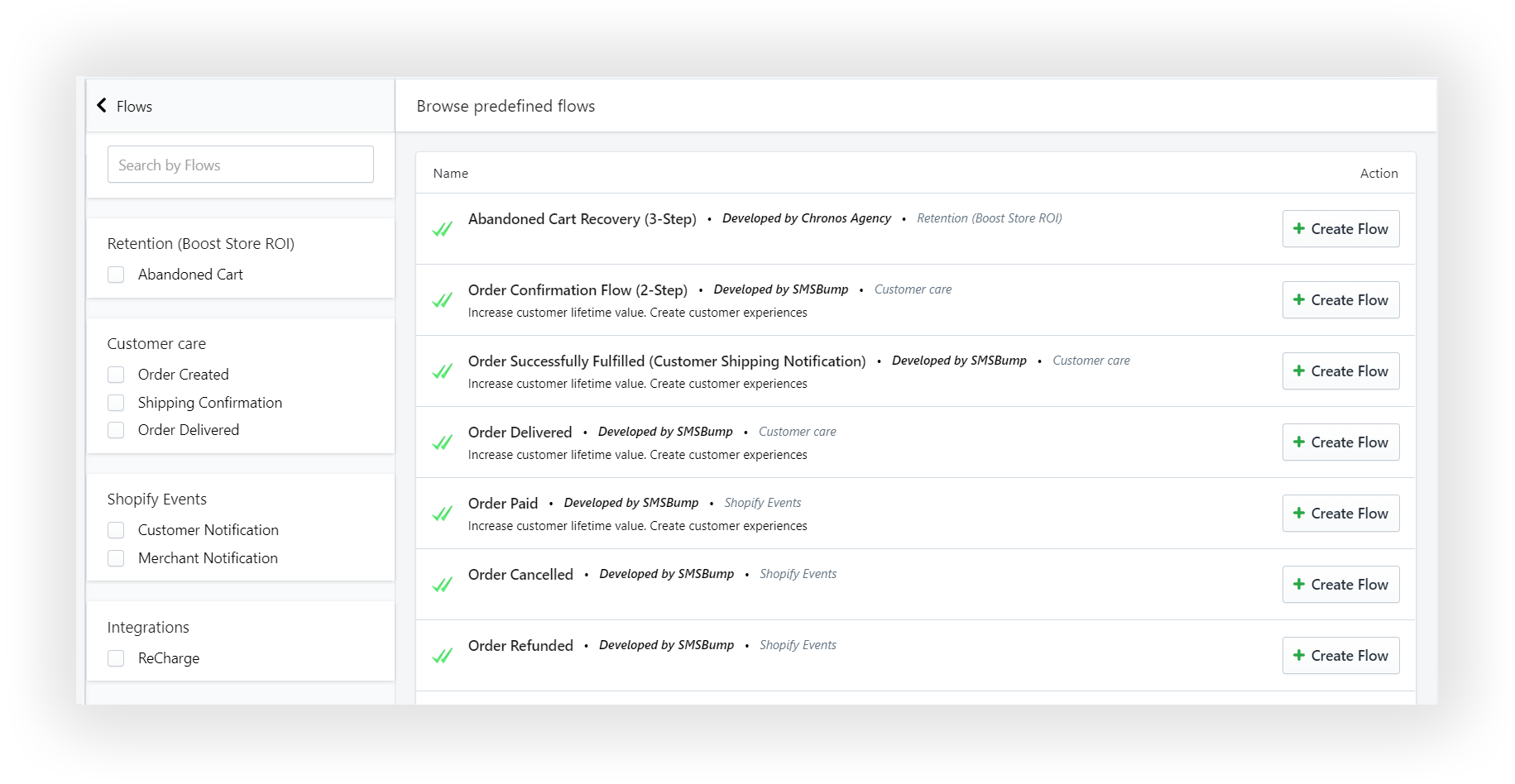 To enable one of the predefined flows, all you need to do is click on Create flow. Then it will open in the Flow Editor where you can review the pathway of the flow you've selected and all the actions, do some quick tweaks to fine-tune it and hit Save.
Note that if you already have an automation with the same triggers (e.g. if you are creating an abandoned cart flow and have abandoned cart automation enabled) you will see the following: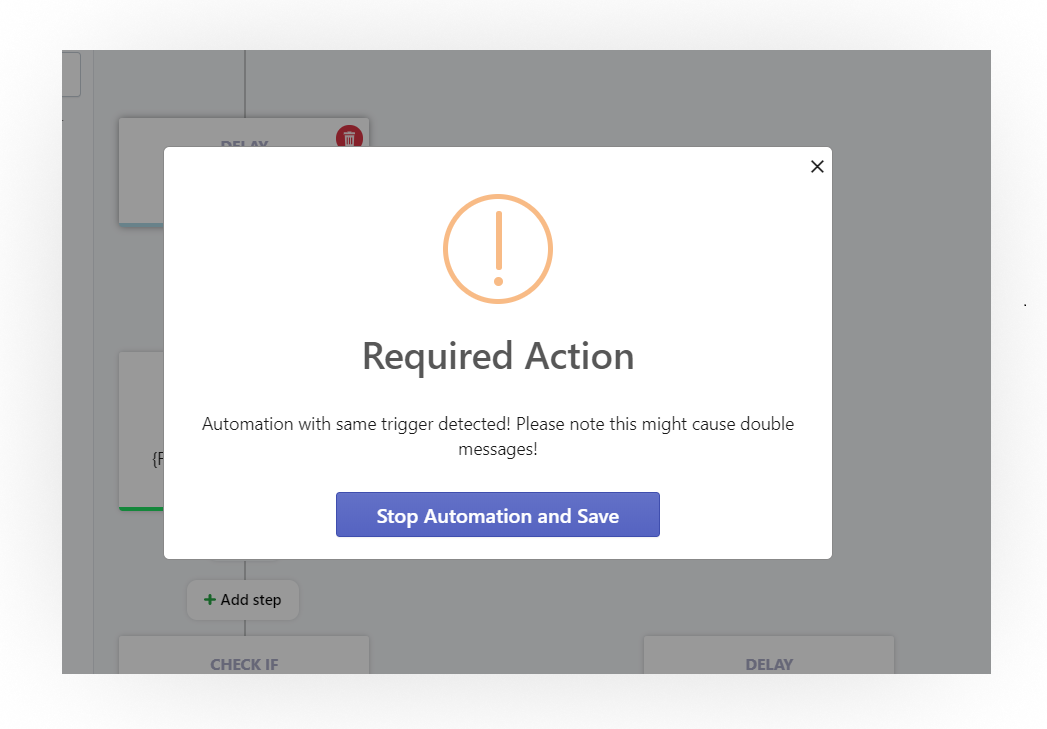 In order to proceed with creating the flow, you will have to disable the active automation by clicking on Stop Automation and Save.
Once your flow is enabled, you will see a little On/Off toggle button which you can use to de/activate your flow.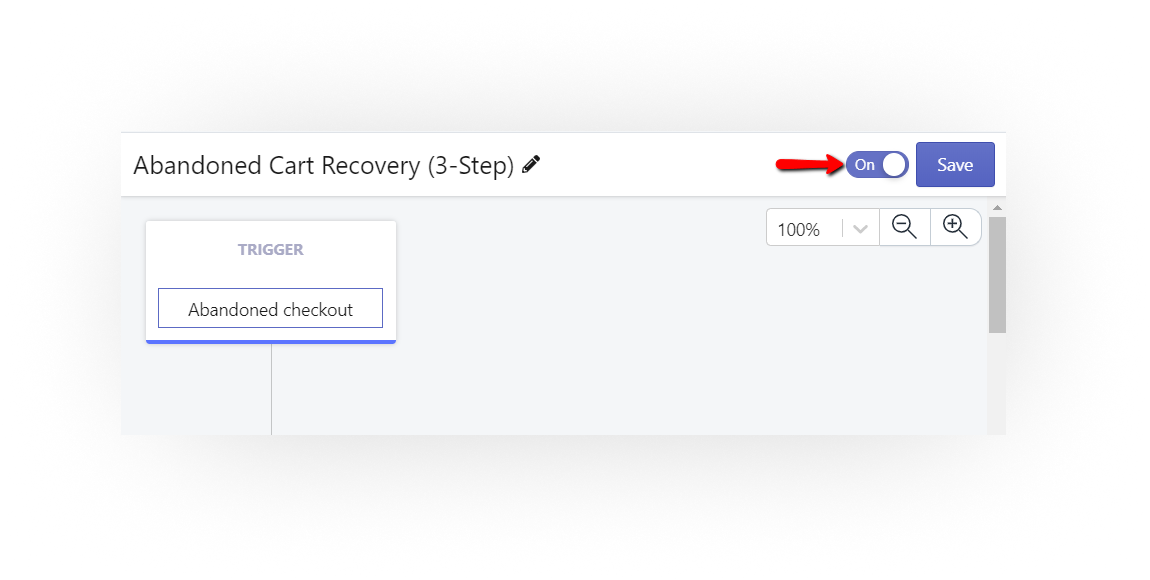 Now that we've gone through the available flows, let's see how to create flows from scratch, ones that will best fit your brand and customer base.
Building a Flow from A to Z

To start building your custom flow, click on Create Flow and give your first flow an exciting name, preferably related to the event the flow will be built for (abandoned cart, customer winback, product upsell etc.). Don't forget to hit Save.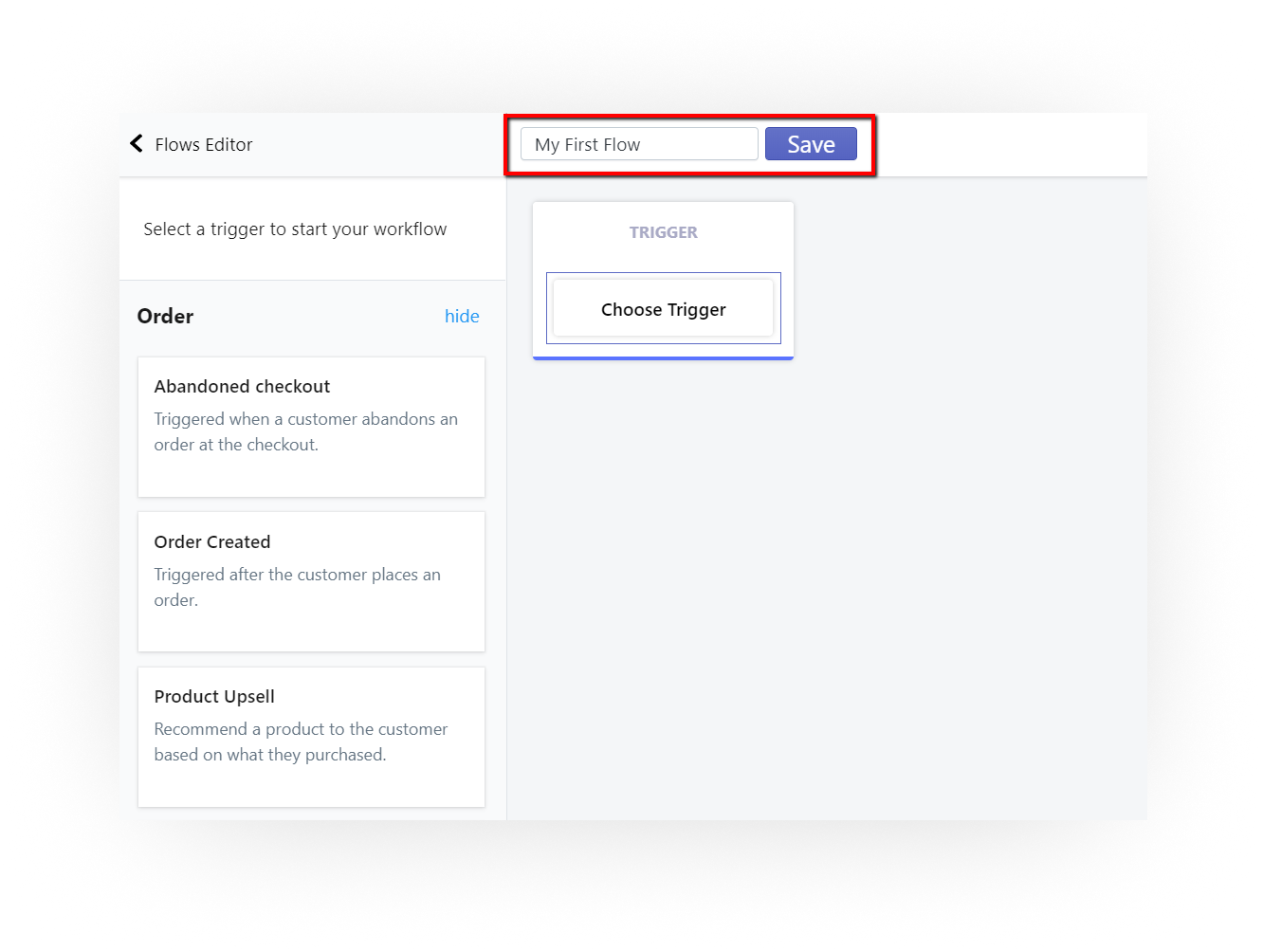 Next, work your way around all the available triggers you can choose from to build your flow around. These fall in 6 different categories:

Order-related: triggers such as order placement, order shipping, delivery etc.

Shipping: order fulfillment and shipping confirmation

SMSBump: new subscriber confirmation

Customer-related: new registration, customer winback etc.

Product-related: new product created, updated or deleted

Integrations-related: triggers based on integrations with our partners. You should activate the integration before using the trigger.

When you've decided how you want to start of your flow, simply click on the respective trigger and it will show in place of the Choose Trigger field.
Now you have three options.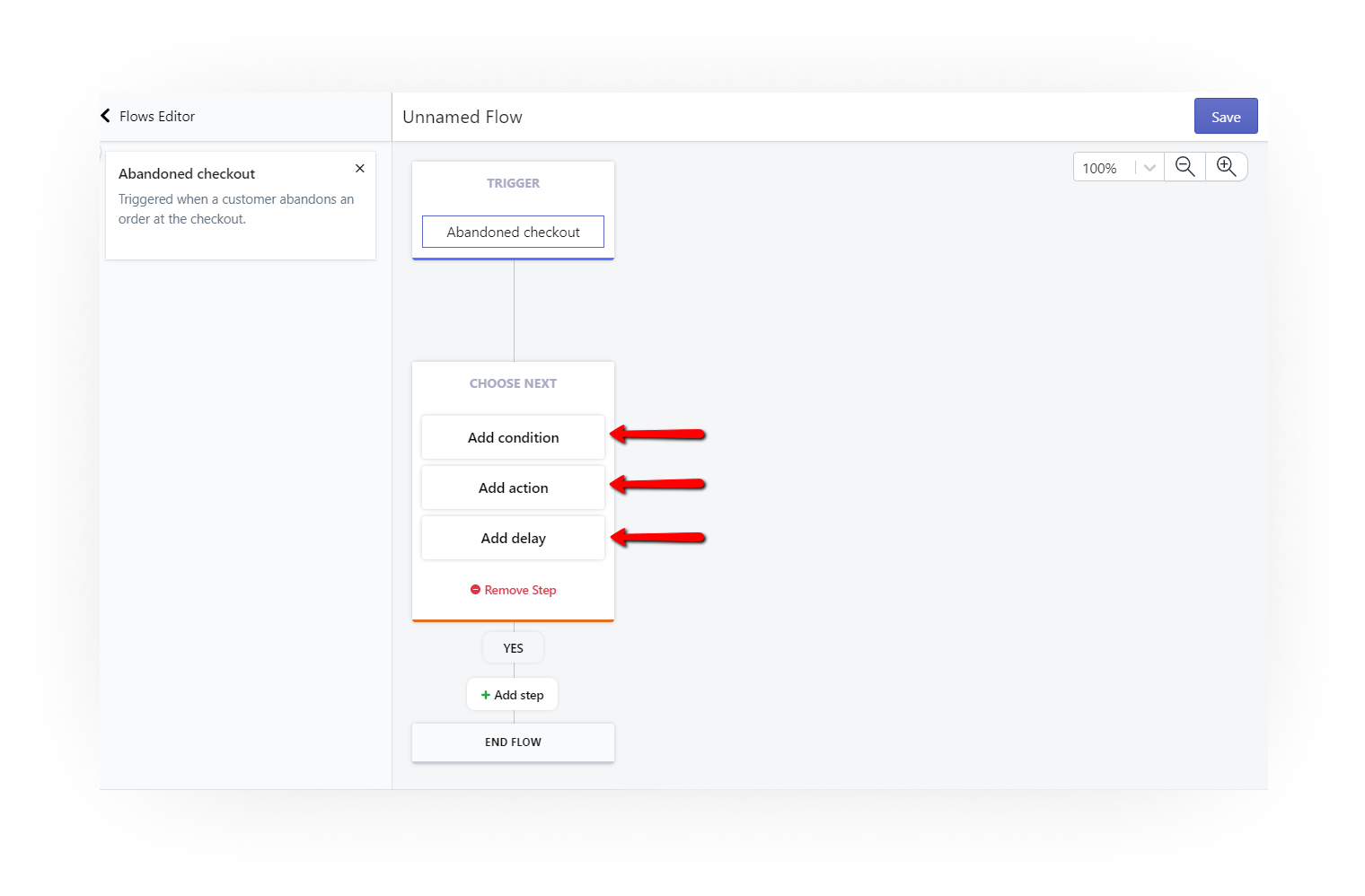 Add a condition

This is a Yes/No scenario where the users are divided on a selected filter. For instance, if you specify a certain total cart value (e.g. more than 200), then the users will be split into 2 groups - those who have products worth 200 or more in their abandoned cart and ones with a cart value under 200. Note that the currency of this amount is based on the currency you have in your store.

If you want your flow to target an even narrower group of people (for instance only your high-value customers), you can add a second condition simply by clicking +And. Let us specify this second condition to be number of orders greater than or equal to 2. Setting it up this way will ensure that your flow only targets customers whose total cart value is 200 or more but have also made 2 or more purchases at your store. If you have customers who have made 5 purchases but their total cart value is less than 200, they will be excluded from this flow.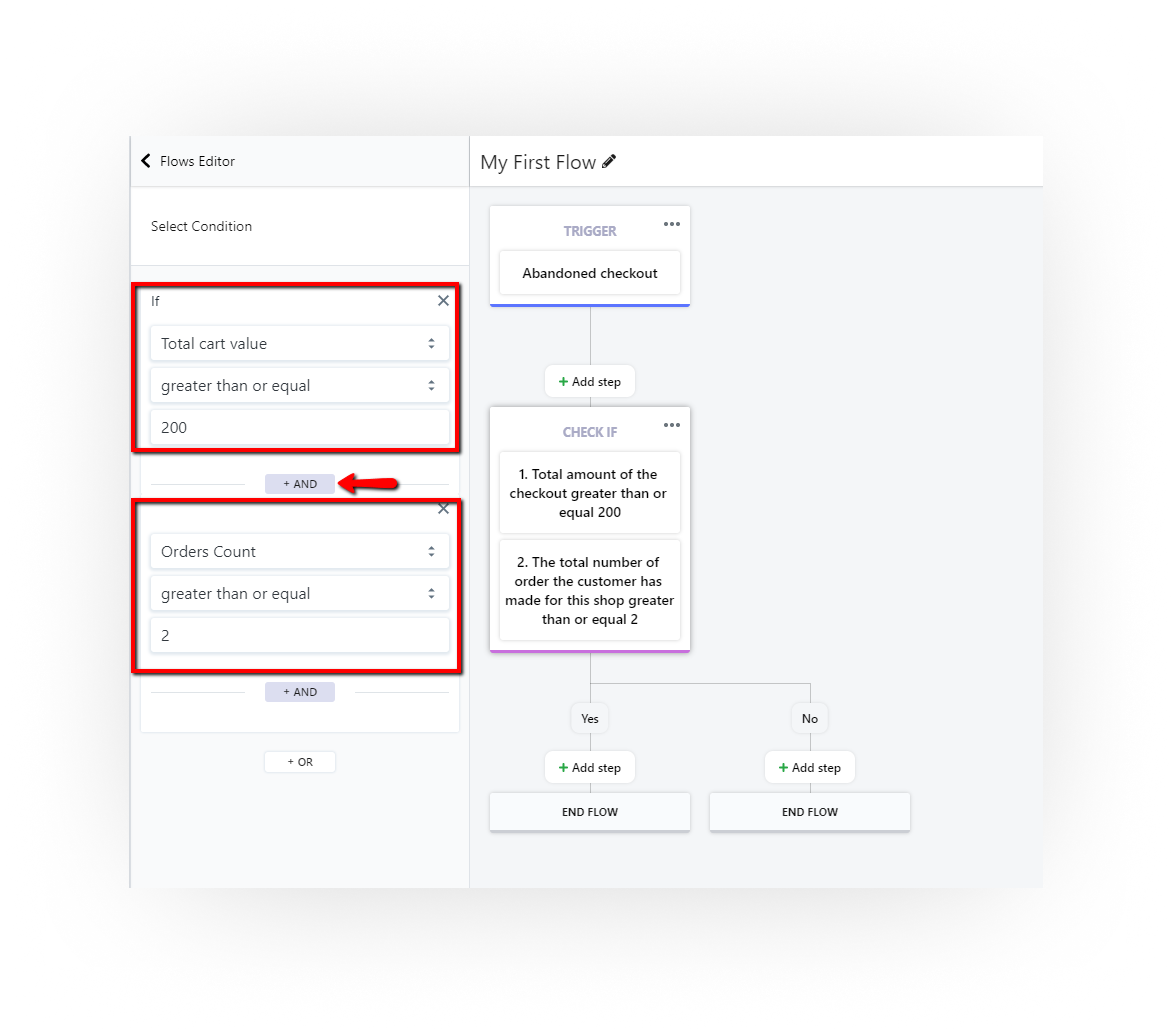 Besides this, you will also see the +OR option, which allows you to broaden the scope of your flow. Let's say that you set up your first "IF" condition to be total cart value greater than or equal to 200, and you want to configure an OR condition to be number of orders greater than or equal to 2: in this case the flow will include customers who meet either one of these conditions, not necessarily both at the same time. So even if you have a customer who has only made 1 order but has spent 200 or more at your store, they will be targeted by this flow.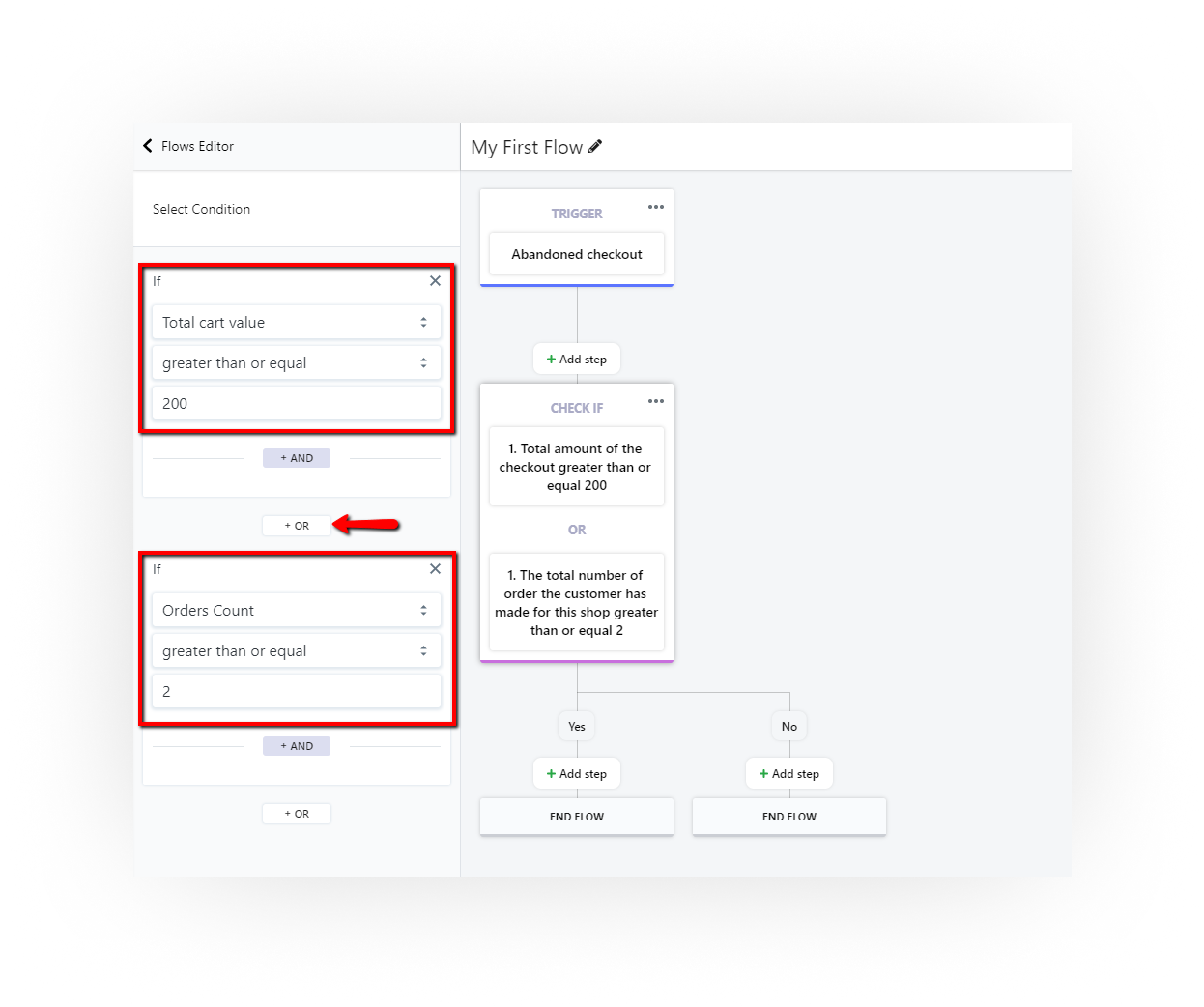 Add action
Selecting the action will allow you to configure what should happen if you have customers who've abandoned their carts and meet (or do not meet) any other conditions you've specified. These actions could be:
Send an SMS: a simple 160-character text message

Send an MMS: a multimedia message that can contain a GIF from GIPHY, a high-res picture from Pexels, or one uploaded by you. For abandoned carts you can also enable the image grid that will show your recipients all the products they've left behind.

Add to list: This action will add the customers in a separate list. You can select among the ones you already have or create a new one.

Send Slack notification: this is a notification that you, as a store owner, will receive, reminding you in case your inventory is running low, you have a new subscriber etc.
You can either Delete or Clone the MMS and SMS you set up as an action, as well as your Delay that we will show you how to set up in just a few steps. Cloning will allow you to easily replicate and edit an action, and will make the entire process of creating a Flow much lighter and quicker.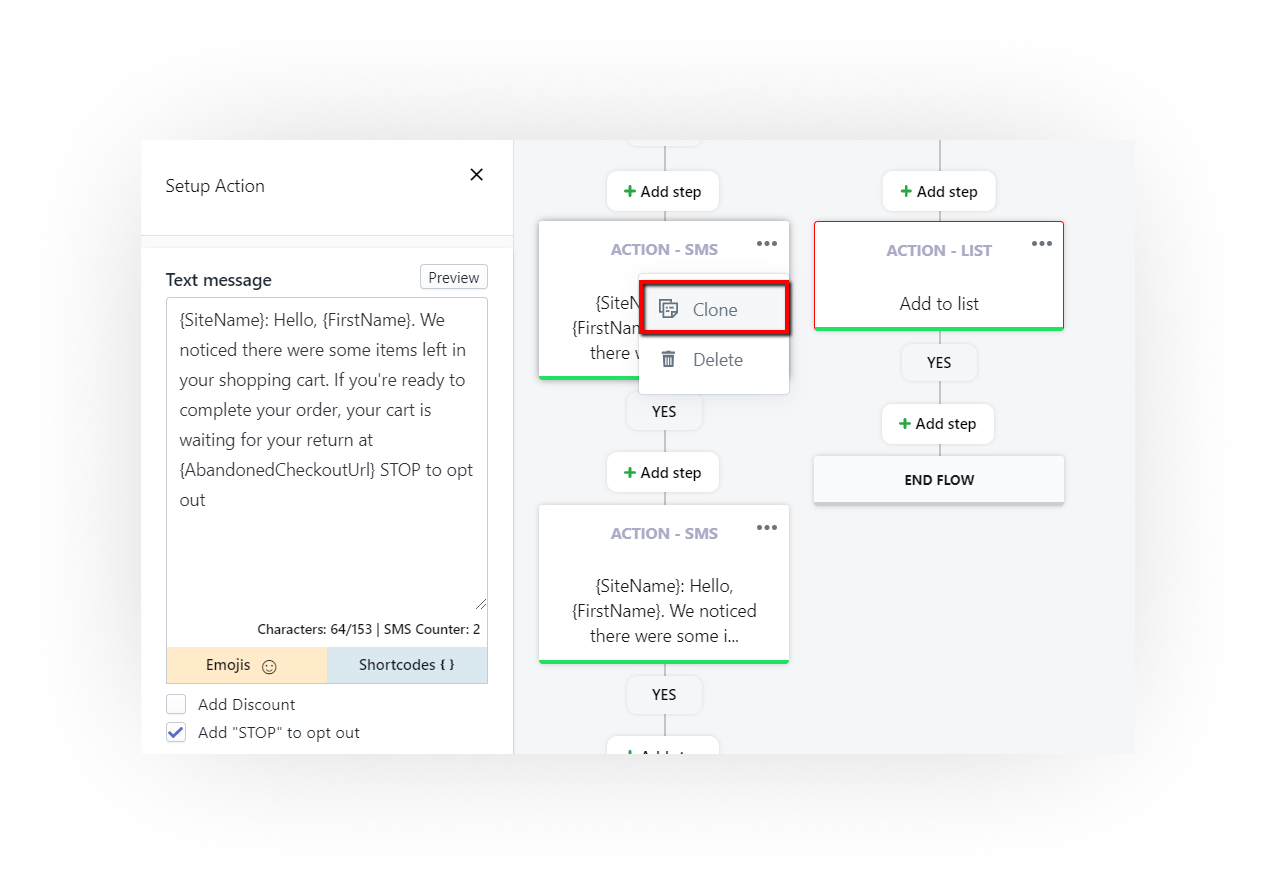 How do you know which SMS or MMS to replicate? But of course you want to copy the strongest of them all! And what can help you determine that? Our Strength Meter! Its 8 useful suggestions will pave your way to creating an effective text message that will convert!


You know what else makes a text message better? Personalization. With the help of our Short Codes you can include your store's name, your customer's name and many more automatically-fetched details that will give your text a personal touch.




What would grab your customer's attention quickly? Emojis. Who doesn't love emojis. We know they are the equivalent of human emotions in texting so we've paid extra attention to making them easy to access and simply attractive.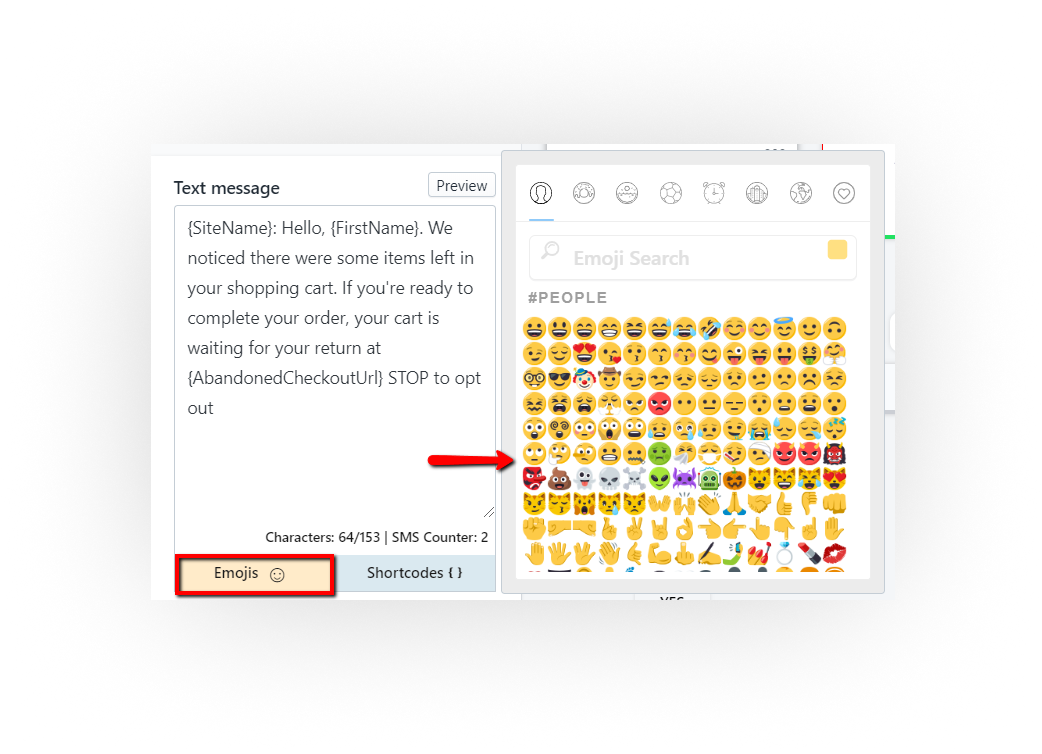 Add a delay

This will let you delay the actions following this step. The delay can be anywhere between 5 minutes and 7 days/ Choose the most suitable time depending on the following step. For instance, if you've selected abandoned cart as a trigger, you can set a notification to be sent 10 minutes after the cart has been abandoned.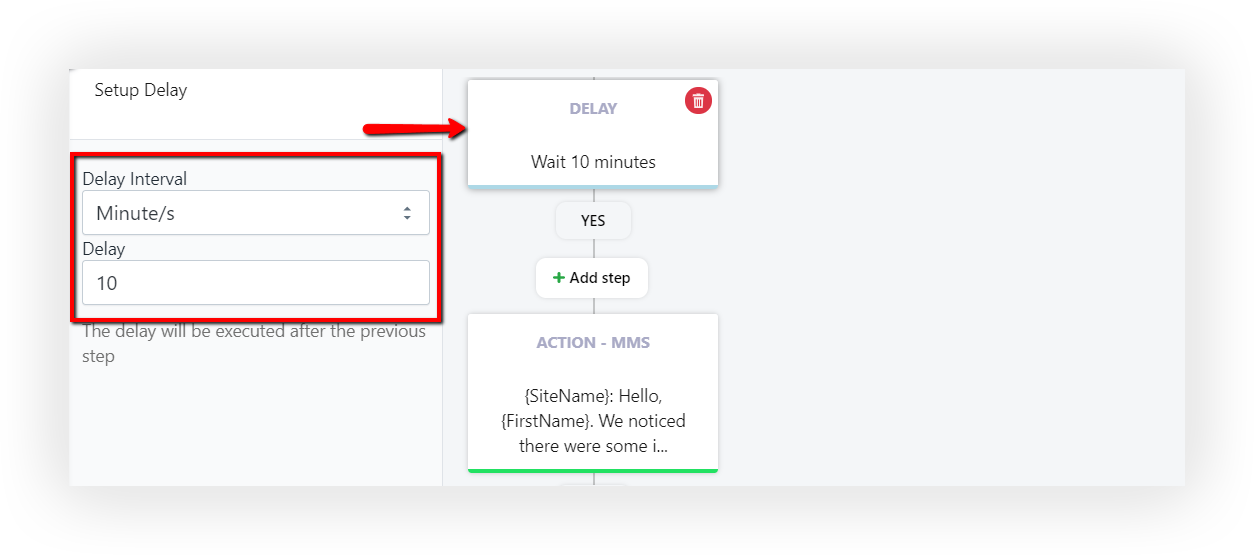 These are the basic steps you have to configure when building any flow. Of course, you can omit some of them, or add even more steps, especially in case a condition you specify is not met. For instance, you can send out different messages to your customers based on the value of their abandoned carts.
If the total value of the abandoned cart does exceed 200: send an MMS reminder with a small discount as this is a high-value order and is worth investing a bit more effort into recovering it.

If the total value of the abandoned cart does not exceed 200: try to recover the cart with a simple SMS notification, maybe a discount, but definitely still have a catchy copy and call-to-action.

Either way, the process of creating a flow from here now on is the same and includes the same options: adding a condition, action or delay.

Stay tuned for all the upcoming articles we've prepared for you so you can use flows to get the most of them, grow your subscribers, keep your customers happy and skyrocket your ROI!
---
Related articles