How to Customize Your SMS Subscription Popup Templates for Shopify
Last week we announced the newest additions to our Subscription form family - the new customizable popup templates. They help Shopify store owners craft popup forms with irresistible offers that encourage your online shoppers to sign-up for your text message updates.

Today we are going to do a step-by-step tutorial on how to design the perfect popup form using the newest features in the SMSBump subscription form builder.

Give customers a real reason to sign-up with their phone numbers and keep them updated with your sales, promotions, and limited-time discounts via text messages!

Let's go!
Create a Popup Form

Step 1: From your SMSBump side menu go to Growth Tools. A panel with all three of SMSBump's growth tools will show up.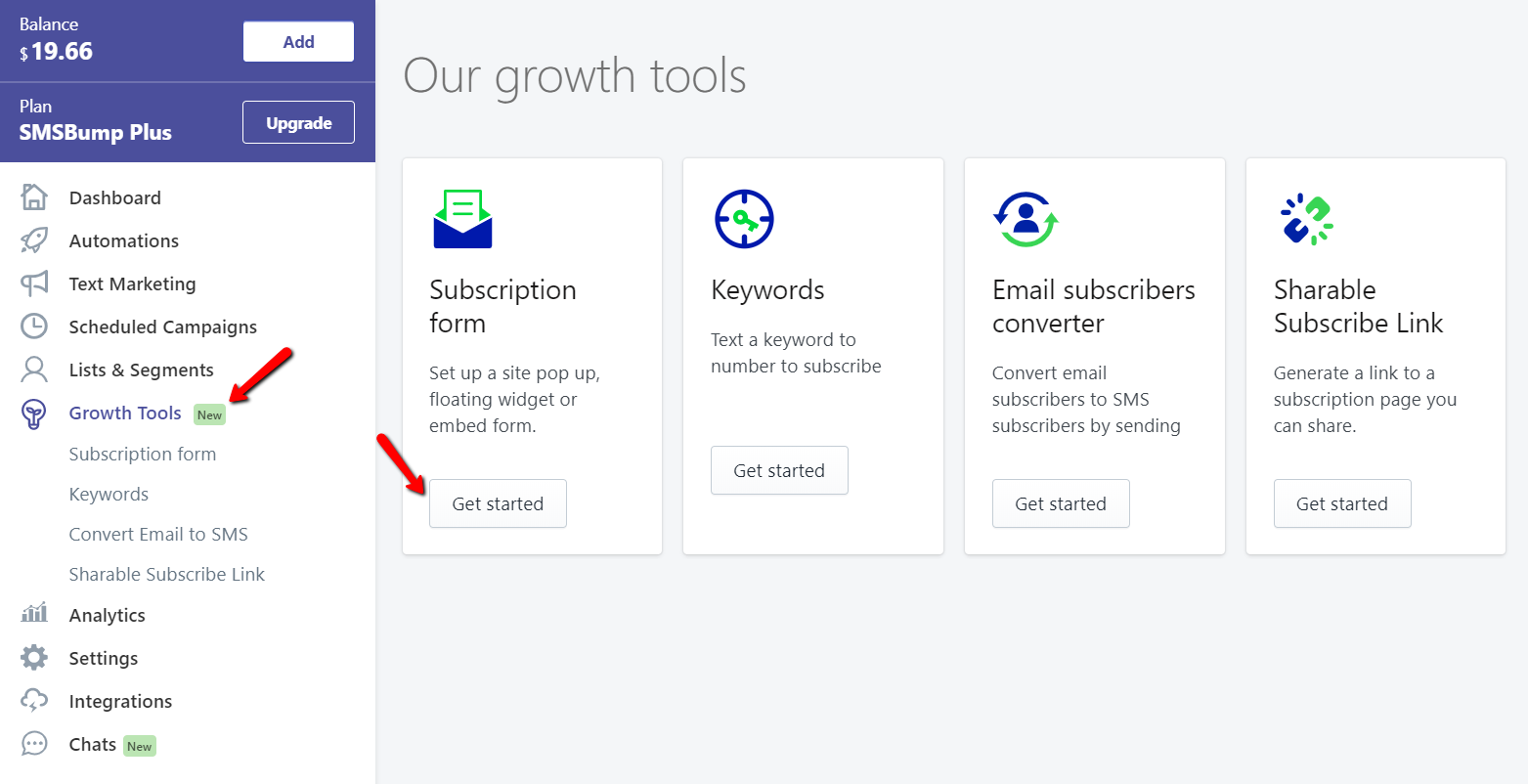 Click on Subscription form and then select Popup to start creating your popup subscription form.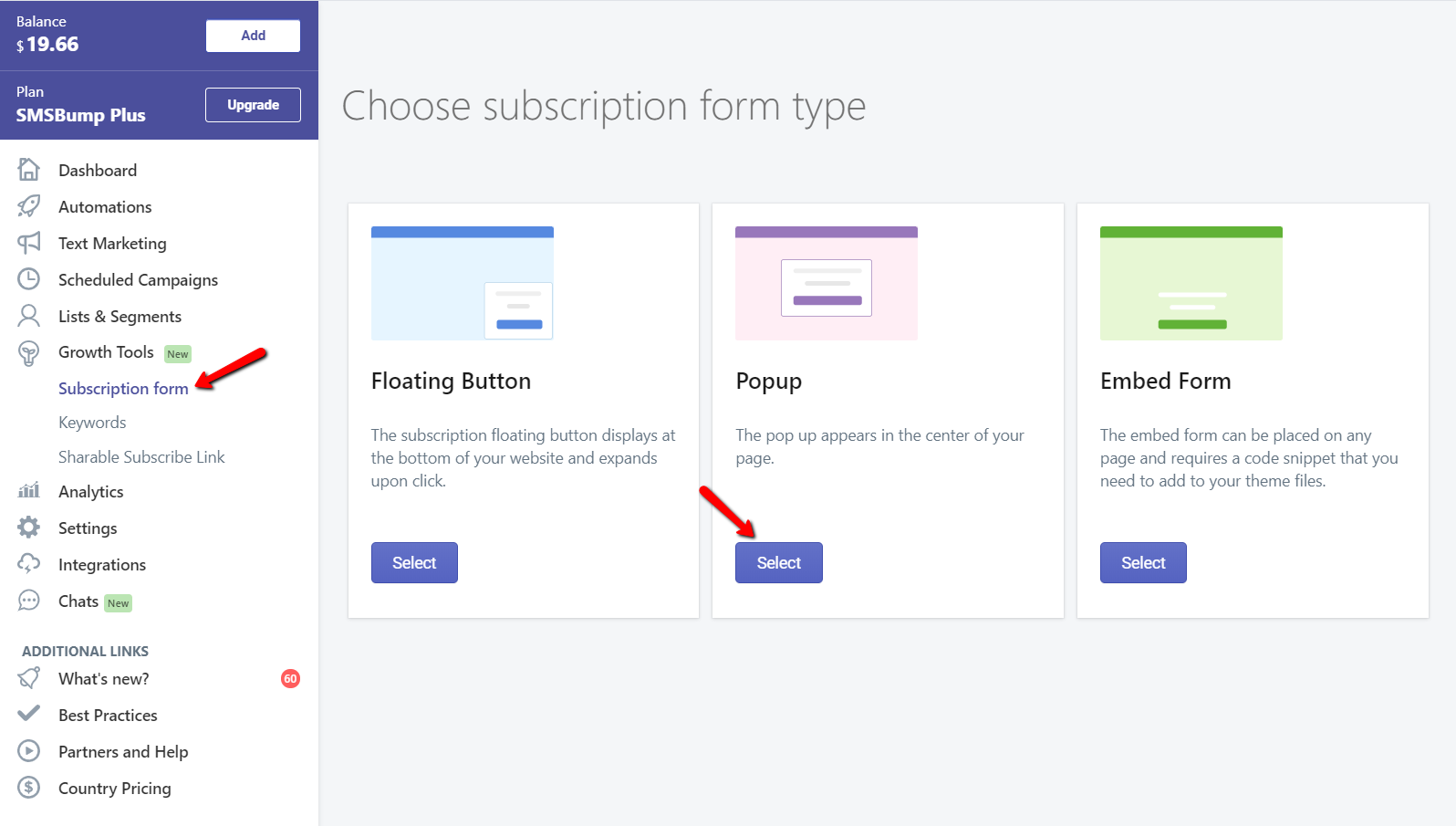 Step 2: A default popup design will come up. From the Popup side menu you can begin to customise the design of your popup.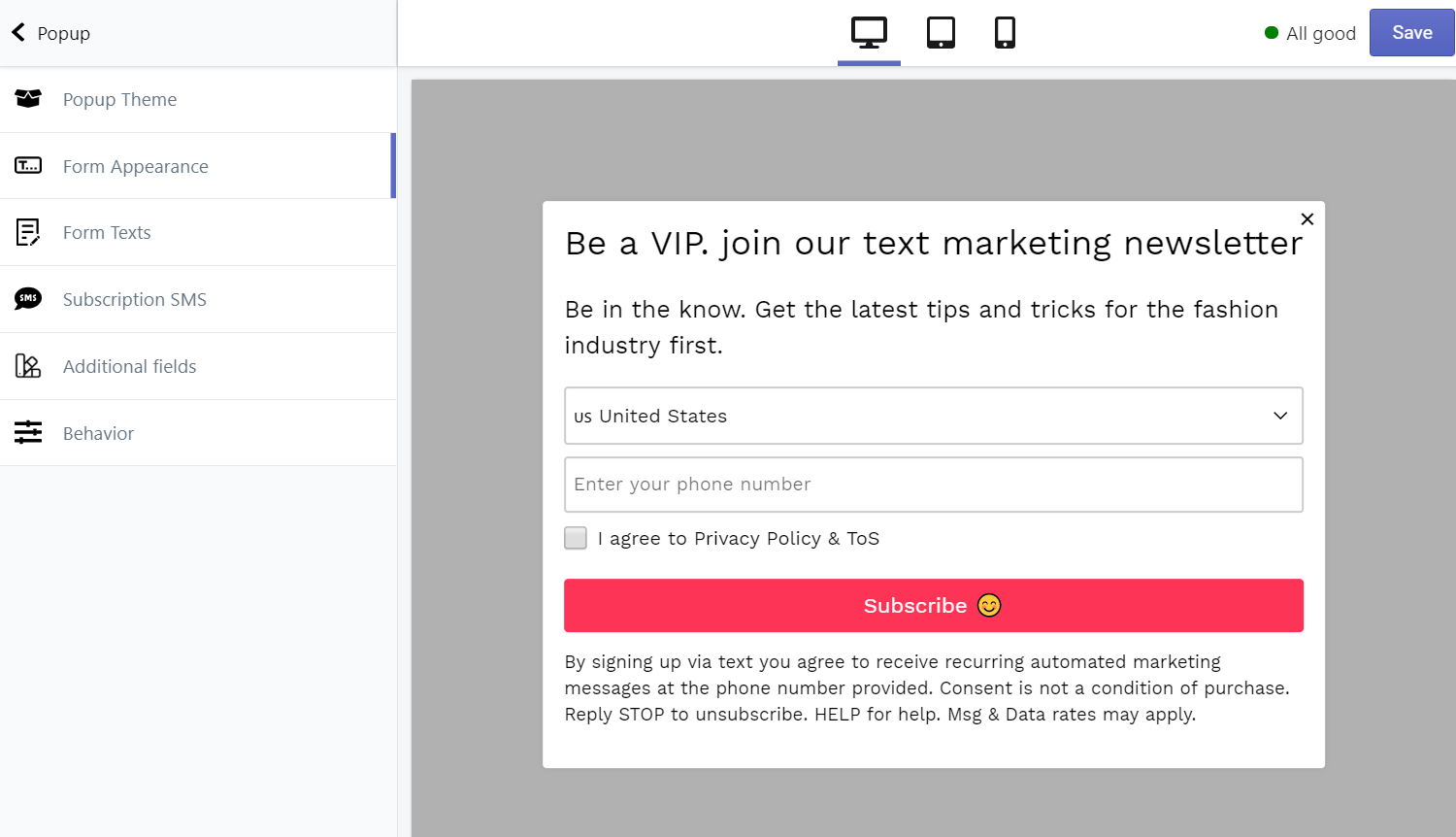 A quick recap of all of the new features we will focus on today:
Popup theme - now you can choose the popup form template, the background image and overlay opacity

Form texts - you can select your desired fonts and edit the font size and weight inside the popup


Behaviour - you can now edit your popups so they only show to customers in specific geographical regions. (European Union, USA, US+Canada etc.)
Popup Theme

Step 1: From the Form type drop-down menu you can now select from 17 pre-designed popup templates. Pick the one that's most suitable to your Shopify store's overall appearance and brand image and customize it for an even greater look!


Step 2: Next, you can select a background image from your device so you make the design of your popup even more suitable to your brand. You have two fields for uploading images to customise your popup forms:

Desktop Background Image - uploading a new image will replace the current background image in your popup.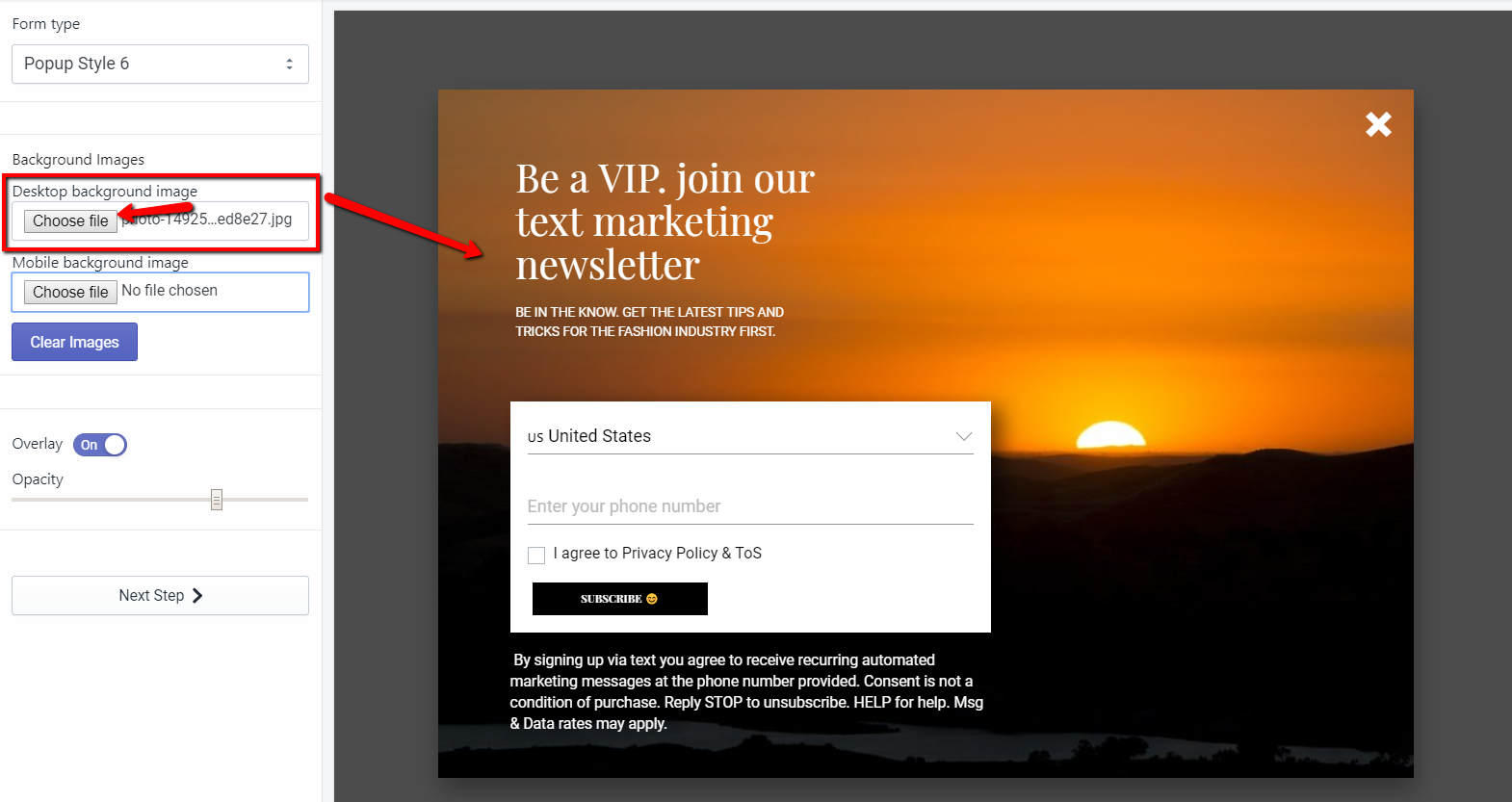 Mobile Background Image - replacing the mobile image will change the default background with the one you upload to display on mobile devices.


This helps you craft the best possible popup design for all devices so there are no resolution issues with landscape and portrait images.

If you wish to erase the uploaded image, simply click Clear Images.

Step 3: Next, you can configure whether you want to have an overlay or not. You can turn the overlay on and off if you want to darken the background behind the popup when it appears in your Shopify website. Use the slider to configure the opacity of the overlay.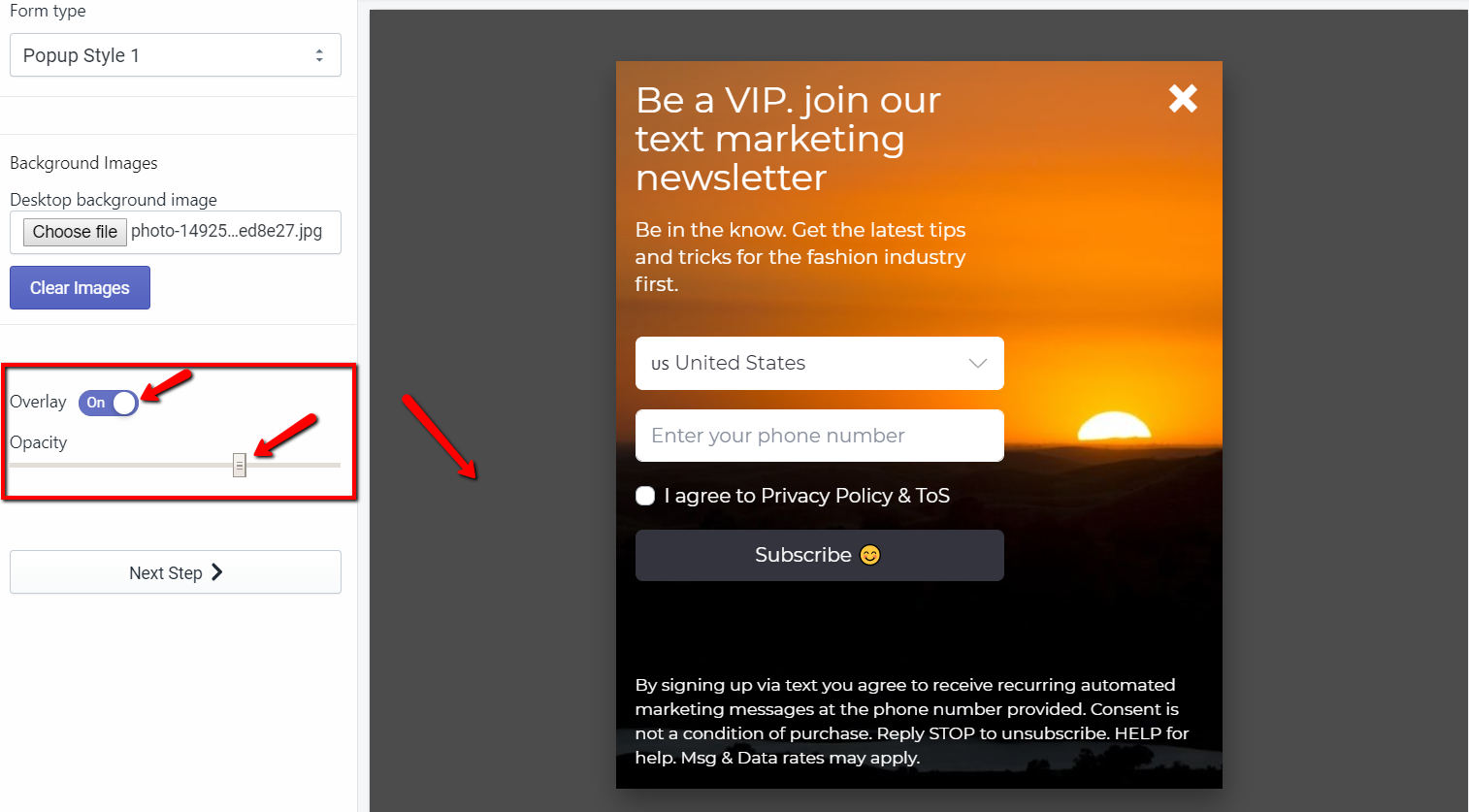 Once you are satisfied with the overall background image, go ahead and click Next step to proceed to Form Appearance.
Form Appearance
With the new updates you can now adjust the font size of each heading, subheading, and description inside the popup, as well as their color and weight.

Step 1: From Form Text Colour select the colour you wish your text to be. You can either select from the ones available, or configure one of your own, by inputting the colour hex into the field: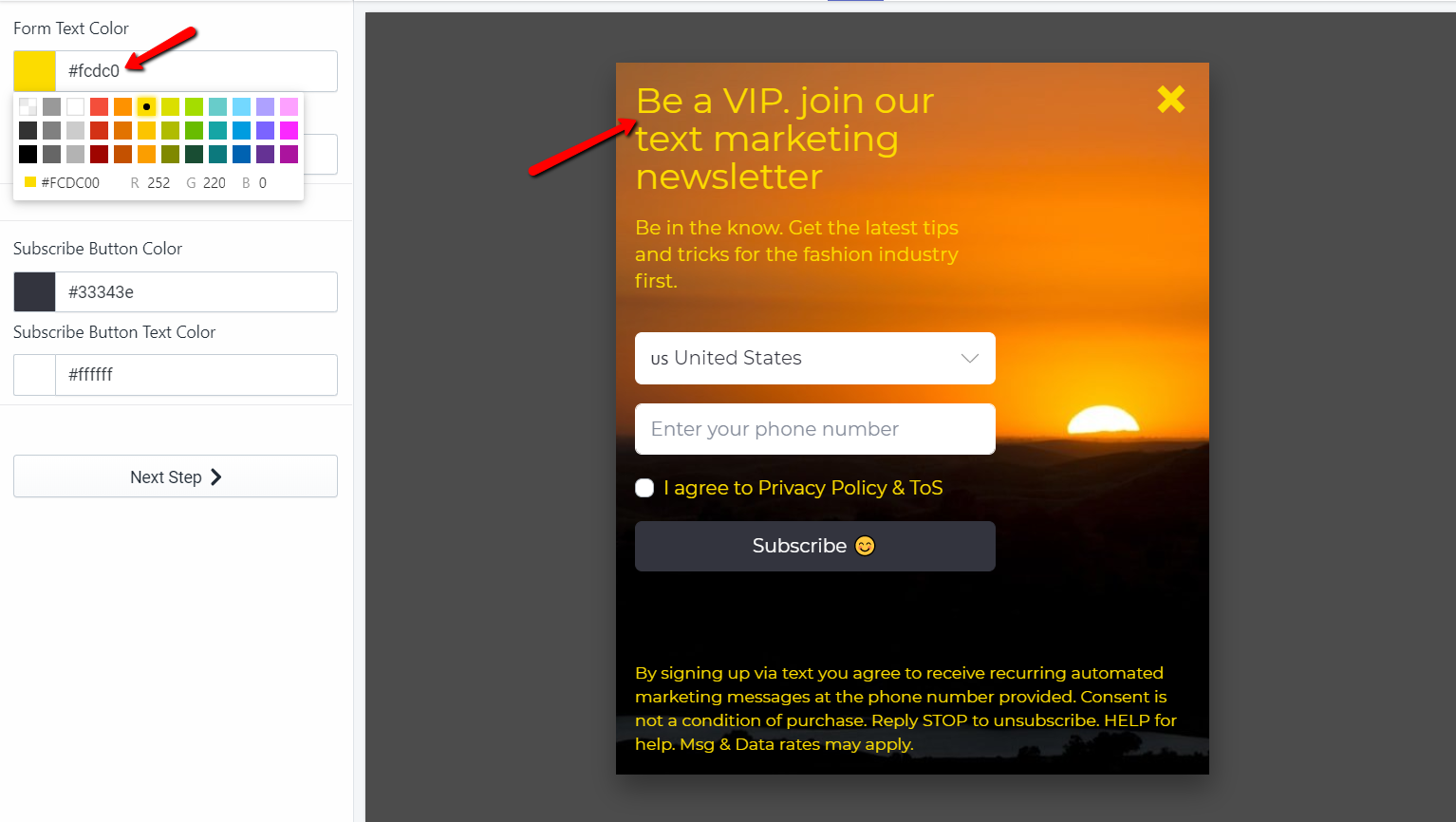 Step 2: From the Form Error Colour choose what colour to indicate when your customer has missed to fill out or tick a mandatory field/box, such as the I agree to Privacy Policy & ToS.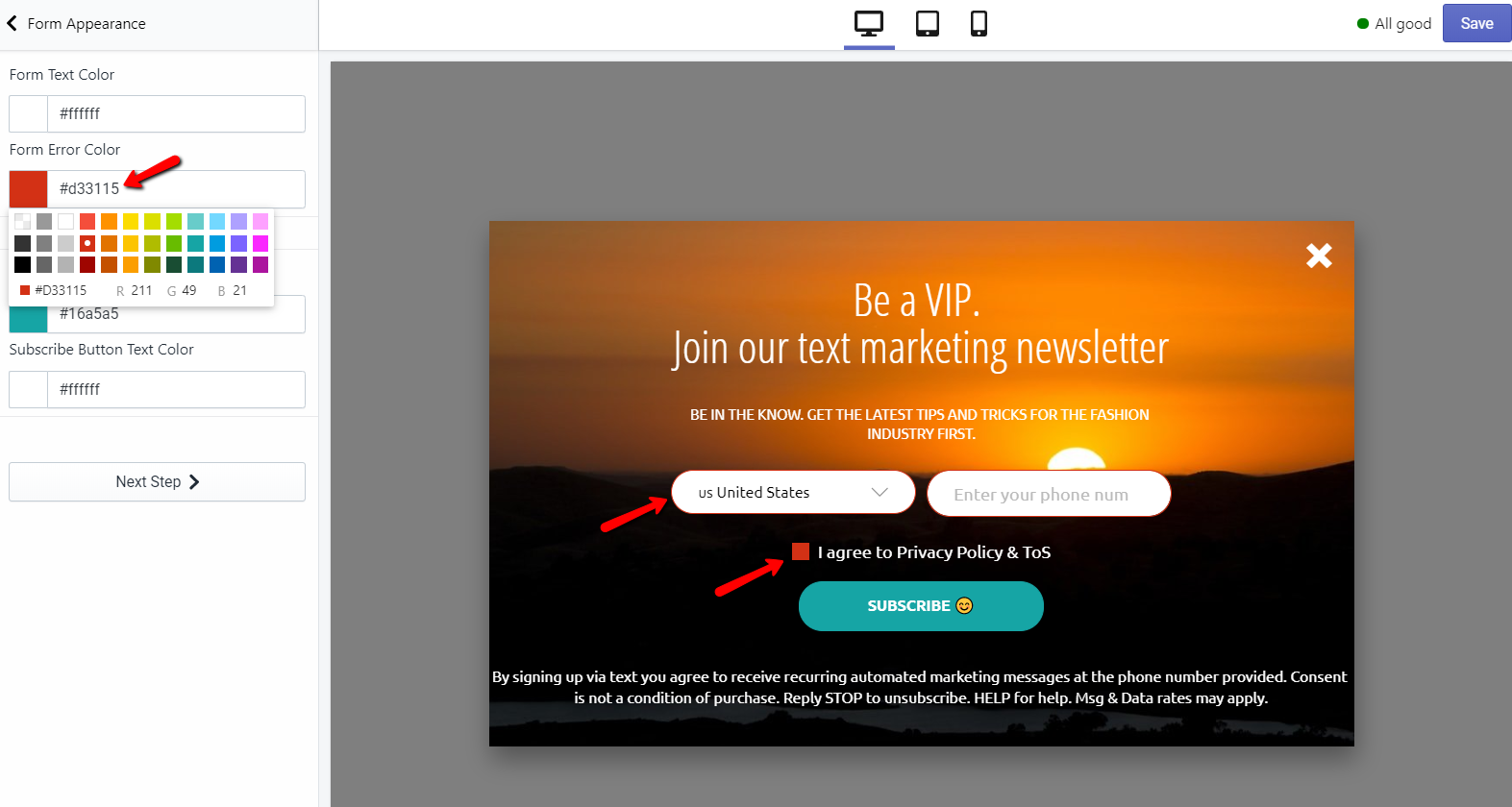 Step 3: From the Subscribe Button Colour choose the colour of your Subscribe button. Again, you can choose between the colours already made available to you, or use a custom one that corresponds to your brand better. If you wish to use a custom colour, simply type in the colour hex.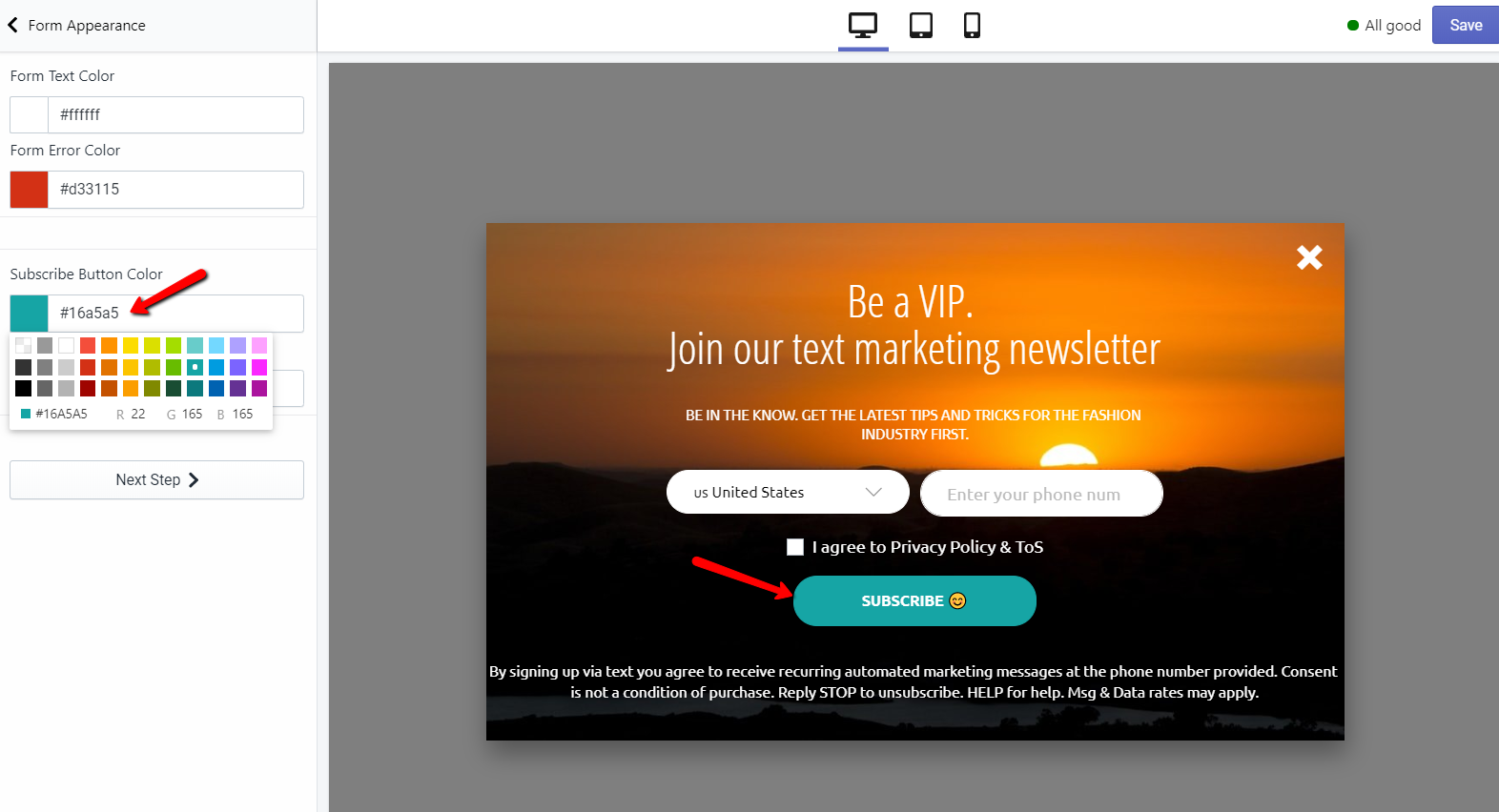 Step 4: In the Subscribe Button Text Colour select or customise the colour you'd like your subscribe button text to have.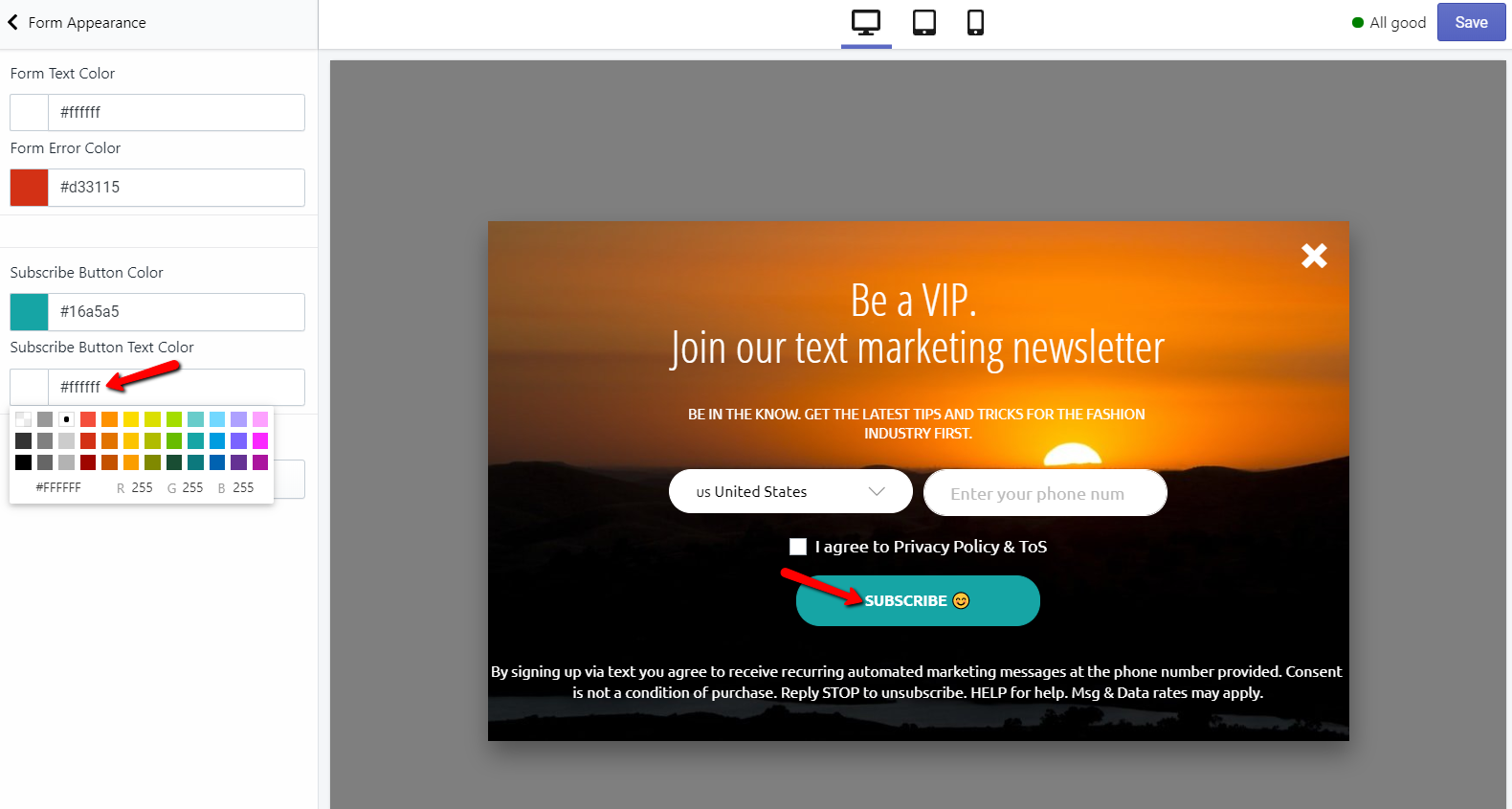 Once you are all set, hit Next step to proceed to Form text.

Important: don't forget to Save your work every once in awhile, preferably after every completed step.
Form text
In this subsection you can customise and adjust all text elements of your popup.

Step 1: In the Heather Text type in the first thing your customer will see when the popup shows up on their screen. Make sure to make it catchy and interesting.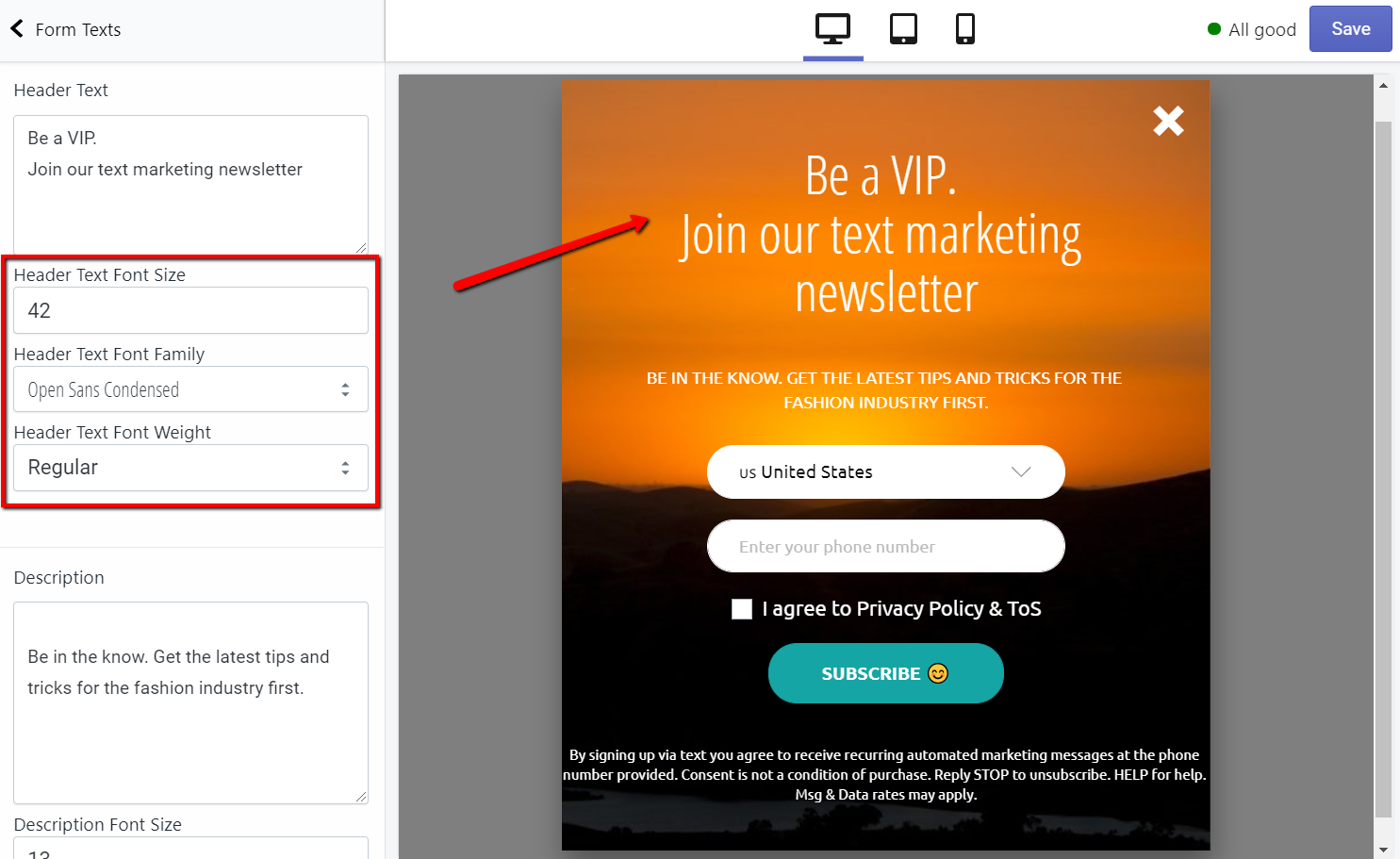 The new updates now allow you to configure font family, font size and weight. From:
Heather Text Font Size configure the Header Text's size.

Heather Text Font Family choose the font of your Heather Text amongst 100 available fonts.

Heather Text Font Weight choose if you want your Heater Text's weight to be Regular, Bold or Light
Step 2: In the Description field type in what you wish to follow after the Header text as a more detailed description of the popup.

Make any amendments to the Description text, font and weight from the fields under.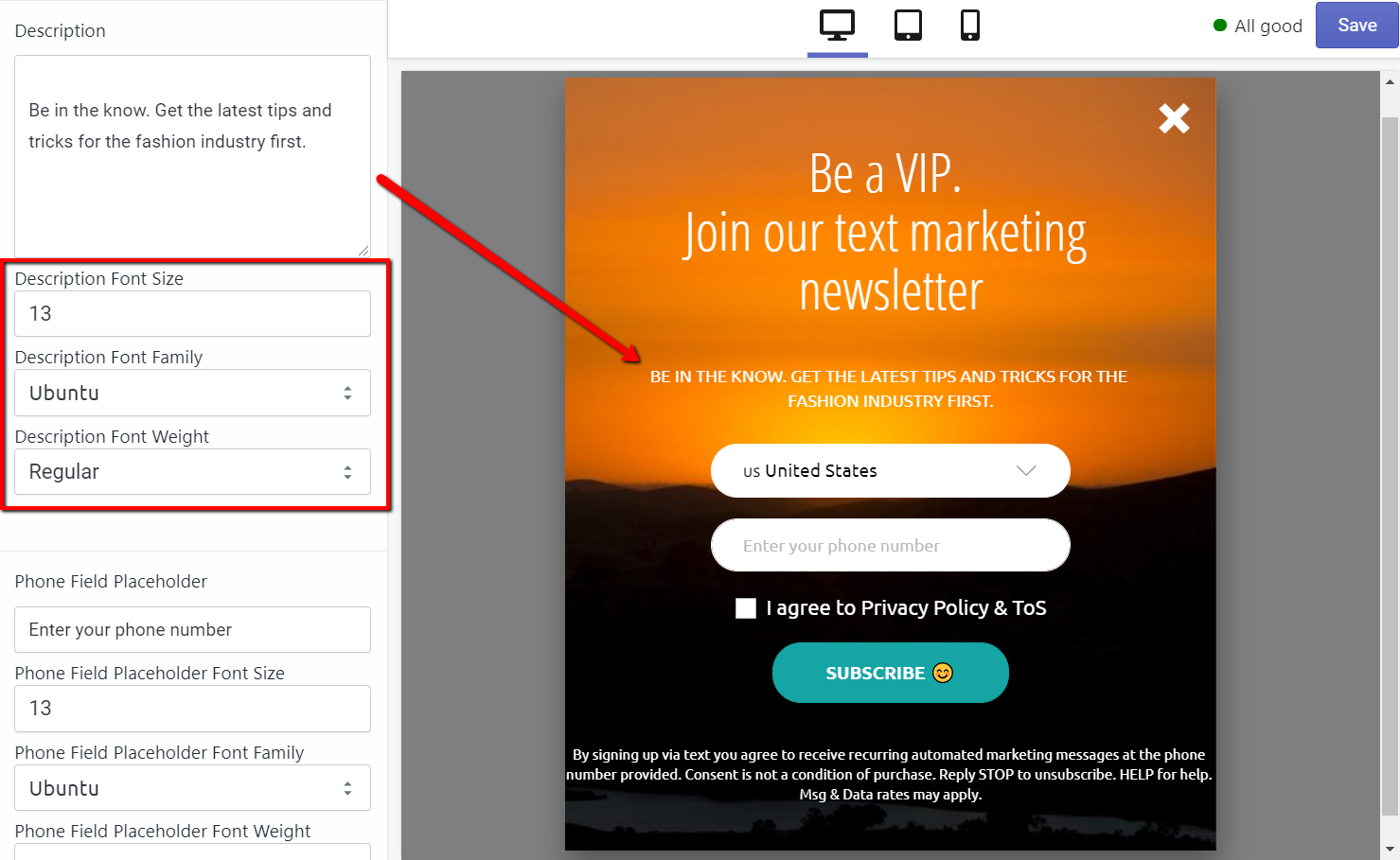 Step 3: Next up customise the Phone Field Placeholder by typing in the text you wish to appear prior to your customer filling out their contact details (e.g. Enter your phone number)
Customise the size of the Phone Field Placeholder text, the font and weight from the fields below.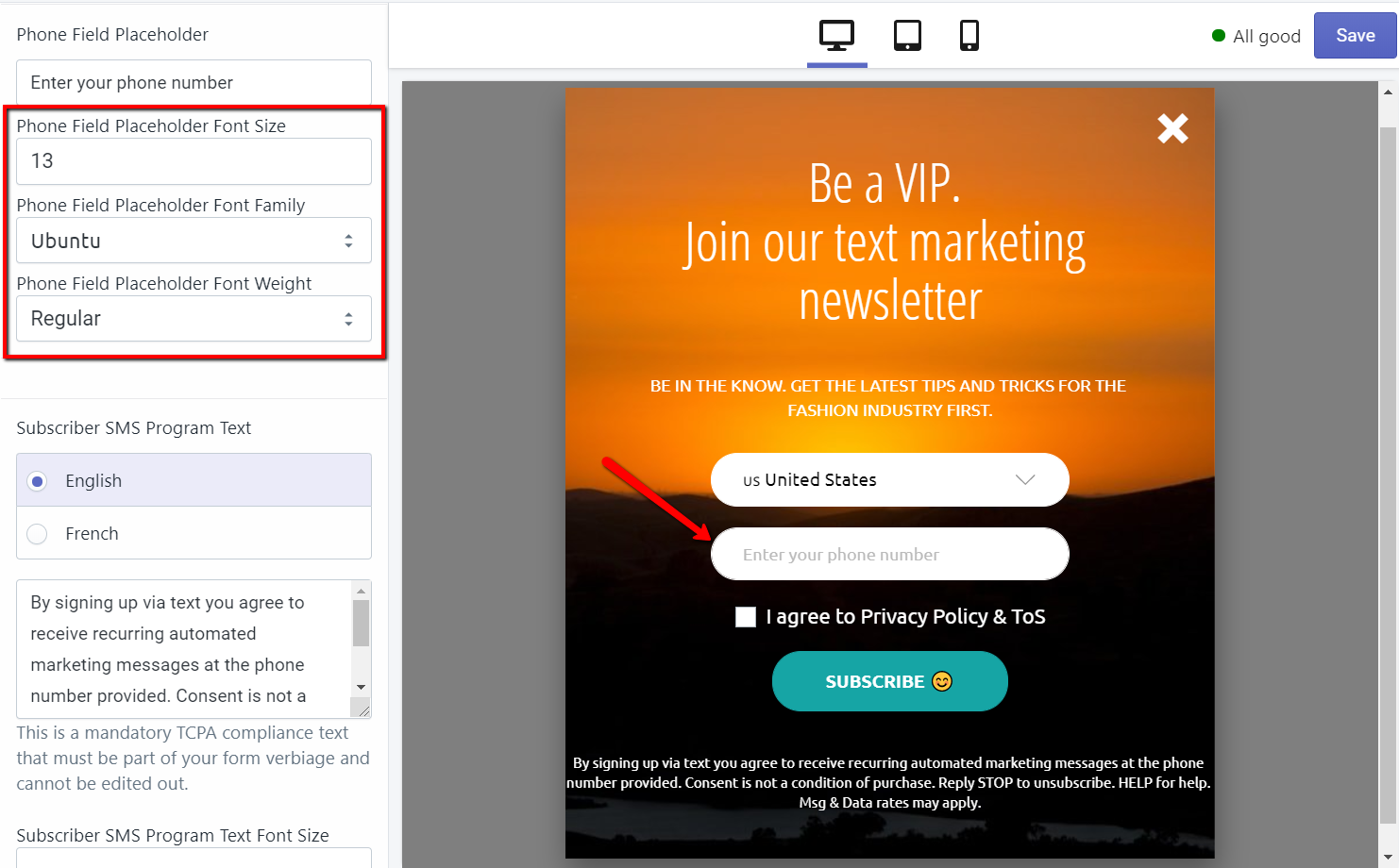 ​


Step 4: Create your mandatory TCPA compliance text in the Subscriber SMS Program Text box and choose whether it will appear in English or French (the only two options currently available).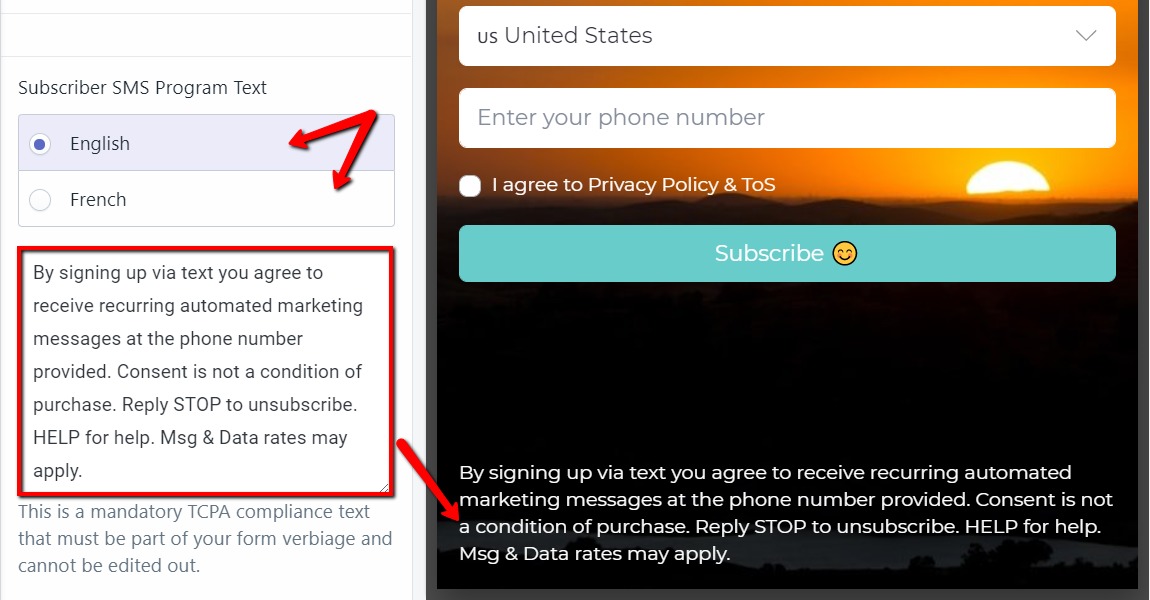 Customise the size of the text, font type and weight from the fields underneath the text box.

Step 5: Next stop is to set up the popup message your visitor will receive once they have successfully provided their phone number and subscribed to receiving text marketing from you.

To make changes to the text, go to Success Heading. As soon as you click on the text box to start typing in your message, a preview will show in place of the original popup.

Edit the size of the text, font type and weight from the field underneath the Success Heading text box.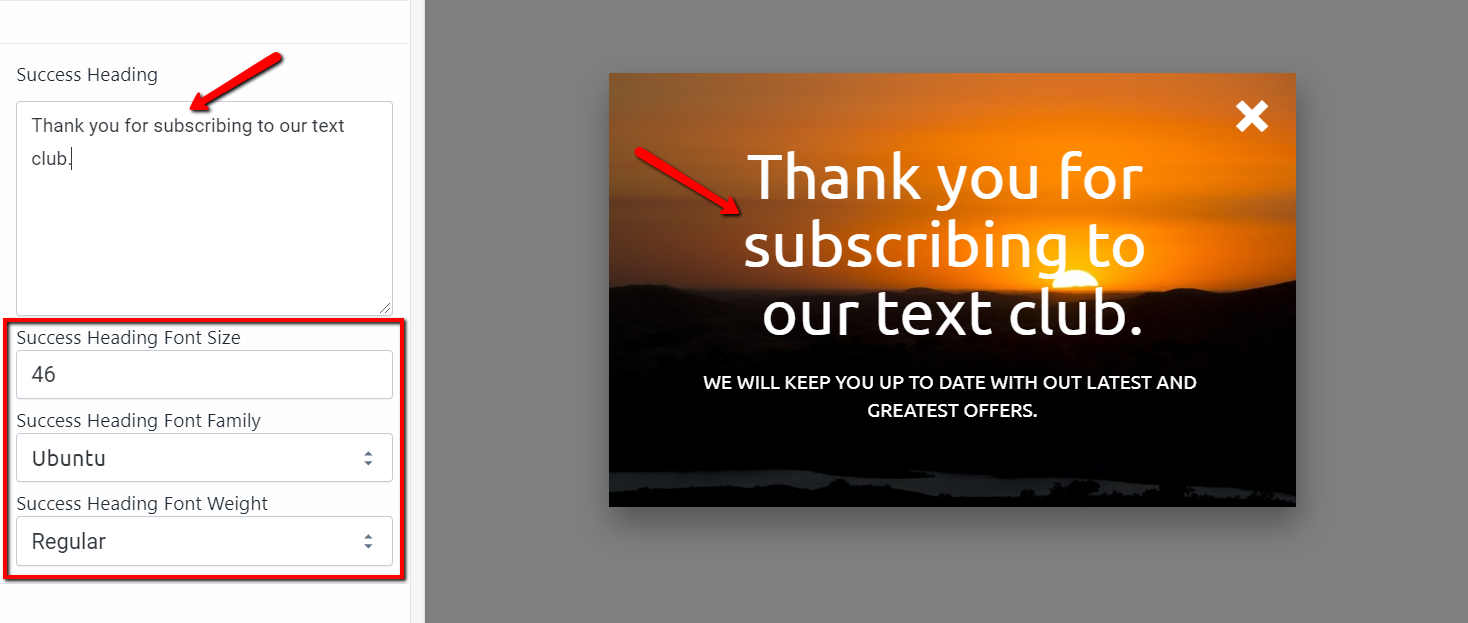 Step 6: Proceed to editing the Success Description, which is the supplementary text right under the Success Heading.
Customize the size of the text, the font type and weight from the respective fields. Remember to Save your changes!


Behavior

We have talked about how to manage the timing, frequency and targeting of your popup, all of which elements of the popup's behaviour.

What's new here is Region Targeting, that allows to set up their popup to appear only to visitors in one of the available regions:
United States

United States and Canada

European Union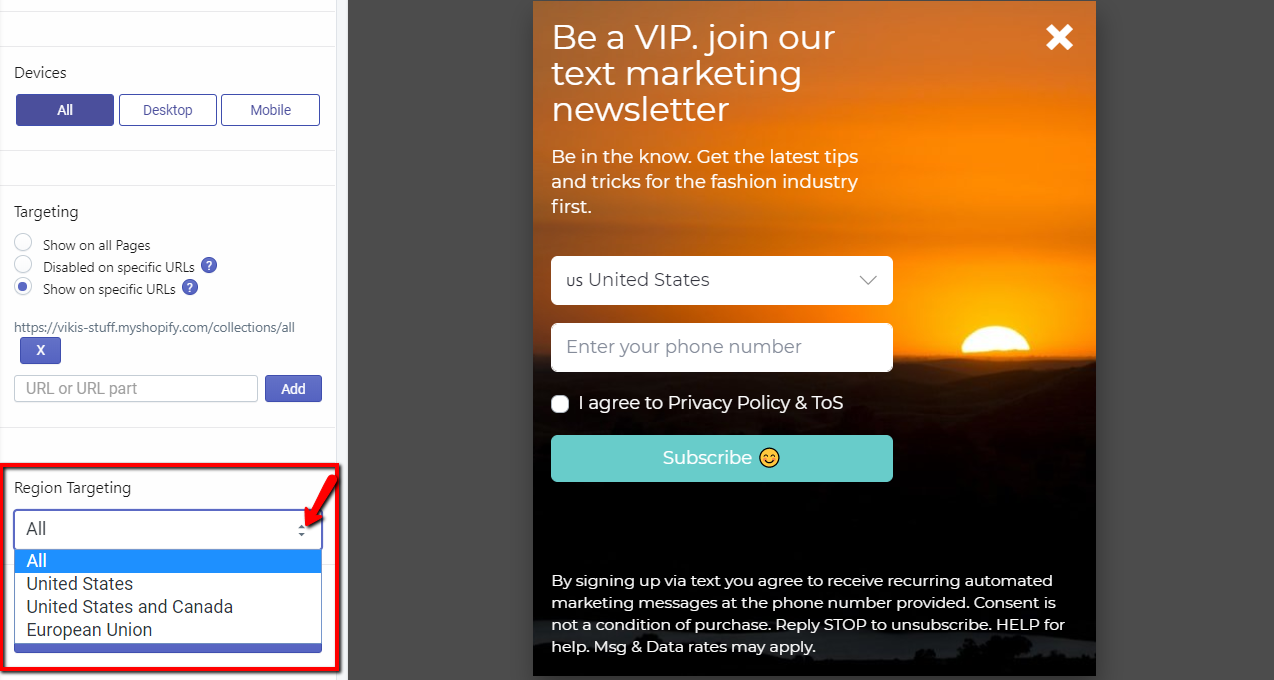 If you don't want to specify, you can simply leave it to All, which will mean that the popup will appear to all visitors.

Once you are all set on this and your popup looks just the way you wanted it to, go right ahead and click Save and Publish to let your popup come alive.

To double-check if everything is correct and your popup is in fact live, go to your SMSBump side menu, click Subscription form. If your popup is all set up, you will see this: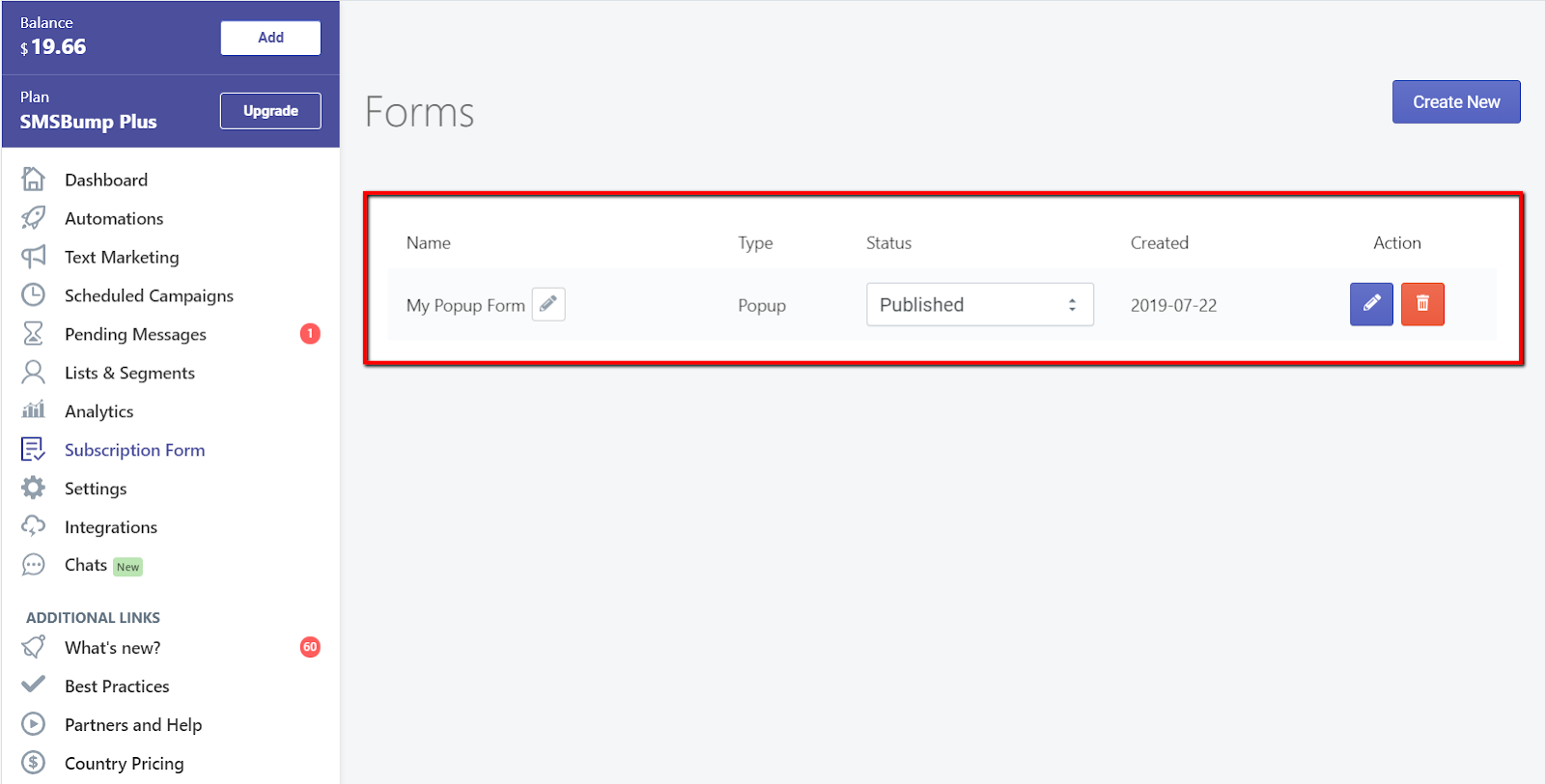 Note: You can still make changes by clicking the Edit button.. If you wish to remove the form, click the Delete button.

If you want to keep creating new popups or other types of subscription forms, hit Create new.
Before you go…

Just remember that no matter how beautiful your popup is, always make sure to give your Shopify store visitors a good reason to subscribe. Something of value, something you know they'd "trade" their phone number for. Use your subscription confirmation SMS to let them know you are giving customers free shipping with their first order, or a 5% discount on their first purchase.

Learn how to add discounts to your SMS automations from our How to Add Discounts in SMS Marketing Campaigns and Automations article.
---
Related articles