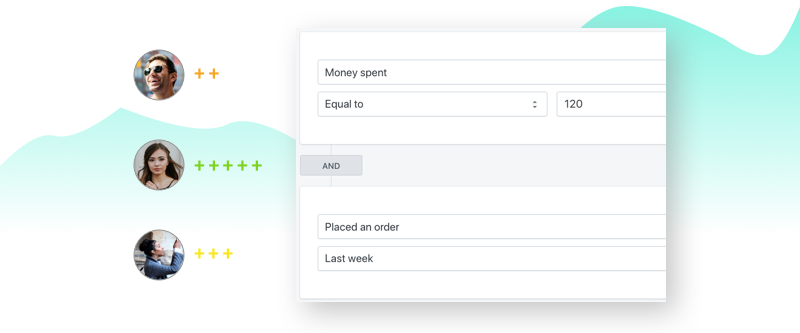 How To Segment Your SMS Audience By Customer Behavior
The SMSBump Segments that were launched in 2018 are going to be frequently updated this year so you can personalize and target your customers better and better.
Today, we wanted to take a deeper look into each segment filter. That's why we're starting a series of posts covering all of the categories in the Segment rules:


Here's how the Customer behavior category allows you to target customers based on their actions. Marketers will know this is key to increasing customer lifetime value.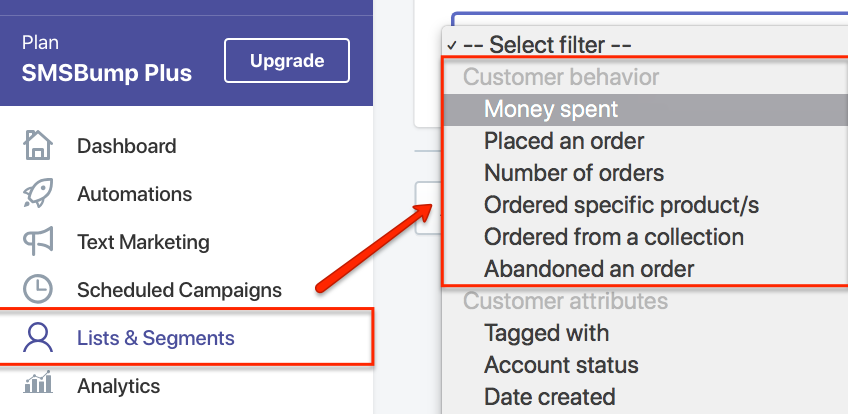 Important: You can build segments using just a single segment rule or be more specific and combine different rules to narrow down your audience further.

---

​You can build your segments using the following Customer behavior segment rules:
Money spent
Customers who spent more, less or equal to a certain amount you enter.

You can use the Money spent segment rule to build a segment with customers who already spent money in your store.


Encourage customers who spent less than a certain amount to buy more with a discount by sending them an SMS marketing campaign with a link to any page in your Shopify site.
You can also reward big spenders and keep them around for longer by offering a gift or an exclusive sale designed just for them.

Placed an order
Customers who purchased a product from your Shopify store at a specified day or period.

Find the customers who Placed an order in your site last week, last month, the past 3 months or at an exact date.


Start reaching inactive customers who haven't made a purchase in your store recently and send them an enticing deal to renew their interest in your products. Perhaps a new addition to your collections?
You can reach customers who purchased recently and create a personalized offer as part of your customer appreciation program. Alternatively, you can run a limited-time deal designed only for new customers.

Not ordered since
Customers who haven't ordered since a selected period of time.

Target customers who made orders in your store, but haven't made any purchases since.

This is one of the most useful segment rules you can have for your SMS marketing promotions. You can remind customers about your store and show off your new arrivals or sales.
You can build a segment with customers who haven't ordered in the last 3 months and give them some small incentives to come shop again. 3 months isn't that long and they will surely remember your store when they see a nice offer from you on their home screen.

Number of orders
Customers who made a certain number of purchases on your Shopify store.

Similar to the Money spent rule, you can build a segment of customers who confirmed more, less or an exact number of orders in your site.


The more the orders, the more loyal the customers are. A perfect opportunity to power up your customer loyalty program and give out rewards for customers who purchase frequently.
As for customers who made less orders, you can try to change that with a personalized SMS marketing campaign and a juicy discount as an incentive to make an offer they can't refuse.

Ordered specific product
Customers who have purchased a selected product from your Shopify store.

A powerful customer filter that allows you to build segments based on the interests of your customers.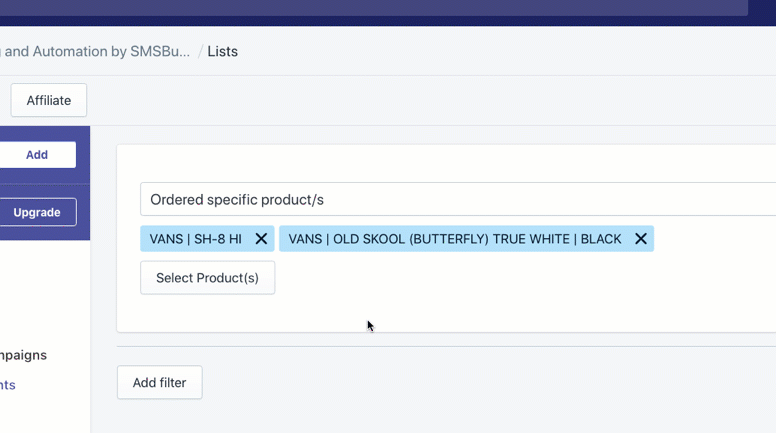 Let's say you have a segment of customers interested in Nike shoes. Use that segment to send them an SMS marketing campaign with product suggestions or accessories plus a nice discount.
Also, you can use that product interest to announce new items similar to the ones your customers have purchased.
Pro Tip: The Ordered Specific Products customer segment can be very powerful when combined with all other customer filters.

Ordered from a collection
Customers who have purchased products from specific collections in your Shopify store.

Segment your customers based on the interest they have shown in specific or multiple collections to personalize your SMS campaign.


Build different customer segments based on their interests in your collections and send out personalized deals for customers who prefer a specific type of products.
For instance, promote dog food to customers who purchased doggie treats and send cat food deals to the ones who bought munchies for their cats.
Another great idea for an SMS campaign is when you have a sale on a certain collection. Just target all customers who've shown interest before and blast out text messages with a powerful call-to-action and your great deals!

Abandoned an order
Customers who abandoned their checkout without completing the order in your Shopify store.

A powerful way to remind customers about their abandoned checkouts is to send them an automatic SMS notification with a small discount incentive to gently push them to checkout.

You can send a sequence of abandoned cart recovery SMS notifications after 1 hour, 12 hours or 1 day with different discount incentives and a unique link leading to their checkout with all the products inside, ready for confirmation.
Encourage more sales by creating a sense of urgency by adding a limited time discount to your abandoned cart SMS reminder to increase sales.


Abandoned Cart SMS Tip:
To increase your sales, we recommend you schedule your abandoned cart SMS automations up to 2 weeks ahead max.
Build Unlimited Segment Combinations
Create your customer segments for extremely precise and targeted or broad SMS campaigns in Shopify. Explore the different ways you can combine your customer segments and reach the exact customers you want with your creative marketing & promotion ideas.

Start growing today
Sign up today and join 90,000+ eCommerce businesses making it big with Yotpo SMSBump