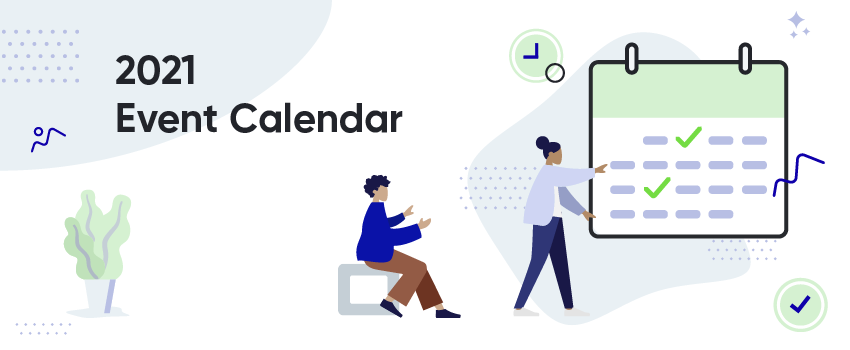 Never Miss An Opportunity with Our 2021 eComm Event Toolkit
In 2020 over 65% of the world's consumers preferred to shop using their mobile devices. As customers are changing their habits and perception of online shopping, mobile commerce is surely increasing its reach and we expect it to soon become a leading channel.

Brands looking to ride the wave of mCommerce are increasingly adopting mobile-first marketing solutions such as SMS to reach customers straight on their phones.

But besides using the right channel to communicate, it's important to reach out to customers when you truly have something to say, offer or excite them about. Outlining key events that would make a good conversation-starter can help you keep all your SMS campaigns in-line and never miss an opportunity to make a sale or interact with a customer.

To give you a head start, we've prepared a practical event guide that contains all major events in 2021 and brief suggestions on how you can use SMS to celebrate each occasion. The rest is up to you!
February 14: Valentine's Day
Valentine's Day is the first major eCommerce holiday for the year. In the US alone, more than half of the people actively buy presents for the Day of Love, and last year they surpassed 2019 spending by over 30%. Their buying choices are not limited to just presents for their significant other. Customers would also buy presents for themselves, their kids, close friends, and even their pets. Research also shows that men spend significantly more than women, and that is something to keep in mind when reaching out to your SMS audience.

While the pandemic closed down a major part of physical retail stores, leading people to focus on shopping online, Valentine's Day B&M shopping remained relatively untouched, mainly because the holiday itself came before the world went into complete lockdown. Still, online shoppers in the US increased from 28% to 32% in 2020, with half of them saying that they'd used their phone to place their orders.

This makes SMS campaigns a great way to reach a big portion of your subscribers, especially if you are a store specializing in games & books, candy & sweets, personal care - some of the top choices for gifts.

Make sure that you start at least 2 weeks in advance so your customers get their orders in time. Advertise boldly: Valentine's Day is pretty much the only holiday when using red as a primary color is actually recommended. Don't go easy on the discounts, but be brief when it comes to wording. You are targeting mainly men and (especially if they forgot to get a present) they want no fluff, so just go straight to the point.

Head straight to our Valentine's Day SMS templates and win your subscribers' hearts with some creative text messages.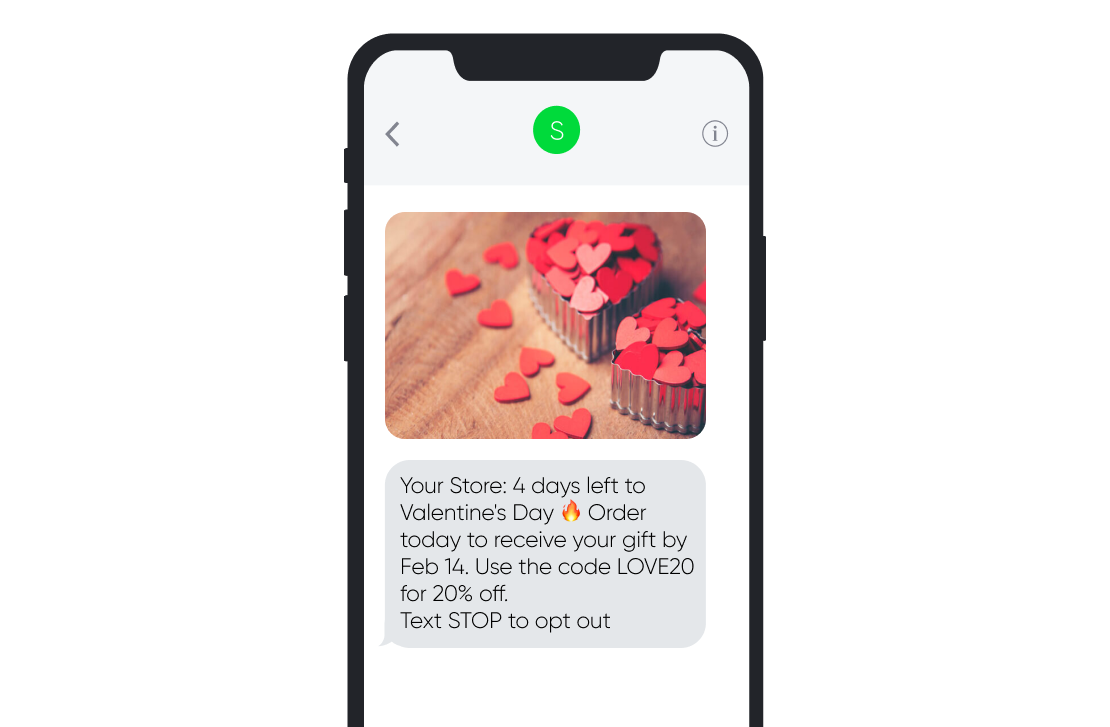 March 8: Women's day
International Women's Day (IWD) was first celebrated in 1911, but it has only become popular as a retail holiday in the last couple of years. Regardless of what it stands for, the holiday is popular both among male and female shoppers: men buy gifts to celebrate the important women in their lives, while women take the chance to treat themselves, their female friends and family members to some lovely surprises. Products of interest vary between personal care and clothing, accessories and jewellery, etc.

Besides seeing this holiday as a big retail opportunity, some brands dedicate the day (or even the whole month) to giving back to organizations and movements that support equal rights. Each year, the International Women's Day runs under a special motto, with this year it being #ChooseToChallenge, which highlights the importance of challenging biases and misconceptions in an attempt to create a more inclusive and gender-equal world.

With people spending days, weeks, sometimes even months apart from their loved ones, making them feel as part of a common cause has never been more appropriate. It's never been easier to reach people from all over the world either - as online has become basically everybody's way to communicate.

So this year channel your SMS marketing in two directions: inform your subscribers about your limited-time IWD collections or your new spring pickings, but also decide on a cause and invite your customers to be a part of that. All you need to do is create a truthful and inspiring message copy!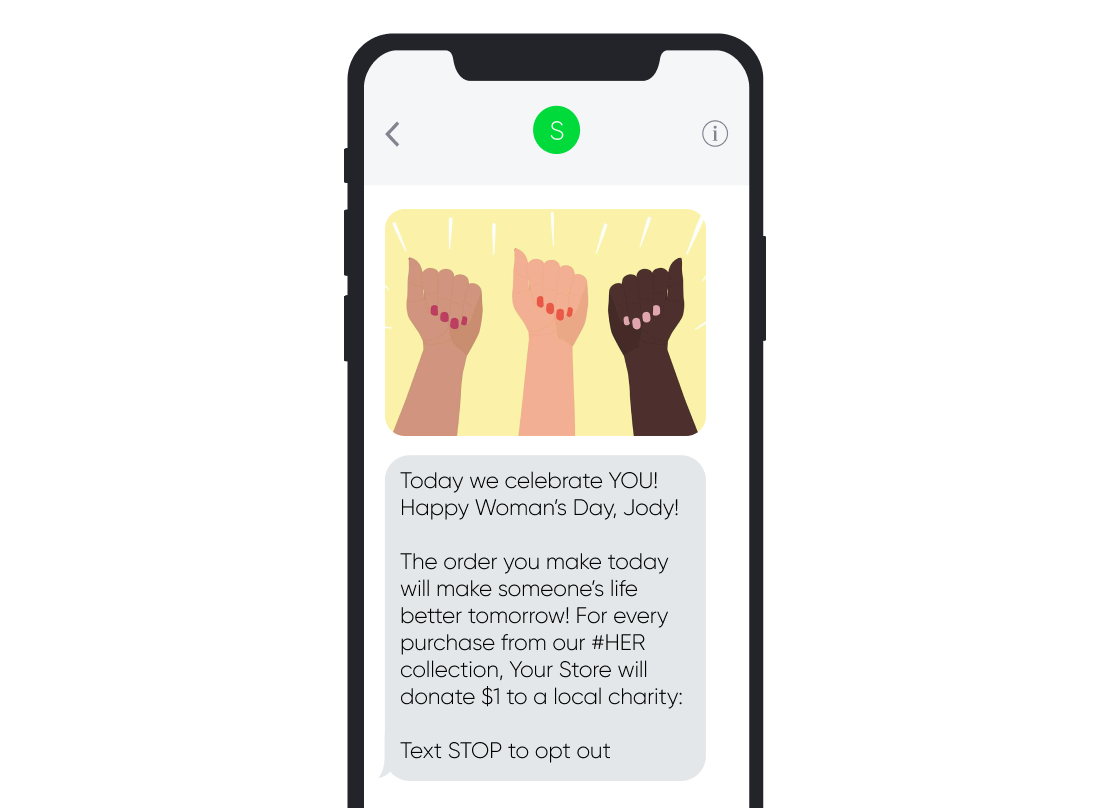 To make the most out of this special day, don't forget to create gender-specific campaigns and point the right audience to the right products and the causes that will most appeal to them. Here's a guide on how you can create different segments, based on your customer's gender.

April 4: Easter
During Easter of last year, the world was already in a complete lockdown. However, pandemic or no pandemic, 2020 didn't give the Easter bunny time to rest as people got creative with how to celebrate at home.

Over 75% of people in the US said they were going to invite the holiday spirit with some decorations and celebrate by cooking a holiday meal with the family, "visit" family and friends virtually, go to church online etc. The situation didn't affect the average spending much either - those celebrating Easter said their budget rounds up to about $150, and that seasonal sales and tradition is what would push them to shop.

This year, as people have gotten more used to shopping online, Easter can turn into the perfect opportunity to put all of your eggs in one basket and have an eggcellent early-bird spring sale, especially if your online store sells kitchen appliances, electronics, Easter-themed home decorations etc.

То bring the Easter spirit to your customers, consider adding images to your text messages. Bet on spring colors to make them pop: green, yellow, and other mellow tones will bring excitement to your audience. Make sure to customize the copy so it reminds your customers that even if they celebrate in a small circle, they have various ways to make Easter an exciting holiday and bring cheer to the family.

Research also shows that Easter sales more often than not extend past the holiday itself, with major sales also happening in the week after. This could be a great opportunity for you to clear some shelf space, and offer even greater discounts on your Easter merchandise for all your late-buyers.

If you need some ideas how to leverage the holiday to the fullest, check out our Easter guides.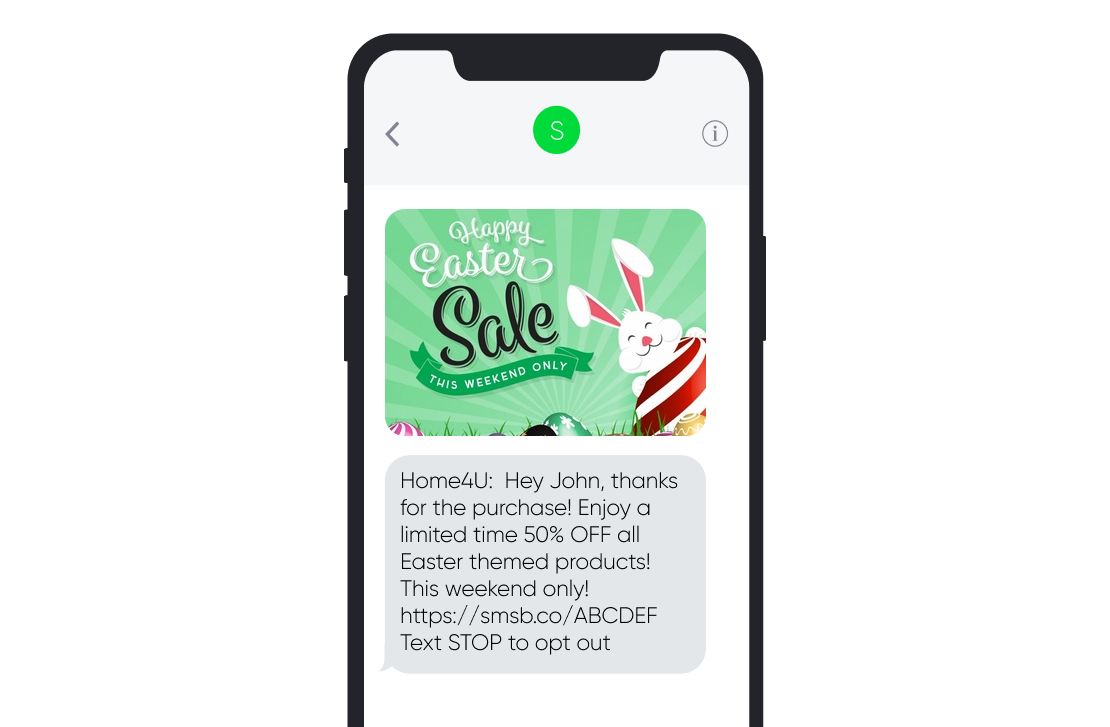 May 9: Mother's Day
Mother's Day is hugely celebrated all over the world, sometimes on different dates, but ultimately: it brings in lots of sales and accelerates revenue growth. In 2020, in the US alone, more than 85% of people said they planned to do something special for their mothers, expected to spend north of $26 billion.

Being so popularly celebrated, there has never been a better time to step-up your marketing plan to ensure your brand doesn't blend in. This is especially valid for stores which specialize in selling housewares, books, and electronics, which are among the top categories that attract the most buyers.

But also: since the pandemic last year pushed people to figure out alternative ways to celebrate Mother's Day, this year too try and give them ideas how they can do that. Even though people are hopeful that the world will be able to return back to normal before May, it doesn't hurt to be prepared with a special Mother's Day page that would offer suggestions (and product recommendations) how people can cherish their mothers safely at home. Instead of taking their moms out for dinner or a movie, give them some pointers how they can have a great time at home. Your customers will appreciate the ease-of-use and the ideas, especially since more traditional presents and gatherings might be out of the question this year as well.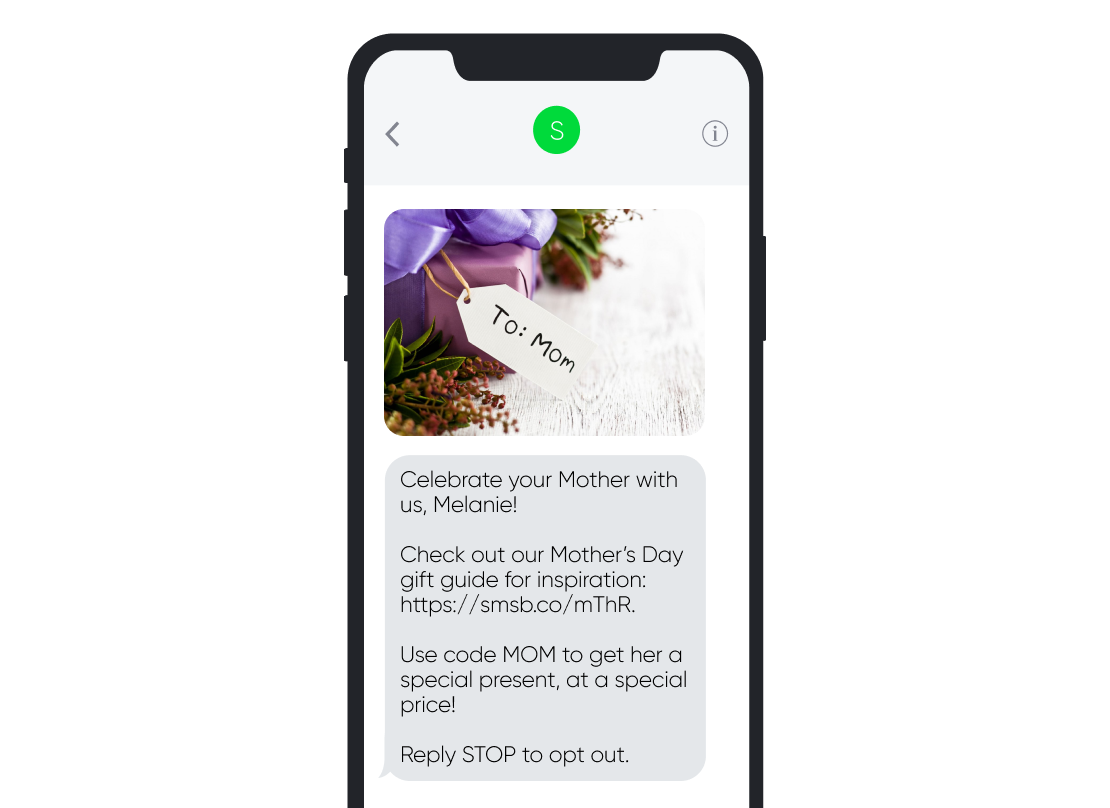 Check out
some of our Mother's Day SMS template suggestions
on how you can craft the best messages that will make all sons and daughters realize your store is all they need to give their moms the best gift ever.
May 31: Memorial Day
Memorial Day is an American-bound holiday, in honor of all those who passed away in service to the US Armed Forces.

In retail terms, this used to be a holiday devoted to mattress sales, but in recent years it is considered as the day that marks the beginning of the summer season. And what does that mean? Switching wardrobes, family barbecuing and lots of travelling.

Last year, though, altered some of these traditions: people didn't do as much travelling (if any), they could not get together in groups, there were no parades, concerts or public ceremonies as usual.

And while a whopping 95% of Americans said they'd spend the day at home, over 40 million of them still kicked off the season with some online shopping, ranging from summer clothing and outdoor equipment, through electronics and other gadgets, to refrigerators and large kitchen appliances.

This year, too, Memorial Day might look and feel a little different. But that doesn't mean your online store can't help people make the most out of the occasion. Just make sure your SMS communication with customers is down to earth, respectful of the holiday and the situation we are all in. Don't go heavy on the salesy verbiage, but instead - focus on the benefits of your products and how they can improve your customer's day-to-day routine.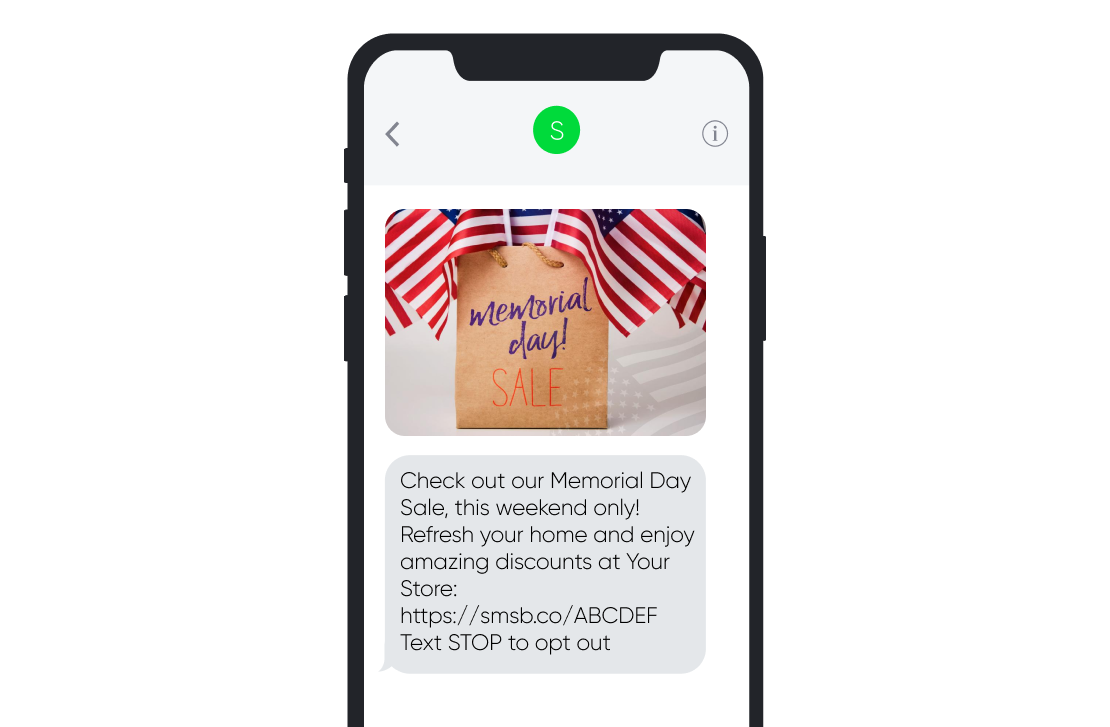 Here are some SMS Memorial day examples and tips you can take a look at for inspiration before you start your campaign.
June 20: Father's Day
Although sales on and around Father's Day are twice less than Mother's day, the holiday is growing in popularity every year, and so are purchases. In 2020, over 75% of people in the US alone planned on celebrating the day of Dad, with over half of them saying they'd do so online.

Products of interest for the holiday last year were primarily related to home-based activities and we don't expect this to change much in 2021. Personal care items, home & gardening, and tools were the top presents for Father's day. The pandemic also inspired people to search for a gift that "matters", one that is unique and will create a special memory.

Up until last year Father's Day was mostly popular among women but this is no longer the case. Statistics show men were both more generous and more likely to celebrate the holiday. Definitely facts you should keep in mind when creating your Father's Day strategy and tailoring your offers and text messages.

For your Father's Day campaigns make sure to emphasize the exclusivity and uniqueness of your offers, inspire customers with expressions such as "your dad deserves the best", "treat your dad like a king", "give your dad a gift he will always remember" etc., remind them they have this one day to make their father feel really appreciated and loved, the way he deserves. Even if it is from afar. Or especially if so.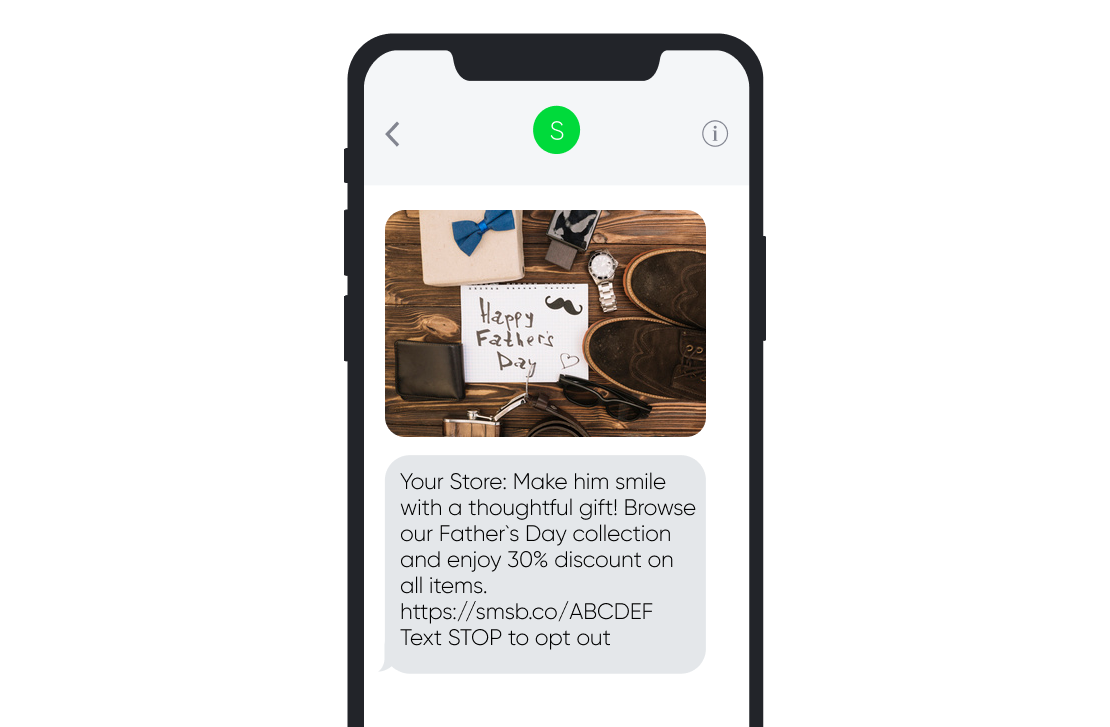 Get a hold of our SMS templates that will give you all the right pointers on how to make your Father's Day campaigns even more engaging and special for your audience.
July 4: US Independence Day
The 4th of July is the most important day in American history up to modern days, celebrated by a major part of the nation. And even though last year marked a significant decrease in people planning to celebrate, still ¾ of the interviewed said they will be doing something to commemorate the day.

Despite this drop, we didn't really see a decrease in spending, nor did we see a difference in product interests. Over $6.5 billion were expected to be spent on food, grilling supplies, fireworks and other celebratory items, giving your online business a great opportunity. Not to mention, 4th of July usually comes with some mid-season sales, ranging from summer clothing to furniture. So there are really plenty of options for your eCommerce store to benefit from the holiday.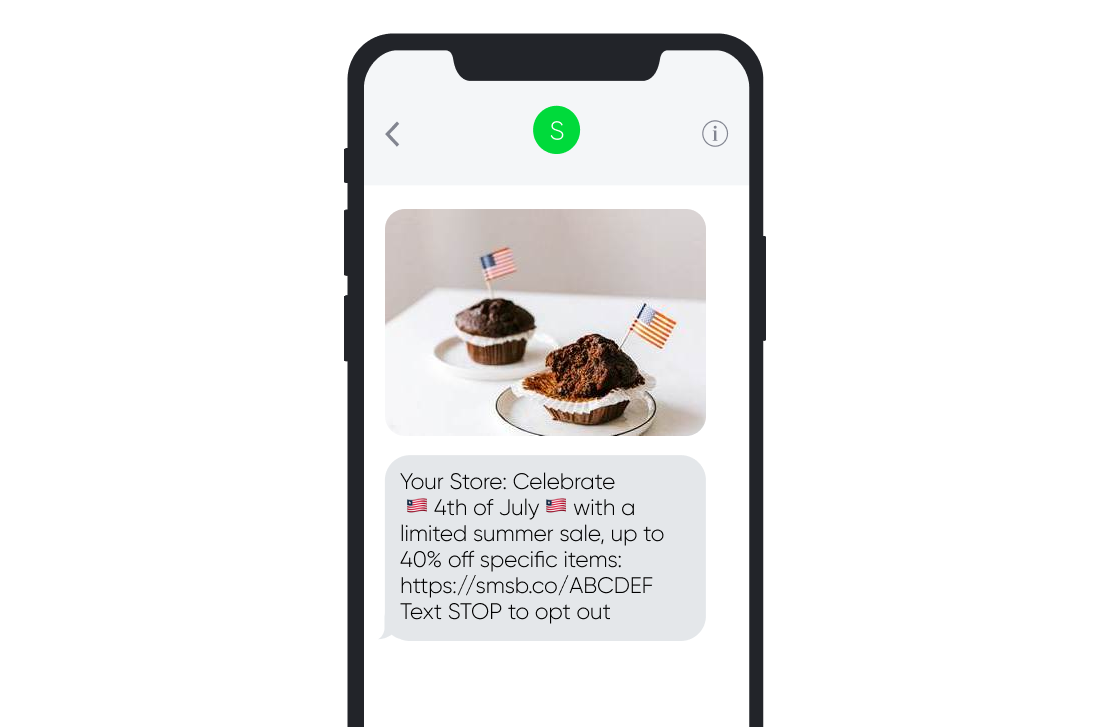 Speaking of plenty of options, refer to our 4th of July strategies to see our ideas on how you can give your store the red-white-blue vibe and make the most out of the holiday. Don't miss out on our Firecracker SMS templates either - they are all the inspiration you need to create a successful text marketing campaign for this important occasion.
September: Back-to-School
2020 made school a little bit different, for both kids and their parents. Instead of returning to the classrooms, students adjusted their living room space for gym class, turned their kitchen into a place for arts & crafts, and could only connect with their peers virtually.

And while in 2021 school also started in an online setting, we are hopeful that when the time comes for the new year to start in September, students will be able to return to their actual classrooms.

Either way, the new school year means new clothes and shoes, backpacks, notebooks, school supplies, and if the online education continues - electronics and other equipment for home schooling. It's an exciting and hectic period for both parents and kids, trying to get the very best of all school merchandise, but also beat prices.

For eCommerce it's just as exciting and filled with opportunities, as Back-to-School sales in the past have amounted to over $100 billion, with over half of consumers doing their shopping online.

To blow the competition out of the water and get the most customers in early on, some stores offer incentives in the very beginning of summer to jump-start sales. Starting this early is especially valued by families with multiple children who are working with a rather tight budget. If you want to keep them coming back for more, though, don't blast out a store-wide sale just yet. Entice them with weekend deals on specific items, and don't forget to emphasize limited quantities to get them in the "now-or-never" shopping mood.

However, if you want to grab your last-minute buyers, make sure to extend your sales until the weekend after the first school day. This is the perfect way to clear up some shelf space by putting some low-volume items on clearance, and giving customers only a limited amount of time to act on your great offers.

And since back-to-school promotions don't just cover one or two items, but stretch out to a variety of products, make sure to always have an active up- or cross-sell promotion running. This way, if a mom bought a set of notebooks for her son but skipped on buying colorful markers, you can nudge her to reconsider with a small discount on a complementary item.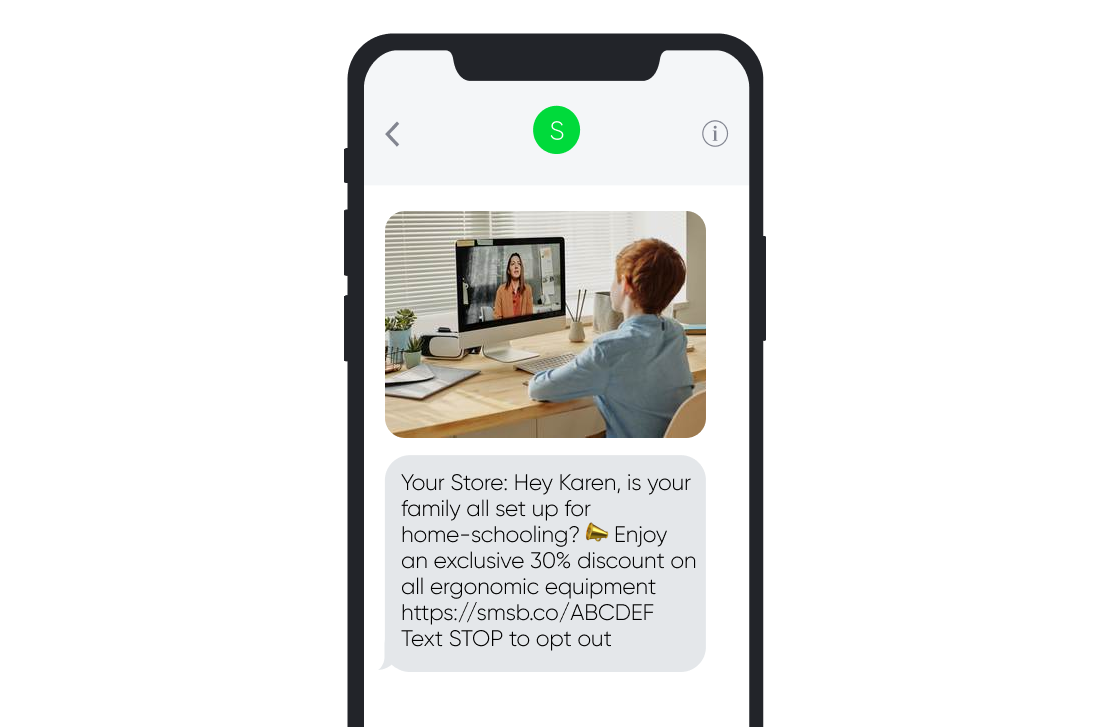 Check out our A-grade back-to-school SMS templates that will have parents running through the halls of your online store.

October 31: Halloween
Halloween last year was many people's opportunity to temporarily escape the real-life frights and focus on the fun factor.

Regardless of the raving pandemic, close to 60% of all participants in the NRF survey said they are planning on keeping the Halloween tradition, dressing up and giving out sweets, making costumes, candy and decorations the top-selling items.

The total spending rounded up to about $8 billion, which marked the highest ever per-person spending: $92. And while online was not forecasted to be the most popular place to shop for Halloween, it did in fact account for about a third of all shopping.

Halloween gives you the perfect chance to engage with your subscribers in an interactive way even online. Or especially online. Whether it is an entertaining giveaway on social media channels, a fun dress-up sweepstakes or a massive online flash sale: you can leverage the occasion to connect with your audiences and create buzz around your brand, collect more subscribers and promote your products. Use SMS to both excite your subscribers about your Halloween activities, but also retarget new shoppers that will engage with you as an effect of your social media campaigns.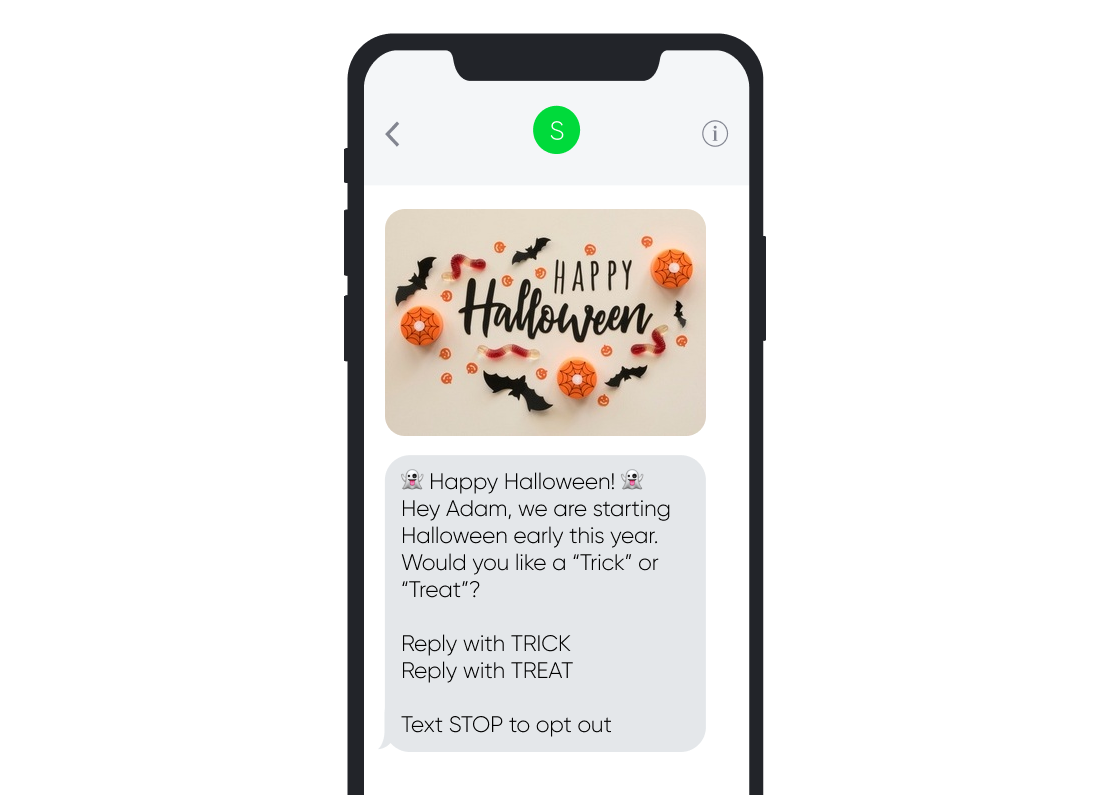 Our 13 spooktacular SMS templates will help you turn your 2021 Halloween into a successful campaign!
26 - 30 November: Cyber Week
Cyber week is what eCommerce merchants prepare for all year. Starting with Thanksgiving on November 25, going through Black Friday, Small Business Saturday, Super Sunday, and finishing with Cyber Monday, these 5 days, put together, accumulate the most sales for retailers without a doubt.

On Thanksgiving online purchases rose by almost 22% YoY, hitting a new record of $5.1 billion. Forty-six percent of all purchases were made using a smartphone.

Shopify merchants reached peak sales of $919,000 per minute globally, compared to $671.000 in 2019, or an increase of over 30%. Once again apparel and accessories sales dominated, followed by health and beauty.

Following is Black Friday, which despite the lack of midnight line-ups in front of B&M stores, was still strong in 2020.

Shoppers doubled down on online shopping, which led to a 20% increase compared to 2019. Online sales attributed $9 billion, with 40% of the purchases happening on mobile devices.

After the Black Friday craze, Cyber Monday scored even bigger, with online sales in the US alone equalling $10.8 billion, up by 15% from $9.2 billion in 2019. This made it the biggest online shopping day ever in the United States.

It's all hands on deck when it comes to Cyber week. What does this mean? You need to go extra heavy on all marketing activites. Try to be as specific as possible, be extra creative with your discounts, try to appeal to your customers on a personal level and offer them deals on items you know will definitely interest them.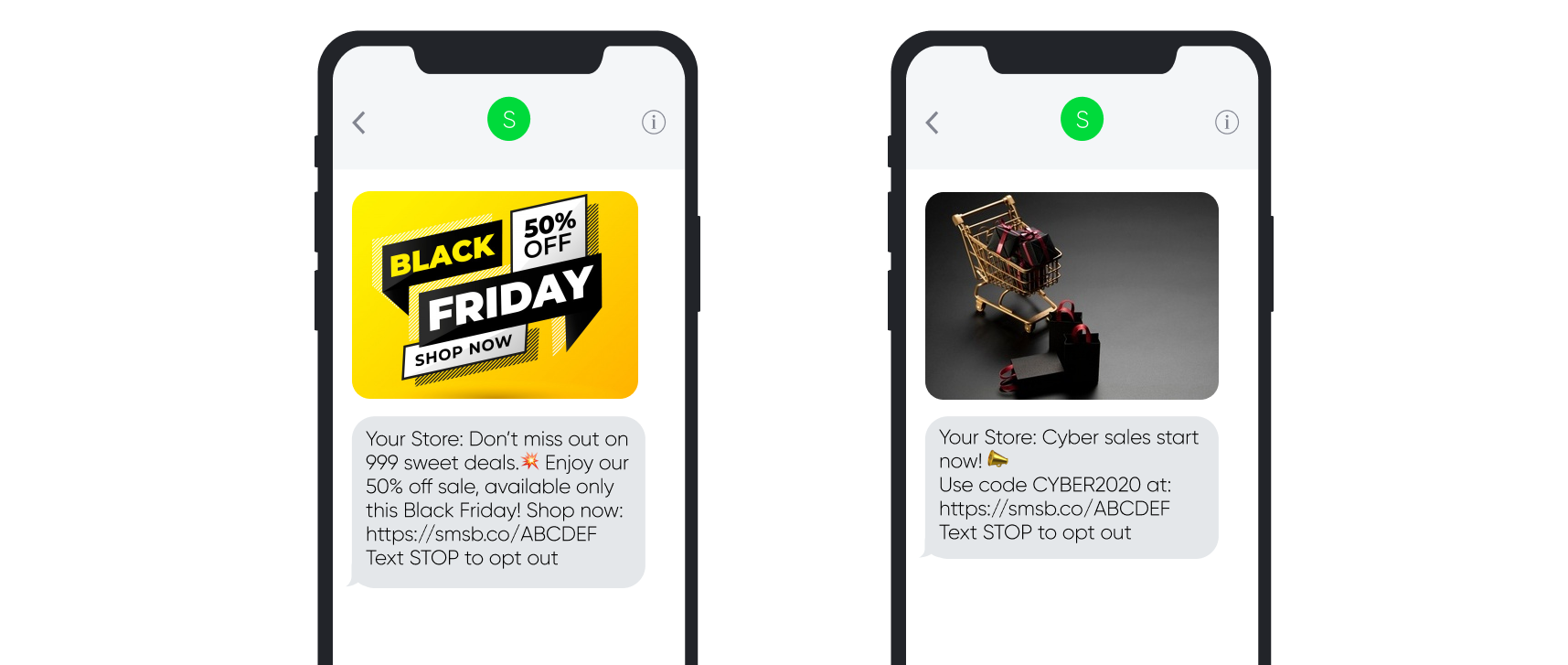 Visit our Black Friday Knowledge Hub for more strategies and ideas on how to do all of this and more.
December 25 - Christmas

Christmas sales have been on the rise for the last 10 years and more. In 2010 the total amount spent on gifts just was $528.8 billion, as opposed to 2020, when the total holiday retail sales were prognosed to amount to $755.3 billion, a growth of over 30%.

With people opting in for online gift-buying more than ever, this means only one thing for retailers: you have about 1 second to take a deep breath after Cyber Monday, before you have to start gearing up for Christmas.

The uncertainty that comes with online shopping, especially around major holidays such as Christmas, is whether shoppers receive their gifts on time. So besides advising shoppers to start their holiday planning early on and order their presents well before they hear the first jingles, we also recommend you to take out your online store's decorations in advance and begin hinting at your holiday collection as early as mid-November. This is especially valid for international stores, which might be getting orders from different parts of the world.

Make sure to optimize shipping and delivery, offer expedited shipping if possible, and try to maintain a constant communication with your customers. Send them SMS updates on their order to give them a peace of mind and keep them informed at all times. Give them a way to reach out to you in case they have any questions or concerns. Always follow up with them to ensure they had a good experience and nudge them to write a review.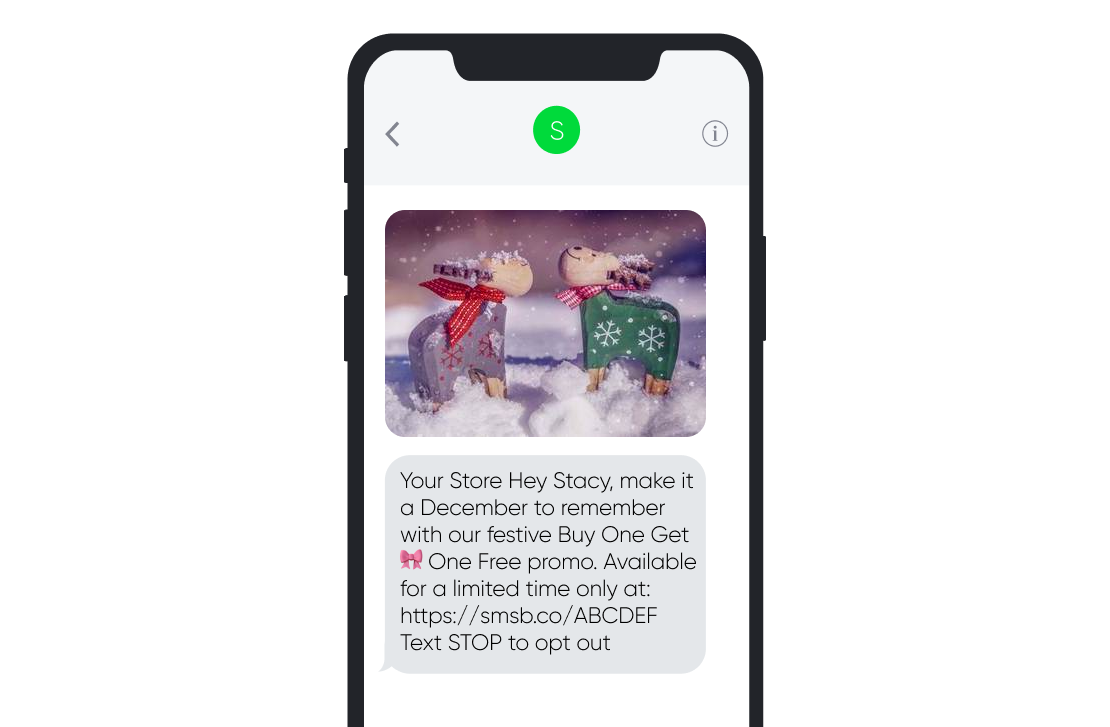 Last but not least, to help them with their decision, create collections based on the different people they might be buying presents for - child, mom, dad, significant other, friends etc. Promote these collections with appealing images in your SMS, focusing on the time period, and the appropriate colors and themes. Get inspired by our SMS templates, or fire off to our Christmas guides for more ideas how to make it a December to remember, both for your store sales, but your customers as well.
December 26 - Boxing Day
We've come down to the very last retail holiday of the year.

In some locations, December 26 is just as monumental a day as Christmas itself, some people even refer to it as the second Black Friday. It is especially popular in Canada, Australia and the UK, with the latter usually recording sales upwards of £4 billion.

Nowadays, Boxing day has become a synonym of post-Christmas laziness, watching sports on TV, cold turkey… and bed-based online shopping.

Being primarily an online holiday, Boxing Day is the perfect chance for eCommerce merchants to reach their customers via SMS. Especially if you emphasize that your offers are entirely there for your customer to indulge in. Why is it important to focus on providing them some "Me" shopping? Because they are exhausted from looking for presents for all of their relatives and friends, and what's more - they might have not gotten what they wanted for Christmas this year. But you are there to show them they can self-treat themselves to a sweet present with an even sweeter deal.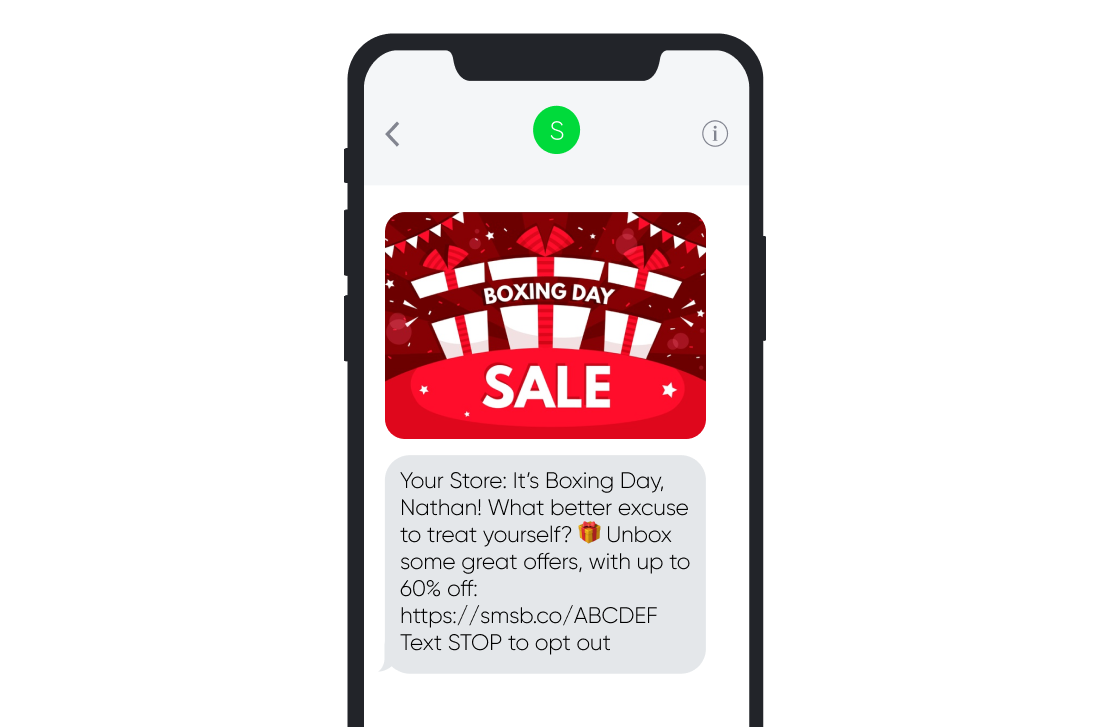 An important thing to note when creating your Boxing Day campaigns: try to not put too much focus on the discount you are providing. At this point, after Black Friday, Cyber Monday and Christmas, customers are experiencing the so-called "discount fatigue" and you are risking being ignored. Instead, try to make your offer stand out with a rich personality, make them see that you really thought out what you are offering them, based on their personal needs and wants.

In our guide to the perfect Boxing Day SMS you will find more suggestions how to craft a converting text message that will appeal to your customers even at the end of the holiday season.
2021 Will be Your Year!
We are hoping that this event calendar will guide you through 2021 and will help you plan out your year, optimize performance and ultimately: have a sales blast!

Make sure your SMS marketing is always in-line with all the current trends, so you can maximize the effectiveness of the channel. Let our 2021 SMS marketing trends article guide you through that, and learn what we predict will change about SMS that will make it an even more successful way to communicate with your customers.

Stay tuned for our SMSBump team has a lot up its sleeves for this year. And if you haven't yet considered text marketing, it's never too late to hop onboard.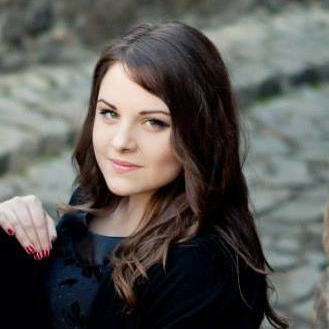 Start growing today
Sign up today and join 90,000+ eCommerce businesses making it big with Yotpo SMSBump