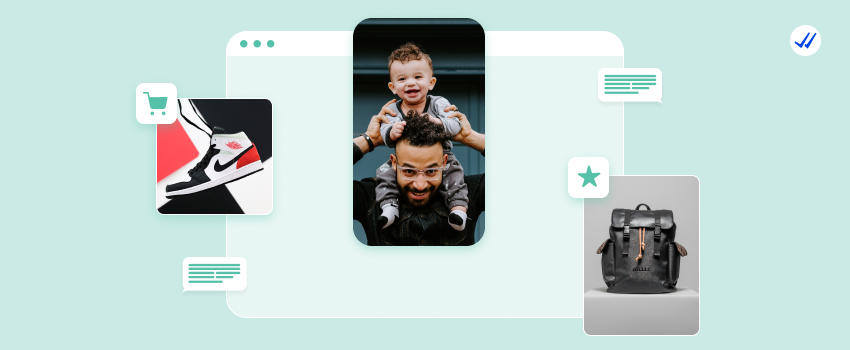 Special Offers to Engage with Your Customers This Father's Day
Every year Father's Day is marked on the 3rd Sunday of June. On this day, we celebrate all the father figures who are special and important in our lives.
It is also a great opportunity for brands to engage with their customers in a compelling and creative way.
We are here to help you plan and launch stellar Father's Day sales and promotions that any dad would be proud of!
But first, let's see some insights into what your subscribers are interested in and what they want to spend their money on this year.
Consumer Stats and Trends
In 2022 76% of Americans will celebrate Father's Day, spending an average of $171.79 on gifts, totaling $20 billion for the entire country.
Traditionally, the top purchased products are clothing, gift cards, personal care, books/CDs, electronics, home improvement, gardening supplies, tools or appliances, and sports equipment.
The average expected spending distributed by gender shows that men plan to spend slightly more on gifts ($208.84) than women ($141.09). And if we dig a little deeper, when choosing a gift for Father's Day, men seek convenience, women are more interested in creating a special memory, and both genders value unique and personalized gifts.
Now that we have more insight into the consumer trends for the upcoming Father's Day let's look at our top 5 ideas for special offers that will help you launch powerful marketing campaigns and boost sales.
Create the Perfect Gift Guide
Creating an exclusive gift guide for Father's Day is one of the best ways to help people choose the perfect presents for their dads from your collection.
But where to start and which products should you include in your gift guide? One reliable way to make the right decision is through data.
If you are an existing store, check back on your sales from last year and make recommendations based on the most purchased products around Father's Day.
And in case you are just starting, consider the personal habits of the men around you — clothes (being the #1 product after greeting cards people plan to purchase this Father's Day — 49%), personal care (28%), or gadgets (25%) are always a safe choice. But you can extend your offers to gift cards, books, and sports equipment.
Carefully consider the selection of products for your guide and try to organize them by price range, interests, age, etc. For example: Top Dad-Gifts under $20, Top Dad-Gifts under $50, etc.
Keep in mind that the design is crucial for making your Father's Day gift guide appealing to your subscribers. Convey a special emotion in your message — one that would make shoppers instantly think of their husbands or dads and eventually choose your product as the perfect gift.
Look at how Bloomingdales arranged their gift guide and relied on emotional appeal. Argos is another example of how to make Father's Day gift kits — tech gadgets, culinary kits, grooming kits, options are unlimited. You can use some of these ideas for your gift guide.
Now that your gift guide is ready, it is time to focus on the most important part: how to make sure it will reach your customers in the easiest and most effective way possible — on their phones.
Use Yotpo SMSBump to spread the word — initiate a special Father's Day campaign in a few simple steps.
Ten days before the holiday: send an SMS campaign informing your subscribers about the special Father's Day themed guide. Create an emotional and engaging copy, and don't forget to make it personal by approaching people with their first names. Add appealing visuals of your products and a pinch of humor (after all, when will you use those new dad jokes you heard recently?). And if you need a little inspiration — we got our Father's Day mood on and created some templates that you can use right away.
Set a second message a few days before the holiday to remind your subscribers of your offer with a sense of urgency. To stir their interest even more, consider using a small incentive, such as free shipping, free gift wrapping & a greeting card along with the gift.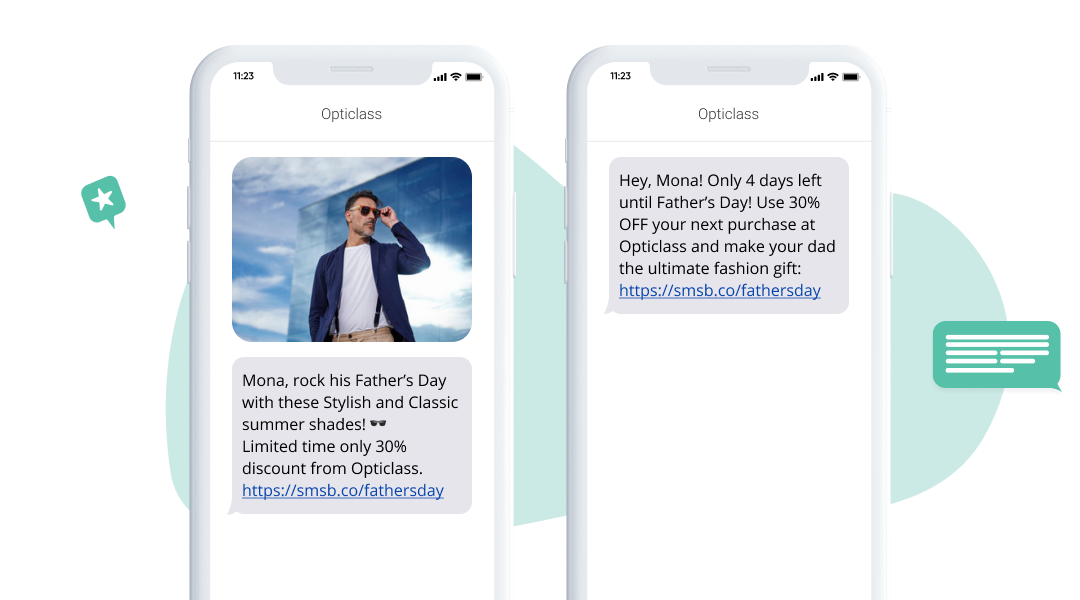 Holiday gift guides allow you to showcase your products, inspire shoppers and use the occasion to boost your store performance. Give it a go this Father's Day and let those sales numbers hit the ceiling!

Subscription-Based Gift Boxes
Probably one of the biggest eCommerce trends in the past two years.
More and more shoppers, 37% to be precise, will choose subscription boxes instead of one-time gifts this Father's Day.
Your customers will be thrilled to get a subscription gift box for their fathers since it offers a unique experience and is also the kind of gift that lasts longer than the holiday itself. Furthermore, it will keep dads excited and entertained about each delivery package.
Your store could benefit from introducing subscription-based offers because you can manage your inventory better. Not to mention the constant cash flow and the opportunity to build a long-lasting relationship with your customers.
Here are some cool Dad-worthy examples:
— New Socks Every Month by SocietySocks: 2 Fun & Stylish pairs, monthly delivery, combined with a social cause.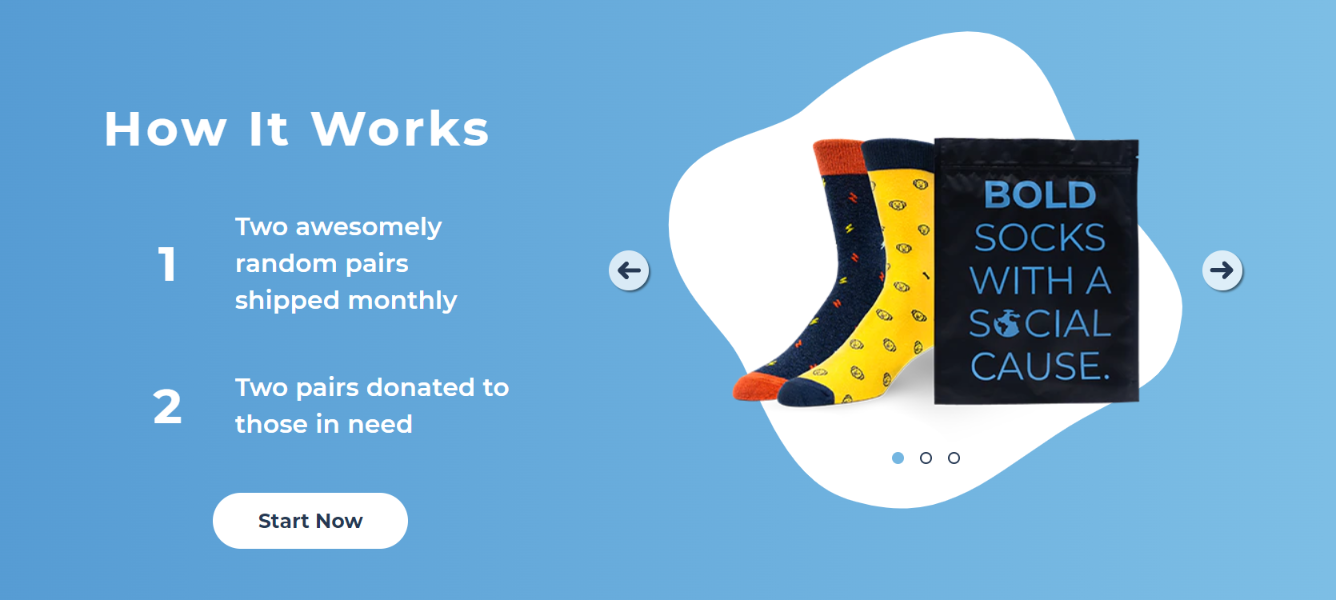 — Bacon of the Month Club by PigOfTheMonth.com: 3 to 12 months subscription to "bacon subscription box that comes with two pounds of specialty flavored bacon" each month.
— Hot Sauce subscription box by Heatonist.com: every month, customers receive three exclusive hard-to-find hot sauces at a special bundle price.
— Coffee of the Month Club by Atlascoffeeclub.com: 3 months subscription to delivery of exotic coffee beans from all over the world — wrapped in counter-friendly packages along with a card and brewing tips.
— Book of the Month Club: new book each month, chosen from a predefined category: science fiction, mysteries, thriller, hobby-related.

Feeling inspired already?
If you have a strong social media presence, you can leverage these direct communication channels to promote your subscription boxes. Get acquainted with our Social opt-in, which will allow you to boost your subscriber base with a simple click.
You can also consider using influencers to create some social media buzz. Give them a special shareable subscribe link they can share with their followers and turn them into your subscribers. When people click on the link, they become part of your text marketing list. To keep them hooked, configure your welcome SMS to provide them with an incentive, such as: "Get a hold of our subscription boxes — now with a 20% discount!". Via this link, you can also track and measure the effectiveness of your influencer marketing per campaign.
Prompted by the special treat, your new subscribers should soon indulge in your subscription boxes. So prepare for the influx of orders by enabling Recharge to take care of the hassle around the upcoming payments. Through the integration of Yotpo SMSBump and Recharge, you can significantly grow your SMS subscribers and handle recurring payments with ease.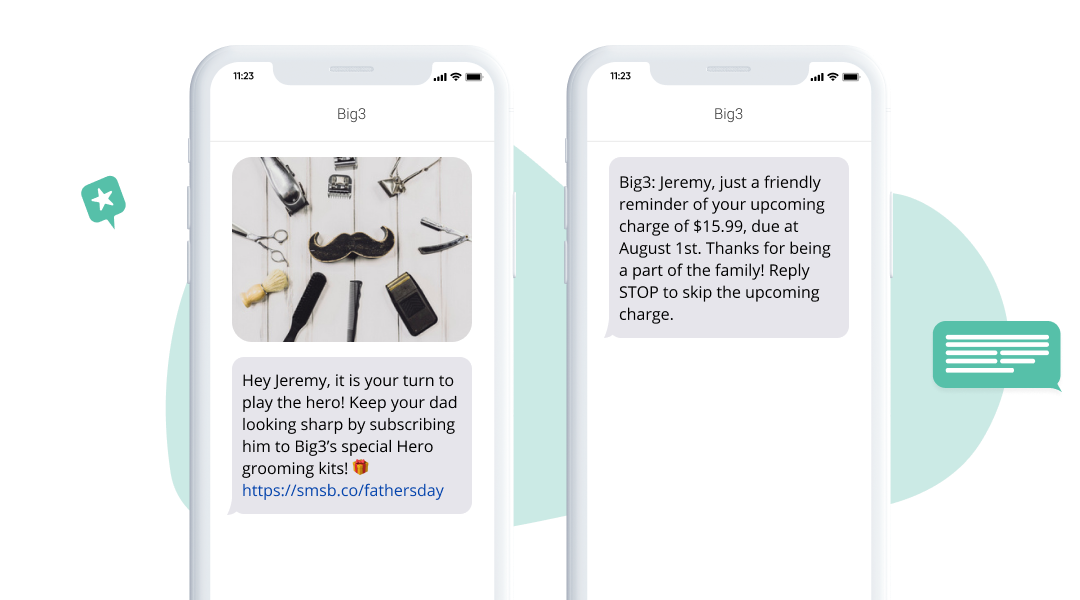 Create a Social Media Giveaway
Giveaways are always a good idea for major retail events and special holidays — and Father's day makes no exception.
A classic example is to engage your audience by giving away gift cards for products from your store related to the upcoming holiday. Keep in mind that even though Instagram and TikTok have become extremely popular, Facebook remains the leader in paid advertising campaigns.
There are a few essential points you need to cover to create the perfect Facebook giveaway: come up with a creative idea for a promotion, emotionally link your brand to the occasion, craft an engaging copy and combine it with a matching visual. Once you do that, set a budget, and you are good to go!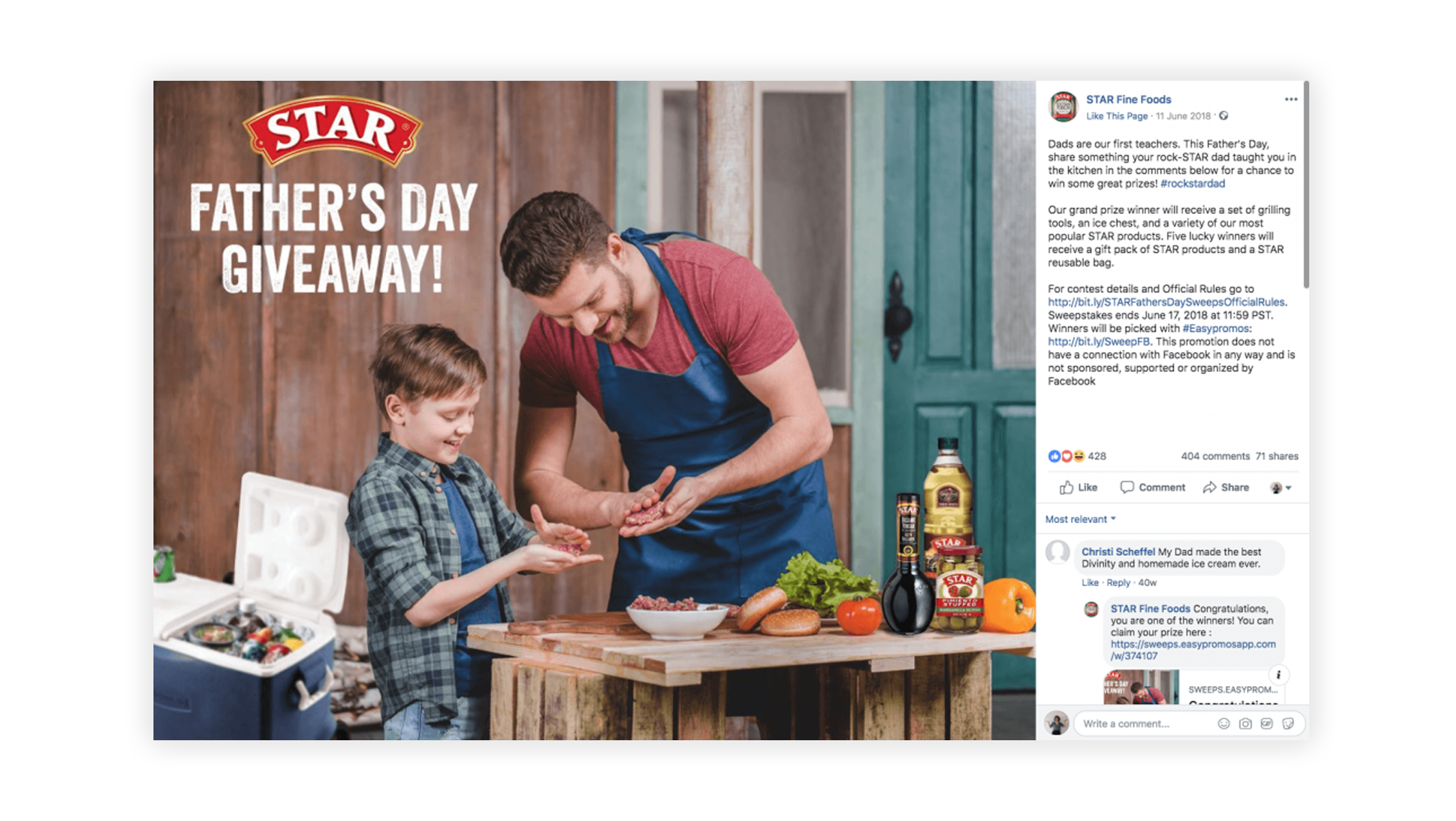 For your giveaway to be a success, you have to have a way to gather participants. Recart Shopify app is a great option for Facebook ads and giveaways. How it works: when someone clicks on your Facebook ad, they will be instantly engaged in an automated conversation by the Recart Messenger bot. Make sure to ask users to enter the giveaway with their phone number and become subscribers. Once customers enter the flow, you can send them a thank-you discount code and follow up on the conversation later.
Recart Messenger bot is a fantastic tool for Facebook giveaways since it automatically sends participants in a separate list and replicates it in your Yotpo SMSBump account. This gives you an easy way to pick a winner (for example) or remarket later.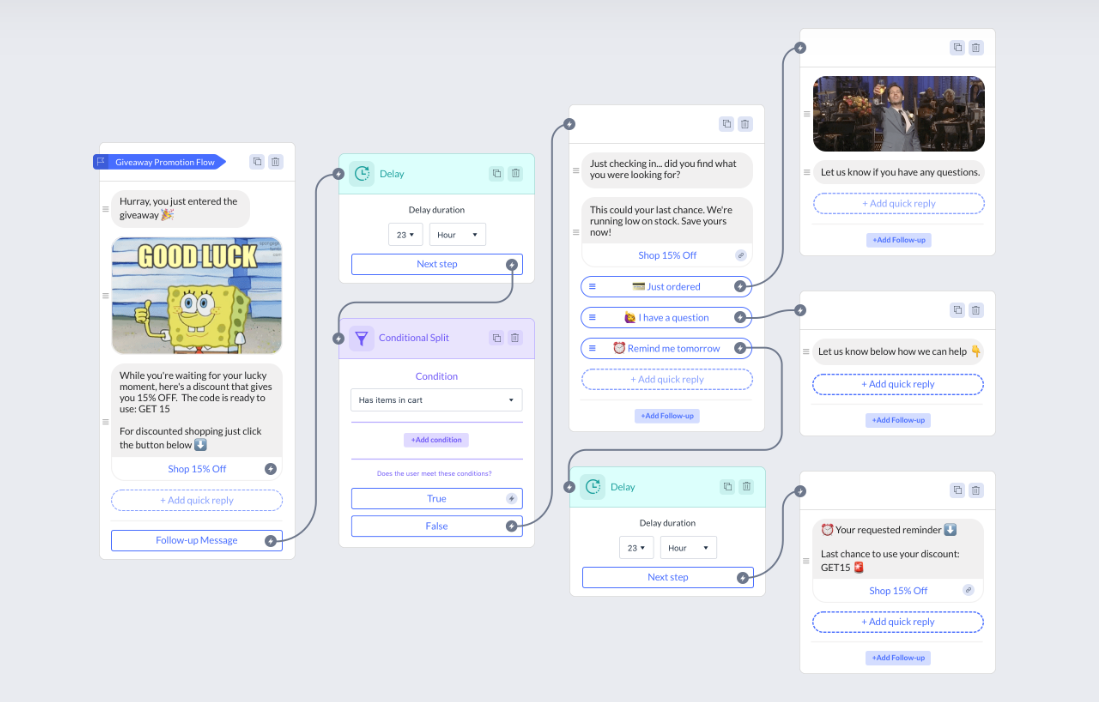 Launching special brand-related giveaways around big holidays is an excellent way of getting an additional boost in subscribers and improving your customers' loyalty and engagement.
Boost Your Father's Day Sales The Smart Way
You don't need to work hard — you need to work smart. It's what any dad would say. Rely on the classics to give your Father's Day sales a lift, such as:
— BOGO (Buy оne, get one free)
— Buy more, save more: Buy 2 men's shirts and save 20%.
— Bundle offers: Buy 3 Books for $20.
Get inspired by UNTUCKit on how to do an emotional and creative BOGO promotion this Father's Day: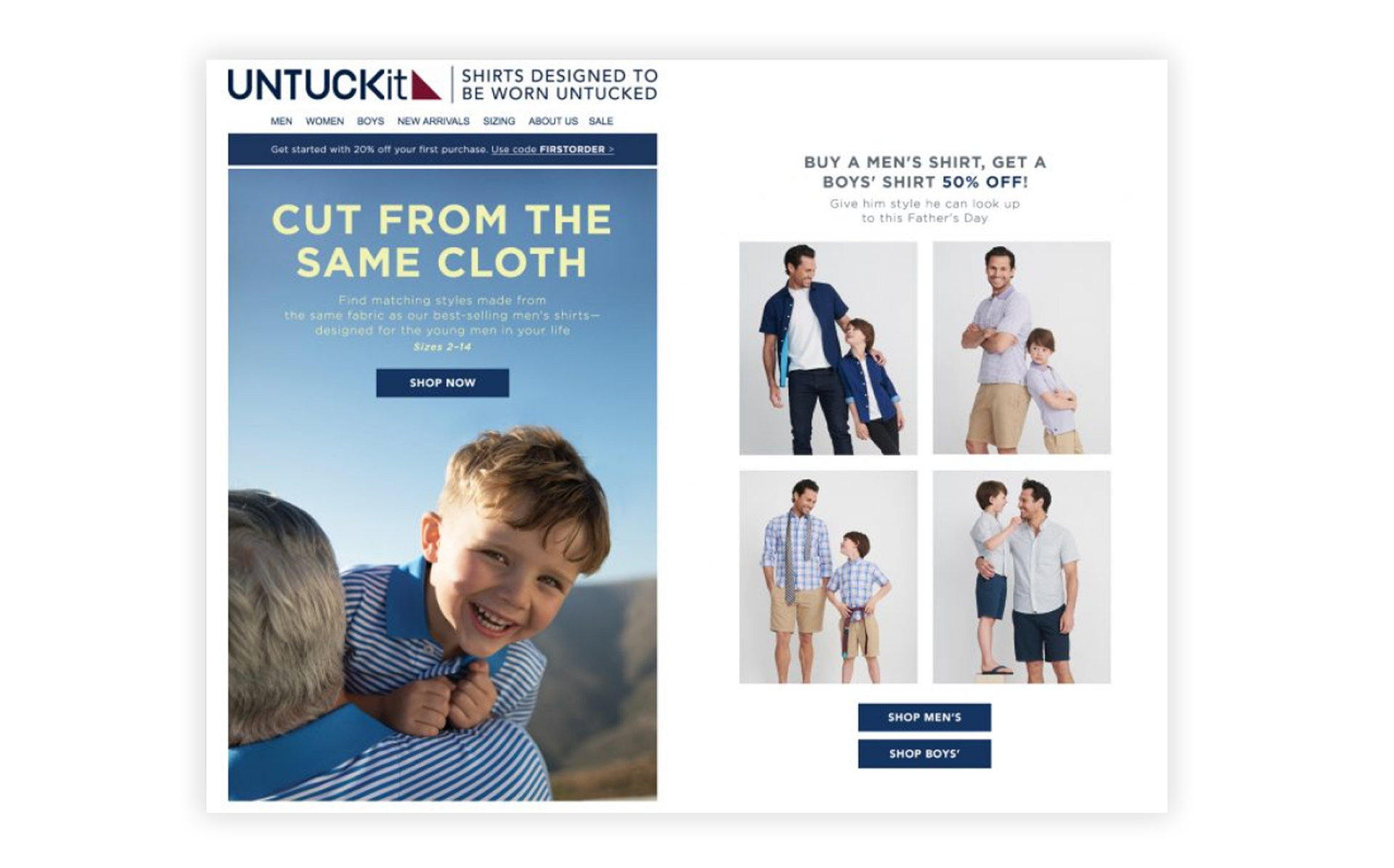 If you want to stand out from the crowd and nurture loyalty, pamper your top customers by offering them exclusive deals and discounts!
The powerful synergy between Yotpo SMSBump and Yotpo Loyalty will help you create unique experiences for your customers with an engaging loyalty program.
So think of a way to reward your loyal customers by offering them special deals and discounts when they reach a particular tier, directly on their phones.
Let's say you have three levels of loyalty: silver, gold, and diamond.
Offer your Silver-tier customers a simple $10 (or an amount you are comfortable with and know will be appealing) discount on their next purchase or specific products from your Father's Day collection.
In addition, make your Gold-tier customers feel special by offering better percentage discounts in prices, paired with additional incentives such as extended return, free shipping, complimentary wrapping, and a greeting card.
Save the best for your most loyal customers, the ones in your Diamond tier: offer them secret sale deals, a sneak peek into your upcoming product collection, and a limited-time discount on individual products or exclusive holiday bundles.
By crafting your Father's Day promotion wisely, you will achieve two goals in one fell swoop: engage with your loyal customers to boost their dedication and mark a positive spike in your sales.
Use Gamification to Give Discounts and Grow SMS Subscribers
What is your childhood memory of your dad?
Helping you with your school lessons — rarely.
Teaching you to play sports or watch sporting events — could be (if he is a fan himself).
Playing games together — most definitely!
Combine these sweet memories with the fact that gamification is one of the most popular and engaging marketing tools, and turn it into your fifth interactive way to engage with customers!
Gamification is an amazing option for merchants to capture their visitors' attention with something flashy and attractive and, at the same time, keep the cost of the promotion low. The element of "winning" will spark interest any day and lead to better engagement. Not to mention, gamification is a great way to make an effective conversion tool out of an otherwise dull banner or pop-up, for instance.
Use OptiMonk to create engaging pop-ups with discounts for your next marketing campaign. You have a wide variety of options for the exact format you are going to use. Lucky wheels, Scratch cards, Pick-a-Gift banners — the choice is yours.
Just select a template, fit it to your brand, and your subscribers-collecting-engine is ready to work 24/7 to offer your visitors discounts and promotions!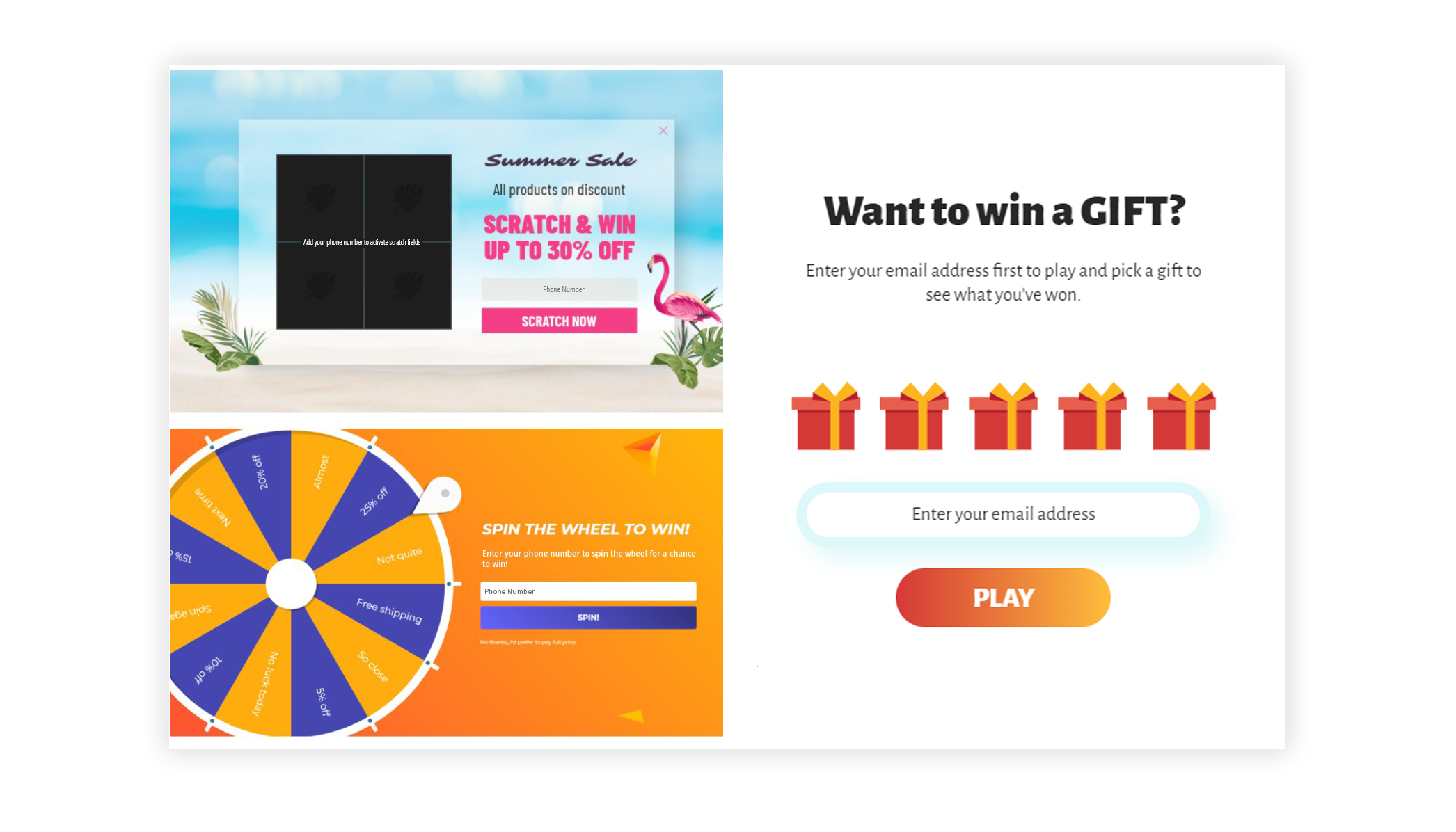 The app is fully integrated with Yotpo SMSBump, allowing merchants to use powerful pop-ups to grow their text marketing list and benefit from better profiling leading to more personalized messages.
Dad's All Folks
Father's Day is approaching and we really hope you'll find our selection of special offers valuable and applicable to your business.
Check our extended Father's Day strategy guide, packed with marketing strategies that will boost your engagement and drive more revenue to your store.
Don't forget to also browse through our 13 holiday-themed SMS templates and start planning your next text marketing campaign.
Mariya Arabadzhieva Todorova
Start growing today
Sign up today and join 90,000+ eCommerce businesses making it big with Yotpo SMSBump