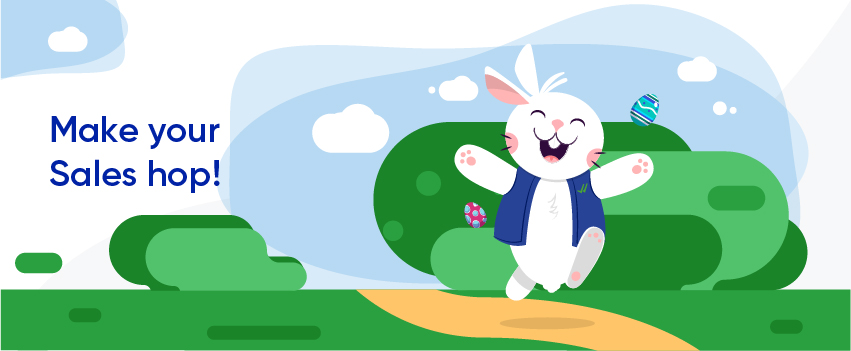 SMS Strategies to Increase Your Sales This Easter
The last days of March officially mark the beginning of the spring season and what better time to plan your next marketing campaign?
Now is the time for brands to initiate the spring cleaning of all piled inventories and announce the Big Easter Sales!
The current global situation can`t and must not be ignored but increasing health- and government-related regulations could also bring along new and interesting business opportunities.
We have prepared some effective marketing strategies for you to stand out from the crowd and clear some shelf room for the new summer items!
Mass Targeting
Easter is the time of year when people like to stay home and spend some time with their families and friends. So far 2020 has given us exactly this opportunity – to stay in the comfort of our home, in the company of our loved ones. It is still unknown how long this will last, but it makes our point to all Shopify store owners also crystal clear:

Now is the right time to engage with all your subscribers.

Target everyone and we mean – EVERYONE. Statistics show that 8 out of 10 American adults plan to spend an average of $151 per person for the upcoming holiday. Mass sales trigger even people who usually don't celebrate Easter to make purchases this time of the year. And with limited options for shopping in the current reality – even more so!
Keep your message and focus as generic as possible since you want to reach out to both males and females, to people of all ages. When you set up your text marketing campaign in the SMSBump app, choose "All Shopify customers (who accept marketing)" as your target.
To give your message a personal touch, use your customer's name . A little joke might also make people feel connected to your brand.
Don`t forget to put an engaging call to action (CTA) and a link that leads directly to your store. Around big holidays customers get tons of promotional materials and it is very important to put your store name in text messages so they know who is reaching out to them.
Smart Planning & Scheduling
Don't limit yourself to just one campaign around the holidays!
What does this mean exactly? Some shoppers plan ahead and will want to catch the possible early-bird promotions. Others tend to make last-minute purchases. So how can a campaign possibly match all their expectations and behaviour/time tables?
What you need is a solid strategy and SMSBump in your Shopify store!
Schedule your first campaign 1-2 weeks before Easter and target your early-birds.
Not sure who they are? Those are people who subscribe before big holidays and make purchases before the major retail events. You can easily set them apart with the help of our segmentation filters.
When setting up an early-bird campaign, remember to use words such as "exclusive" "early spring sale" " before everyone else".
To get the most out of your Easter sales, launch an additional campaign a week or even two after Easter. Target customers who might have missed your sales but might still be interested, especially if you give them a nice incentive. Make it clear that the discount will expire soon which will add a sense of urgency and will encourage them to make a purchase sooner.
If you want to know more about your last-minute shoppers, take a look at this article.
Launching 2 additional campaigns around Easter will not only maximize your sales, but it will also allow you to plan and manage your stock and shipments better, so it will all go smoothly in terms of ordering and delivery.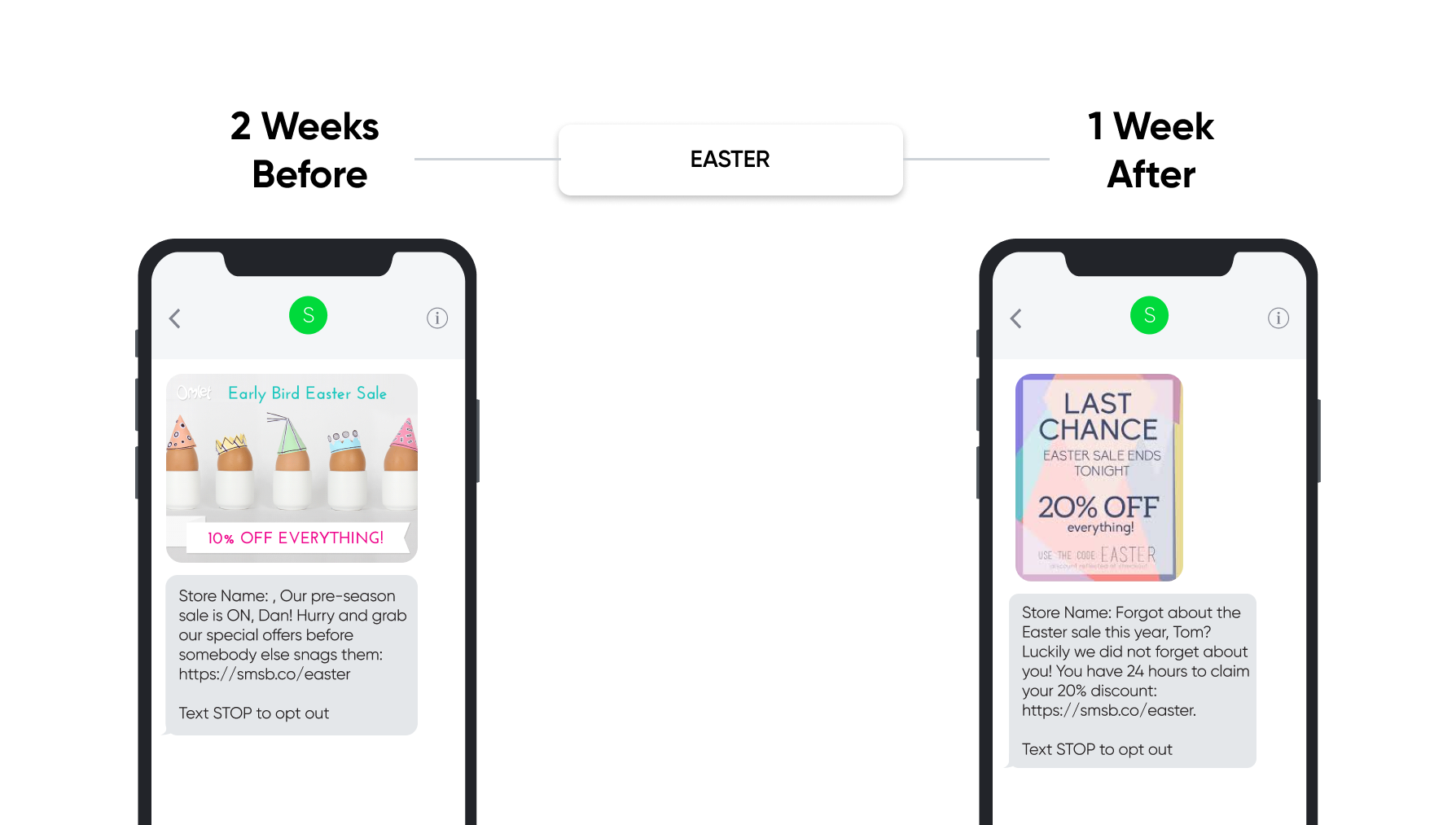 Pro tip: If you are just starting with SMSBump and you are not sure about the copy of your text marketing campaigns, then our A/B test feature will be your greatest ally. Instead of sending one version of your text, send 3 or even 4. They will be tested with a small portion of your audience and the winner will be sent to the rest. A great way to secure good results, right?
Discount ideas
So now that you have figured out the target audience and the time tables of your Easter campaigns, let's discuss another important part of your strategy - the discounts!
Here are few ideas on how to make solid, appealing and effective discount promotions.
Monetary Value Discount
Monetary discounts are a great alternative for stores which sell high-end items and have higher average order value. When you have an AOV of $100 or more, it is always better to offer a concrete dollar amount as a discount and not percentage. Think of it this way if you offer 5% discount to a product of a value $200, this translates to $10 saved. Now what sounds better to you: $10 or 5%. Even if the two values mean exactly the same, in the eyes of the beholder 10 makes for a better deal any day.

Percentage Discount
On the other hand, percentage discounts could serve smaller and more general stores a much bigger favor than monetary discounts. But be mindful of the discounts you are giving. If you have already announced your Easter sale and all the prices are adjusted, be careful not to offer too big of a discount to your SMS subscribers. In such situations additional 5-10% will do. But if you want to tease them before the big sale starts, 40-50% discounts can work wonders in freeing your shelf space.

Free Shipping and Return
Free shipping & return is an incentive you should try to use scarcely. However, it is very fitting to the current situation and if you want to have a competitive advantage, definitely include it as part of your Easter deal arsenal. Allowing them to try an item, and return it if it does not fit, for no extra costs, will show them that you put their comfort and experience before profits.
In times like these, showing such basic human attitude will give your brand an extra touch-point when it comes to communicating with your customers. One, which will bring you both more sales but also - a true base of loyal customers.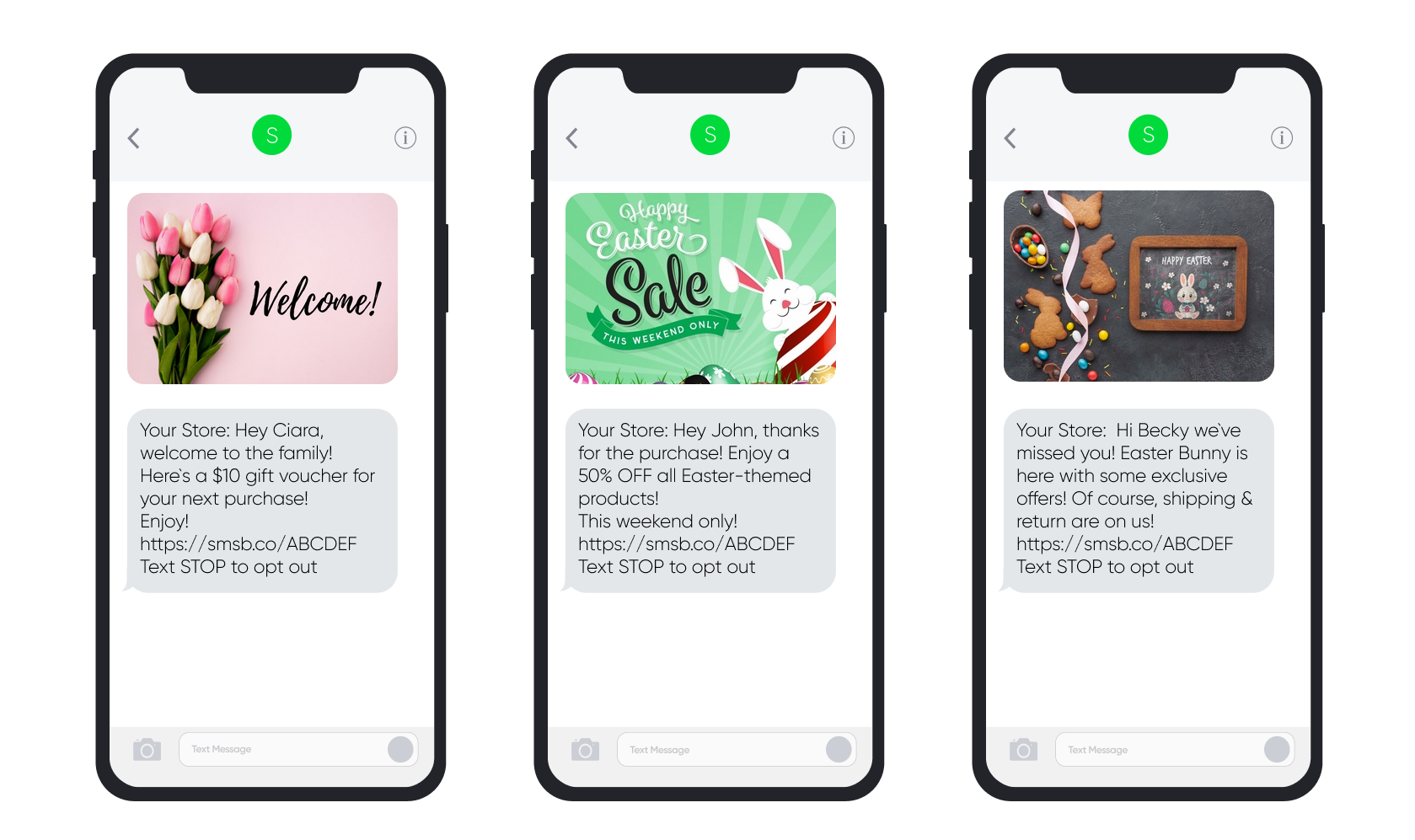 Fear of Missing Out
When you start creating the copy of your text message, make sure it reminds of the following season and promotes your Easter offers in the most appealing and effective way possible.
One great psychological tactic is to create a sense of urgency and/or scarcity, and ultimately - give your sales a boost.
"Easter is coming", "Only 8 days left until Easter! Order now…" etc. will be a great way to introduce your discounts and create the first wave of excitement.
To appeal to your early birds, make sure to include expressions such as "grab them before anyone else", "snag our offers before others", "enjoy our exclusive deals" etc., while late-comers will be impressed by call-to-actions such as "it's never too late to grab a good deal".
Wording like "offer ends today", "you have several hours" and such will score you some extra purchases on your flash sales initiatives.
Phrases such as "finish your cart before it expires", "stocks are running low" etc. are great for your abandoned cart sequences, as they let your customers know that you are only holding off their items for a small window of time.
"Last chance to purchase", "Don't miss out on…" etc., on the other hand, will serve best as last-minute reminders for the last days of your Easter campaign.
Score Extra Sales
Ever purchased a new garden barbecue set and got offered charcoal? Or maybe a new training outfit and got offered a water bottle with a filter?
This is what marketers call a good upselling or cross-selling strategy. Offering customers complementary products can be convenient and useful to them and very profitable and effective for you - classic win-win situation!
Select your top-performing products and give additional deals on items that would go well with them, such as shoes and socks. Remember: it is best to catch your customers right after they've made a purchase, so they are still in a shopping state of mind when you extend your new deal. And you can easily launch and automate yours with SMSBump's Product Upsell feature.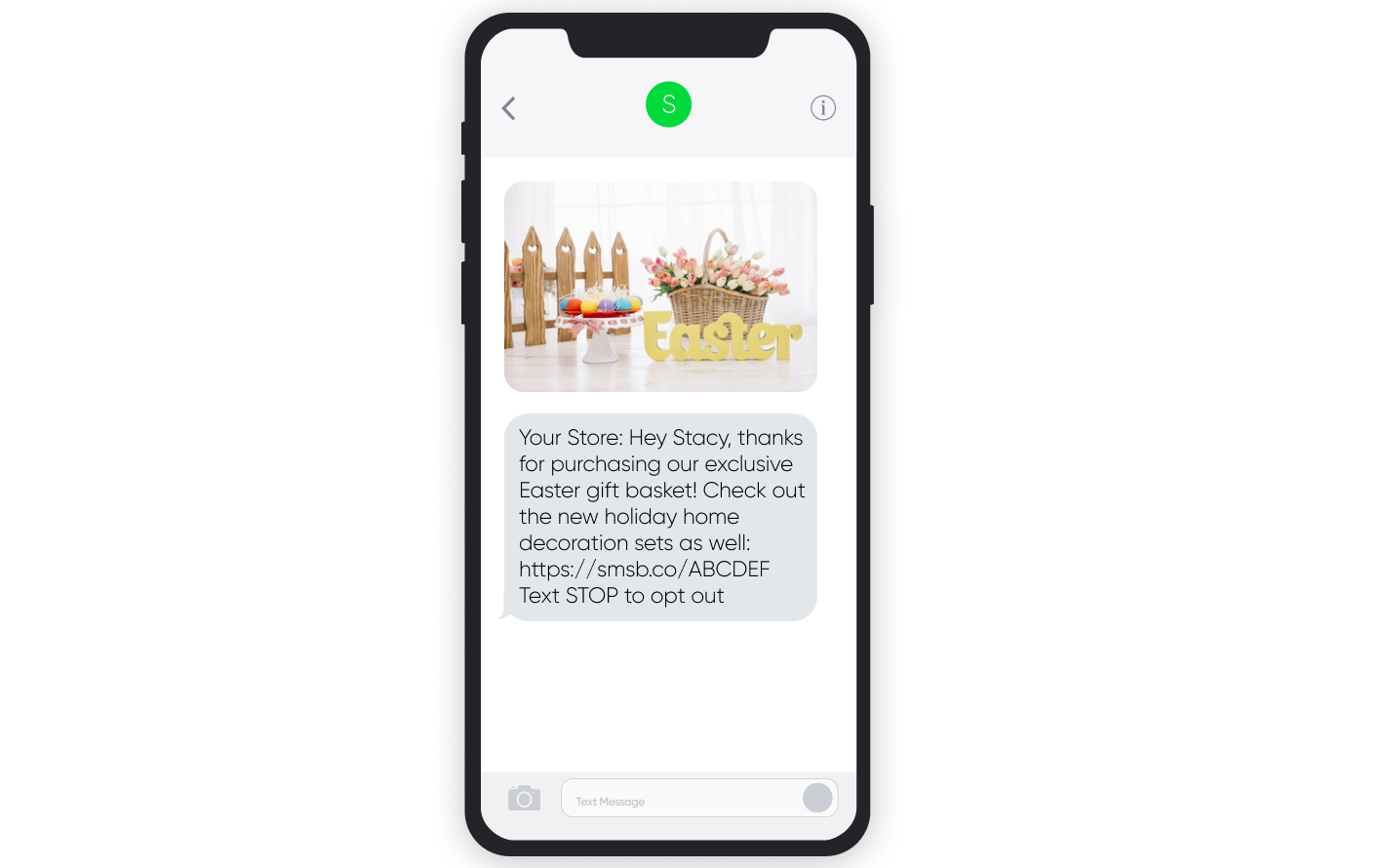 Set your upsell campaign on autopilot, sit back and just watch your sales hit the ceiling!

Ready, Set, Strategize!
This was our list of top suggestions for you on how to use SMS to increase your sales this Easter.
Simply test some of the options and see for yourself!
Looking for more inspiration? Check out some SMS templates for your Easter text marketing campaign.
Mariya Arabadzhieva Todorova
Mariya is a Content Creator at SMSBump with strong passion for writing, crime novels and puzzles. Travel & Gaming enthusiast.
Start growing today
Sign up today and join 80 000+ eCommerce businesses making it big with SMSBump