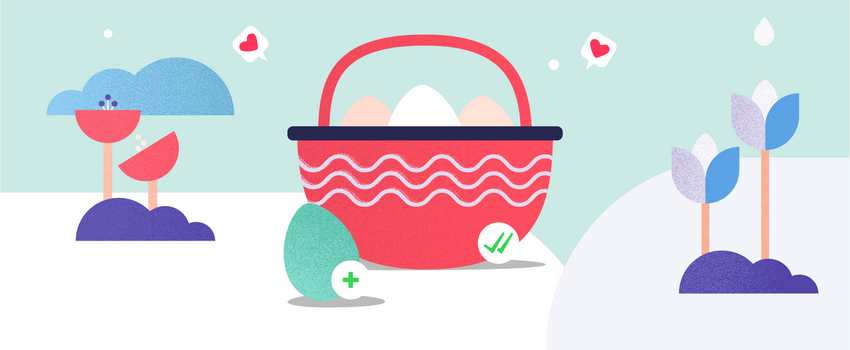 Boost Your Easter Sales With These Top 3 SMS Tips
Once you've studied the Easter SMS Strategy and gone through our actionable Easter SMS templates it's time for a (sales) home run with these 3 quick SMS marketing tweaks.
So let's get ready to boost sales, clear out the shelves this Easter and make room for the new summer items!
1. Segment Your Audience
Easter is one of the biggest retail events of the year, so you have to make sure your store has a basketful of exciting offers and Easter specials.
While you might be excited to engage with your entire list of SMS subscribers, still make sure to send the right offers to the right target audience.
Visit your Lists & Segments section in the SMSBump app and leverage the power of segmentation to build separate audiences based on a variety of characteristics, such as personal attributes and behavior, purchase history and frequency, location, gender, and more. Then, target your individual segments with relevant offers that will maximize chances of conversion.
Pro tip! If you want to know how to successfully apply segmentation to your marketing strategy, check out our free eBook: Top 7 SMS Marketing Segmentation Hacks for Beginners.
2. Personalize Every Easter Message
To give your message an even greater personal touch, use your customer's name. A little joke might also make people feel connected to your brand.
Don`t forget to put an engaging call to action (CTA) and a link that leads directly to your store. Around big holidays customers get tons of promotional materials and it is very important to put your store name in text messages so they know who is reaching out to them.
But besides having the right offers and audiences (and message), it's important to time your Easter campaigns and spread them out in time - remember to finetune your Easter SMS Strategy!
3. Create a Powerful Offer
When you start creating the copy of your text message, make sure it reminds of the following season and promotes your Easter offers in the most appealing and effective way possible.
One great psychological tactic is to create a sense of urgency and/or scarcity, and ultimately - give your sales a boost.
"Easter is coming", "Only 8 days left until Easter! Order now…" etc. will be a great way to introduce your discounts and create the first wave of excitement.
To appeal to your early birds, make sure to include expressions such as "grab them before anyone else", "snag our offers before others", "enjoy our exclusive deals" etc., while late-comers will be impressed by call-to-actions such as "it's never too late to grab a good deal".
Wording like "offer ends today", "you have several hours" and such will score you some extra purchases on your flash sales initiatives.
Phrases such as "finish your cart before it expires", "stocks are running low" etc. are great for your abandoned cart sequences, as they let your customers know that you are only holding off their items for a small window of time.
"Last chance to purchase", "Don't miss out on…" etc., on the other hand, will serve best as last-minute reminders for the last days of your Easter campaign.
And there you have it
This was our list of top 3 suggestions for you on how to use SMS to increase your sales this Easter.
Simply test some of the options and see for yourself!
Looking for more inspiration? Check out some SMS templates for your Easter text marketing campaign.
Mariya Arabadzhieva Todorova
Start growing today
Sign up today and join 90,000+ eCommerce businesses making it big with Yotpo SMSBump