How to Collect Subscribers with a Social Opt-in
The Social Opt-in will help Yotpo SMSBump users collect text marketing subscribers in another simple, yet effective way. Your social media followers would need to simply swipe up to be one tap away from joining your SMS lists.
Implement this powerful feature to your social channels and watch your subscribers grow!
Getting Started
Go to the Collect Subscribers menu on the left and click on the Create new button within the Social Opt-in section.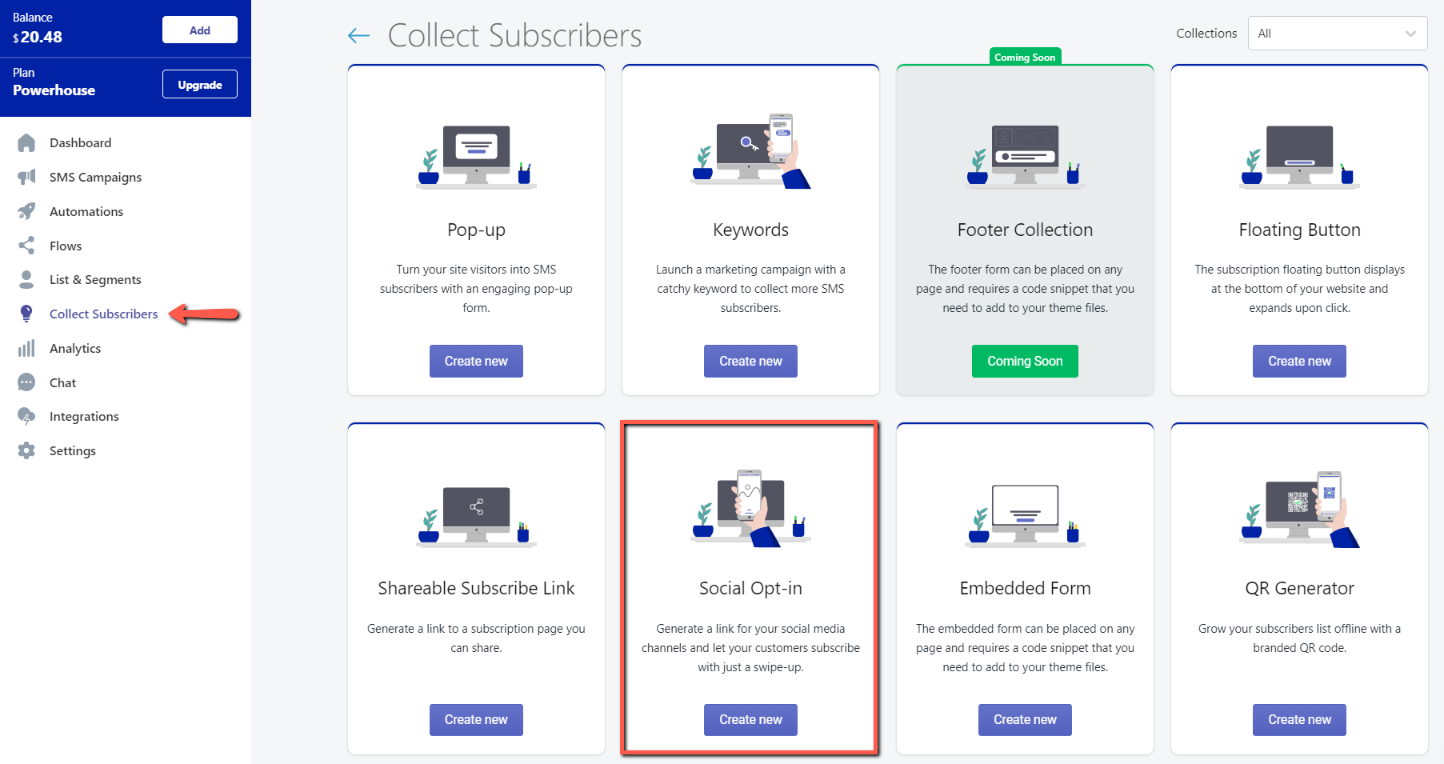 This is where you will set up all the details of your Social opt-in. You can check how the subscribing process works from the preview on the right.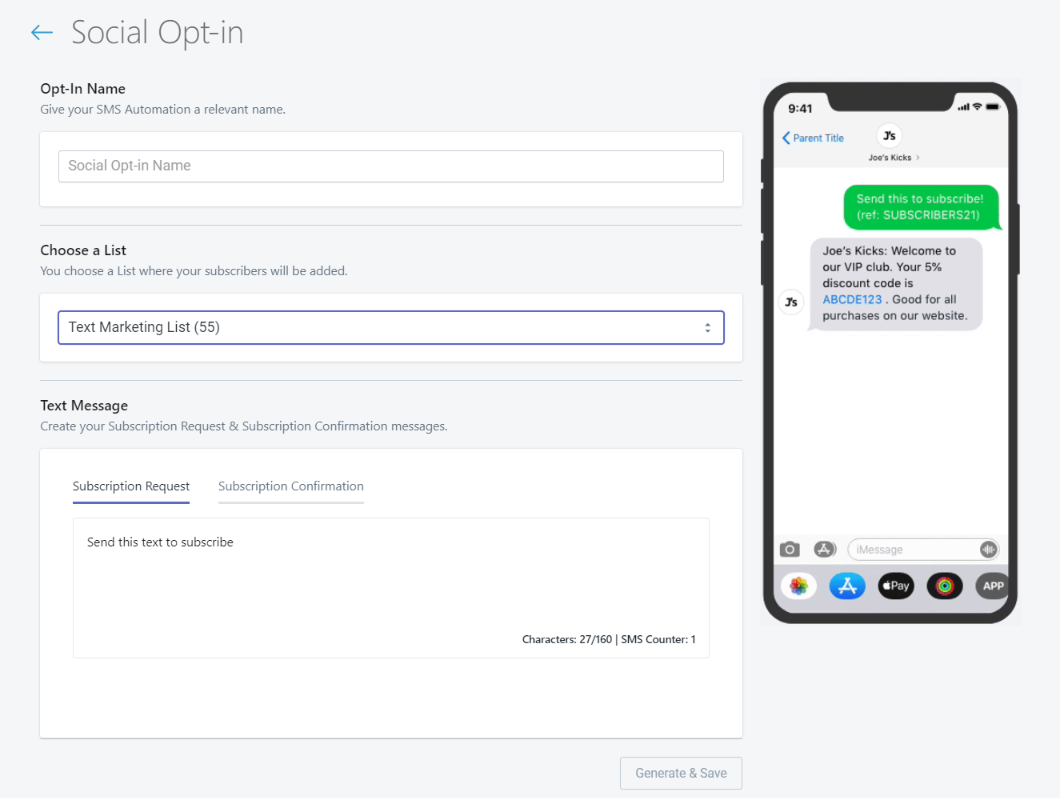 You can set up your Social opt-in by simply following these next 3 steps:
Step 1: Opt-in Name
Give a relevant name to your Social Opt-in campaign.

Step 2: Choose a List
Next, choose a dedicated list that will store the phone numbers of all the people who subscribe via this Social opt-in.

Step 3: Set up Messages
This is where you can draft the copies of the Subscription Request and Subscription Confirmation messages. For your convenience we have already set two templates.
Message 1: Subscription Request
This is the message that will automatically show up once a customer swipes up to subscribe. It's also the message they will need to send to your number in order to complete their opt-in.
"Send this text to subscribe: (reference keyword)"
Note that the reference keyword is auto-populated and it is actually the name of your Social Opt-in campaign, the one you created in the beginning.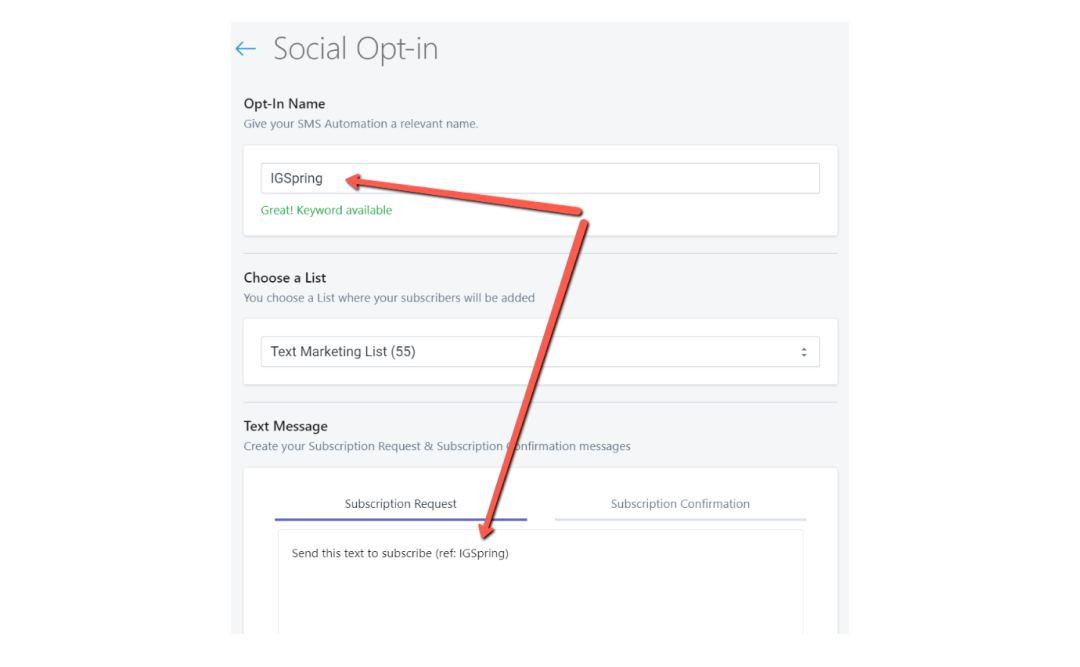 Message 2: Subscription Confirmation
This is the message your new subscribers will receive from you once they send the Subscription Request message, as a confirmation of their subscription.
You can use the pre-set template or change the wording as you wish. Adding a small incentive will greatly improve the conversion rate of your social opt-in. So, don't forget to set up the discount type and value of your choice. Currently it is pre-set to 5%.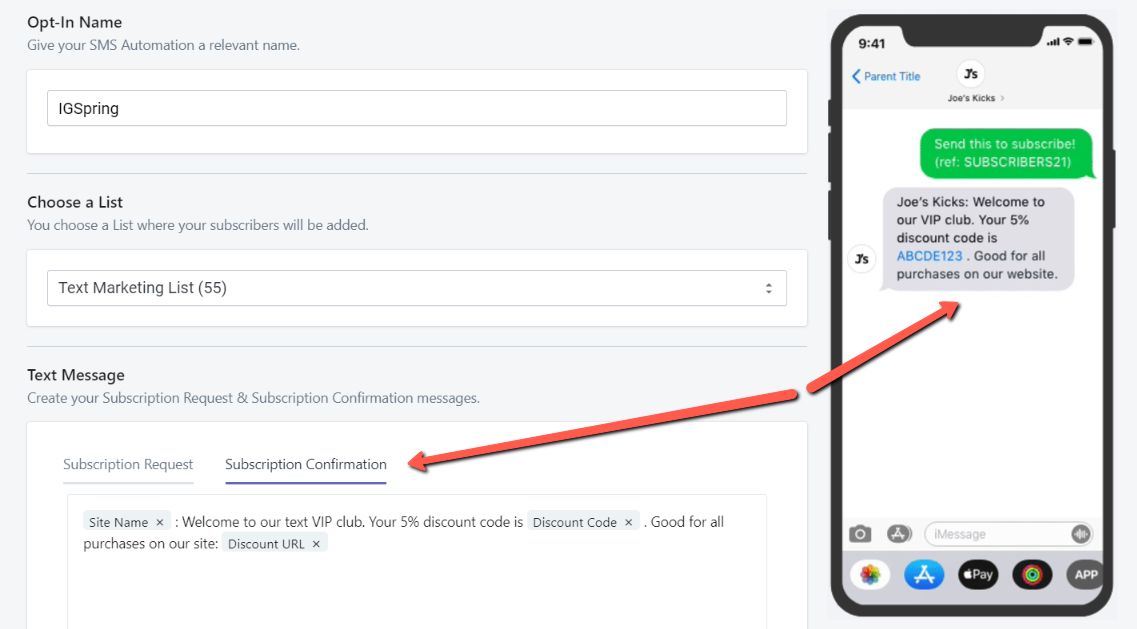 When you are done setting up the Social Opt-in, simply click on the Generate & Save button below.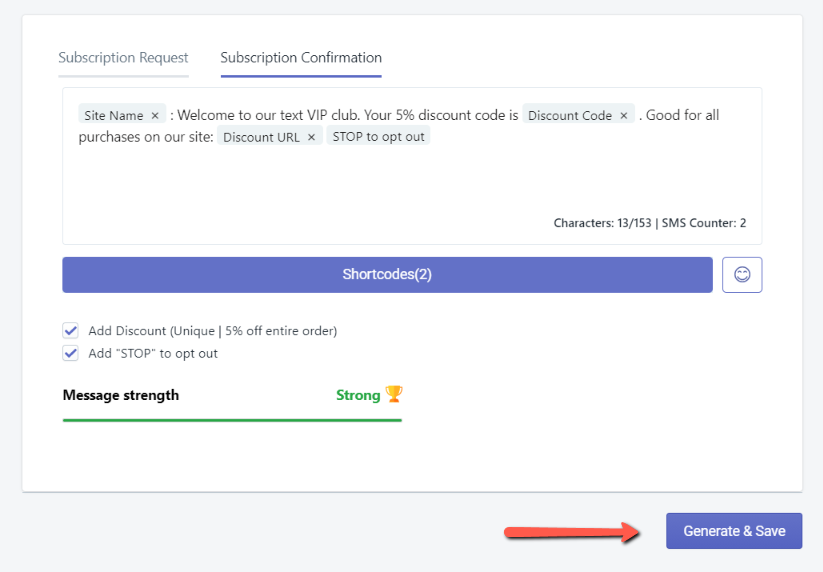 A pop-up will appear: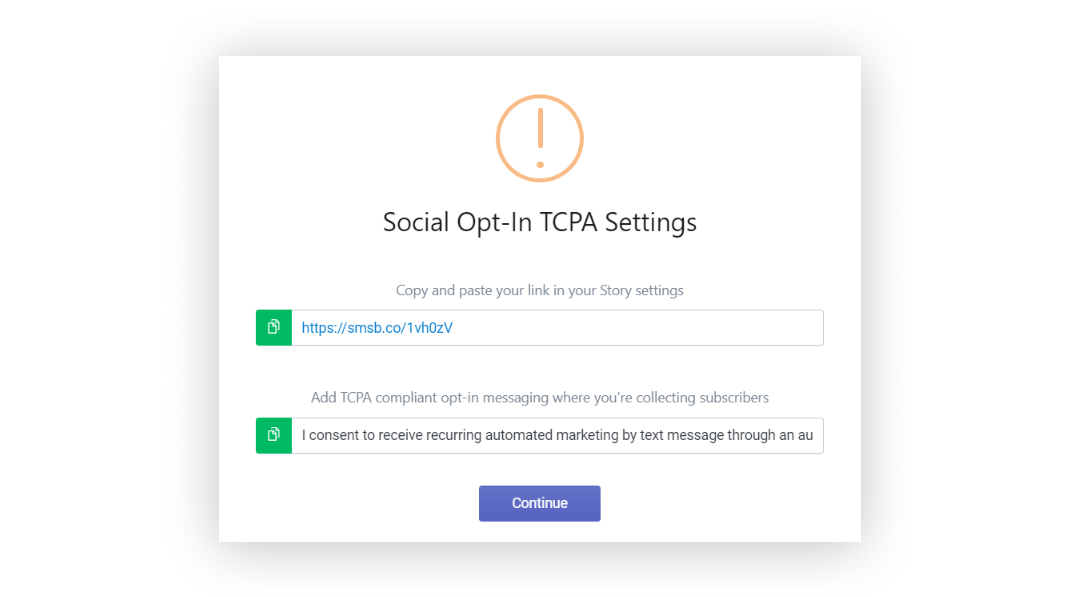 This is where you get the link for your social media publications - simply copy and paste it in your Story Settings.
Below you can find the necessary compliance text - again, already pre-set for your convenience.
Click on Continue and you are now all ready to start collecting subscribers through your social channels!

As with all other advanced subscriber collection methods that we offer, you can follow the performance of your Social Opt-in in the Collect Subscribers menu of the app and in the Analytics section. You can track the number of clicks, sent messages, collected opt-ins, and most importantly generated revenue.

This was our quick tutorial on how to set up your Social Opt-in and take full advantage of this new subscriber collection tool. Don't hesitate to try it out and share the results with us!
---
Related articles