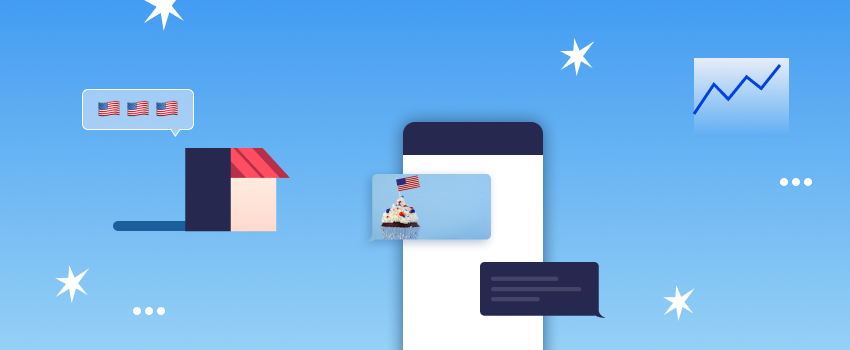 Have a Successful 4th of July with our 6 Festive Tips
The summer season in the US begins with a significant holiday and major retail event. Fourth of July is one of America's most honored and widely celebrated days, commemorated by family get-togethers, backyard barbecues, big block parties, and picnics. And fireworks. Each year, households in the states spend more than $1 billion on fireworks, most of which come precisely from the 4th-of-July sales.

That being said, 4th of July is an excellent opportunity for any brand to benefit from a surge in sales. After the online-heavy years we've had, customers will be looking for good deals both offline and online store locations, with the latter still representing a big chunk of all sales.

Your business can use this occasion as a chance to revamp its marketing strategy, adopt some new channels to outshine the competition and profit from another revenue stream.

Our short guide will give you ideas on making your store play in tune with the 4th of July theme. It's important to configure a comprehensive marketing plan, provide customers with a seamless website experience and updated (trendy) inventory, give them cool ideas about how their purchases could contribute to the celebration, and then wrap it up with ways to make your subscribers part of your brand's festivities and a hot new strategy on how to expedite the path to purchase!

Use an Omnichannel Strategy
With eCommerce booming in the past two years, it's become even more important for brands to have an omnichannel presence. Omnichannel marketing is the concept of reaching customers on numerous platforms and building а strong brand presence, both on and offline.

This aspect of marketing is linked to the fact that customers inherently are very different in their preferences. Some enjoy getting their offers via email, others do their shopping on social media, and third (and a big chunk by that) — like to get deals straight on their phones, in the form of a simple SMS.

To make sure you have come up with the best marketing mix, give yourself enough time to consider what channels would make more sense to position your brand on. How do you do that? Look at your store analytics, of course.
Are they mostly desktop users? Then think about a good email strategy or on-site conversion tools.
Are your visitors coming primarily from mobile? Consider sending them your 4th of July content via SMS.

To maximize the effect of your omnichannel marketing, you can leverage the channels to collect more SMS subscribers and build your lists. Nudge your audience to give you their phone number to receive exclusive deals straight on their phones. With your social media followers, for example, you can use our social opt-in tool, which allows them to subscribe with just a click. Your new contacts will land in a dedicated list, which you can later on target individually.
Alternatively, you can engage your existing offline shoppers using a straightforward QR code, printed either on the order package or placed at the cashier's desk at your B&M store. All they'd have to do to opt in for your exclusive text marketing list is scan the code and reply with a text message confirming their subscription. This way, you're tying your offline and online marketing efforts into a coherent strategy.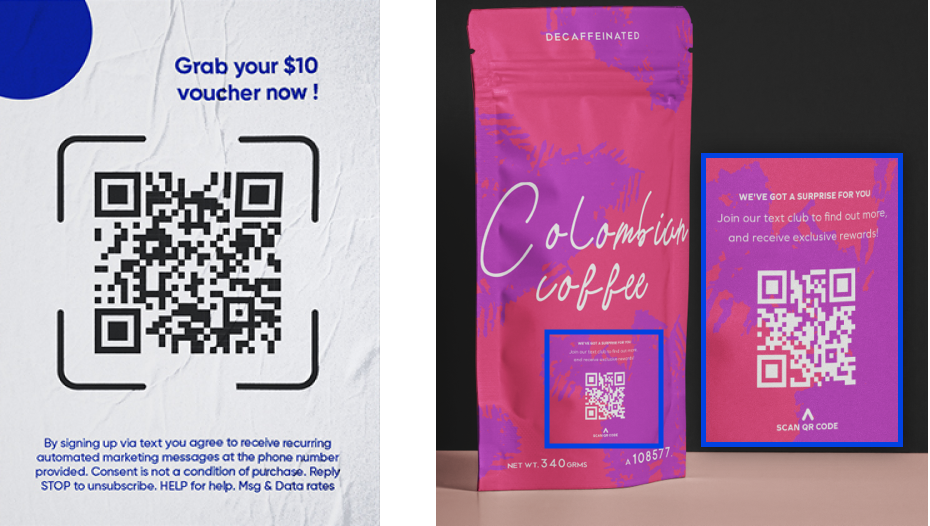 Besides setting up an overarching marketing game plan to promote your brand online, you will need to provide customers with a delightful experience that will make them choose your store for their holiday e-shopping.
Give Your Store a 4th-of-July Makeover
While you can't dress up your online store with a 10x12 US flag, patriotic paper, or foil ornaments, you sure can change its decor to be more fitting to the holiday.

Several weeks before the 4th, set up a themed home page and have it lead visitors to your 4th of July collection. (If you don't have a holiday-themed collection or sale — you should.)

Look at how Wayfair did their homepage 4th of July alteration: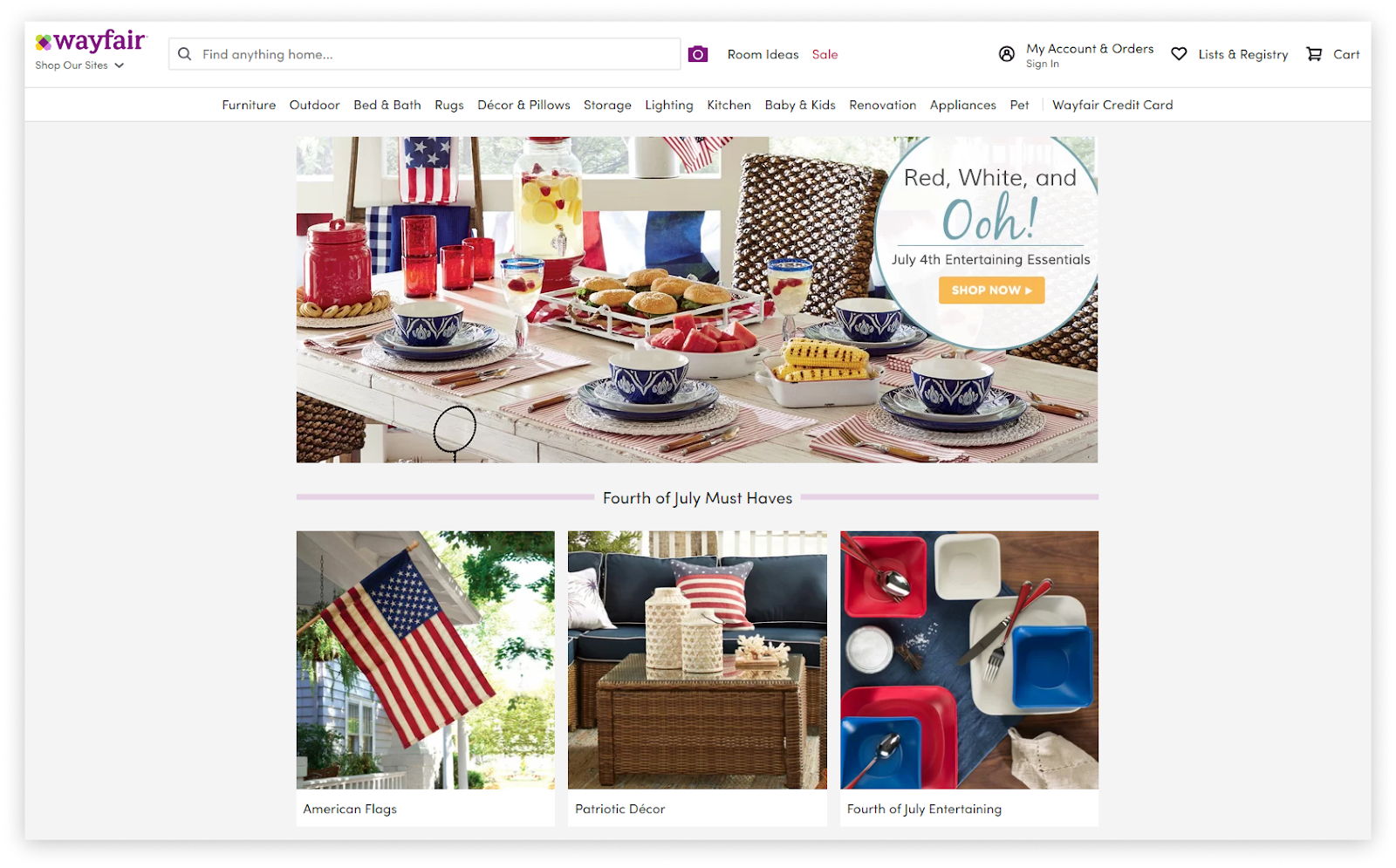 If you want to be a bit more subtle or simply don't have the resources for a big makeover — leave your homepage as is but consider enticing visitors with an eye-grabbing pop-up. Use the element of surprise by telling them they'd have the chance to get a coupon code for a discount of anywhere between 5 to 50%.

Configure the success message people would receive after submitting their phone number to give them a special code and nudge them to use it on your special 4th of July collection: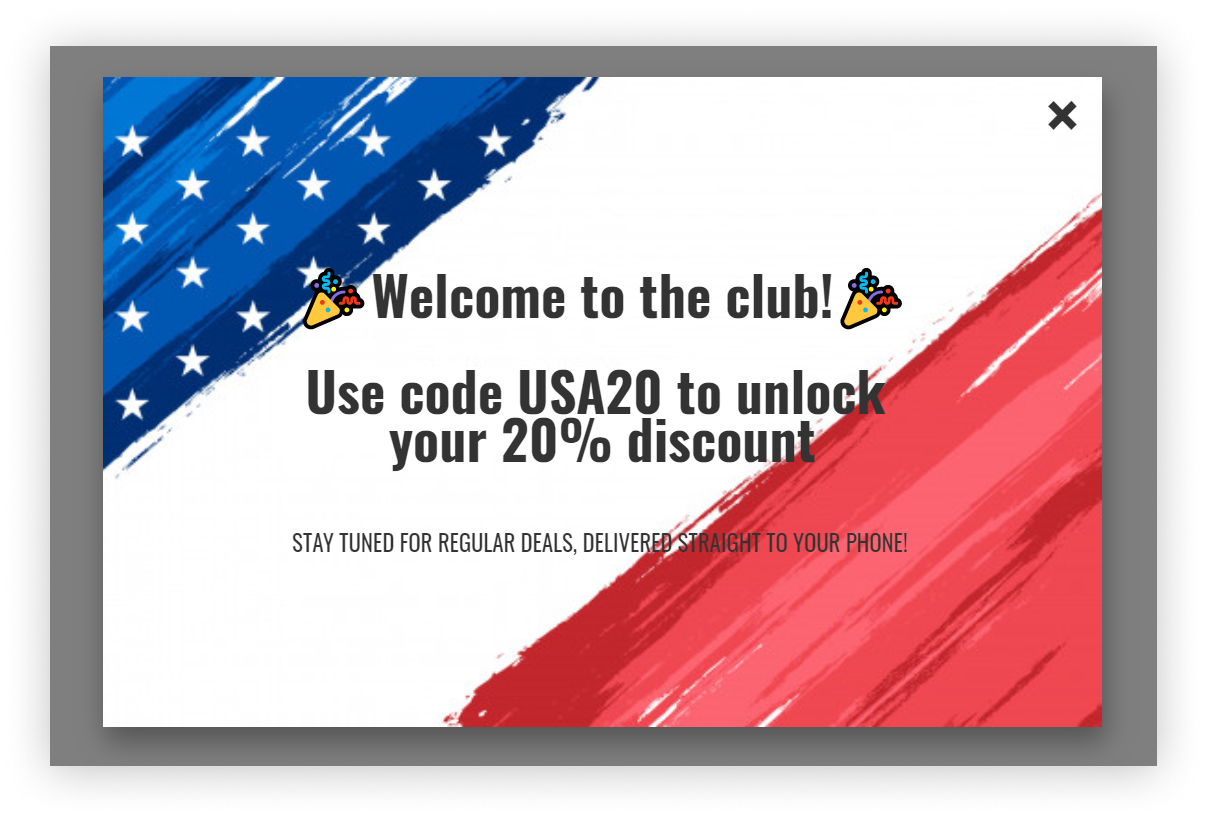 To give it an additional zing, you can even enable gamified pop-ups, using one of the 5+ integrations we have with leading subscription tools such as Justuno, Privy, and more. Тailor them to fit the holiday spirit and have them excite visitors with some sweet deals. The element of winning is an attention-grabber!

No matter which route you decide to take and how you choose to promote your offers, always make sure your inventory is updated with sought-after 4th of July items. Let's see what those are. :)
Hot Items...
As we already mentioned, traditionally, Americans celebrate Independence Day by attending gatherings like cookouts and parades, setting up firework shows, decorating their house, or simply dressing up in line with the holiday spirit. Least to say — every business can get a piece of the 4th of July pie. From fireworks, BBQ, or picnic food and supplies, through household decorations, to Independence Day apparel and accessories.

And remember: presentation is everything. With the right product descriptions and imagery, you can make everyday or "ordinary" items pop! Psst. Nothing says "America" more than the color combination of red, white, and blue, sparkles or stars. Tickle their patriotic nerve with some Made in America items to nudge them to support your business before any other.

Look at how "Old Navy" approached their online 4th of July sales.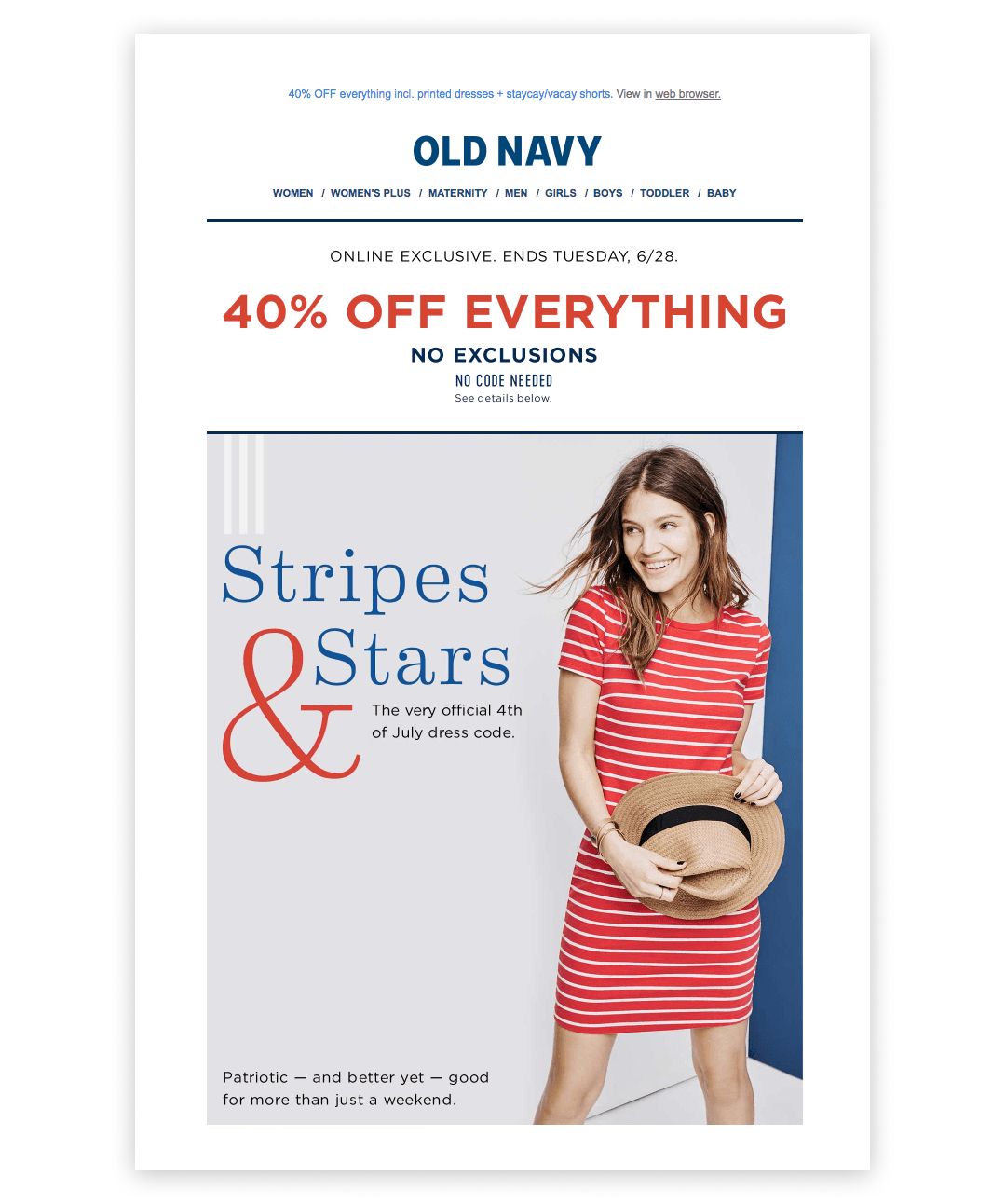 With offers that are themed to the holiday and copy that emphasizes the celebration, you will demonstrate you are looking for ways for your customers to have a good time. It shows that you are in touch with your buyers' current interests and want to be a part of their celebration.

That being said, let's go through some suggestions on how you can take your online promotions a step further and be your customers' idea generator! Trust us — they'd love it.

… And Even Hotter Ideas
Most of the time, to really stand out, you have to put yourself in your customers' shoes.

"What would my customers want to see in the SMS they receive from me?"

Personalized approach? Sure.
Special promotion on something valuable to them? Totally!
Ideas on how to use the product? Ring-ding-ding! An unexpected but great additional touchpoint!

To show customers you want to be a part of their 4th of July celebrations and help them have a memorable experience, make sure to also send them ideas on how to do just that.

Alongside your tailored promotions, mention how they could turn their purchase into the best picnic or the most delicious BBQ cookout. Share some entertainment scenarios, offer them "exclusive access" to your playlist of 224 hand-picked songs to get their patriotic vibe on, or make them part of your Independence day movie selection. ;)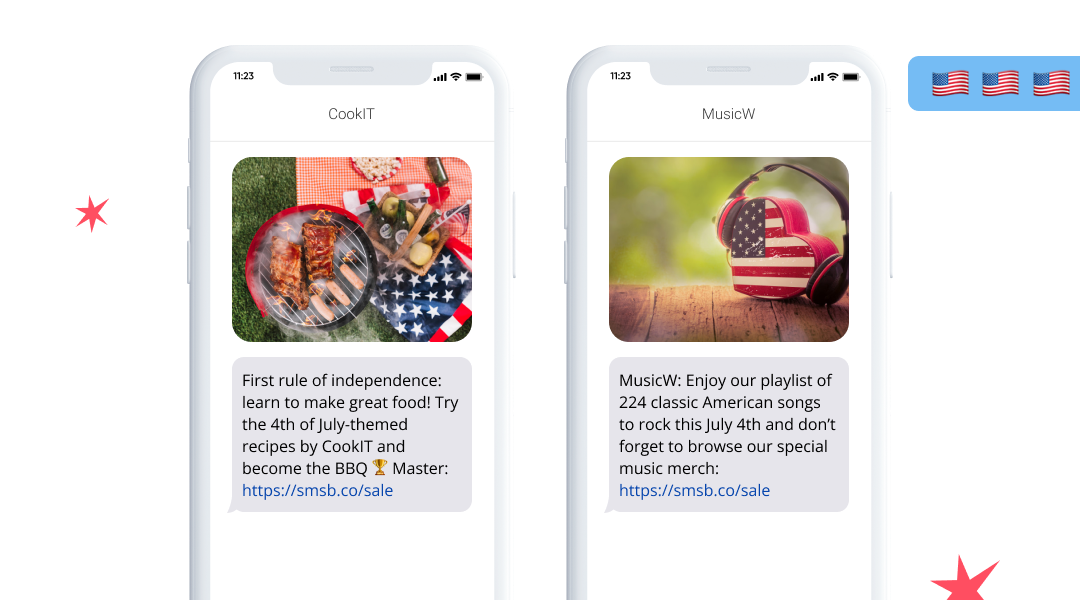 Like we said above, the channels for you to do all this are numerous. But to keep it personal and make sure they'd definitely get your thoughtful recommendations, think of using SMS to direct them to a page where they can learn more about how to put your product to use this 4th of July.

If you follow all of the tips we introduced thus far, you will secure yourself a boost in your online sales. However, this holiday is not just about launching cool promotions and blasting out fireworks. It's about people coming together and celebrating an important day for an entire nation.

Try to recreate this feeling for your customers. Let's show you how to up your game and use social media to launch competitions, do a live-stream fireworks show, and invite your SMS subscribers to join as well.


Bring the Spirit into your Promotions
As a 4th of July tradition, people love to dress up for the occasion, decorate their houses, and even turn their dogs into little Abraham Lincolns with cute hats. They like to compete with their neighbors on whose fireworks run for the longest or are the loudest, the most colorful, etc.

Give them that chance! Depending on what your niche is, launch a competition on social media and have people participate in Best decoration, Best dog outfit, Best (hand-made) Flag, Best BBQ, Best-looking burger/hot dog, etc.

Remember the social opt-in we mentioned earlier? Now's its chance to truly shine. To make it easy for yourself to pick a winner, have people who want to enroll in the competition subscribe to your SMS marketing and send you a picture of their house/dog/BBQ, etc. as a text message.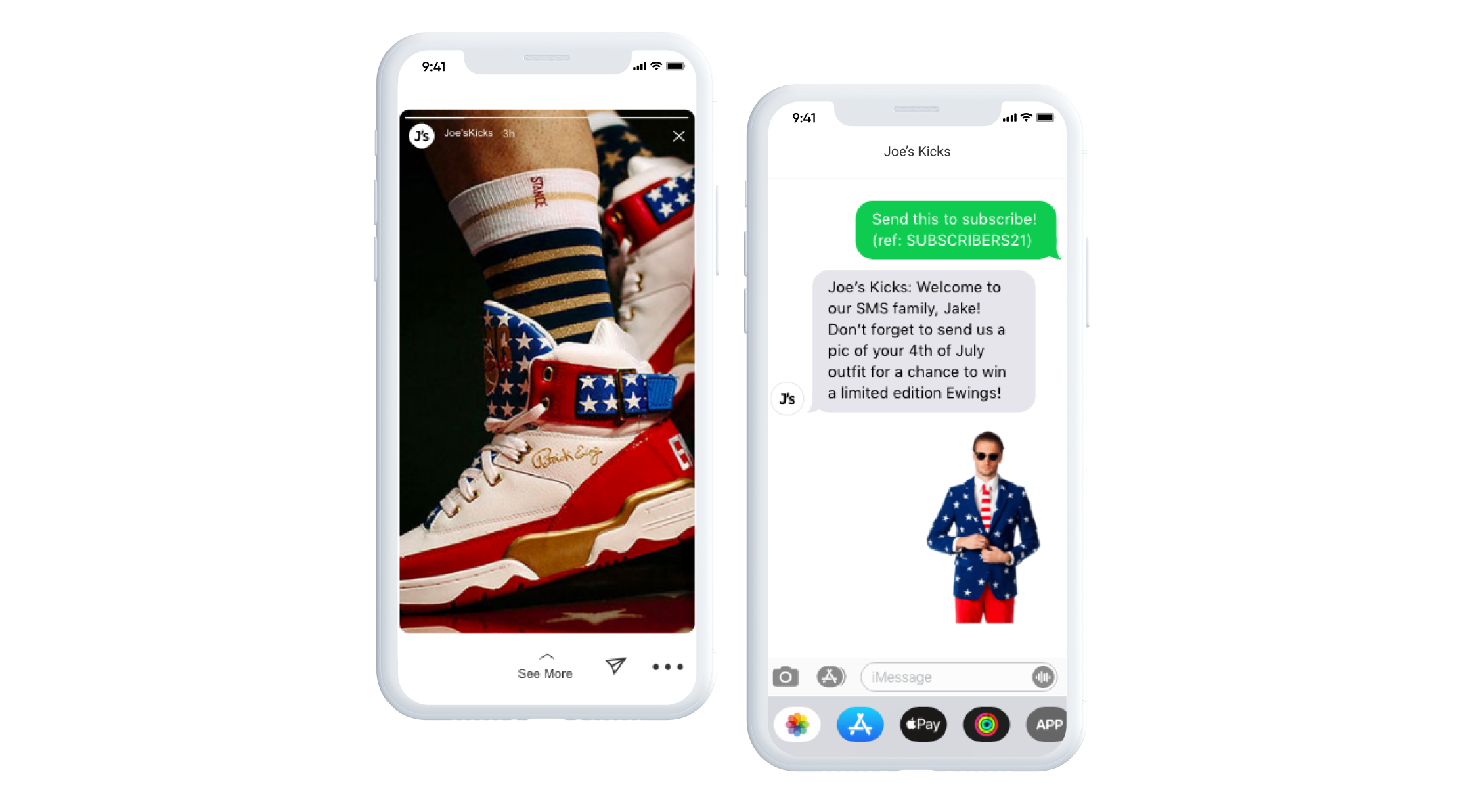 Your new subscribers' personal information will be stored in a designated list in your account, where you can later pick the winner from. Of course, don't forget to announce them publicly and give all participants a special treat, with the winners having the juiciest offers. Simple as that!

Important: to be able to receive text messages from your subscribers, you'd need to enable your Yotpo SMSBump Chat.

To give participants an even bigger incentive to use their exclusive discounts, top your competition with a secret 12/24-hour flash sale a day or two before the 4th, targeting only those who joined in these competitions, and share it with them via SMS. You can launch another flash sale for the rest of your customers, but perhaps after this one and only have it run for 6 hours.
Expedite the Path to Purchase
Now that you have visitors flocking to your website and offers, it is important to use every sales opportunity and maximize each customer interaction. How? Send shoppers on the quickest path to purchase with Click-to-buy — Yotpo SMSBump's latest feature.
With Click-to-buy, brands can take mobile consumers from product discovery to purchase in just a few seconds. All it takes is a single click and shoppers are sent to mobile checkout, where they will enjoy a carefully curated selection of products.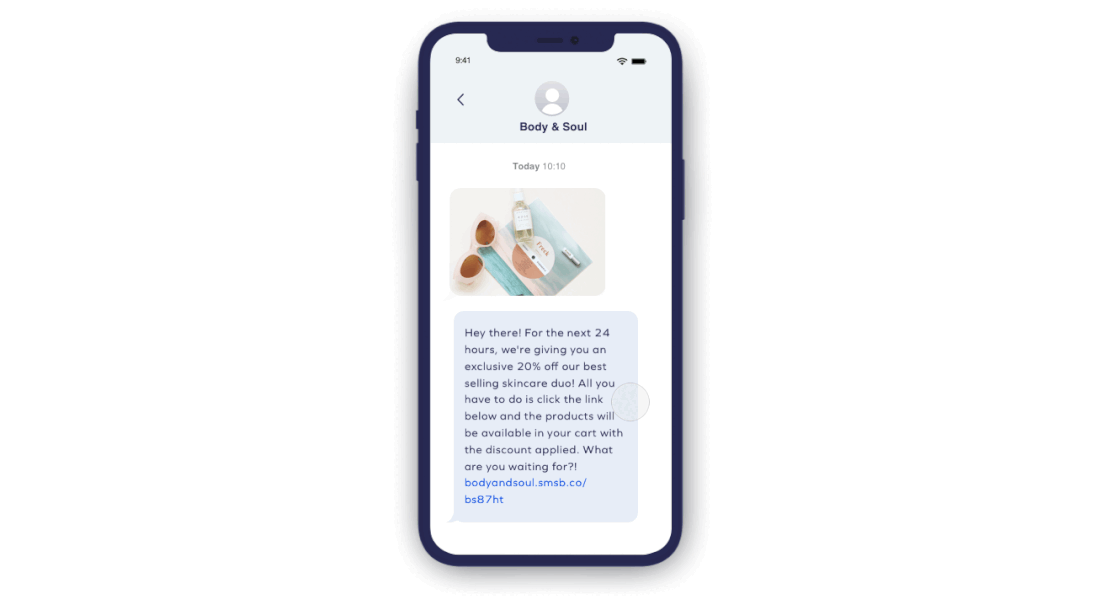 Click-to-buy has proven to be 4x more effective than regular SMS campaigns and brands that have already implemented it enjoy 20x ROI so far. It is the perfect tool to skyrocket your 4th of July marketing strategy.
Have a Great 4th of July!
With our ideas on how to transform your online store and give it a patriotic vibe, you will lift your shoppers' spirits up and will have a celebratory 4th of July as well.

If you need an inspiration kick to craft the best SMS campaigns and have customers choose your online store for their holiday shopping, check out our SMS Strategy guide or refer to our actionable templates. Copy, paste, and cheer on!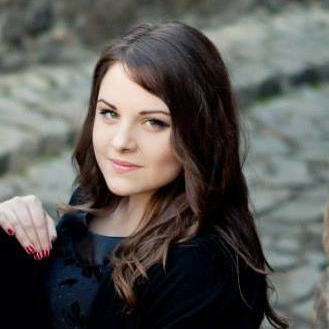 Start growing today
Sign up today and join 90,000+ eCommerce businesses making it big with Yotpo SMSBump