How to Create a QR code to Grow Your Subscribers
At
How to Create a QR code to Grow Your Subscribers
Yotpo SMSBump we like to keep surprising our users with new features. Just recently we introduced yet another way for both online and B&M brands to collect subscribers.

The QR code presents your customers with an interactive and easy way to opt in for your text marketing, and gives you the chance to personalize future offers.

Let's show you how you can generate your own QR code so you can start spreading the word about your brand.

From your SMSBump Dashboard go to Collect Subscribers. You will see all of our available subscription methods: the QR code generator will be the eight option. Click the Get Started button.



After clicking the Create new button you will be taken to the editor. The first thing you need to do is give your QR code a memorable name.


You will notice you can't use spaces in your name - this is because the name will also act as a keyword, so make sure you create one that reminds customers of your brand, is short and even playful.

The keyword gets automatically pre-populated in your customer's phone's Messages menu and all they have to do to become subscribers is hit the "Send" button and send you a message, containing the respective keyword.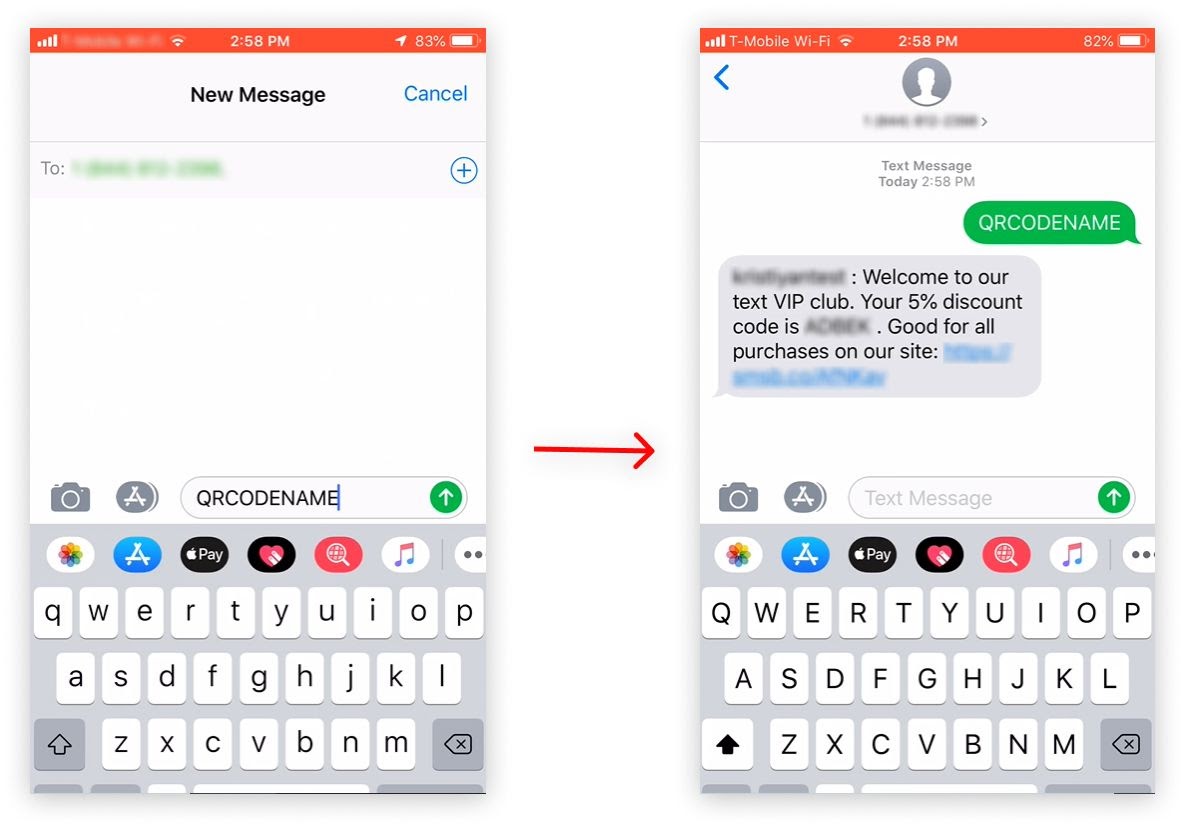 Next up you have to assign a specific list to your QR code, where everyone who subscribes via this code will be added. You can select from the existing ones. If you want to assign a brand new list to this specific QR code, then go to your Lists & Segments and create a new list the usual way. Assuming you'd like to choose one of your existing lists, simply select the one you've decided on.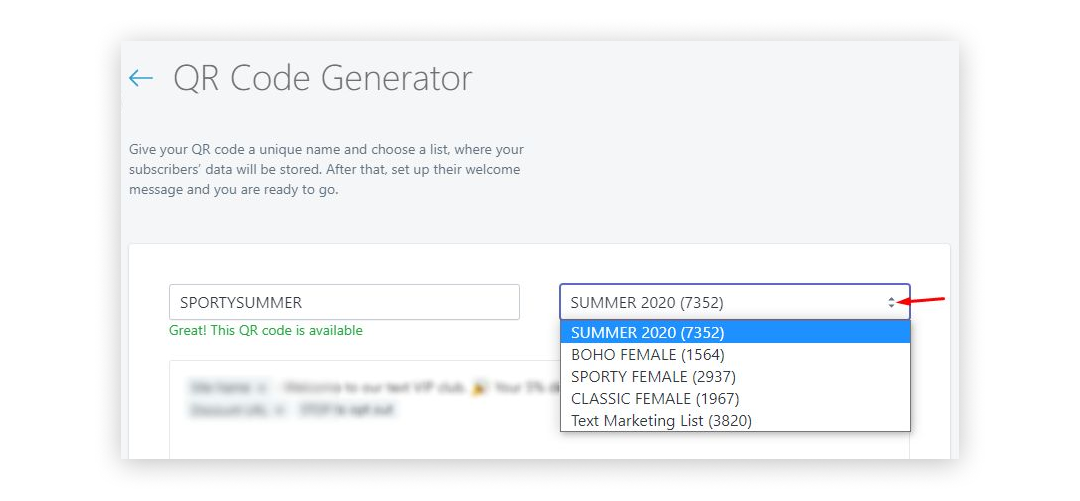 All good?

The next field is where you will put together the message your subscribers will receive upon subscribing i.e. - your welcome message. We've already provided you with a default text message that also includes a discount of 5% (you want to be a good host, right? :) ) but you can change any of it easily.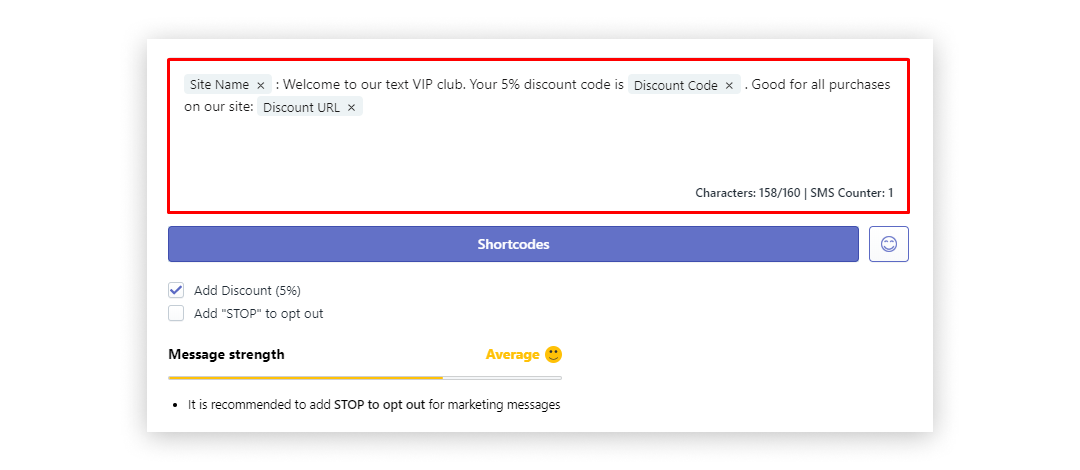 You can tweak the pre-set text to one that will speak with your brand voice and also add emojis to make it fun and more attractive. Just keep in mind this will decrease your character count from 160 to 67.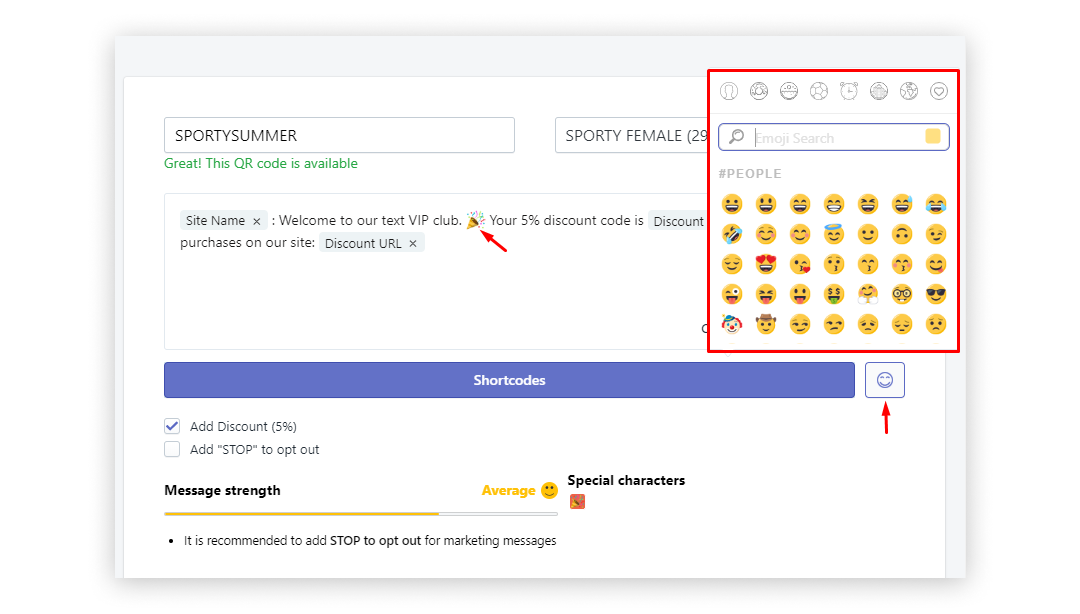 You can also use the shortcodes available to provide your subscribers with valuable additional information such as your Store Name, a link to your website etc.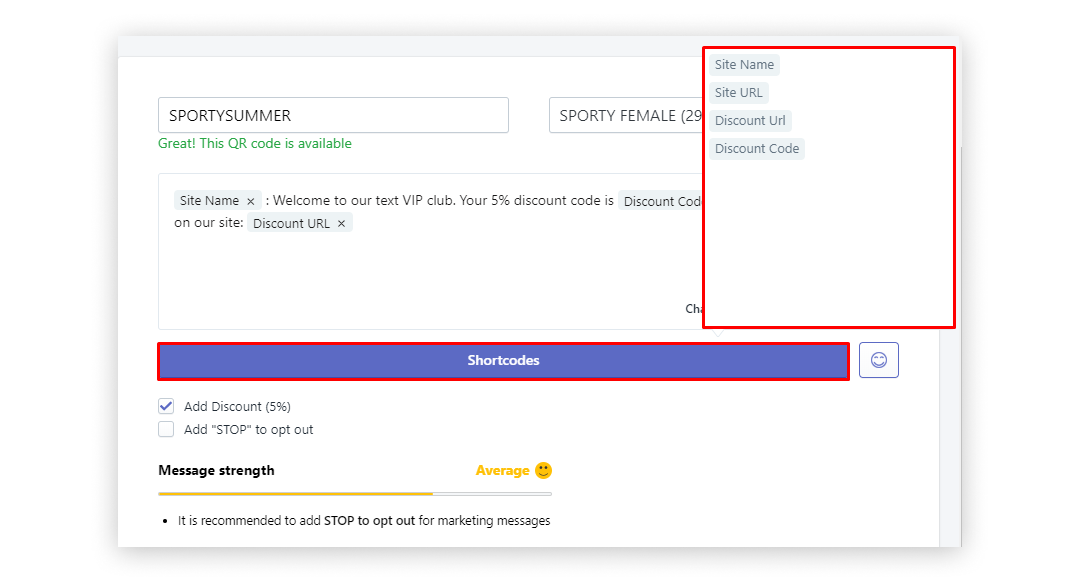 The next field is where you can remove or change the discount depending on your marketing strategy and budget.

To modify the default discount of 5%, simply uncheck the Add discount checkbox and then check it again, which will have a pop-up show up. Alternatively, you can delete both short codes related to the default discount (the Discount Code and the Discount URL) and then select the Add discount checkbox, triggering the same pop-up.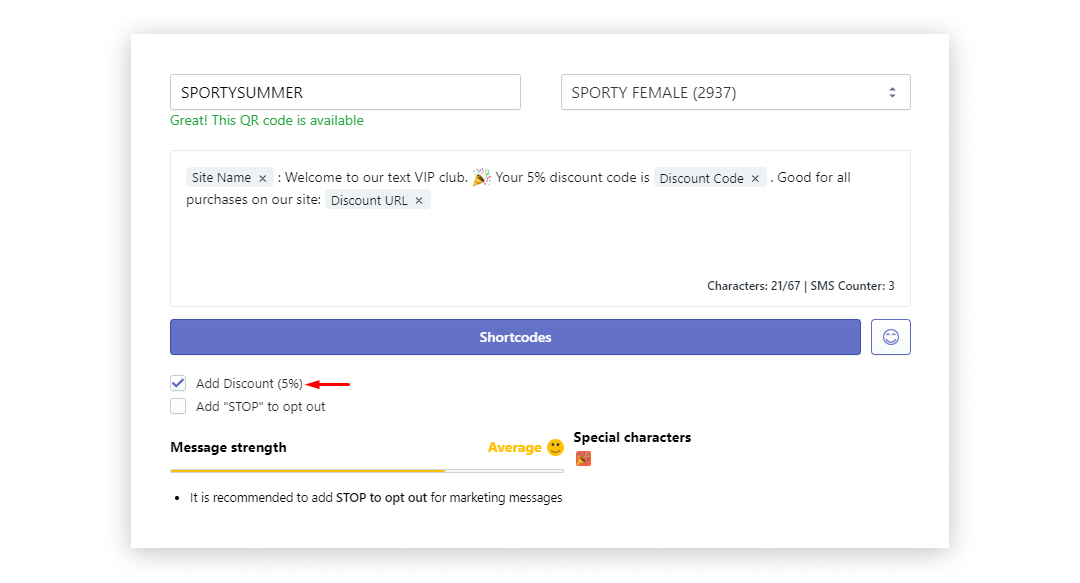 Now you can choose whether you want your discount code to be different for the different subscribers, or the same. We recommend you choose the Unique code per client for exclusivity, but also easier tracking.

Next, you can configure if you want a percentage discount, a fixed amount or free shipping, and specify the amount on the left. What type and size would your discount depends entirely on your store policy and is up to you to decide.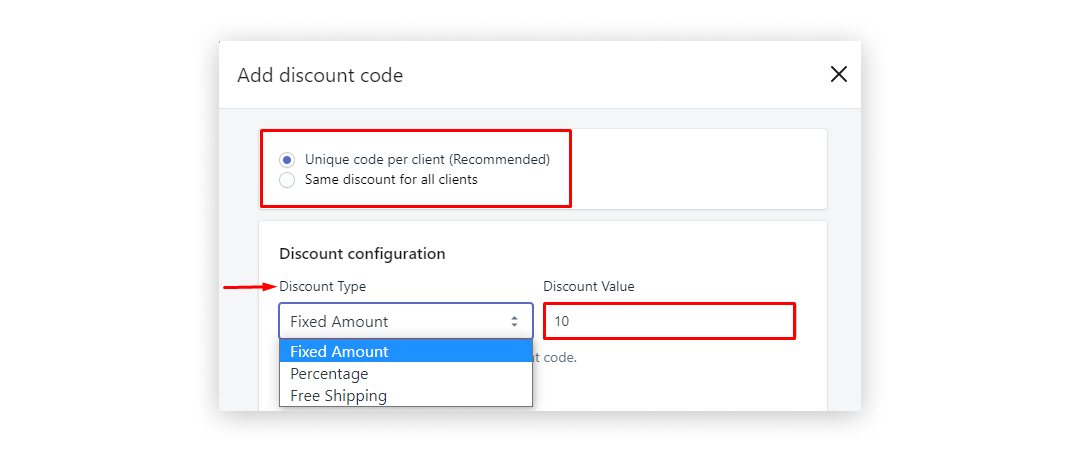 Unless specified otherwise, the discount code will be embedded in a link, leading to your store's homepage, giving your subscribers an easy way to access your website and take advantage of the special deal. However, you can change that and have the discount link take subscribers to a specific page on your website by simply pasting the hyperlink in the field, or choose not to have the discount embedded in a particular link by unselecting the Embed the discount code in a link checkbox. We don't recommend the last, as it will make it harder for subscribers to visit your online store and might affect conversions.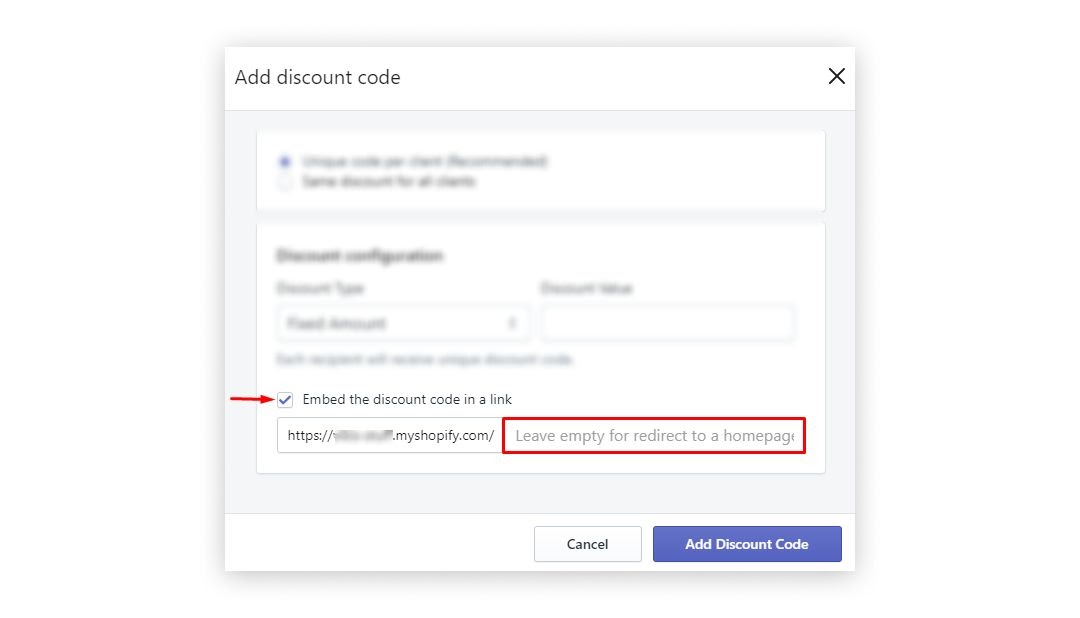 When you've configured the type of discount and amount, simply hit Add discount code and it will be added to your message.

The final change you can make to your text message is add the STOP to opt out verbiage, giving your customers a way to unsubscribe if they wish to.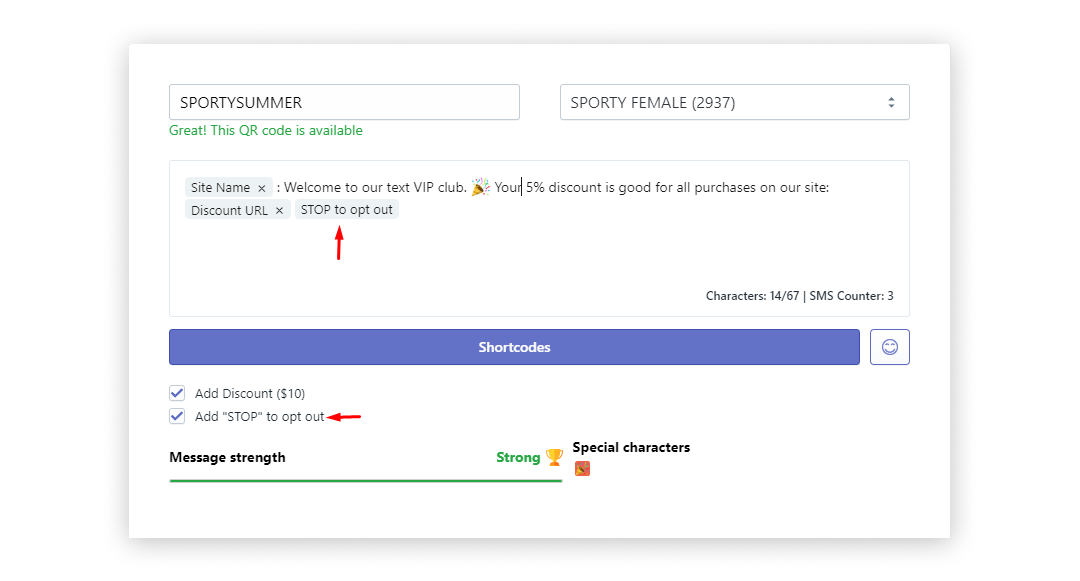 The final step (and probably the best feature of our QR code generator) is to add your logo for better brand recognition and color. To include it just click Upload logo and select a PNG, JPG or JPEG file from your directory, with a minimum size of 32 by 32 pixels. Keep in mind that no matter what size image you upload (so long as it is bigger than 32x32 p) our system will auto-resize it.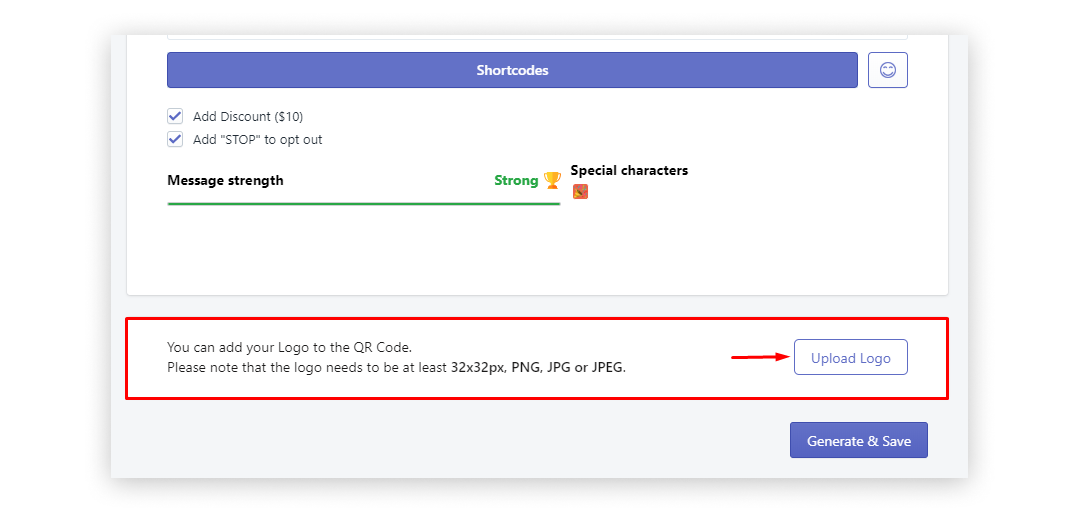 Of course you can skip this last step and have your QR code be a plain one. Just don't click Upload Logo.

Once you are ready to save your QR code, select Generate and Save, and a pop-up will show up to let you download your QR code image.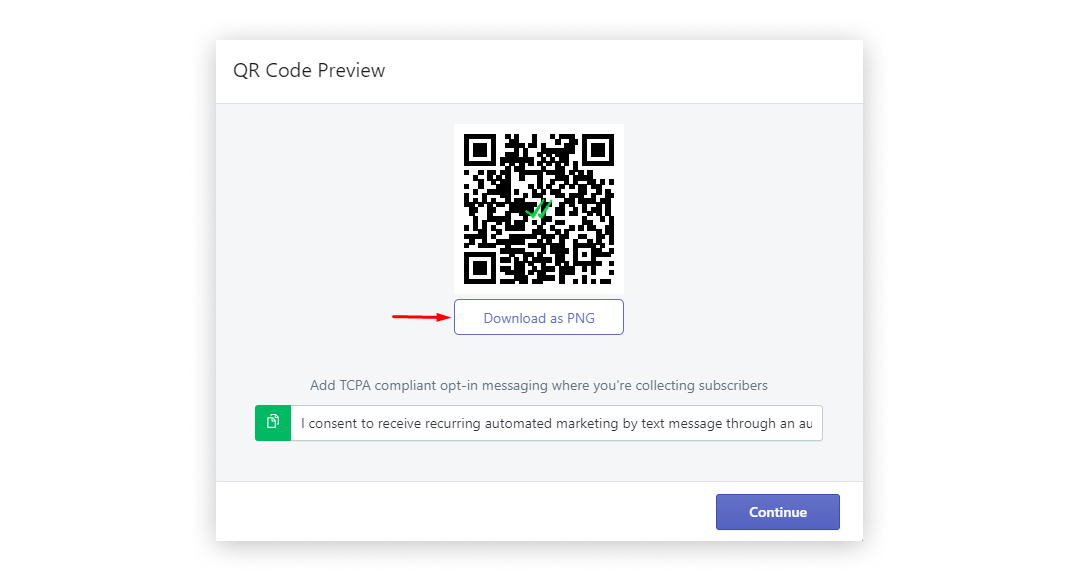 Underneath we've provided you with the relevant TCPA text you can copy and paste where you'd be placing your QR code to collect subscribers. It includes valuable information for your future subscribers (and also helps you comply with the US regulations), so we recommend you copy it by clicking on the green button, and then include it where necessary.

When you are ready, click the Continue button and you will be taken to the QR code homepage, with your new QR code now up and running. Here you will be able to track:
The Revenue every individual QR code generates

How many clicks does it receive (or in other words - scans)

How many people have gone through the second step of the subscription, i.e. have sent you back the keyword

How many contacts are in this QR code's dedicated list

All of this information is also available in your Yotpo SMSBump Analytics.

Under Actions you can make changes to your QR code, which include:
Editing it via the QR code generator

Previewing it which will take you to the pop-up where you can download the QR code from again or copy the TCPA text in case you missed to do it last time

Deleting it

Such an easy tool to set up, yet so effective, with the potential to turn into your most profitable subscription channel! If you are looking to give it a try, take a look at our blog article, covering the various applications of the QR code, and get inspired for your new subscription option! Let us know how it works out for you.
---
Related articles