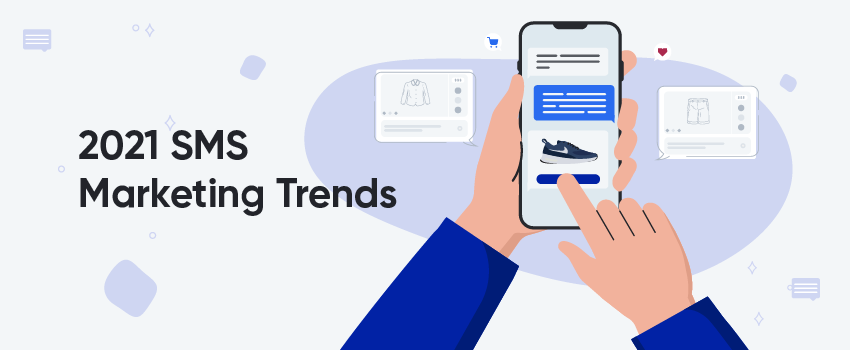 SMS Marketing in 2021: Trends and Predictions
2020 in eCommerce will go down as the year when online shopping surpassed all marketing predictions, growing by over 30%. What's more: its phenomenal growth shows no signs of stopping.

The eCommerce world will reminisce of 2020 as the year that completely shifted consumer attitudes, expectations and realities.

And while all of these changes caused a lot of uncertainty and unpredictability, some recurring events and behaviours helped us outline data-driven trends and predictions for SMS marketing in 2021. They will help your brand make the most out of the channel and leverage its effectiveness to the fullest.

eCommerce will continue to grow. And so will SMS.
It won't be an exaggeration to say that eCommerce and SMS walked hand in hand last year. As one was growing, so was the other.

While online brands were aiming to outshine the competition and looking for versatile ways to connect with their customers and stay top of mind, almost simultaneously we saw a significant increase in SMS subscribers too. Based on our data, last year our users interacted with over 130 million subscribers - a 65% growth compared to 2019.

In the words of Shopify's President Harley Finkelstein:
"Commerce is more than a transaction; it's an interaction."

SMS is direct, brief, and personal. It's all an eCommerce business could possibly want in an interaction with a customer. So it's safe to say that as online shopping continues to go upward, so will SMS.

SMS proved itself to be not just one of the most go-to channels for eCommerce businesses to connect with their customers, but a universal way for shoppers to reach out to their favorite brands. Which brings us to the next trend…
2021 SMS Will Reach Everyone
As online shopping in 2020 transformed from simply "convenient" to being a necessity, many consumers who very rarely (or downright - never) shopped anywhere else but at B&M stores, had to adapt to the new reality and convert to online shopping.

This is going to remain the case in 2021 as well, which makes utilizing a diverse channel necessary to reach a bigger audience. SMS is exactly that - truly everyone, from GenX to Gen Alpha communicates via text messages.

SMS quickly evolved from being primarily used by families and friends to communicate with each other, to a favoured communication platform for businesses and their customers, encompassing an ever-increasing portion of the population. What's more, for a very short period of time it claimed its spot among the leading revenue streams, generating ROI of 45% and more.

And as eCommerce is turning more and more offline shoppers into online nomads, SMS will become the channel where brands can reach the widest range of customers (from the most age groups). The opposite also applies - in 2021 SMS will be a preferred channel for customers to contact brands they follow.
2021 Customers Want to Text You!
Another big shift we witnessed last year was in the way people shop: over 65% of customers prefer to use their phones to shop. The rise of mobile commerce was a response of customers looking for a direct way to communicate with brands, largely affected by the global situation and the high levels of uncertainty.

Mobile commerce significantly shortens the distance between shopper and brand, bringing the in-store customer experience at the tip of their fingers. In addition, this form of communication makes customer service much more personal and private.

This is why close to half of the world's consumers have already opted in for the convenience of receiving information straight on their phones via SMS, so afterwards they can act on it by simply sending a text message.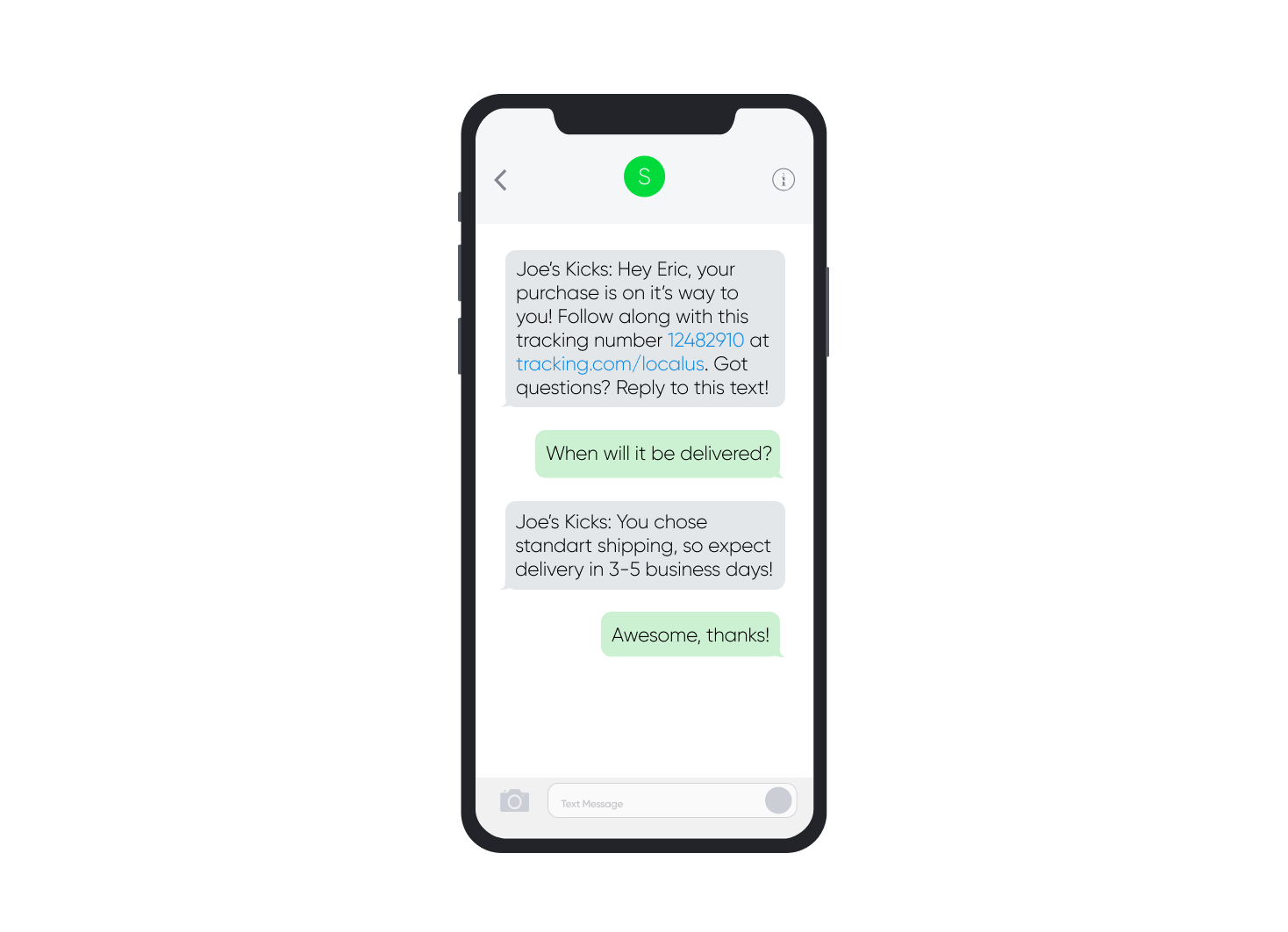 People's phones have turned into their one-stop location to complete almost any online activity. It comes as no surprise that a great 85% of today's customers prefer to send their questions and talk to brands via SMS: a channel you don't even need to install, but is available for you on every single phone.

In 2021 brands will leverage the conversational nature of SMS even more so, responding to customers' desire for an easy and convenient communication process, that literally takes a few seconds. Adding to the convenience SMS provides, text conversations can happen at a time most suitable for your customers and they will always reach you.

It's no wonder that SMS will continue to be a preferred way to converse by both brands and customers.
2021 SMS is Much More Than Simply Promotional
The industry boom has made shoppers more open to switching between brands. In turn, this has altered the priorities of eCommerce businesses, which are now looking to invest more in loyalty and retention marketing.

SMS will play a key role in helping brands maintain a close connection with existing customers. The immediacy of the channel makes it perfect for customer service and retention, while its high open rates and visibility make it the right fit for sending important post-purchase information, valuable brand updates and other notifications related to the customer's activity and profile. For instance, review requests sent in a text message enjoy a 66% higher conversion rate than any other marketing channel! So it's obvious customers also like to receive messages that are not only sales-driven!

Furthermore, as SMS is less formal than email and more personal than social media, it enables brands to have more meaningful conversations with customers and build long-term relationships.

So in 2021 text messages will progressively be used as a way to connect with shoppers beyond the sale, leveraging the channel to create a loyal customer base, turning it into the top relationship-building platform.
2021 SMS is Locally-mindful
Naturally, with eCommerce growing more in just 8 weeks than it did over the last 10 years, it's growth is bound to cross borders with online brands looking to expand their reach to more markets. In fact, this process has already started.



According to research, there was a 21% increase in international sales between January and June of 2020, compared to the same period in 2019. In response to this growth, experts predict that in 2021 location-targeted mobile ad spending will reach a record of $32.4 billion.

Brands that function internationally should more than ever aim to be locally-mindful and service customers from different countries in their local languages. This will help you stand out from the competition as a brand looking to provide the best customer experience on all fronts.

One way to make this happen is to approach customers with your SMS communication in their local language. Seventy-four percent of customers who receive after-sales messages in their native language are more likely to respond positively and purchase again from the same brand. Not a percentage to neglect, right?

Some of our users have already realized the importance of communicating with shoppers in their language. The Italian butcher store Macelleria Callegari sends all of their messages in Italian, and here's for instance the abandoned cart reminder they fire off, which earns them a great click-through rate of over 30%: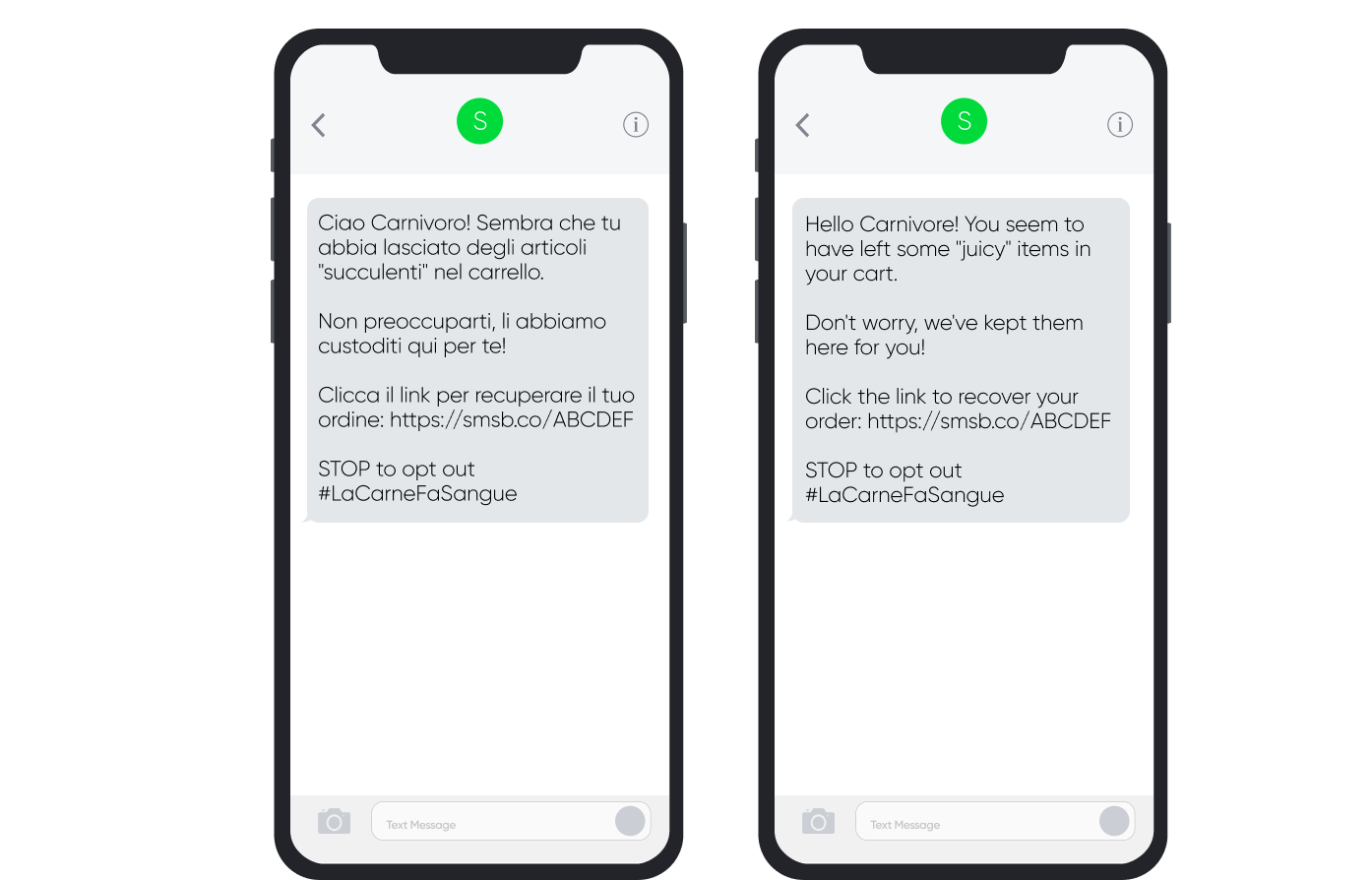 With SMS having the highest open rates and reaching customers regardless of their connectivity, location and other factors, it can easily be the go-to channel for communicating with customers anywhere in the world. Talking to them in their language provides a high level of personalization, which is something 2021 users will increasingly seek from every brand interaction.
2021 SMS: Personalized to the Tee
Personalized experiences and customized messaging are something shoppers expect throughout their entire journey with a brand; however in 2020 only 20% of them were satisfied with the level of personalization they received.

Last year laid the groundwork for the transition to highly personalized experiences but 2021 will for sure give brands more opportunities to exceed the level of closeness and engagement with customers online, compared to the experience they receive at an actual store.

Personalization is shifting towards keeping an ongoing conversation with your shoppers and putting more effort into understanding what they are after. Conversational messages already enable brands to ask relevant questions and based on that - send the right product recommendations, useful content, or tailored offers. Brands can then leverage this customer data to build more direct and effective relationships, and maximize every customer interaction, at all points of their journey.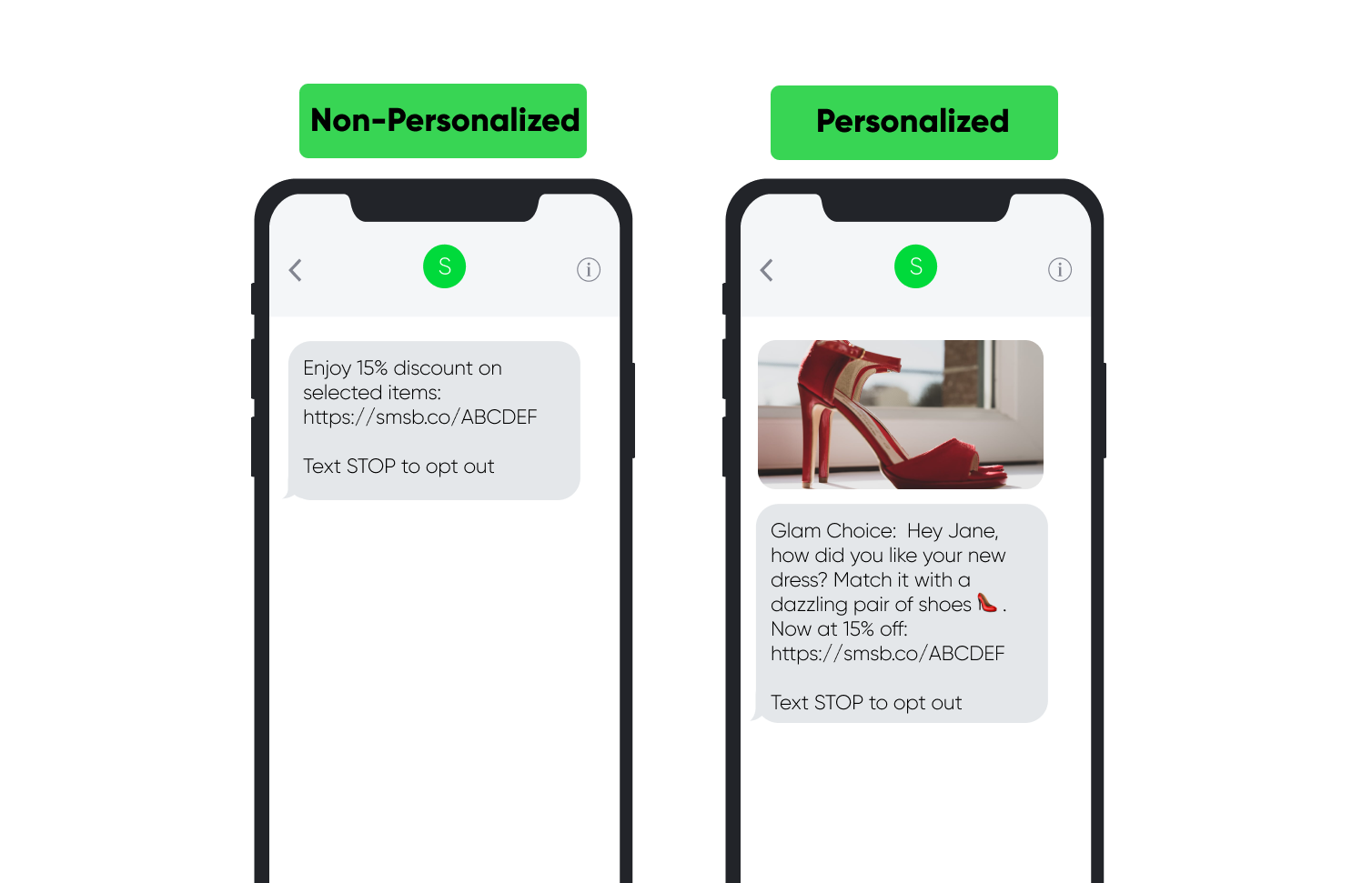 Which one would you respond better to?
Being one of the most intimate and direct communication channels, SMS is going to lead the way in creating these hyper-personalized journeys, helping brands build more connections with their customers and giving them what they are after - relevant offerings and a smooth experience.

In 2021 text message marketing will be aiming for an one-on-one feel in every conversation with customers, resulting in higher rates of engagement, loyalty, and conversion for your brand.

Check out how personal care and wellness brand Younify Wellness used SMS marketing to get to know their customers better and suggest the right product for each and every customer based on their needs.
2021 SMS is Fully Automated
In 2021 brands will continue creating entire customer journeys via SMS, automating them from beginning to end. They will ensure customers are going down the more relevant path for them, providing a tailored experience, based on factual data such as personal interests, demographic or other traits, and more.

Running parts of your marketing on autopilot will be important to brands, looking to engage with customers round-the-clock and provide a flawless experience throughout.

What's more, by automating your messaging you can assume many different roles and connect with customers on multiple occasions. From acting as their support agent, guiding them through your store site and inventory, all the way to advising them and being their personal shop assistant.

Automated messaging will empower brands to maximize customer engagement across the shopper journey, and in turn - maximize the sales effectiveness of SMS.
2021 SMS is Integrated
Shoppers of today are not single-channel users, which is why brands this year will largely focus on fusing the shopping experience across channels and providing customers with a coherent experience throughout.

Brands looking to maximize the value of every customer in 2021 will aim to connect all of their marketing channels and have consistent messaging across the board. This won't just give shoppers a better experience, but will help with brand awareness and increase sales for businesses. Research shows that omnichannel shoppers traditionally have a bigger shopping basket, so much so that with every new channel they explore, they increase their spending threshold.

In today's world, where shoppers have the liberty to jump back and forth between email, social media, messages etc., it's up to your brand to be where they are, and not vice versa. Pairing your SMS marketing program with the rest of your marketing channels will help you stay connected with customers at multiple touchnpoints. Create meaningful triggers, so even if a customer doesn't see your social media post or Google ad, they will have you on the top of their mind due to the email campaign or text message that got through to them.
2021: the Year of SMS
As you can see - we are the start of a very exciting year for SMS, as the channel continues to be one of the most personalized and effective ways for eCommerce brands to communicate with their customers, build relationships and boost sales.

But looking beyond SMS, 2021 will be exciting for the entire eCommerce world. Take a look at what are some other industry-wide predictions, collected straight from leading experts, and gear yourself up with knowledge and ideas how to scale your business. Knowledge is power, they say - so get right to it.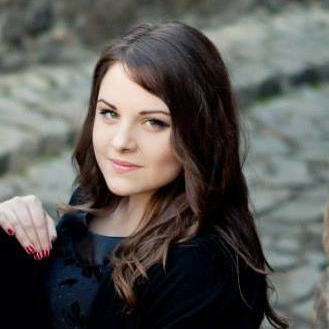 Start growing today
Sign up today and join 90,000+ eCommerce businesses making it big with Yotpo SMSBump