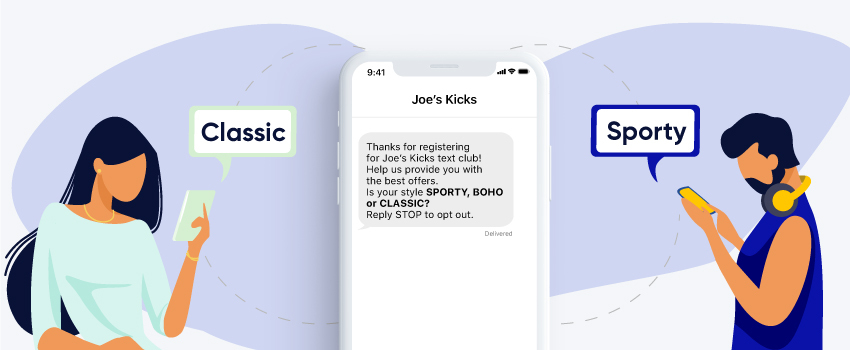 SMSBump Conversational Flows: Stand Out with Personalized Offers
Now more than ever, people are starting to understand the importance of communication. What would the world be if we couldn't easily communicate with one another online in the midst of this pandemic? Without brands giving their customers product updates and announcing their newest collections, or customers reaching out to leave a review or request assistance. This is how relationships are built!

But it's not just that! The key to lasting relationships and creating customer loyalty is open communication and knowing what they are interested in, passionate about, looking to improve etc.

Understanding how crucial it is for brands to know what their shoppers like and offer them a personalized approach based on that, we created Conversational Flows.

With Conversational flows you can ask customers a question and provide them with up to 3 keywords they can text back. Their answer will trigger a sequence of automated replies and recommend products that will appeal to them. This way, you'd be able to have more engaging conversations with your subscribers, collect valuable insights and personalize their experience with relevant offers.

That all sounds great, right? Now let's see how you can make the most out of Flows replies as a way to engage in conversational commerce and boost personalization.
Get to Know Your Customers Better
Conversational flows can be particularly effective if you want to get to know your new subscribers better, so you can provide them only with offers that make sense. In return, this will increase engagement and conversions, as it will give customers the feeling they are at a real store, talking to a real shop assistant, as opposed to a bot.

With the flow we've prepared, as soon as somebody signs up, they will receive a sequence of messages, asking them a couple of questions regarding their clothing interests and needs.

In case you have a fashion brand with both male and female collection, sending relevant offers might be tricky sometimes. There are so many unknowns - what is the gender of your customer, their style, etc.

Let's see how we can make personalized recommendations to a new user.

The first example is a flow, which aims to first check if the new subscribers are looking to shop female or male apparel collections, and then see what their particular style of clothing is.

In the first step, we've configured the trigger which will activate this sequence. In this case this is the New subscriber confirmation success (see Step 1 in the image below).

The next few steps are the essential part of this flow, which will help us learn a bit more about our shoppers.

In the first SMS action we are both thanking them for subscribing, but also asking them if they are interested in our FEMALE or MALE collections (Step 2), narrowing down the products we will then refer them to. Depending on what they answer, we will then ask about their style (SPORTY, CLASSIC, or BOHO) to make sure we would send them a relevant offer (Step 3).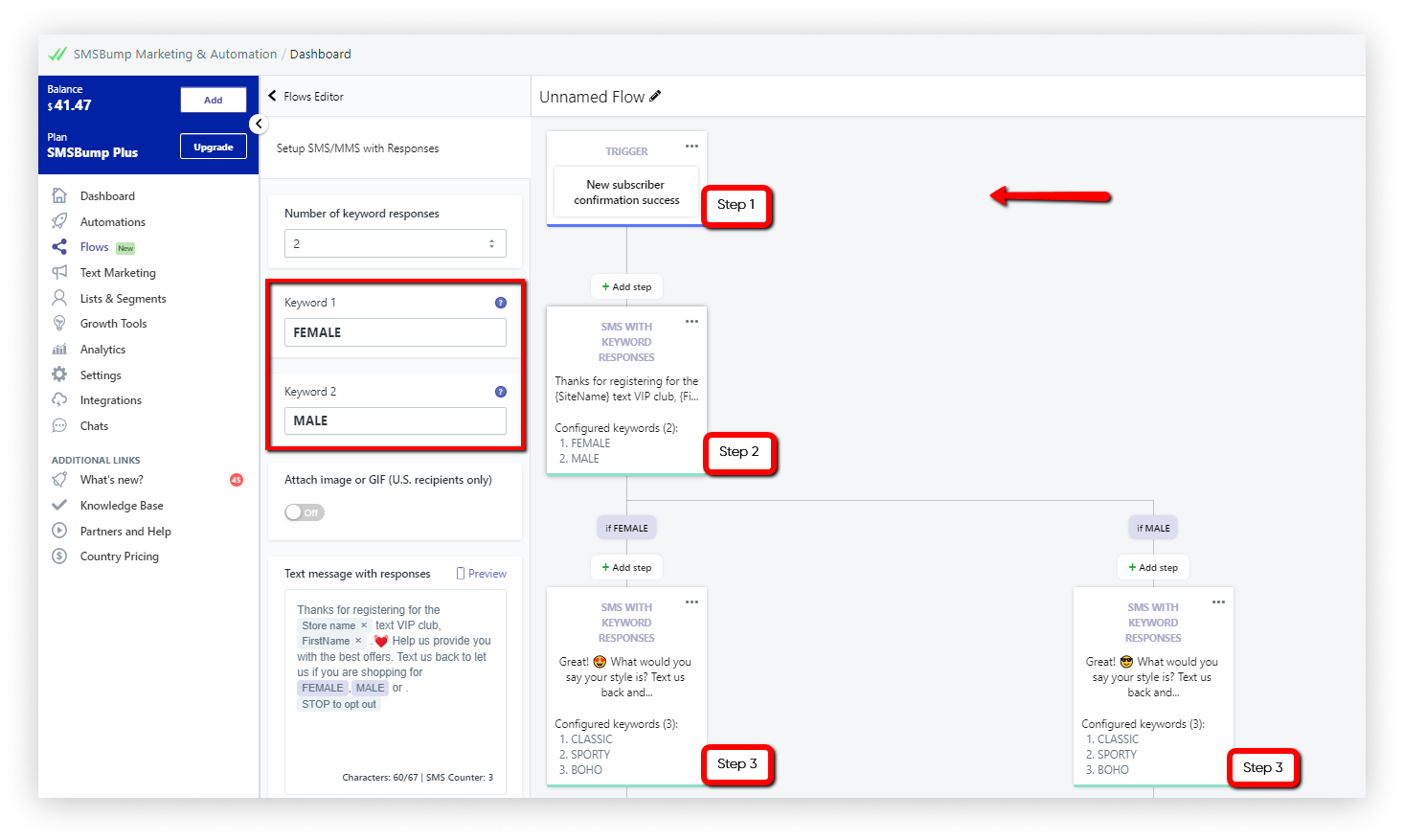 The algorithm will automatically add branches to our flow, depending on the number of keyword actions (outcomes) you've specified. In our example - 3. But here is also when we point each group to the right collection or provide them with a discount on an appealing item.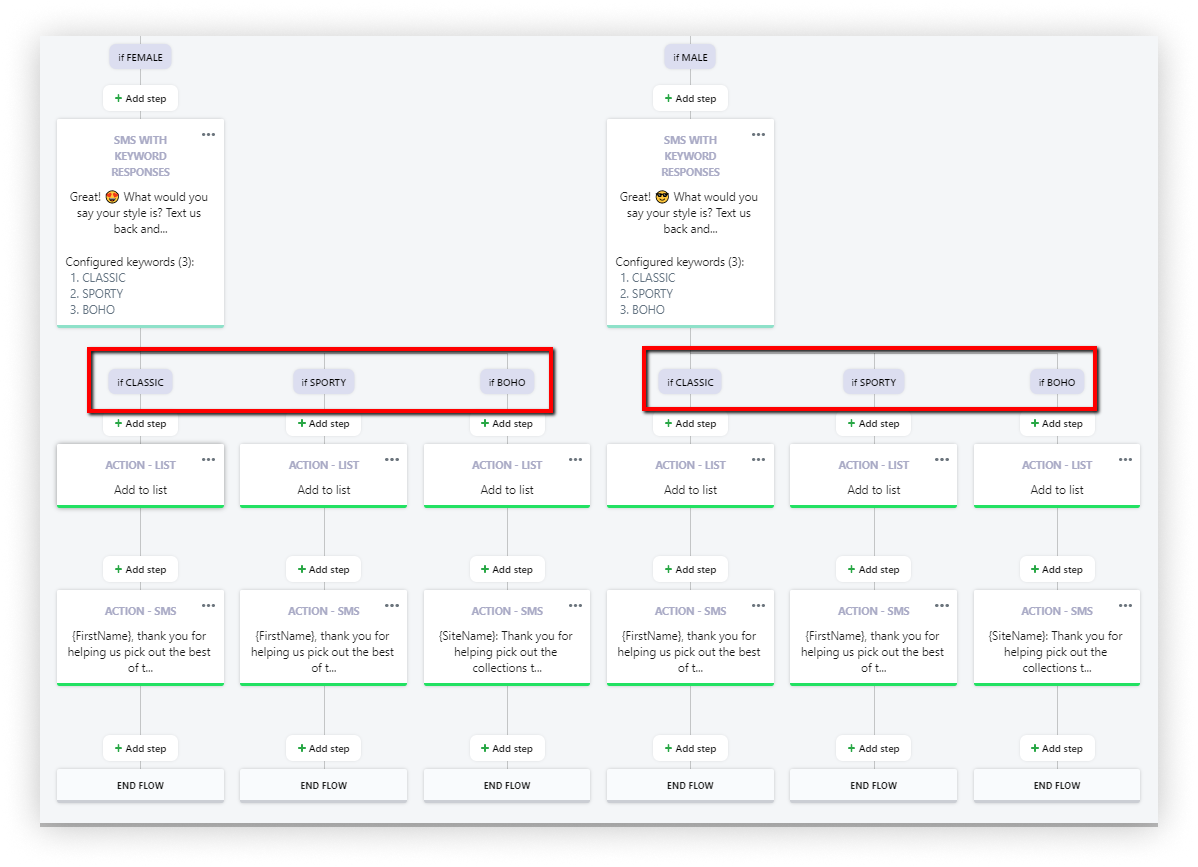 Now that we have more information about your customers' style and what they might like best, lets add them to separate text marketing lists, based on their preferences. Name each list in a way that will give you a better idea about what type of shoppers are part of it. (e.g. Male Boho collection).

Once you've compiled a large enough list, you can send subscribers attractive offers that will have the best chance to convert into sales.



Setting up a flow like this, where you show genuine interest in your customer's particular taste, will leave a strong message that you are a brand, which cares about its customers' interests, and is striving to find just the right fit for them.

Bonus ideas: Conversational flows could be a strong ally for any other type of industry. For instance if you are selling shoes, you can ask your new subscribers if they like SPORT, LEISURE, or FORMAL shoes. Or if you are specializing in cosmetics - ask them about their skin type, scalp type, or what they are looking to improve, and make a relevant recommendation based on those findings.

As you can see, with conversational flows you can easily learn more about your customer, but also make them feel welcomed at your store, giving them the feeling that a real sales assistant is here to help them make the right choice.
Educate Your Shoppers
Personalization often reaches out beyond just meeting somebody's expectations taste-wise, but is related to respecting customers' values.

Are you running an eco-friendly clothing brand? Or is your business all about organic cosmetics? Perhaps your store sells subscription produce boxes, but is also looking to give shoppers tips on how they can use your products?

Either way, use conversational flows to tell your customers how special your products are and direct them to those that will truly speak to their beliefs!

Let's take eco-friendly fashion brands as an example. Most of the time nature lovers want to know a bit more about the product they are about to purchase - was it made in an ethical factory, are the dyes all-natural, is the fabric made from recycled materials etc.

Take the opportunity to educate your shoppers about the quality, manufacturing, and the story of your products. This way you will keep them engaged with your brand, and will show them you appreciate that they share your values. And will give them a sense of how unique you truly are!

In our example, we've asked new subscribers if they'd be interested in 3 items, which we picked based on what we are looking to put in the sales frontline: a backpack, a jacket and a hat. Hence, we provide them with three keywords they can text back - BACKPACK, JACKET and HAT.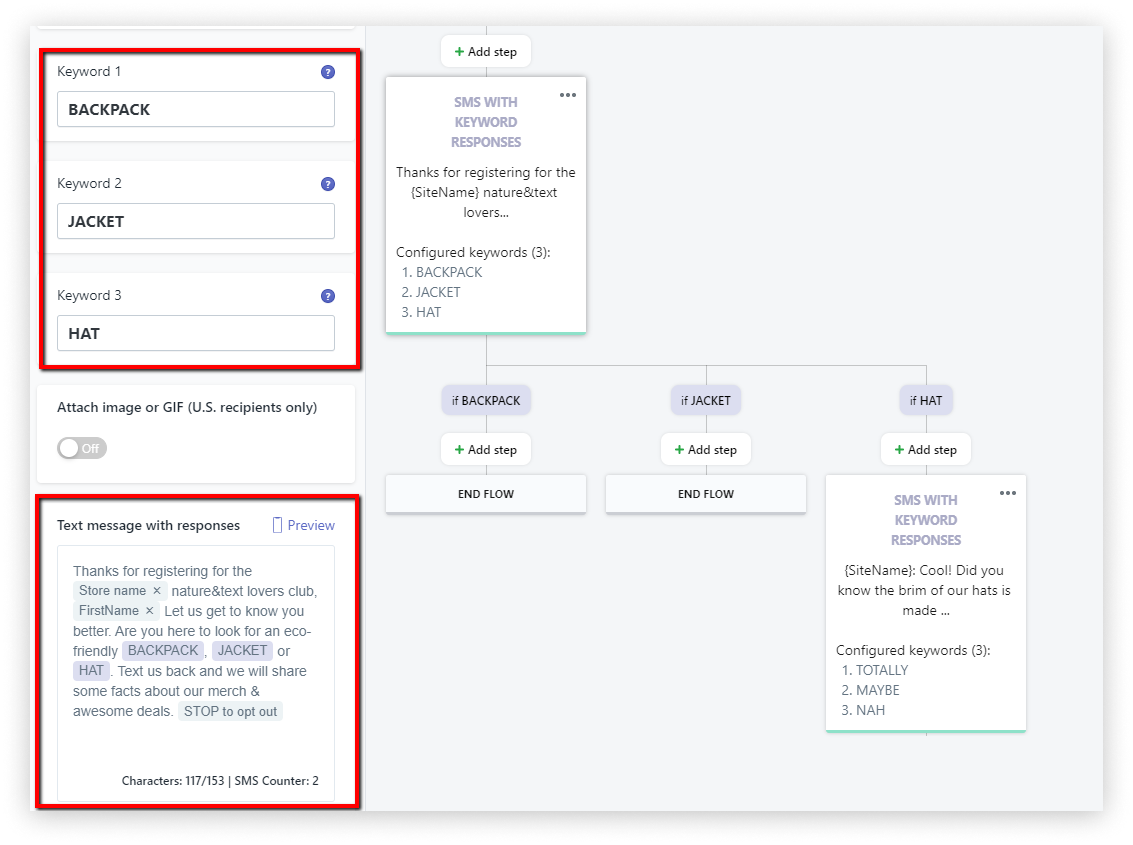 Based on their reply, your next step is to send them information about the making of that product, specific characteristics, or any other details that will show them you truly practice what you preach. In our case, we've let them know that the brim of our hats is made of 100% recycled fishing nets, which we all know are a huge issue for all marine creatures.

After we've gotten their attention, we also ask them if they can see themselves wearing such a hat and contribute to our common cause. This is our way to indirectly make that sale, but only after we've given them such valuable information. We provided them with three keywords - YES, NO, MAYBE which they can respond back with.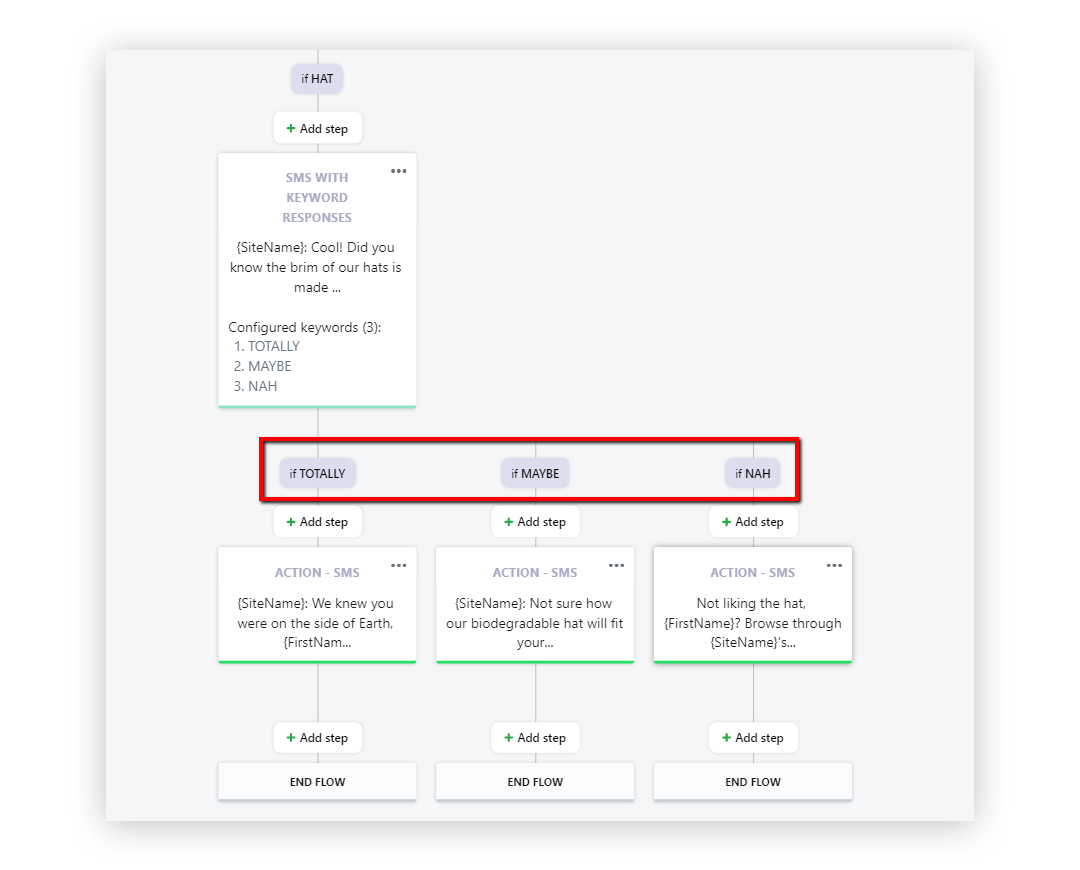 From their answer, we branch out the flow further and give all those who responded with YES a 10% discount on the product, whereas the ones who responded NO we treat to a 10% site-wide discount. You don't want to lose that second group of people - perhaps they'd be interested in something else you offer. The third group, containing all the MAYBE answers, is the tricky one that could be converted if presented with a good enough offer. So their discount we changed to be free shipping and return - this will give them the freedom to buy, and if it doesn't fit or they don't like it - return it at no cost.

Sometimes it's not all about landing the sale and this flow makes that very vivid. For some customers, the experience, knowledge and psychological value a brand gives them is what's going to win them over (and win you a sale). And as you can see, this is easily achieved with Conversational Flows.

Bonus idea: Using conversational flows to help your customers learn about your product has a wide range of applications. Are you a higher-end jewellery and accessories brand? Let them know about the origin of your gems, their clarity, and other specifications. Ask them if they are looking for a specific cut (PRINCESS, PEAR, HEART) or color (RUBY, SAPPHIRE, SUGILITE). Precious or Semi-precious? Engraved or not? You can turn any question into a flow until you get to the essence and know what your customers are after.
Increase Sales
In the end of the day, it's still important for any business to keep a close eye on sales and try to boost them any chance they get. And there is no better way to do that than make sure that what you offer to your customers, is in fact relevant to them.

Conversational flows you can quickly turn into a lucrative side-kick just with the right copy and offers.

Let's take a look at a niche that's very popular among customers right now, online groceries. In light of the current situation, people tend to buy extra when it comes to food and first-line essentials. Moreover, with offline shopping dialled down to the minimum, buying online has turned into not just the easier and quicker alternative, but also a much safer one. However, most of the time they do it all in one go, instead of buying a product here, and a product there. It's the closest thing they have to the usual weekly shopping.

With this in mind, the best way to upsell these customers is to catch them right after they've placed an order and ask them what do they normally look for when shopping - is it that they pick up more VEGGIES, FRUITS, or are they a MEAT enthusiast. To grab their attention (and drive them to engage with you even after they've already completed their order), let them know that you will send them a special offer based on their answer. And really do that - extend a monthly box at a discounted price, and you will win a true supporter in the face of your customer. Not to mention the extra purchases you will lock.

Bonus ideas: Besides food stores, flows replies can be successfully used to drive sales by brands selling baby merchandize. Since with babies choices are mainly made based upon the gender and age, ask parents if they are looking to buy something for a girl, a boy, or both, and then ask about the age of the baby. Don't forget to provide them with up to 3 possible answers (e.g. 1 to 6 months, 6 to 12 months, 1 year and older), and then give them a link to a relevant collection.

Another great application is for brands dealing with supplements. Considering most fitness supplements have a very specific impact on the body, ask them if they are wanting to improve their stamina, muscle strength, or just want to feel energized, and give them a recommendation.
Make it Personal!
In the end of the day - this is exactly what Conversational flows can help you achieve. Personalization is important for many reasons but some are more obvious than others. Think about your own shopping experience - do you like being offered a green backpack 7 days after you bought a blue one of the same kind? As if you need another backpack… Then think of that one brand that offered you a set of headphones when you bought a gaming keyboard from them - now that makes more sense, right?

But with Conversational flows you score two birds with one stone - you get all the necessary information to personalize your offers, but you also do that in a very casual manner. Keeping it real, keeping it human and interactive. Exactly what customers want, even from their online experience!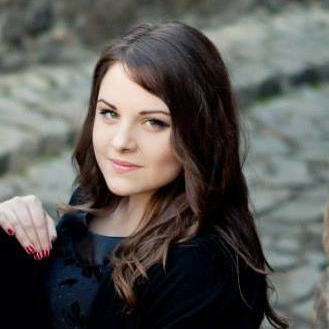 Start growing today
Sign up today and join 90,000+ eCommerce businesses making it big with Yotpo SMSBump