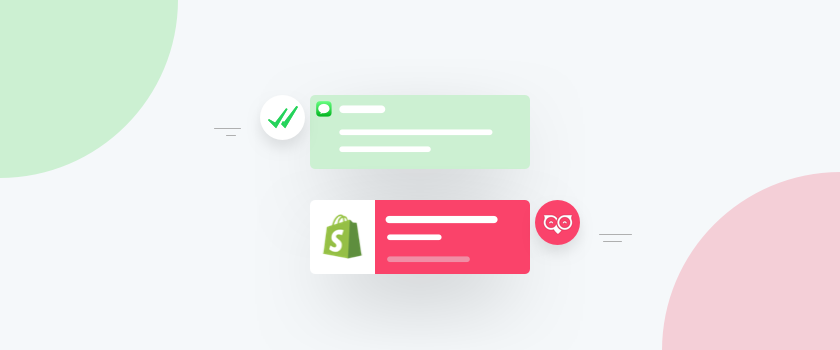 SMSBump and PushOwl Team Up to Crush Abandoned Carts in Shopify
Push notifications are a great way to remind your customers and site visitors of the products they have left behind, the deals they are missing or even let them know about an order status - whether they are on your site or not, at that given point of time.
That's why, when combined together, automated push notifications and text messages create a powerful marketing sequence that can be used to not only show awareness of your customers' actions, but also help you see changing trends in their behaviors.

SMSBump and PushOwl are now on a mission to improve your retention!

Today we'll show Shopify merchants how to boost their E-Commerce marketing strategy with two of the top channels for direct messaging, customer retention, abandoned cart recovery and much more.
You will learn about the following highlights of SMSBump and PushOwl:

Key app features and how both apps work for Shopify

Differences and similarities of SMS and Push notifications

Combining both channels for marketing and recovery flows

Getting started - the basics and some tips

Push notifications and SMS marketing each have their differences and similarities and we will show you how both channels can be used to support each other so you can make the most out of your E-commerce growth strategy.
Introducing Push Notifications and SMS Marketing Automation for Shopify
Both SMS and push notifications can be automated to send messages that are triggered from a specific action that a customer takes in your Shopify store.
For example, when a customer leaves an abandoned checkout behind, or when an order has been successfully finished. You can use both channels to either remind them of what they have left behind or let them know of their order status.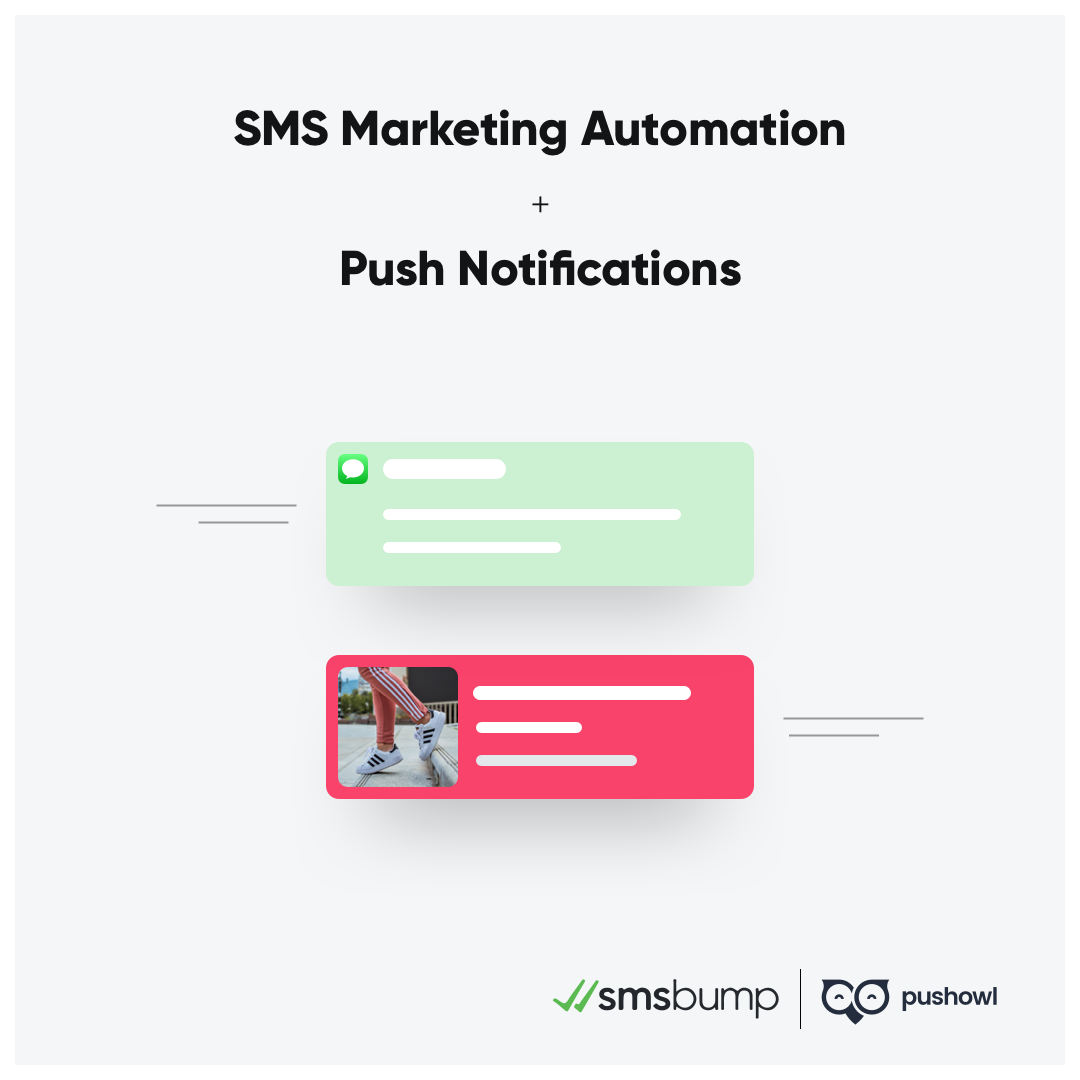 SMS and push notifications have a lot in common. You can combine the best of both worlds and use the strongest advantages of each marketing channel to really optimize your customer retention strategy.

What does SMSBump do?
SMSBump is an all-in-one E-commerce app for building your entire SMS marketing strategy in Shopify. The most popular and powerful features are the SMS marketing automations for abandoned cart recovery and customer retention.
Your store can automatically send a flow of abandoned cart SMS messages with different timings, CTAs, and offers. The standard flow the app recommends is two text messages, one after 5 minutes and another after 24 hours, in case the first hasn't converted the customer.

SMS Automations
SMSBump offers several SMS marketing automations, each one with its own unique purpose, set according to your specific goal.
These automated text messages are sent to either you or the customer when a certain action is triggered: abandoned cart, order created, order paid, shipping confirmation, order delivered, subscriptions, customer winback.
Two popular and commonly used automations are:

Abandoned Cart: This automation is triggered when a customer abandons their cart. You can send a text message to remind them of their abandoned checkouts with a delay ranging from 5 minutes to 7 days.


Order Created: Use this automation to thank the customer for their purchase, give them their order ID, and confirm their purchase is now being processed.

What does PushOwl do?
Push notifications are a popular way to send announcements, new product arrivals, discounts, promotions and recover abandoned carts. The awesome thing about push is that it gets delivered to the customer's device, whether or not they are in your store.
The branded notifications feature product images, CTAs, custom URLs, custom titles and descriptions. Basically all you need for a brief but powerful notification that brings the shopper back.
PushOwl's automations let you automate push notifications for abandoned cart reminders in a 3-step sequence with a timing of 20 minutes, 2 hours and 24 hours.

Push Notifications
PushOwl notifications can be received on desktop, mobile and tablet. Here are two examples you can set for price drops or notifications for products that are back in stock for engaged shoppers: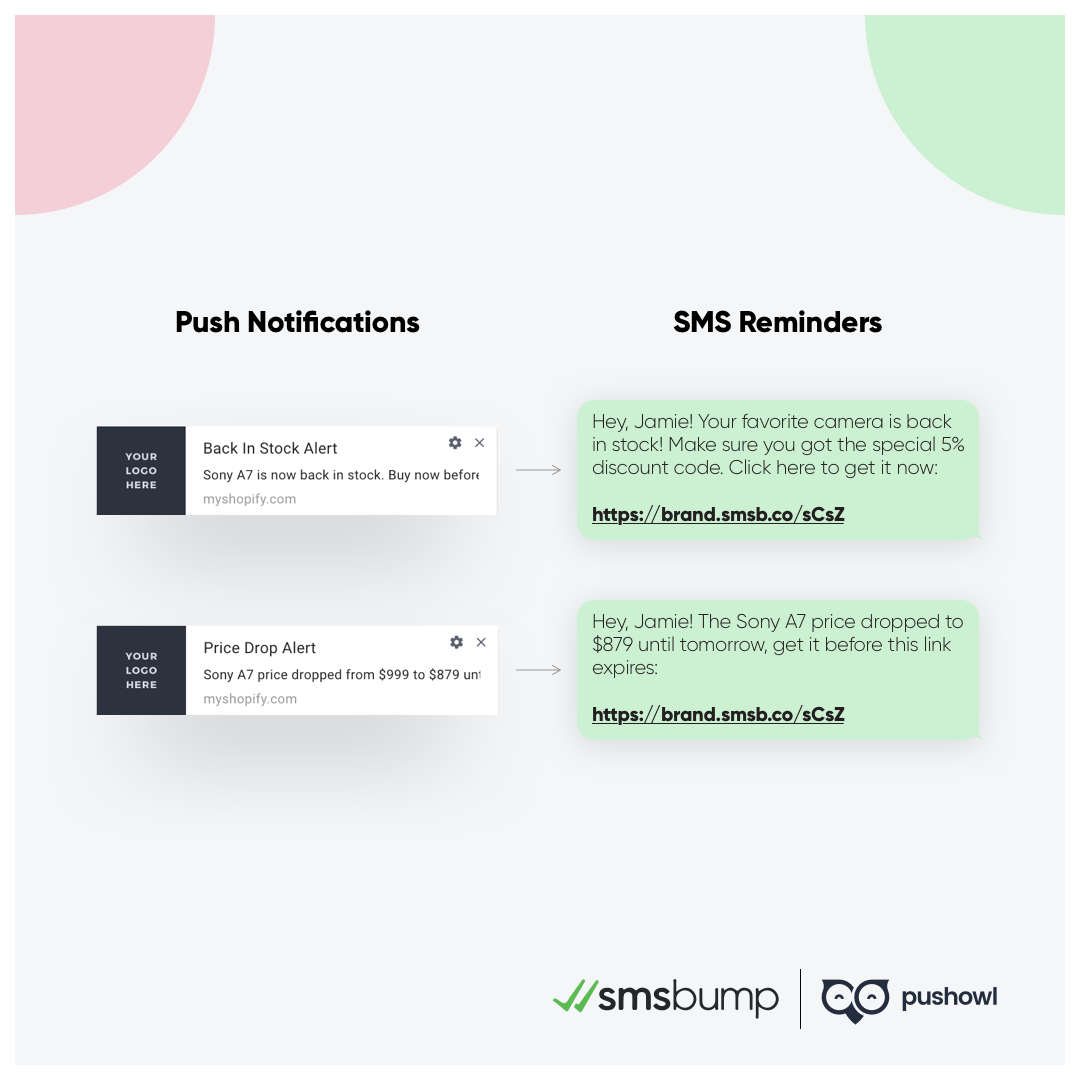 Price Drop Alert: Customers will receive a push notification the moment the price decreases for a product they've shown interest in, along with the product image.


Back in Stock: Once an item is out of stock, PushOwl checks the Shopify admin for stock. A customer will be sent a web push notification automatically as soon as the product is back in inventory.
​
The Strengths of Push Notifications and SMS Messages
Each marketing tool carries its own benefits. Let's show you how SMS messages and push notifications stack up and how to combine the apps together in your Shopify marketing strategy.
Balancing out both will reward your marketing efforts with higher customer engagement and a significant boost in abandoned cart recovery and overall sales.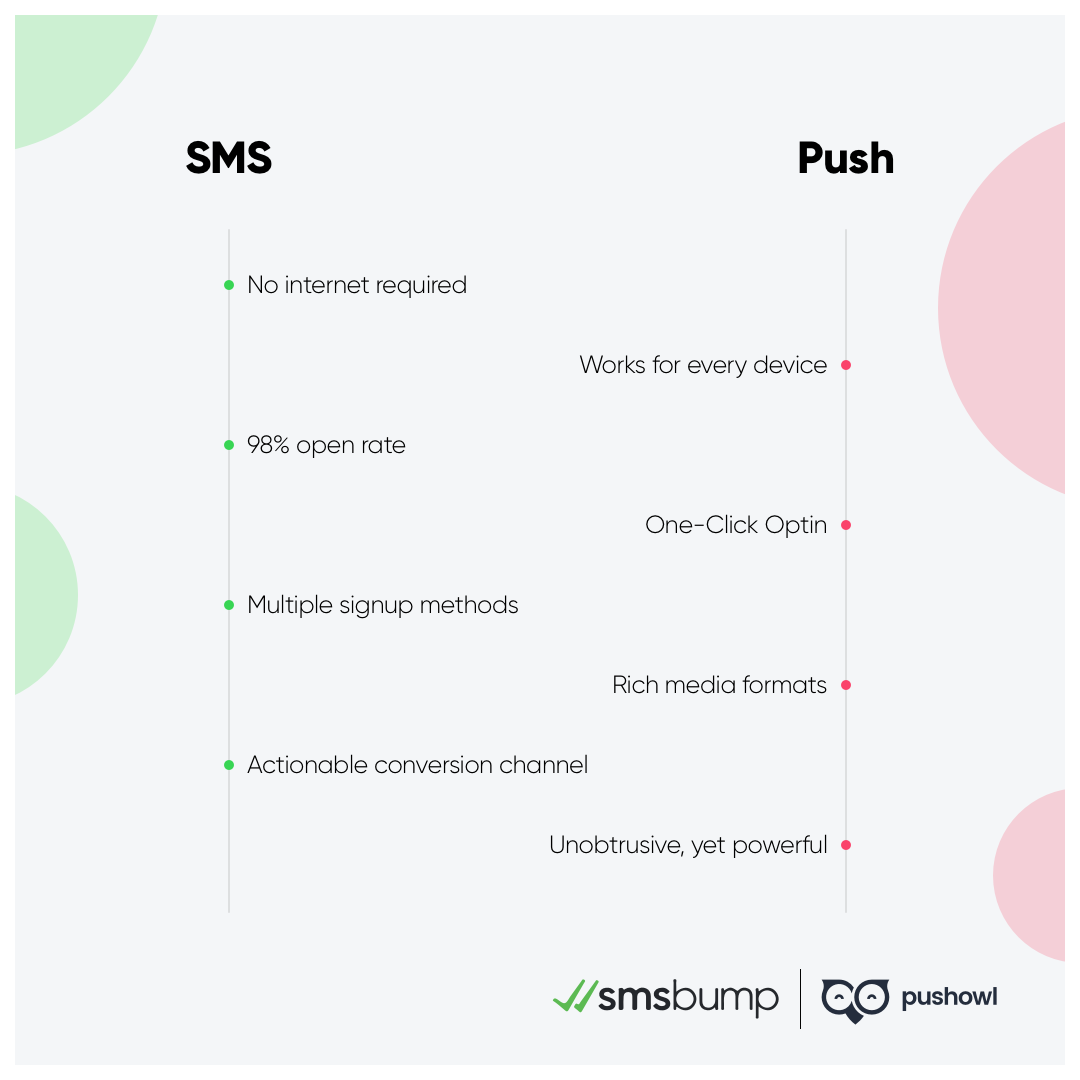 SMS gives value to merchants and customers because...

No app installation or internet connection required. Doesn't require customers to install apps or have an Internet connection to receive messages.


98% open rate and 45% response rates. You can rest assured that your message will get seen and read by your customer. (Source)


Customer find it more convenient. 66% of engaged users prefer to get contacted by brands with text messages. (Source)


Actionable conversion channel. A single click on branded links to receive a deal or recover an abandoned order. Customers instantly grasp the message and click your branded link to continue shopping or recover their abandoned checkout.


Gain new subscribers from keywords, checkout and custom signup forms. There are multiple ways to receive customer consent and phone number opt-ins for news & exclusive deals via text messages, instead of email.

Push notifications are a modern marketing medium because…

Available for every device. Push notifications are received on mobile, desktop and tablet. Great for real-time updates, promotions, deals and announcements.


One click on "Allow" activates subscription. No need for sharing any personal information, phone numbers, or emails.


Rich notifications means rich media. They allow for media files including audio, high quality images and everything you need to convey a message of huge importance.


Unobtrusive. The user's current activity remains uninterrupted, meaning they can finish their task and give attention to the notification when they actually want to.


Users have control. Push gives flexibility to make preference or opt-out (unsubscription) changes quickly in your phone's "Settings".


Untapped marketing channel. 8% of marketers use push notifications so including them into your marketing strategy helps you shine among the competitors who don't. (Source)

How SMSBump and PushOwl Intensify Your Marketing
SMS and web push notifications should complement each other, and it's important to find the right balance when using both. Don't be afraid to experiment in the beginning, in order to learn what the best frequency and timing is for different campaigns.
When you use PushOwl and SMSBump together, you can create an automated sequence of text messages and push notifications to recover that sale. They will trigger at different times and have different content that serves its own specific purpose, engaging the shopper in different ways.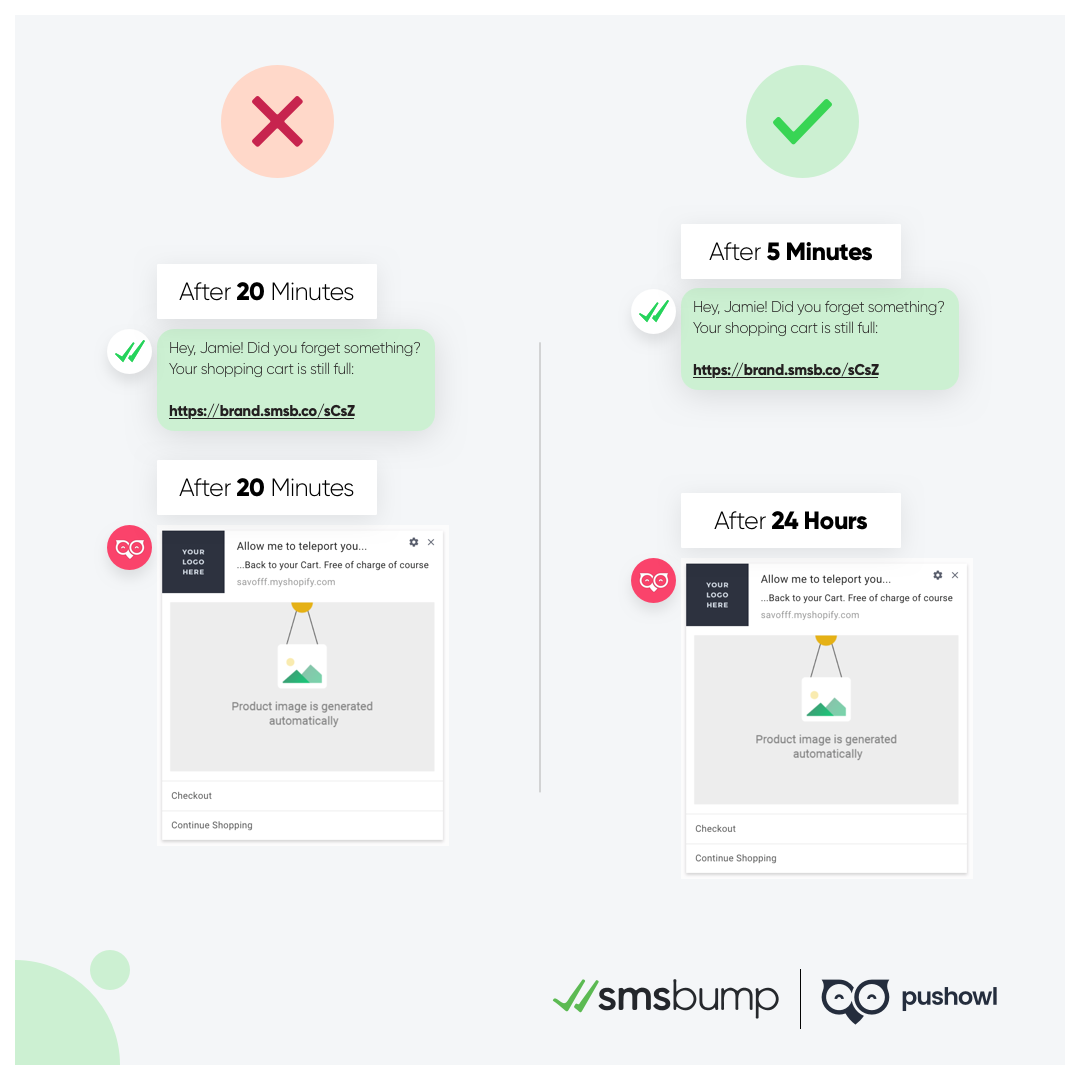 The first 5 to 10 minutes often hide the biggest conversion rates, since the order is still in the customer's mind and a text message or a push notification can be the only thing that stands between them and the "Confirm Order" button.

Abandoned Checkout Recovery Flow
The moment a customer leaves without checking out creates an opportunity for you to turn this into a conversion and probably a returning customer for your Shopify store. In the example below, we've created the following abandoned cart remarketing flow:

Step 1: Automated text message triggered after 5 minutes.

This is a quick notification for the customer so they know their cart is saved and they can use the SMS link to complete their order. A powerful SMS automation that has seen extraordinary conversion rates because it's often the last little push someone needs to complete their order and get something they might have just given up on.


Step 2: Automated push notification triggered after 20 minutes.

This push notification can be set for 20 minutes or a few hours after your first SMS. The secret here is that you're using a different channel to convey a different message for the same purpose. It's often the key to push someone into action, even if they ignored or dismissed the first message.


Step 3: Automated text message triggered after 24 hours.

Persistence pays off! You can use the 24 hour automated message to inspire action through scarcity or limited time discounts as a last resort. This can work in cases where the customer is hyped for the products but it seemed just a little bit pricey, so it's 10% off, why not?
​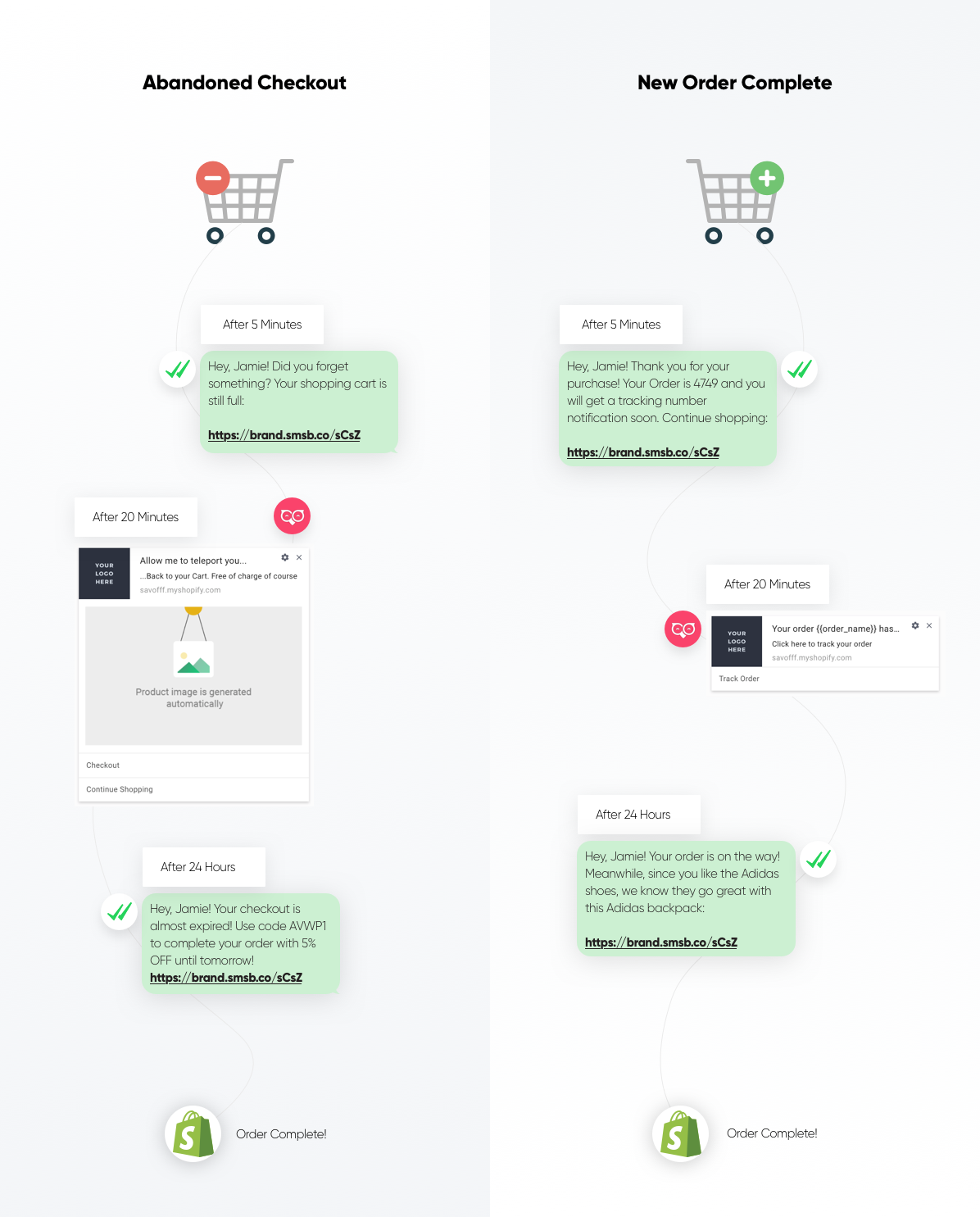 New Order Complete Flow
In the flow for confirming and upselling after a new order, you have the following steps to mix up SMS with Push notifications:

Step 1: Automated text message triggered after 5 minutes.
This is the standard order confirmation SMS that most E-commerce stores send. It's a basic transactional automation that sends a successful order text to customers so they know everything is confirmed.

Step 2: Automated push notification triggered after 20 minutes.
The push notification automation will send customers their order tracking numbers so they can view their order and shipping updates.

Step 3: Automated text message triggered after 24 hours.
After everything is confirmed, you can automate a product upsell SMS automation that sends a product recommendation to the customer that is based on the shopping cart contents they ordered earlier in the day.

Personal Product Recommendations
You can use the data from each customer's purchase to send them personalized product recommendations based on what they bought from your store. The more relevant the recommendation, the higher the chance they'll take your offer.

Step 1: Send them a thank you message with an upsell.
Customer appreciation is always a successful tactic especially when you pair it with a small treat. Maybe a personalized text message with a big thank you and a 5% discount inviting the customer back to your store to buy a recommended product.

Step 2: Follow up with a push notification inviting customers to your collection.
When a single product is difficult to recommend, send customers to the entire collection they might find interesting and relevant.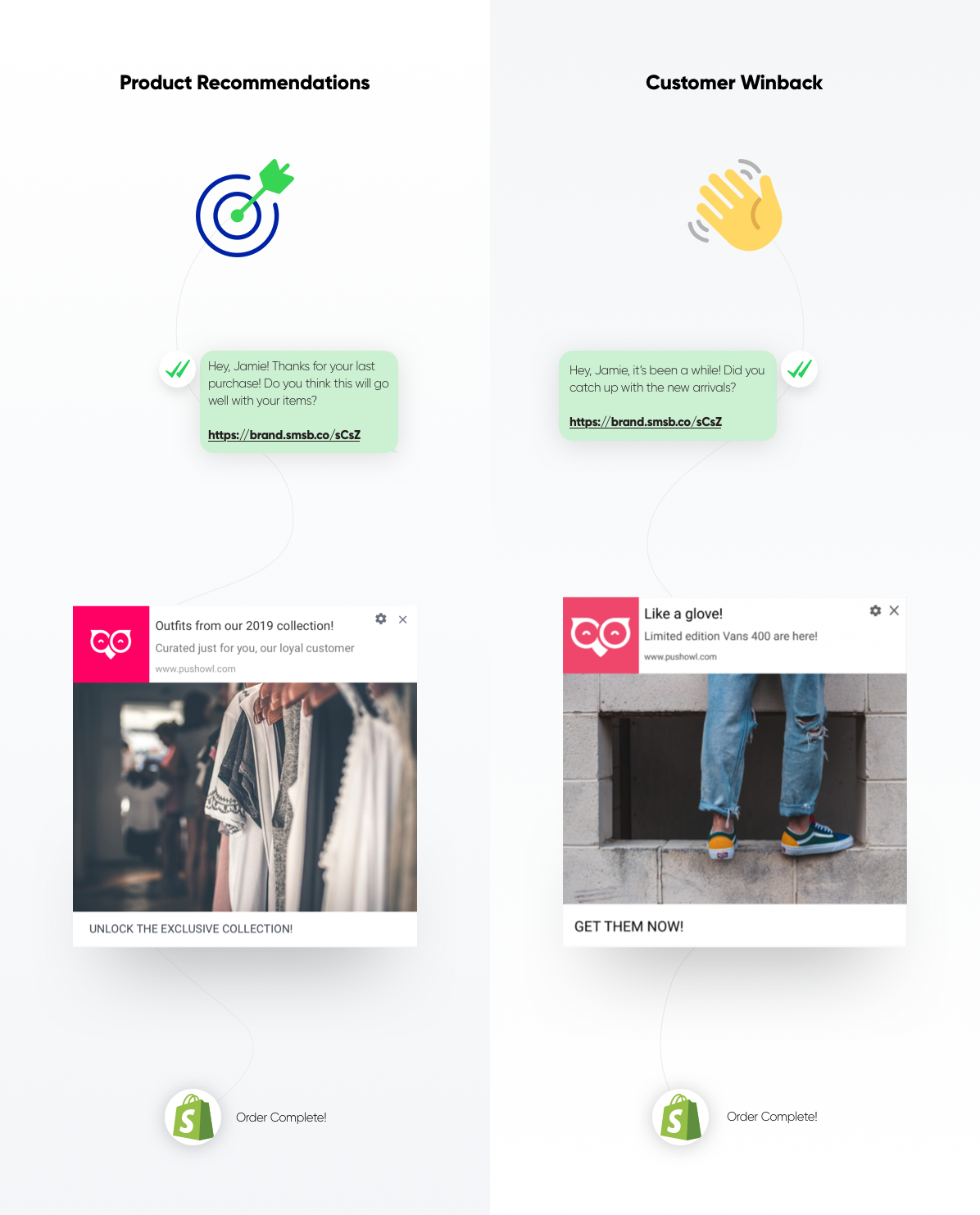 Win Back Your Customers
Treat your customers with a special deal on their next purchase. Being direct and actionable is your best bet for customer winback messages. When someone hasn't purchased for a while, their interest is already low, so be concise and forward with your exclusive deal to get their attention right away.

Step 1: Enable the Customer Win-back SMS automation.
This automated text message can be triggered after a certain period of customer inactivity, for example 30 days. This text is an opportunity to announce new arrivals and give them a personal discount embedded in the link.

Step 2: Enable the Back in Stock automation so customers can subscribe to the alert and get notified.
Back in Stock alert can make a great customer experience. Think about it: An online shopper has searched the whole web to find a product, but coming to your page the product or that specific variant is not available.
Allowing them to subscribe to the Back in Stock alert makes an initially bad experience into a great one! And the web push notification is sent automatically once you restock - bringing your visitor back to your product page.

SMS & Push Marketing Master Hacks
We have gathered some tips that you should consider before sending both push notifications and marketing text messages.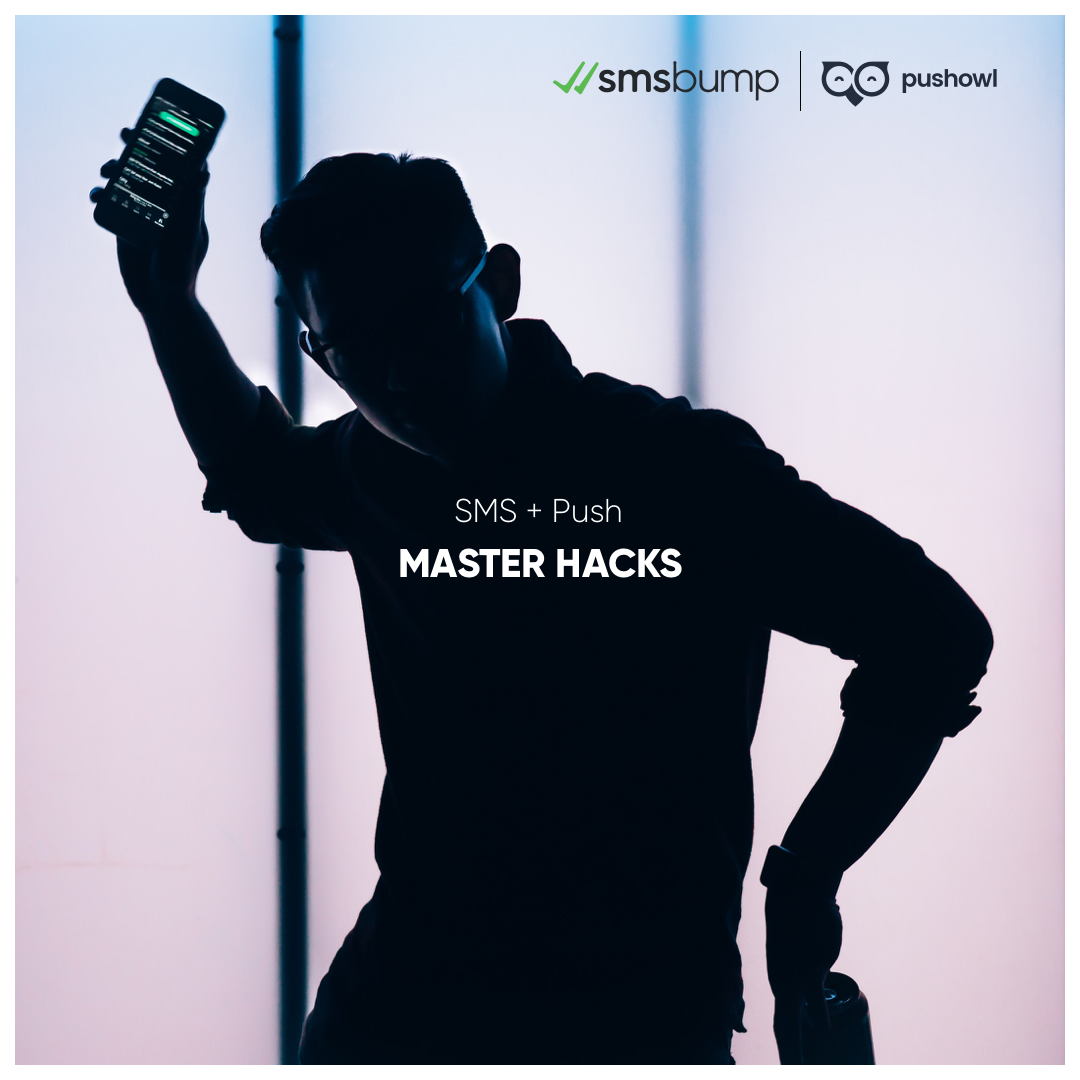 The Future of Mobile Messaging
Twilio reports that the average consumer has 3 mobile messaging apps and sends an average of 3 messages per hour.

Across all generations from the 6000 customers surveyed by Twilio in 2016 from North America, Europe and Asia, individuals expressed a 3 times higher preference to messaging than face-to-face interaction, while that figure was 10 times higher with millenials.

Stay ahead of your competitors. The Gartner 2016 Digital Channel Survey reported that 61% of marketers don't use SMS marketing, and a third of that group have no plans of investing in it in the near future.

Web push notifications get 84% of recipients to respond right away.
Sources: Twilio, GSMA, Gartner, EContentMag

To New Beginnings!
We're very excited to continue exploring the many new ways Shopify merchants can use the SMSBump + PushOwl partnership to increase customer engagement, recover sales and boost store revenue. Let us know if you're already using the two apps and what are your most successful combinations between push notifications and text messaging for E-Commerce!

Start growing today
Sign up today and join 90,000+ eCommerce businesses making it big with Yotpo SMSBump