E-Commerce platforms
Everything you need to know about text marketing
Categories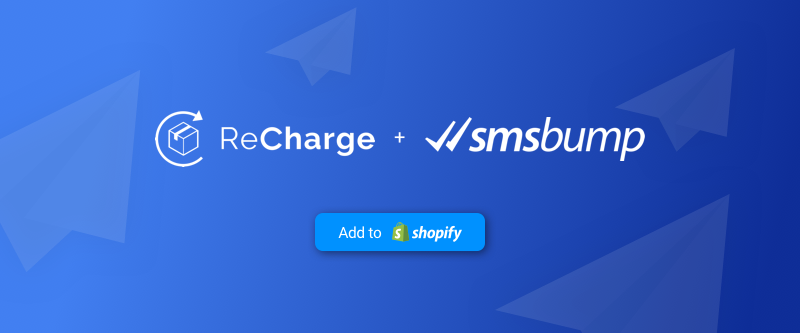 Sell More Online Subscriptions in Shopify Using SMSBump and ReCharge
The subscription E-Commerce sector has experienced a growth of over 100% a year over the past 5 years. The largest retailers made more than $2.6B in sales in 2016, up from $57.0M in 2011.
So if you're using your Shopify store to sell products with subscription payments, you're definitely onto something.
The question is how you can drive more recurring payments to your store and get more online customers to subscribe?

ReCharge is the highest rated Shopify app allowing your store to sell subscriptions and charge customers on a recurring schedule.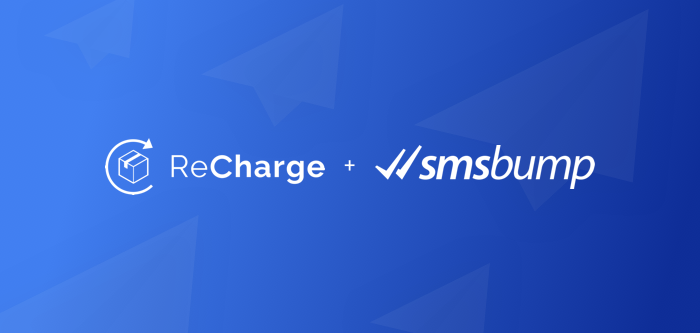 The new integration between SMSBump and ReCharge gives your Shopify store a number of SMS automations you can activate to send notifications to your subscribers about:

Subscription Activated

Subscription Cancelled

Subscription Order Abandoned

Upcoming Payment

Read below to learn how to connect ReCharge with SMSBump so you can increase your subscription sales and conversion rates with SMS notifications and keep your customers in the know at all times.
​How to Connect SMSBump and ReCharge in Shopify
---
This tutorial assumes you already have SMSBump installed in your Shopify store and you're running the SMSBump or SMSBump Plus plan.

Step 1
From your dashboard, navigate to Integrations and click on ReCharge.



Get familiar with the Overview and the app features that ReCharge offers to your store.
The most important part is that you can use ReCharge for 60 days for free.
This will give you enough time to test different SMS automations and approaches to your customers.

Step 2
When you're ready, click Configure.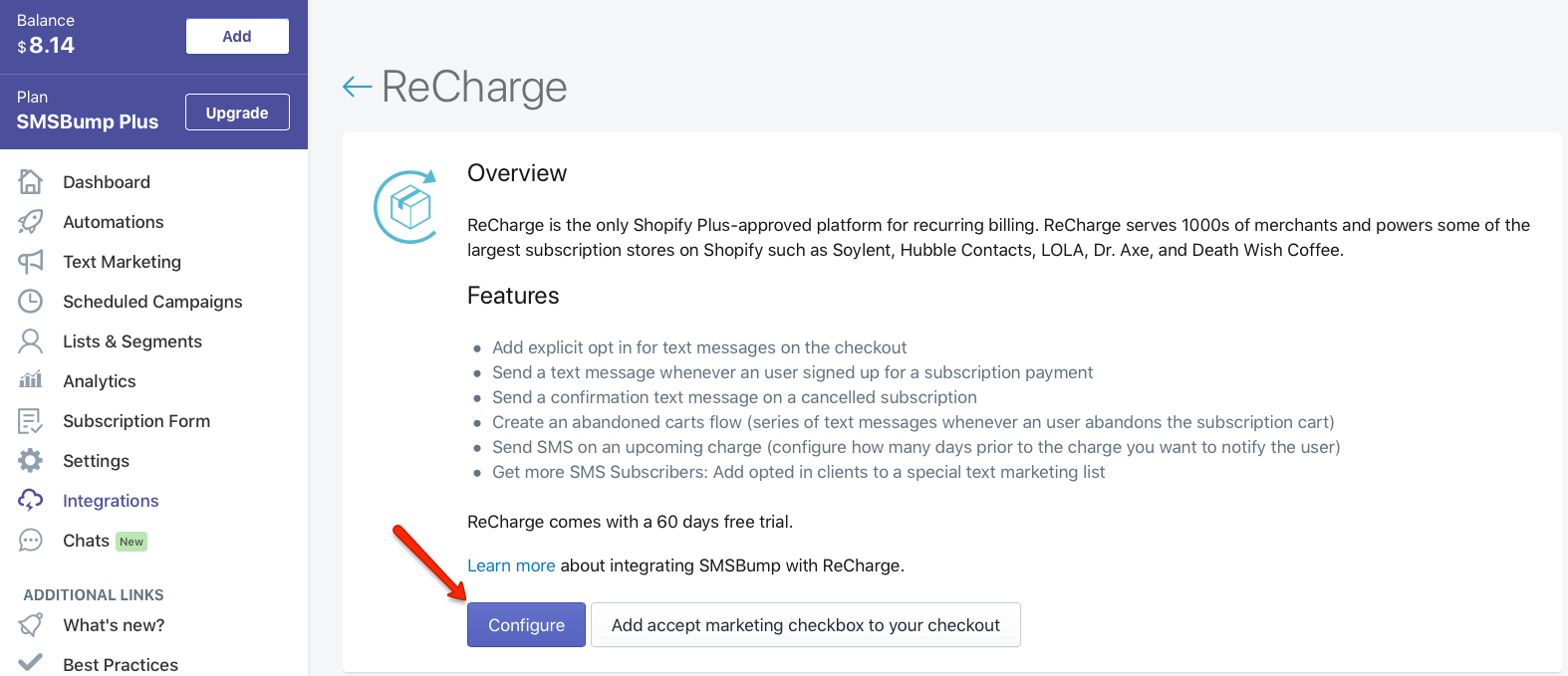 This is where you connect SMSBump and ReCharge in your Shopify store. This is so the two apps can play well together and help you increase your subscription conversions with each others features.

Step 3
When you're ready, click Install in the popup.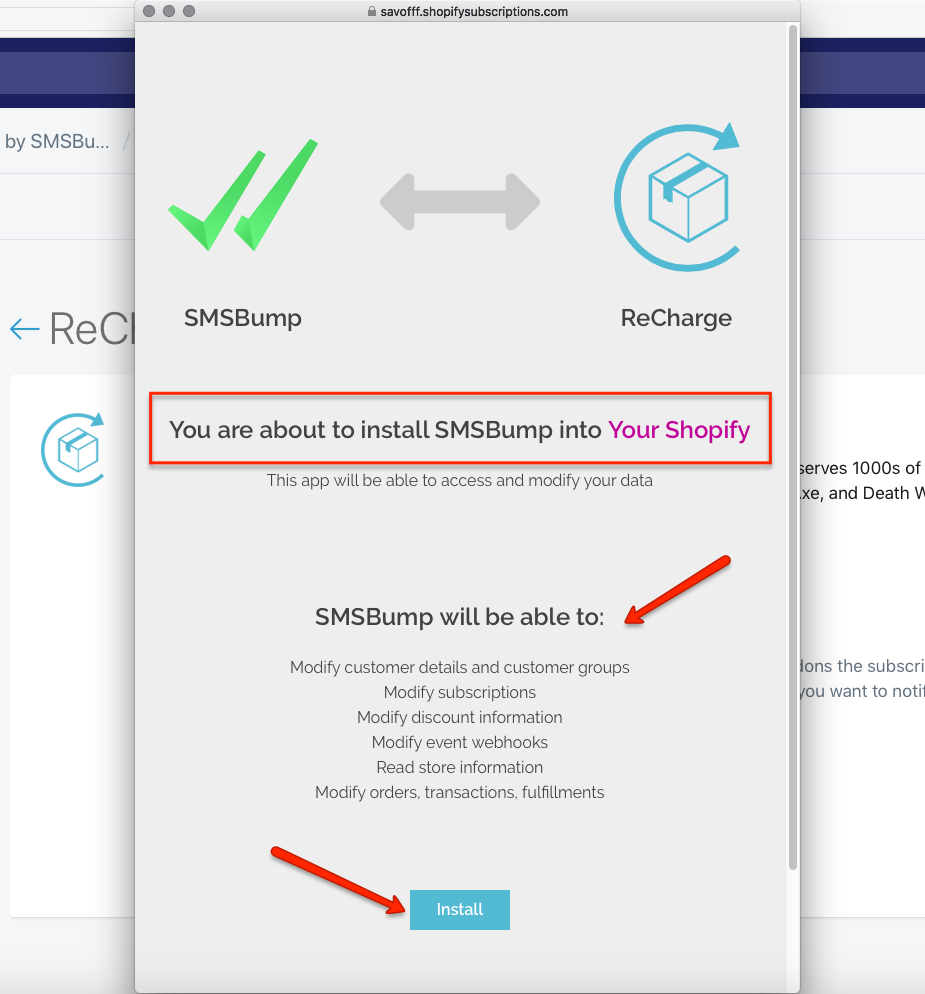 Congratulations! SMSBump and ReCharge are now connected in your Shopify store.
Time to configure the way for your customers to accept your store to send them SMS notifications about their subscription.

Step 4
Click Add accept marketing checkbox to your checkout and you will have two options available.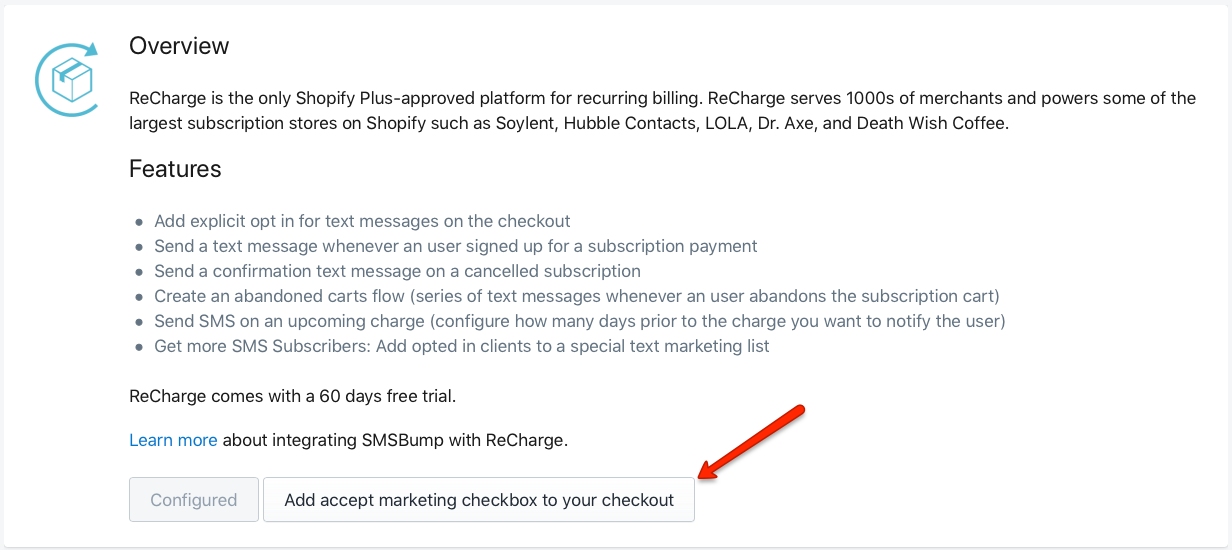 You have two options to choose from. This is a small code snippet you need to add to your ReCharge Checkout settings.
Choose whether you want the "Accept Marketing" checkbox to be Pre-Selected in your ReCharge checkout or it should stay empty and let customers choose if they want to enable it.

Step 5
Select "Pre-selected checkbox" or "Non-selected checkbox" and copy the code snippet.


After selecting your preference and copying the code, go to your ReCharge dashboard and access the settings tab.

Step 6
Go to Checkout and scroll down to the field called Enable JavaScript on page 1 of checkout.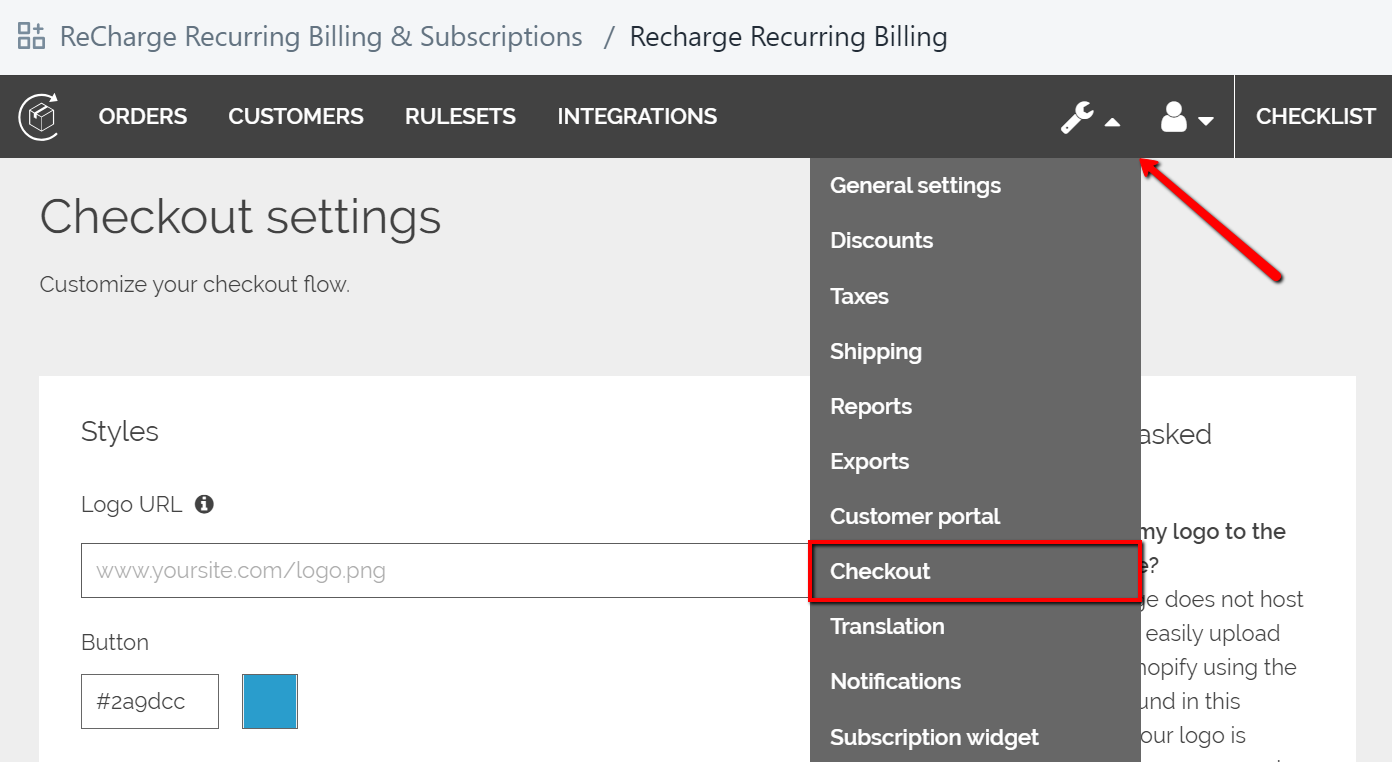 Enable it and paste the code there.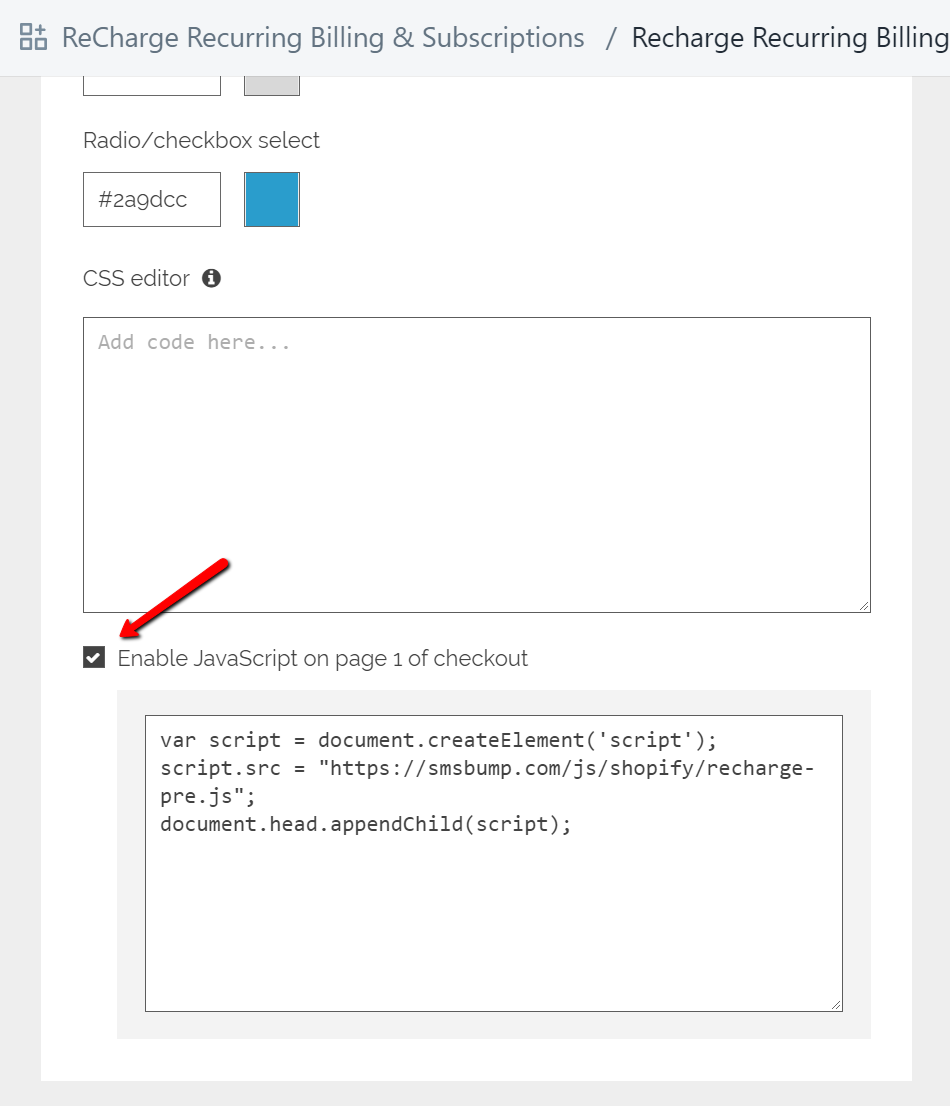 ​ Missing Javascript Field?
We got this. Once you enable your app, a request will be sent to ReCharge. This will be handled by our dev team and you will be personally notified when the JavaScript field is active so you can finish setting up your integration.
* Filed only required for Abandoned Cart SMS automations. All other ReCharge SMS automations will work perfectly even if you skip this step.
Save your changes and now your ReCharge checkout for subscriptions will display this checkbox.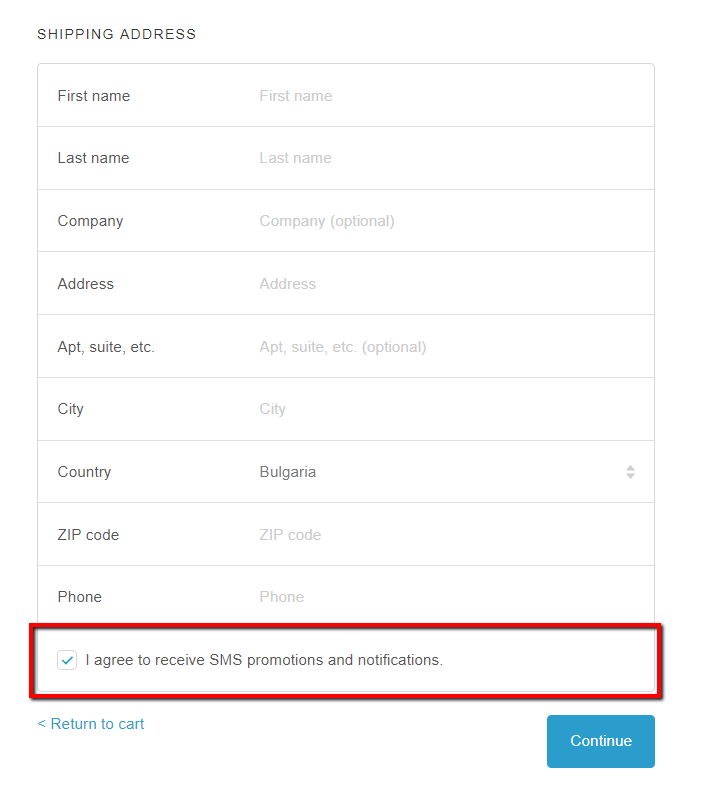 Now your subscribers can also opt in for SMS promotions and notifications.
​
Setup SMS Marketing Consent and Compliance
These steps show you how to add your Privacy Policy compliance text and modify your SMS consent checkbox.​
Go to your Recharge Settings and click Translation.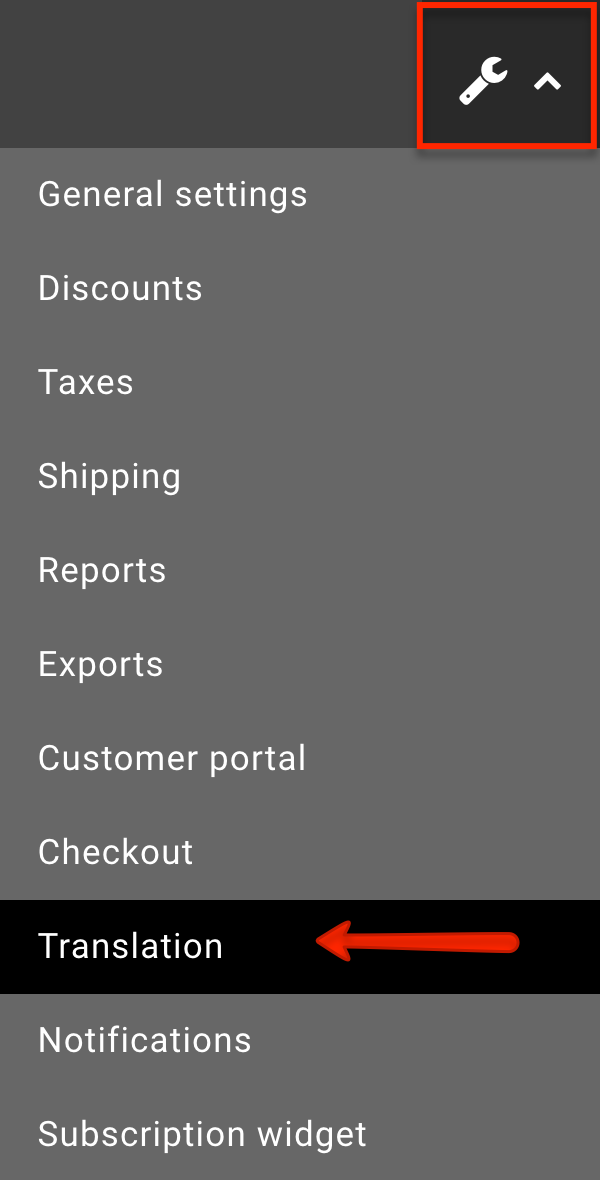 Find the Checkout buttons/page controls section and paste the following text into your Copyright text field:
I consent to receive recurring automated marketing by text message through an automatic telephone dialing system. Consent is not a condition to purchase. STOP to cancel, HELP for help. Message and Data rates apply. View Privacy Policy & ToS.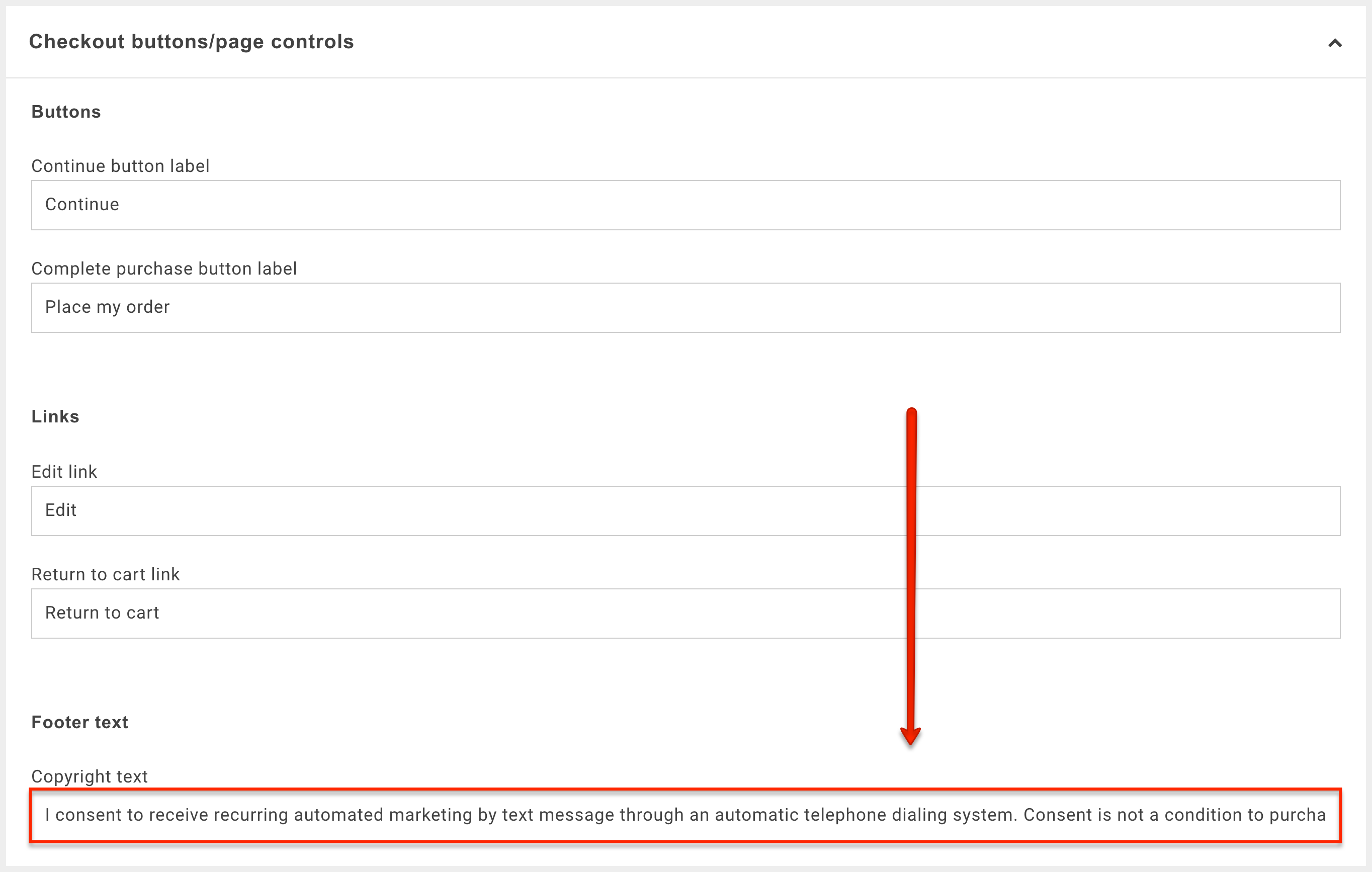 View the full setup tutorial in our TCPA & CTIA compliance guide.

This is where things get really cool.
The SMS promotions and notifications your Shopify store can send come in the form of pre-defined SMS automations in SMSBump.

This means you set your SMS notifications to be sent out on autopilot once and go enjoy your day.

How to Setup Your SMS Automations for Subscribers
---
Go to your SMSBump app and from your Dashboard, go to Automations.
Scroll down and you will find the 4 ReCharge automations ready for you.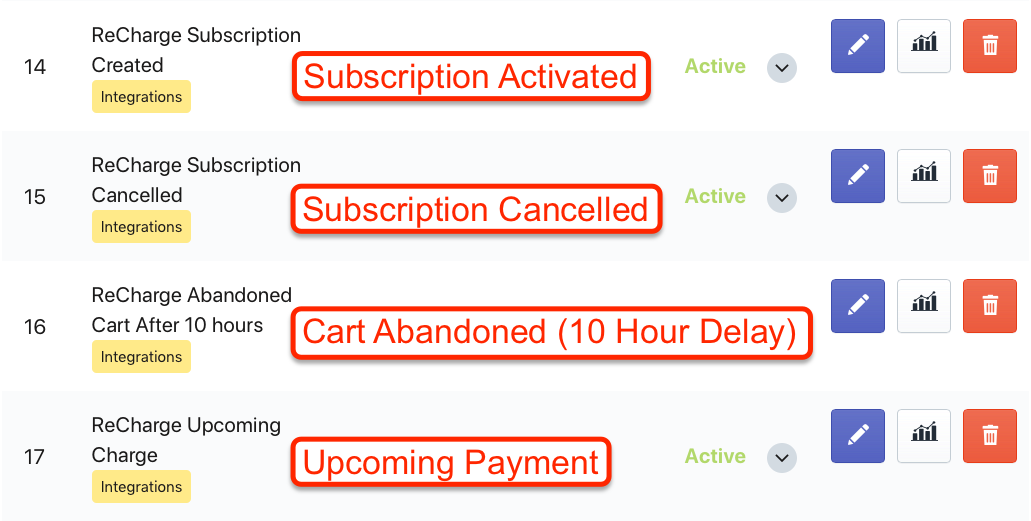 Activate your SMS Automations for each of the triggers you want!

1. Subscription Created
You can enable SMSBump to send out automatic SMS notifications to each subscriber who just made a purchase in your Shopify store.


Customize your text message any way you want so it fits your brand voice as well as the specific scenario that your customers will go through.
Once you're done, your subscribers will receive SMS confirmations about their successful subscription and details about their payments.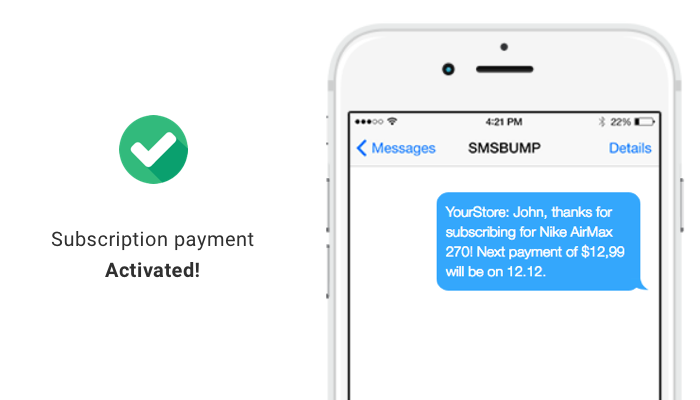 2. Subscription Cancelled
Enable the SMS automation for cancelled subscribers so they get notified and assured that their recurring payment will no longer be active.
You can also use it as an opportunity to invite customers back to renew their subscription.
Maybe offer them a special discount? A free month?


This is important because this gives your customer the confidence that cancelling their subscription is confirmed and they will not be billed again.
You can avoid getting in trouble with customers and receiving negative feedback or questions from your cancelled subscribers.
Simply automate the SMS notifications, so when a customer cancels - they receive an SMS, everything is confirmed and everyone is happy.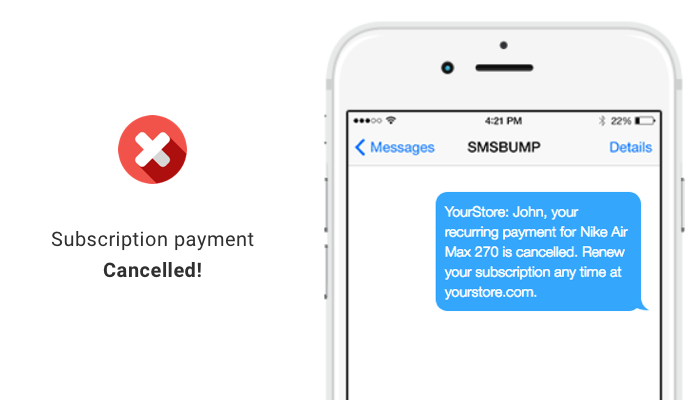 3. Subscription Abandoned at Checkout
Your customer was almost ready to subscribe for your product, but something happened.
No worries, this is where SMSBump is most powerful at. SMS notifications for abandoned carts.
Simply enable the SMS automation for the abandoned checkout and customers who almost subscribed will be messaged whenever you want them to be.


Abandoned cart SMS is one of the most highly converting means of cart recovery because users see their text messages instantly and the open rates are ridiculously high.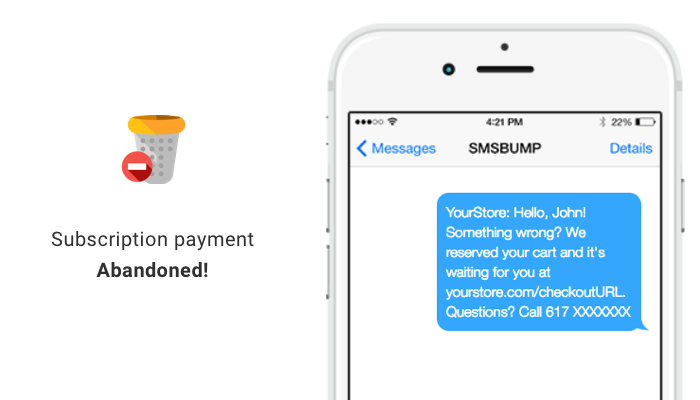 Highly recommended!
Such a personal approach combined with the right timing and a good deal can take your sales through the roof.

4. Upcoming Payment
One of the most important SMS Automations you can use with ReCharge.
You can select the number of days before the payment is due and send an SMS reminder so your customer knows.
Trust me, as a person that easily forgets, this will be much appreciated from your customers.
Use the Send on field to set the number of days, or you can choose to send the reminder the same day when the payment is due. Up to you.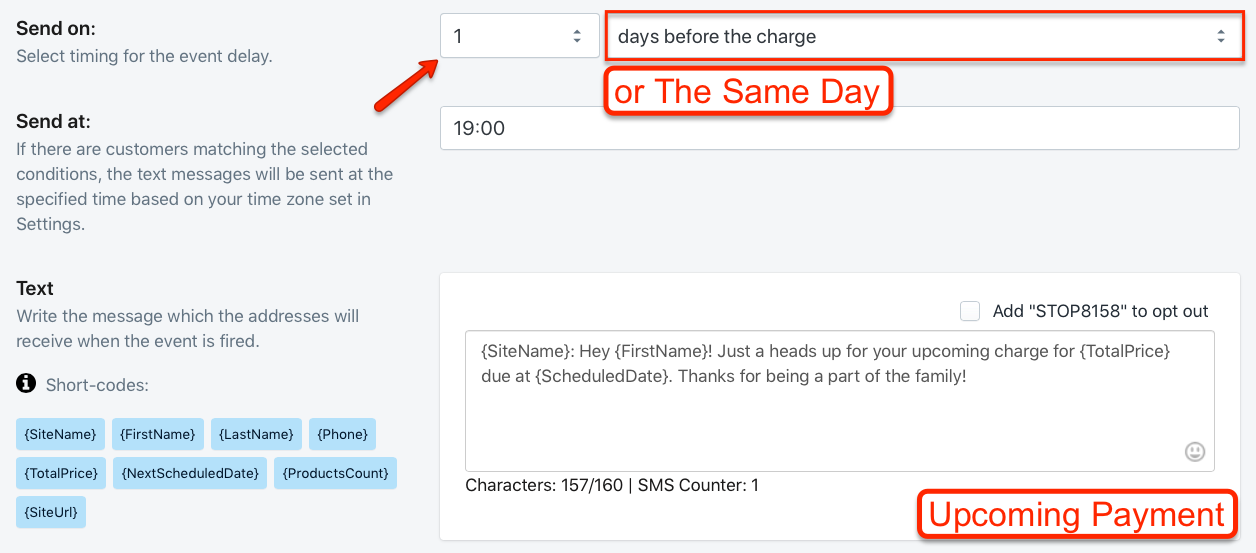 Craft a friendly message that just gives your customers a friendly heads up.
This kind of commitment helps you boost the customer loyalty because it shows you care and provide a complete service to your audience.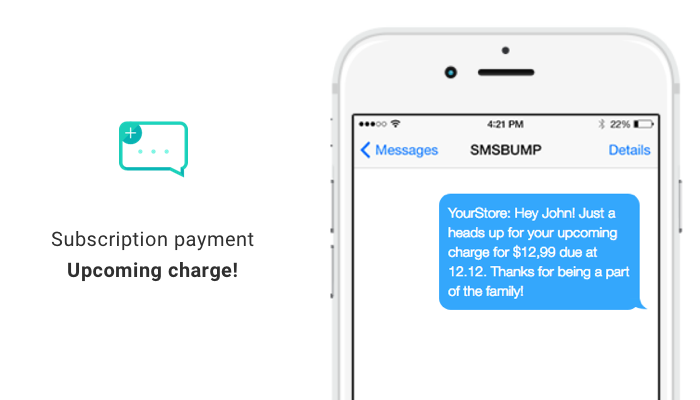 Boost your Subscription Conversions using SMS
So this is how you connect your SMSBump and ReCharge apps in Shopify.
Start experimenting with the automations, their timing and their content to deliver a precise service to your customers. Show you're there and actively engaging with them to build loyalty and not only get more subscriptions, but also retain the ones you already have.

Mihail Savov
Mihail Savov is the content marketing manager at SMSBump. He aims to help you make the most of the SMS marketing strategy for your E-Commerce store with detailed guides, tutorials, and text message marketing tips.
Start growing today
Sign up today and join 10 000+ eCommerce businesses making it big with SMSBump