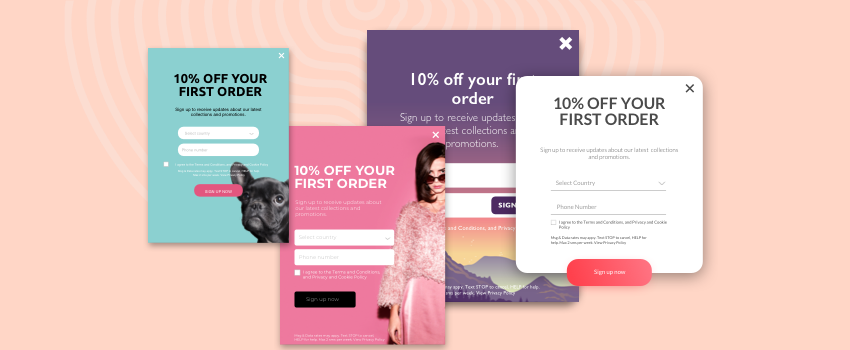 How To Design A Powerful SMS Subscription Popup Form In Shopify
Despite their controversial reputation, pop-ups haven't gone anywhere and will not for a very long time. If anything, nowadays they are on the rise again and have grown to be a great tool to gather phone numbers, emails and any type of user details and consent. What's more - when they are properly timed, with a strong call-to-action and targeted smartly, pop-ups could be very useful to both retailers and customers.

We are here to show you why and to give you some of the most non-intrusive, trusted and working ways to increase conversion and sales on your Shopify store using pop-ups and SMSBump. You'll also see how to collect GDPR-compliant contacts and phone numbers, crucial for running a successful text marketing strategy.

First, let's explore the different nuances of timing pop-ups, as one of the best ways to improve pop-up conversions is by displaying them when a visitor is the most susceptible to your message.
Timing - Your New Best Friend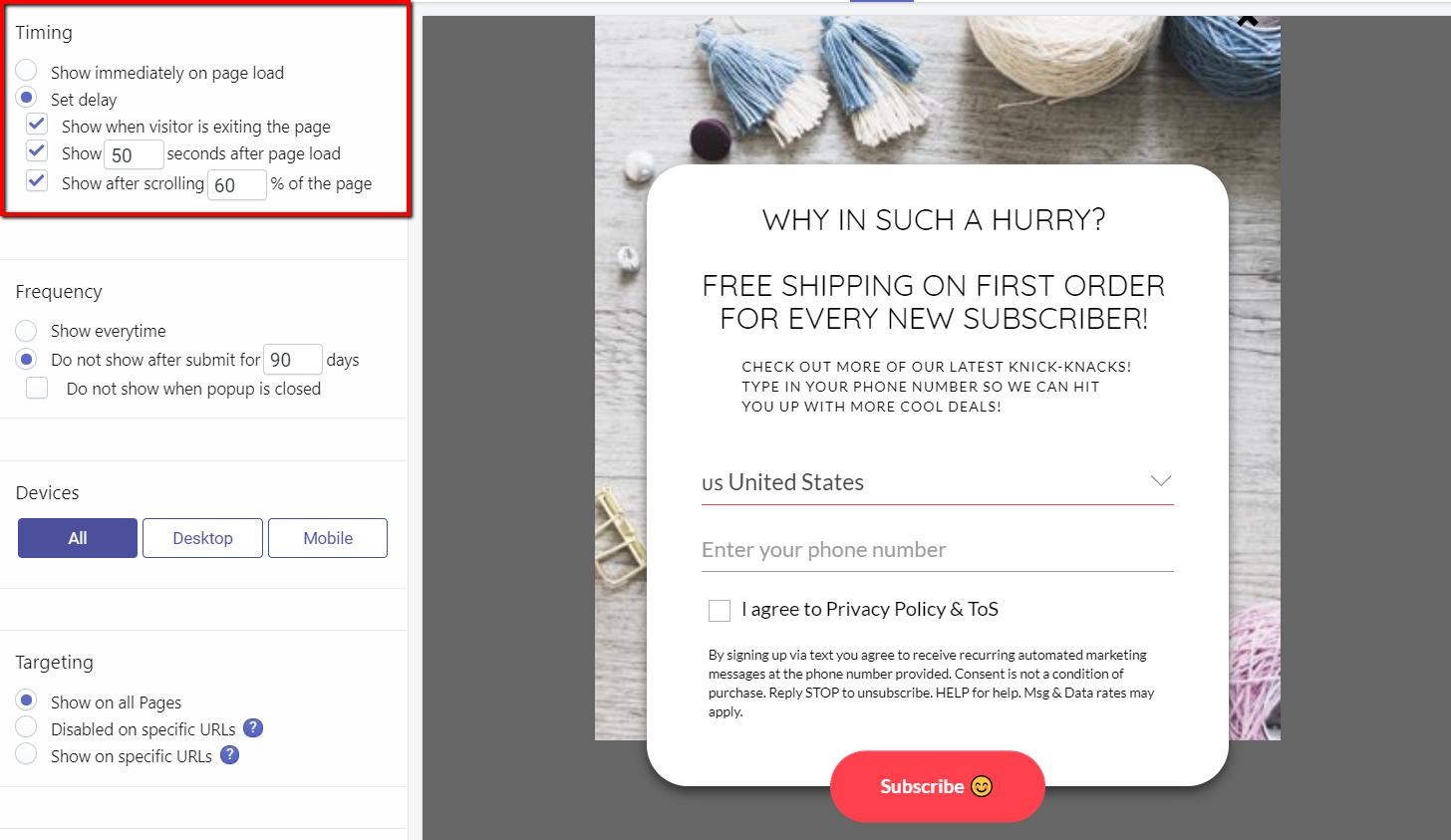 SMSBump gives you several options on how to time your popup effectively:

Trigger after 60% of the page's content was scrolled through
This is one of SMSBump's Golden rules - to manage your popups so they come up only after your visitor has scrolled through 60% of your page's content. This way you are sure they have at least gotten to know your store and products enough to make a decision whether to subscribe or not.

Trigger after 15-20 seconds have passed
This is another one of our star recommendations for creating great pop-ups. Don't rush it but don't wait too long, either. Because in both situations, the end result could be a lost customer.

Trigger before customer leaves
With SMSBump you can set your pop-up subscription form to appear as soon as your website has detected a sudden movement of your mouse to the top left corner of your screen (the "Back" button).

This is what we call "Exit pop-ups" and they are your last chance to keep you visitor on board so make sure to make it worth-their-while. Think of at least one thing your visitor wants that you are not providing and provide them with it with your exit pop-up.

Is it free shipping? Or a personalized discount - look at what they were browsing through and give them one on specific products or on the contrary - sitewide.
Popup Display Frequency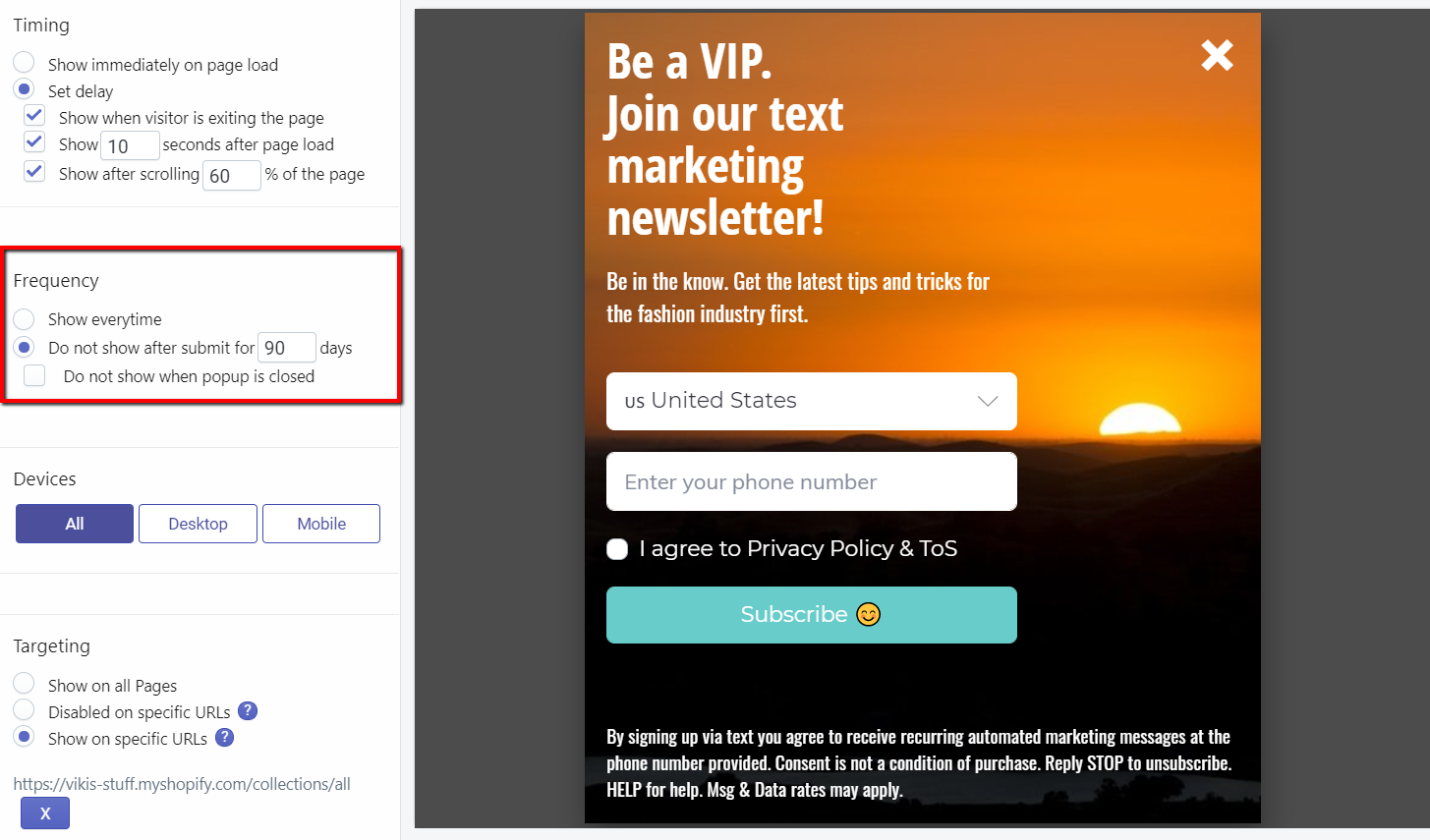 Show every time
You have the option to display the popup every time the visitor enters it, but be mindful that this should be used carefully so you don't lose traffic.

This option is for important notifications or alerts that visitors shouldn't miss, so only use it for popups that customers must dismiss manually to not see them again.
Do not show after X amount of days
We recommend that you set parameters and limits to your pop-up marketing instead of letting it go wild. SMSBump can help you with that. The default one we have set is 90 days but we would recommend 7 days.

By selecting the Do not show after X amount of days option, you will make certain that visitors who have already signed up for your text marketing campaigns will not receive the pop-up for another X number of days. Hence, they will not be overwhelmed by receiving the same offer over and over and over again.


Do not show when popup is closed (Recommended)
Did your visitor already hit the X button on your popup? SMSBump lets you disable the popup from showing up after the visitor has already closed it once. This way they can keep scrolling through your website without being interrupted by popups. We recommend this option switched ON.
Popup Targeting
This allows you to show or not to show the pop-up for on specific pages or URLs. By targeting the popup to visitors who express certain interests by going through your shoe collection instead of the t-shirts, you guarantee that it will be more focused on helping reach your goal.
Simply copy the URL of the page you want your pop-up to display/ not to display on and paste it in the specified field (see image below).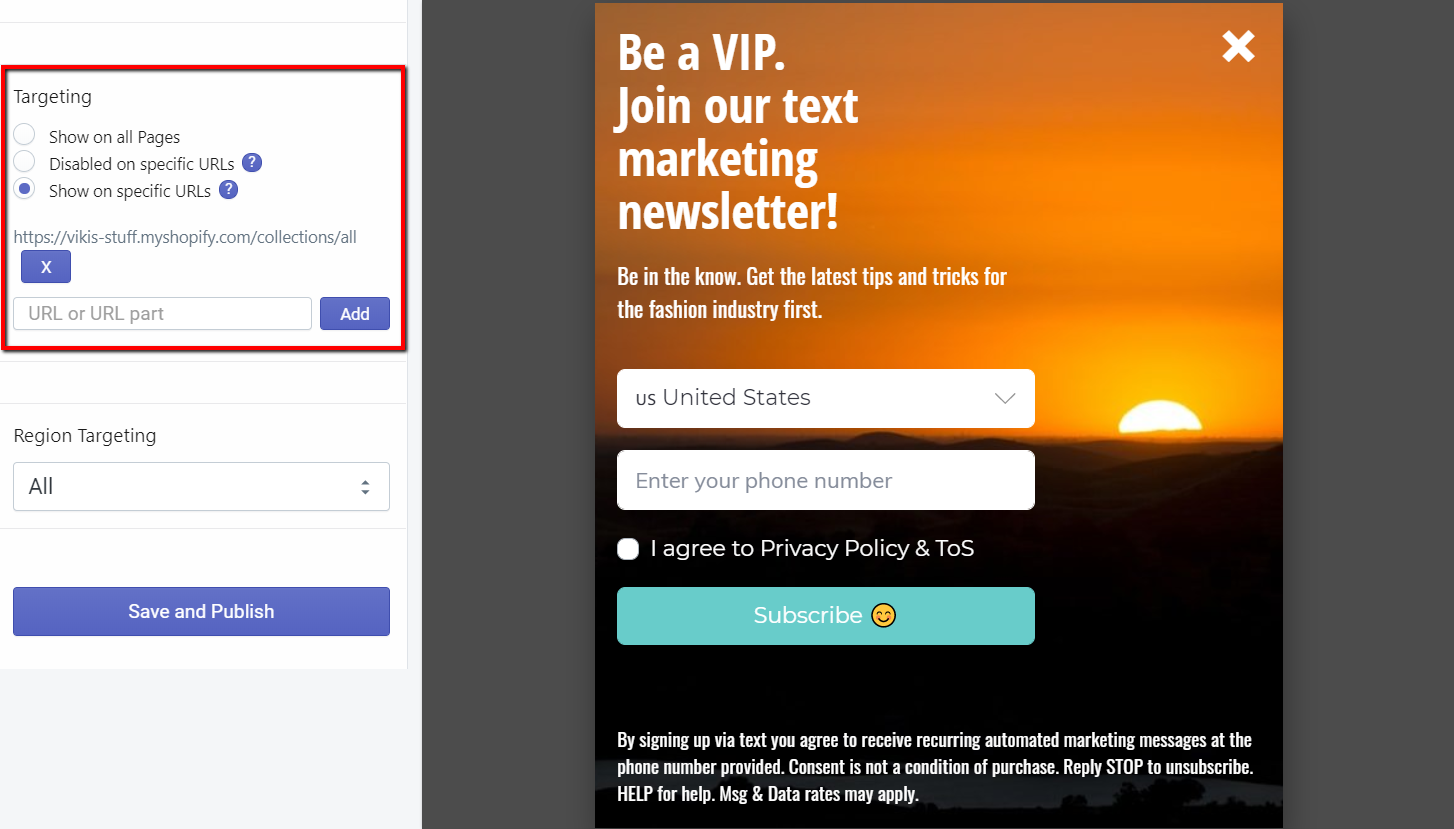 Show on all pages
This setting is for site-wide sales, important announcements, and offers that are valid for all customers. In case you want to show a single promotion to all your store visitors that's not limited to specific products or countries, you can use this setting.

However, in case you're designing an offer that's only for specific collections or promotions and not all your customers can take advantage of them, we recommend you target the popup only to the relevant pages of your site.
Disable on certain URLs
You can create a signup popup for your visitors, but disable it for specific URLs where it's not relevant, like your Contact Us page, About Us page, etc.
In other words, you're designing a popup that will give customers a $10 coupon code on dog food if they subscribe, but you don't want to show it on pages relevant to cat products - this is where you need to list those URLs.

What is more, if you have more than one pop-ups running simultaneously, it is good to have them display on different pages, where their content is relevant to the content of the page. Say, have a pop-up with a 5% discount on leather boots run on the shoe collection page, and a pop-up offering special Christmas deals show up on your Homepage, Cart page etc.

Show on specific URLs
Some popups only belong on a few very specific pages. For instance, if you're running a promo on a single product and you've designed a popup to let customers subscribe with a phone number to receive updates on the price. Paste the URL just for the pages you want to display your popup.

A great strategy you can adopt is to have your pop-up/s display on your cart page, right before your customer proceeds to checkout. Internal observations show that this works like a charm! For instance, it could be a pop-up, nudging your customers to leave their phone number in the next hour to get a 5% discount on their current order.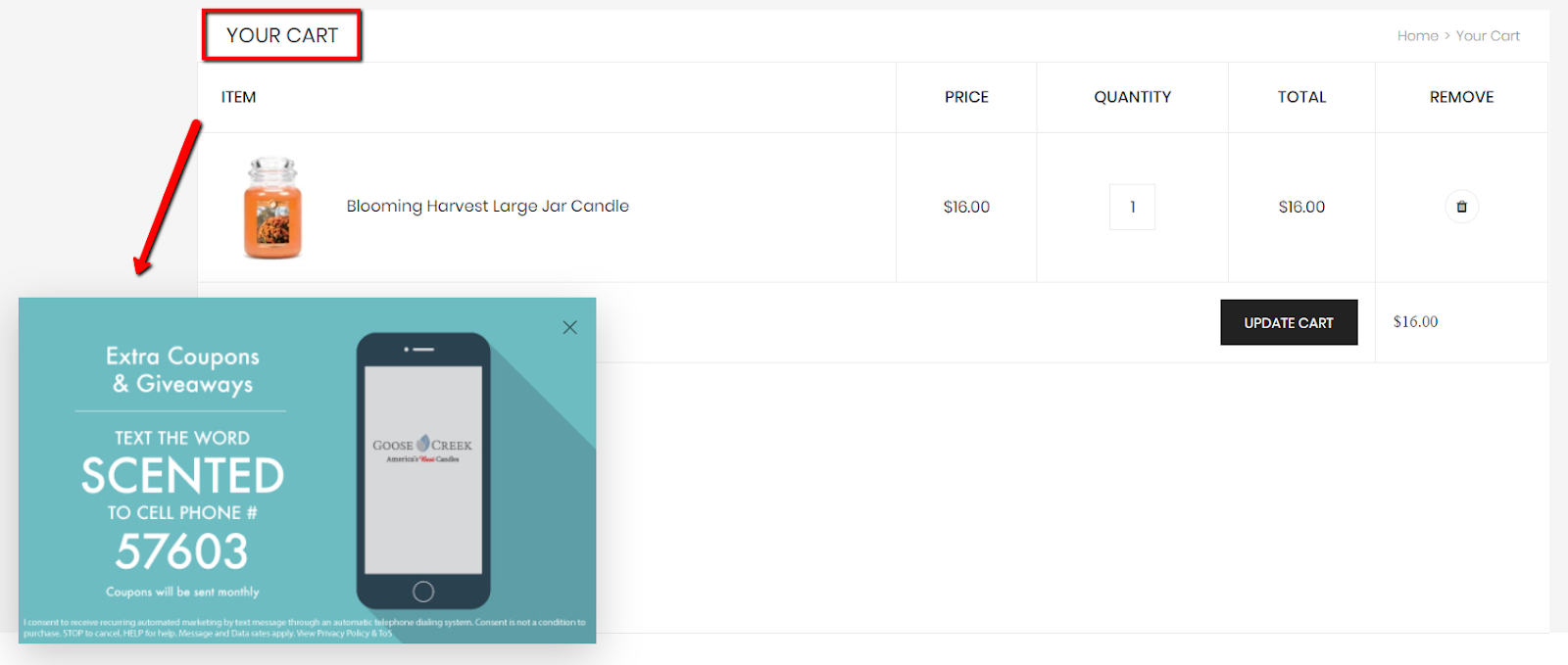 How to Craft an Effective Popup
Let's go through the components of each and every pop-up and establish some ground rules to help you create the best pop-up subscription form there is.

Captivating headline
A headline is the first thing a visitor reads when the popup appears. A winning strategy is to state your unique offer in the headline, so visitors instantly recognize what the popup is for.
Great call to action (CTA)
You don't need just any CTA; you want a strong one that convinces people to act. There are two main purposes of a call to action: to tell someone what they should do, and give them the motivation to do so.

There's a lot to be said on the CTA topic, but we can still give you some pointers as to what makes strong calls to action work.

Strong verbs - for all e-commerce store owners, some good verbs are "buy", "shop", "order", "win", "gain" etc.

Instantly actionable - be straightforward with your customers and clear about what your popup is offering and what they need to do to get it: "Sign up with your phone number to get 10% off! Today only!"

They are succinct - keep it short, keep it catchy, easy to grasp and remember. Calls to action should put the focus on what's important and remove any distractions.

A well structured and strong call to action can get you a long way and has the power to make or break your pop-up.
Short copy
Keeping it short is the way to go. To make a popup work the visitor has to understand what they gain from it the moment it appears. This is the only way for the customer to consider leaving their phone number and subscribing to your marketing content.
Easy Subscription Process
Making your subscription process simple and quick will significantly increase your chances of having more visitors subscribe to your store. Easy peasy!

SMSBump knows it is important that visitors spend no more than a minute of their life on subscribing to your store - from the moment you invite them to the moment you send them a confirmation SMS that they are now part of your subscribers.

We have designed three opt-in methods that Shopify merchants can choose from when creating their pop-ups:

Single opt-in method (Recommended)- customers will be subscribed immediately after entering their phone number in the subscription form.

Double opt-in method - customers will receive a confirmation SMS after entering their phone number in the subscription form. In order to subscribe, they have to click on the link in the SMS. Otherwise they will be placed in the Not confirmed contacts section of your Subscriber Lists.
More on how to configure your opt-out method, read here.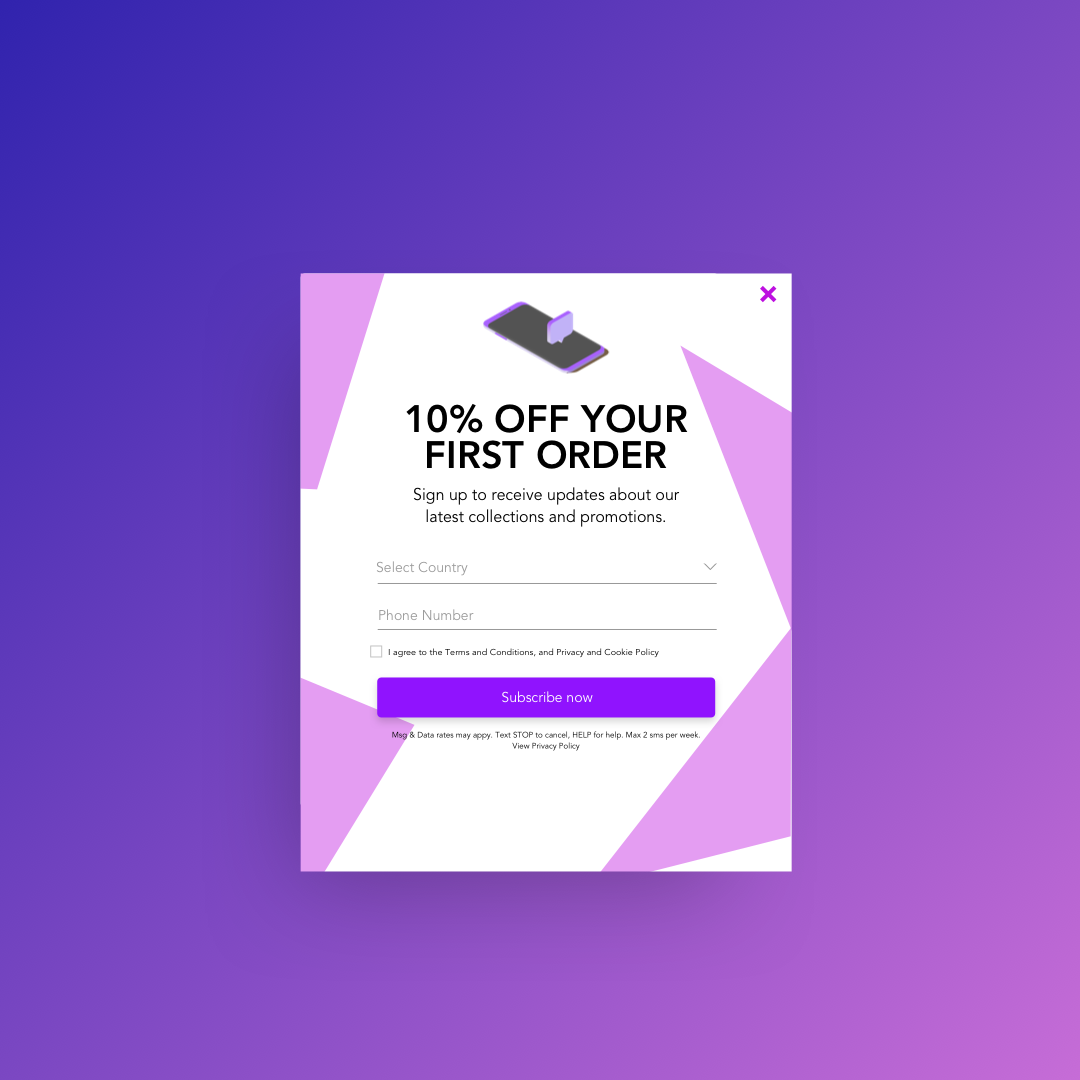 NEW: Mobile phone quick subscribe - with our newest update, available for all U.S. and Canada based mobile phone users, you can allow visitors to subscribe to your text marketing simply by double-clicking on the pop-up, without having to enter their phone number. Note that this feature is only applicable to the mobile version of the pop-up.



Images
Surely, when a customer sees what exactly they'd be missing out on, it's more likely for them to consider taking action. The more relevant the image is to the offer you're giving - the better.
SMSBump Update: We just introduced the new additions of pop-up custom templates. Read more about our new and eye-catching designs and start crafting your pop-ups today!

Timing
The perfect timing for your popup depends on the kind of offer you're giving.
Some popups appear right away because the visitor needs to know something before continuing to the website. Other popups appear some time after the customer has browsed your Shopify store and expressed an interest so their value is higher than others.
SMSBump gives you all the control you need to setup the popup timing precisely so you engage visitors and customers at the right time.
We already covered the importance of timing your pop-up subscription invite smartly, but let us just remind you that there is nothing worse than hitting a customer with a pop-up 3 seconds after they have come to your website.

Incentives
With SMSBump you can encourage your visitors to become regulars by offering them different types of incentives, such as free shipping, fixed amount and percentage. Let's explore a couple of examples of how you can utilize discounts to reach your end goal - more subscribers.
First timer's Discount: Use your pop-up to encourage new-comers to stick around by offering them a small token of your appreciation, say, 10% OFF their first purchase if they subscribe? Don't forget to add an extra dash of urgency so they feel the need to take your offer now.

Example:
Before you go...
Get 10% OFF your first purchase! The offer stands until 5 pm today!
Enter your number and hit SUBSCRIBE so we can send you our cool offers and personalized deals on sound gear!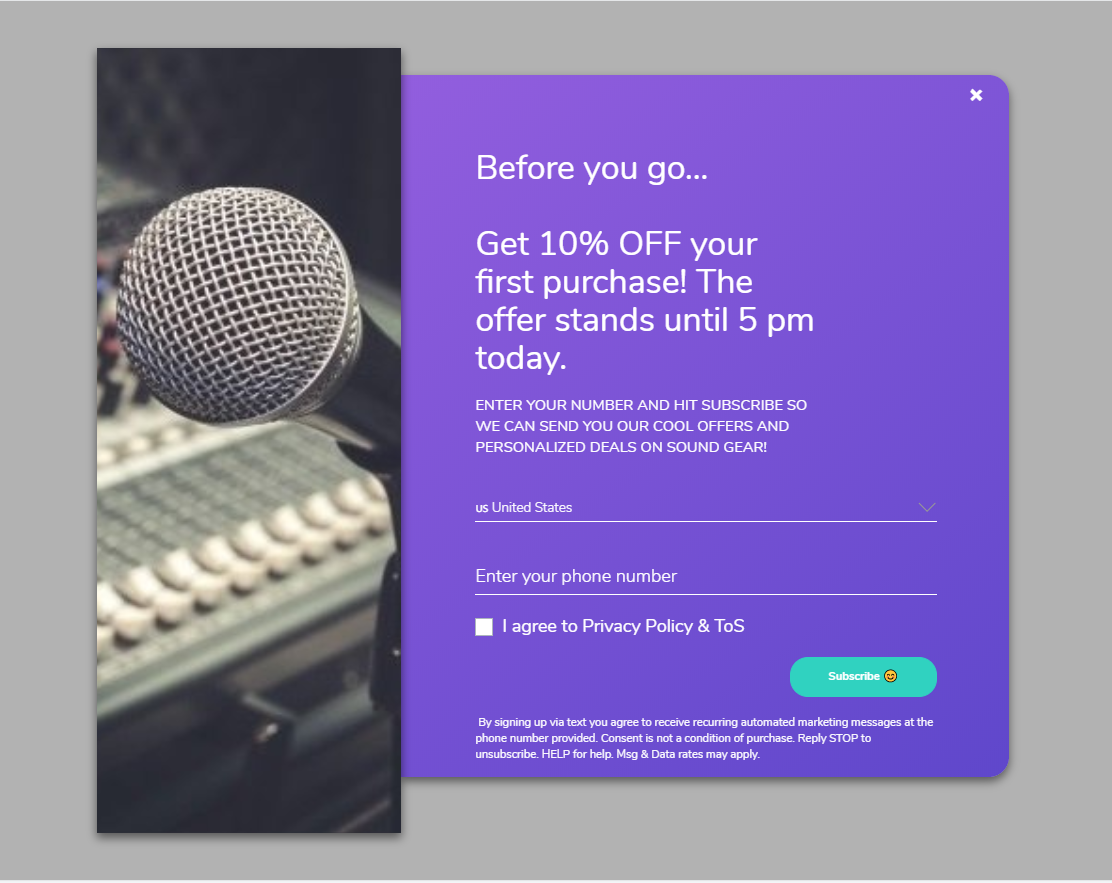 Free Shipping: High shipping fees are one of the top reasons why customers abandon their carts. Grab your visitors' attention by offering them free shipping in return for a phone number on orders above $50. Or on 3+ items. Or on their first purchase.
Example:
Why in such a hurry?
FREE shipping on first order for every new subscriber!
Check out more of our latest knick-knacks! Type in your phone number so we can hit you up with more cool deals!
One Final POP Before We Go…
To wrap up, here's a summary of the most important things to remember for creating your phone number subscription popups with SMSBump.

A bulletproof pop-up that will strike high conversion rates:
Has more context. Visitor + their interests and wants = context. In other words, offering them something relevant to them is just as important as the way you present it to them. Context gives additional meaning to your message. Or as the famous entrepreneur Gary Vaynerchuk puts it - "Content is king but Context is God."

Doesn't appear immediately, unless it contain information your visitors absolutely must see. Remember - the idea is not to startle your visitors, but to grab their attention.

Has a clear headline and message.

Has a strong call to action that matches the offer.

Has personality. It will make you stop and look at it. Catchy, eye-grabbing, awesome.

Has an overwhelmingly valuable offer.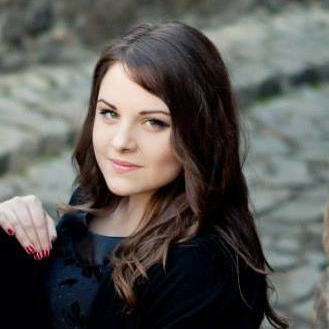 Start growing today
Sign up today and join 90,000+ eCommerce businesses making it big with Yotpo SMSBump