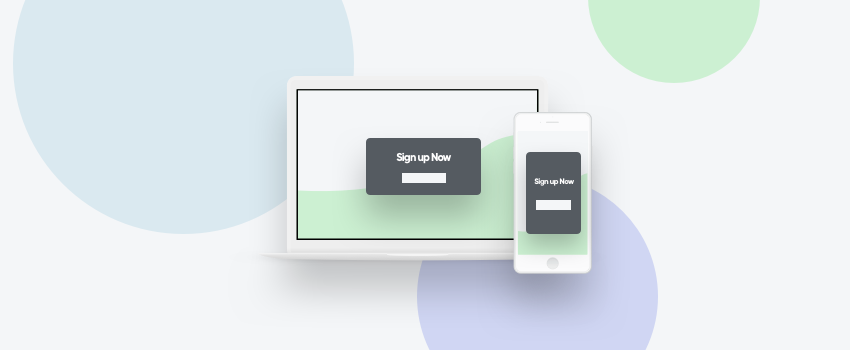 How to Improve Your SMS Popup Design with New Custom Templates
What has the power to drive you to share your phone number with an online store to receive their news and updates?
Must be something quite tempting and irresistible, right?
Great news! SMSBump just made a huge leap forward with your subscription forms so you're able to craft more encouraging offers for your online shoppers.
Your Subscription forms just got updated with new customizable template designs for your popup forms. Give customers a real reason to signup with their phone numbers and keep them updated with your sales, promotions, and limited-time discounts via text messages.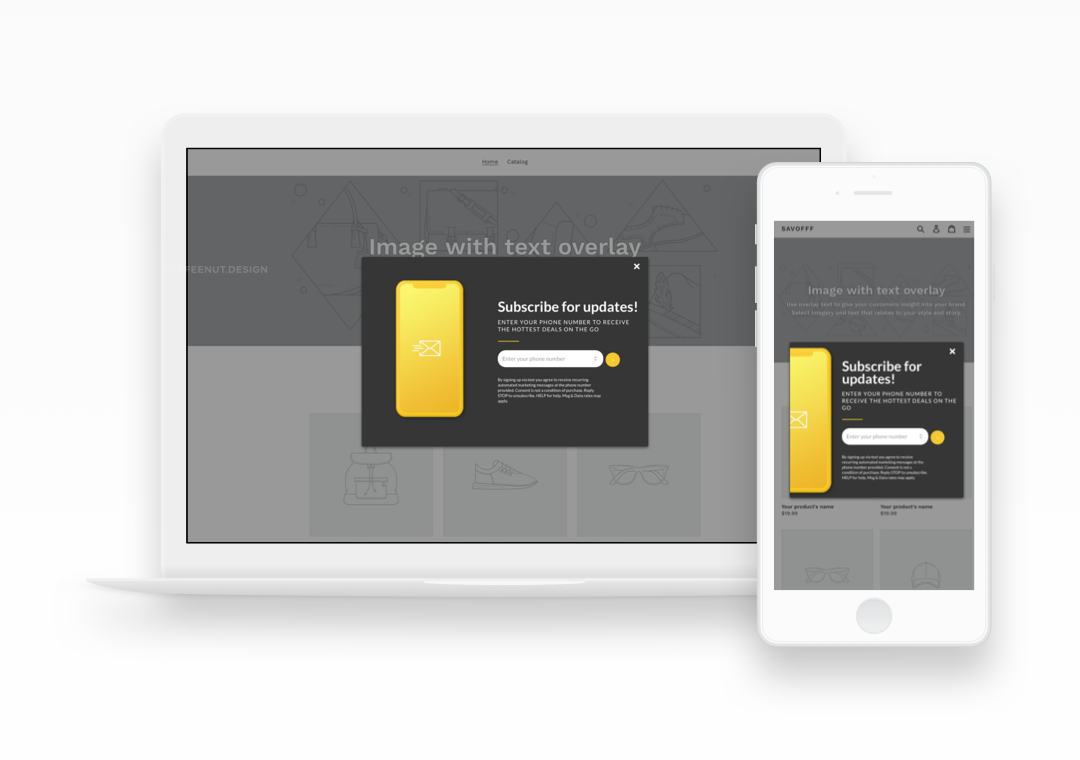 The update in your subscription forms is for the popups that now have 17 new templates, where you can customize images, backgrounds, fonts, font sizes, and targeting.
What's new in your popup forms?
The form editor got updated giving you more control over your popup appearance, content, and behavior.

Custom Popup Templates
The first major update is the brand new library of popup form templates you can select from. You now have 17 predefined popup templates you can use and customize for your Shopify store's website design.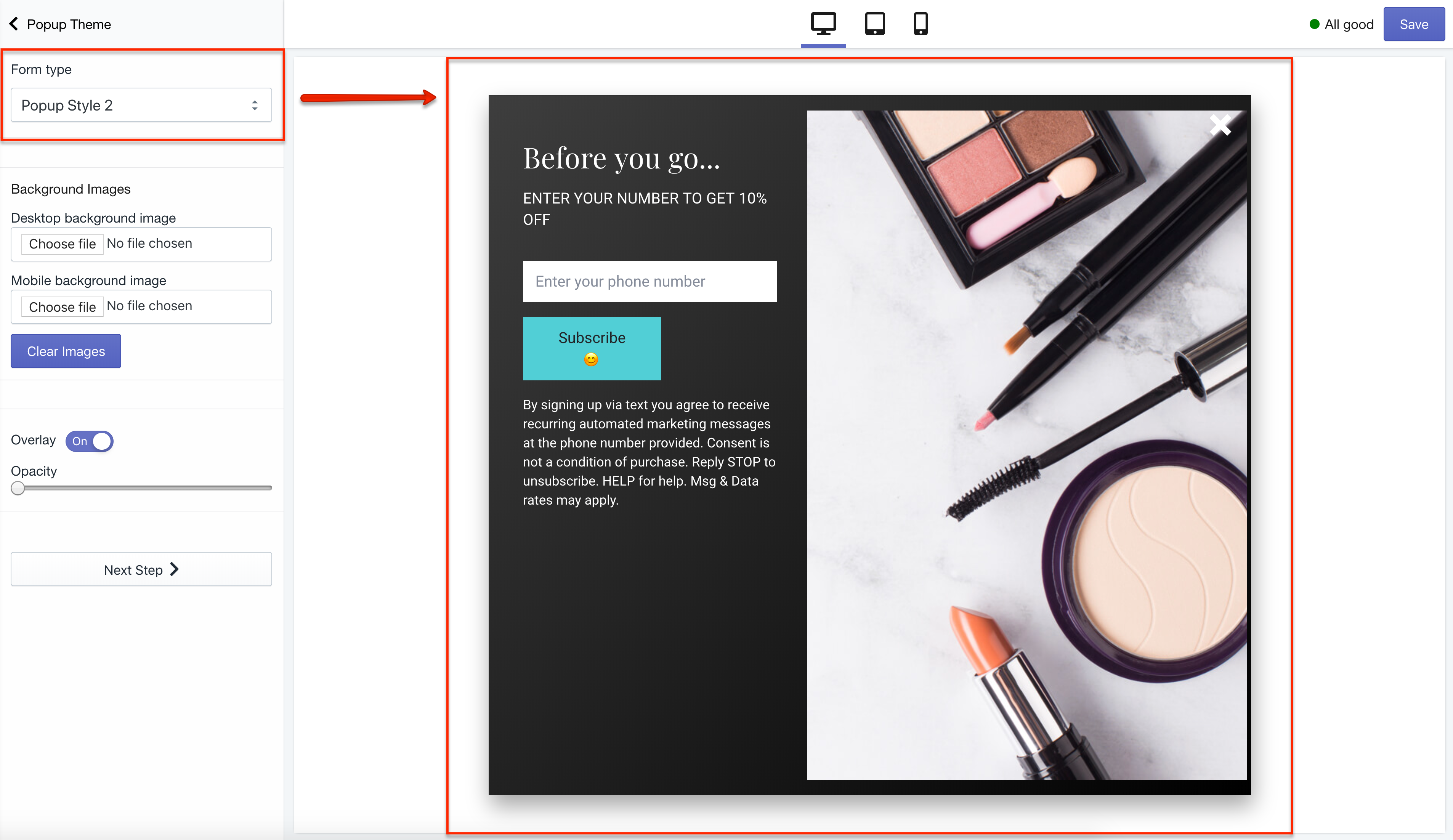 The popup templates are designed for Shopify stores of different industries, such as cosmetics, fashion, beauty products, pet products, technology, food & beverages, photography, and more.
Still, they are customizable, so you can simply select the popup form you like the most and change all the images, visuals, colors and content to fit your brand identity and website design.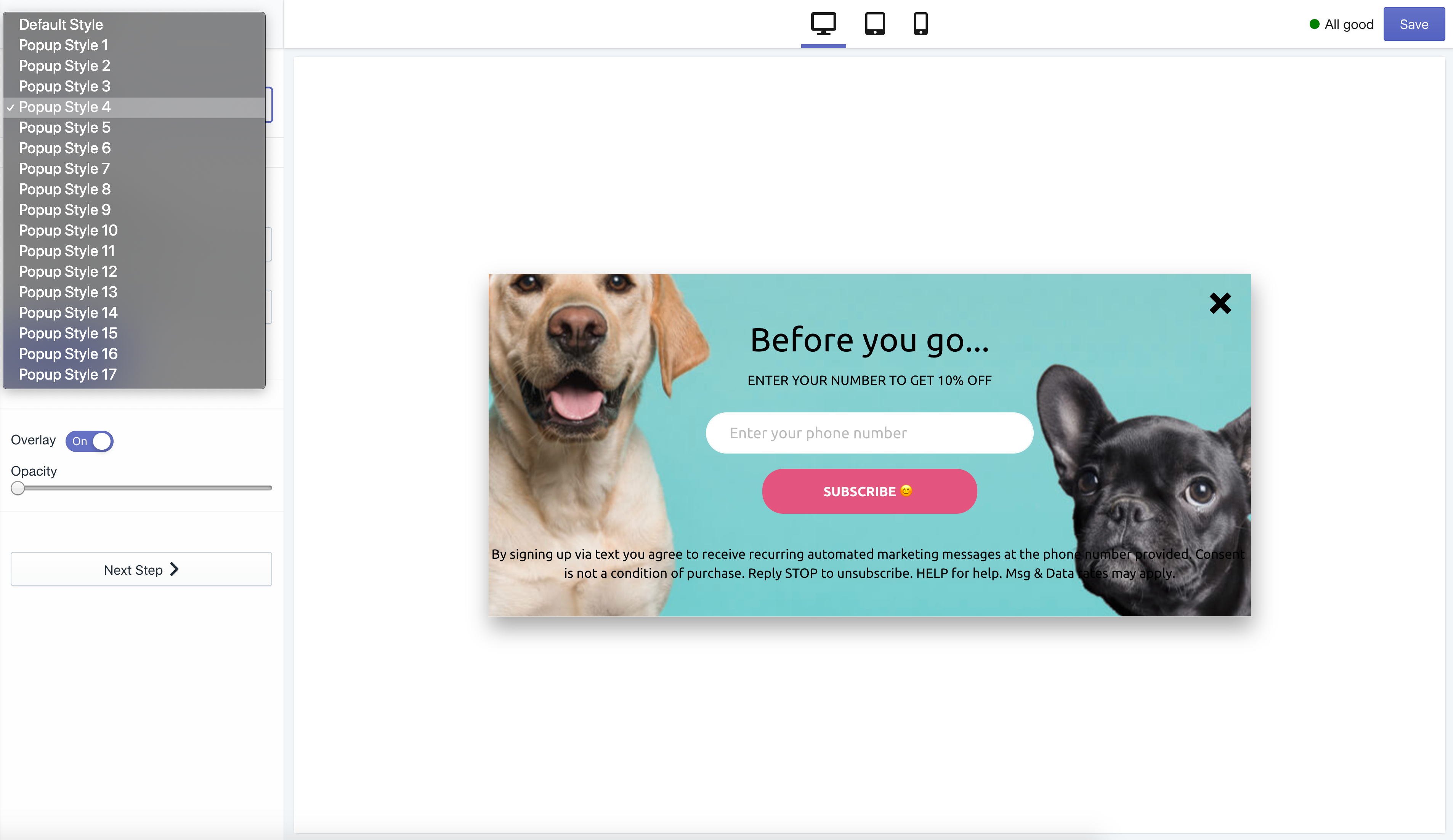 Customize popup images (desktop and mobile)
You have two fields for uploading images to customize your popup forms. One is for the desktop version of the popup, the other is for the mobile version. This helps you craft the best possible popup design for all devices so there are no resolution issues with landscape and portrait images.
Desktop background image: uploading a new image will replace the current background image in your popup.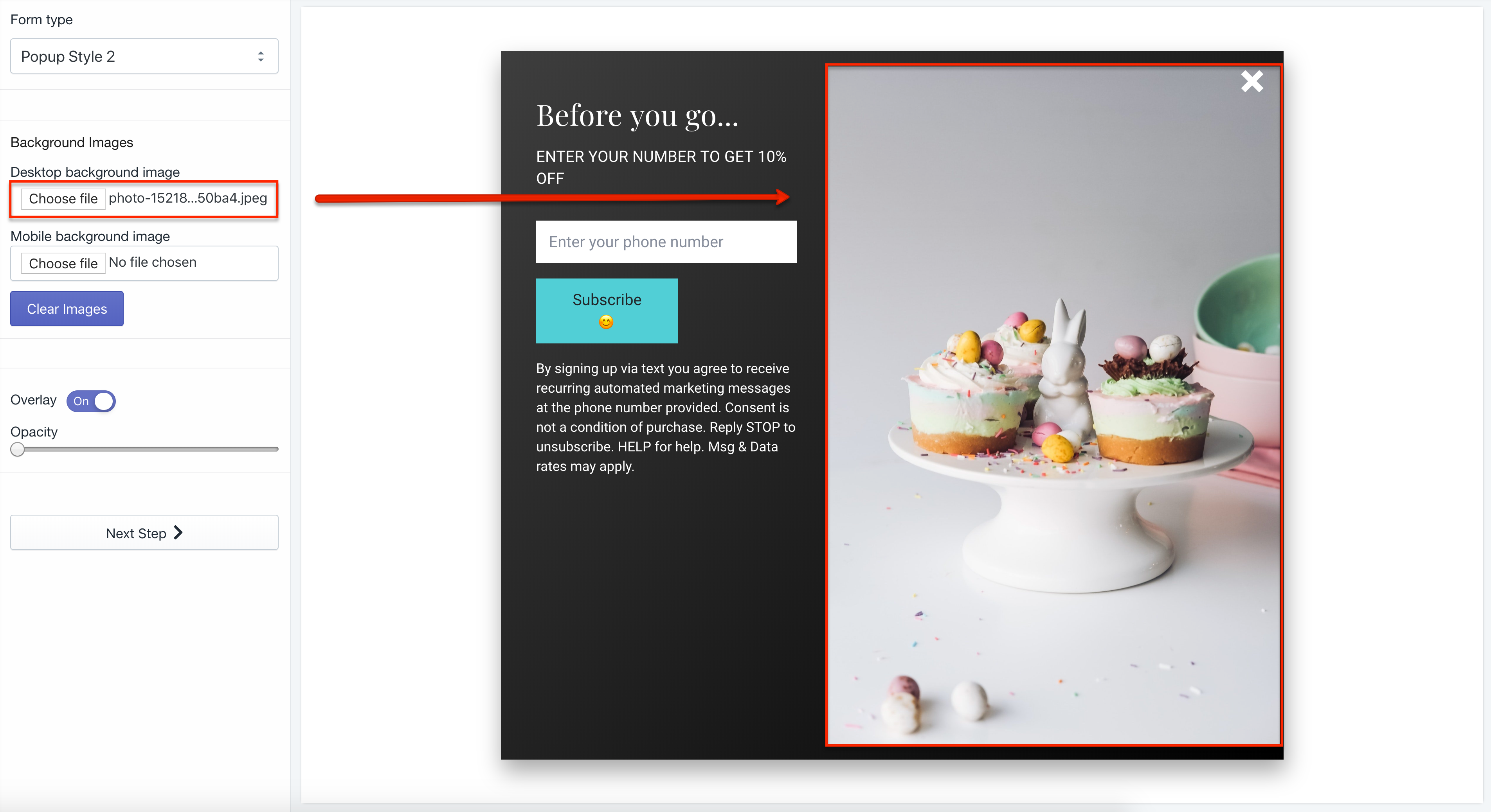 Mobile background image: replacing the mobile image will change the default background with the one you upload to display on mobile devices.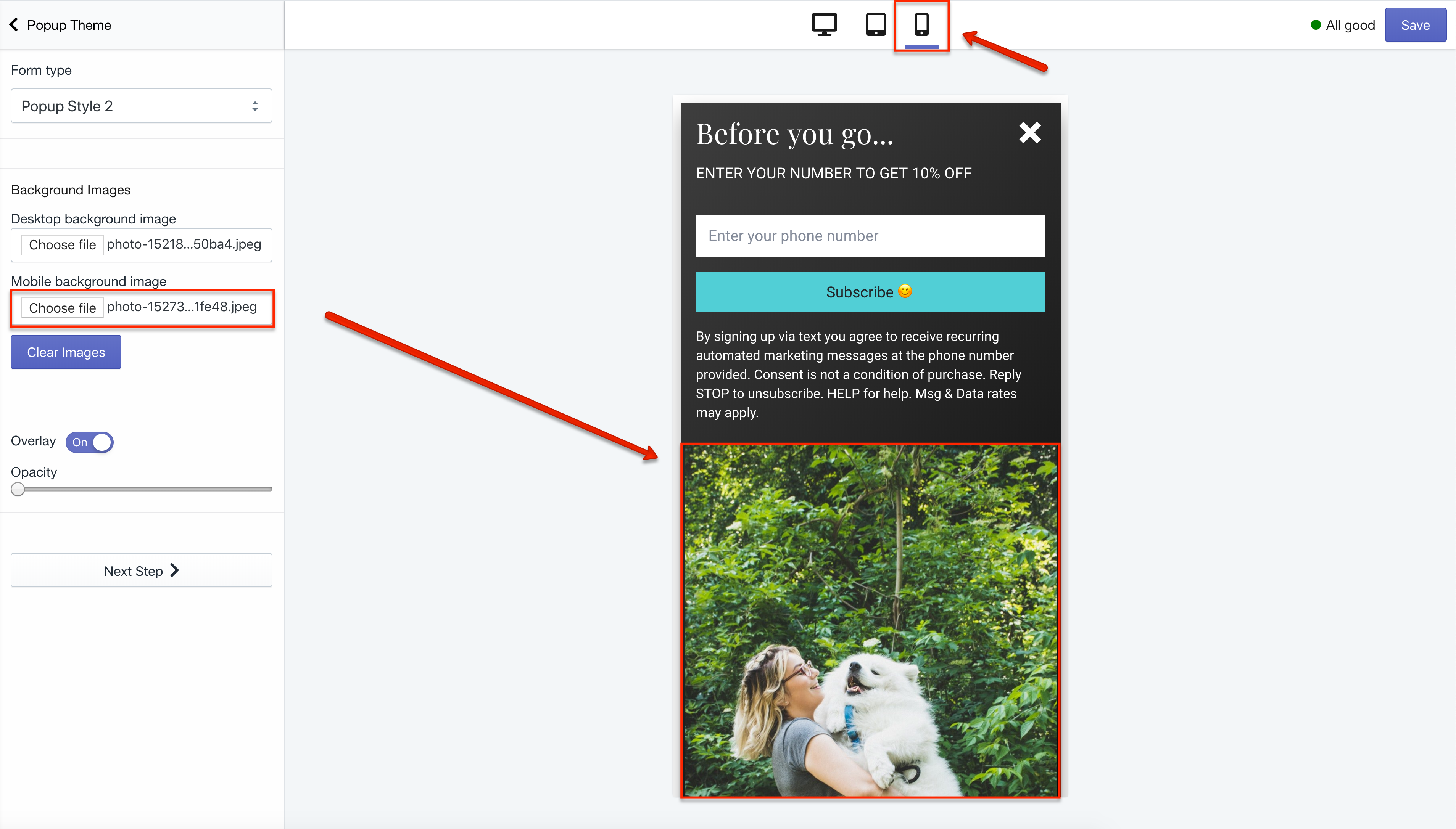 If you prefer to switch back to the original popup images, you can click the Clear Images button and it will revert them back to the default background images.
Enable or disable the popup overlay
You can turn the overlay on and off if you want to darken the background behind the popup when it appears in your Shopify website.
Use the slider to configure the opacity of the overlay.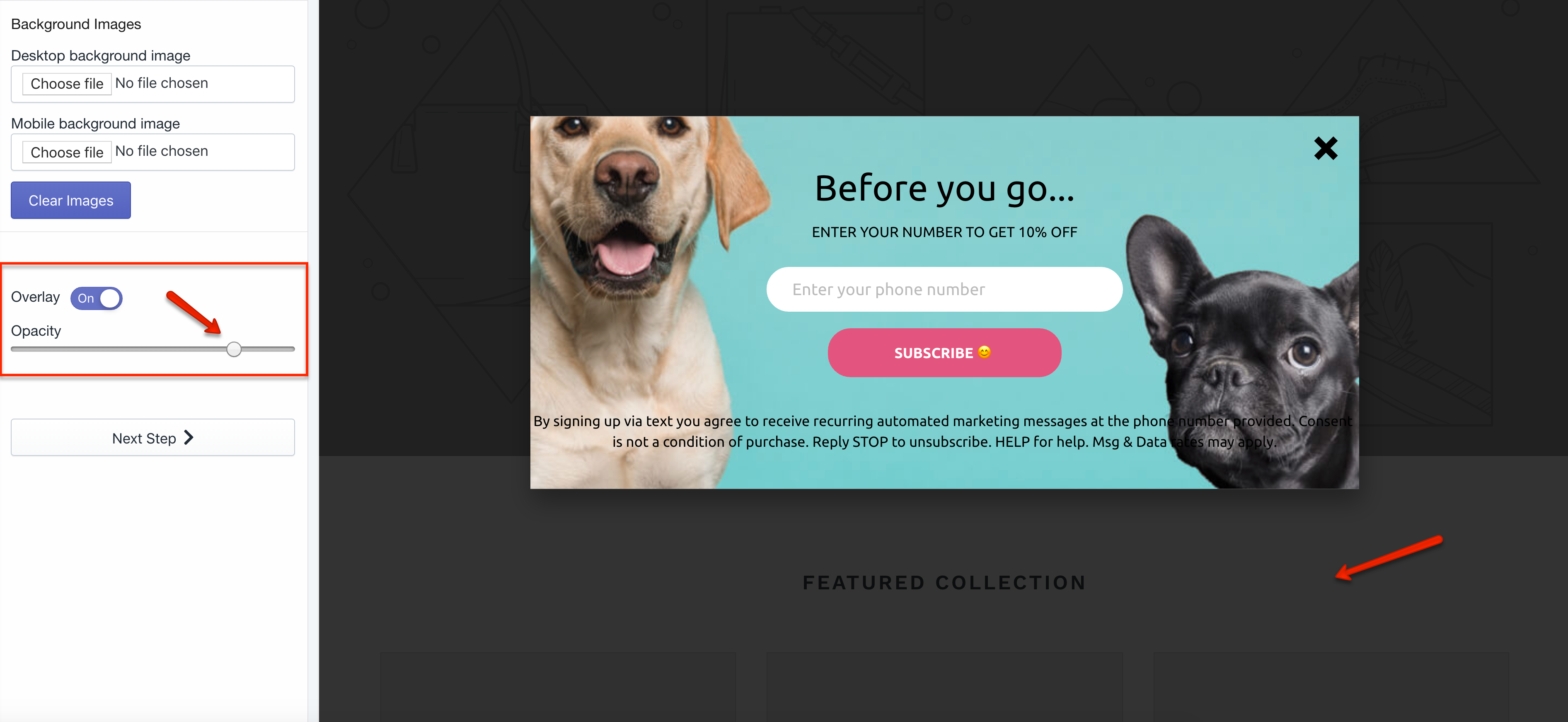 Custom Font Sizes & Families
Now you can adjust the font size of each heading, subheading, and description inside the popup. This gives you more control over the popup content so you can craft a more captivating notification with the most important copy in a larger font size.
You can resize each piece of copy:
Header text

Description

Phone field placeholder

Subscribe button

Success notification heading

Success notification description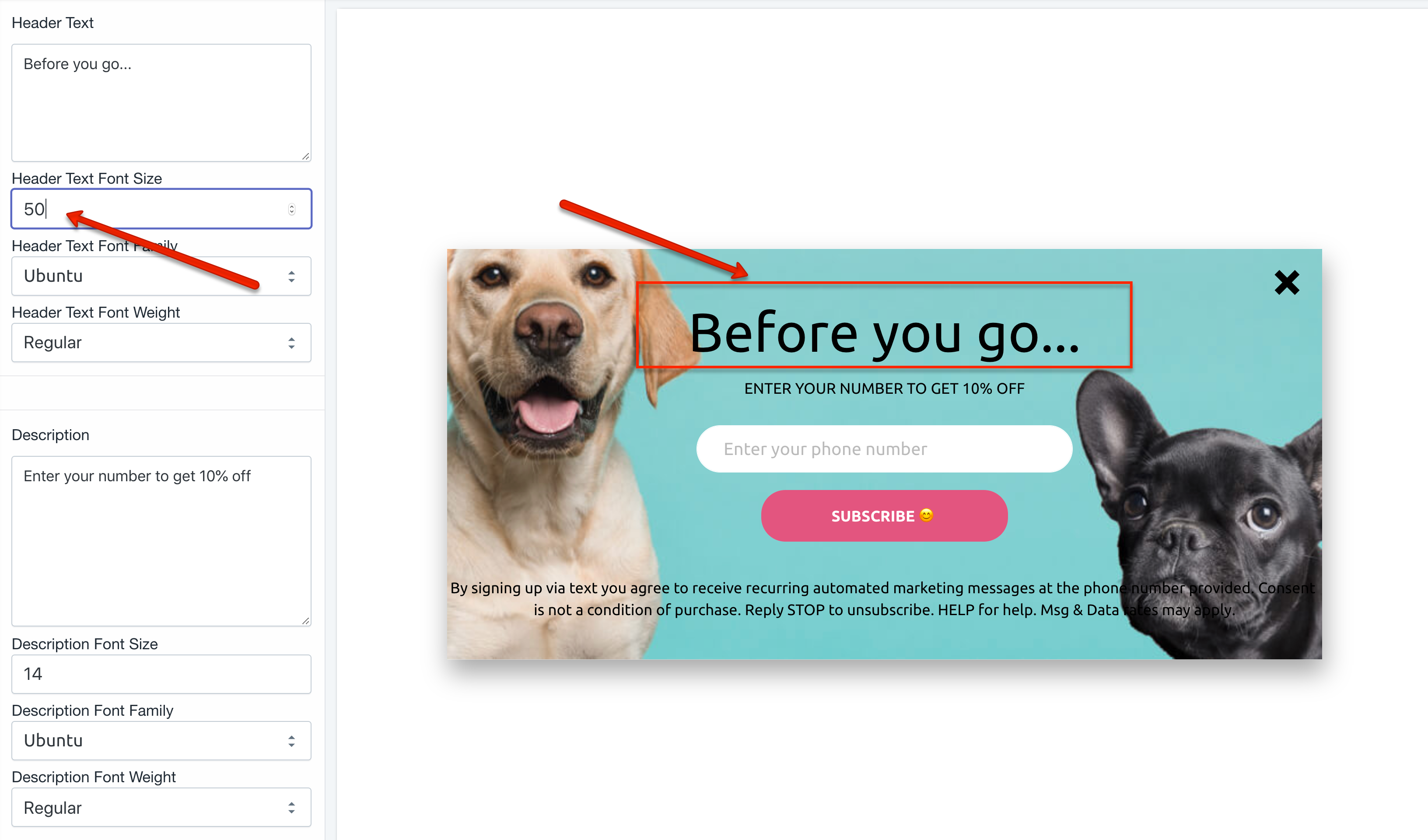 You have 100 fonts you can choose from to make sure you match the font family of your Shopify website's design.
The form editor lets you select a different font family for each heading or description so you can combine fonts any way you see fit.
Also, you can customize the font weight and select between: Regular, Bold, or Light.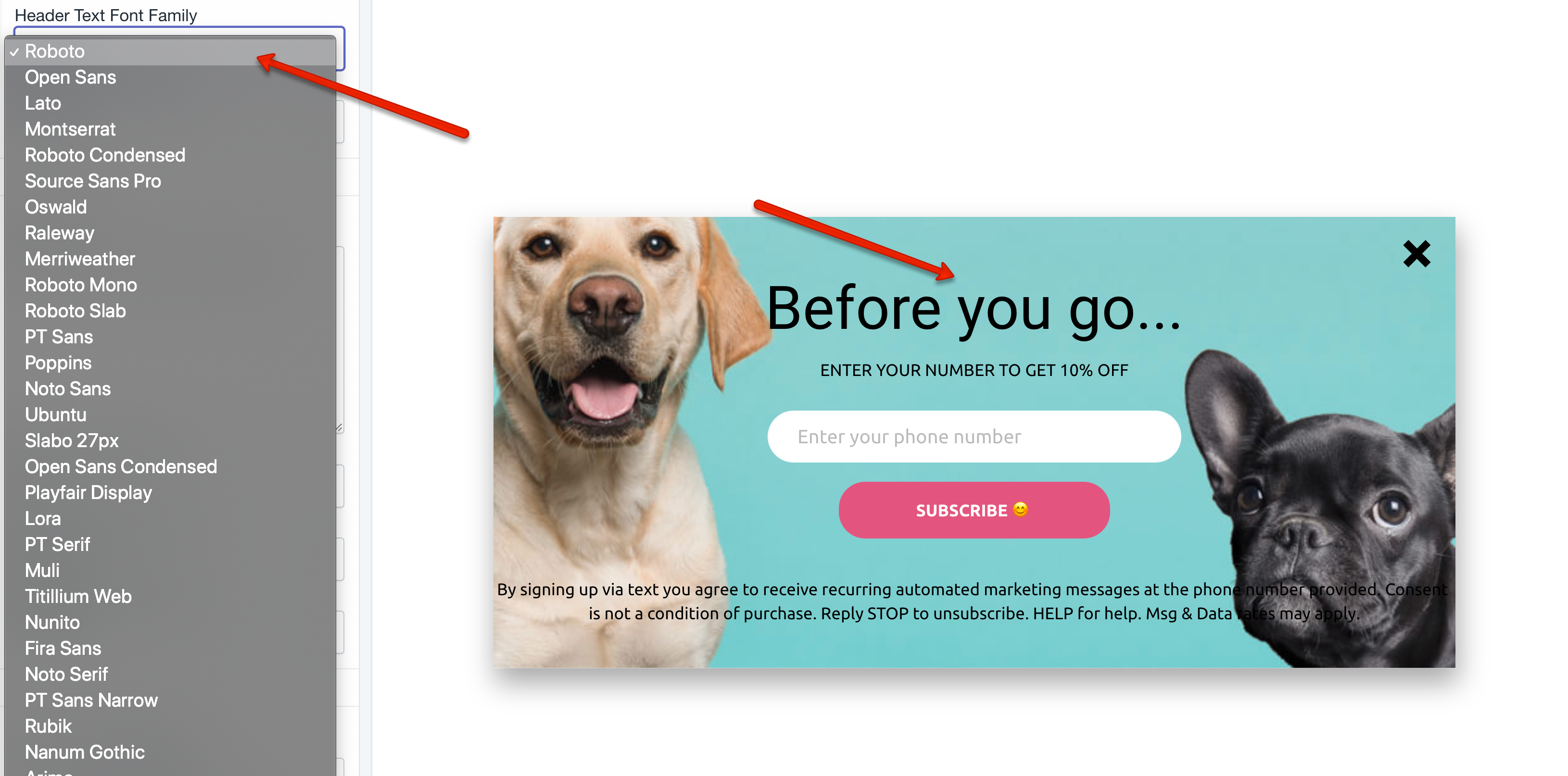 Create More Engaging Exit-Popup Forms
One of the popup types you can create is the well-known exit-popup that appears when the site visitor attempts to leave your Shopify store.
Now you can craft a more eye-catching offer and increase the chances that the visitor will share their phone number before leaving so you can follow up or send them a signup coupon to complete their first purchase.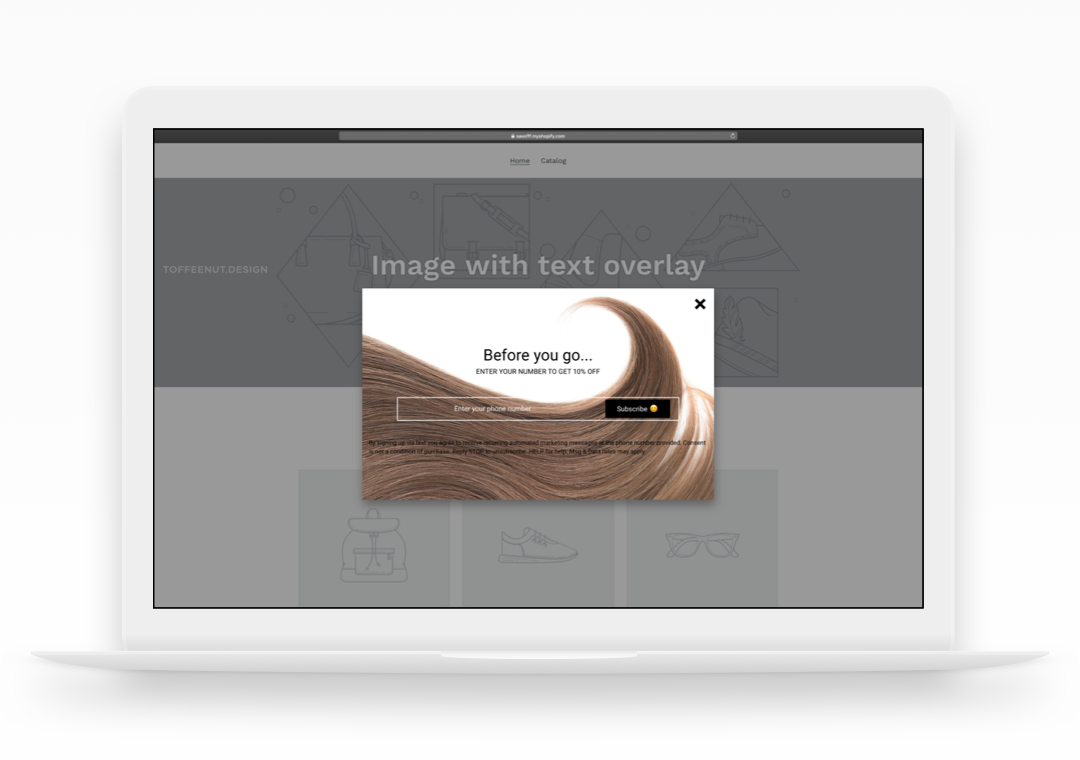 After you customize your popup design to convert leaving visitors into SMS marketing subscribers, configure the behavior to trigger on exit intent.
You can do this in the form editor by going to Behavior > Timing and selecting this setting: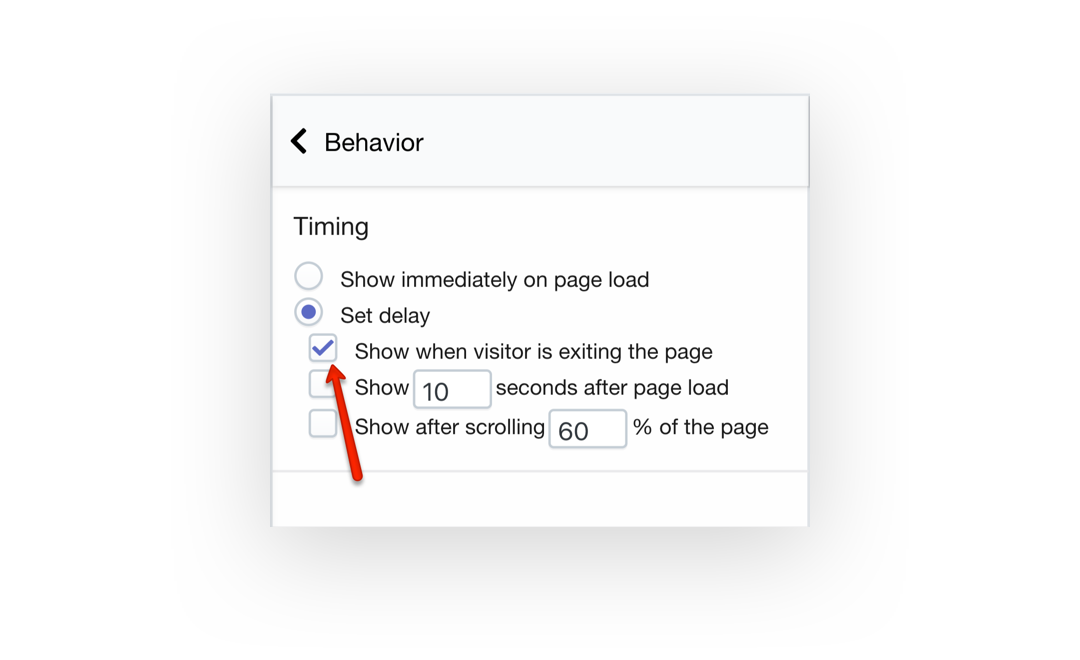 Grow Subscribers with Welcome Popups
Invite your new visitors and existing customers to subscribe for your updates and offer a reward in exchange for their phone number.
To provide value to your shoppers give them some form of discount. This can be crucial timing as an incentive is a proven way to change your custom behavior in your favor. Engaged customers will always want to take advantage of a coupon or free shipping to get a product they like.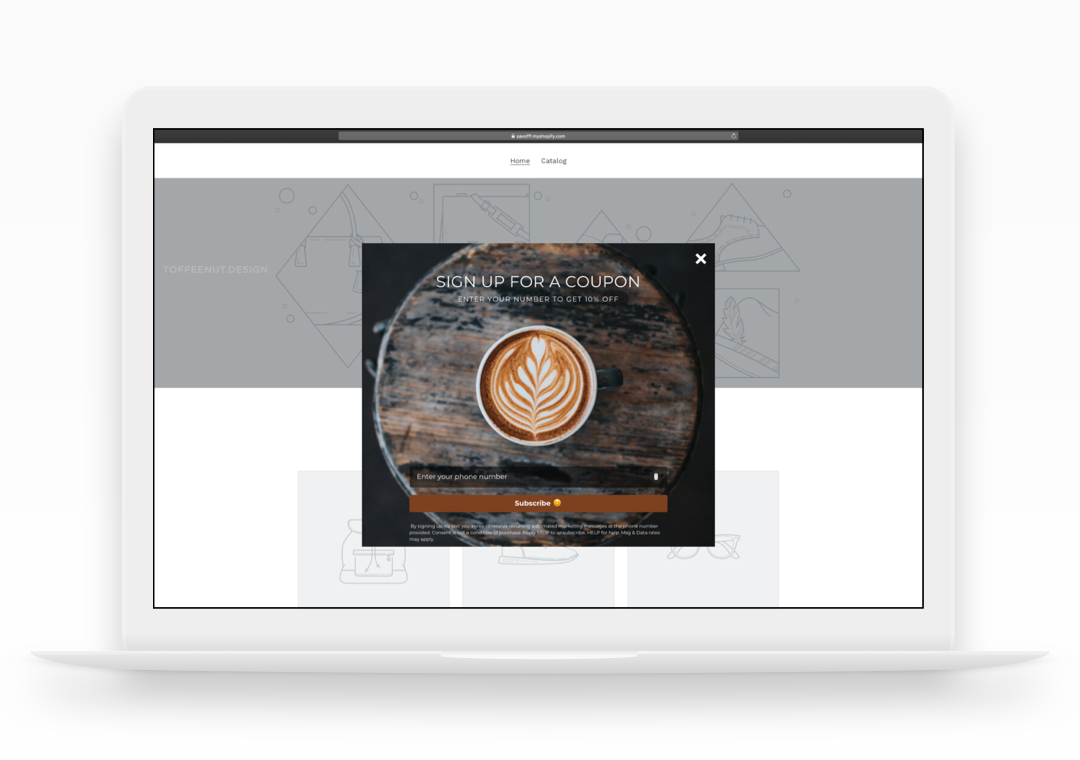 To configure the popup as a welcome notification, go to Behavior > Timing and select this setting and configure the delay timing: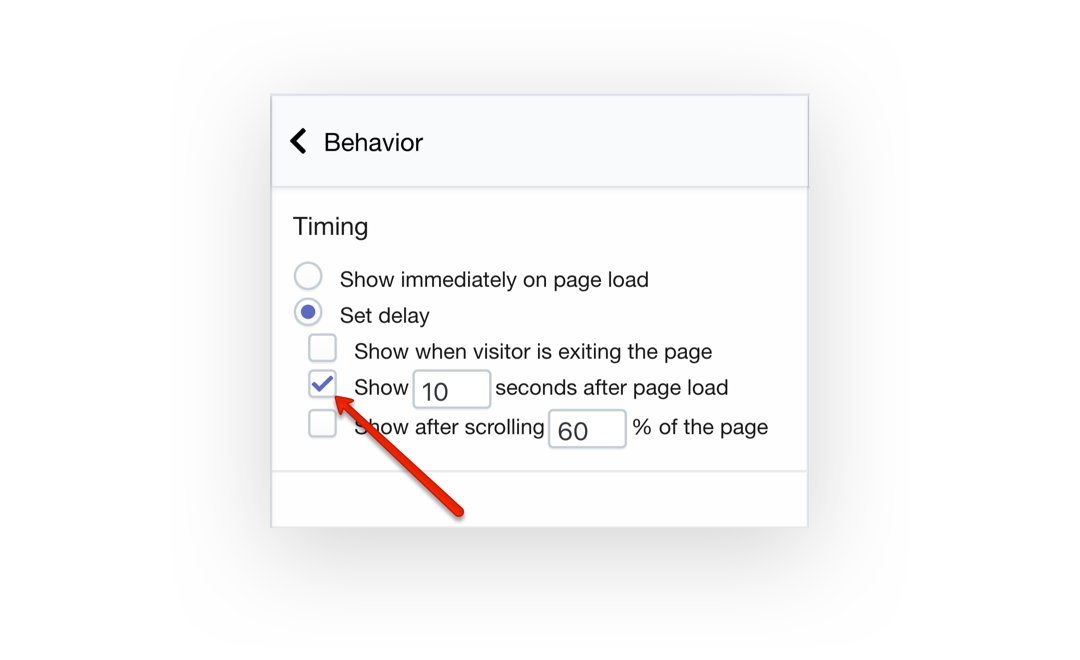 Improve SMS Opt-in Rates
The new update gives Shopify merchants the opportunity to improve their subscription form popups and bring in more subscribers for text message updates. Now you can increase the reach of your SMS campaigns and automations with better looking popups that can display your special offers to customers who sign up for SMS deals & updates.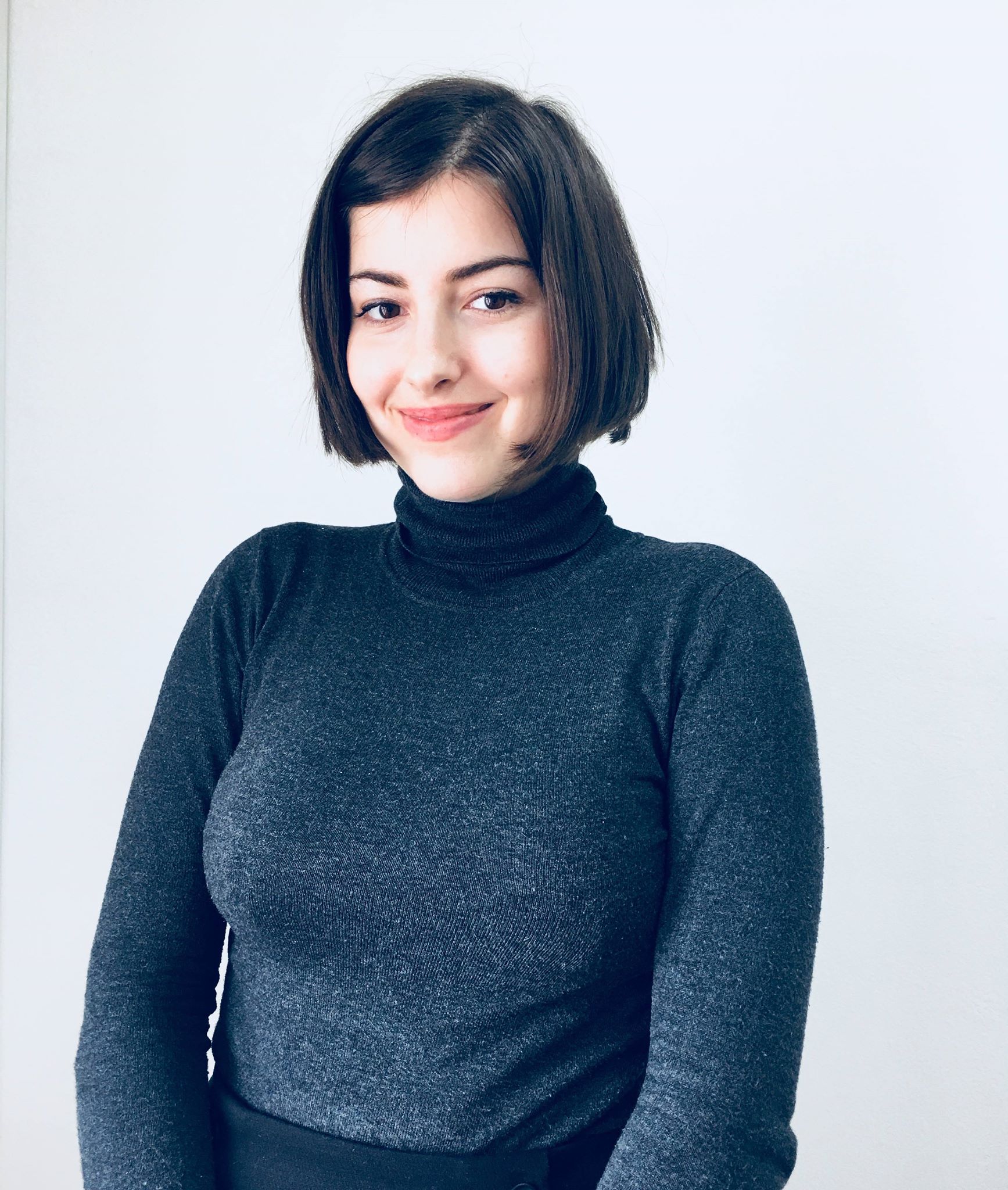 Start growing today
Sign up today and join 90,000+ eCommerce businesses making it big with Yotpo SMSBump