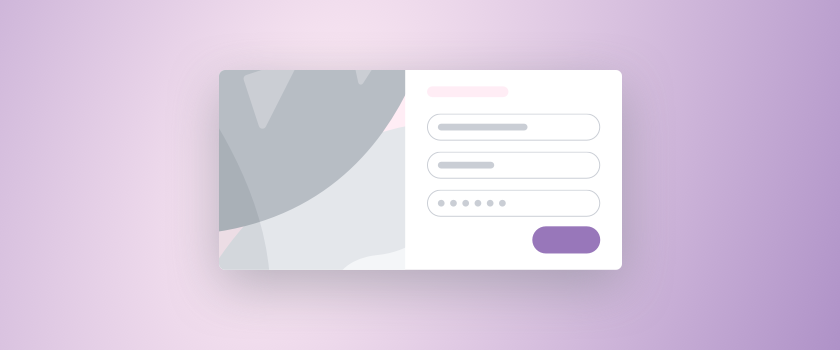 How to Create an SMSBump Signup Form Popup in Shopify
Did you know that SMS is one of the most reliable marketing channels and one of the few that doesn't require an internet connection in 2019? Funny thing how such an obvious realization makes so much sense for SMS marketing to become an irreplaceable part of your Shopify business strategy.
But to run a successful text message marketing strategy, you need contacts and phone numbers. More importantly - you need consent to send those contacts your text messages.
In case you're already familiar with the brand new subscription forms and the new form editor in SMSBump for Shopify, we want to show you a few examples for popup signup forms. They help you grow your contacts and get approval from customers to send them SMS marketing messages that increase sales and customer retention.
​
How do I create a popup signup form?
You go to your SMSBump dashboard and click Subscription form.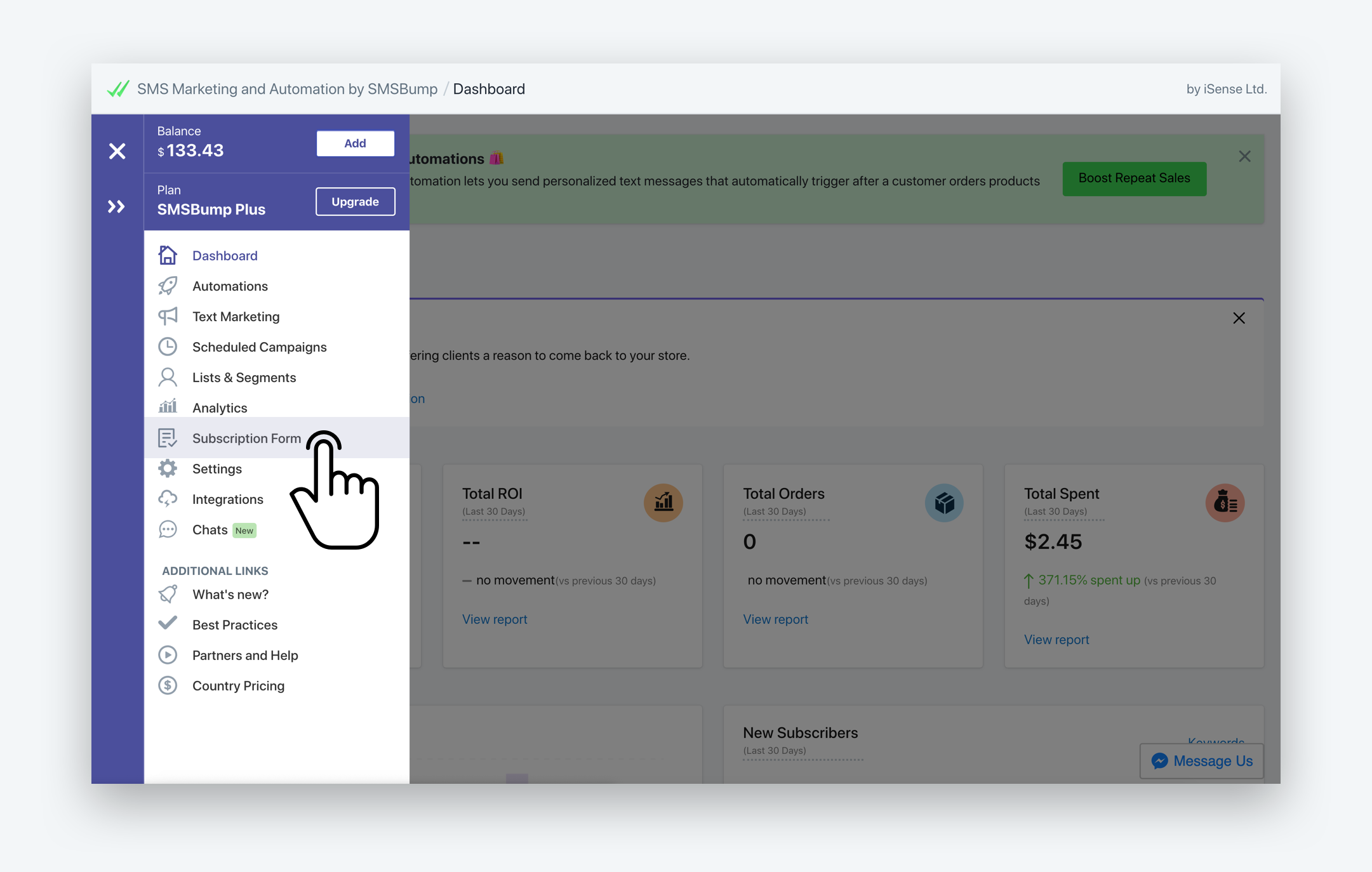 Then you select the Popup form type.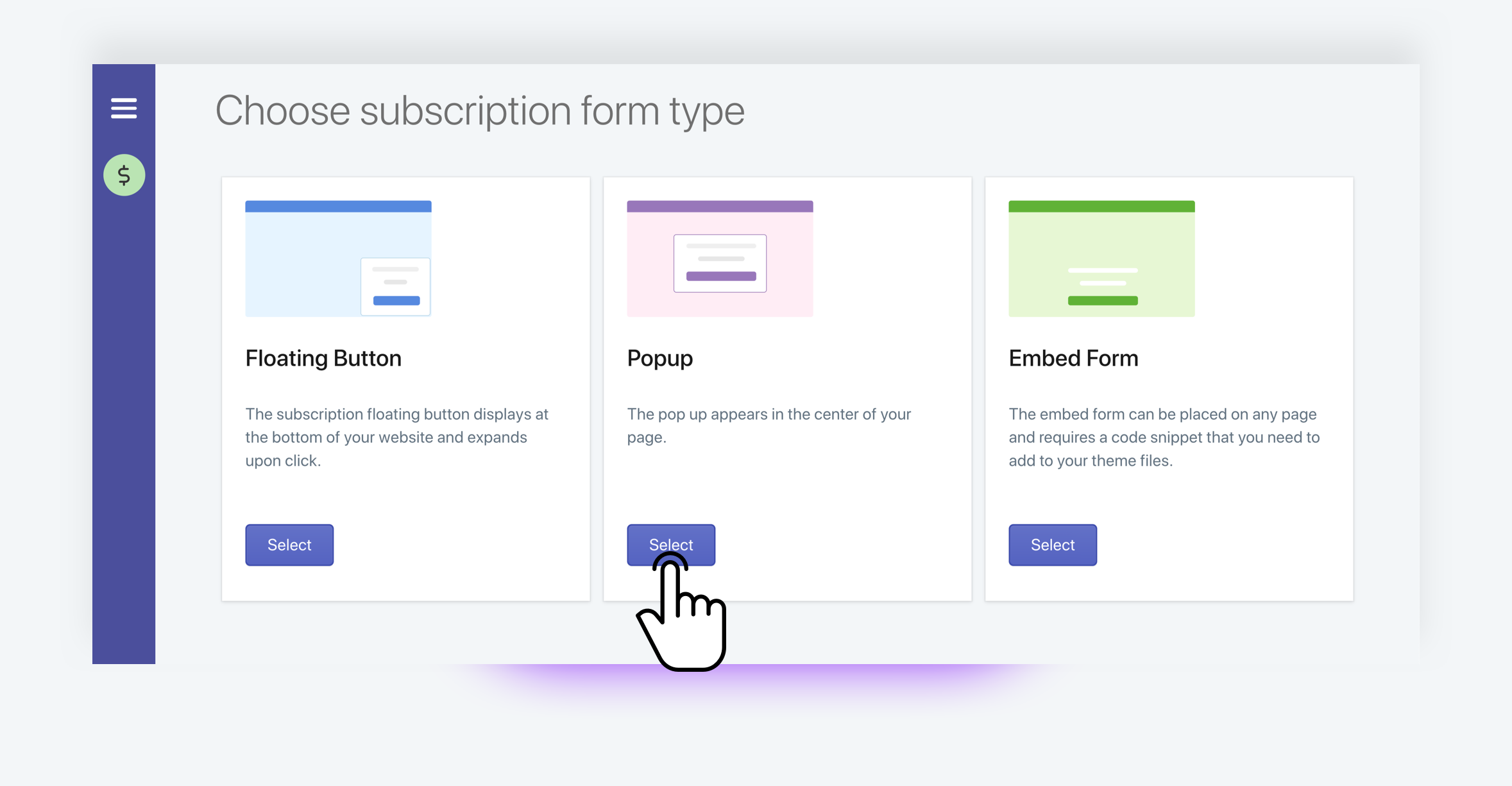 Then you enter the form editor where you can customize your new signup popup form for collecting phone numbers in different pages around your store. You can use the settings to customize your form appearance, text, the confirmation SMS, and all additional fields you want.
Most importantly, you can customize the popup behavior that is unique for this type of signup form in SMSBump. Let's show you a few examples.

Before you continue, get familiar with the form editor in this article.

1. Grow SMS Subscribers with a Signup Popup Form on All Pages
You can create a main popup that you display globally for your entire Shopify website. This is a good idea when you have large sales, site-wide discounts or important announcements that you want to make sure your customers don't miss.

To do that, go to the Behavior section and use the following settings:
Timing (optional): This setting lets you switch between displaying the popup immediately after the page is loaded or set a delay either in seconds, or in page scroll %.

Frequency (optional): You can set the popup to be displayed every time a customer enters your Shopify store, or disable it in case the customer subscribes or dismisses the form.

Targeting: This option lets you choose the page(s) you want your popup to be displayed. You can either place it on all the pages, or enable and disable it for certain URLs you can add manually.


For example, we have set the popup to show immediately after a customer enters our Shopify store, and to show it on all the pages, everytime someone visits them.

What's cool about this popup?
It inspires urgency: The "10% OFF today" message increases the chances your customers will sign up for text messages right away if they want to get their order with a sweet discount.

It gives clarity: It states exactly what the customer needs to do to get a reward they're interested in, without too much text to read or actions to complete.

It's everywhere: It will keep displaying for customers until they dismiss it or subscribe to get their discount.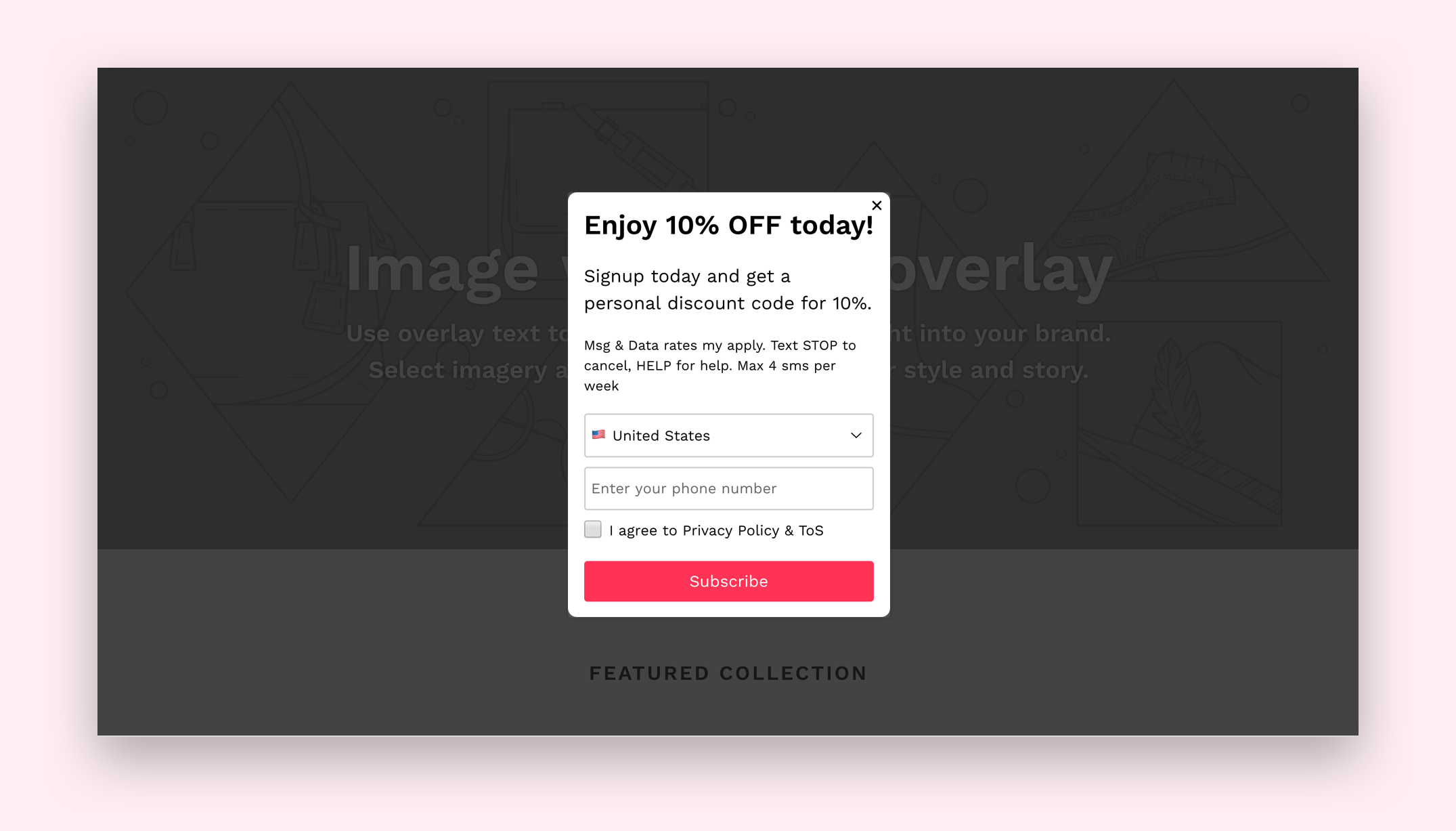 Reminder: This is an aggressive popup tactic and might turn off some customers, so take this as just an example and tweak the settings to your best judgement.

2. Collect Phone Numbers in Your Collections with Exit-Intent Popups
Create an exit-intent popup that is triggered when a customer goes for leaving your website. Pair that with a targeted popup that's specific for each category to make your offer more personalized for the interest of your customers.

To do that, your behavior settings should be set to:
Timing: Enable the Set Delay option and select the checkmark that says Show when visitor is exiting the page.

Frequency (optional): Set the frequency to your own preferences. In our example, we've set to disable the popup for the next 90 days in case a customer has already subscribed.

Targeting: Select the Show on specific URLs option and paste the link to the collection you want to display the exit-intent popup.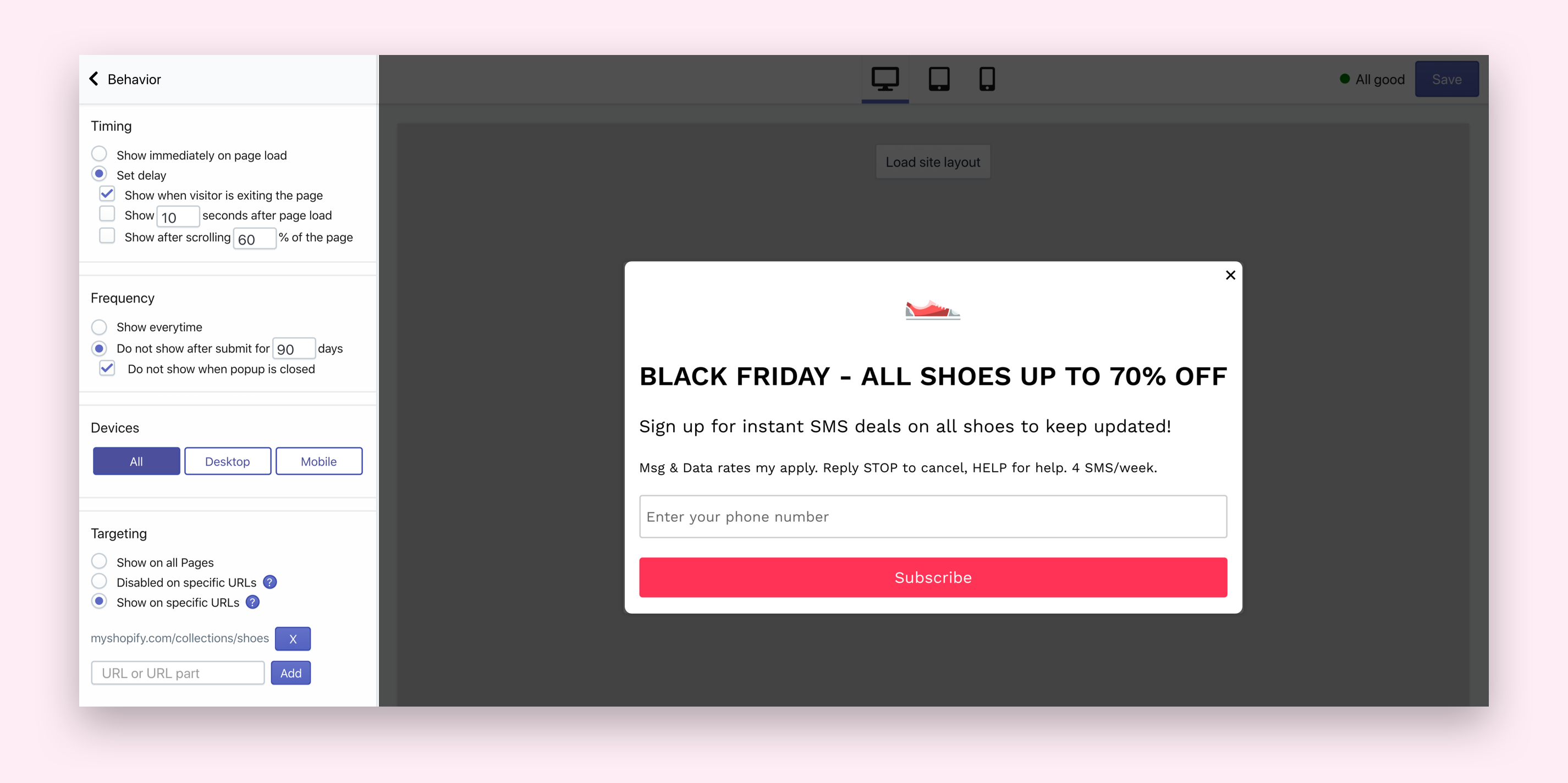 For example, we've created a Black Friday announcement popup and have enabled it to display on our Shoe collection, so the link you need to paste goes something like: https://myshopify.com/collections/shoes
What's cool about this popup?
It's relevant: The shoe icon and the clarification in the popup title makes the offer instantly recognizable for customers interested in shoe deals.

It's flashy: Displaying a big discount is always a sure way to attract attention and spark the interest needed to complete the action below.

It's actionable: The words "instant" and "keep updated" gives the offer a much more dynamic tone that gives the customer something to anticipate to take action.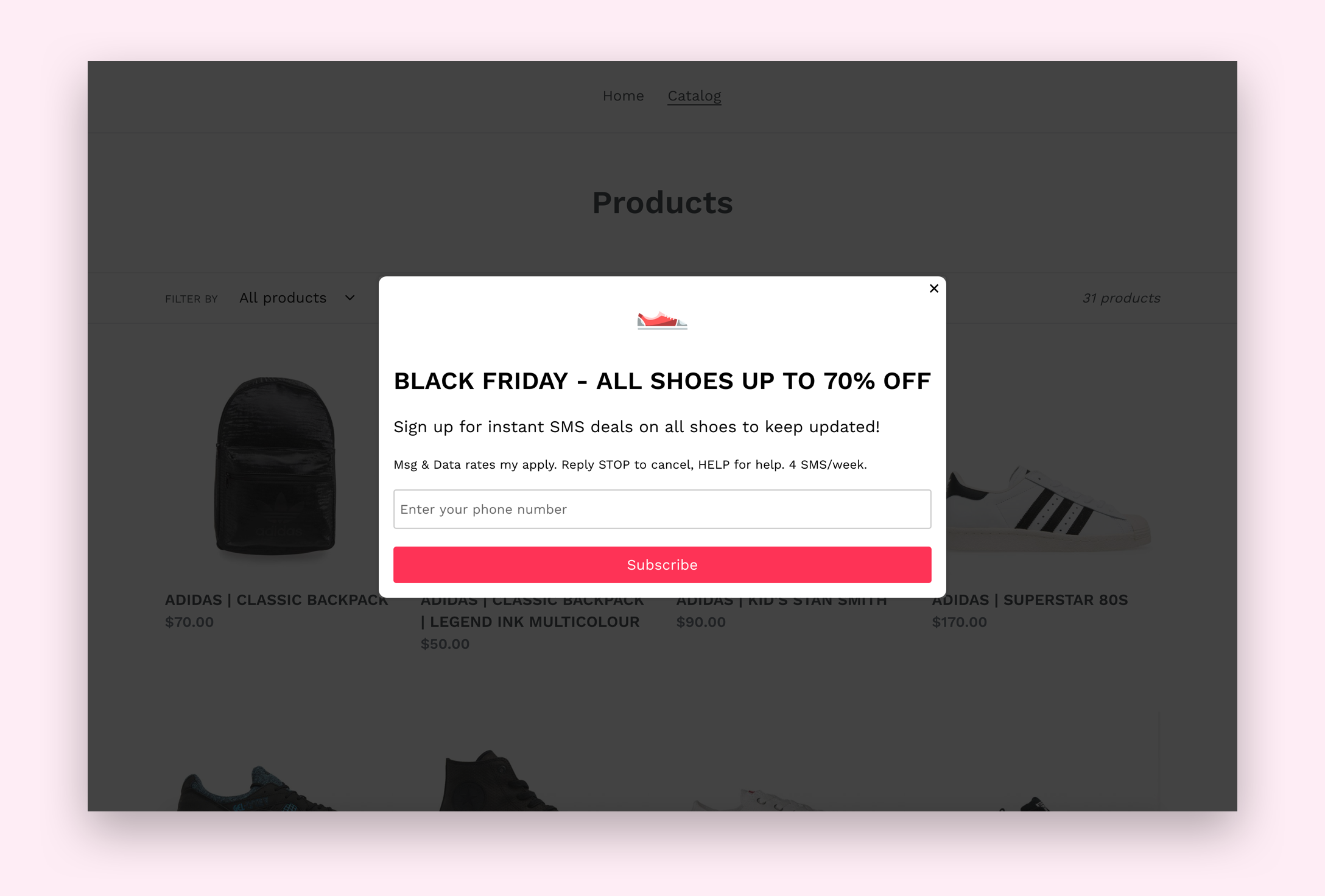 Note: Announcing time-sensitive deals in exit-intent popups is a great effort to regain your customer's interest before they leave.

3. Invite Customers with a Popup Delay on Product Pages
Promote your SMS chat and offer customers a helping hand in case they have questions. You can create a popup that invites customers to subscribe and text you back to start chatting with you. A product page is a good place for that especially when you combine it with a delay for customers who might be taking the time to think about ordering.

To create this popup, set your behaviors settings to:
Timing: Select the Set delay option and then select the checkbox to Show X seconds after page load. The seconds are up to you.

Frequency (optional): Set the frequency to your own preferences. In our example, we've set to disable the popup for the next 90 days in case a customer has already subscribed.

Targeting: Select the option to Show on specific URLs and add the links to the products you want to display this popup.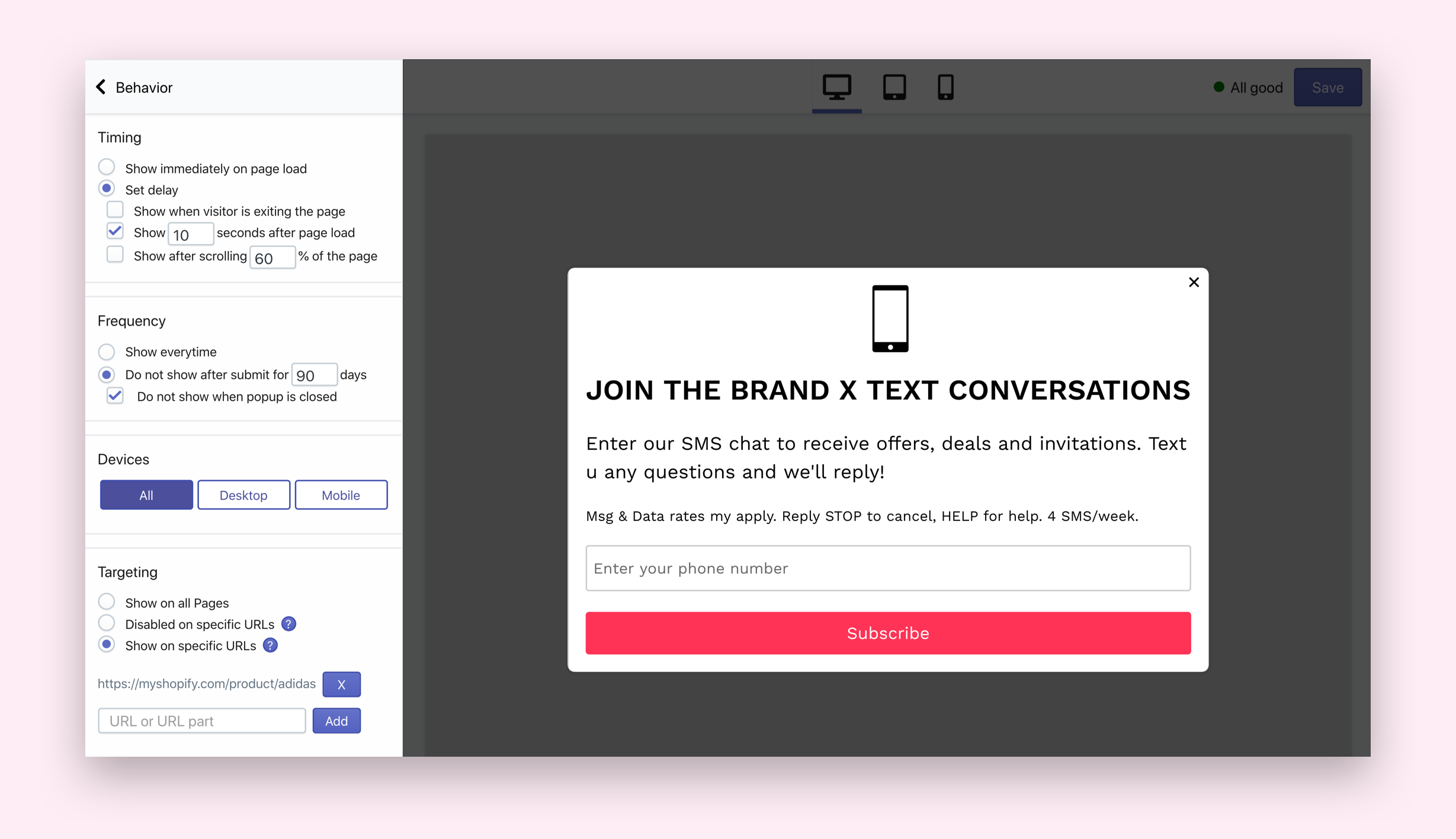 For example, we've created a popup that invites customers to join the conversation by opting in so they can send text message replies for fast customer service response.

What's cool about this popup?
It's an invitation, not a sale: "Join the conversation" is an inviting message that doesn't suggest that the store wants to get your money at all costs.

It has good timing: The popup is displayed after the customer has had the chance to view a certain product and think about it and may have questions to make a purchasing decision.

It shows you care: The message shows customers you're willing to answer any questions and that you're ready to do it fast using text messages.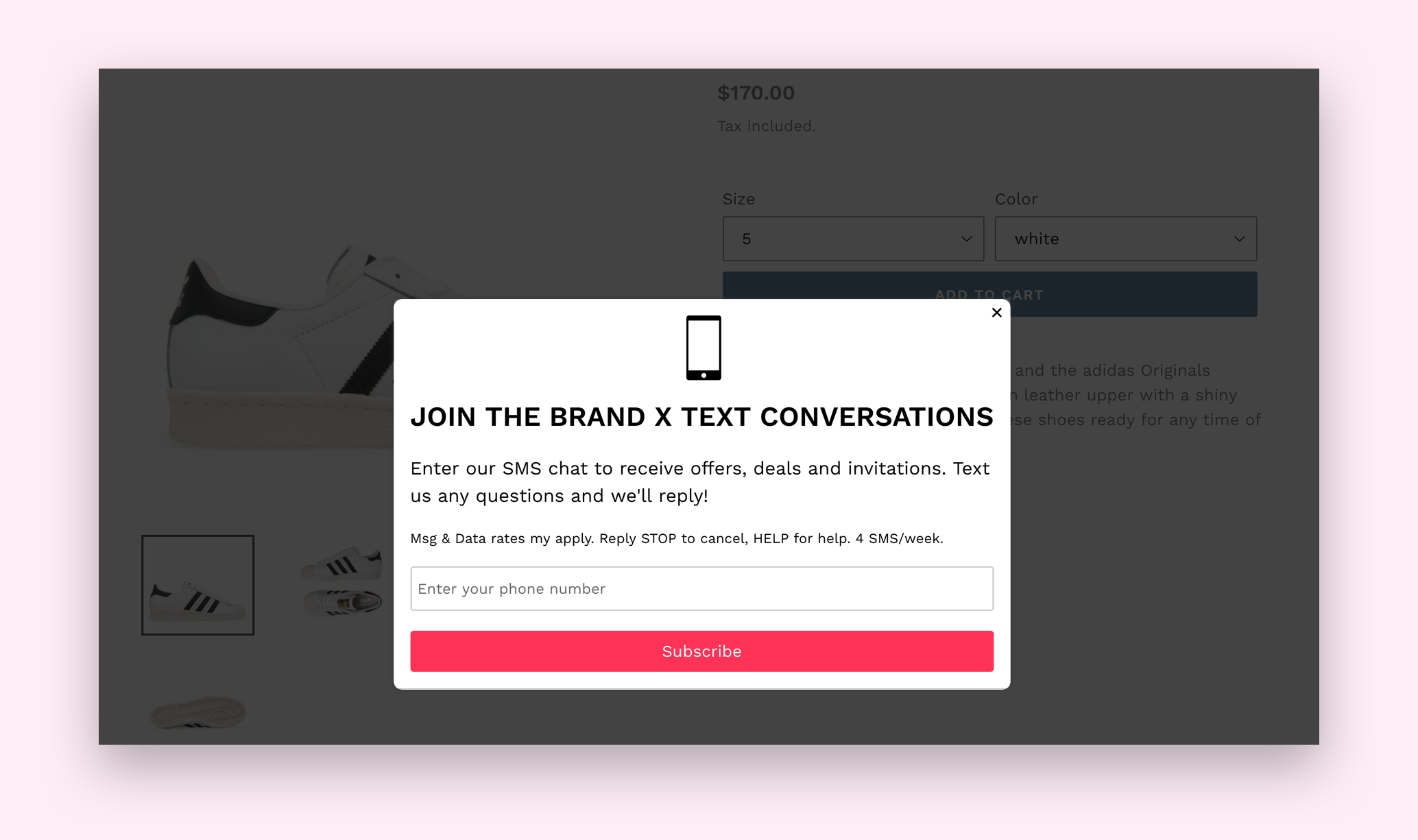 Note: You'll be surprised how well popups work when they come at just the right time with just the right message.

Preview & Save!
Always remember to preview your signup forms on all kinds of devices, especially on mobile! The SMSBump editor lets you switch between desktop, tablet and mobile to make sure everything's looking good.
​

Conclusion
SMS marketing campaigns are highly effective when you have a contact list of engaged customers. Build your text messaging audience with the SMSBump signup forms that can be customized to fit broad customer interests or very personalized behavior. Get started today!

Start growing today
Sign up today and join 90,000+ eCommerce businesses making it big with Yotpo SMSBump