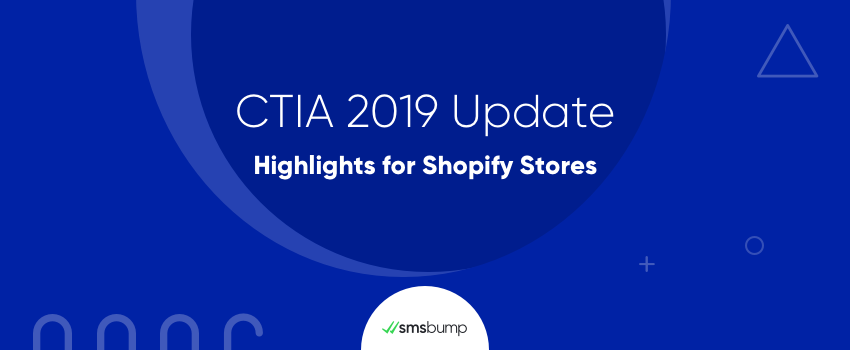 CTIA 2019 Update: Highlights for Shopify Stores Using SMS Marketing
At SMSBump we strive for Shopify merchants and their customers to have a seamless experience when exchanging text messages! A seamless experience for us includes being respectful of customers and their privacy, or to be exact - complying with TCPA, CTIA, and GDPR regulations and best practices.
In order for Shopify merchants to use SMSBump and send text messages to customers in the U.S. and Canada, they need to abide by all TCPA regulations, and know how to craft a text message that follows CTIA guidelines and respects and protects customers.

Today we are here to give you a brief overview of the new updates on CTIA' s Messaging Best Practices and Guidelines and what implications they might have on your Shopify business.
If you send text messages from an application to a mobile user (the so-called Application-to-person (A2P) messages), such as marketing texts, appointment reminders, notifications etc., continue reading to understand how these new updates may affect you.
But First... What Does CTIA Stand For?
The Cellular Telecommunications Industry Association (CTIA) represents the U.S. wireless communications industry and is comprised of representatives from major telecom companies. Together, all members of the CTIA advocate for legislative and regulatory policies that set the tone and expected behaviour throughout the industry.

The Association convenes on a regular basis to tackle the most difficult challenges and coordinate voluntary best practices and initiatives, but updates like the ones just introduced happen rarely, with the last one occurring in 2017. So let's take a more detailed look at all the new important changes.
What Changed with the 2019 Update?
In its 2019 update, the CTIA focuses completely on differentiating between A2P (application-to-person) and P2P (person-to-person) messaging traffic, limitations and additional requirements in regards to obtaining customer consent, and businesses' responsibilities on eliminating spam and unwanted messages.

Let's elaborate:

CTIA will now have a consent-based approach to marketing and promotional text messages (A2P)
With the new updates, message senders are expected to always obtain the customer's consent prior to receiving messages.

At SMSBump we have designed 3 different ways for Shopify store owners to legally gather the prior written consent.

Opting in through the checkout (Learn How)

Opting in through our subscription form or a specific page on eCom site (Learn How)

Opting in via a keyword (Learn How)

On top of mandatory prior consent, CTIA now advises businesses to always offer express written consent limited to only the campaign(s) and specific message sender for which it was intended or obtained.

The new 2019 CTIA updates place great importance on allowing customers the option to revoke consent at any point
At SMSBump this is done through the compulsory "Add STOP to opt out" option, without which the app won't send out any of your text messages.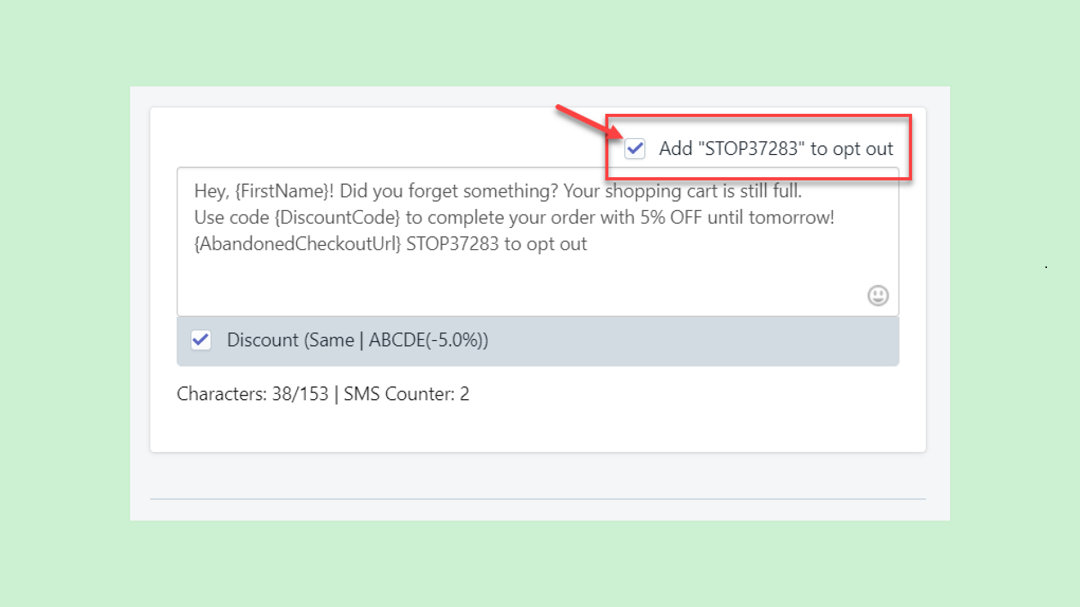 SMSBump automatically takes care of all unsubscribes (subscribers who reply to messages with STOP or STOP#####, where ##### is a digit). We have also developed a system where you can manually unsubscribe customers in case they don't wish to reply back to messages but get in touch with you via phone/email or elsewhere.

Guidelines were also expanded to include best practices around specific cases, such as:
Conversational messaging - defined as a "back-and-forth conversation that takes place via text". If the conversation is initiated by the customer, then no additional permission is required; rather - consent is implied.

Informational messaging - occurs when a customer gives their phone number to a business and asks to be contacted in the future (e.g. be sent appointment reminders, alerts, and other notifications). In this case, the customer must give express consent to receive texts, either by giving their permission over text, on a form, on a website, or verbally.

Promotional messaging is defined as a message that contains a sales or marketing promotion (e.g. a coupon code). Prior to sending promotional messages, businesses should obtain the customer's express written permission via a signed form, a checkbox on a website, or other form of written consent that can be tracked and managed.
Important: Messages from businesses that have not obtained opt-in consent may be subject to protection measures that could delay or block unwanted messages.

In the case of SMSBump users - the app will not send out any promotional or other text marketing messages to contacts that are not explicitly listed as Confirmed.
The newest updates focus on the ways you collect consent
These include, but are not limited to:

Entering a phone number through a website;

Clicking a button on a mobile webpage;

Sending a message from the customer's mobile device that contains an advertising keyword;

Initiating the text message exchange in which the Message Sender replies to the Customer only with responsive information;

Signing up at a point-of-sale (POS) or other Message Sender on-site location;

Opt-in over the phone using interactive voice response (IVR) technology.

Short codes and toll-free numbers - now appropriate
With the 2019 updates the CTIA officially acknowledged short codes and toll-free numbers as appropriate for A2P messaging traffic.

Snowshoe messaging and local number pooling - deemed inappropriate
In addition to defining "appropriate" A2P messaging routes, the 2019 update also clarifies which routes are not appropriate for A2P messaging. These include snowshoe messaging (a technique used to spread messages across many sending phone numbers or short codes) or reusing local numbers to create volumes of messaging traffic that exceed typical customer operation.

New Definition of P2P Messaging
The 2019 CTIA updates also offer clarifications on P2P messaging. Now, for a case to be regarded as P2P it needs to meet the following parameters:

Throughput of no more than 15-60 messages per minute;

Volume of no greater than 1,000 messages a day;

Unique Sender with only one phone number assigned to or utilised by a single customer;

Unique Recipients with no more than 100 distinct recipients/telephone numbers per message;

Balance of an approx 1:1 ratio of outgoing messages to incoming messages per phone number;

Repetition of 25 or more essentially repetitive messages is a new condition that would consider messages as A2P and not P2P.

How Does the CTIA 2019 Update Affect You?
In other words, the updates will affect all businesses, non-profits, political campaigns and other organisations in terms of their ability to send large quantities of text messages to customers using platforms that traditionally are used by family and friends to communicate with each other.

The CTIA Principles and Best Practices and all follow-up updates represent an important further step in the wireless industry's effort to support new uses and business opportunities in wireless messaging services while protecting customers from unwanted messages.

This post is purely informational for SMSBump users, to make sure you comply with all text marketing regulations of your community, please consult with a lawyer..

For more detailed information on the new CTIA updates, refer to Messaging Best Practices and Guidelines.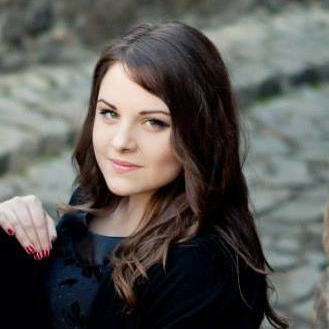 Start growing today
Sign up today and join 90,000+ eCommerce businesses making it big with Yotpo SMSBump