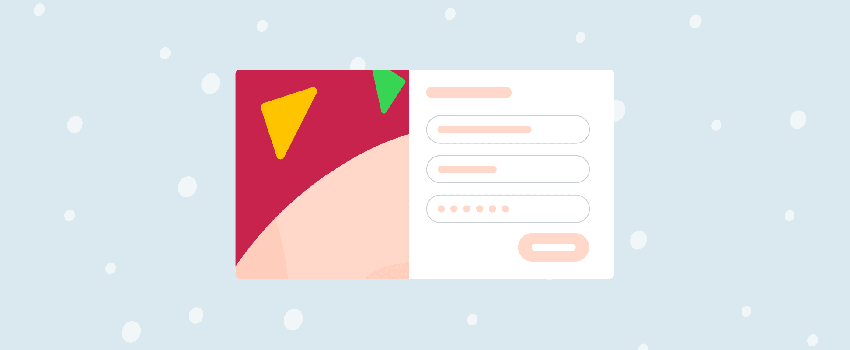 Bring the Christmas Spirit to Your Pop-Ups
The moment you start hearing jingles in your head is when you know it's time to put up your Christmas decorations. You start off with the lights on the roof, then the reindeer in the garden... But by the time you hang the holly wreath on the door, your house looks like a winter fairy tale and your whole Sunday is gone.
Luckily, getting the Christmas cheer to your store is much quicker and will leave no reminders of hammering nails in the wrong spots.

While redesigning your Shopify store theme might be a bit of a hassle, you can start off with the smaller things like adding a little cheer to your SMS campaigns, spreading joy on social media, or lifting the mood with festive pop-ups.
Making your sign-up forms glow has never been easier.
With our Christmas templates you are set to shine brighter than the competition.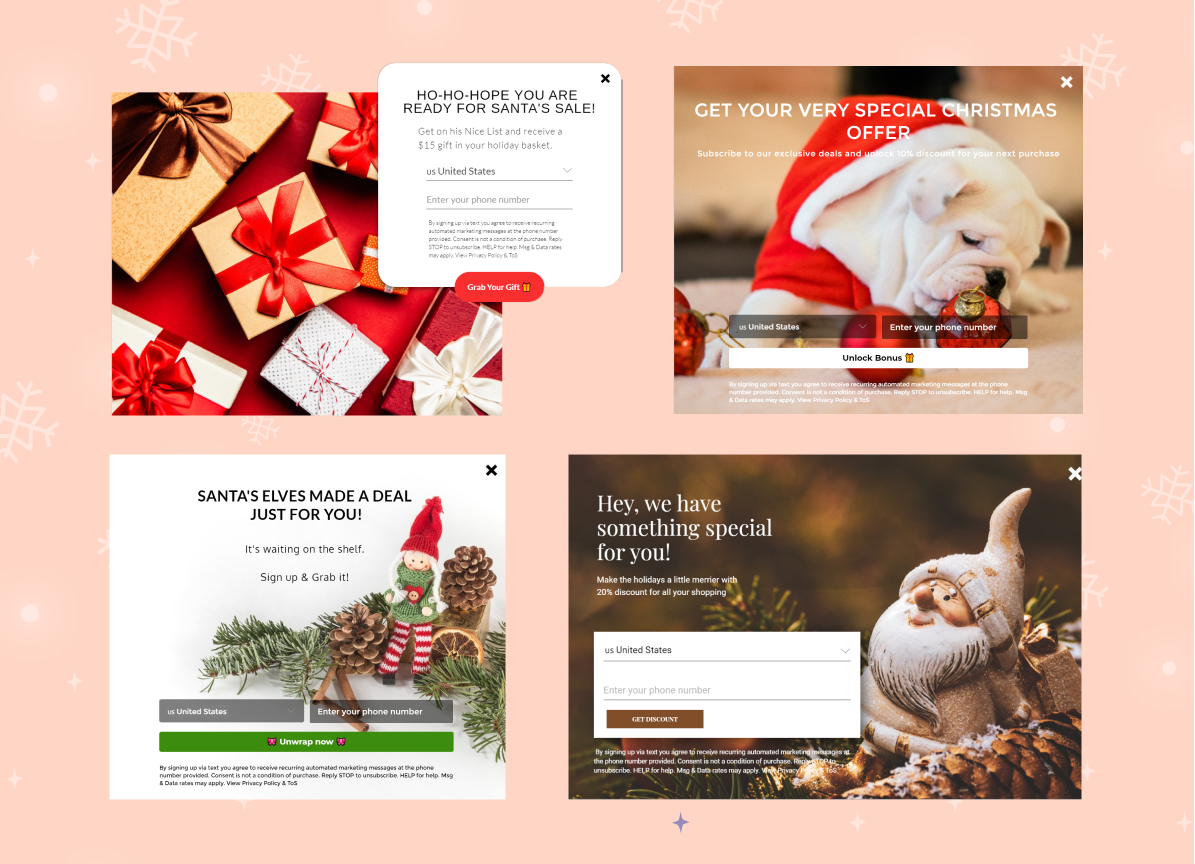 ​
Go to our Collect Subscribers menu and get inspired from all our Christmas-themed pop-ups available in the gallery. Use the Editor to change the text and visuals, so they fit the design of your store. You can fully customize the fields within the pop-up and easily add the required compliance text below.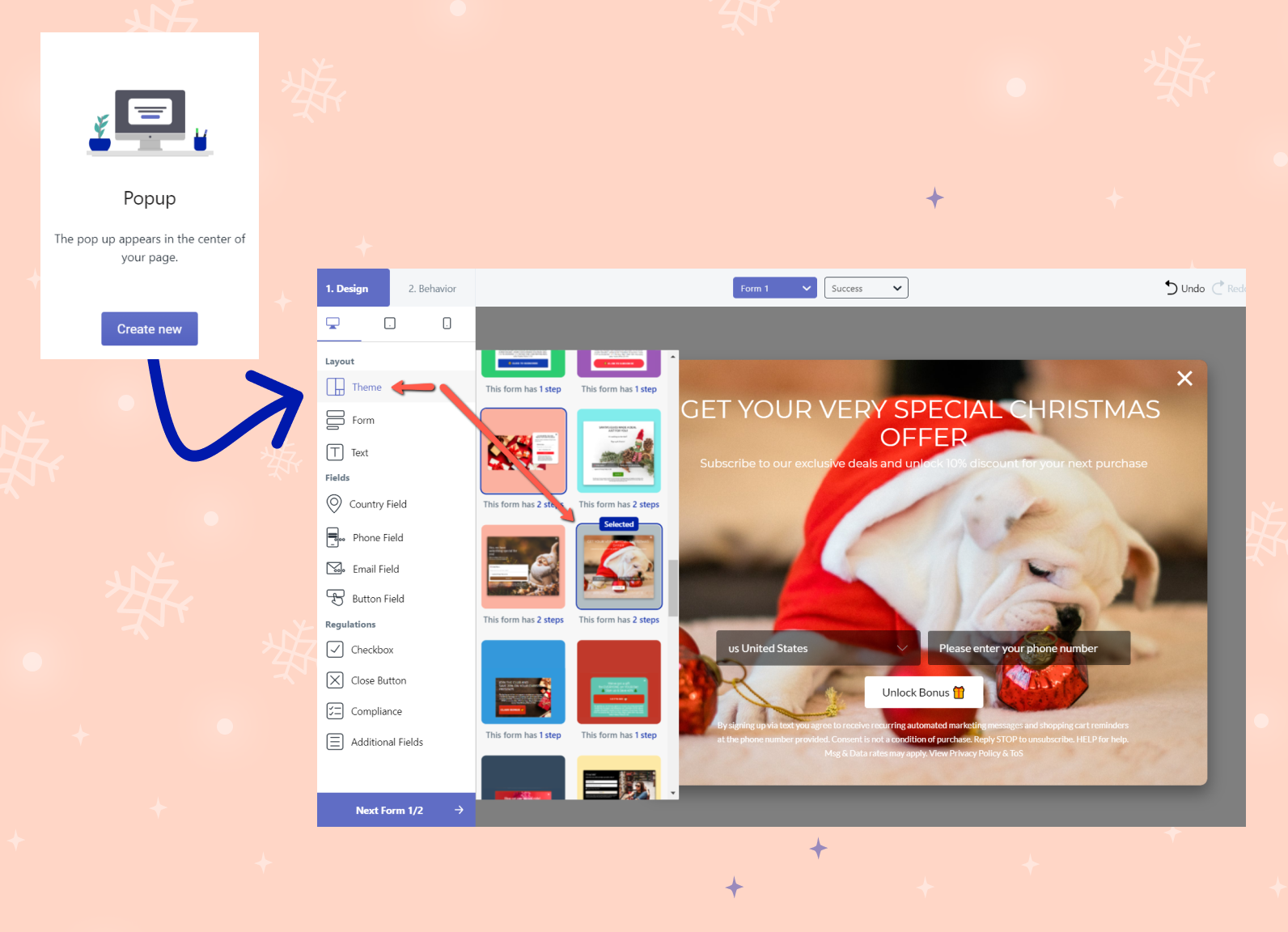 And in case you want to create a Christmas pop-up of your own - we've prepared a little cheat-sheet to help you with that, too.
4 Tips to Create High-Converting Pop-ups
Tip #1: Be mindful of where you place them
There is a simple rule about pop-ups: they should never hinder a sale. When the customer is on their way to make a purchase, there is no need to offer them a discount or another perk. A pop-up in this case will only deter them from making a purchase.
If you wonder where to place your pop-ups, start with your home page, blog and "About Us" section.
From the Behavior menu in the editor you can set the Timing and Frequency of your pop-up. For best results set it to appear approximately 15 seconds after page load, or after the visitor has scrolled 60% of the page. The Advanced Conditions menu will help you select the exact pages you want your pop-up to appear on, and some other, more specific settings.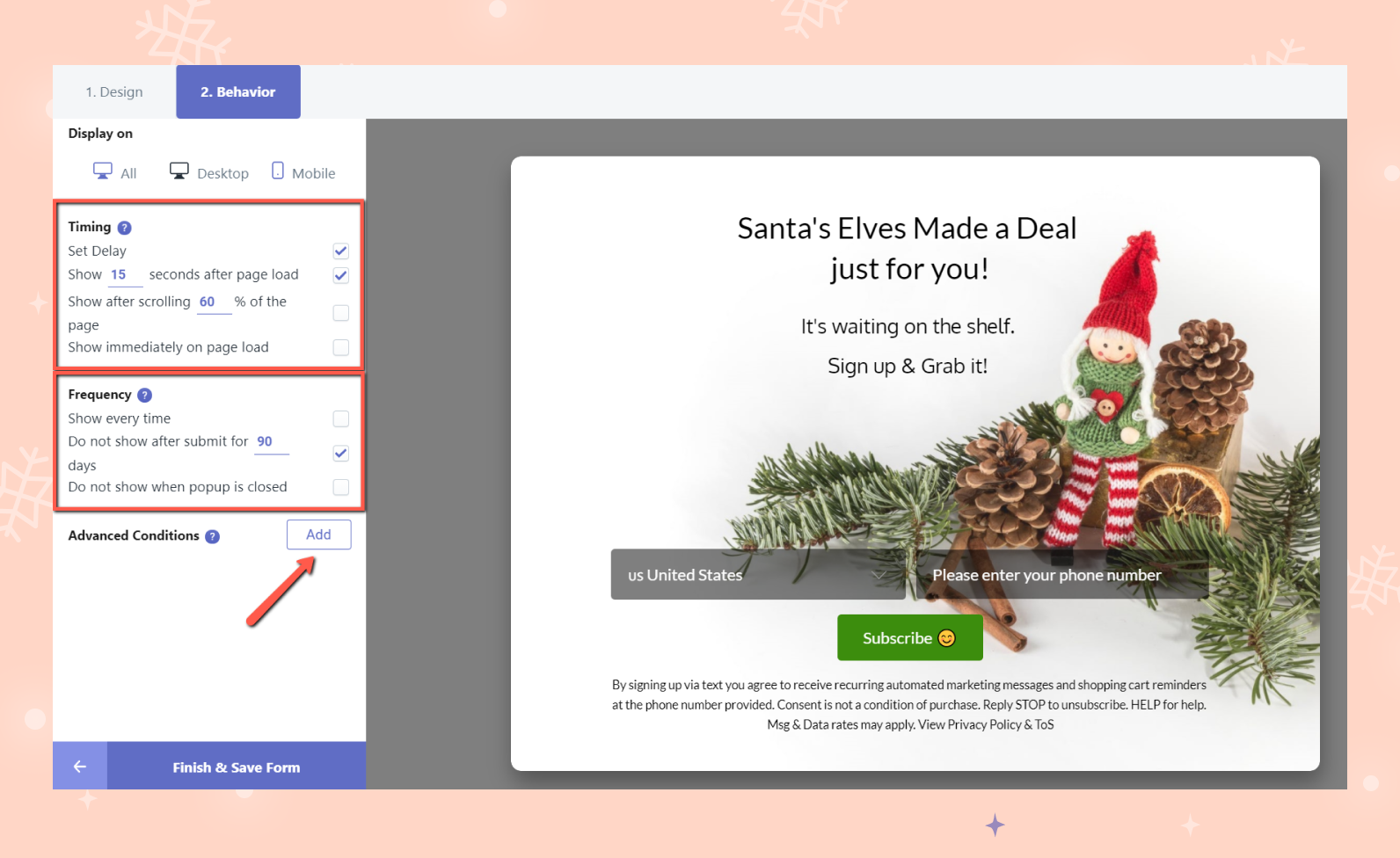 An example of a high-converting pop-up is the so called exit pop-up, especially when placed on the main or product page. Oftentimes, when customers leave a site, it is because of the price or the additional charges involved. Win visitors back with free shipping or a small discount.
Another effective way to use pop-ups is when you have a big product collection. You can prompt visitors to subscribe to your deals and exclusive offers after they've spent some time going through your collections page. Clearly, they are interested in what you have to offer if they keep scrolling, right?
Tip #2: Make it visual
Grab your customer's attention with a powerful image. In general, the purpose of a visual aid is twofold - to create emotional attachment or to provide additional information.
Images that evoke emotions are babies, pets, or special family moments. And in our case: Christmas-themed. To increase the effectiveness of the pop-up, depict the people looking at your copy or CTA button. This way you increase the chance of your copy being read. Those work best when you sell exclusive or luxurious items such as jewelry, watches or perfumes.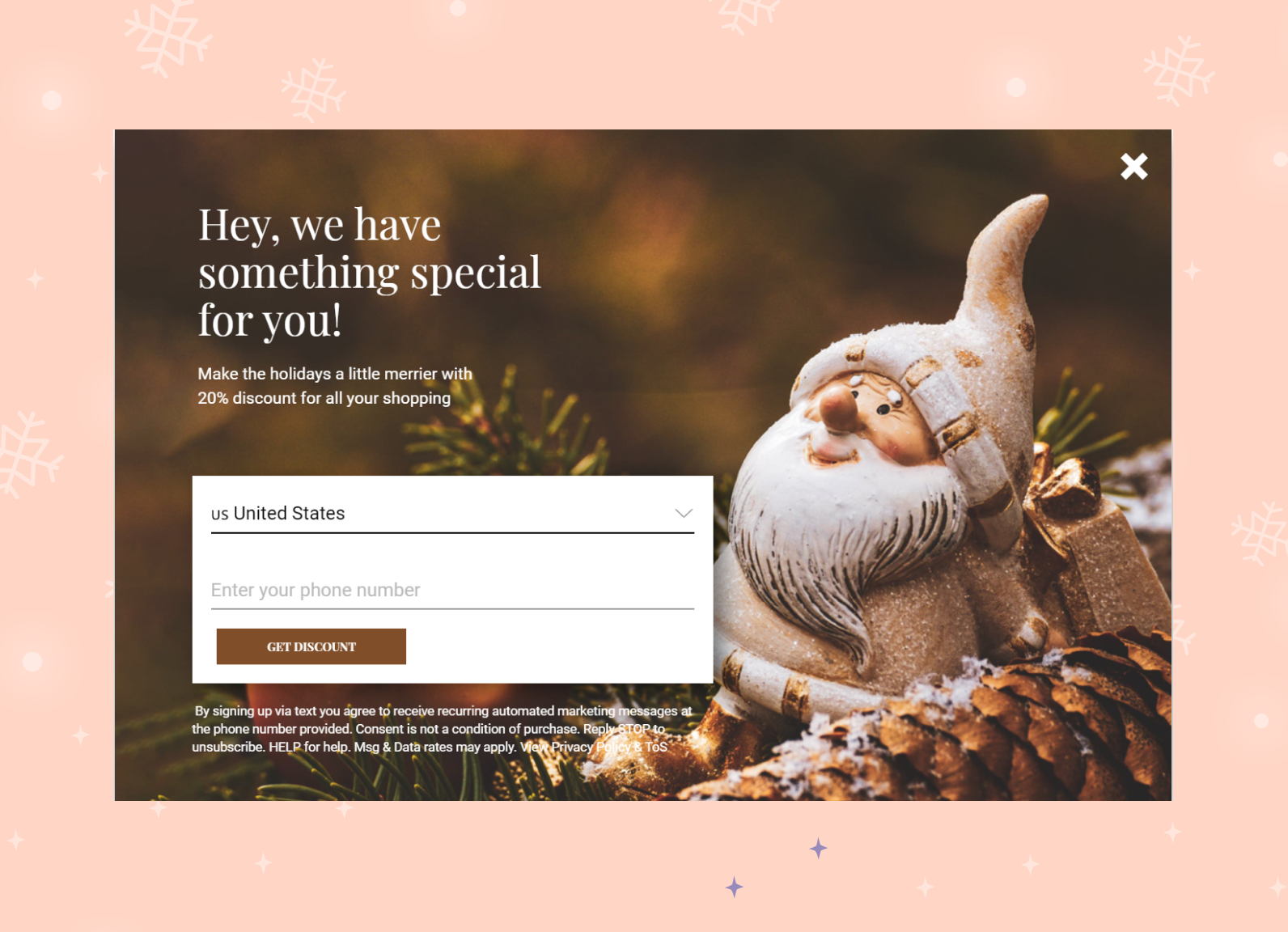 On the other hand, an image can also have a more informative purpose - such as giving more context to the offer or revealing details about the product. Such type of visuals are proven to work best on everyday items such as apparel, shoes, cosmetics.
Tip #3: Convey a clear message
Think of your pop-up as a two-way transaction. You are asking your customers to give you their email or phone number, so you should offer them something in return.
Be clear about the deal that you are offering. Is it a discount or free shipping? Are you giving them a free product? Always make it clear how they can claim it too.
A simple trick that will drive even more subscriptions is to visually make your offer bigger. And we don't mean just the size!
If your store's average order value is above $100, use a discount with a flat value (e.g. $30), but if the products you sell are under $100, a discount in the form of a percentage would be more appealing.
Tip 4: Mobile-first
With the rise of mCommerce more and more of your visitors will be browsing through your website from their smartphones. So make sure your pop-ups are mobile-friendly this holiday season. Always check how the visuals and the text are displayed on phones and tablets.
You can even go a step further. Use our mobile-only pop-up templates which allow customers in the US and Canada to subscribe to your offers with just a tap on the form. The lack of fields to fill out will definitely increase the number of new subscribers.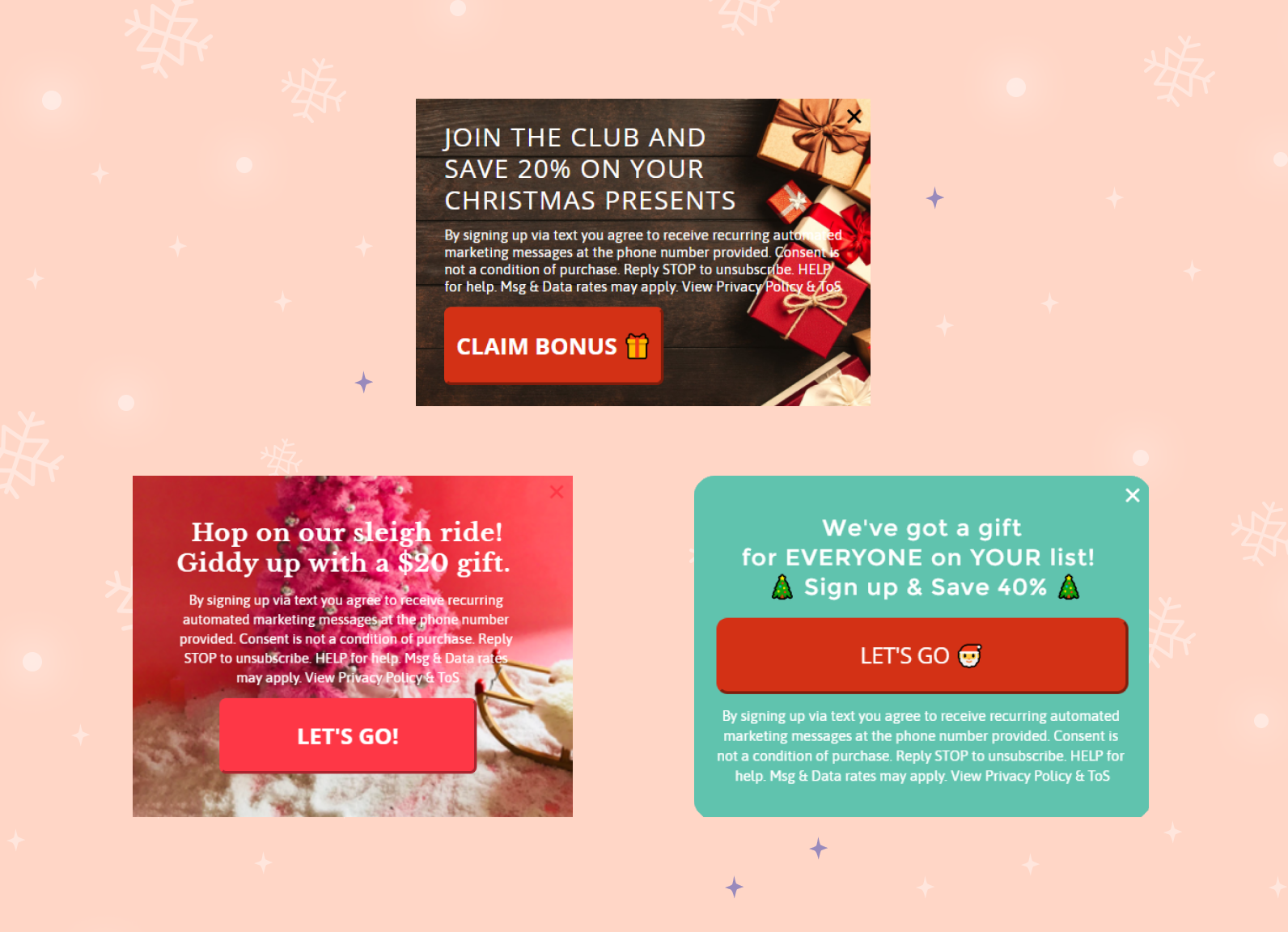 Now that you've learned some expert tips and tricks on how to create the perfect pop-up for your Christmas campaign, it is time to go to our advanced Pop-up builder and get creative!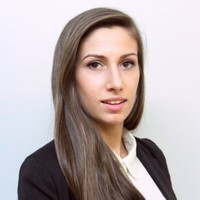 Elena Kostova
Product Marketing Manager at SMSBump during the week, traveler and adventurer on weekends. Interested in tech, startups, social media trends and finding happiness.
Start growing today
Sign up today and join 90 000+ eCommerce businesses making it big with SMSBump