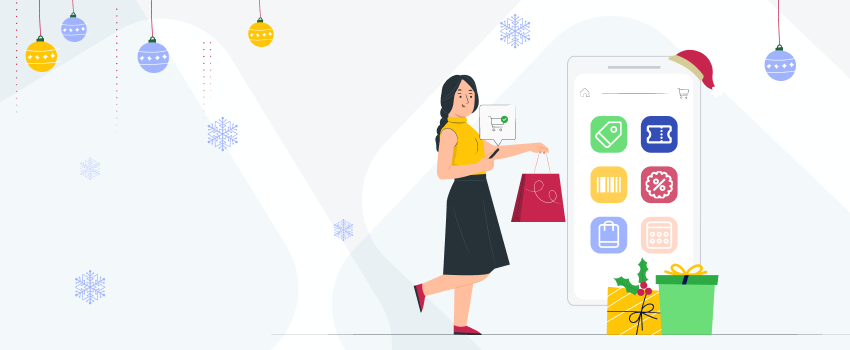 Drive Record-breaking Sales With These 5 Engaging Holiday Offers
When days get shorter and you start longing for hot cocoa drinks under a cozy blanket near a fireplace it can only mean one thing - Christmas is coming. And it's time to start planning your holiday campaigns.
You know the saying - it's peak season for a reason. Many eCommerce brands see a huge revenue spike around this time of the year as people all over the globe are waiting for the sales to pop and start their gift shopping spree. In 2021 NRF expects online purchases to increase by 15% and reach a whopping $226.2 billion. Shoppers will spend an average of $997.73 on presents for their friends and families, other holiday items, and non-gift purchases.
Want a slice of that juicy Christmas pie? Start crafting your holidays game plan now and gear up for the record spending ahead. Offering discounts at this time of year should be your go-to strategy as you want to have a competitive edge but also show your customers some extra care. Before we continue with a detailed breakdown of some powerful Christmas deals, let's dive deeper and see what makes for a good offer.
Key Ingredients of a Good Offer
1. Give good value
Everyone wants good value for their money. People are more inclined to buy something if its price is reduced, so the first task on your Christmas checklist is to come up with a good ol' discount. But be careful as you don't want lower prices to steal away your profit margin.
The percentage-based discount, "Grab 10% off your next purchase", is among the most commonly used types of deals. The size depends on whether you would like to boost engagement (5 - 20%), drive more sales (25 - 45%), or clear shelves of slow-moving items (50+%). Another popular type is the dollar-value discount - "Enjoy $10 off your next purchase". It has a powerful psychological impact as it makes customers feel they'd be wasting money if they don't use it.
Pro tip: When choosing between the two, stick to the famous "Rule of 100" introduced by Jonah Burger, US marketing professor: if a product costs less than $100, you should use a percentage discount. Think about it, what's more appealing - a $20 shirt with 25% or $5 off? And if it costs more than $100, choose the total-value discount: i.e., for a $1,000 smartphone, set a discount of $200 instead of 20%.
Free shipping is the #1 reason for cart abandonment making it one of the best incentives to win them back and complete their purchase. Combine it with a minimum order requirement to boost your store's Average Order Value (AOV). Similarly, a gift with every purchase above a certain threshold would also help you clear inventory.
2. Make it appealing
If you want your Christmas offers to drive sky-high ROI, you need to invest some time and effort into making them as eye-grabbing as possible. But who would click on your website if the design is unappealing? Who would even find your discount offers if your store's sections are messy?
Start off by making sure you provide a seamless shopping experience to your website visitors. Neatly organize menus and items and add advanced product filters to help shoppers find what they are searching for. Always make sure your store is mobile-friendly, as a significant part of your customers will be making their holiday purchases on a mobile device.
Get customers in a festive shopping mood with a Christmas takeover. Anyone who visits your store at this time of the year should immediately know you've got a holiday promotion going on. Think of your home page as a department store window display - it needs to grab attention. Include Christmas-themed elements in the design and use visual tricks to highlight the sections with your best offers. After all, this is where you want to drive the most clicks.

Next, add a cheerful pop-up with top Christmas deals to your home page. Set it up to load a little after your store visitors enter your site or after they've scrolled over a certain % of the page. You can also give floating buttons or push notifications a go this holiday season. Remember, there are a lot of options to make your store more playful, but be careful, because unlike Christmas gifts - the more is not necessarily the merrier in this case.
And last, but not least, your messaging. A good copy will make every sales campaign super engaging and boost conversion rates through the roof. With SMS - less is more, as some of its main benefits are simplicity and brevity. Make your offer as clear as possible, add a call-to-action, and don't forget to always include your store's name. If possible, include product images - MMS has proven to be more effective in most cases. Puns are always welcome. Phrases such as "for a limited time only" or "while stocks last" spark FOMO, and make your discounts stand out.
3. Be of use
There is no better product or service than the problem-solving one. You've probably heard this before: "Sell the solution, not the product". It's the oldest trick in the marketing book: become of use, and sales will follow.
So why not apply this concept to your Christmas offers?
The different types of shoppers have different kinds of needs. Early birds would greatly appreciate your start-of-season sales, while procrastinators would praise you for extended sales periods or offering curbside pickup. Indecisive shoppers will enjoy going through carefully curated Christmas shopping guides with gift ideas and products, stacked per age, gender or price. Cater to your customers' needs and preferences, and your store will quickly become their #1 go-to place for Christmas shopping.
And, once your offering is on point, make those selling points a vital part of your overall marketing messaging.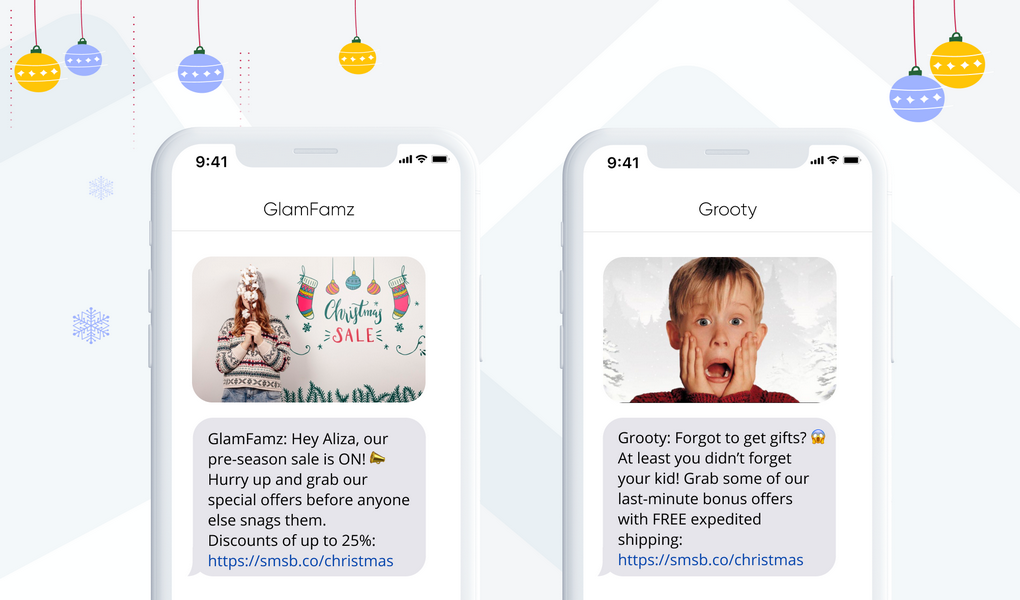 Pro tip: Pack your Christmas offers in branded gift boxes. Customers will be incentivized to do their holiday shopping in your store if it means they will be relieved from going through the packaging hell. As a bonus, offer a free greeting card with every purchase, plus the option to include a personal message and assure them all price tags will be hidden. All crucial ingredients of the perfect holiday gift.
Now that you've learned the 3 key ingredients of every good deal, let's go through 5 proven ideas for festive offers to set your online store up for success this Christmas!
Christmas Offer #1: Entice Shoppers with a Holiday Gift Guide
Gift guides are one of the most powerful weapons in the marketing arsenal of online merchants around big holidays. It is a great way to showcase your products and, at the same time, introduce shoppers to your hottest deals.
Gift guides help your website visitors make better choices, improve customer lifetime value, attract both early-season and last-minute shoppers, boost visibility, brand awareness, and even SEO. In industries such as fashion, beauty, health, or food & beverages, product guides are simply a necessity.
A beautifully styled Christmas gift guide will do wonders with your sales this holiday season. It's also important to divide your products into useful categories, e.g., Gifts for Him/Her, Gifts for Parents/Kids, Luxury Gifts, Gifts under $30, Gifts for Foodies, etc.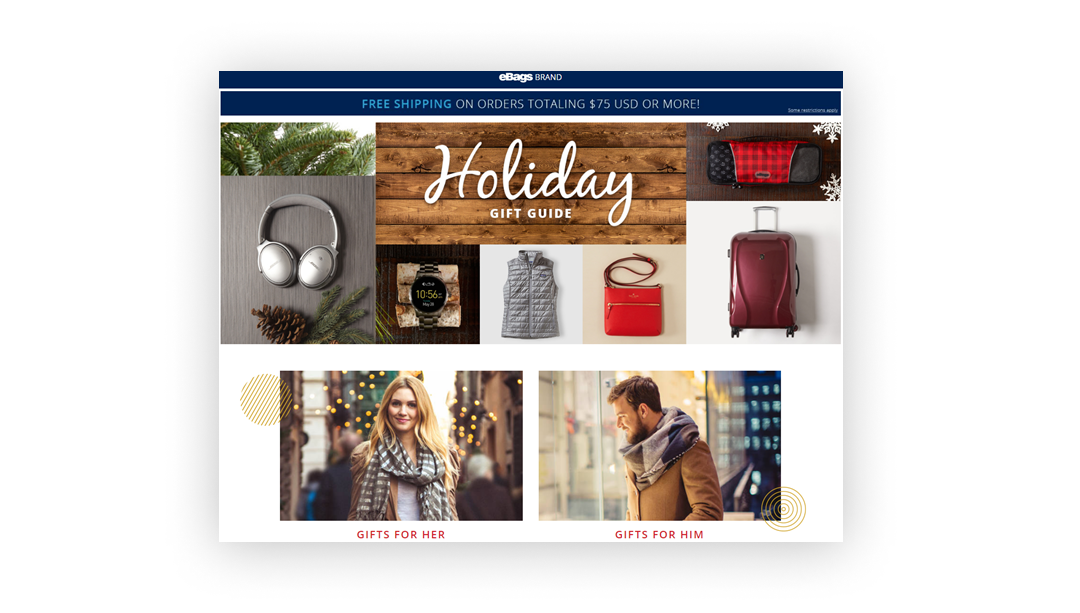 Christmas Offer #2: Spread Cheer with a Festive Christmas Bundle
Want to build up on the Holiday gift guide? Consider combining a few products and selling them as festive Christmas bundles.
Bundles are perceived as the ultimate bargain deal and make shoppers feel they are getting tremendous value for their money. It is a bullet-proof strategy for merchants who want to boost sales and increase average order value.
For best results combine best-selling items with complimentary items under a common theme or with slow-movers to clear out stock. Maximize the psychological effect by adding discounted products. Another great option is to mix popular products with brand new items that you want to introduce your customers to. It will surely build hype around your Christmas bundle, especially if these new products are a limited edition or will be available for regular purchase on your website only after a few weeks.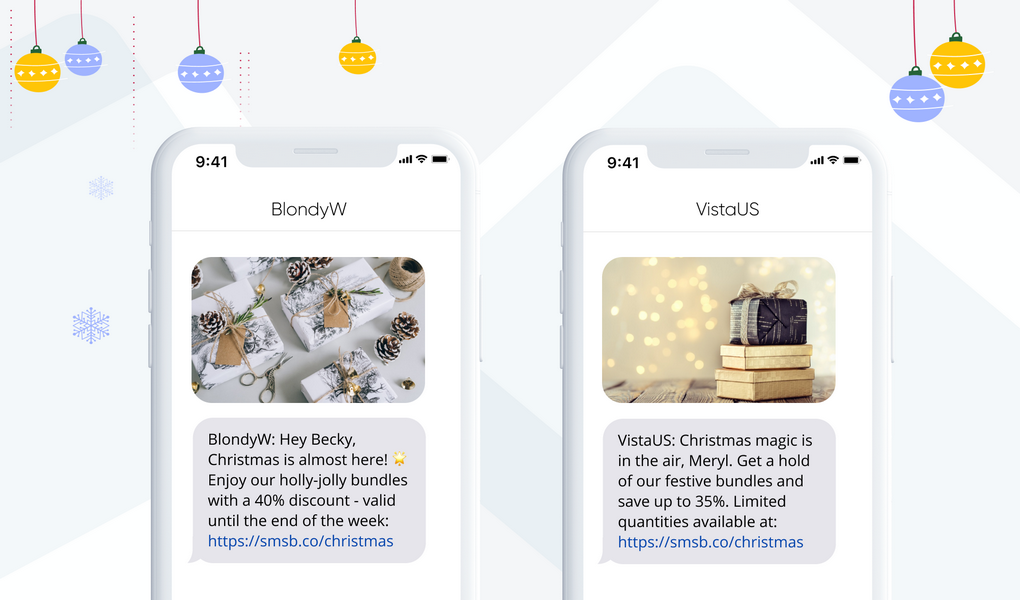 Christmas Offer #3: Spark FOMO with Mystery Offers
Do you know what would make a bundle deal (or any type of deal, really) truly exciting? If you don't know what's in it! Yes, you got that right. Meet one of the most creative holiday deals - the mystery offers. Not sure what that is? The all-time favorite advent calendars are a great example.
Mystery sales help you build up a massive hype among your audience by keeping its contents a secret. The easiest way is to just post a blurry image of your offer and make customers guess what that might be.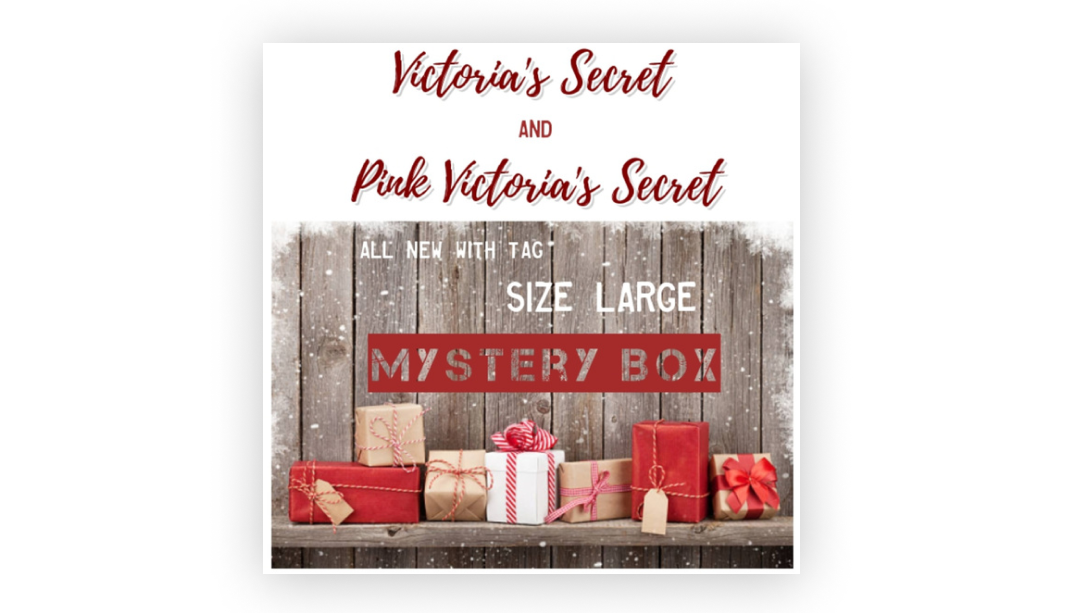 To spice things up and sky-rocket shoppers' FOMO, you can also start dropping off hints like how many products are you offering, what type, are they existing or brand new items, etc.
Mystery offers have proven to match well with subscription box services, which have been one of the biggest trends since the start of the pandemic. Customers all over the world got hooked on receiving a monthly box of goodies - anything from cosmetics, books, all the way to hot sauce selections, coffee blends, and even… bacon.
What's in store for you? Those types of offers not only create engaging customer experiences but also help boost loyalty, raise brand awareness and drive regular cash flows to your online store.
Christmas Offer #4: Give the Gift of Self-gifting
Have you heard of the Treat-Yourself movement? Wonder who those people are? It was you a few years ago, it was me in 2020. And this is how it goes: you wake up in the morning on December 26th realizing that Santa didn't get you what you wanted this year. But you kind of knew that would happen, didn't you? This is why you ordered this cute purse and 2 new make-up sets almost a month ago, hoping they would make for a perfect under-the-Christmas gift for… yourself.
The same goes for all your customers. Actually, a recent survey showed that a whopping 52% of shoppers plan to buy a present for themselves during the holiday season. And it's only natural - after they've spent the last few weeks on the hunt for the perfect gift ideas for families and friends, it's now time to focus on themselves.
So let's make self-care and me-time a priority and add this kind of messaging to your marketing campaigns this holiday season. Consider launching an "It's not what I wanted, Santa" flash sale right after Christmas with heavy discounts or BOGO deals. Drive additional sales, move stagnant products and make your customers feel appreciated and taken care of. With half of your customers looking to buy something for themselves, make sure your message copy emphasizes self-gifting.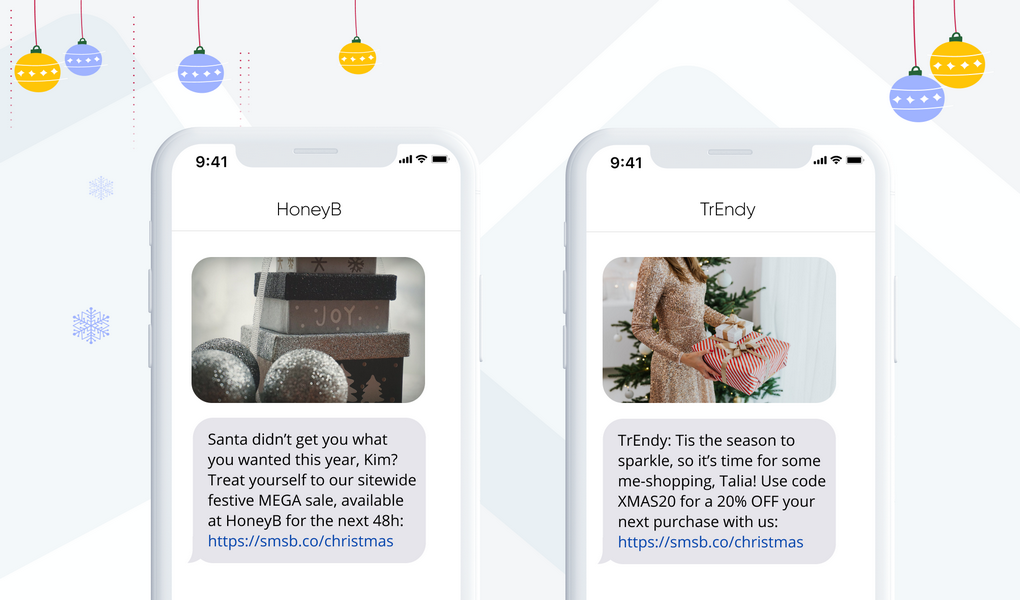 Christmas Offer #5: Show Appreciation with Special Loyalty Deals
If Santa did a survey and asked 1000 merchants what's on top of their wishlist this year, most of the answers would surely gravitate towards higher revenue, ROI, etc. But if there is one thing we wish for your brand this Christmas, it would be to have many loyal customers.
Loyalty is a widely popular concept in marketing, yet it often remains elusive for many businesses. As Chip Bell once put it: "Loyal customers don't just come back, they don't simply recommend you, they insist that their friends do business with you." They become your brand advocates. And the best part is SMS marketing and loyalty programs are like Santa and the elves - they work really well together!
This Christmas plan exclusive loyalty deals for your most engaged customers - the ones that spend the most on your products and those who show up each time your brand has a special offering. A timely and carefully curated SMS campaign will help you show VIP shoppers some extra care, boost CLTV, and will do wonders with your sales this holiday season. Consider offering a sneak peek at your latest collection, early access to your hottest deals, a free gift with the next purchase, or a VIP gift voucher.
Make it a December to Remember
This was our complete guide to crafting engaging Christmas offers - proven to drive revenue and maximize sales for the upcoming holiday season. Try'em out and tell us how it went!
Looking for some more inspiration? Check out our holly-jolly December Calendar with 30+ actionable text marketing templates to turn your SMS subscribers into happy customers.
Mariya Arabadzhieva Todorova
Start growing today
Sign up today and join 90,000+ eCommerce businesses making it big with Yotpo SMSBump