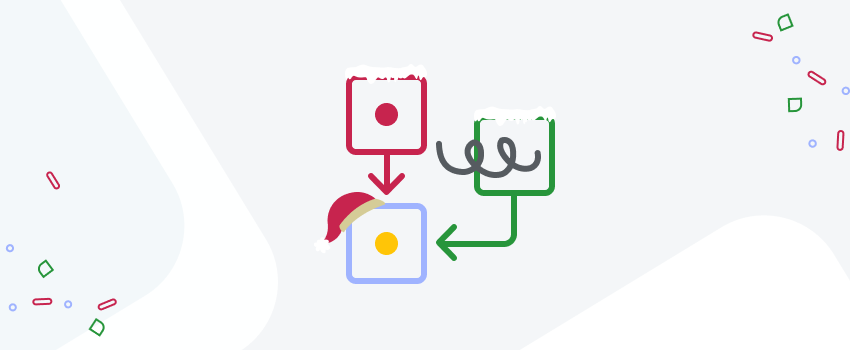 Automate SMS Campaigns with Christmas-Themed Flows
Even if you've aced your homework and prepared for the holiday season in advance, it's easy for things to fall through the cracks. There's always something left to do. Between checking inventory levels and fixing deliverability issues, you also need to put your marketing campaigns in order.
Don't dread this, though! We have a solution for you that will let you sit back on the couch this Christmas and sip hot cocoa (or something stronger, we don't judge) while your eCommerce business is paying for the presents by itself.
Just as Santa needs his little helpers, any successful holiday strategy relies heavily on automations. Leverage our powerful SMS Flows to send cheerful welcome messages and quickly turn store visitors into loyal customers. Learn four clever ways to reward even the naughtiest shoppers and make them come back to your store this Christmas.

1. Customer Winback Flow
What better time to rekindle an old love than right before the holidays? We are talking about your inactive customers, though, no other funny business here! ;)

Enable a Christmas-themed Winback flow and target all customers who haven't placed a purchase in your store in the last 20 days or more. Entice shoppers with holly-jolly offers that will ring their bells and get them to start singing! And spending.
Remember, not all customers are the same. Split your subscribers based on the number of orders and the total amount spent to distinguish your loyal and high-value customers from occasional shoppers. This will help you tailor both your messaging and the size and type of discount.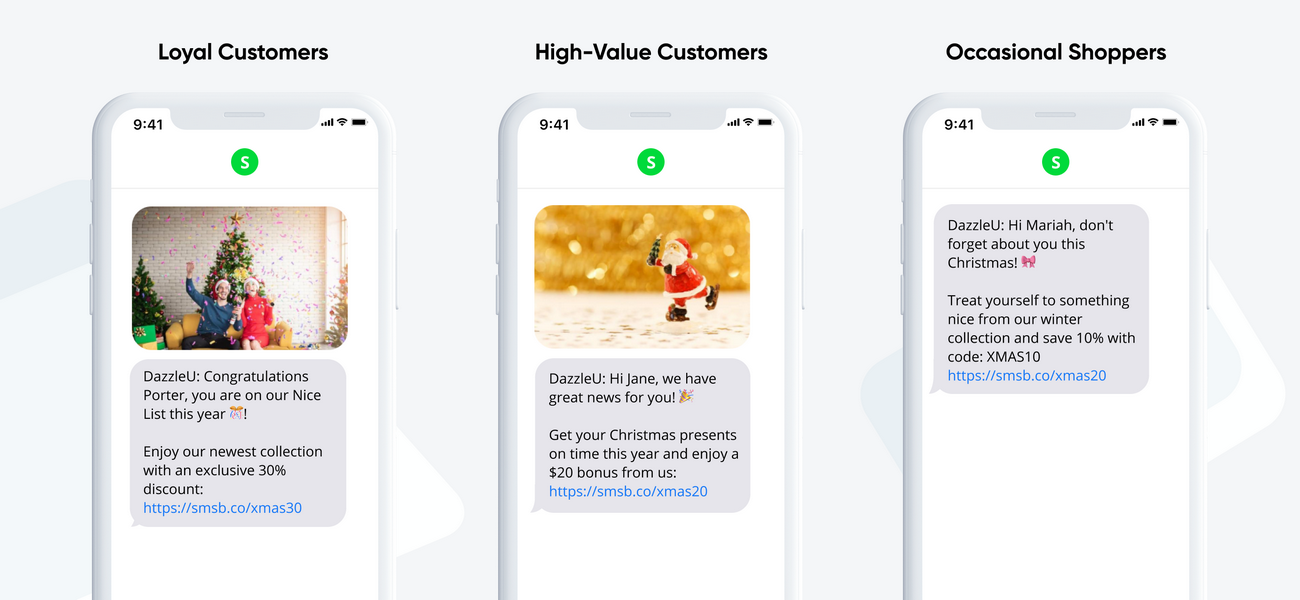 The first message goes to your loyal customers: the ones who've made more than five purchases and have spent more than $200 in your store. With a jolly call-to-action and a generous 30% discount, we will try to get them to come back in time to buy their Christmas presents.
Don't forget about your high-value customers, who spend a lot but do not necessarily make frequent purchases. Boost their loyalty with a cheerful message and a $20 bonus.
Your lower-value customers are still important, and not re-targeting them around the holidays would mean leaving money on the table. Since they aren't as active in your store, simply send a less generous discount that will still remind them about you. Again - make your text appealing and exciting to put them in a Christmassy shopping mood.
2. Welcome Flow
The time around major holidays is when stores usually get an influx of new visitors lurking around for good deals. Use it to supercharge your subscriber collection with powerful and engaging tools such as pop-ups, floating buttons, or footer forms. And when new subscribers join your SMS club, you must be a good host and make an excellent first impression.
This is where our Welcome flow kicks in and when the magic happens. Use it to send a heartwarming "Welcome to the family" message with an attractive discount. Emphasize that your offer is tailor-made. It will make subscribers feel valued and confident they've made the right choice by opting in and will help you convert them to customers in just a click. On autopilot.

If a subscriber ends up purchasing from your store, make sure to express your gratitude and let them know, again with a timely and personalized message, that their order is on its way. If not, send a second reminder but this time around, play with their fear of missing out and let them know the offer is time-sensitive.
Bonus tip: As soon as the deal expires, let the flow check who converted and place them in your list of Engaged customers. If someone didn't make a purchase even after the second invite - add them to a separate list of Inactive customers you can target later on with a different type of offer.
3. Abandoned Cart Flow
Did you know that every day 3 out of 4 visitors add products to their carts but leave your store without making a purchase? These devastating stats show why recovering abandoned carts should be the #1 task of every store owner out there.
This holiday season, make sure you'll get zero carts left behind by activating an all-powerful Abandoned cart flow. It will send a timely text message to customers 15 minutes or 1 hour after they've left your store, urging them to come back and finish their order.
It's simple and works like a charm - abandoned cart flows help merchants recover over 33% of all churned orders. Combine this strategy with a small incentive for a higher conversion rate.
The flow that we are about to build is very useful for segmenting your checkouts and rewarding the customers with higher value orders while also ensuring you are taking good care of everybody else.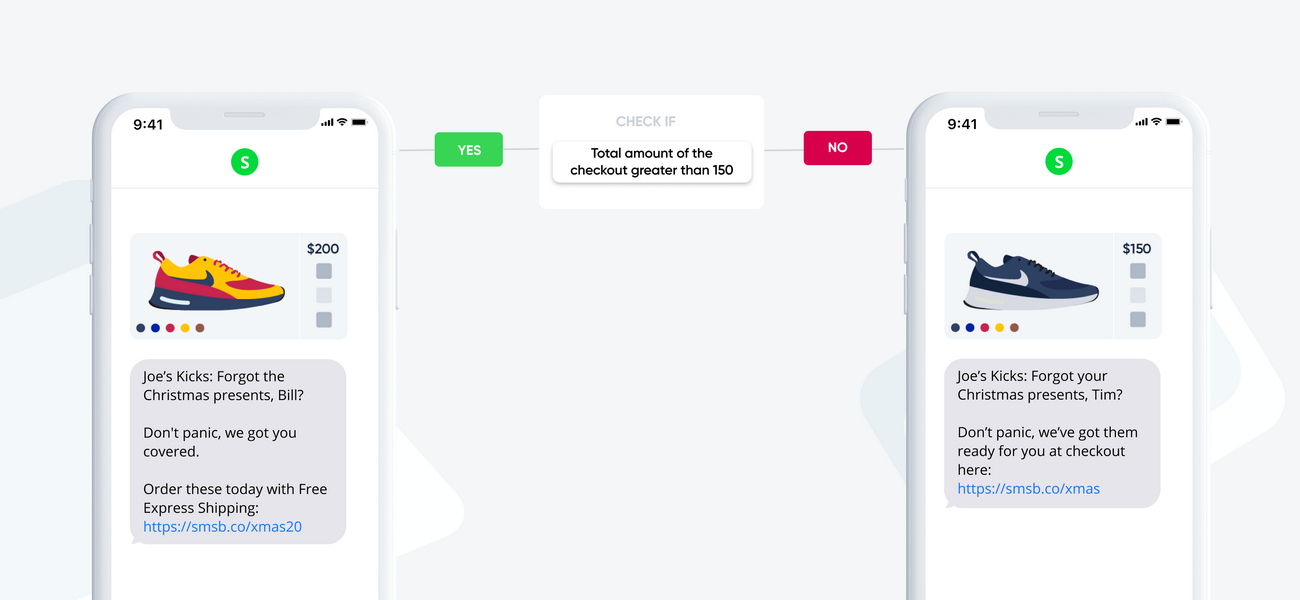 So what's the secret? Split the flows based on cart value or targeted AOV. Give high-value customers an incentive in the form of free shipping, a complimentary gift, or a discount to make sure you have the highest abandoned cart win-back.
At the same time, don't leave everyone else hanging at the checkout. Send those customers a gentle reminder that their order is still available. After all, it's Christmas, and we can all get a little distracted.
Wait at least three days for both groups to finalize their order and if they do - let them know their package is on its way. Don't forget: aside from the conversions won, you'll also be giving them peace of mind that their purchases will arrive in time for the holidays.
4. Browse Abandonment Flow
To make sure your Christmas sleigh is turbocharged and ready for the upcoming shopping frenzy, we have another great addition to your marketing arsenal - the Browse abandonment flow.
Just like with the Abandoned cart flow, you can segment visitors via specific products or collections they showed interest in. This is particularly useful for informing customers about items that tend to sell out fast or pushing the sales of a particular item or collection more aggressively.
Alternatively, you can segment users through filters such as "Total spent" or "Orders Count" and offer those loyal or high-value customers a small token of appreciation in the form of a discount, free shipping, or a complimentary gift.
​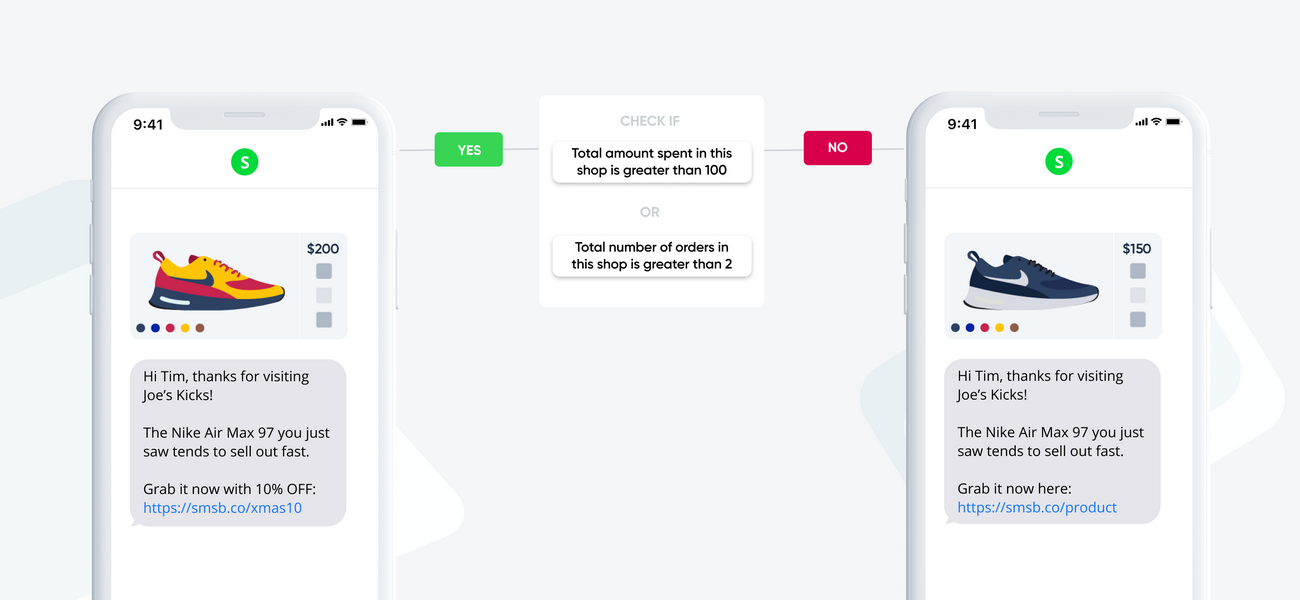 Remember, it's not just about a one-time purchase. As the saying goes - a happy customer is a repeat customer. Activating Browse abandonment flow will not only drive extra sales around Christmas but will also help you nurture loyalty and increase CLTV.
Ho-Ho-Go!
Not sure where to start?
Don't worry. We have all these flows (and some more!) already pre-set in our Flows Library. Simply activate them, tweak the copy to best fit your brand voice, and let them do all the work for you and drive sales 24/7.
All this while you enjoy some free time and spend the upcoming holidays with your friends and family.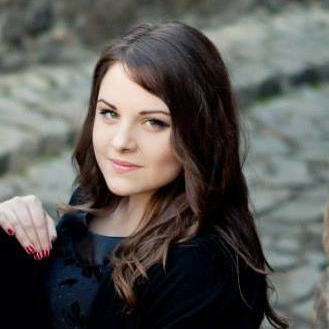 Start growing today
Sign up today and join 90,000+ eCommerce businesses making it big with Yotpo SMSBump