How Truwood Uses Yotpo SMSBump and Gorgias to Build a Community of Happy Customers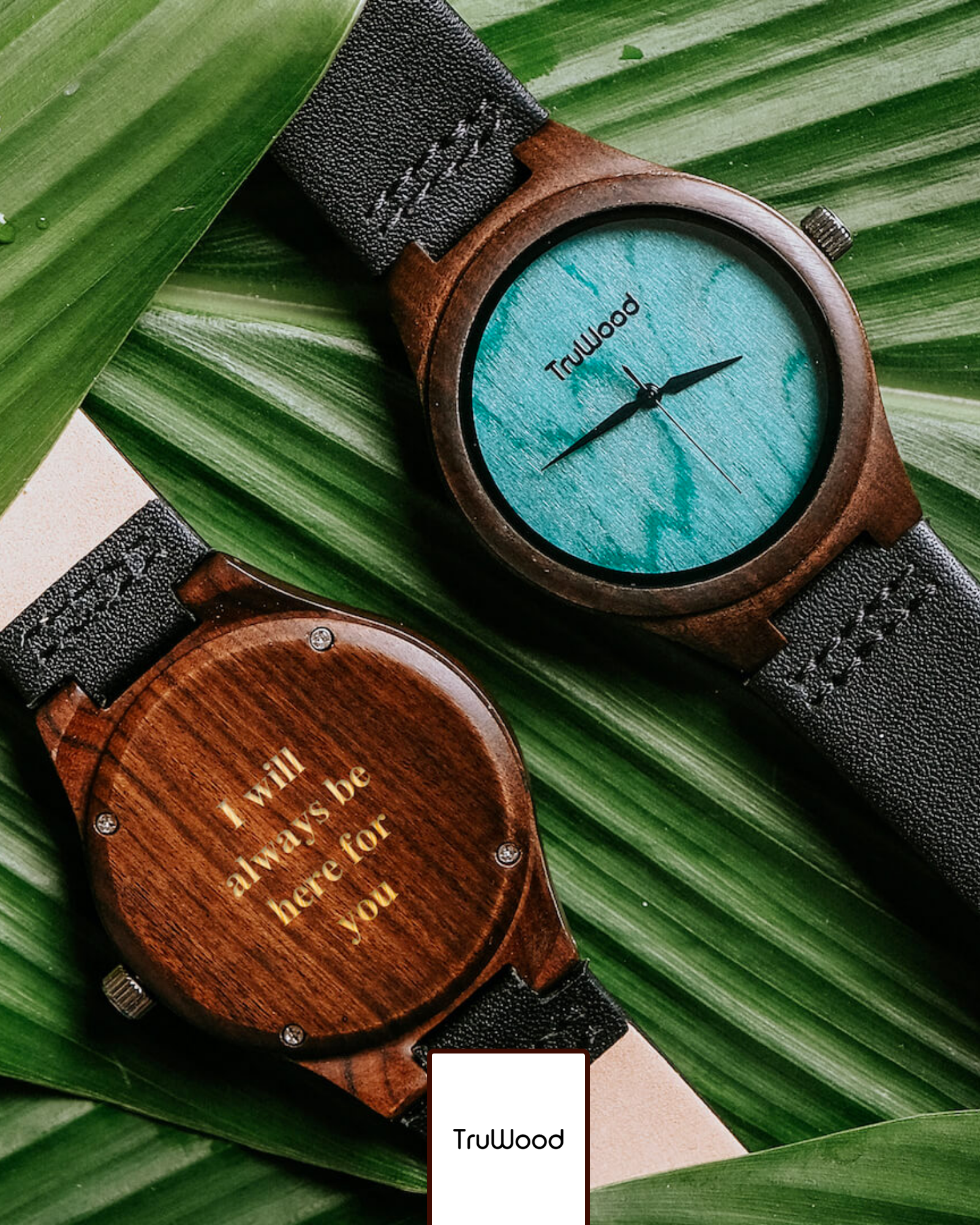 Meet TruWood

Canadian-based eCommerce brand TruWood was founded in 2016 by two friends who shared a common passion - watches of all kinds, shapes, types and styles. With the abundance of watch producers nowadays, the two knew that they had to make their accessories truly unique in order to make an impression. And this is what made them go off the beaten path with their choice of primary materials: wood, bamboo and reclaimed lumber.
"No two pieces of wood ever look the same, even if they are from the same tree," explains Bishoi Khella, co-founder of TruWood.
It wasn't just their interest in sustainable accessories that inspired them to start TruWood. Bishoi and his business partner wanted to create watches, but also wanted to give back to the world and make sure their production won't contribute to any environmental issues. Not just that but that their brand will actually help in solving one.
"We didn't want to take more from the environment than we were giving back. Our motto is to connect people with nature, make them more appreciative of it while wearing a piece of jewelry to remind them of that every day," says Bishoi.
Following this, the two owners decided to partner with NGO "Trees for the Future" and invest part of their profit in planting trees: for every order, TruWood plants 10 trees.

But they can't do this alone. This is why from day one it's been TruWood's goal to make customers feel part of their mission, of the change they're making every day. Be part of their nature-loving family.
Five years after the launch of TruWood, the brand has generated over 10 million in revenue, selling thousands of watches, sunglasses, rings, necklaces and bracelets across the globe. But more importantly - so far TruWood has helped plant over 725 000 trees in Africa, giving over 3 000 families a stable job and income, but also the knowledge to plant and grow their own forest gardens.
"Part of this success we owe to tools such as Yotpo SMSBump and Gorgias that make our lives easier and help us focus on the truly important things," Bishoi admits.
The Challenge

Customer happiness is a top priority for TruWood as that's where engagement and loyalty stem from. And it's something that depends on two things: personalized experiences and great support.
It was paramount that the brand found a way to communicate with shoppers in a direct and personalized way, building strong connections and long-term relationships. After having tried mass communication venues like Facebook and Google, they wanted to adopt a marketing channel that will help them create a community of loyal and happy customers.
Customer happiness also meant streamlining their support processes. When TruWood first started out, they had a pretty "bootleg" system in terms of answering customer queries and staying on top of all incoming communications. This was hurting their business overall and as the company was growing, it became necessary to make it all work more efficiently and in sync.
The Solution

Upon discovering Gorgias, response times were cut in half, from hours to just a few minutes. They created hundreds of answer templates to help them respond to customers in a click of a button.
"With all the extra free time, we now have them working on other meaningful things that have helped us grow," says Bishoi.
But besides the ease of use and speed that Gorgias provided, it also offered TruWood a quick onboarding process for any new-hires. Opposed to spending weeks training new staff, all that they have to do now is give access to the ready-made templates to their employees, so they can familiarize themselves and hit the ground running.
After rooting out the problem with support, it was time for TruWood to ensure their customers are well taken care of during their entire journey, and that their whole experience is personalized to a T. It was time to find the communication channel which would allow them to talk to customers on a one-on-one basis, directly and smoothly.
"Yotpo SMSBump has helped our company tremendously. It allows us to build relationships with our customers and encourages communication through whatever medium they're most comfortable with. It's 2021, people don't email anymore, texting is way more convenient, and whatever way our customers prefer to talk to us through, I want to be there," says Bishoi.
35x ROI on Personalized SMS Flows
Hearing more and more about how effective SMS marketing is for retargeting users, the two founders decided to test the waters with a robust 3-step abandoned cart flow to get churned customers back to their website. With focus on providing the best customer experience, TruWood's formula for recovering forgotten orders is not ordinary. The brand segments customers based on their cart value, to determine which of them are of higher value and invest more in recovering those.
Along with precise targeting, TruWood's approach to salvaging abandoned orders also aims to be more creative. "A picture is worth a thousand words," comments Bishoi. And this is the strategy for recovering high-value abandoned orders - they send an MMS with an image of the item the customer has left behind. With higher-value orders, the brand also provides a small discount to secure the sale - usually 10%. And finally - they play with FOMO to urge customers to return to their order in the next several hours, so they can still take advantage of the special discount.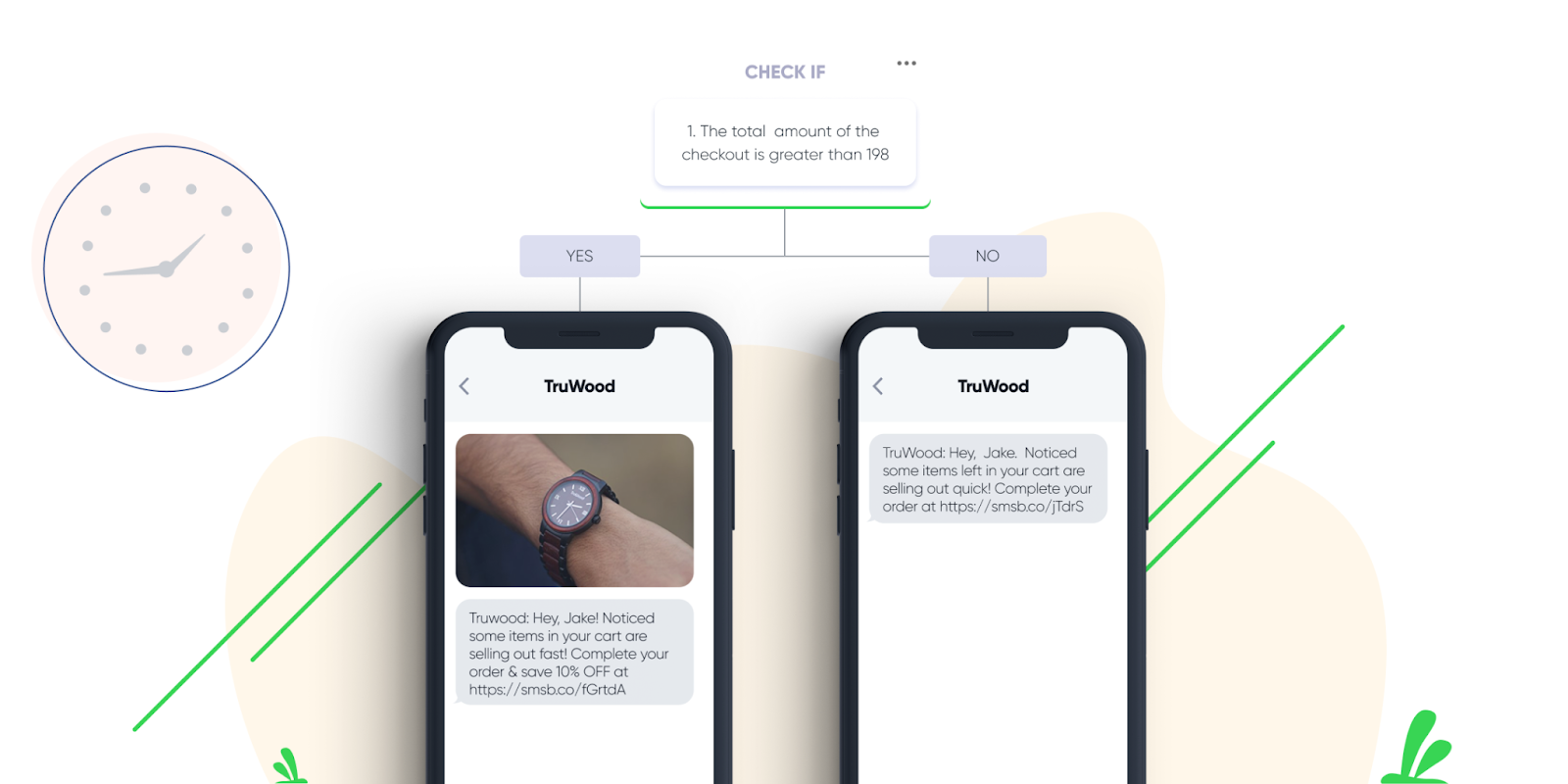 "This year to date, our abandoned cart flow is sitting at a 35x ROI and an average click-through rate of 18%. To put it into perspective, our Facebook / Google Ads ROAS for retarget traffic sits at about a 3-5x. The results have been phenomenal," comments Bishoi.
Moreover, he believes that SMS flows are a true game-changer for their brand, contributing greatly to their mission to personalize the customer experience on every touch point. After seeing the effect of the abandoned order flows, TruWood intends on creating more SMS flows to benefit from the various ways they can segment their SMS subscribers to ensure highest conversions. In particular, the brand is looking more into dividing their customers based on the type of product they have in their cart (women's or men's), the product category they were interested in (watches, sunglasses, bracelets etc), geographic location and more.
Overall, the flows they've enabled have generated TruWood an ROI of 62x, or more than a total of $120 000 in revenue.

"Flows allow you to build out more complex and highly targeted campaigns. Getting in front of the right customer, at the right time, with the right product is super important to grow your company. On the flipside, continuously pushing the wrong message in front of the wrong customer will just make you waste money," he says.
102x ROI on BFCM-Specific SMS Flows
Besides personalizing their flows to be engaging and take into consideration the cart value, TruWood tailored their SMS sequences to speak the language of the biggest sales event of the year - Black Friday & Cyber Monday. Instead of evergreen text messages with the usual discount, the brand launched two BFCM-specific abandoned cart flows - one, which ran from November 20, and a second one, which started on November 23. While their first flow offered a generous discount of 70%, it was the second, Buy-One-Get-One-Free, flow which generated close to 50% of their overall BFCM SMS profit, for an astounding ROI of over 102x.
Up to 40x ROI on One-off SMS Campaigns

The results they got from the automated messages motivated TruWood to also launch one-off campaigns. The high open and click-through rates of SMS encouraged them to communicate with customers around key holidays, such as Earth Day, World Environment Day, and other major retail occasions like Father's Day, 4th of July, and of course - Cyber Week.
It only took TruWood a couple of campaigns to perfect their SMS strategy and their 3-step Independence day blast in 2020 was what got them an ROI of 40x and a cumulative revenue of over $40 000.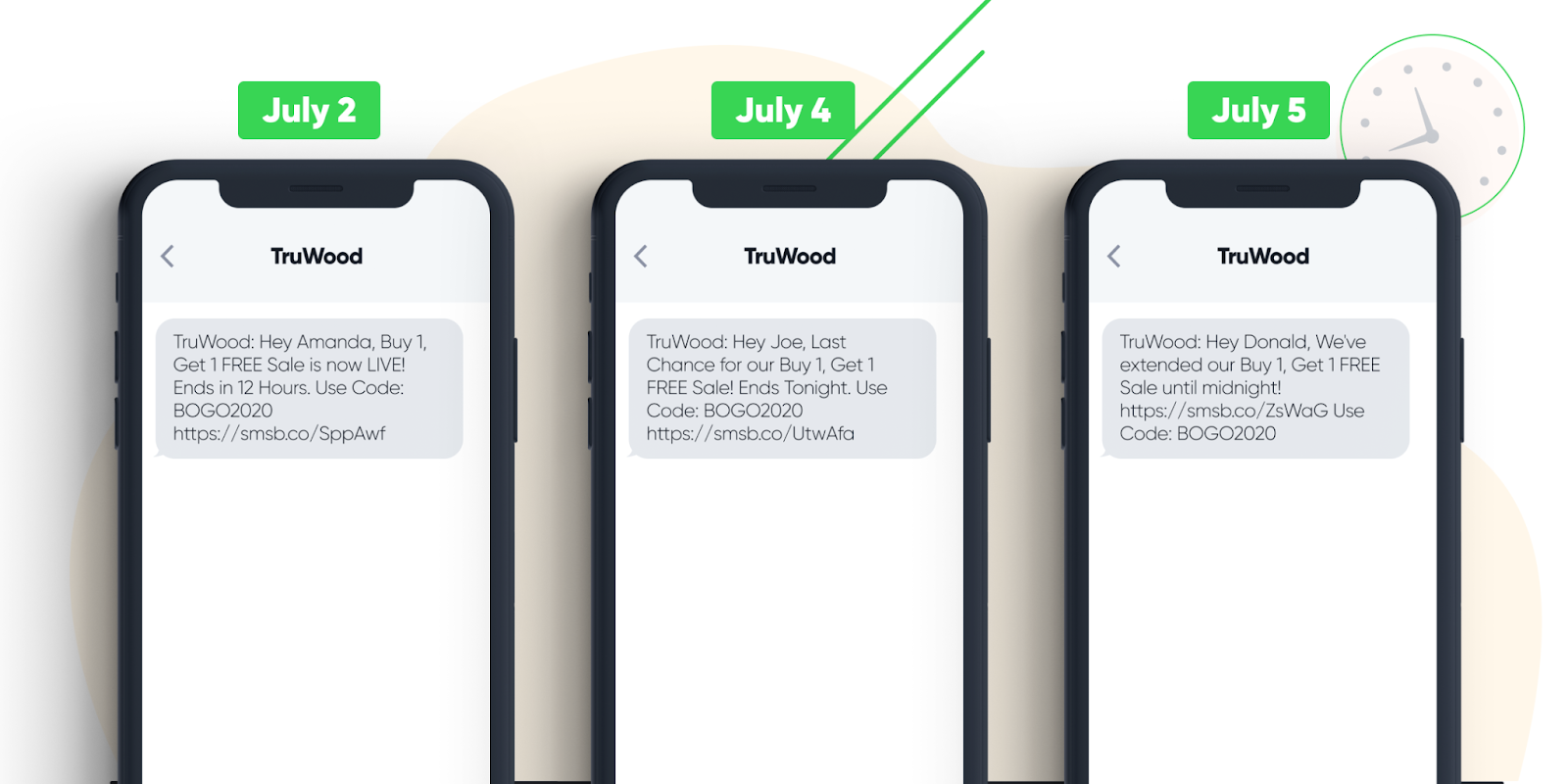 In addition to sales campaigns, Bishoi emphasizes the importance of sending customers the so-called "feel good" campaigns.
"At TruWood, we want to make our customers feel good about their purchase. At the end of the day, selling good products is not enough. People care about the impact their purchase has made and want to be a part of our mission. So it's important to make them feel that way," he adds.
The brand has done this on multiple occasions, the most recent being this year's World Environment Day on June 5. They used SMS to salute customers for the special day, but also invite them to join their nature-loving community.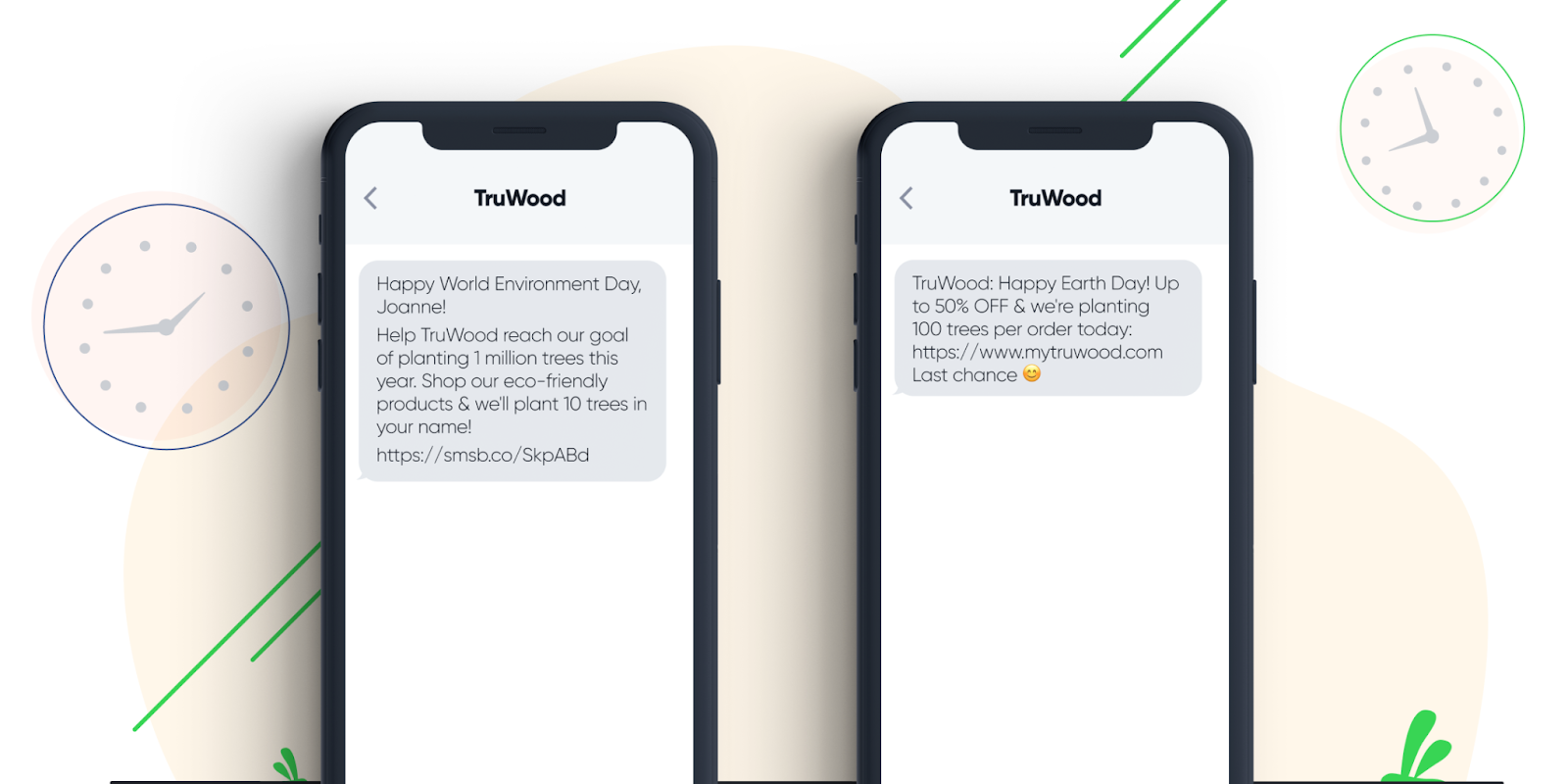 Cohesive Customer Support Through the Gorgias and Yotpo SMSBump Integration

All of these efforts wouldn't be as successful if the brand didn't have outstanding support. Through the Gorgias and Yotpo SMSBump integration, TruWood is able to control all incoming and outgoing communications from one and the same location, and answer customer queries on the same channel they came from - SMS. This provides a cohesive experience, with timely and personalized responses, thanks to the detailed customer data made available to their agents.
"With the Gorgias and Yotpo SMSBump integration it's truly a win-win situation - we get what we want, which is efficiency and ease of use, and the customer gets what they want - to receive their communication via SMS. Being able to provide these better experiences through integrations will inevitably foster loyalty," Bishoi comments.
What's Next for TruWood and Their SMS Strategy?

On their way to reaching 1 million planted trees, TruWood is excited to have SMS as a leading marketing channel. The brand plans on doubling down on text messaging to provide even more personalized experiences for their customers, spark conversations and build a strong community. Mainly, they are eager to see what else SMS Flows have to offer, and especially Conversational flows which make it possible for a brand to have a 1:1 chat with customers that's also automated. So that they never let an opportunity slip through their fingers.
"Our main goal with Yotpo SMSBump is to foster and build customer loyalty. This is where SMS differs from most marketing efforts: you can get a better understanding of who you are talking to, unlike Facebook and Google, where it's all random and generalized, and you can't get a good idea of who your customers are. Yotpo SMSBump allows us to learn specifics about our customers," says Bishoi.
"We've seen how profitable Yotpo SMSBump is, so now we want to scale it as much as we can," he adds.
Follow TruWood on their mission to create greater watches and a greener world. One watch and tree at a time.
Start growing today
Sign up today and join 90,000+ eCommerce businesses making it big with Yotpo SMSBump