How 4theCultr uses SMS to Build Relationships with Their Customers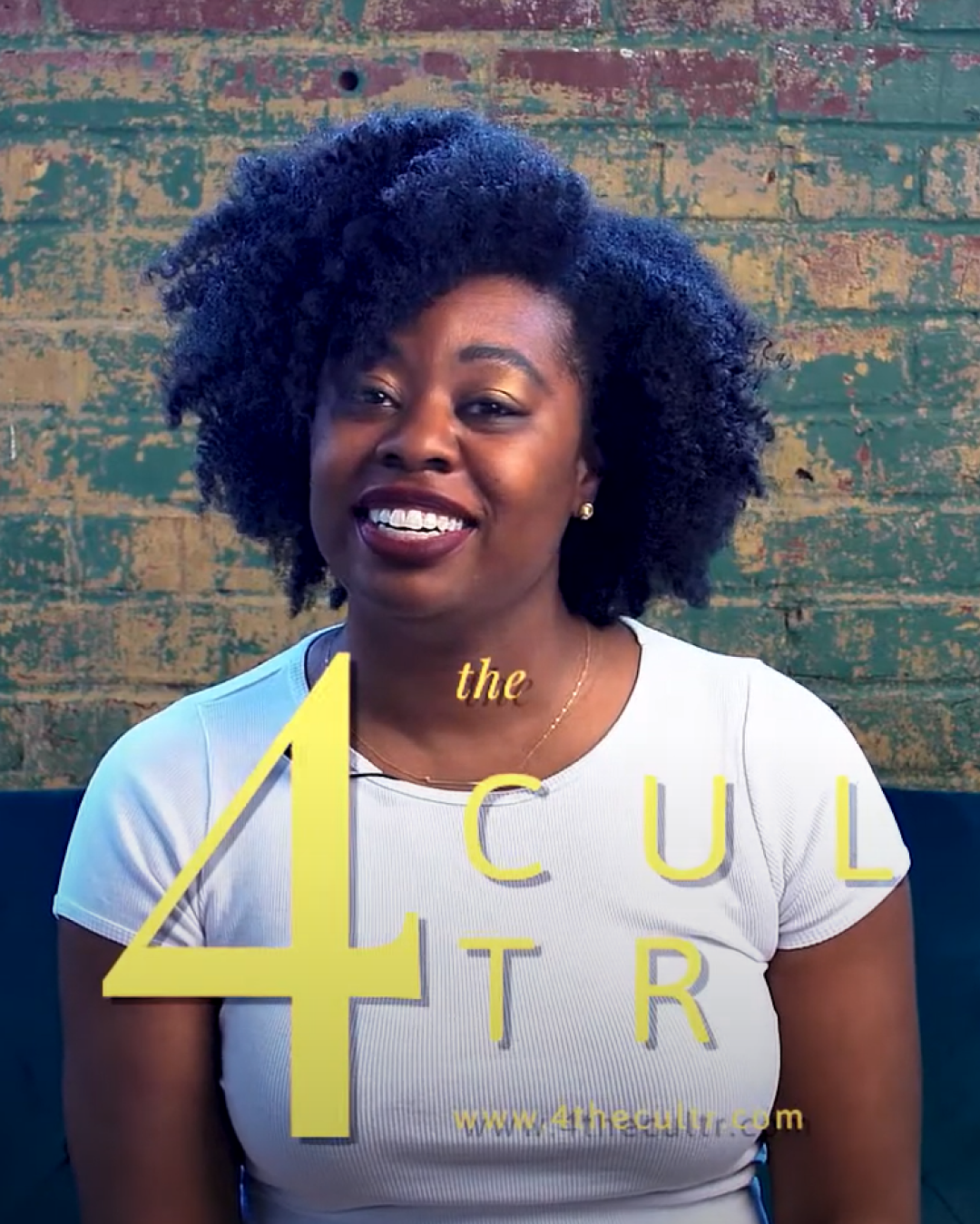 How 4theCultr Came to be: the Backstory

Out of desire to bridge the gap between consumers and black businesses specifically, in the beginning of 2020 32-year old Ashleigh Thomas founded 4theCultr - a platform where people can access superior products created, crafted, and operated by enterprising black-owned companies.

Where did she get the idea to launch 4theCultr?

3 years ago Ashleigh started noticing a significant issue that kept repeating itself throughout her everyday shopping routines.

Being an african-american woman from Dacula, GA, she found it difficult to locate black owned products in brick and mortar stores, making it particularly hard for her to invest in local black-owned products and services, and give back to her community. The lack of exposure was deafening, but her drive to battle this was stronger than anything else.

At first, 4theCultr was struggling to find large scale companies to join due to no physical proof of a working business model. After a little while of not getting the attention of the bigger companies, Ashleigh and her crew decided to do a complete 180.

"In an effort to combat that we changed our model to grab the attention of smaller startup companies who want an affordable way to increase visibility in an often oversaturated market overtaken by large scale companies who can afford marketing on bigger platforms," she explains.

This small pivot completely revolutionized the number of products available to sell while supporting their narrative for change.

Now, only 7 months after they launched, 4theCultr consists of 28 businesses (as of today), united in their mission to increase the circulation of the black dollar and support their community.

"The greatest sense of satisfaction comes from talking to highly motivated young entrepreneurs full of spark and ways to elevate their businesses." Ashleigh shares.

And one of their go-to channels to achieve this goal is SMS.
Connecting with Customers: Tete-a-tete with SMS

Hearing about the hidden potential of SMS marketing from every corner of the ecommerce world, Ashleigh and her team decided it's a good opportunity for their brand to explore this medium to connect with customers and make them part of their mission.

She came across Yotpo SMSBump after doing thorough research of all SMS marketing providers on Shopify, including looking into the available features, integrations, reviews and overall image of each application. Yotpo SMSBump kept coming up as the front-runner in each category, being a simple tool, with lots of functionalities that completely met Ashleigh's key desires.

4theCultr incorporated the app near the infancy of the launch of the platform in an effort to provide their customers with supreme experience, another pillar of the brand's personal mission:

"My continued goal is to give you access to superior products created, crafted, and operated by enterprising black-owned companies all in one place where customer experience is best in-class," Ashleigh elaborates.

From the start, Ashleigh knew the app would turn into an integral part of their marketing as a way to capture phone numbers and extend the conversation with customers into a sale.

She was not wrong.

She shares with us that oftentimes they get approached by customers, congratulating them on the quality of the customer experience and claiming it is the best they have ever had.

But what is it that makes 4theCultr's customer experience be evaluated so highly?
Collecting New Subscribers & First Point of Contact

4theCultr looks to make a positive impression from the very first point of contact, or in this case: right when someone subscribes to receive text marketing.

Before we get into that though, let's discuss what collection methods the brand uses to gather subscribers in the first place.

Since 4theCultr is still a rather young brand that gets discovered by new customers every day, one of the most successful ways to generate opt-ins is through checkout. The reason behind is that the checkout call-to-action comes after customers have browsed through the website, evaluated the store's credibility and have decided to go ahead with a purchase. In this sense, the checkout subscription is essential because it only grabs shoppers who are truly interested in the brand and actually look forward to being updated regularly and directly on their phone. These are active subscribers that will keep coming back! And are the ones you should be after.

The checkout subscription proves effective for 4theCultr: out of all their SMS subscribers, an astonishing 86% have opted in at checkout.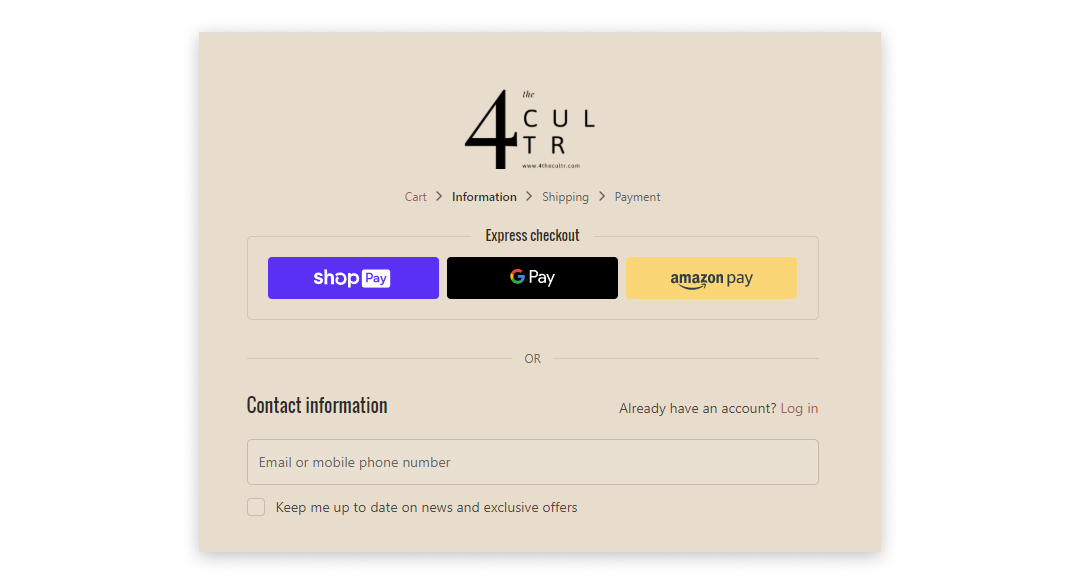 As a natural continuation of the subscription, the brand immediately sends an SMS to every new subscriber, letting them know they've opted in for their service and should expect to receive a maximum of 4 messages every week. With this information, 4theCultr opens the door to a transparent conversation.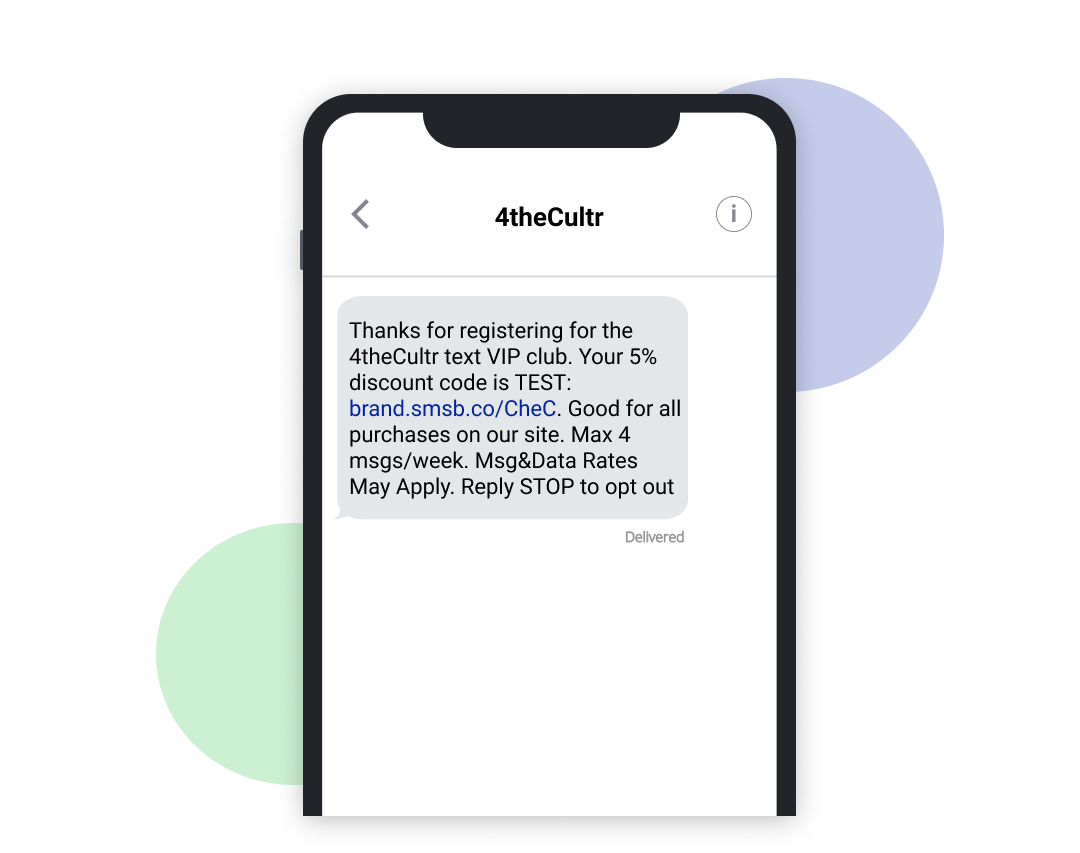 Moreover, to stimulate them to shop right away, 4theCultr offers every new prospect a small gift for their first purchase. Extending a special deal this early is the brand's way to turn their new subscriber into a customer while they are still "hot", i.e. while they still have their attention and are possibly browsing through the website.

This welcome strategy is only one aspect of 4theCultr's SMS marketing plan. Let's talk about what gets them the most conversions and has established itself as the front-runner of SMS automations for their brand.
Abandoned Cart Reminders

The main feature 4theCultr relies on is the abandoned cart reminder and that's no surprise. Abandoned carts have always been a merchant's worst nightmare not just because of their strikingly high rate of 80% and more, but because fighting the factors that cause them can be a true guessing game and challenge. Still, with the right tools, timing and treats, a big chunk of abandoned carts can be saved.

So how does 4theCultr do it?

In terms of timing, what they've found out to be effective is to send customers an abandoned cart notification within 30 minutes of abandoning their purchase. This gives them enough time to think about their order but also catches them while they are still in a buying state of mind.

Usually, the first notification is a plain reminder, but one that also specifically acknowledges the current situation we are all in, i.e. staying at home. This serves not just as a reminder, but a psychological touch-point as well, letting them know that 4theCultr understands their situation and is looking to lift their spirits. In turn, this makes the SMS even more relatable and the product - more needed to make the time at home better. But most importantly, it contributes to the customer's overall experience with the brand, leaving them with the feeling that 4theCultr truly looks after their well-being, especially during such hard times.

This first automation actually brings 4theCultr great results: its click-through rate is 18% with a conversion rate of 100%. What this means is that everyone who clicked on the link in the abandoned cart SMS ended up completing their order! Awesome, right!

Just in case shoppers do not act on this first notification, a second reminder goes out 24 hours later and comes with a small treat and a personal discount code, aiming to give customers the feeling of exclusivity. Ashleigh and her team have discovered that even a small discount of 5% can help them recover sales that would otherwise be lost. This small gesture they pair up with a copy that taps on customers' fear of missing out, using lingo, such as "the item you placed in your cart has almost sold out" and "we are running low on…". As per Ashleigh's impression (and that of customers), the combination of a sweet incentive and smartly-crafted copy has proven to be an effective urgency-booster, resulting in additional recovered carts.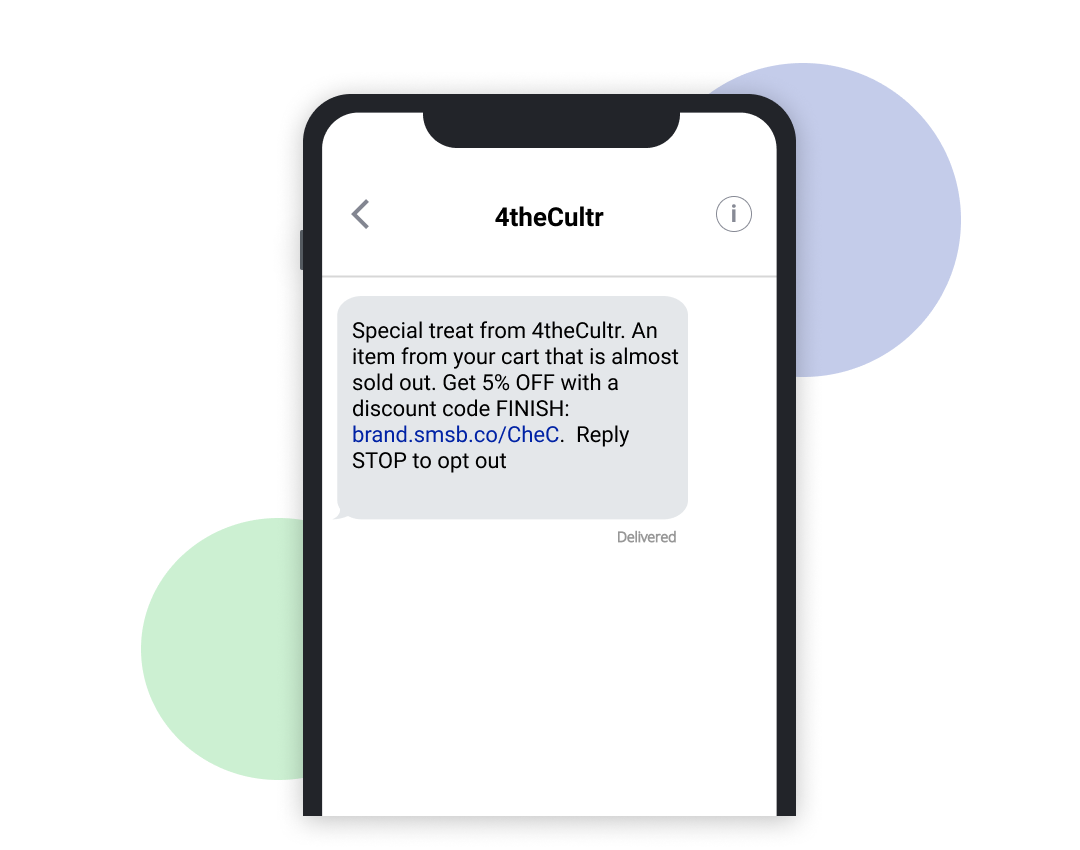 Pro Tip: since abandoned carts are something very niche-specific and the reasons that cause them could vary, there is no single "recipe for success". However, based on what we've heard as feedback from our merchants and their experience with Yotpo SMSBump, we put together an eBook that goes more deeply into the topic of automations and cart recovery strategies in particular. Make sure to give it a read and find the working strategy for your brand.

Besides abandoned cart reminders, though, 4theCultr focuses equally as much on post-purchase care, again with the intention to provide the best customer experience.
After Sales Care

4theCultr realizes the importance of keeping customers in the loop about their order at all times in order to reduce the anxiety that sometimes comes with online shopping, create transparency and ultimately - increase trust.

Their proactive approach to this consists of sending a series of transactional text messages:

One to let customers know they've successfully placed their order: to take away any concerns, especially if they are new to the brand.

A second message to confirm their order has been shipped and provide them with a tracking number: to give them easy access to check their order and additional peace of mind.

A third and final post-purchase message, asking them for a review: to let them know their opinion is important for the brand to keep improving.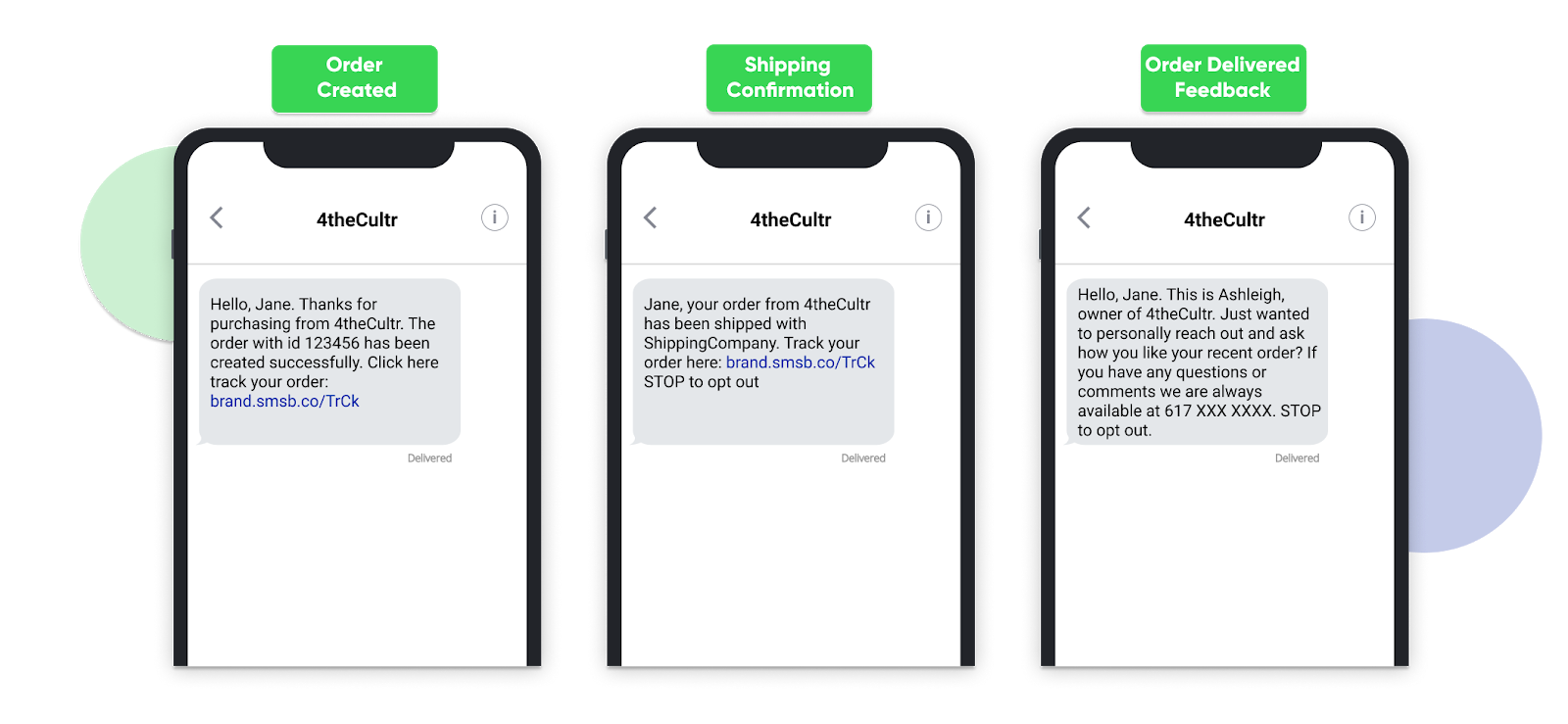 According to Ashleigh, what makes the customer experience high-quality is precisely this: tо never allow for a lapse of communication after a purchase has been made. Even if it is not anxiety you are looking to "cure" with your after-sales messages, the fact is they easily take care of any guesswork, leaving your customers with nothing but excitement for their order.

This is why finishing off the after-sales sequence of messages with a review request is a smart move: if a customer is satisfied with their order and how it was handled, they will leave a positive review and will increase the brand's social proof. And as we all know, social proof is a game-changer, especially for young brands looking to make an impression.

Pro tip: for better brand recognition and trustworthiness, 4theCultr never forgets to include their store name, a link to the website where applicable, and also the customer's name to further personalize the message. All of these mentions, together with proactive post-purchase communication, increase the likelihood of repeat purchases and customer loyalty.

"What we believe in is that there is no business without customers and there is no customer without a business," Ashleigh comments.

Led by this belief, Ashleigh's team invests a great deal of time and effort to build a cohesive relationship with their customers, a long process which requires maintenance, communication, and patience.

"In the long run customers will continue to shop with 4theCultr off of the experience alone due to a strong and great customer and business relationship."

All of this, according to her, can be achieved with the humble SMS.

Besides taking exquisite care of their current customers, 4theCultr never misses to remind "older" customers of themselves, following the simple marketing rule that acquiring new customers is far more expensive and difficult than retaining existing ones. Not to mention, nurturing the relationship with existing customers can help your brand grow in a way no amount of new customers would be able to.
Customer Winback Messages

4theCultr' s strategy with so-called "churned" customers is again firmly tied to their underlying goal to create the ultimate experience and provide shoppers with highly-personalized treatment. That being said, to Ashleigh and her team all customers matter - whether they are past customers, present or future prospects, they all deserve great customer experience. On the flipside, every shopper has the potential to turn into a true brand ambassador and mission-carrier, even the inactive one, so long as we don't forget about them, but try and revive the conversation.

With that in mind, the brand has another automated message set up which reaches customers who have been inactive for 25 days. Why 25 days? Because 25 days is a short-enough time for customers to still remember you, but also is enough after they've last shopped, so it won't come across as too pushy.

It seems that this is a working strategy for 4theCultr: their winback messages enjoy a healthy 25% conversion rate, meaning that out of all the inactive customers they reached out to, a quarter actually returned and made another order.

And their recipe for success: a very casual SMS, with a subtle copy, swiftly reminding subscribers of the brand and motivating them to return and shop with a discount. Again, 4theCultr doesn't rely on huge deals to spark interest: rather, the focus is on providing a seamless experience and the feeling of appreciation.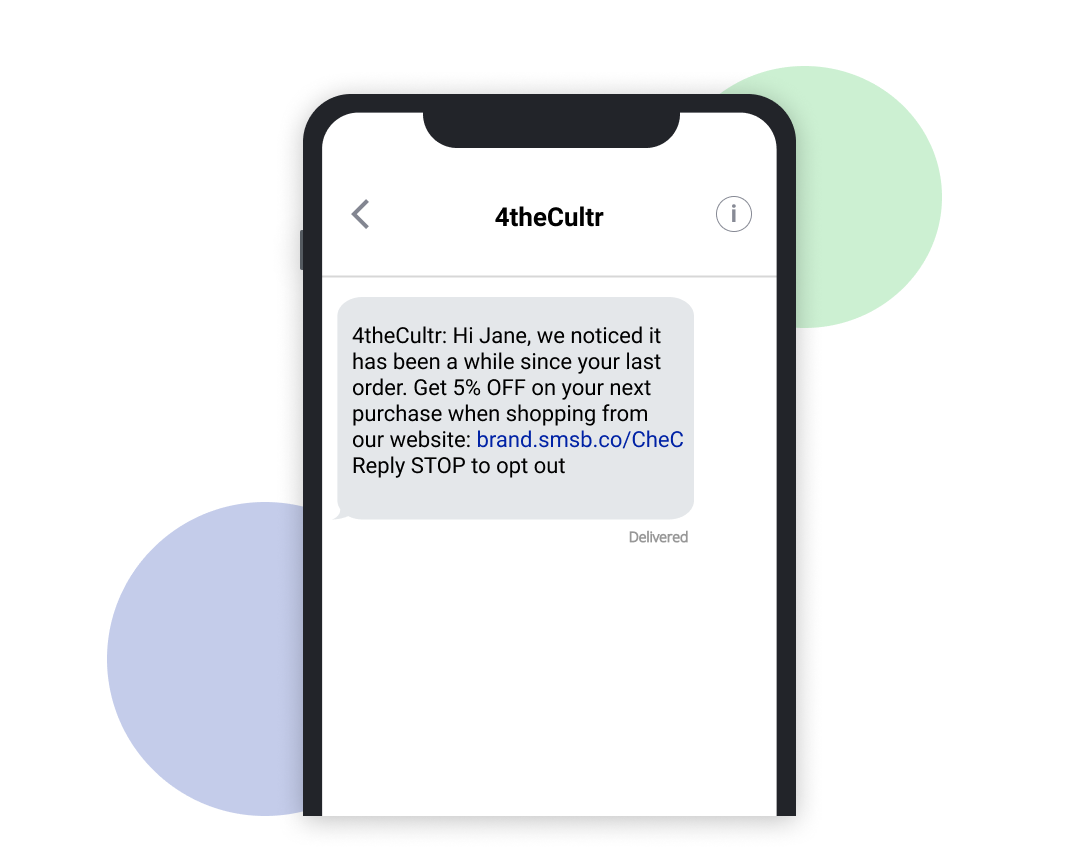 The positives of customer retention are numerous but to smaller brands, repeat customers are even more important as they lead the way to building a sustainable business. Moreover, the investments in attracting new prospects could be as much as 25% higher than those merchants put in retention measures - a crucial factor for any business with limited resources. On top of that, repeat customers, in comparison to new ones, are only one interaction away from becoming loyal brand advocates. With brands like 4theCultr, founded on the basis of a common cause, building a base of proactive ambassadors, not just passive subscribers, is what's going to make it truly successful, both in growth but in completing its mission as well.

These several simple SMS automations are how 4theCultr successfully manages to build lasting relationships with customers, stay connected and always be top-of-mind when it comes to black-owned businesses and their underlying cause.

Besides SMS, Ashleigh and her team always try to look for alternative marketing channels to spread their message and attract new prospects.


4theCultr and Other Marketing Channels

4theCultr is very active on social media to create visibility, generate more followers, attract new black-owned companies to join the platform and just overall - grow as a brand with the help of the public. They also use email marketing to send an occasional newsletter, containing new product releases and other brand highlights, to again - create buzz around their brand and showcase its products, their richness and variety.

However, compared to SMS marketing, social media and email serve a completely different purpose. While they are what helps them drive more traffic, SMS is what comes afterwards, what helps 4theCultr sustain those relationships by providing seamless customer experience. SMS is the channel they've chosen as an ally in building a community and attracting more people to be part of their mission.

"We utilize SMS marketing as a way to increase perceived customer experience, as opposed to simply driving sales," Thomas points out. "We look at the effectiveness of the aforementioned automations in terms of customer engagement, but not just revenue. Long term, we will create an experience that is reliable and trustworthy of a returned customer to generate a dedicated following."

What's Next for 4theCultr

All of this brings us to the final question: what's the next step for 4theCultr?

Ashleigh shares that the platform is still very much looking for new companies to join their network of black-owned businesses, and work together towards amplifying the voice of their common cause. There are a myriad of ways businesses can become a partner and diversify their sales channels by adding 4theCultr: all black-owned companies are welcome to join!

As the platform continues to grow, Ashleigh believes the need to stay in touch with customers will grow as well, giving her and her team all the more reasons to explore Yotpo SMSBump's other capabilities and add more touchpoints to connect with their subscribers.

"Yotpo SMSBump is a clear winner when it comes to enhanced and easy to program features to engage your customer base," she admits. "We could not imagine a customer experience without Yotpo SMSBump. It provides a seamless approach to customer communication from the starting point of considering a purchase. In three words: Yotpo SMSBump is vital to customer experience."

If you are interested to learn more about Ashleigh, 4theCultr, their business model, or simply want to support their cause - don't hesitate to contact her at ashleigh@4thecultr.com, reach out via Instagram at 4thecultr, or call their support line 1(844)-WE-CULTR
Start growing today
Sign up today and join 90,000+ eCommerce businesses making it big with Yotpo SMSBump