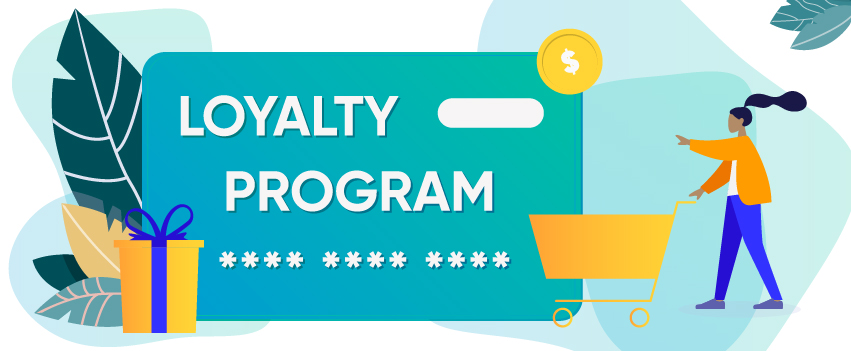 Top 6 Reasons Every Ecommerce Brand Should Consider Offering a Loyalty Program
What is customer loyalty?

Think about your favorite brand and what makes you return to them—whatever your reason is, it's because of customer loyalty.
Customer loyalty is about how much a customer is willing to repeatedly purchase something from your store. It's also about their attitude towards your brand, how they choose to interact with your store beyond your products, and how invested they are in returning to your store to make future purchases.
If you want to increase your customer loyalty, it's time to offer a loyalty program.
Top reasons why loyalty programs lead to a successful ecommerce brand

You may not have known this before, but it actually costs a business 5-25% more to acquire new customers than it does to retain existing ones. This is why so many brands offer loyalty programs.
There are a lot of benefits to offering a loyalty program; we'll dive into the top reasons your brand should have one while checking out a swimwear brand, called LAC Swim, to see how they effectively use loyalty.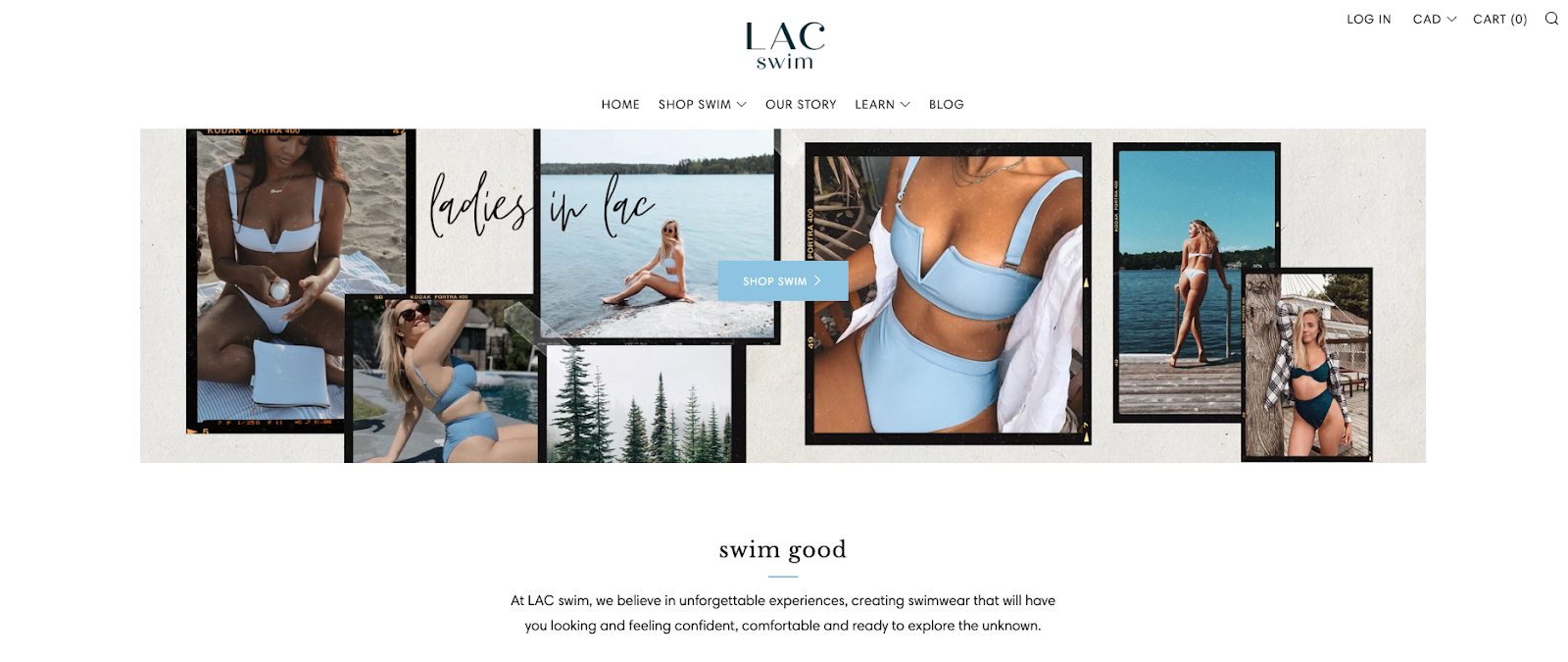 You can increase retention and lifetime value
The biggest reason ecommerce brands offer loyalty programs is to increase their customer retention rates and lifetime value. Customer retention is how likely shoppers are to return to your store and make a repeat purchase. In fact, increasing customer retention rates by 5% increases profits by 25% to 95%.

Loyalty programs can help increase your customer retention rate by giving customers a reason to make repeat purchases. When you offer incentives for buying your products, people will come back to redeem their points on coupons, savings, and more.
You can increase acquisition

Although loyalty programs are designed to increase customer retention, they actually help with acquisition too. If you include referral bonuses, product reviews, and social shares in your loyalty program, it works as an acquisition tool when shoppers refer your brand to their peers and write positive messages about your products. Since studies show that 92% of people will trust a recommendation from a peer, it's clear that loyalty programs can help you acquire new customers when your loyal ones share your brand. See how LAC Swim does this below.

You can win back lost customers

Adding a loyalty program to your ecommerce brand makes people excited to engage with you! By communicating to lost customers that you've created a loyalty program, you are reminding them that you exist and are giving them a reason to engage with you again.
With loyalty programs, you can start giving birthday incentives, reward and status reminders, exclusive time-sensitive discounts, and more—these are all good tactics that would get a customer re-engaged with your brand. Not only are you showing you care about their loyalty, but you're making shopping for your products fun!
You can create a community of brand advocates

Like we said before, customer loyalty is also about how your customers engage with you beyond your products. When you have a team of loyal brand advocates, you are definitely on the path to success.

Brand advocates help share the message about you to their peers, they're likely to make repeat purchases, and they'll be loyal to you for their lifetime. For advocates, your brand becomes a part of who they are and what they stand for—you want these people on your team, and offering rewards is the best way to do that. Giving customers points when they engage with you on social media is one great tactic to increase your number of brand advocates.
You can offer a way for customers to engage with you beyond your products

When there's more to your brand than your products, it helps keep customers engaged. Offering a loyalty program and incentives gives people a reason to remember you. If you offer gamification techniques like VIP tiers, customers will feel enticed to return to your store to make purchases so that they can climb the ladder to the highest tier or membership.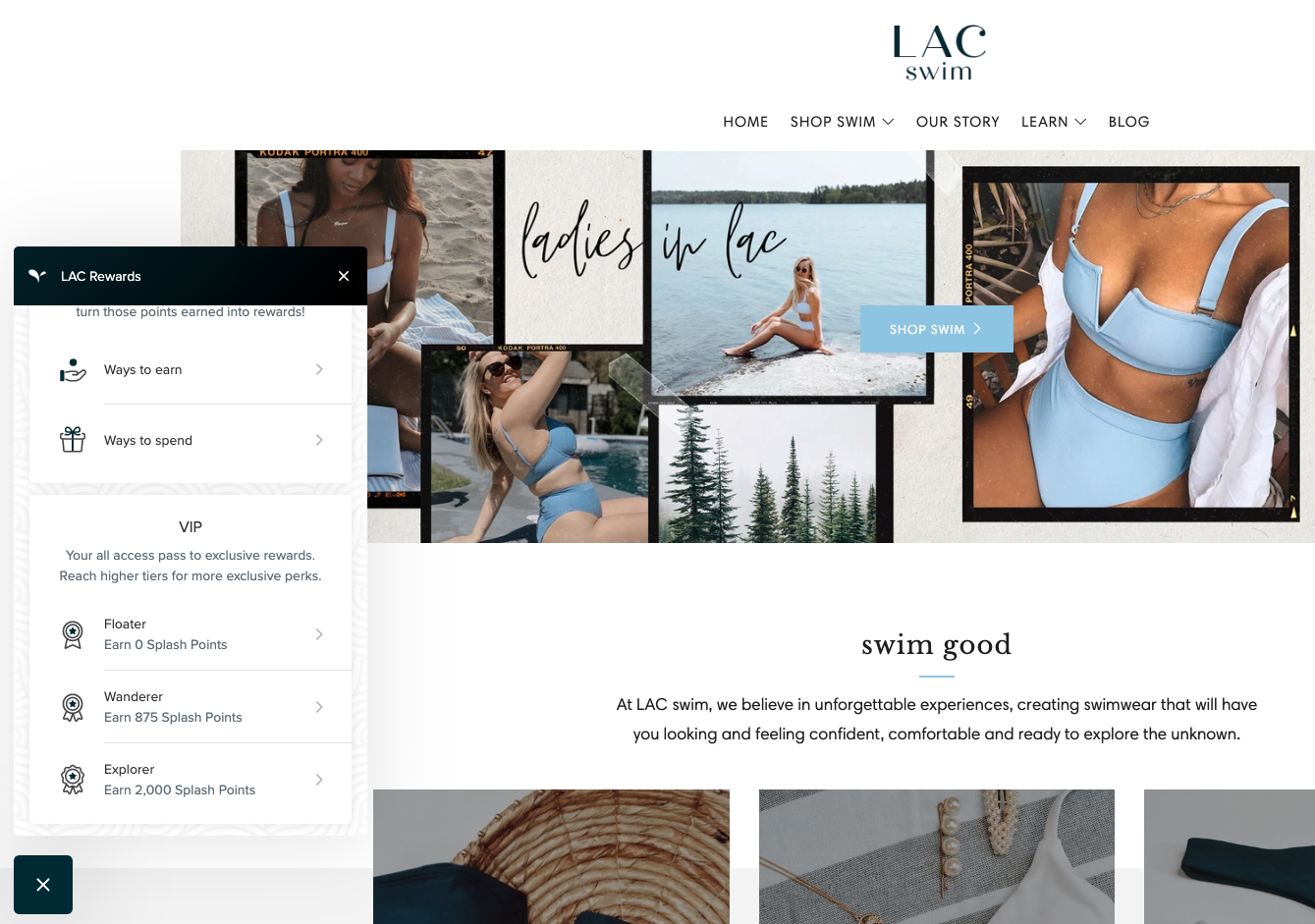 Like how LAC Swim creates tiers from floater to explorer, gamification gets your customers engaged with your brand beyond just making purchases. It gives them a reason to remember you, return to you, and feel a part of an exclusive society with other advocates and loyalty members when they make it to the highest tier.
You can set your brand apart from the competition

Over the years, more and more ecommerce brands have popped up, making it difficult for your brand to stand out among all the others. This is where loyalty can help: offering a loyalty program and incentivizing your customers for interacting with you can make you stand out in the online shopping world because there will be a better reason for shoppers to use your store, become members, and earn points.
4 Loyalty Program Best Practices

1. Properly brand your loyalty program

Loyalty programs that are off-brand aren't memorable for customers. Ensure you use brand colors and messaging, and give your loyalty and points a fun name that matches the products you sell. This will ensure a better and more-exciting experience for your loyalty members. LAC Swim does this well with their on-site loyalty program launcher.

2. Focus on your customers, not your products

Your loyalty program is your chance to show your customers that you care about them. The focus on loyalty shouldn't be entirely about your products, but mostly ways that customers can build relationships with you. Give them a variety of ways to earn and redeem points so they continue to find reasons to come back.

3. Keep it simple

Your points program doesn't need to be elaborate. In fact, it's better if it's simple. The more complex your program becomes, the less likely people are to feel confident to engage with it. Make earning points simple enough that anyone can do it, and don't make redeeming points too difficult. There's a lot of strategy that goes into configuring the right program for your brand: you can check out some of Smile's guides to get started.

4. Use a tool you can trust

When adding any apps to your ecommerce store, you'll want to use trustworthy tools to relieve yourself of headaches down the road. Always do your research on what's available for you. Every loyalty program offers something different: from configuration, offers, to appearance, you'll have to decide what kind of loyalty program will work best for your brand.

Key Takeaways

Loyalty programs are beneficial for so many ecommerce stores, and many have seen great success because of them! Once customers start engaging with your loyalty program, you'll see the benefits soon after. Ready to get started?
Customer loyalty is about how likely customers are to engage with your brand.
Loyalty programs help your brand increase retention, acquisition, win back customers, create brand advocates, keep customers engaged, and they set you apart from the competition.
Loyalty program best practices include keeping it properly branded, focused on customers, simple, and use a trusted tool.
CTA: If you're an ecommerce brand looking to offer a loyalty program to your customers, make sure you check out Smile.io.
Tina Donati is a Content Marketing Specialist at Smile.io: an easy-to-build loyalty app built for ecommerce brands who want to offer rewards and increase repeat purchases.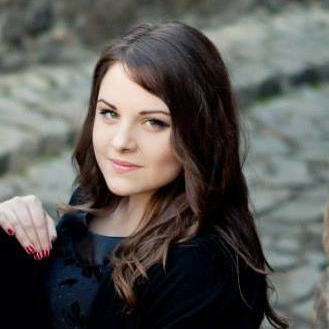 Start growing today
Sign up today and join 90,000+ eCommerce businesses making it big with Yotpo SMSBump