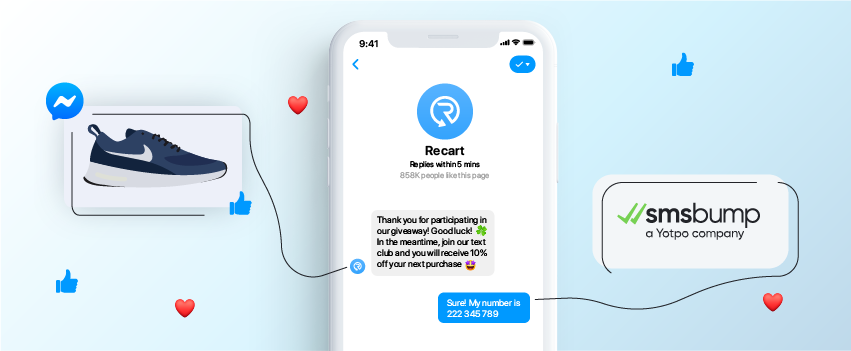 Running Summer Giveaways with Recart and SMSBump
In this article, together with our partners from Recart, we talk about the potential of giveaways in the summertime, how to use them to engage with your Facebook audience and turn them into repeat customers using SMS.

Summer is (almost) here, your customers are getting ready to enjoy the sea breeze, have a relaxing picnic in the park, or camp somewhere with friends and family.
For businesses, summertime is when they need to be very creative. As your customers' spirits are completely taken over by the vacation mood, your usual marketing tactics and channels are unlikely to engage a massive audience. Moreover, as global measures keep getting looser and looser, increasing people's sense of adventure, desire for travelling and their search for escapism, experts anticipate that the 2021 summer season will be a "small Black Friday" for some brands.
With just a little effort, you can stir up hype about your products by organizing giveaways on Facebook.
Giveaways are a great way to give start to the summer season and create buzz around your brand, spread the word about your products etc. Pair them with a powerful Messenger bot such as Recart and you will successfully engage your Facebook audience, with the potential to turn them into true brand followers.
As an added bonus, you can also integrate it with SMSBump to collect phone numbers for your future SMS marketing campaigns. This way, you can set up an effective omnichannel marketing funnel effortlessly, by combining your favorite tools for each channel.
Engage Your Audience With Giveaways
Organizing giveaways is a straightforward way to promote your products and get people to talk about your brand. It is very cost-effective, doesn't require technical skills, and will almost always give you a positive return on your investment. Additionally, it's a good way to broaden your audience and keep your fans excited.
Let's see what are the ingredients of a successful giveaway: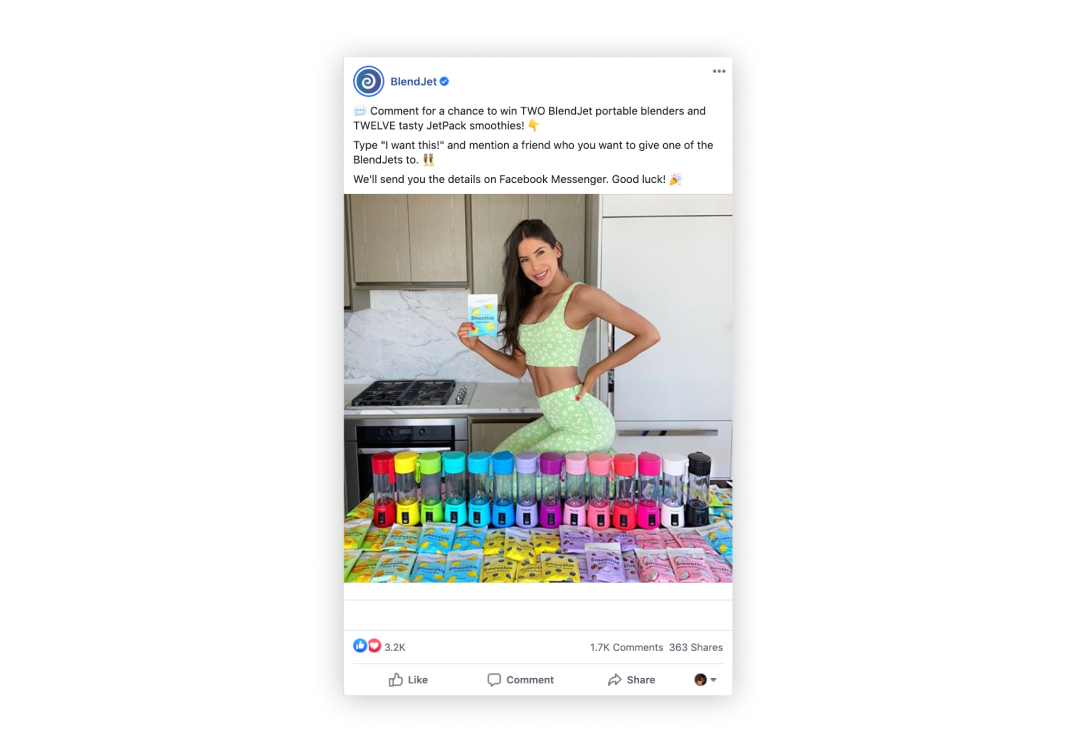 1. Ask the right question
To get started, think of an exciting question that your audience will be happy to answer in exchange for a chance to win. Don't forget: the beauty of a giveaway is in its simplicity so make sure what you ask of any potential participants won't overwhelm them, but will actually pique their interest.
2. Make it easy to participate
Share a post on Facebook that turns the spotlight on the products you are giving away, and let your customers post their answers as comments.
Using Recart, you can set up an automated Messenger conversation that everyone who comments on your post will receive. This way, you will generate higher engagement with your audience and will open the door to more sales opportunities. ;)
3. Keep them engaged while they are waiting
To make the most out of your giveaway, nudge customers to explore your online store while they wait for the winner to be announced. Provide them with a special offer just for participating in your giveaway and to give them a good reason to scroll through your website. Let them know they only have a small window of time to seize your special deal.
With Recart, you can also remind them in case they've abandoned their cart, and try to recover more sales.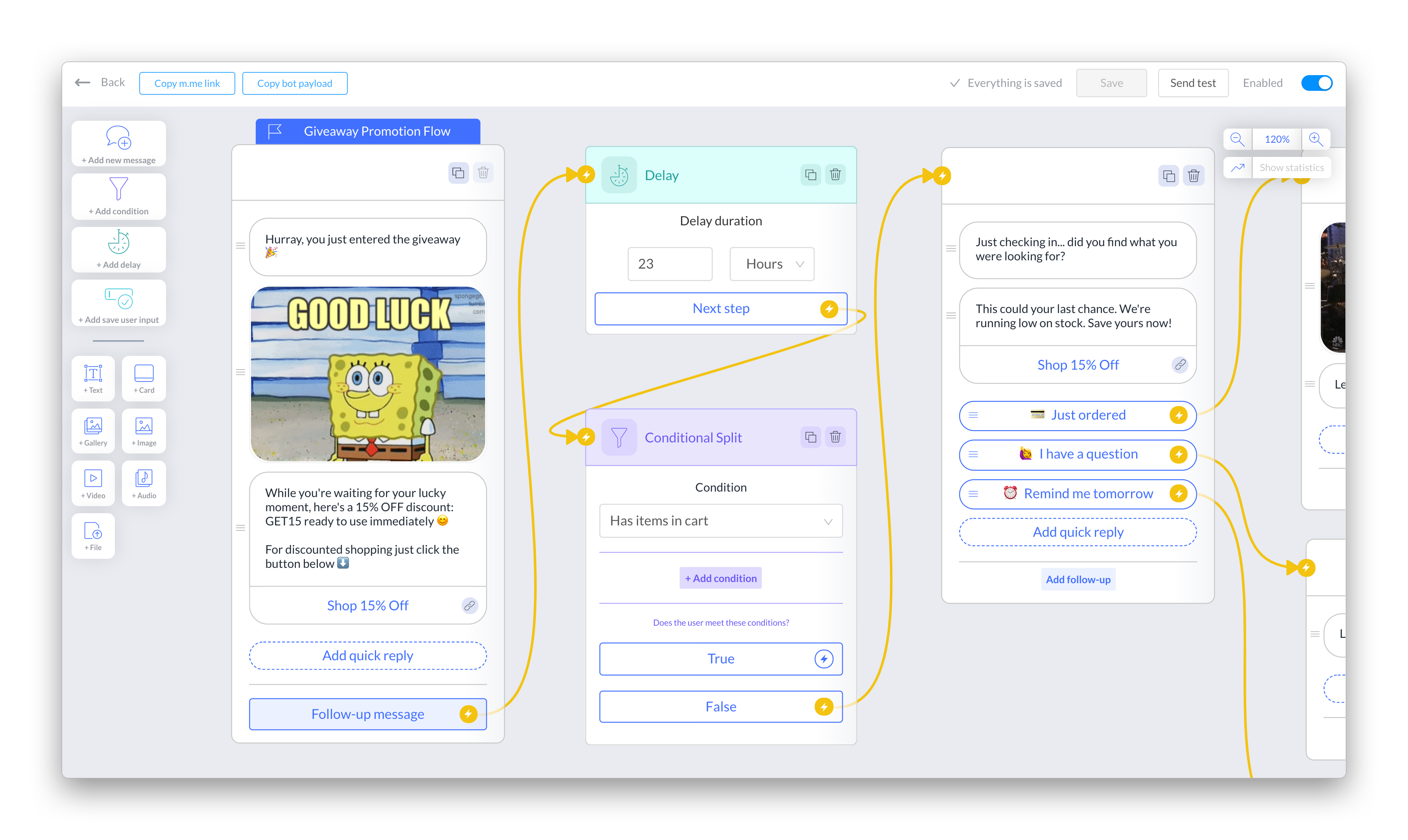 4. Stay connected via SMS
While you already have their attention in this ongoing Facebook Messenger conversation, it is the perfect opportunity to ask them to subscribe to your SMS marketing list. Using the SMSBump integration, available for all Recart users, you can simply ask customers to submit their phone number within the conversation to receive exclusive offers straight on their phone, well past the giveaway. All contacts will be automatically added to a dedicated list in SMSBump, making it much easier for you to retarget them later on.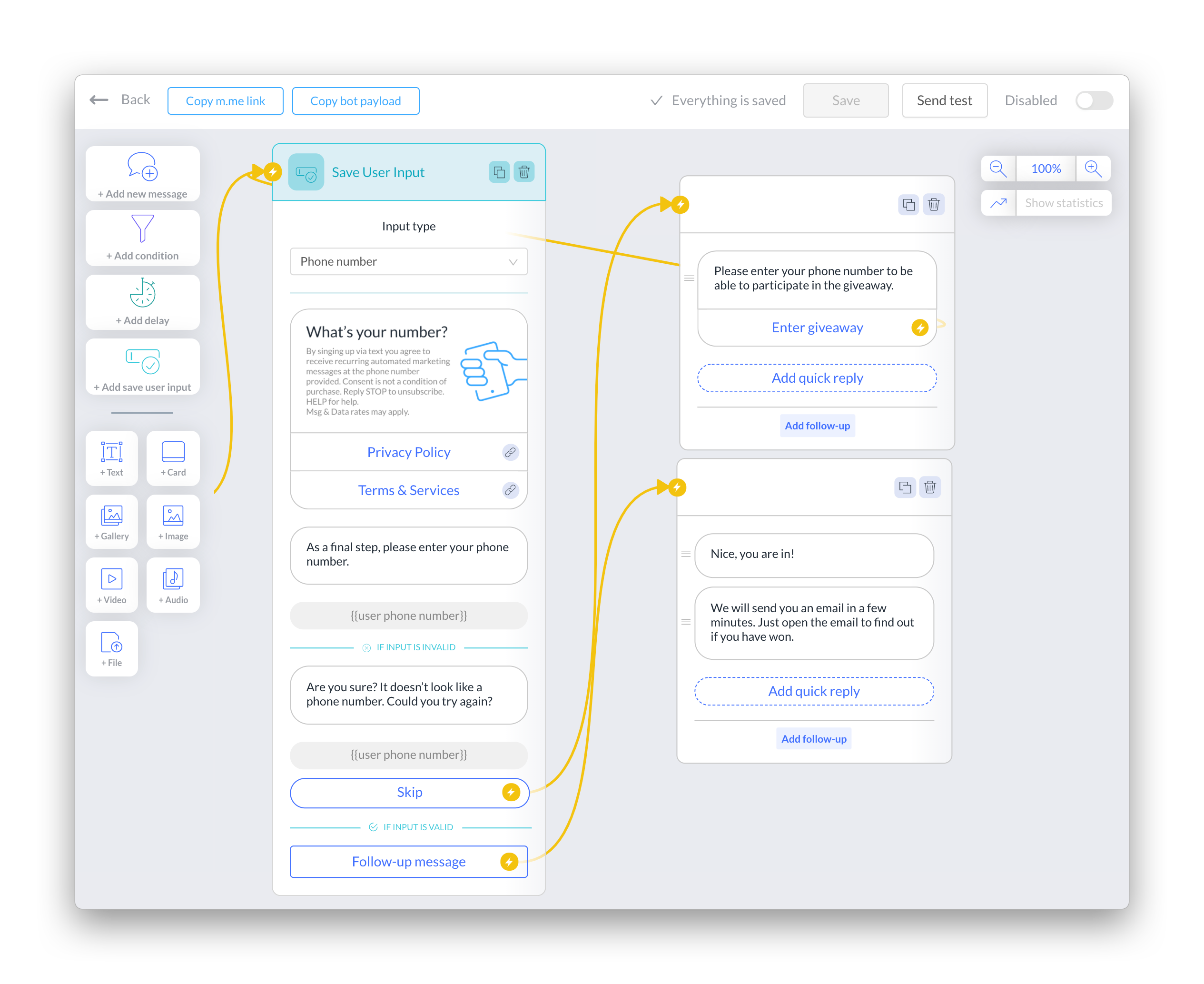 To be even more successful with your SMS subscriber collection, you can make it a giveaway requirement that participants should sign up for your text marketing with their phone number. This way they will receive an SMS update from you when you pick a winner, and will know if they won right away.
No matter what you decide to do, always make sure to welcome your new subscribers. Send them a text message to let them know they've successfully subscribed, and treat them to a special discount that they can use as a consolation prize for not winning the giveaway. What's best is that with SMSBump you can automate this process completely by setting up a Welcome Flow, and targeting only the new subscribers that will end up in the dedicated Recart list we mentioned earlier.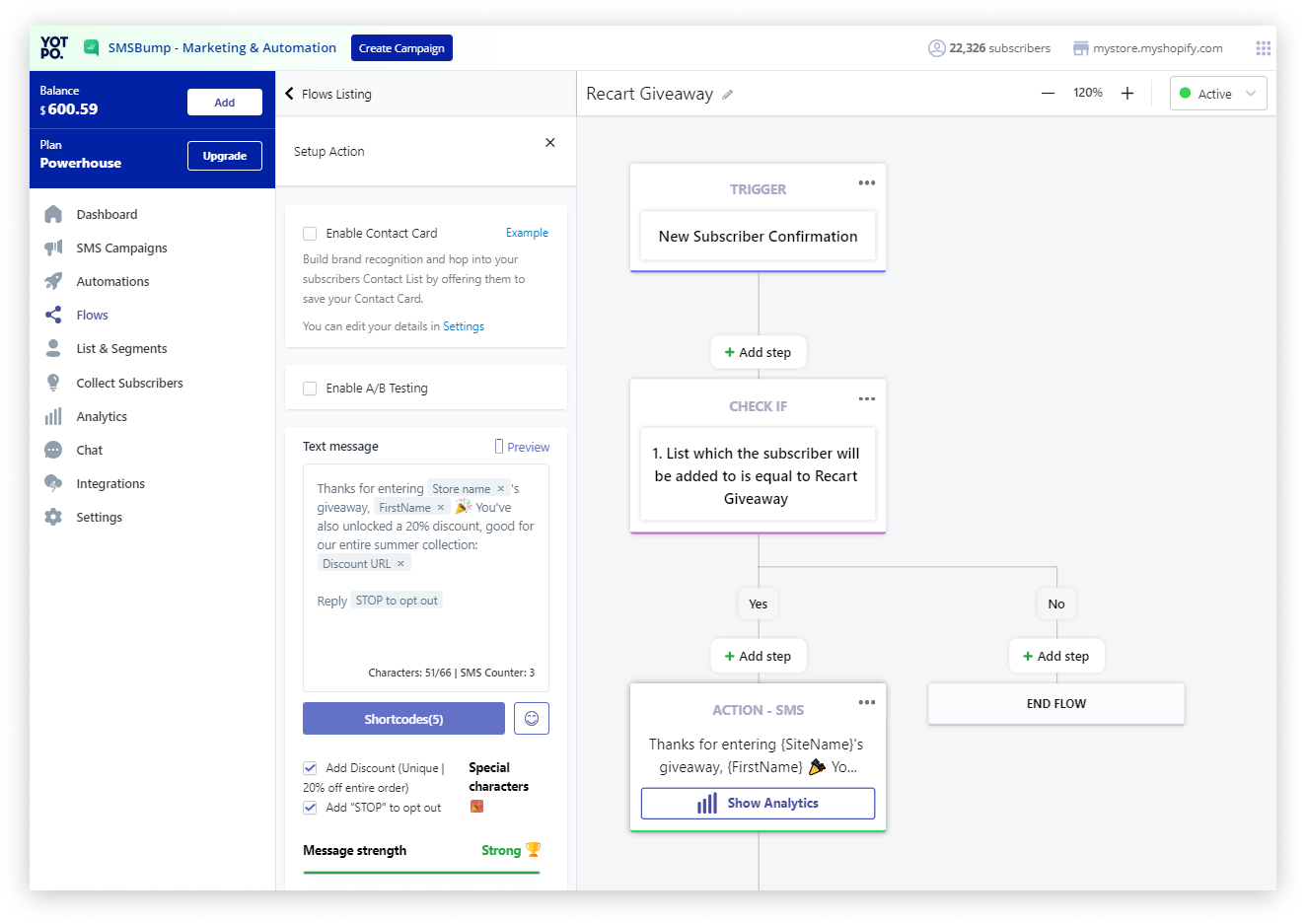 As you can see, a simple giveaway makes way for your brand to establish a relationship with new subscribers and overtime - turn them into loyal customers. The best part: giveaways can be launched without a special occasion, as long as you have a clear objective in mind. May it be to generate new followers on social media, lead more traffic to your website, give your SMS marketing list a boost or something else. There is a giveaway for any and every goal.
Let's show you a couple of suggestions to both entertain your followers and encourage some sales.

Summer giveaway ideas
For a summer-themed giveaway, consider trying one of these ideas:
"What summer activity are you excited about the most this summer? Comment below to enter our giveaway."
With life slowly beginning to get back to normal, people will be excited to make up for lost time and will try to make the most out of their summer. It's projected that it's going to be an eventful summer, so have your audience share their plans, exchange ideas with other followers, but also have the opportunity to win something valuable. Everybody loves winning!
"Things you never need but aaalways bring when travelling... We all have those! Type yours below to win."
All people travel differently - some enjoy luxury spa vacations, others like to connect with nature; some pack lightly and just the things they know they'll need, others can't leave the house without at least 3 full suitcases. Invite your followers to have a little fun by sharing their packing tips and tricks, and learn from one another. An inspired customer is one that converts!

Event-inspired giveaways
Generic giveaways are fun and easy to execute, but in case you prefer to launch one for a specific event this summer, we got you covered. The International Best Friends day is coming up on June 8, giving you the perfect opportunity to engage with your customers.
To be on theme for Besties Day, consider giveaway gifts for two. You could ask your followers to tag their friends, letting them know that comments from both people will increase their chances of winning. This is an extremely effective method for increasing your reach and virality.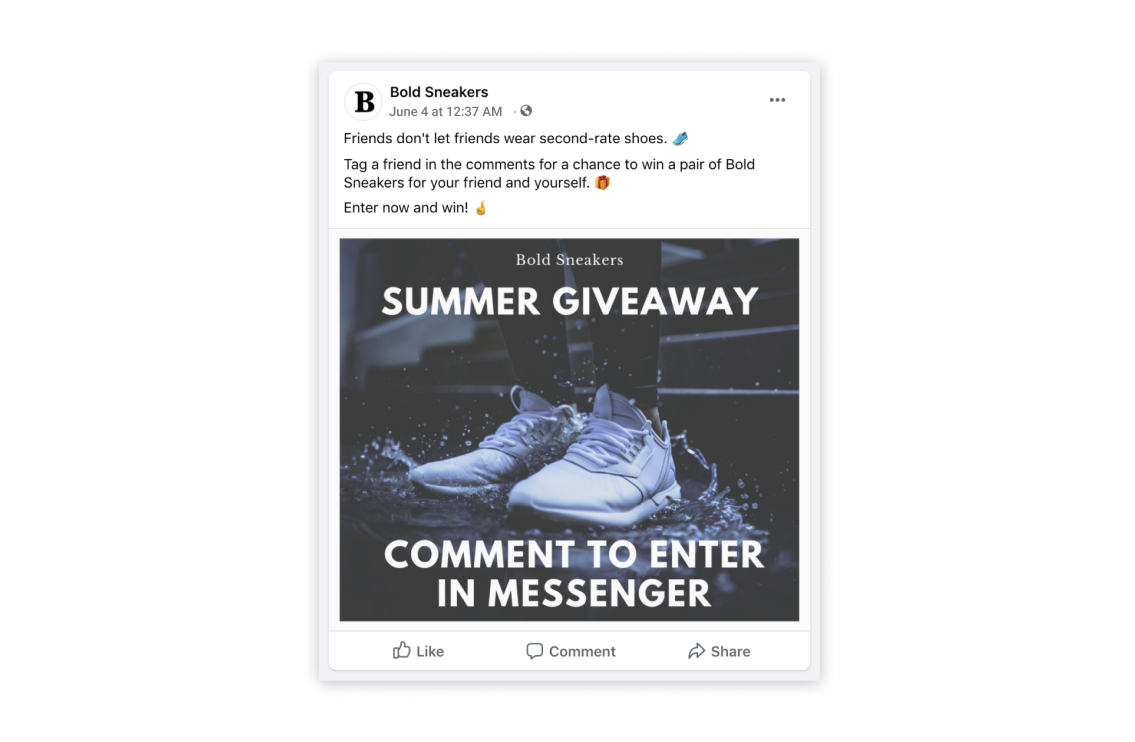 Alternatively, you can ask participants to post an image with their best friends. Of course, uploading an image demands a higher level of engagement than a simple comment. For that reason, you should balance the effort required from the participants with the value of the prize itself.
The main theme and the requirements for giveaways are only limited to your imagination. No matter the topic or the event that you organize your giveaway around, don't forget to always offer something to the losing participants as well. For BFF Day, for example, this could be a Buy 1 Get 1 promo code, to stay on theme.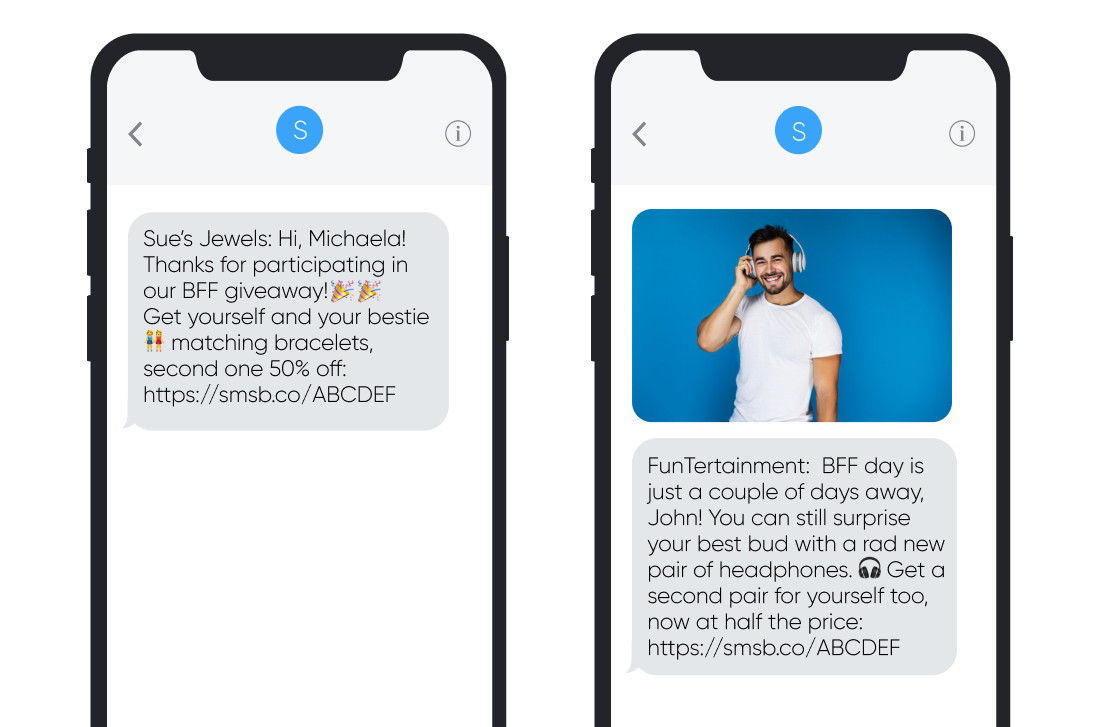 Now that you also have the phone numbers of your giveaway participants, you can send them а special offer as an SMS, initiate a conversation to better understand what they'd be interested in buying and continue the communication in a very direct and personal way.
Double Down on Messenger and SMS This Summer
It used to be complicated to create professional, multi-channel giveaways. Now, using Recart and SMSBump, it takes just a few minutes to build and launch your Facebook Messenger + SMS giveaway.
Besides being easy to set up, a giveaway will improve your audience engagement by having people interact with your store, but will also help you promote specific products, a new collection, or just overall - your brand, ultimately leading to higher conversion rate and profit.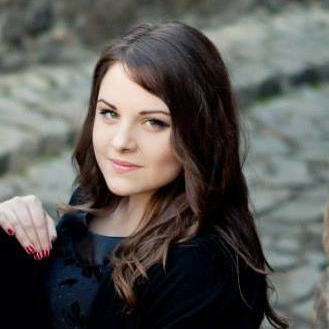 Start growing today
Sign up today and join 90,000+ eCommerce businesses making it big with Yotpo SMSBump