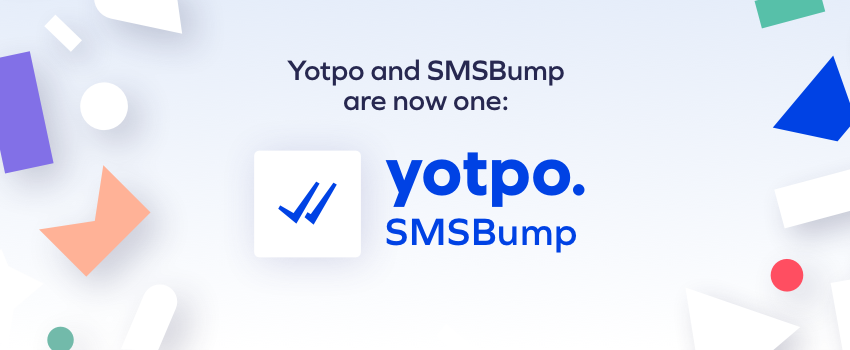 SMSBump is now Yotpo SMSBump: Leveraging the Power of one Connected Platform
It's been two years since SMSBump became part of the Yotpo family, and those two years were nothing short of exceptional for us all.
eCommerce grew at an unimaginable pace that completely reshaped the marketing landscape on a global scale. At the same time, we grew our audience from 30,000 to over 90,000 brands currently trusting our SMS platform worldwide.
eCommerce evolved. And so did we.
Meet Yotpo SMSBump
The next step of our exciting evolution comes with a new name — Yotpo SMSBump. It symbolizes the deep synergy between your favorite SMS marketing app and Yotpo: an eCommerce marketing platform offering a full suite of products for loyalty and referrals, customer reviews, and visual user-generated content.
Together, we are focused on empowering growing businesses, like yours, by providing you with access to the most innovative tools and competitive solutions out there.
Yotpo SMSBump represents a next-level SMS marketing platform for eCommerce brands that want to spark meaningful conversations, build long-lasting customer relationships, and drive more revenue than ever before.
"Our mission continues to be to help brands create captivating experiences that build lasting customer relationships across channels, all from one platform. Yotpo SMSBump is the next step of our evolution, the ultimate experience for today's mobile shoppers. More features. Less friction. Multiple benefits. A platform that gets results."
Mihail Stoychev, co-founder of SMSBump
How it started - How it's going
When SMSBump joined Yotpo at the beginning of 2020, we made a promise — to help eCommerce businesses of all sizes build relationships with their customers via SMS. Our teams have transformed that promise into a reality, already bringing to life game-changing features that enable brands to deliver seamless and captivating mobile-first shopping experiences — even without extra manpower or big budgets.
With our new Campaign Planner, anyone can set up and launch an SMS campaign for Easter, Mother's Day, or Black Friday in under 3 minutes, using a built-in event calendar and the ready-made SMS templates that come with it. Plus, our extensive library of 40+ powerful SMS Flows (now part of the free plan) helps store owners welcome new subscribers, recover abandoned carts, win back inactive customers, and more — all on autopilot.
In the span of just a few months, we also introduced new and improved segmentation capabilities, a fully revamped analytics dashboard, real-time downloadable performance reports, enhanced attribution logic, and much more. With all of these new features and enhancements, we stand true to our customer-first approach. And with Yotpo SMSBump, we are now one step closer to our goal: a powerful all-in-one marketing platform.
What does this mean for your brand
So we've changed the SMSBump name and logo and introduced a new sleek design, but that's not all this announcement is about. Yotpo SMSBump presents new possibilities for your eCommerce and SMS marketing and we can't wait to share them!
New growth opportunities
Having access to the full suite of Yotpo products will open up the door for new growth opportunities and help take your brand to a whole new level.
SMS, Loyalty, and Reviews have the power to enable every growing business to engage with shoppers on a channel of their choice, build long-lasting customer relationships, and drive more revenue. Having all three of them under one roof, working together in perfect synergy, will have a substantial effect on every aspect of your marketing strategy.
Gain all the benefits of having a connected system with the unlimited potential of enriched customer data, which is especially valuable in light of recent privacy changes. With SMS and Loyalty, you'll now have access to deep segmentation and trigger-based messages that are fully aligned with your loyalty program — we just added 12+ new data points to the platform and multiple loyalty flows, so you can target your most valuable customers with tailored text messages and drive 65x+ ROI.
Our integrated SMS and Reviews solutions can help your business thrive too. Brands that collect authentic customer feedback with mobile-optimized review submissions via SMS gain valuable social proof and enjoy 64% higher conversion rates.
But don't just take our word for it! Australian activewear brand LSKD decided to try out Yotpo's integrated eCommerce platform and quickly started enjoying the benefits of having all their marketing solutions under one roof. LSKD combined Loyalty and SMS to enrich customer profiling and leveraged this valuable data to send more personalized and targeted messages. The results? In just six months with our platform, they were able to grow their SMS subscriber base by 310% while seeing an impressive 81x ROI on SMS flows. Now, the brand is looking to explore yet another Yotpo Product — Reviews, to capture unique customer insights and further boost their online presence.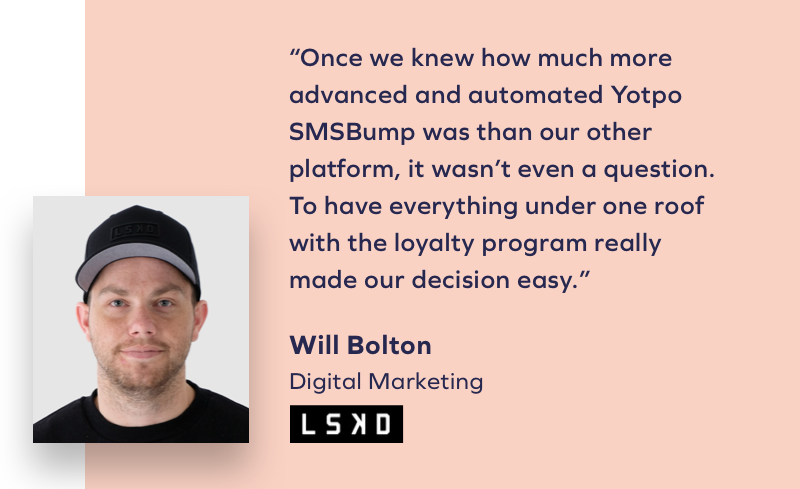 New features and integrations
With Yotpo SMSBump, you can always rely on having access to the most innovative SMS features. Over the past year, we announced a multi-year platform partnership with Shopify, aiming to help brands build stronger relationships with their customers and deliver great shopping experiences. Our goal is to provide you with granular customer insights, more personalized tools, and deeper integrations with other apps. And just recently, Yotpo SMSBump became the first SMS app fully compatible with Shopify Online Store 2.0., helping businesses of all sizes maximize subscriber collection at important touchpoints and drive revenue more easily.
Our teams are constantly working on developing new tools to help eCommerce stores offer unbeatable shopping experiences. We've just released the new Click-to-Buy feature: a link within text messages that will help brands expedite the path to purchase and provide customers with a frictionless shopping experience. This cutting-edge new technology has driven 4x the results of regular SMS campaigns and a whopping 20x ROI for brands so far.
We also have a great line-up of powerful integrations for your eCommerce store coming up in the following weeks, so stay tuned for more exciting announcements!
In-depth expertise and stellar customer service
We've spent the past two years building a team of stellar eCommerce strategists whose knowledge and expertise have grown immensely. Now, with over 800 employees in 7 offices worldwide, we are providing you with 24/7 access to our dedicated support teams, who are ready to take your business to the next level and share valuable know-how from big names like Volcom and Princess Polly so you can compete with bigger brands on a global scale.
Contact our support or book a demo to learn how to quickly get started with SMS marketing, kick off your first SMS campaign and automation, and get high-converting text marketing templates for every big retail event — all based on the analysis of millions of text messages sent through our platform.
Our commitment to you
By coming together as Yotpo SMSBump, we have created an even stronger SMS marketing solution to power your eCommerce store. As we move into the future as one, we will:
- stand strong on our mission to help brands of all sizes build long-lasting customer relationships with SMS;
- develop our products with your business in mind;
- support you in every step of your growth while making sure you have the most powerful tools to succeed.
We will continue to evolve. Together.
Mariya Arabadzhieva Todorova
Start growing today
Sign up today and join 90,000+ eCommerce businesses making it big with Yotpo SMSBump