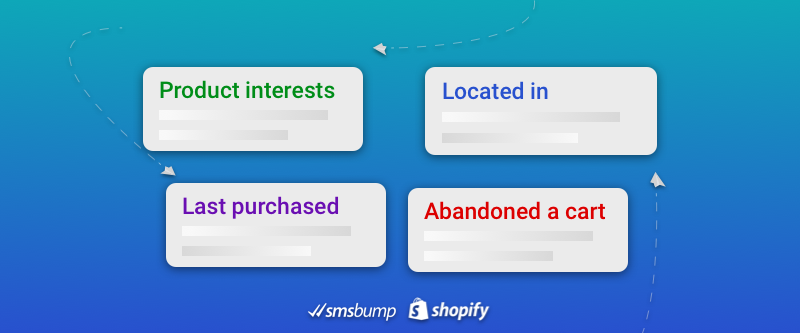 How To Make Tons Of Shopify Sales With The Updated Customer Segments
Customer segmentation just got a lot more powerful in SMSBump.
You now have better organization of the customer filters, making it easier to build the right segments for each targeted SMS marketing campaign.

But there's much more than that.
Customer Segmentation Redefined
You now have even more customer filters added to the SMSBump segments to help you create more diverse types of highly targeted segments.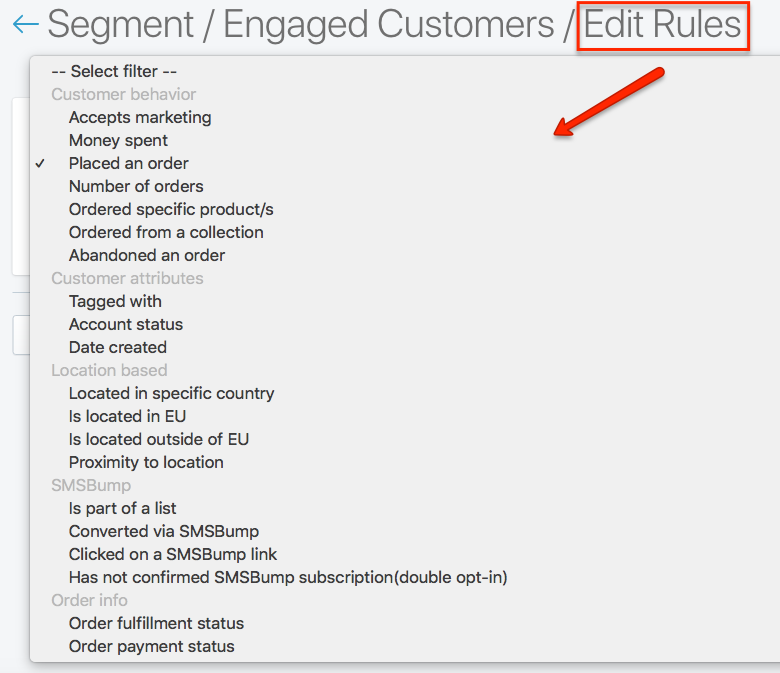 The new filters you can now use to create customer segmentations are:
Customer behavior

Ordered from a collection

Ideal if want to target customers who purchased products from a specific collection because it gives you data about their product interests.
For example, if you sell Dog and Cat food and a customer has recently ordered from your Dog food collection:

Hey, Josh! If your pet really likes the dog food you ordered, we have a sale next Wednesday! Get some more doggy treats at 25% off using code DOGGO!

Location based

Located in EU

Located outside of EU

Proximity to location

These location-based filters help you create segments with more precise targeting for people in a specific area.
In case you want to avoid any uncertainty around GDPR, you can use the "Located outside of EU" filter, if part of the audience you want to message may be located there.
For example, if you want to message customers in the proximity of a certain area, like Los Angeles, you just need to enter the postal/zip code of the area and enter your desired radius.

Hey, Karen! You can get 15% off anything if you visit our store on 2959 Marietta Street until the end of the day!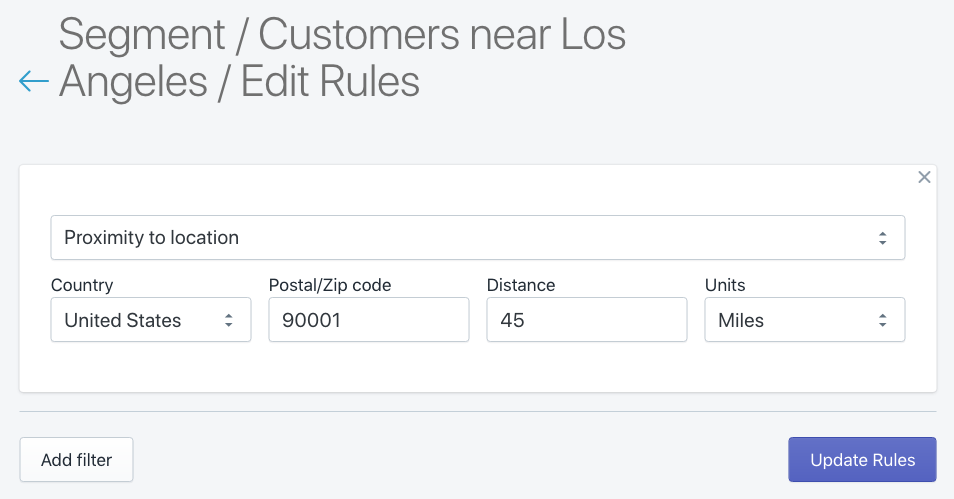 The reason why we're using a Zip code instead of city, is to give you a way to nail down on a specific proximity of an area so your SMS marketing campaigns have greater accuracy.
SMSBump

Part of a subscriber list

Unconfirmed subscriber (Double opt-in pending)

The segment rules labeled with SMSBump come from scenarios of customers using the app.
For instance, if you want to get a subscriber list you previously built and segment it, now it's possible.
Or, if you have unconfirmed subscribers, you can now use that customer filter and segment them so you can send additional reminders so they can confirm their subscription for your SMS promotions.

Hello, Brandon! Still interested in snowboard apparel? Confirm subscription to get your special offer: https://smsb.co/xxXx
Increasing sales and customer retention is all about delivering the right message to the right customers.

Learn more about Segments
Read more about
SMSBump Segments
and learn how to build powerful audience segmentations in Shopify using countless combinations with the customer filters.
---


Start growing today
Sign up today and join 90,000+ eCommerce businesses making it big with Yotpo SMSBump