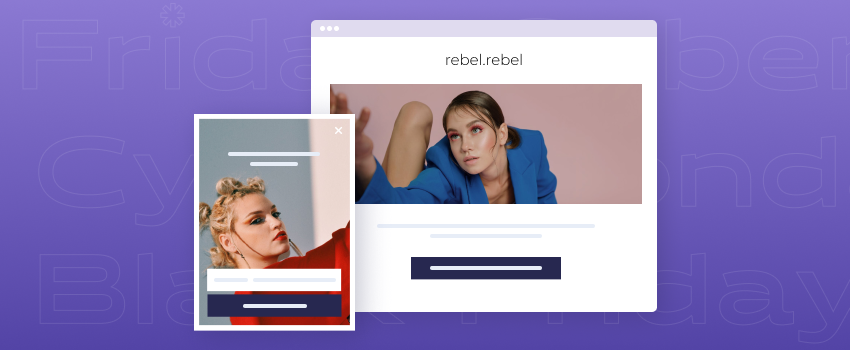 BFCM Pop-ups to Maximize Subscriber Collection
Did you know that pop-up subscribers are 76% more likely to become repeat customers compared to any other type of SMS audience? So activating a subscription form on your website around Black Friday/Cyber Monday is crucial for online merchants as it helps turn scrollers into subscribers with a single click.
But what is the difference between high-converting and super-annoying pop-ups?
For your offers to pop up and grab the attention of your website visitors, you need to make sure your pop-ups have an engaging copy, present an appealing offer, contain actionable CTAs, and spark FOMO (Fear of Missing Out).
They say a picture is worth a thousand words, so we decided to let some good examples do all the talking for us. Well, almost :)
Dive into our library of 10 powerful pop-up templates, combined with best practice tips, that will help you grow your SMS (or email) audience just in time for the holidays.
Must-have #1: Engaging copy
Best practice tips:
Ask a question – to attract the attention of scrollers
Include a pun – always a good idea
Keep it simple – avoid long copy that will only distract visitors
Focus on the benefits – what will new subscribers get when they sign up?
Use actionable words – shop, sign up, join, subscribe, stay tuned, win, unlock, etc.
These sample pop-ups combine an engaging copy with a simple yet eye-grabbing design. The CTA buttons are visible and to the point. Red and black are two of the primary BFCM colors.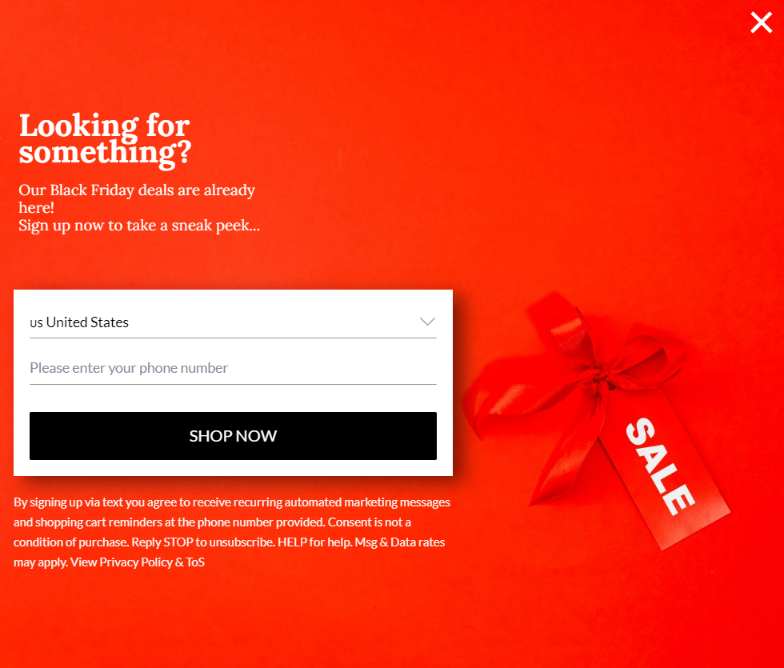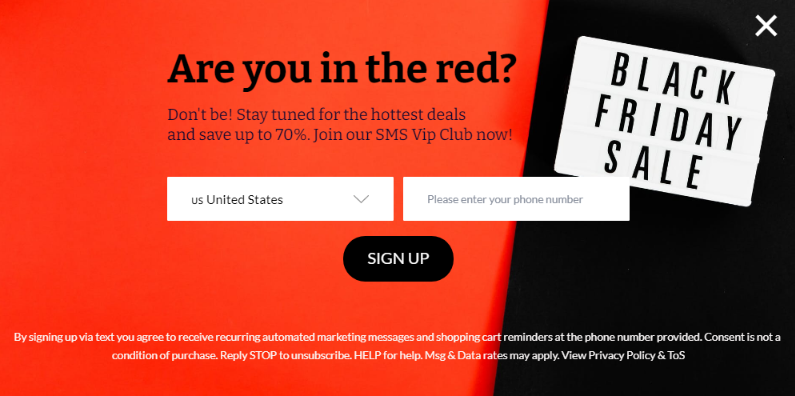 Must-have #2: Appealing offer
Best practice tips:
Make your offer super clear – whether it is a 40% discount, $10 gift card, or free shipping, you need to make it clear for your future subscribers.
Don't hold back – it is the most crucial time of the retail year. If you want to grab the attention of shoppers around BFCM, you have to step up your discounts game.
Now is the time to be salesy – it's a Flash Sale, Mega Sale, Super Sale, Black Friday Sale, Blowout Sale, Hyper Sale, you get the point...
Emphasize exclusivity – make your customers feel extra special. Phrases such as "be the first to," "take a sneak peek," "before anyone else," and "members only" might come in handy.
These sample pop-ups combine appealing offers with engaging design and actionable CTAs. The colors are not aggressive and make the copy stand out.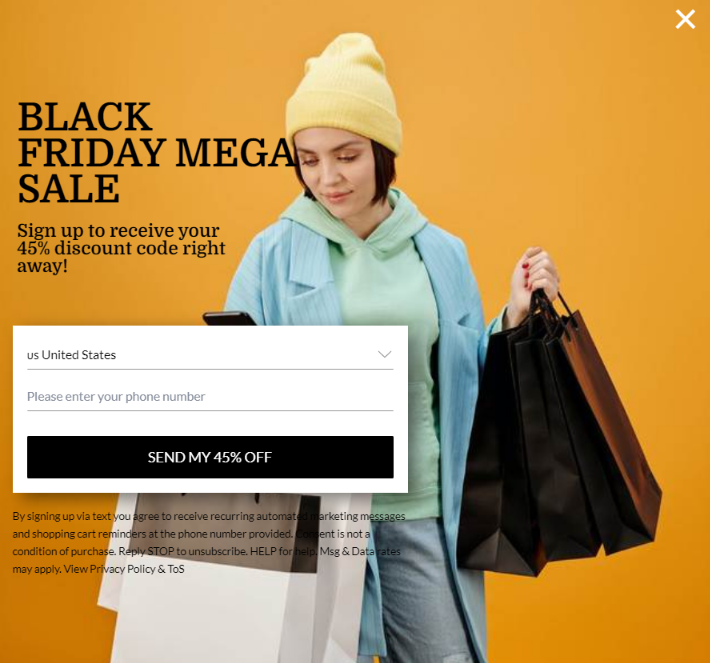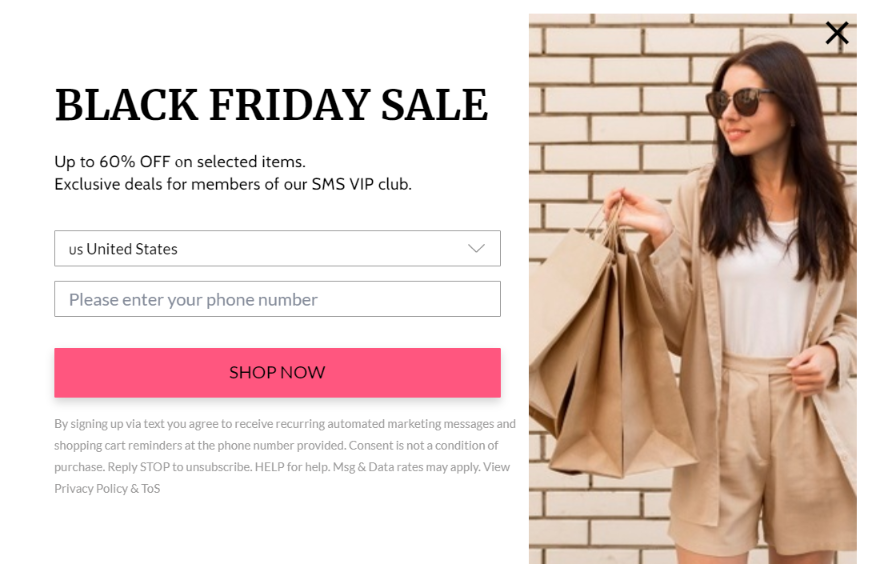 Must-have #3: FOMO
What is it: FOMO marketing refers to messaging that appeals to consumers' desire to latch on to every opportunity before it slips through their fingers. The messaging in it is framed such that you push the customers to make an impulse purchase rather than regret the lack of action later.
Why it works: Shoppers are more eager to hit the purchase button if they feel they might miss out on a great deal.
Phrases that spark FOMO: "Offer ends today," "Deals might run out fast," "Buy before it's over," "Hurry up," "Limited quantities," etc.
These sample pop-ups combine the power of FOMO with a design and colors that imply urgency.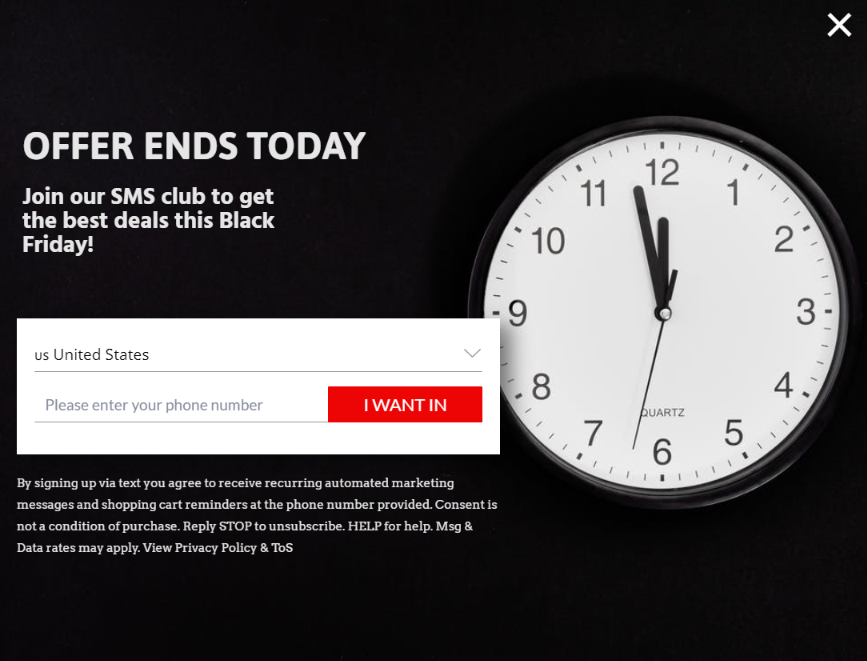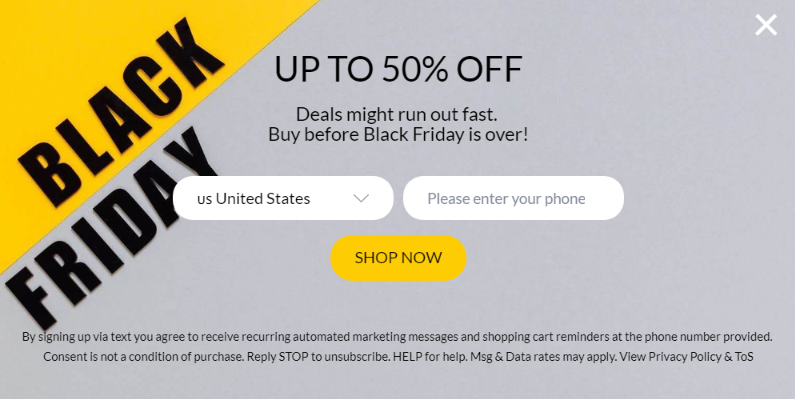 Must-have #4: Actionable CTAs
Best practice tips:
Classic approach: stick to proven call-to-action copy such as: "Shop now," "Sign up," "Subscribe," "Join," etc.
Alternative approach: aim for creative, out-of-the-box copy such as: "I want in," "I'm in," "Count me in," "Send me X% off," and "Unlock all deals."
Try to connect the CTA to the rest of the copy
Don't be afraid to use caps lock: Shop now or SHOP NOW? Case closed.
Keep it brief and simple.
These sample pop-ups show the power of an actionable call-to-action. The design is simple, with emphasis on the buttons. Used colors can either match some other parts of the visual or be completely different – to highlight the most essential part of the pop-up.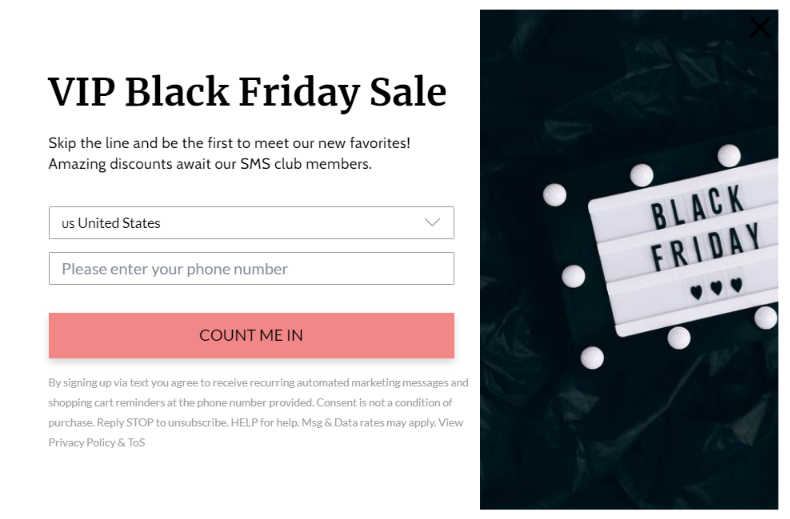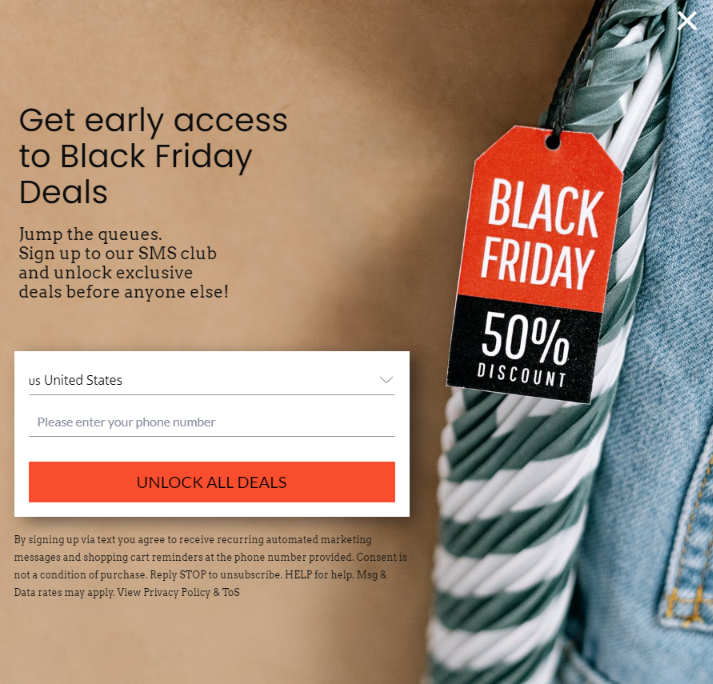 Bonus Tip: Be Creative
Mystery Discounts are a thing now… "Unlock your mystery discount" converts significantly better than "Unlock 15% off your first order", don't you think?
This sample pop-up combines the mystery with a beautiful design (hinting at a gift), an engaging copy, and a strong CTA.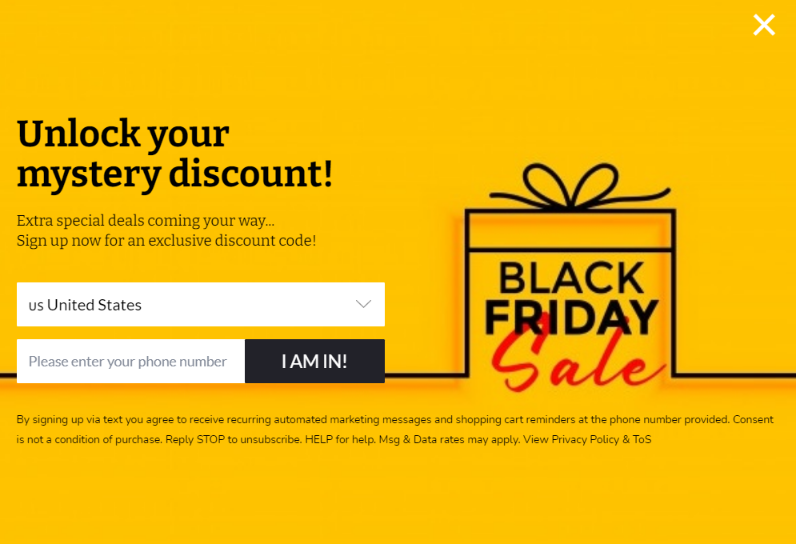 And did you know that "anti-Black Friday" was a thing? Yeah, us neither. But our friends over at Macelleria Callegari achieved over $30 000 in just three days last Cyber week with similar messaging. Maybe it's a path worth exploring…
Eye-catching, witty, engaging - everything you wanted in a single pop-up. Used colors COULD NOT BE any more anti-BFCM either...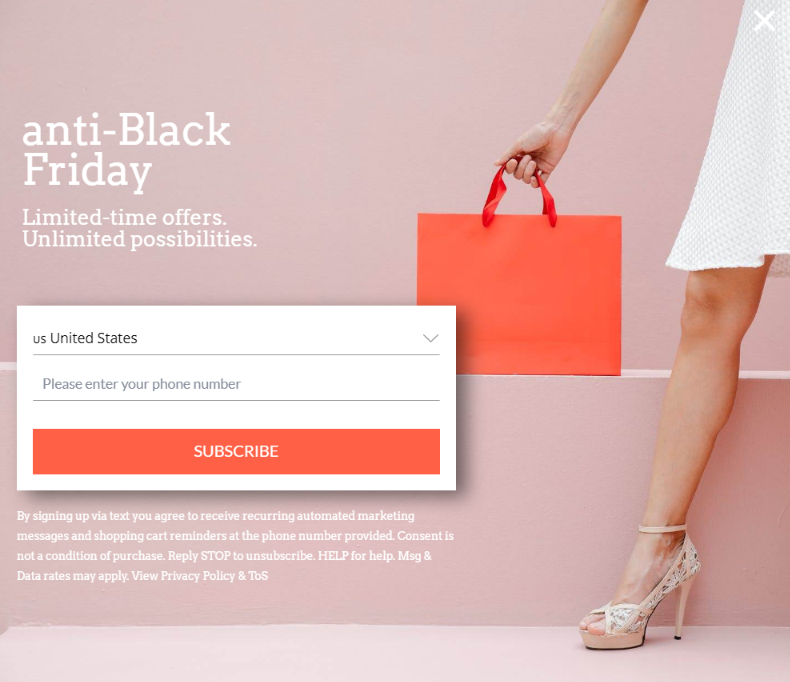 These were our tips and suggestions – meant to inspire you for great designs. To be honest, we're sure you'll create better ones! The templates above took not more than 5 minutes each anyway...
So head over to our Pop-up builder and start creating!
Mariya Arabadzhieva Todorova
Start growing today
Sign up today and join 90,000+ eCommerce businesses making it big with Yotpo SMSBump