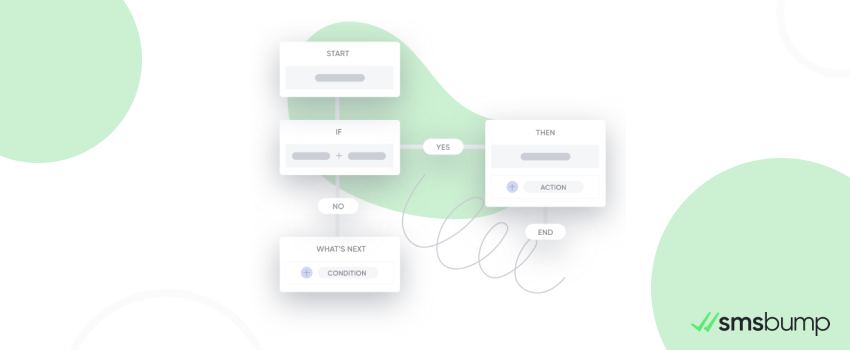 Build an Abandoned Cart Flow That Converts
There's been a rumour going around the Shopify neighbourhood that SMSBump has Flows cooking on the stove.
Well, it isn't just a rumour anymore - Flows are finally ready to…flow off the back burner and straight into merchants' hands.
Setting aside all the cheesy wordplay we can muster, Flows are without a doubt the most powerful feature SMSBump has released so far, that will take text marketing and SMS automations to a whole new level. And just in time for BFCM.
Since the app is well-known for its effective automated abandoned cart reminders, let's start our Flows off by building an abandoned cart flow that will top up those results!
But first, let's give you a quick definition of SMSBump Flows.
What are Flows and Why are They a Game-Changer?
The main purpose of the flows is to create a sequence of automated actions based upon different triggers. It allows better customization and accurate targeting, optimizing the process of setting up automated text messages and ensuring greater personalization of both copy and offers.
The main ingredients of every flow are:

Trigger: this is the customer's action that will activate the flow and all actions thereafter (e.g. - an abandoned cart)

Condition: any additional requirements you want the app to check for before proceeding to taking an action (e.g. - does the value of the abandoned cart exceed $200)

Action: what actions should take place in regards to the trigger and conditions, if they are met or not - send SMS, MMS, Add to List, or Send a Slack notification to admin.

Delay: sets a delay between 2 steps - e.g. condition and action
In SMSBump, you can also fully customize the content of the SMS, add multiple text messages, and branch out the flow based on things like the value of the item in the cart, and much more.
Important: In the case of abandoned cart flows you'll want to turn off your abandoned cart text reminders in Automations to make sure that you're not double-texting anyone. You can find more detailed guidelines on how to build a flow from scratch in our knowledge-base article.

Getting more and more excited? Great - so are we!
Now let's look at how exactly to create an abandoned cart flow that will beat any alternative means to do so.

Abandoned Cart Flow
With this flow we will show you how to target both high-value customers (ones that shop frequently and have spent a substantial amount at your store) and occasional customers (those that do not buy as often and do not spend as much) with just one shot.
How do you segment out these two types of customers? With the way SMSBump Flows are designed, this is easy and intuitive.
Since we are targeting people abandoning their carts, we should start with the trigger Abandoned checkout.
Because the number of purchases and total order value can be a good predictor if a customer is of high value to your store or not, select these two conditions to define the actions you will set in the next steps.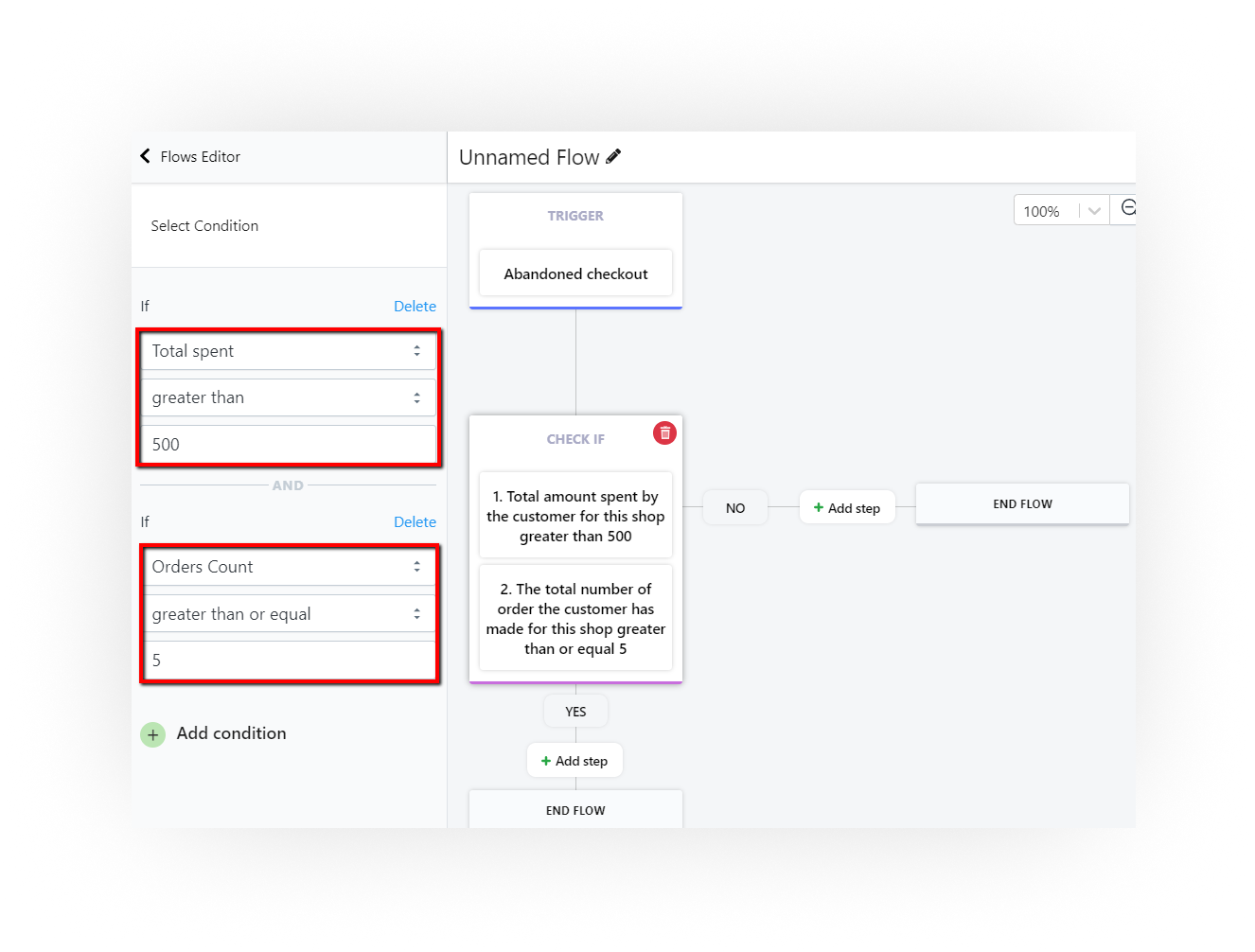 Remember: the values of these two conditions will vary from store to store. For some online businesses a total order value of $500 could be enough to define a customer as high-value, while for others this is a very small number.

All customers who meet the two conditions will be your high-value customers, and the rest - your occasional shoppers.
Next step is to decide what actions should take place if these two conditions are met or not. We recommend that you set the two branches of your flow to take two different actions, depending on the type of customers.
MMS and High-value Customers
On a global scale, high-value customers account for 41% of a store's annual budget and are what make businesses sustainable. In other words, you want to keep your high-value customers happy and coming back for more.
If a high-value customer abandons their cart, there are a number of tactics you can adopt to salvage the order.
Send them a multimedia message (MMS)
With high-value customers it is worth investing a little more as there is a greater chance to convert.
MMS is usually a great tool you can use to remind your loyal customers about the products they've left behind. To make it even more appealing and give it an even greater sense of personalization, you can enable the Image Grid option. It will pull up images of all products the customer has abandoned, gently reminding them exactly what they'd be missing out on. This will trigger the fear of missing out, which, combined with a little sense of urgency, will ultimately lead to a recovered sale.

Add a Discount
Your MMS will reap even better conversion results if you add a small incentive to make your loyal customers feel appreciated. In the case of high-value customers, we recommend you offer free shipping as shipping rates are one of the top reasons for cart abandonment, and perhaps also surprise them with a 5% discount on their entire order as an additional push.
Discounts can definitely get you a long way, especially when paired with a stunning visual and a witty call-to-action.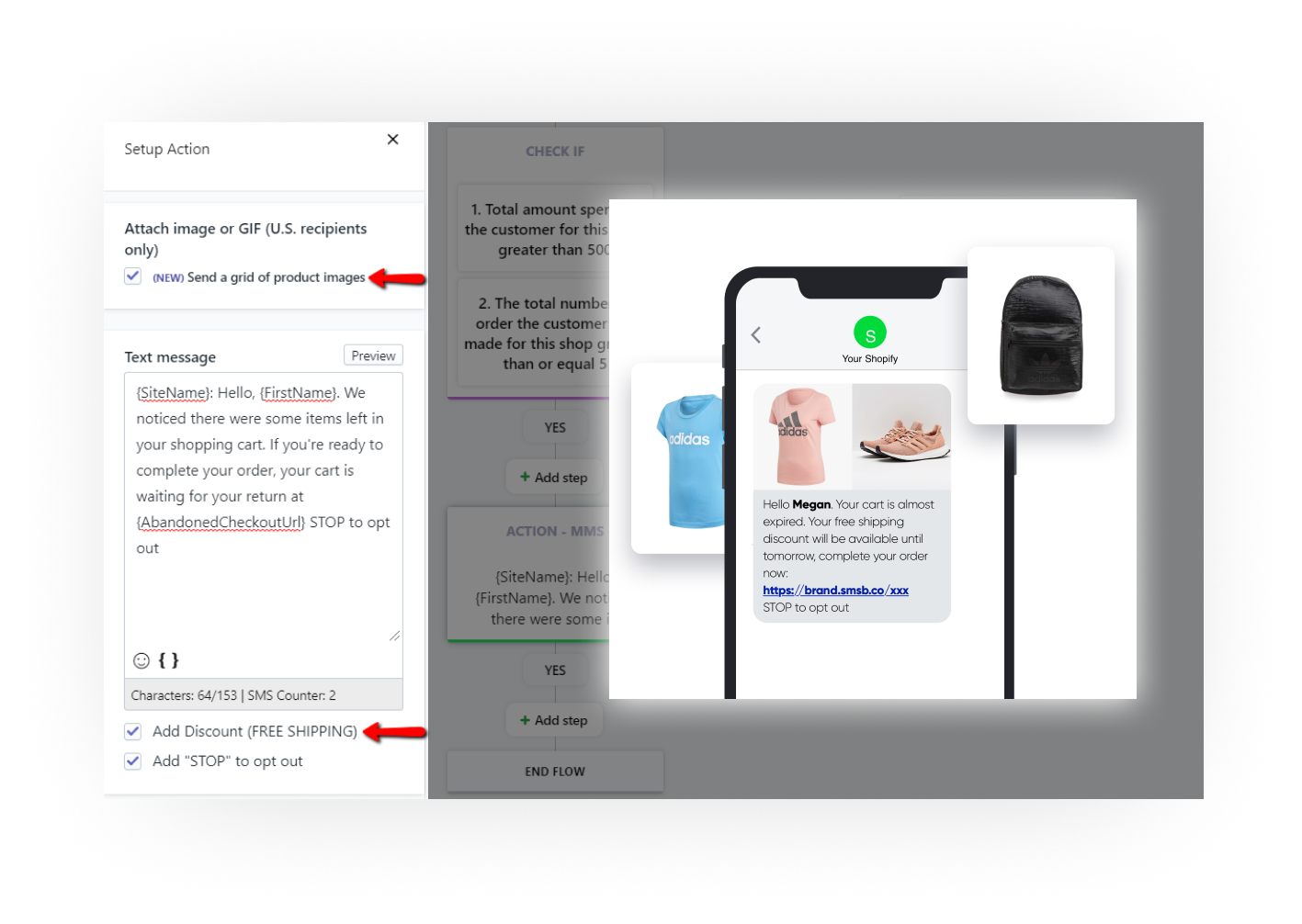 Timing
Good timing is crucial especially with abandoned cart reminders. You want to catch your customers while they are still in a shopping mood, and at the same time not overwhelm them with untimely or frequent reminders.
We recommend that you send the first reminder 1 hour after the cart was abandoned.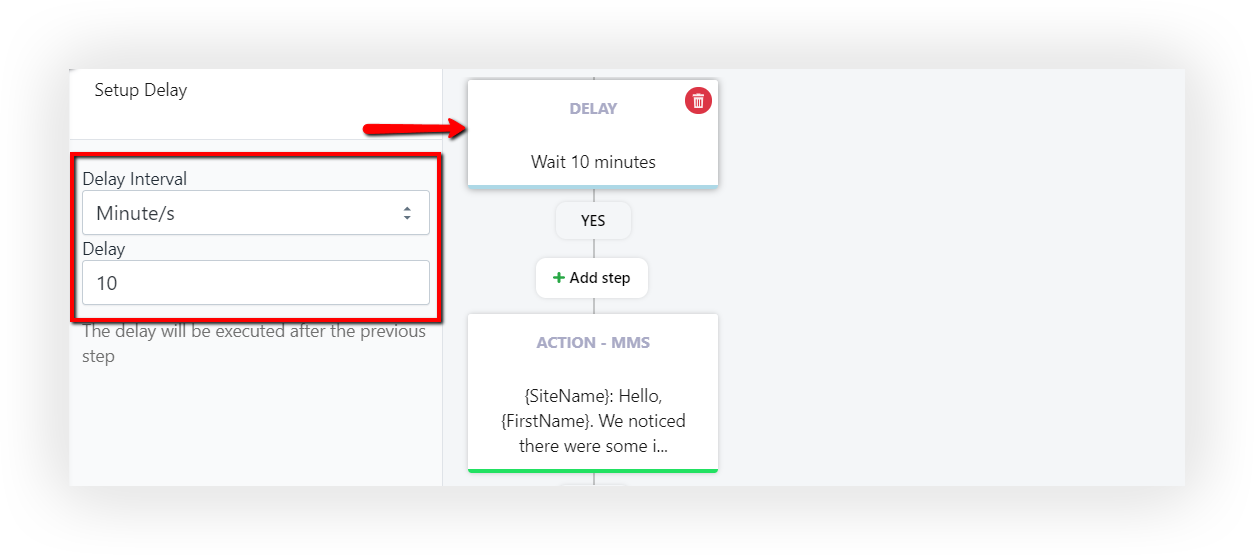 SMS and Occasional Shoppers
If customers who abandoned their carts do not meet the conditions of having spent at least $500 at your store and made at least 5 orders total, then you can refer to them as your occasional shoppers. These buyers usually look for deals, are not necessarily hung up on shopping from the same store, and like to explore different options.

If these customers do not meet your conditions, you can set this outcome to trigger a plain text reminder (SMS) that clearly defines your brand's voice. You can include a small discount ($5 or 5% etc.) to have a higher chance of conversion.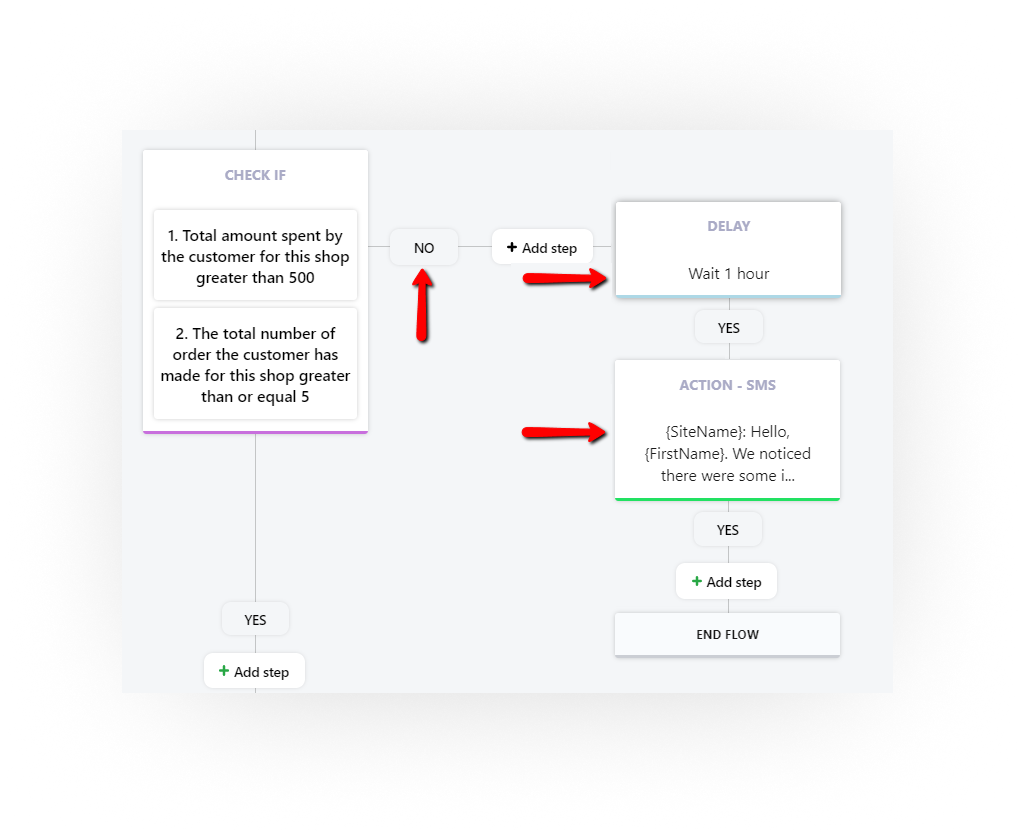 Simple text messages, although not as visually appealing as MMS, can still be a powerful tool in the hands of a skilled marketer. With the right copy, delicate sense of urgency and nice incentive, abandoned carts will drop significantly!

Step II in the Abandoned Cart Flow
In order to proceed with your abandoned cart flow, you have to take into consideration the outcomes of your MMS/SMS, or in this case whether they resulted in a new order, or not.
To add this second condition, just select Add step > Add condition and find Made an order since the start of this flow under SMSBump.
This condition will split your customers into two groups: those who completed their order after your first SMS/MMS reminder, and those who didn't.
Usually, your high-value customers will be the ones to convert after the first reminder. Send a Thank You SMS or a simple order confirmation to inform customers that their purchase have been successful.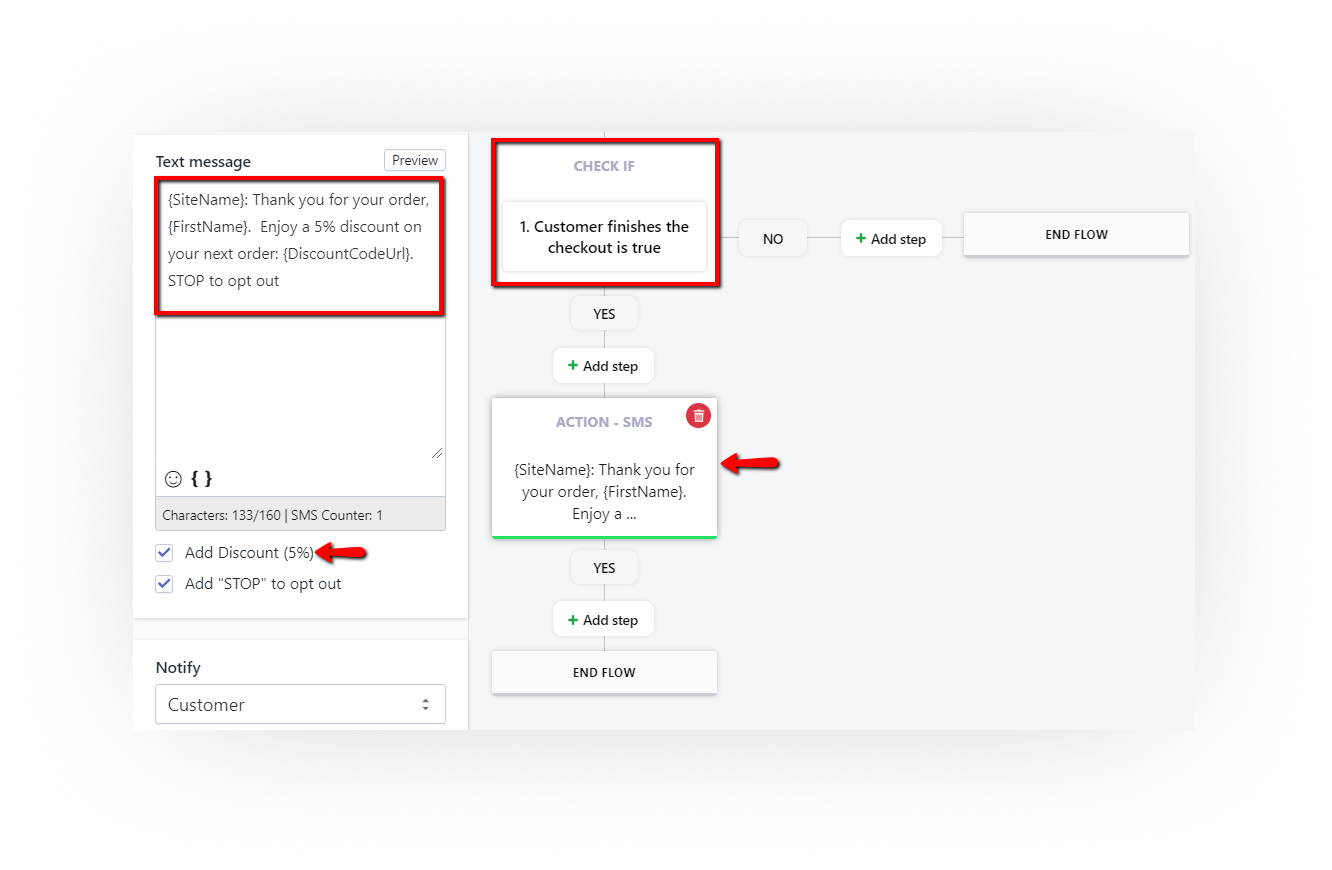 In case your first attempt at cart recovery somehow doesn't evolve into a purchase, we advise you to have a second reminder that will be triggered 24 hours later.
You can tweak the copy of the second abandoned cart MMS/SMS the exact same way we did earlier. Give them an even bigger incentive, remind them that they are missing out on a great deal and only have an hour to complete their order before it ends.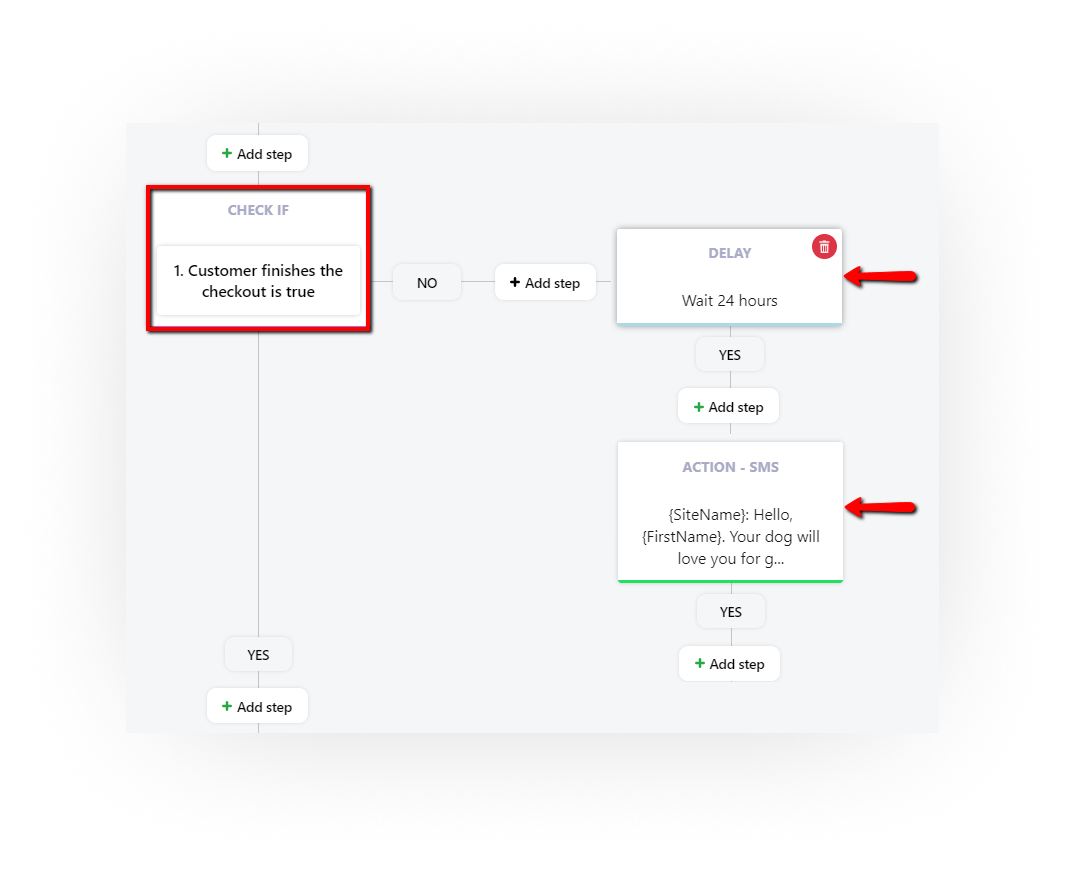 Flows are Now Ready to be Served!
This third step really depends on each individual store and your customers. Some stores report that two abandoned cart reminders are just enough to recover a satisfying amount of carts, whereas some need to restructure their abandoned cart strategy and extend it over a whole week.
Either way, to activate your abandoned cart flow, toggle the button at the top right of the menu.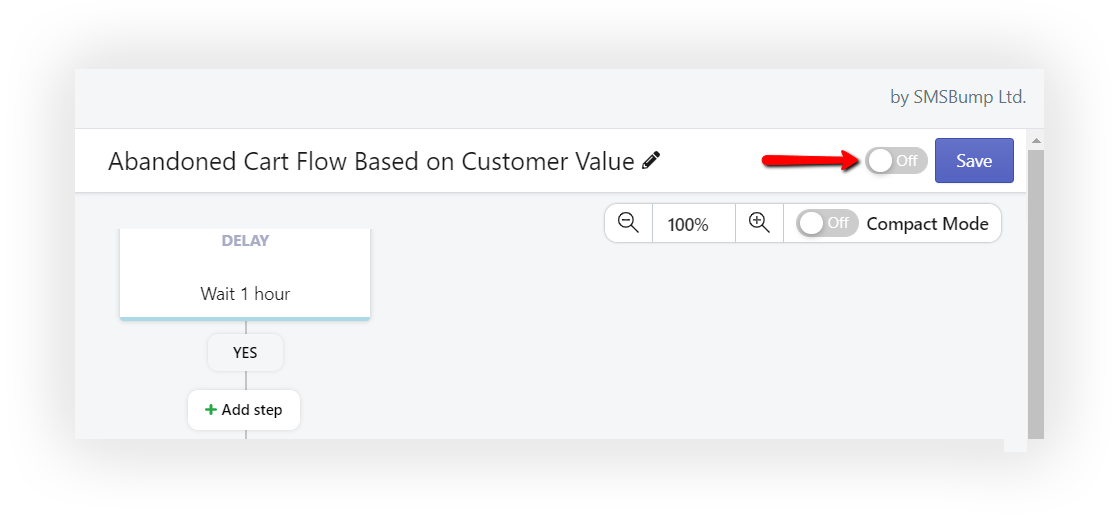 And just like that you can create effective and highly-targeted abandoned cart reminders.

Let us know what other flows you would like to help you build, or simply check out our Flow Library in the Flows menu!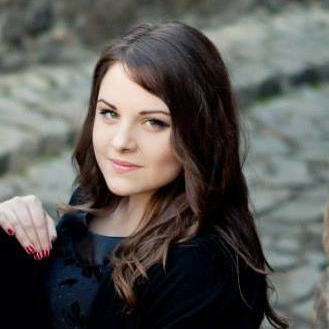 Start growing today
Sign up today and join 90,000+ eCommerce businesses making it big with Yotpo SMSBump