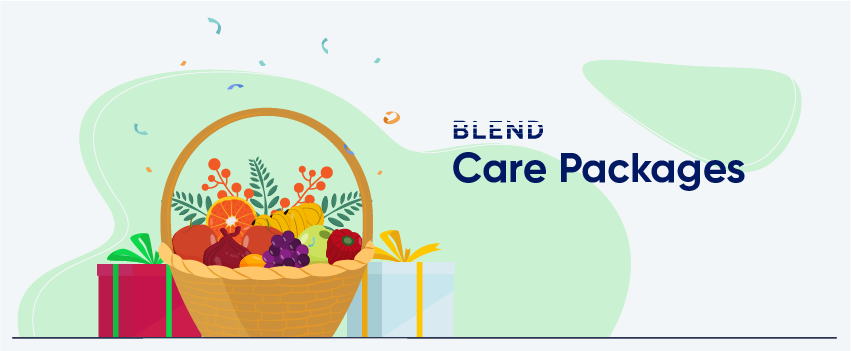 Show Support & Promote Care Packages with SMSBump Flows
In this guest post Adam Pearce from Blend Commerce explains why Shopify brands should offer Care Packages and how to promote them to your new subscribers using SMSBump Flows.
Since the start of the COVID-19 outbreak, many of us have spent a lot of time away from our friends and family. Not being able to physically meet our loved ones, online shoppers have been looking for ways to show their love and appreciation for those who are far away.
At the same time, we've all become very aware of the help and support of health care and key workers who are helping us get through this difficult time.
As a result of this, there's been a huge trend in "care packages" being sent by customers, with a whole range of Shopify stores creating such for customers to buy.
What is a "Care Package"?
A care package may include 3-4 small gifts and a personal note or card to show appreciation. From food to beauty products, there is now a great variety of these available on the market.
As a Shopify merchant, we think this presents a huge opportunity to drive sales, both now and in the future. Someone who receives a care package is then made aware of the products that you sell, and may be interested in purchasing other products from your store going forward.
Examples of Care Packages
While there are a number of "care package" products available, here are some great examples:
By Asos.com: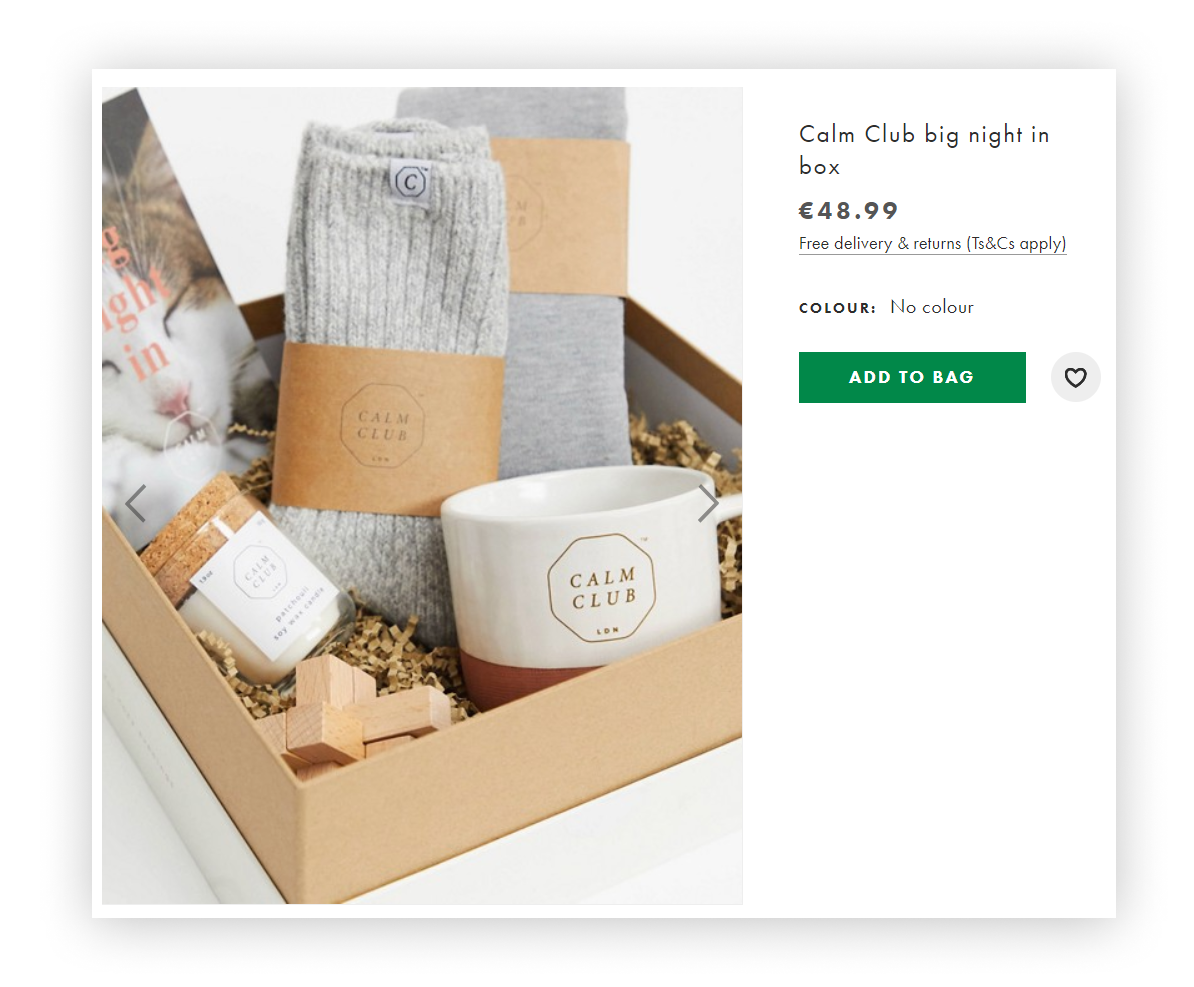 By JohnLewis.com: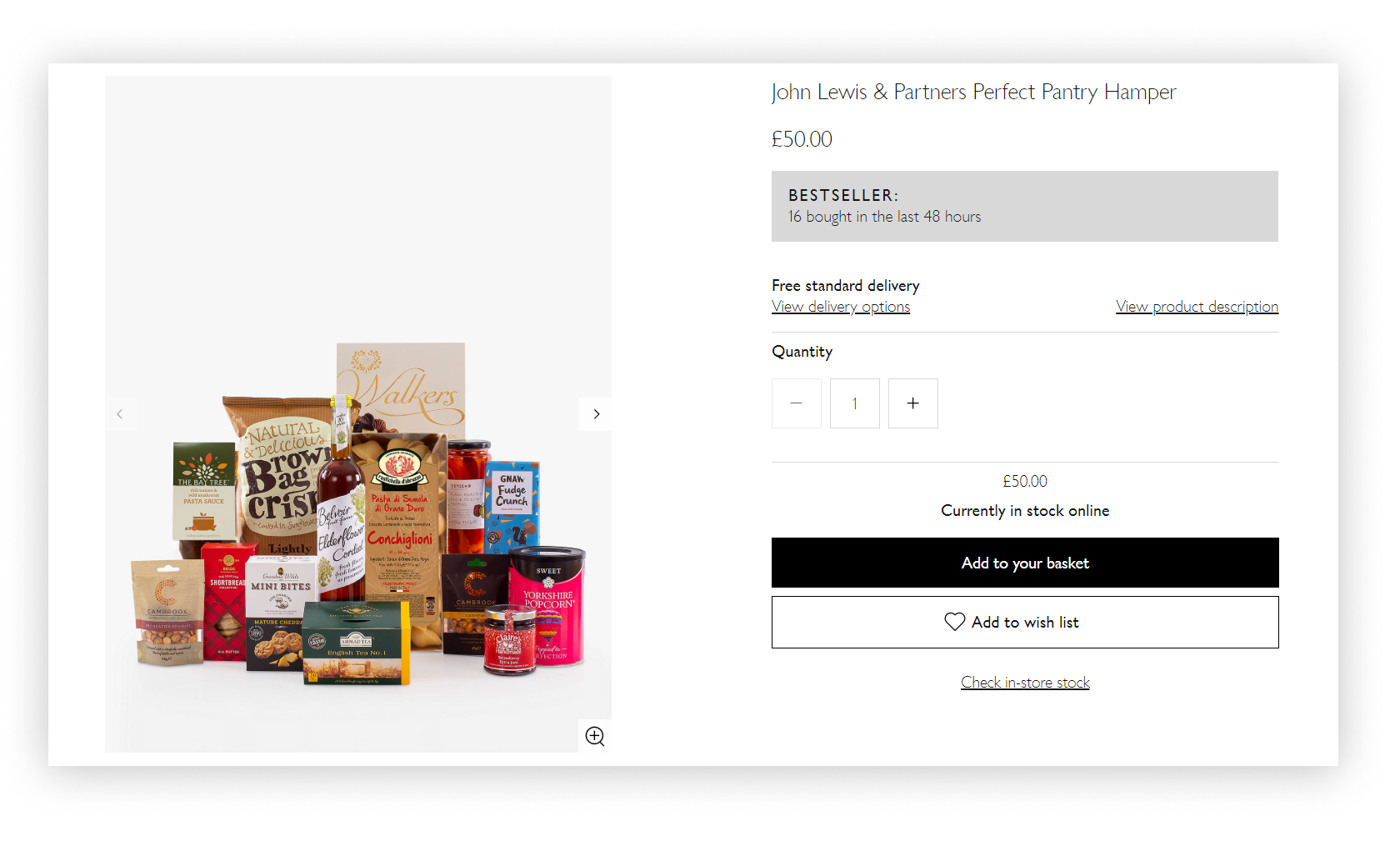 How to Create a Care Package for Your Shopify Store
Creating a care package can be done in a couple of ways, depending on the level of customization you'd like to offer your customers.
Create a single product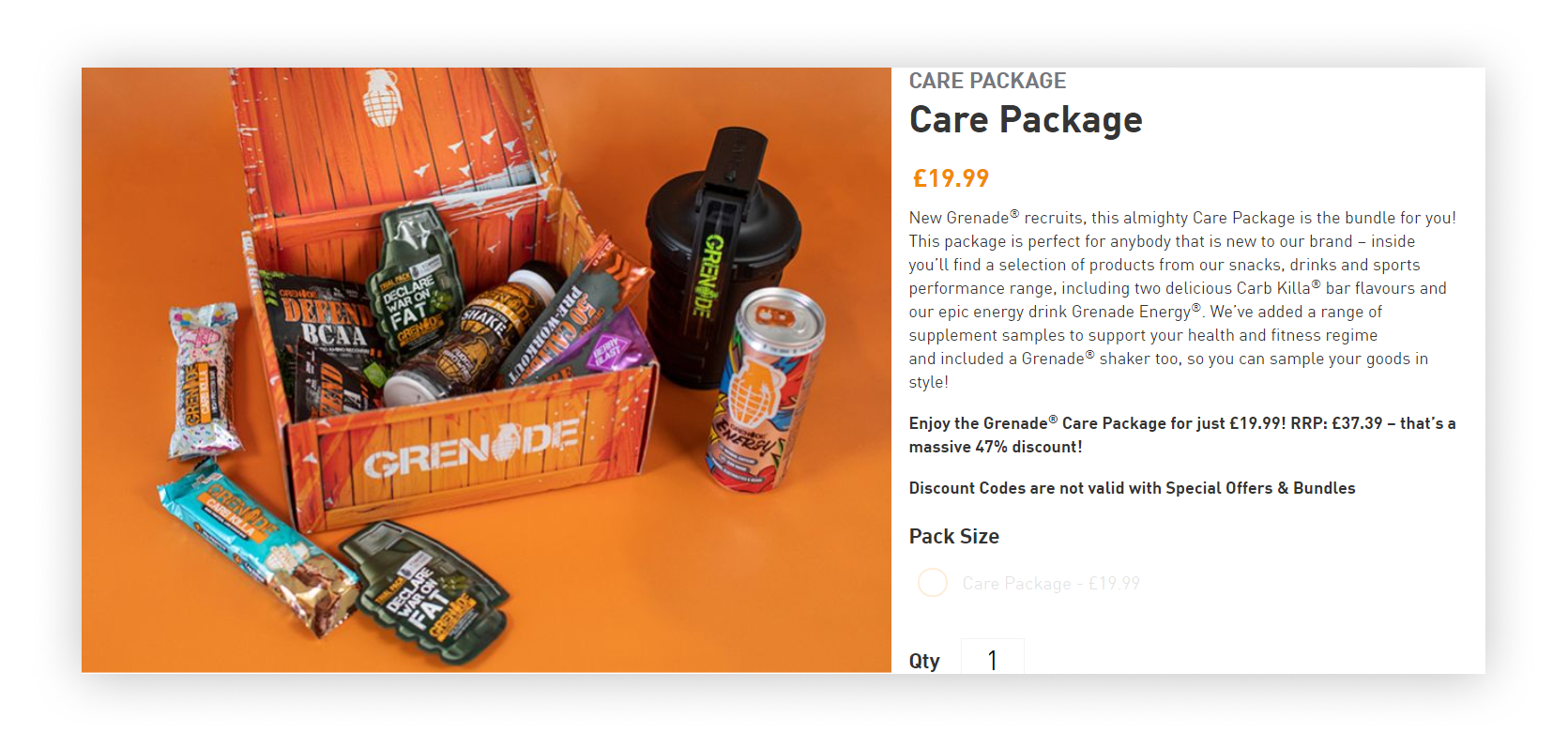 As can be seen from the example by Grenade, by packaging a range of products together and creating an image and description of the products in the care package, this can be listed as a single product. We recommend including a card with information about your products in the box so that the person receiving the care package is encouraged to buy from your business in the future. You can also add a discount code or special offer to go with the care package.
Create a customizable bundle
If you're using a bundle builder on your Shopify store, you may want to use it to set up a care package. This will create a higher level of customization, enabling customers to combine different products.
At Blend, we've used this functionality to drive up average order value (AOV) for our clients and provide them with a personalized approach to customer needs. Below, you can see an example of how Blend has created this custom functionality for a client: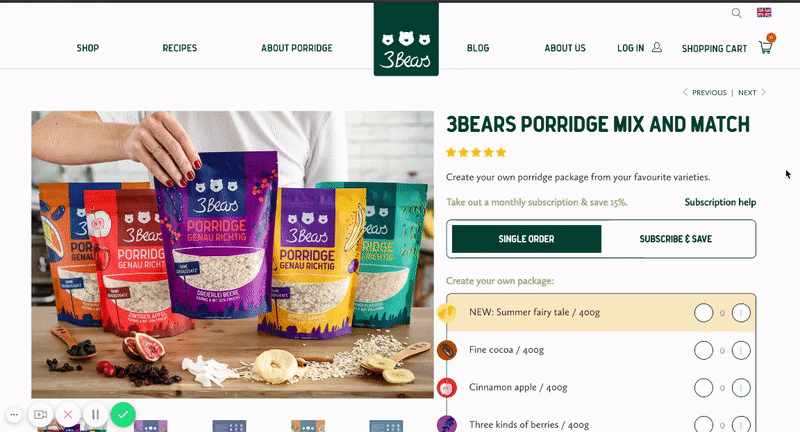 How to Promote Care Packages Using SMSBump
At Blend, we've worked with a range of clients to get the best from SMSBump. For us, SMSBump flows are one of the most powerful ways to generate sales from SMS.
Together we've created a free flow template which helps you to promote care packages to your customers. Here are the steps to create this flow for your own store.
Plan your care packages
When creating care packages, we recommend having at least 3 different options for customers to choose from. If you're using this flow, the more choices you have, the better. Before you begin, it's a good idea to think about the following questions:
- What are the different demographics that customers will be shopping for? For example, if you're a beauty brand, perhaps it could be Male/Female, different ages, and different skin types.
- What are the price points you can offer? We would typically recommend that care packages are between $25 and $45 for the majority of US-based brands, but this may differ depending on your specific product. Try to ensure that you have at least two price point options for each demographic. For example, a care package for females aged between 25 and 35 at $40 and one at $25.
Create care packages on your Shopify store
Once you've planned your care packages, it's time to create the image and copy as you would for any other product on your Shopify store. Be careful to specifically describe what's in each package to ensure the customer feels confident to purchase.
Once you have this, either create a product on your Shopify store, or use bundle builder customizations to create the options.
Download SMSBump and select the 'Care package flow'
You can add SMSBump to your store by clicking here. Installation is super fast and once completed, simply go to the Flows section in the Dashboard menu and then click on the Create Flow button.

From the menu on the left mark the Conversation Flows box and select Care Package Flow to get started.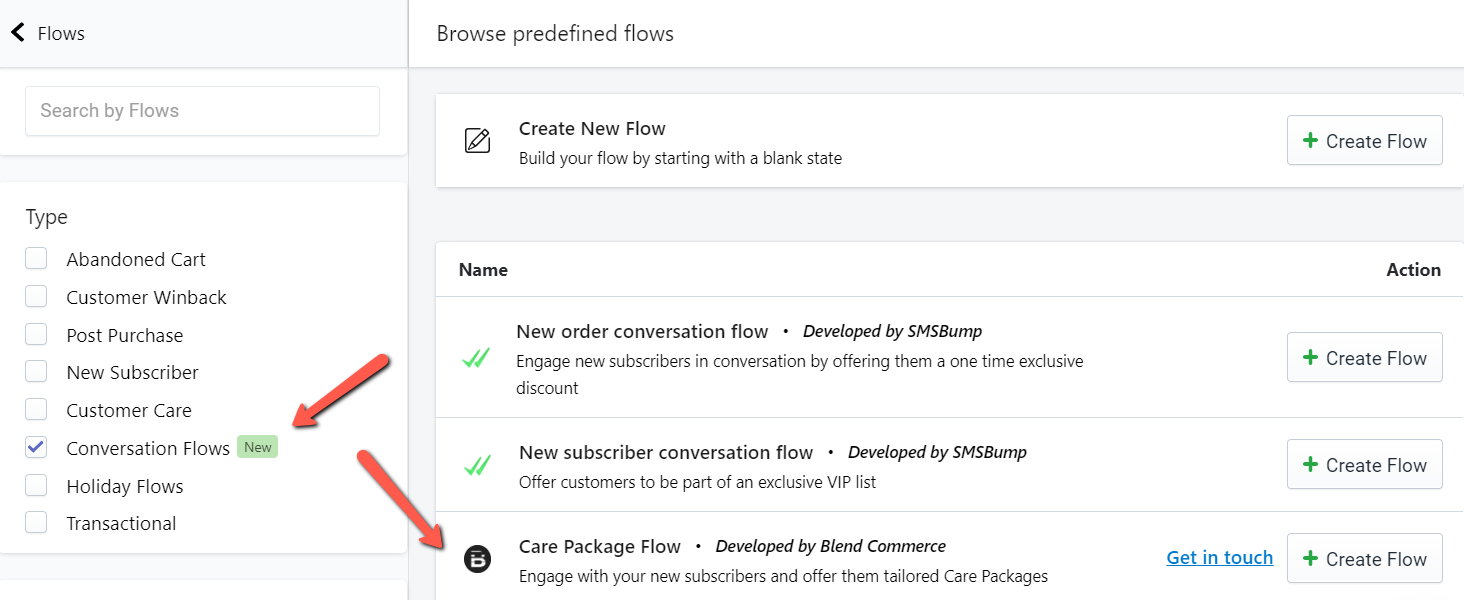 Edit the "Care package flow" for your brand
Now you're ready to customize the Care package flow for your brand. Take a look at the video below which explains how the flow works and what you'll need to do to customize it for your Shopify store.
Basically the flow we use as an example allows you to ask you subscribers about the gender, age and interests of the person who will receive the care package.
These are the questions from the flow:
- Are you shopping for a male or a female?
- Is he or she under or over 25 years old?
- Does he or she prefers to relax or to party in their free time?
Depending on their answers your subscribers will receive different messages, leading them to the end of the flow when they have chosen the perfectly tailored care package.
When you create your own Care package flow keep in mind you need to select the specific Care package you are going to promote and use its link in the text messages as part of the flow.
Don't forget the flow is fully customizable so you can change every step of the process.
Set up a pop-up form to promote your care packages
We recommend that you use an SMSBump pop-up to gain opt-ins for this flow. Once a customer subscribes to your text marketing club, they will automatically be added to your flow and will receive a personalized care package offer.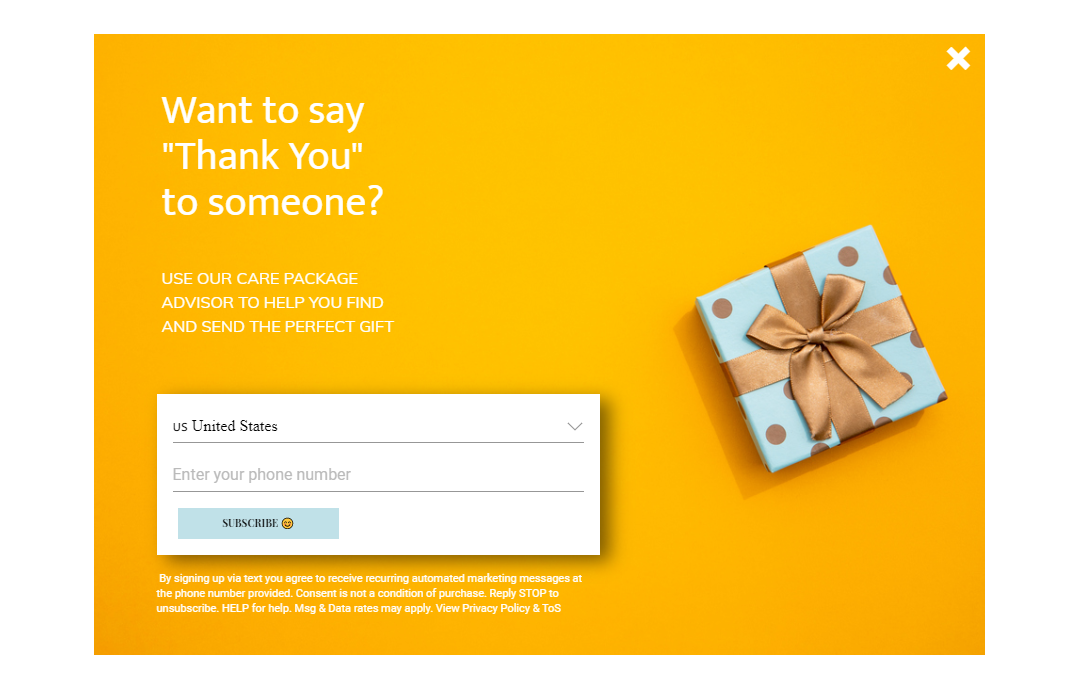 Next Steps
Care packages are an excellent way to grow your sales for both now and in the future, and it's a trendy one too. Using SMSBump, you'll be able to create both a lead generation and sales source that is personalized and user-friendly.
As a core strategic partner of SMSBump, we've worked with a number of high growth Shopify merchants to develop their SMS marketing strategy. If you'd like to learn more about how we could help your business grow with SMSBump, please reach out.
Adam Pearce is the co-founder and CEO of Blend Commerce, a Shopify agency that focuses on growing DTC brands. To find out more about Blend and Adam, connect with Adam on Linkedin here.
Mariya Arabadzhieva Todorova
Start growing today
Sign up today and join 90,000+ eCommerce businesses making it big with Yotpo SMSBump