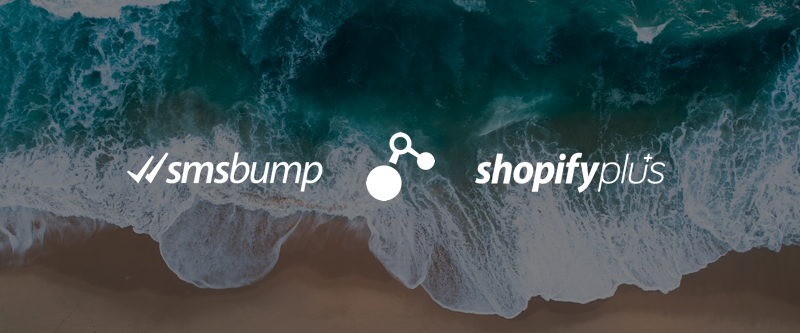 Simplify SMS Marketing Automation with SMSBump and Shopify Flow
SMSBump is very excited to announce we were one of the first partners to develop a connector for Shopify Flow. An ecommerce automation platform available to Shopify Plus merchants.
As your store grows, so does the manual labor and tasks that take up hours of your time every day.
The main benefit of Shopify Flow is the dramatic amount of time it saves by creating automated workflows. Furthermore, those workflows can be using triggering events from multiple Shopify apps. Not only that, but you can import and export workflows created by Shopify Plus users.
The way technology has evolved, automating your workflow is now more accessible, precise and reliable than ever.

What's Shopify Flow
It's the process of applying software to your daily operations and the different roles within your E-Commerce business that helps reduce manual workloads, simplify store management, improve workflow between apps and enable faster, more efficient growth.
This can translate into automating operations like restocking inventory, tracking and preventing high-risk orders, customer tagging for marketing segmentation and much more.

The idea is to setup each repetitive process to complete itself whenever it's necessary using Shopify Flow.
​
---

E-Commerce Automation Example:
Start when Order created...
If order total spent is more than $99.00...
Then Add customer tags - VIP.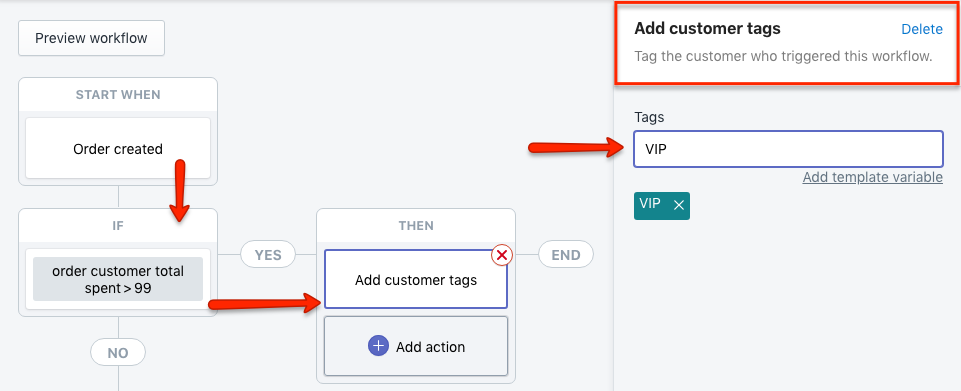 This is a simple automation example of how your Shopify store will automatically add the VIP customer tag to anyone that completes an order that has a total spent over $99.00.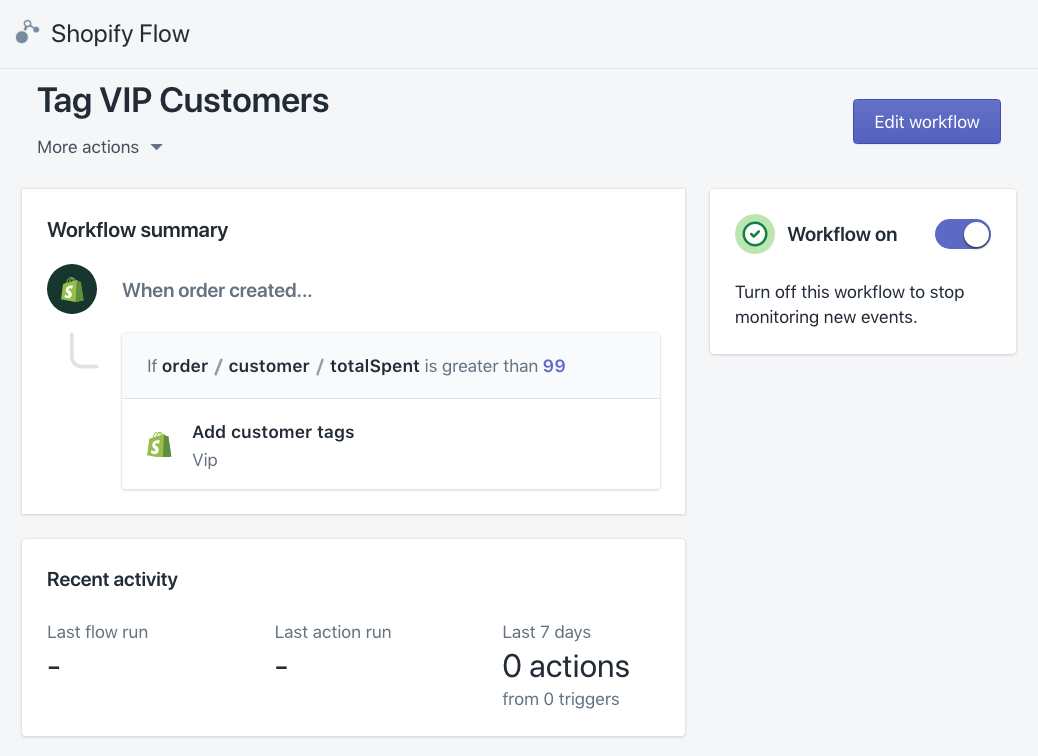 Track and optimize your new automation workflows as you go.
You have the summary where you will be able to view the number of actions generated by the number of times the triggers got activated.
Simple, yet powerful.
You will no longer have to analyze your orders yourself. Or manually performing the customer tagging.
Now you can focus on preparing your approach to your most valued customers. The time you just saved with automation can be invested into tailoring your marketing campaign.
Once your Shopify store has automatically given you a list of VIPs to define your target audience, you can dedicate your time and effort into the creative part and making sure your campaign is successful.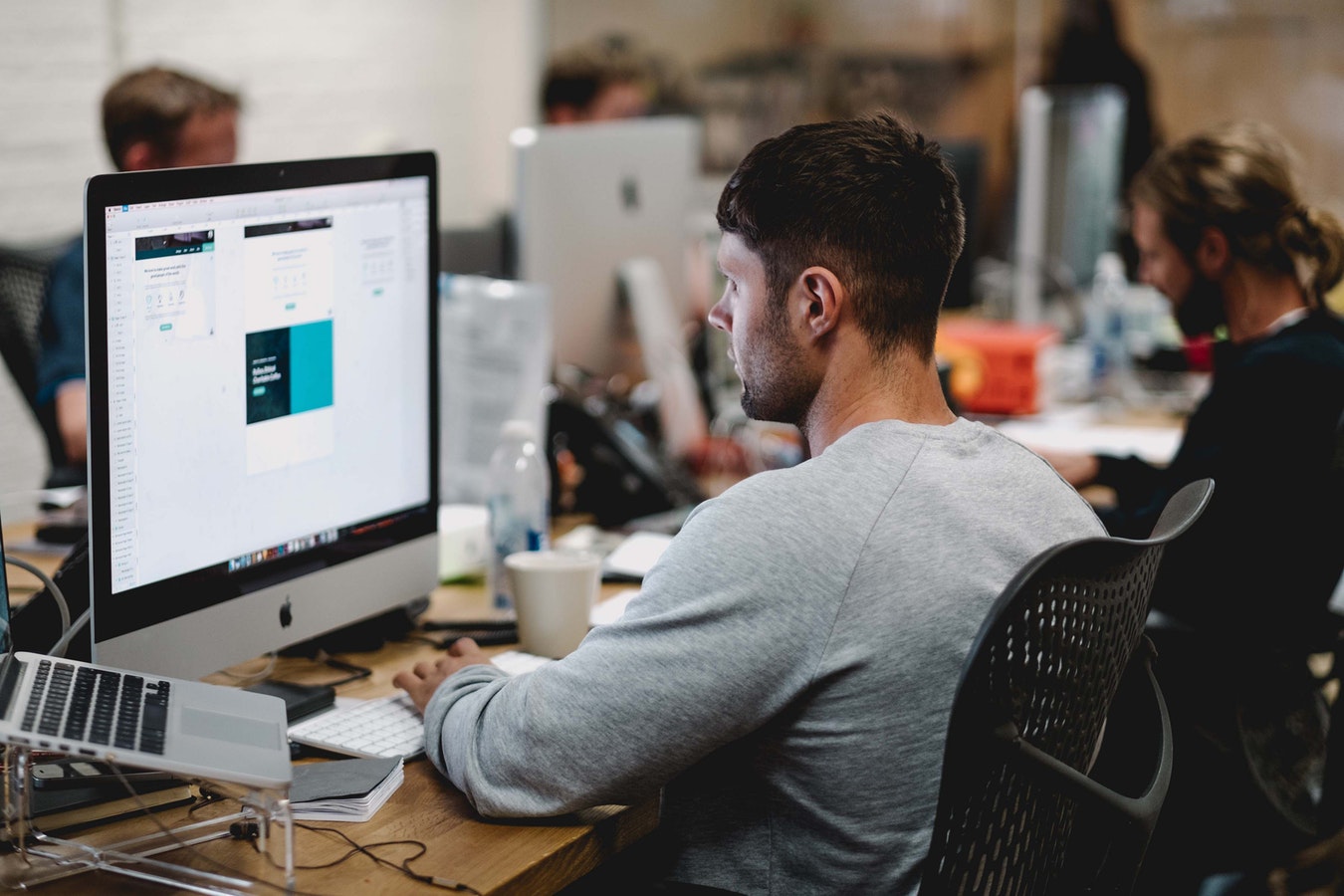 Give yourself some freedom to get creative and let the flow of great ideas come while your mind is clear of the load of redundant tasks.
​
---

We believe the biggest highlight of Shopify Flow is the ability to connect between all of your apps and create processes that unite them.
You can use the connectors built by Shopify apps to setup workflows that automate operations you usually perform manually.
What are Connectors?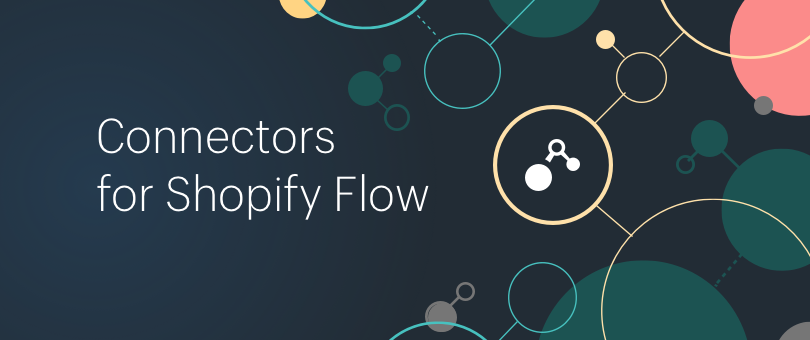 Connectors are the way for your apps to integrate within your automated workflows. You can use the connectors from the beginning to the end of your workflows using the Triggers, Conditions and Actions developed by the Shopify Apps.
There are 20 Shopify apps that already built their connectors for Shopify Flow, so you already have plenty to start off with.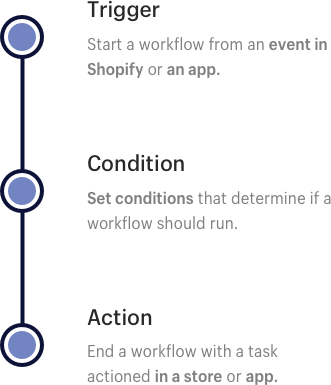 After you install an app that has a connector for Shopify Flow, you will see their available triggers, conditions and actions once you start building a new workflow.
Each app will provide you with the corresponding actions as well as their own Template variables you can use to personalize the customer interaction phase of the workflow.

How Does the SMSBump Connector Help Shopify Merchants

Once you start building a new workflow, the Action is where the SMSBump connector comes in.
You can get creative with the Triggers provided by your Shopify store or the apps that provide Triggers for their features.
With SMSBump, you can create workflow automations for sending SMS notifications to customers whenever they create a new order, when the order is fulfilled, when a product's inventory quantity is updated, or any other trigger you choose.

Let's give a simple example of how to build a workflow automation that sends an SMS via SMSBump when a customer creates a new order.

Trigger
Order created

To start your workflow, click the Select trigger button to see all available triggers.
In our example, we select the Order created trigger.


​
Condition
Customer accepts marketing

Next, you need to select a Condition to continue your workflow.
Since SMSBump sends promotional and marketing messages, we will select the Customer accepts marketing condition so we can be sure that we're sending messages only to customers who explicitly agreed to receive them.


Specify the Condition value.

Action
Send SMS using SMSBump

Click Add action to view all the available actions you can take. Scroll down and select Send SMS via SMSBump.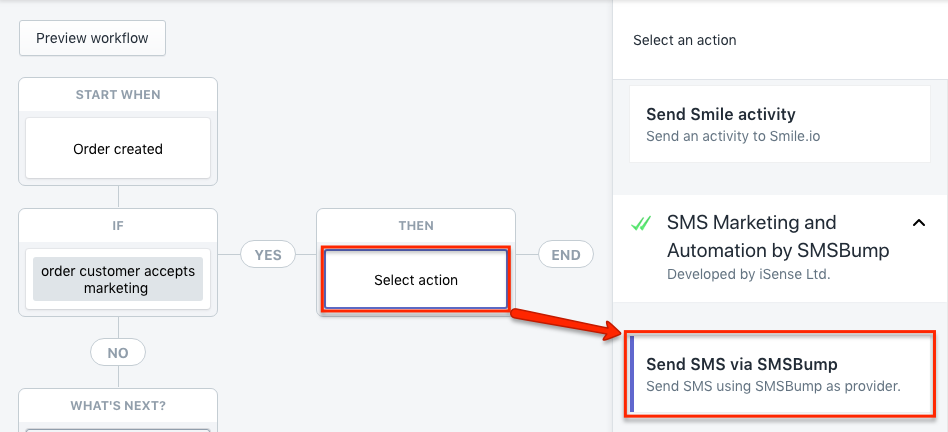 Custmoize SMS with Template Variables
Now you can create the text message template your customers will receive when they complete a new order.
You will have different template variables available for your Action depending on the Trigger you choose. They will also vary depending on the apps you have installed that support Shopify Flow connectors.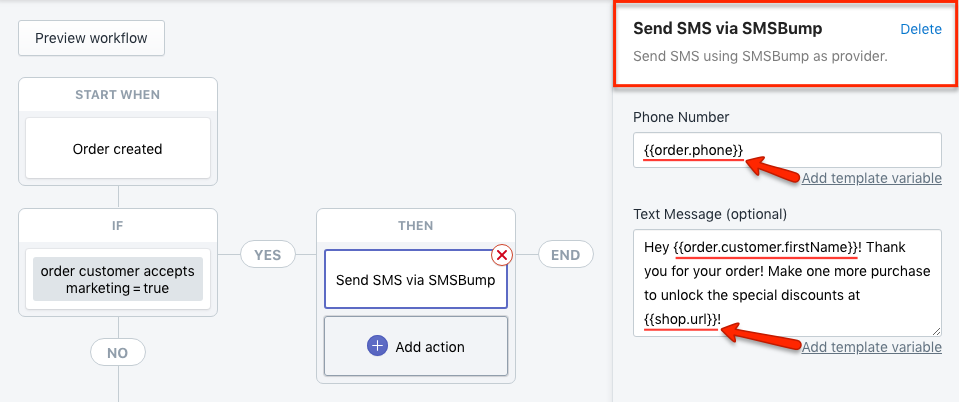 Preview workflow
Check your results and preview your workflow before saving it. If everything looks good and you haven't received any warnings about necessary fixes, click Save.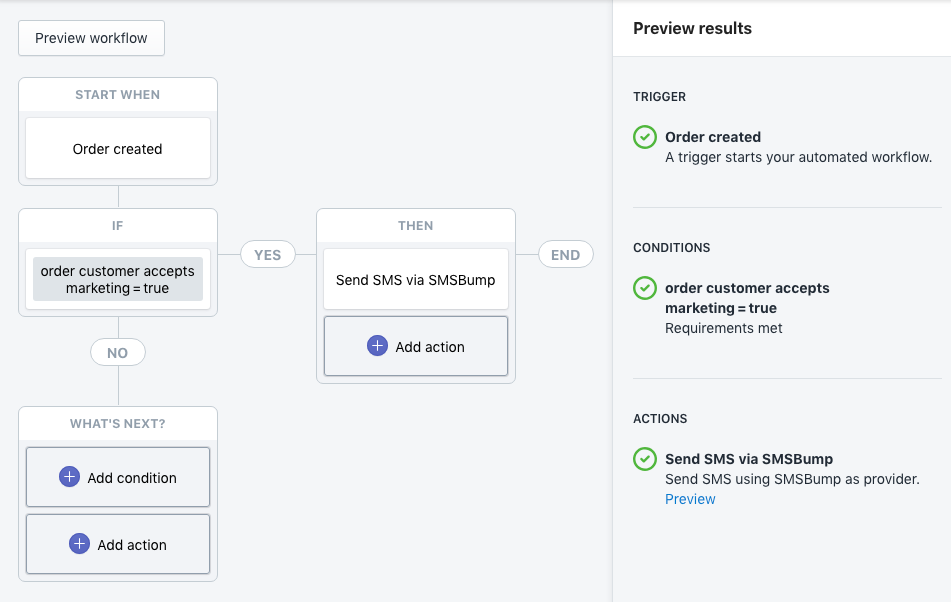 As Shopify Flow develops and app developers expand their connector functionality, you will be able to create much more advanced workflows.

More importantly, you will increase your conversion rates and business efficiency while saving time.

---

​Why are we so excited about Shopify Flow?
Team SMSBump is looking forward to see how Shopify Flow will help merchants unlock tons of new growth potential. We will be working closely with the Shopify dev team, as well as the rest of the Shopify partners to address your feedback and the way you want to use automations to optimize your Shopify workflow.
Create workflows, test, and publish them for the rest of the Shopify Plus community to download.

Opportunity to build creative workflows between different Shopify apps without any integration.

Automating daunting tasks that took time in the past, making it easy for store owners to get going faster.

A growing number of new Shopify app connectors coming along giving more versatility for store owners.
Shopify Plus merchants can start automating engaging customer experiences by building workflows with SMSBump today!

Start growing today
Sign up today and join 90,000+ eCommerce businesses making it big with Yotpo SMSBump