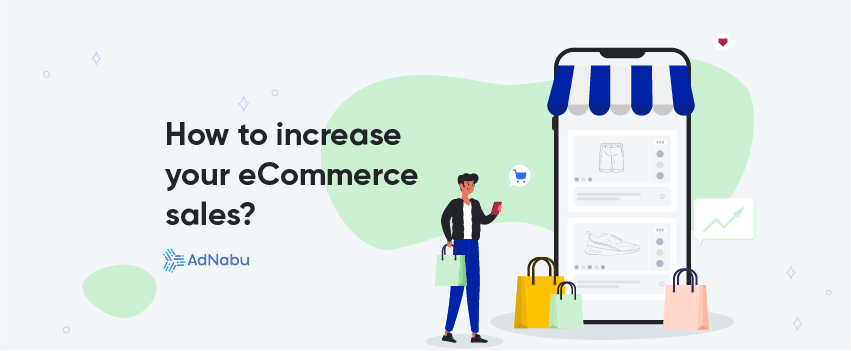 How to increase your eCommerce sales?
Ecommerce has grown in leaps and bounds in the last three years. In 2022, online sales are expected to reach 6.45 trillion. The events of 2020, Covid-19, and the onset of recession have created a massive shift in consumers' buying habits, changing the industry trends.
So how do you ensure your online store is part of this phenomenal growth? How do you increase your eCommerce sales?
Our partners from AdNabu have put together some strategies they've seen performing successfully in promoting your online store and improving sales for the entire store or specific products.
Let's dive right in!
1. Use paid marketing to bring in new customers
Using paid marketing is a sure way of increasing customer traffic in your store. Exercise with caution, though, as one can be easily spending a lot on ads but without matching sales/revenue. The best way to ensure that's not the case is to start small and scale up as your strategy yields results. Once a proper and successful campaign has been put together, it can take your business to the next level.

a. Google shopping ads
Google shopping ads can be especially useful in bringing in new customers. They are effective and create interest as they showcase high-quality images on product listing and with the product price, and they appear at the top of the search engine listing.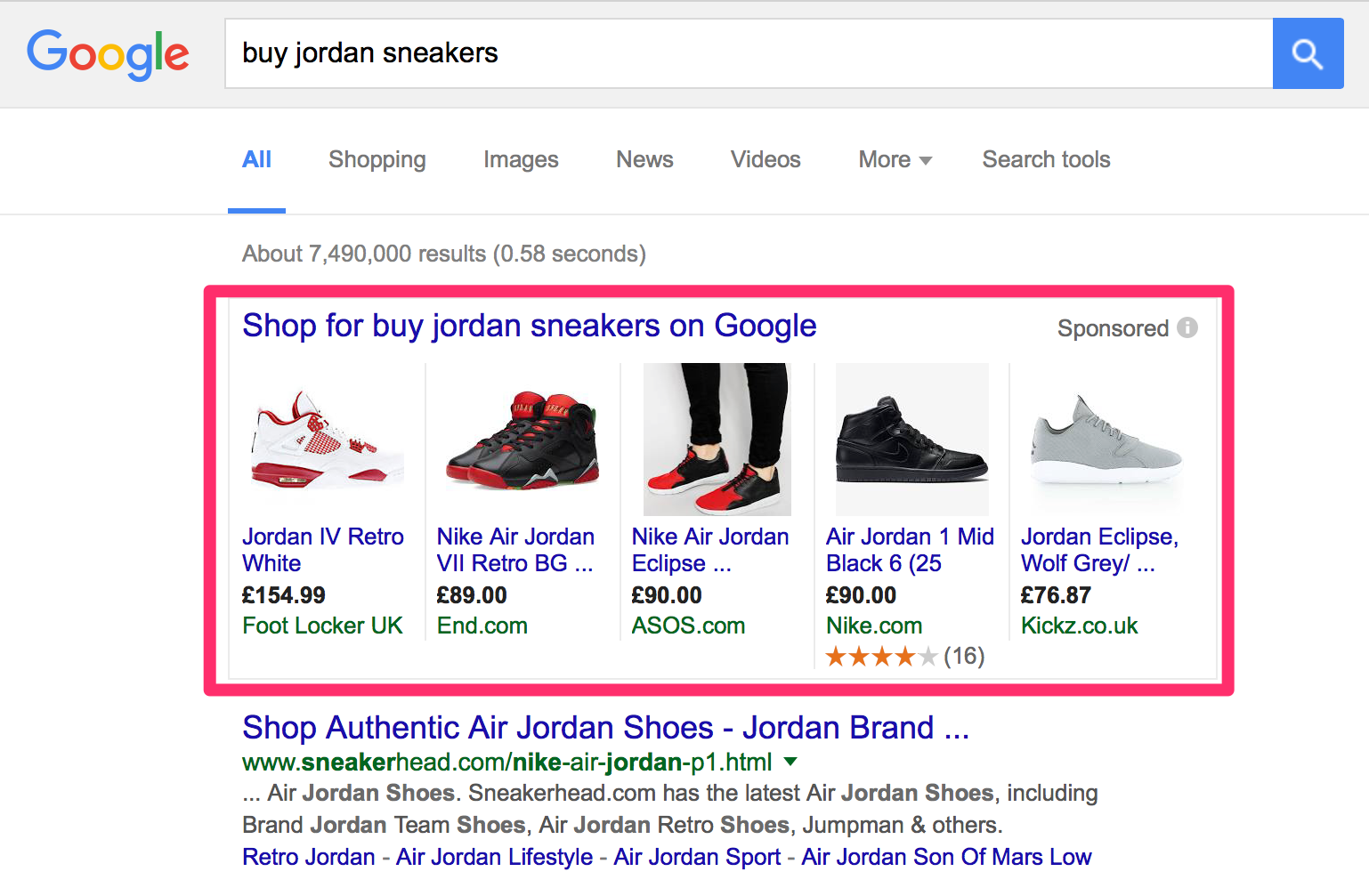 Some of the common mistakes made by businesses who have failed to generate sales with paid marketing are:
Starting with many different campaigns from the very beginning. There is no guarantee that all your ads will work, so it's essential to start with just a couple of campaigns. You can always create a new one if the present campaign doesn't work.

Spending your entire budget on one ad variation. Most often, in paid marketing you will not get it right on the very first attempt. You should go for multiple campaigns and ad variations, closely monitor them, and invest more in the ads that bring in better results.

Not narrowing down the target audience for each ad campaign. Knowing exactly what type of shoppers you are looking to reach will not only ensure you don't waste any resources on the wrong crowd, but will increase the chance of conversion as well.
Time to self-reflect: have you made any of these mistakes? If yes - you know what to do!

b. Retargeting
Showing Google shopping ads to retarget people who have already visited your store, looked at your product page, but not completed the purchase, has proven to increase sales revenue.
In retargeting, you trigger a tracking pixel when someone visits your site, and show them ads using other Google ad products like YouTube and Google Display.


You can also use Twitter, Facebook, and Instagram to showcase your ads and generate revenue. Facebook makes it particularly easy to retarget customers who have already visited your site, even a particular web page. To ensure maximum conversion, create ads directed specifically for Instagram holders or just for Facebook accounts, and remove options that are irrelevant when creating the campaign.

2. Educate customers about your products and their benefits
Educating customers directly links with an increase in revenue, boost in loyalty and helps brands build long-term relationships. And the best part is there are so many ways to get your customers to know more about your products.

a. Create educational videos
A product video to educate customers can be made in numerous ways as their needs and expectations are varied.

However, there are certain traits that are common to all product videos:
They need to tell a story about your product or service and why the customer should use it. Use the video to reiterate your brand values and promise.

They are short and memorable. Ideally, the video should be no more than 30 seconds, especially if it's being shown on social media.

They need to portray people showing honesty and emotions while using your product, as you want your customers to relate to your product or service.
Example of an engaging video
b. Leverage user-generated content as social proof
Displaying social proof can be a powerful conversion-boosting strategy for eCommerce. Your online users will feel comfortable knowing that their peers have purchased products and services from your store, and they have recommended this experience.
Ensure that your customer reviews, Facebook likes, recommendations and other user-generated content (UGC) are displayed on your page. Alerts can be displayed on the bottom of the page to show the number of people that bought the product last month or other trending products.
Once you have the testimonials - video or text, you need to share it like you would with other marketing materials.They could be included on the product page, in emails, newsletters, posts on media, and blog articles.
The secret to getting valuable UGC is to ask! So don't hesitate to ask your customers for reviews and likes for your products. Here are some additional ideas on how you can approach customers when looking to gather reviews.
3. Improve customer engagement
For better customer retention and conversions, you need to invest in maintaining a good level of engagement among customers online, especially now, when face-to-face communications are very limited.
Research has shown the consumers are willing to both interact and spend more if there is a better customer experience. 2020 has shown that customer experience is becoming a big brand differentiator along with the price of the product.

Here are some ideas how you can boost customer engagement at your store by providing great experience.
Enable customer feedback and use different tools to collect them, such as pop-ups, live chats, emails, SMS

Reward shoppers for their feedback and reviews to show that you are listening to them.

Offer your audience a self-service portal with as many resources as possible and include FAQ to the buyer's guideline.

Offer loyalty programs and make better use of social media.
SMS
Using SMS for marketing order updates, coupon codes, and chats is another way to engage with customers. Research says that more than 90% of all SMS are opened and read, making this an important tool in improving engagement across your audience.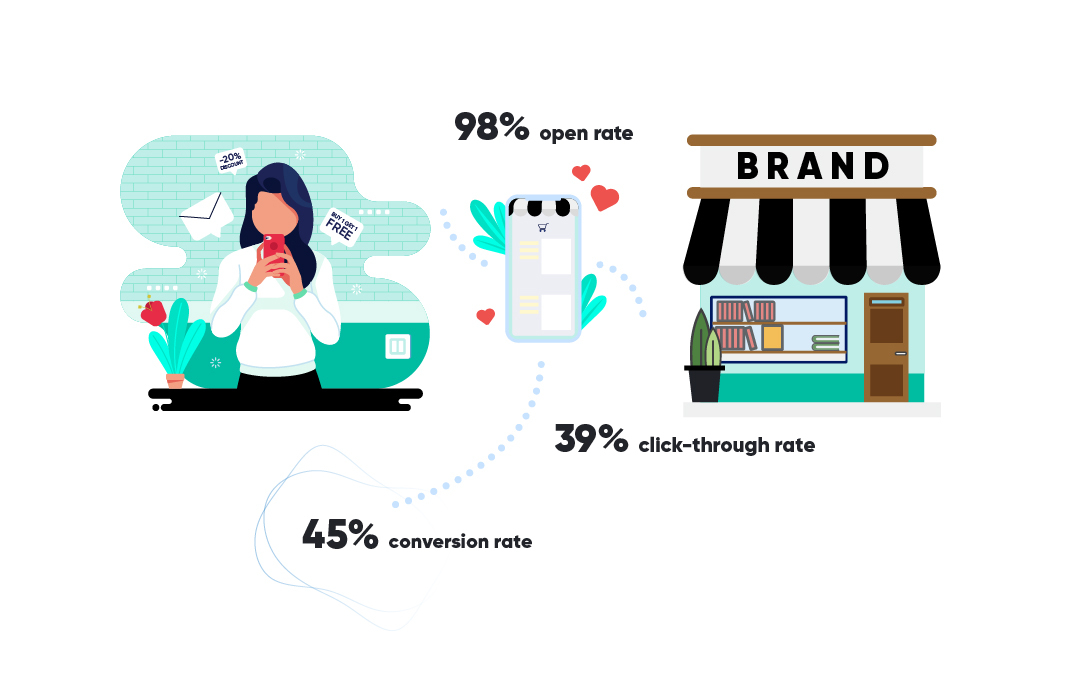 Start by providing the SMS option for all of your customer-facing channels. Since SMS marketing is consent-based, you'd need to have your customers explicit permission in order to text them. Ideally, have the opt-in option appear before the conclusion of the billing, or the checkout page, which has proven to be one of most successful locations for gathering subscribers.
Another important factor when looking to maximize engagement with SMS is timing. Make sure customers receive instant gratification with coupons, important news, and an option to engage with your brand and send you back their responses.
One of the benefits of SMS lies in its brevity, so making sure you have a strong CTA (Call To Action) is important to drive traffic to your store website. With SMS you can't really dive into writing long paragraphs, but have to make each text message be short and sweet, with a powerful appeal.
And finally, always aim to keep the relationship on a positive note by allowing a customer to opt out just as they choose to opt in. This will also ensure you are compliant with TCPA and GDPR regulations.

Here are some ideas for text messages that can be sent regularly to boost customer engagement:
Send shipping updates and ask for feedback on products purchased

Share discount codes, coupons or giveaways

Inform customers of upcoming events and sales

Updates regarding the loyalty program they are in and the points they've gathered

Indeed, SMS marketing is an excellent eCommerce marketing strategy to achieve customer engagement goals.
4. Increase AOV to boost sales
Instead of only relying on customer acquisition, an easier, tried and tested way to boost business is to increase the average order value (AOV), thereby adding to your revenue without spending a lot on advertising, marketing, etc.
What then is AOV? For every order placed with your eCommerce store, what is the average dollar amount per order.
AOV = Total Revenue divided by Total Number of Orders.
The main strategies for AOV are product recommendations (upsells and cross-sells) and product bundling.

a. Use product recommendations
Product recommendations can be made either via upselling or cross-selling. Upselling is the act of offering your customers a better and more expensive item when they are adding the item to the cart, are at the checkout page or even after they've made a purchase.
Upselling example: When a customer searches for coffee, they are offered a bigger bag at a reduced price, but it costs more than the original bag of coffee that they are looking to buy. This is a pure upselling strategy.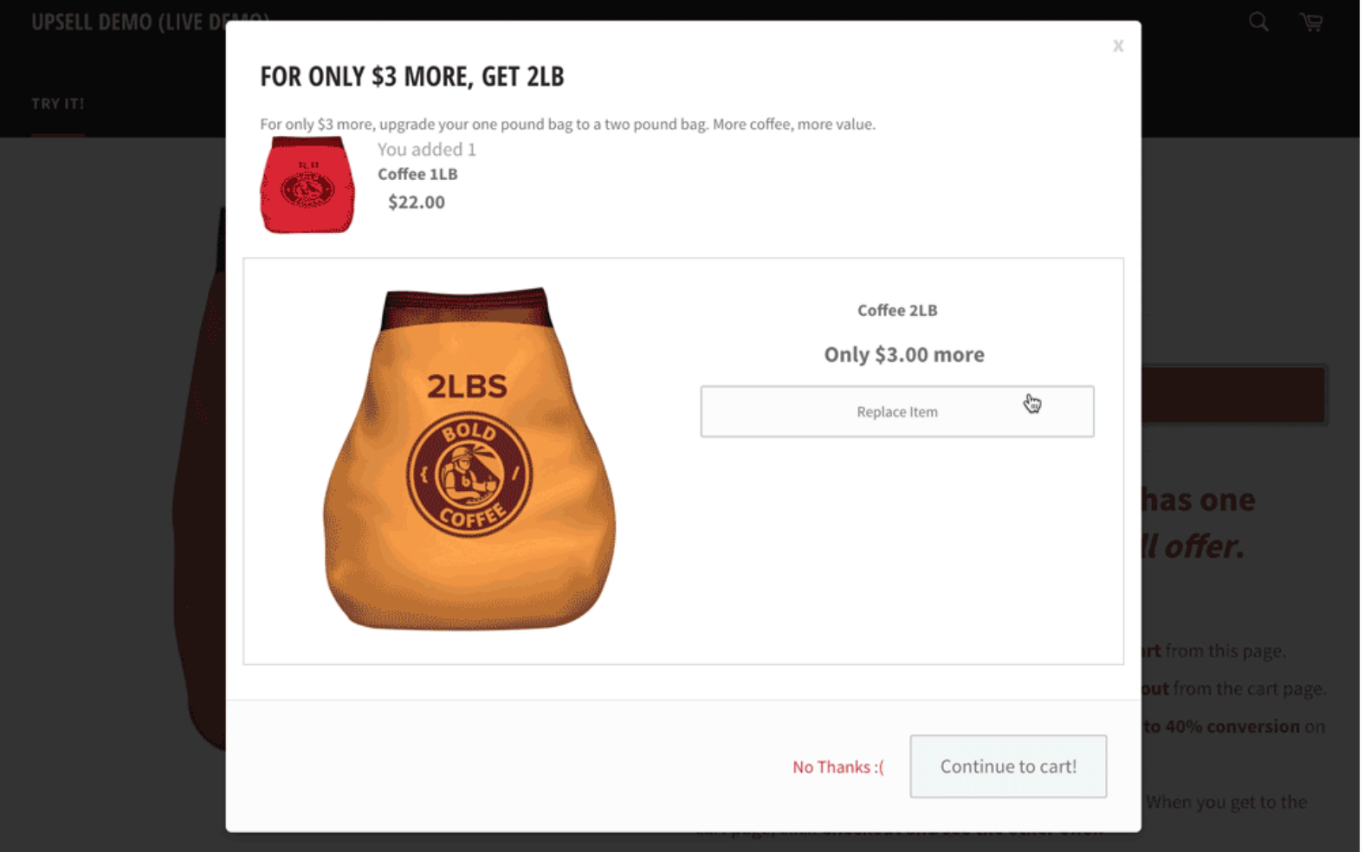 Cross-selling is similar to upselling, its goal is to increase AOV by recommending complementary products.
Instead of upgrading to a bigger or better version of the same product, you're now suggesting an additional product (coffee filters) to the cart. A true cross-selling technique.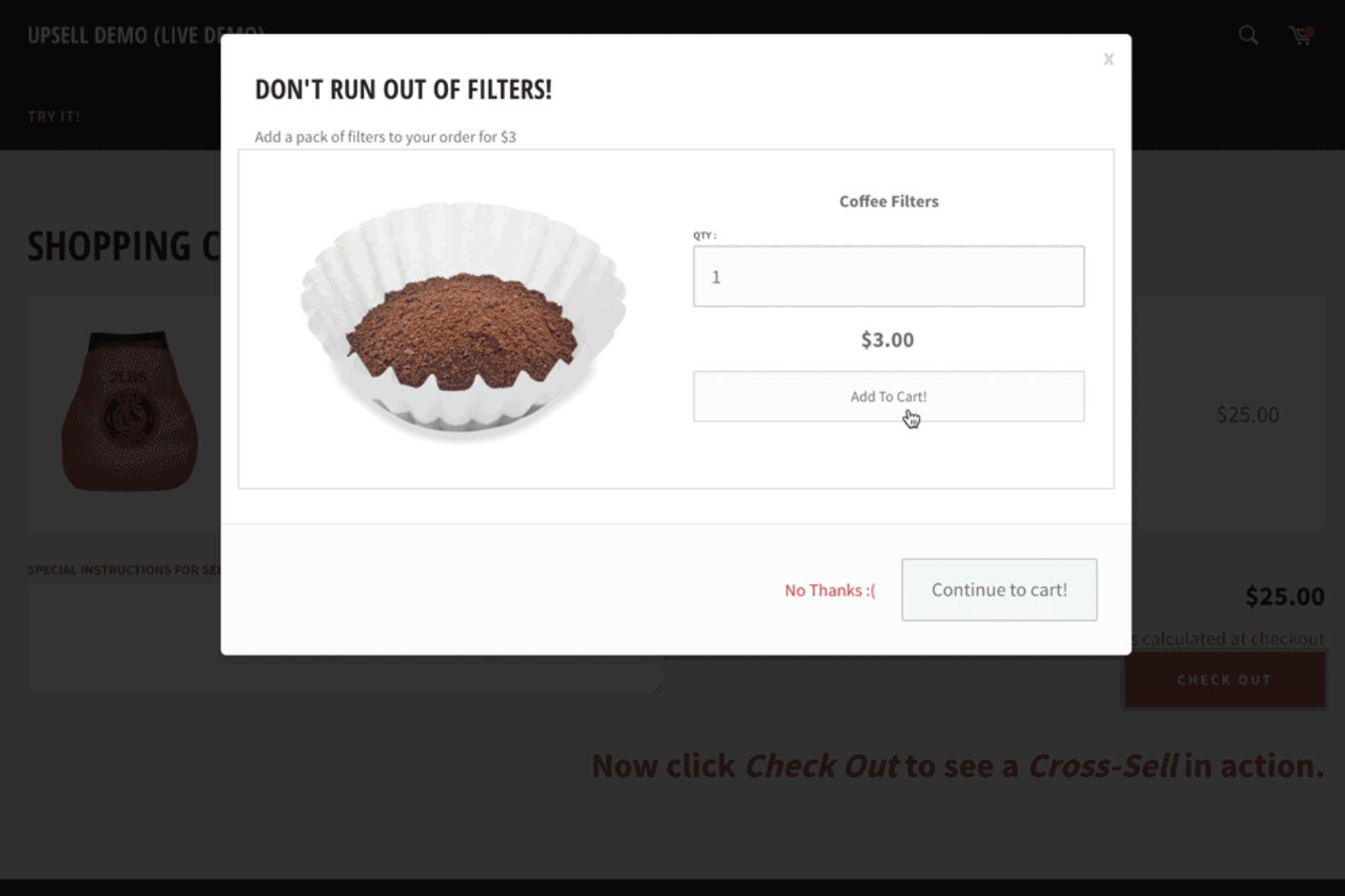 To make upselling and cross-selling work, you will need to motivate your customers to add more items - whether it's by discounting the price of complementary goods, offering a BOGO (buy one, get one free) deal, or offering redeemable points for certain products.

b. Use product bundles
Shoppers will naturally look for the best value for their money. That is why another successful tactic to increase AOV is by simply grouping more products in bundles and promoting them at a discounted price.
For example, instead of lowering the price of a $10 product to $7, you can offer two items for $14. This will still be a 30% discount on the original price, but the AOV will go up rather than down. This strategy is used to encourage customers to buy more. McDonald's Happy Meals is a perfect example of a product bundle. Instead of selling individual items, they are sold as a bundle creating more sales. It also decreases your marketing and distribution costs, and reduces inventory waste.
The different types of bundle groups include new products bundle, mix and match, pure bundle, inventory clearance, gifting bundle, and buy-one get-one bundle.
For more strategies on how you can boost the AOV of your online store, have a look at this article.

5. Recover carts to improve conversions
The year is 2021 and eCommerce stores still struggle with ridiculously high levels of abandoned carts. According to research, ¾ of people choose to leave the store without finishing their purchase!
After spending so much money and effort to get the attention of the consumers who have shown strong shopping intentions, it can be demoralizing to lose them at the checkout page. So how do you tackle this?
a. Use SMS to reduce cart abandonment.
With abandoned cart recovery, you can automatically send SMS reminders to the customers who have left their purchase behind, regardless of the reason.
An SMS reminder of the incomplete purchase will be read almost instantly and will keep your store details fresh in the customer's memory. Actually, studies show that abandoned carts get upwards of 45% recovery rates with the channel.
Here are some strategies to increase your recovery rate for abandoned carts and scale-up.
Reminders after 1 hour or 1 day have proven to be the most successful in recovering carts. This timing ensures your store is still fresh in your customers' minds, but also that you aren't too pushy with your marketing, sending them a message too soon after they've abandoned their order.

Give your recovery strategy even better odds by adding images of the items customers left behind. You know what they say - visuals speak much louder than words.

Showcase your trust and credibility. Using product ratings and reviews so that prospective customers can feel reassured that other people, like them, have purchased the product from you.

Combine SMS marketing with other channels as well, for a more targeted customer experience. Use tools like Shoelace for retargeting ads in Facebook and Recart for sending abandoned cart messages via Messenger

b. Make your checkout simpler
Having your checkout as simple as possible will significantly reduce cart abandonment and increase your sales. The online customer is wary of giving away too much personal information and also wants a speedy checkout. Therefore, make it easy and simple for them to complete their transaction. Usually, a five-step payment format is ideal for a swift transaction conclusion.
If your checkout process involves multiple steps, keep your customers informed about it so that they do not leave midway through the purchase procedure, frustrated.
To wrap it up...
This blog should give you a sense of what steps you can to take to increase the revenue of your online store. Boosting the number of orders is a gradual process, which starts by knowing your customer very well.
Whether you opt for paid marketing, increasing your AOV, or any other options (or a combination of them), you will see your order values and sales revenue go up.
About AdNabu:
AdNabu helps improve sales in Google Ads for eCommerce companies. If you are running the search, google shopping, or display campaigns in Google Ads, this software will be able to increase your sales.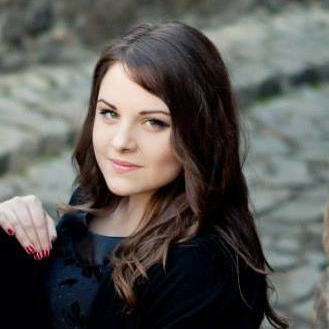 Start growing today
Sign up today and join 90,000+ eCommerce businesses making it big with Yotpo SMSBump