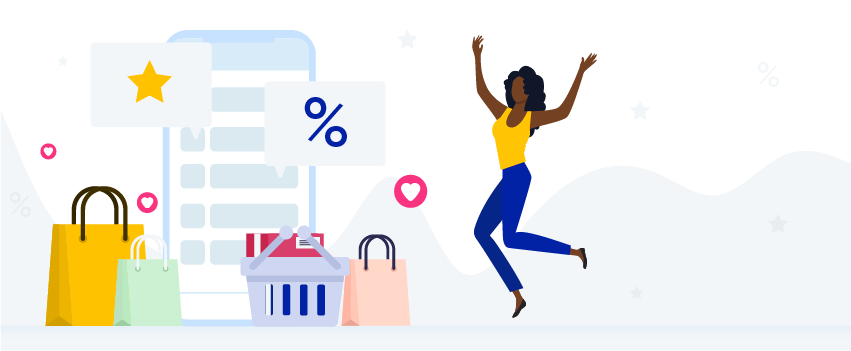 5 Ways to Boost the AOV of Your Online Store
If you ask 100 merchants what their heart desires, don't be surprised if the answer is completely unified no matter the country, the industry or the demographics - Sell More!
In order to Sell More, you need to:
A - think of ways to acquire new subscribers so that you'll always have a fresh list of people to promote your latest offers to;
B - make sure all current or previous customers continue to trust your brand and make repetitive or just bigger purchases.
And it is where the AOV (Average Order Value) comes into the spotlight, opening the way for brand new possibilities.
What is AOV and why is it so important?
The Average Order Value (AOV) is the average amount spent per order and is one of the key metrics you should be aware of when you dig deeper into your store's performance analytics.
To calculate your AOV, simply divide Total Revenue by the Number of Orders.
For example, if you have a total revenue of $5,000 for the previous month and you have a total of 100 orders, this means every one of your customers spent an average of $50 at your store last month, therefore the AOV is $50.
AOV is in direct correlation to the profits of your company. If you manage to achieve even a slight increase of the average shopping basket, you'll raise your customers` individual value over time. All these little boosts will result in a tremendous difference when it comes to your overall store performance, leading to sustainable business growth.
Now that you have a better understanding of why it is so important, let's explore these 5 classic ideas on how to boost the AOV of your online store.
Minimum Order Value + Incentive
Undoubtedly, one of the best ways to increase your AOV is to offer an incentive if a customer reaches a certain minimum order value when purchasing from your store. And free shipping is the most known and efficient way to entice your shoppers to add more products to their carts.
Stats show that 84% of consumers claim to have specifically made a purchase because shipping was free, and 30% said they always increase the size of their orders if it qualifies them for free shipping. At the same time around half the people reported they altogether avoid retailers that do not offer free shipping, and 77% have abandoned their carts due to unsatisfactory shipping options.
A simple "Get free shipping for orders of $50 or more" will do the trick and nudge customers to buy an additional item to get that free shipping, leading to a boost in your average order value.
Here you can find more tips on how to determine what that minimum order value should be, depending on the specific metrics and characteristics of your store.
Make sure to advertise your offer at a high traffic spot on your website, which you know will attract attention and will fulfil its purpose. Check out the way one of our users, CurlMix, does it.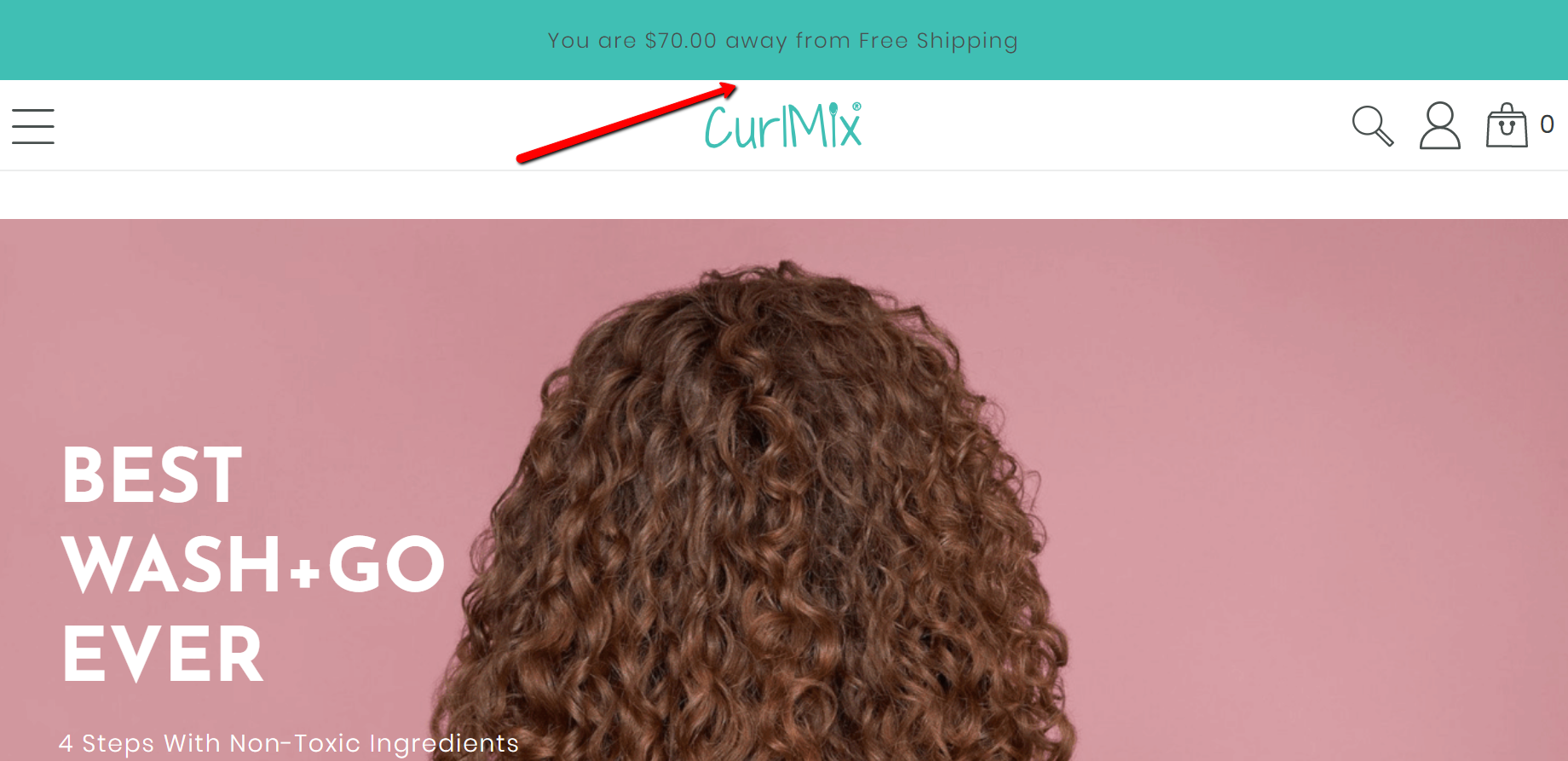 Simple, yet effective.
Another great option for an incentive would be a small gift. Get creative - it could be anything from a branded mug, a free T-Shirt or a battery pack. Cosmetics brands such as Kiehl's offer sample sets as a gift for orders over a certain value and this tactic has plenty of benefits for you as a brand. Not only people get to try some of your products and potentially become loyal customers, but they will be more likely to promote you to their friends and family in the future, becoming true brand advocates.
Small incentives such as free shipping and sweet gifts will make customers quickly finish their orders and then come back for more! But there are plenty of other options for stores to add more value to their offering, so let's move on to...
Bundles of Joy… and increased AOV
Shoppers will ALWAYS look for the best value for their money. That is why another successful tactic to increase AOV is by simply grouping more products in bundles and promoting them with a discount.
Product bundle is a set of products or services that are being offered and sold together at a package price. It is proven to be one of the best ways to add value for customers and at the same time sell more products.
For example, another customer of ours, Sandandsky.com offers visitors a 30% discount if they purchase a bundle of skin care products.

An additional touch that makes it even more enticing is the cart page, which lets customers know exactly how much they will save by going for the package deal: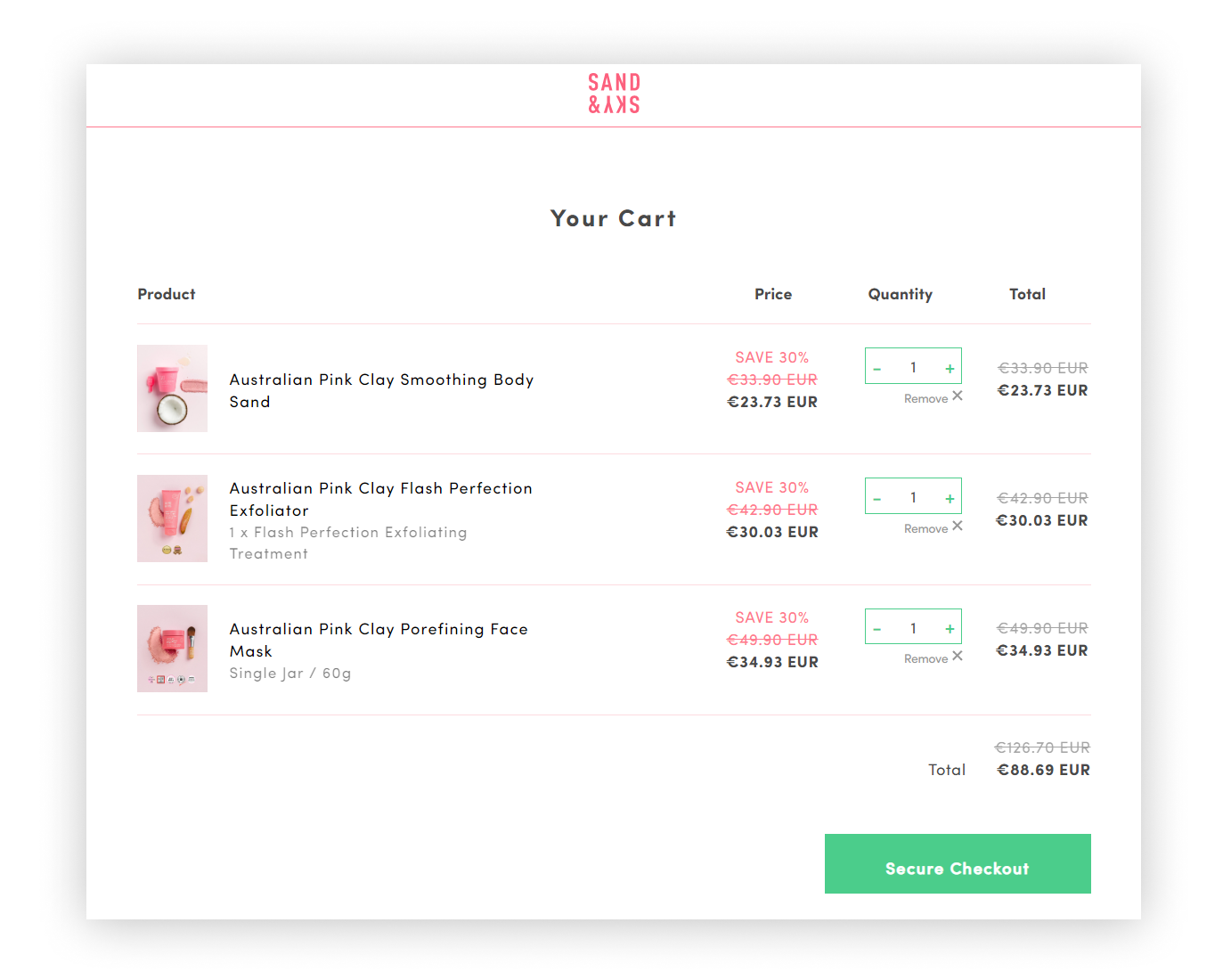 By comparing the two prices, you'll show customers that choosing your bundle saves them money... and as an additional bonus they save time getting a complete set of items instead of having to browse for each product individually.
When assembling your bundles, you have plenty of options on where to begin:
You can combine products that go together, for example: coffee machine with a designer mug set and a selection of exotic coffee blends. Another great option is to pair some of your best-selling products with some slow-movers and use the opportunity to clear off the shelves. Following the current trend that has emerged from the ongoing pandemic when people are looking for ways to express gratitude and support, you can frame and organize your bundles as care packages.
For best results, simply let customers choose which products to put in the bundle. Dollar Shave Club simply NAILS it with their quiz and personalized bundle offer with discount. Gamifying the bundle creation increases the level of engagement of the visitors and might even lead to a bigger bundle selection, leading to higher AOV.
One final tip when it comes to bundles is to always keep in mind to present customers with at least a few pricing options so they have the freedom to choose the best offer for their budget!
Offering bundles of products is a win-win situation for both shoppers and brands. On one hand customers are happy because they receive more value for their money, and on the other hand bundles help stores boost their AOV.
Now let's spice things up and shift focus to the importance of your loyalty program in all this...
Use Loyalty Perks and SMS reminders to Boost AOV
All marketers know that it costs a lot less to sell to existing customers than acquire new ones - between 5% and 25% actually… and that's why brands invest in loyalty and rewards programs.
There are many benefits to setting up custom-designed VIP programs for your customers - one of them being that this will lead to increased AOV.
Why? The bigger the orders a customer makes, the more loyalty points they get and the bigger incentive they have to get to a higher tier and earn some sweet offers. Sweet offers mean more sales for you, and boost in AOV. On the flipside, your customer is happy and their loyalty to your brand - even stronger.
Works like a charm!
And how can you make sure you will spread the word and let your subscribers know about your Loyalty Program's countless benefits? Try reaching out to them in one of the easiest and most efficient ways there is - by sending them a text message.
Here are some examples on how to reach out to your customers regarding their VIP level in your loyalty program. You can remind them of how many points they need to reach in order to get to the next tier or explain to them the benefits of your loyalty program such as: early access to new collections, freebies, discounts on future purchases, or priority shipping: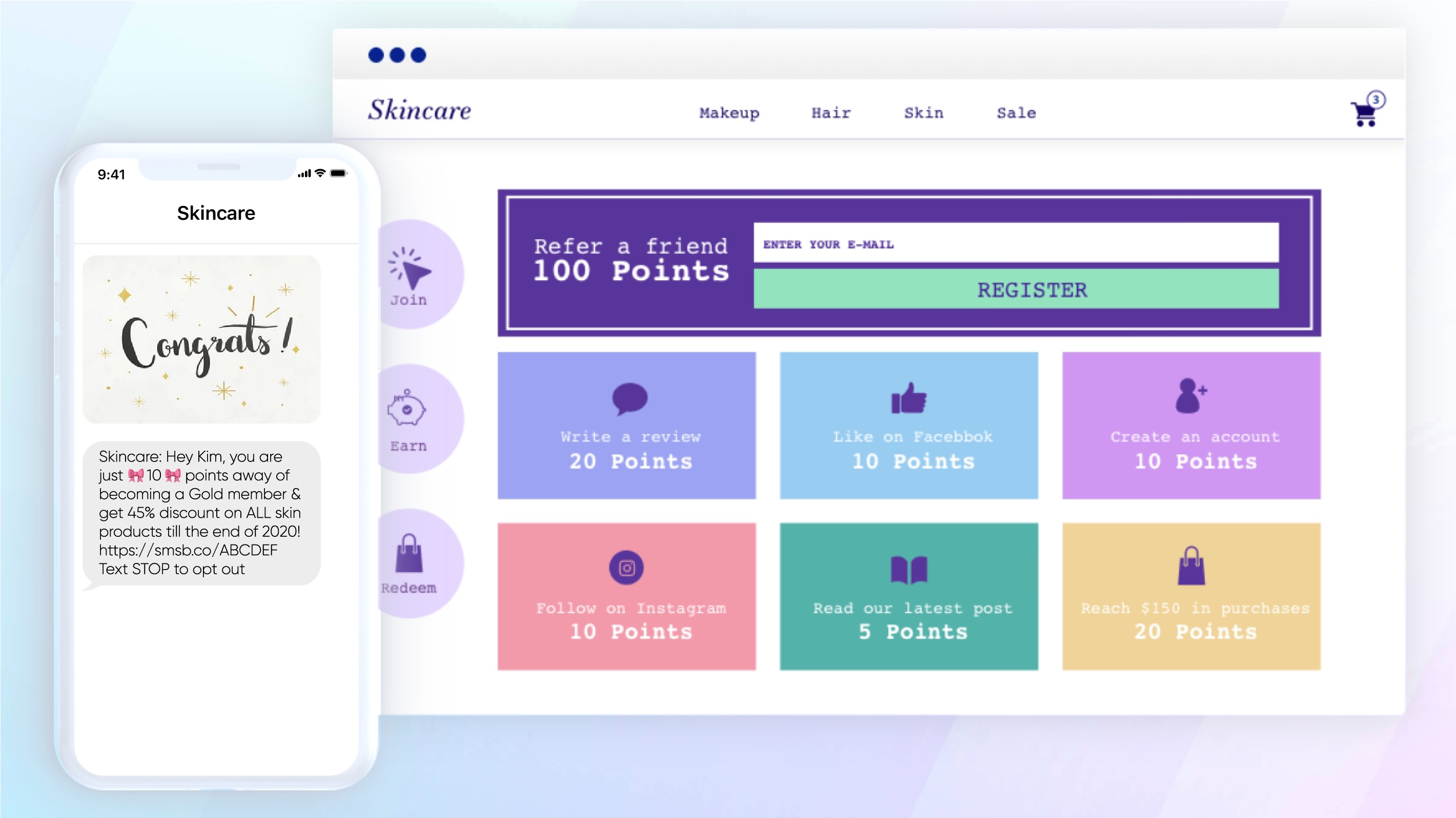 Creating a thorough loyalty program for your customers will have a tremendous impact on one of the most important marketing tasks out there - to boost loyalty and retention. It is always easier to attract new customers but it is one of the brand's hardest jobs - to retain them and keep them loyal. Put some extra effort and thought into your brand's loyalty program and you will be soon reaping the rewards and watching your AOV increase.
However, there are few more methods to increase the average size of your orders by offering customers additional items to their purchases…
Cross-selling, Upselling and Advanced Customer Checkout Experience
So you've tried some of the suggestions above, scored some additional sales but this does not mean that boosting AOV should end there. With a bit of personalization and the right incentive, you can give the shopping baskets of your customers one last push.
This could be done by suggesting complementary products (cross-selling) or by promoting a product upgrade, a more expensive product or pricing plan (upselling).
Increase AOV by Cross-Selling
Pick products that go well with the item that is already in your customer's cart, for example: someone wants to buy a new monitor, so they might need screen wipes or special cleaning spray. Or if someone is looking at camping tents, don't hesitate to offer mosquito repellents or reusable water bottles with filters. Make your customers feel appreciated and well taken care of, with everything they might possibly need. Amazon is a great example when it comes to cross-selling with its special section "Frequently bought together".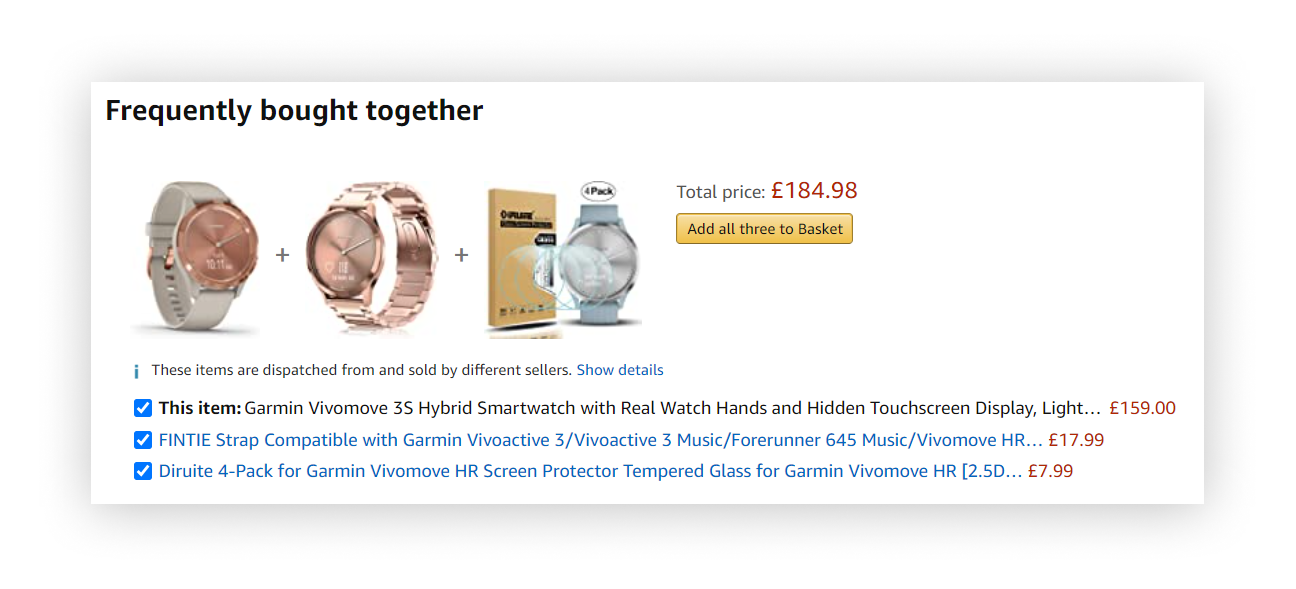 In the example above when you are considering buying a new smartwatch, Amazon offers you a compatible strap and suitable screen protector tempered glass.
With cross-selling you help customers get what they need (and more), which improves their level of satisfaction and at the same time score additional sales.
Increase AOV by Upselling
Upselling is similar to cross-selling due to the fact that both aim to increase AOV. But while cross-selling is achieving this by offering complementary products, with upsells you convince the customer to purchase a more advanced version of the product they want or already have because of the added benefits it would offer.
Offer your customers a product with more extras or benefits (and consequently higher price) than the one they are currently considering. Convince them of the better quality and longevity of your latest air purifier or the added extra benefits of your higher subscription pricing plan.
Check out the ways Proflowers offer several upgrade options of a Birthday Bouquet: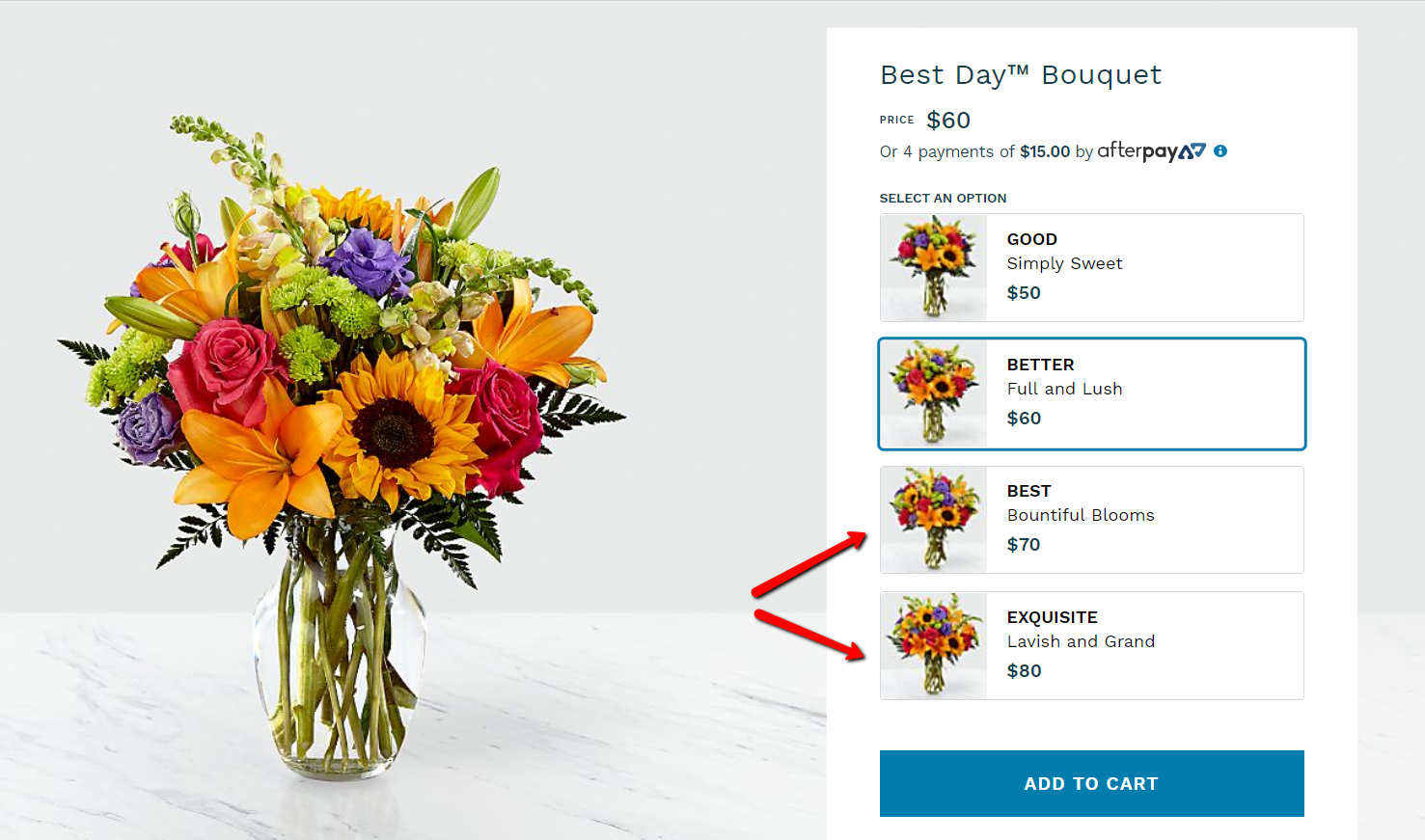 Upselling and cross-selling are great strategies to increase the AOV of your store. Keep in mind that for best results you need to use them at checkout: when customers are about to pay and are most prone to add something else to their purchase - especially if it is on sale. Same logic makes B&M stores add sweets and other (small) tempting products right at cashier desks.
Increase AOV by Offering a Supreme Checkout Experience
One of the easiest ways to do an upsell or a cross-sell is with the ShopWIN app, which allows you to increase your sales and conversion rates through their 1-step customizable checkout. ShopWIN is a Shopify application that will help you bring your A-game when it comes to increasing the AOV of your store.
How does it work? When your customer is at checkout, you have the amazing opportunity to offer them a complementary product. (Pro tip: to make the offer even more appealing it could be an exclusive item that is not part of your traditional offering). It makes it easier for your customers to make the decisions because they already have shown trust and confidence in your brand by making a purchase plus they've gone through the hassle of inputting their payment details. So this additional purchase is really one click away. Once your customers are done with their purchase, they will receive a special offer with a time-limited discount.
With ShopWIN you can offer more than one product after purchase and tailor these suggestions based on their initial purchase. For example let's say you offer swimwear. Once a customer has purchased a swimsuit from your store, you can offer them a second swimsuit in a different color or design at a 50% discount. If the customer adds it to their basket, you can offer them a stylish hat to complement it. If the customer declines the offer, you can suggest a cheaper product from your store, such as a beach bracelet - to complete the perfect summer outfit.
By implementing some of our upselling and cross-selling ideas and improving your store's checkout user experience you will soon enjoy increased AOV and more profits coming your way.
But once the customer has finished their order, your work is far from done. If you want to outshine the competition, let's discuss what comes next...
Post-Purchase Care
They say that the way you treat a customer after they have just bought from you is oftentimes just as important as making that sale. So, your first job as a merchant is to show а special treatment and send a post-purchase message to your customers. It could be anything from a small thank you note, a 10% discount for their next purchase, a $5 gift card or sneak peek into your latest collection.
All this can be done with the help of a simple text message: you'll make sure people will receive it (there are no spam folders) and it won't be too late (stats show customers open SMS within 3 minutes).
Here are some sample post-purchase messages using SMSBump: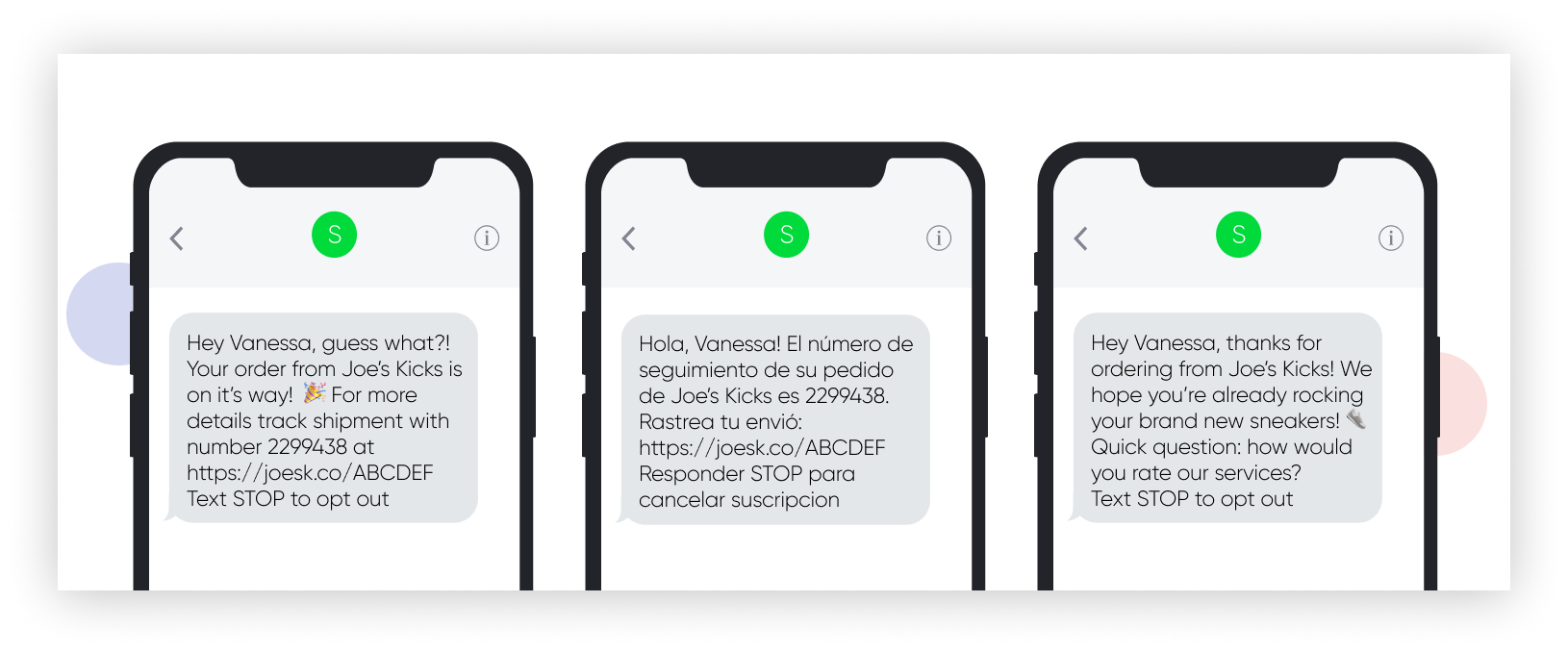 Here are a few other examples of post-purchase messages and how they will serve the purpose of boosting your AOV:
- Offer a multi-language shopping confirmation - contact customers in their native language to show respect and increase their trust
- Inform customers about the status of their order - even if there is a slight delay it is always best to keep them informed, a short text message will do the trick.
- Contact your customers a week after their purchase as feedback - show customers some extra care, ask about the product, if everything with delivery went OK, etc.
All of the examples above can be easily set up with the help of SMSBump automations, more detailed guide on how to set your post-purchase text messages can be found in this blog post.
All this will help nurture your relationship with your customers and will pave the way for your brand to increase sales and AOV over time.
The main idea behind sending post-purchase messages is to show your appreciation, and in the meantime - make your customers happy, boost their loyalty and ultimately sell more. Make sure you treat your customers as royalties and you'll see all these efforts result in increased AOV and sustainable growth for your brand.
Never Ending Process
Finding ways to increase the Average Order Value is crucial for your store's growth and the sustainability of your business. We have given you 5 techniques on how to do just that but keep in mind that it is a long term constant process and not a one-time effort. So feel free to get back to these hacks and implement the core ideas into your next marketing campaigns.
Mariya Arabadzhieva Todorova
Start growing today
Sign up today and join 90,000+ eCommerce businesses making it big with Yotpo SMSBump