How Hollywood Mirrors Recovered over $480k in Revenue with ONE SMS Strategy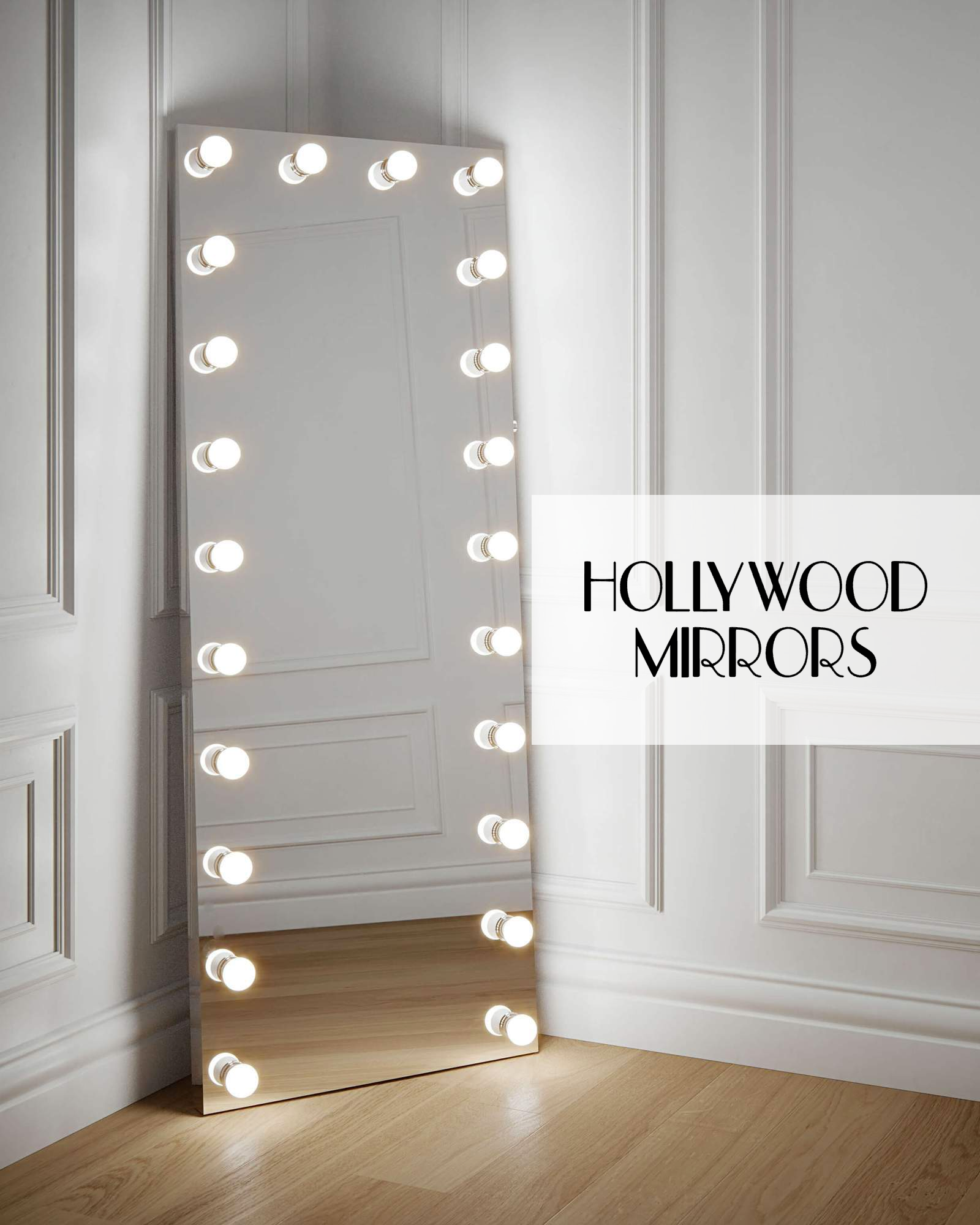 Who knew eCommerce could be glamorous?

Adam Watson did. The cofounder of UK-based Hollywood Mirrors took a challenge and transformed it into a successful business that has been on the market for more than 6 years now.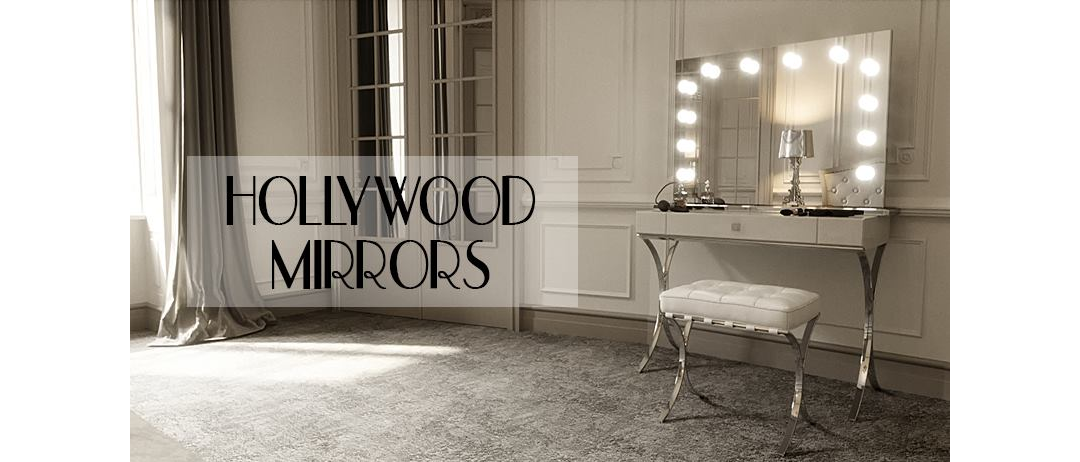 Hollywood Mirrors: The Back Story of an eCommerce Blockbuster

What started as a family business, owned by a seasoned interior designer (mother Elaine) and a savvy digital marketer (son Adam), now is the go-to place for people looking to bring a little extra pizzazz to their lives, from stay-at-home moms to professional make-up artists. The brand's one true goal is to create mirrors that are not just part of the ordinary furniture, but are the highlight of the household and have the power to transform any room into a place where their customers could feel glamorous and great. Just like their personal Hollywood movie set.

But it wasn't always glitz & glam for Adam. With 18 years of eCommerce experience behind his back, Adam has seen it all. Having done a lot of product category testing (and selling), Adam has developed a deep understanding of how to help customers solve everyday problems. He is the definition of a resourceful entrepreneur, capable of turning any problem into a fruitful business opportunity.

Founding Hollywood Mirrors was no exception.

Adam and his mother, who at the time were running an interior design business, had a light-bulb moment when one of their customers wanted for her bedroom a similar mirror to the one in her backstage dressing room.

"We searched high and low to find a mirror with lights around it, one that oozed glamour - but we couldn't find the perfect fit anywhere," Adam admits.

So they decided to create it themselves. Years later, Hollywood Mirrors offers over 40 different styles and helps thousands of customers give their interiors a fabulous makeover.
SMS with an Oscar for Abandoned Cart Recovery

As the UK went into full lockdown in March of 2020, the store kept operating as usual but people's shopping behaviour had changed. And Adam's resourcefulness was once again put to the test.

Being a very successful and established niche store, Hollywood Mirrors wasn't suffering from lack of exposure or new visitors to their website. It was quite the opposite actually, as Adam was able to significantly improve the store's rating by applying some SEO strategies and affiliate marketing.

The issue they were facing was getting those visitors to complete their orders. With people beginning to focus their spending entirely on the bare necessities, Hollywood Mirrors had to battle an average abandoned cart rate of 75%. Adam had to make this the focal point of the store's marketing strategy and find a solution that would be more successful in recovering those orders than the other marketing means he was relying on. And he had to do it quickly.

As if on cue, Adam kept hearing about SMS marketing and Yotpo SMSBump in several of the Facebook groups he is in. Attracted by the little to no investment required to start with SMS, it took him less than a week to get convinced and onboard - between the full lockdown in the UK on March 22 of 2020, to March 28 when he sent his very first abandoned cart SMS reminder.

Fast forward to today, or just a year later, Hollywood Mirrors was able to recover over $480 000 worth of abandoned carts. All of this with two simple SMS automated messages.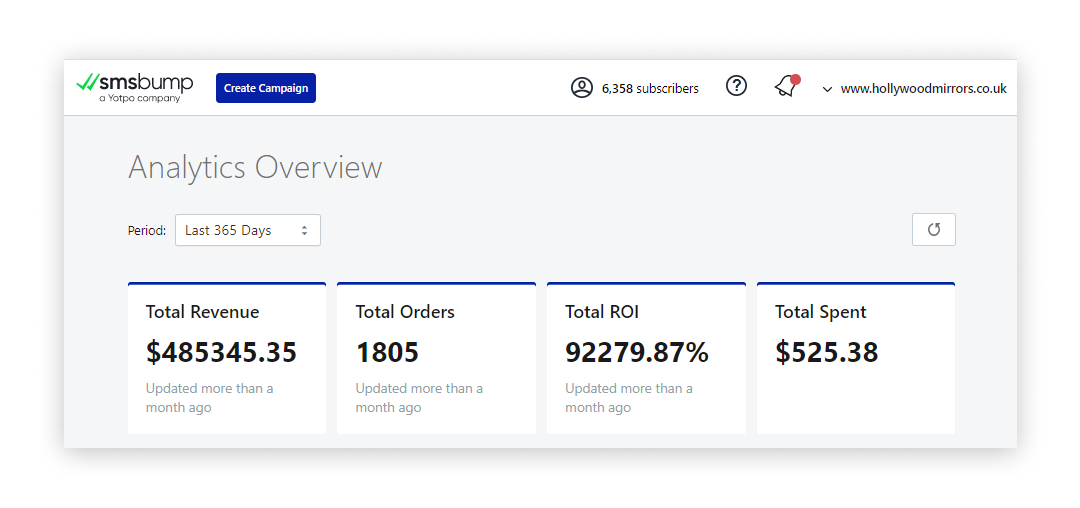 "There's no better ROI in eCommerce than SMS."

Reminder #1: After 1 hour

This first reminder is very casual and its goal is simple - to get the customer to pick their phone up again and complete their order. The message doesn't rely on any psychological gimmicks, like FOMO, sense of urgency or scarcity, to entice shoppers to return to their baskets. It doesn't even offer an incentive. Attuned to the brand's goal to provide customers with upscale products that will give them a sense of glamour and confidence, Adam understood that discounting the products so early on in the funnel would not correspond with their values.

Instead, Hollywood Mirrors focuses on personalization by addressing the customer by their first name. True to the brand voice, the message has a calm call-to-action that reminds them of their incomplete purchase. And of course a link that will take them right to the checkout, where they can finalize their order.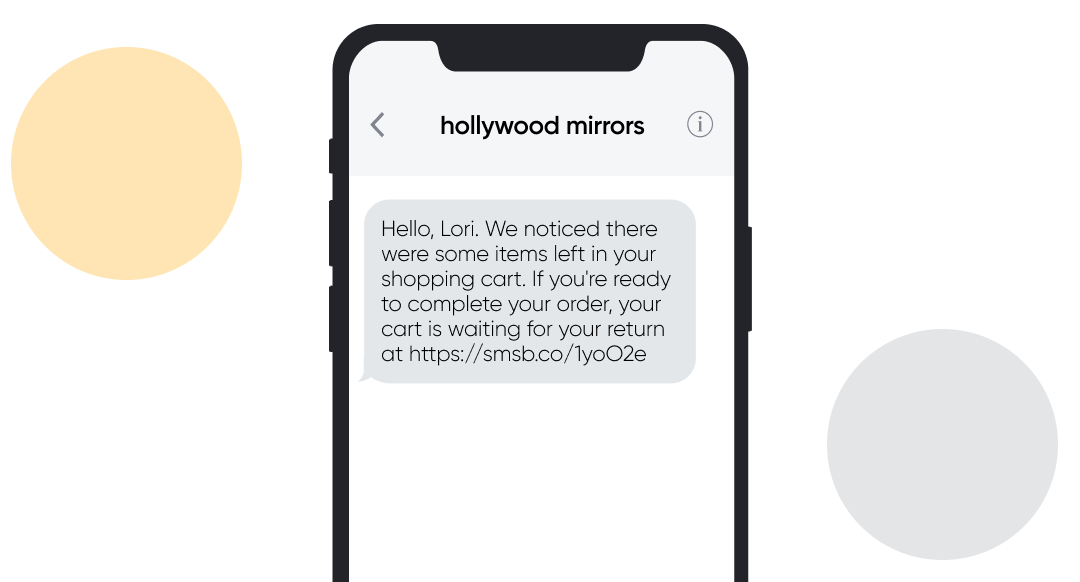 Interesting to note is that this message is in fact the default SMS we have for this abandoned cart reminder in Yotpo SMSBump.

"Why change it if it works? And it does."

What also plays a key role in the success of this message is the timing. Allowing 1 hour for their customers to deliberate the order is long enough, yet not too long. For a brand like Hollywood Mirrors that sells high-end items and generally has a higher average order value (in this case - over $250), 10-15 minutes might not be enough time for a customer to decide if they want to go through with their order. An hour, though, proves to be sufficient and what's more - it makes it so the brand is still top-of-mind for the customer when they receive the abandoned cart reminder.

This simple and straightforward approach seems to be working very effectively for Hollywood Mirrors, as this reminder resulted in an ROI of 38x, with a conversion rate of over 70%! Even more interesting is the fact that all it took for Hollywood Mirrors to recoup their SMS investment is a single order!
Reminder #2: After 1 Day

This second reminder is where Hollywood Mirrors' voice and personality really shines through.

In tune with the brand's mission to make every customer feel special in their own home, this second abandoned cart reminder offers shoppers "a special treat" from their very favorite store. On top of the £10 personalized coupon code, customers are also incentivized to complete their order as "it's almost sold out".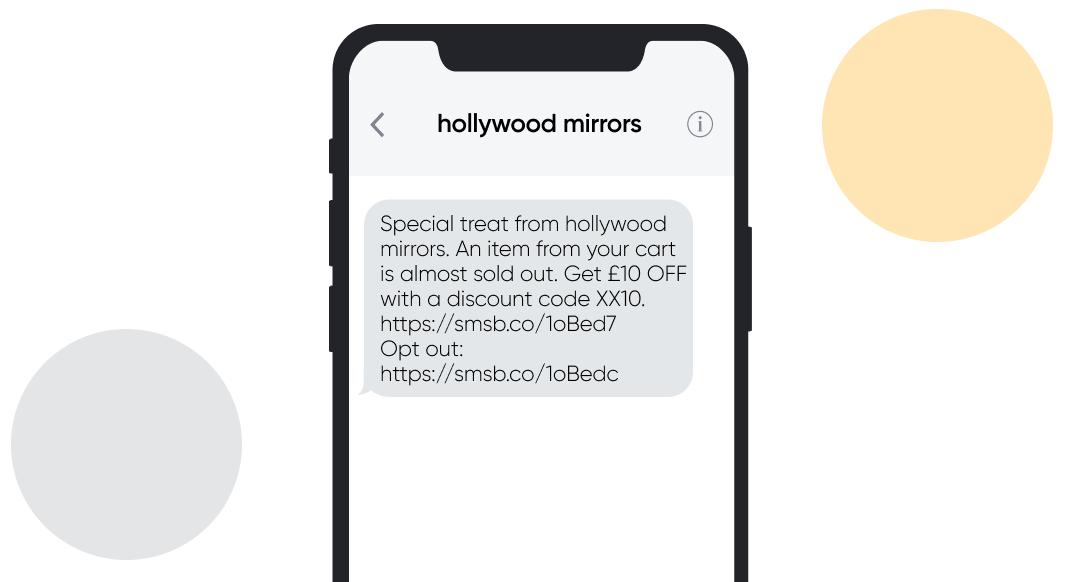 Just like with the previous reminder, timing plays a key role here as well. This second notification fires off 1 day after abandonment and is targeted at all those customers who perhaps needed a bit more time to think about buying an item that wasn't of utmost necessity for them. As the store began using SMS right in the beginning of the pandemic, it had to also think about the change in consumer behaviour and buying patterns at the time. With millions of people having to cut back on "extraordinary" expenses after being laid-off, it was important to show understanding and allow more time for a calculated decision.

The feeling of exclusivity, combined with the sense of scarcity and proper timing, deserve a standing ovation for resulting in an ROI of 150x.
Rolling Credits

Adam's foremost advice for entrepreneurs looking into SMS is to just do it and to find the right partner.

"You need to own your marketing channels and SMS gives you that. It's also a great way of communicating with customers one-on-one. And Yotpo SMSBump - to me it means "Return on Investment". It prints money automatically. It's that good!," Adam advises.

But if we learned anything from Adam and his eCommerce journey is that what might be a challenge for someone could be a great opportunity for another. And that you just have to dare to try, and turn an obstacle into your biggest revenue stream.

Connect with him over LinkedIn or just Google him and find out more about his colorful eCommerce experience. Make sure to follow Hollywood Mirrors on Instagram and get your dose of daily glamour!
Start growing today
Sign up today and join 90,000+ eCommerce businesses making it big with Yotpo SMSBump