How a Home Goods eCommerce Brand Retains Customers with a Holistic SMS Strategy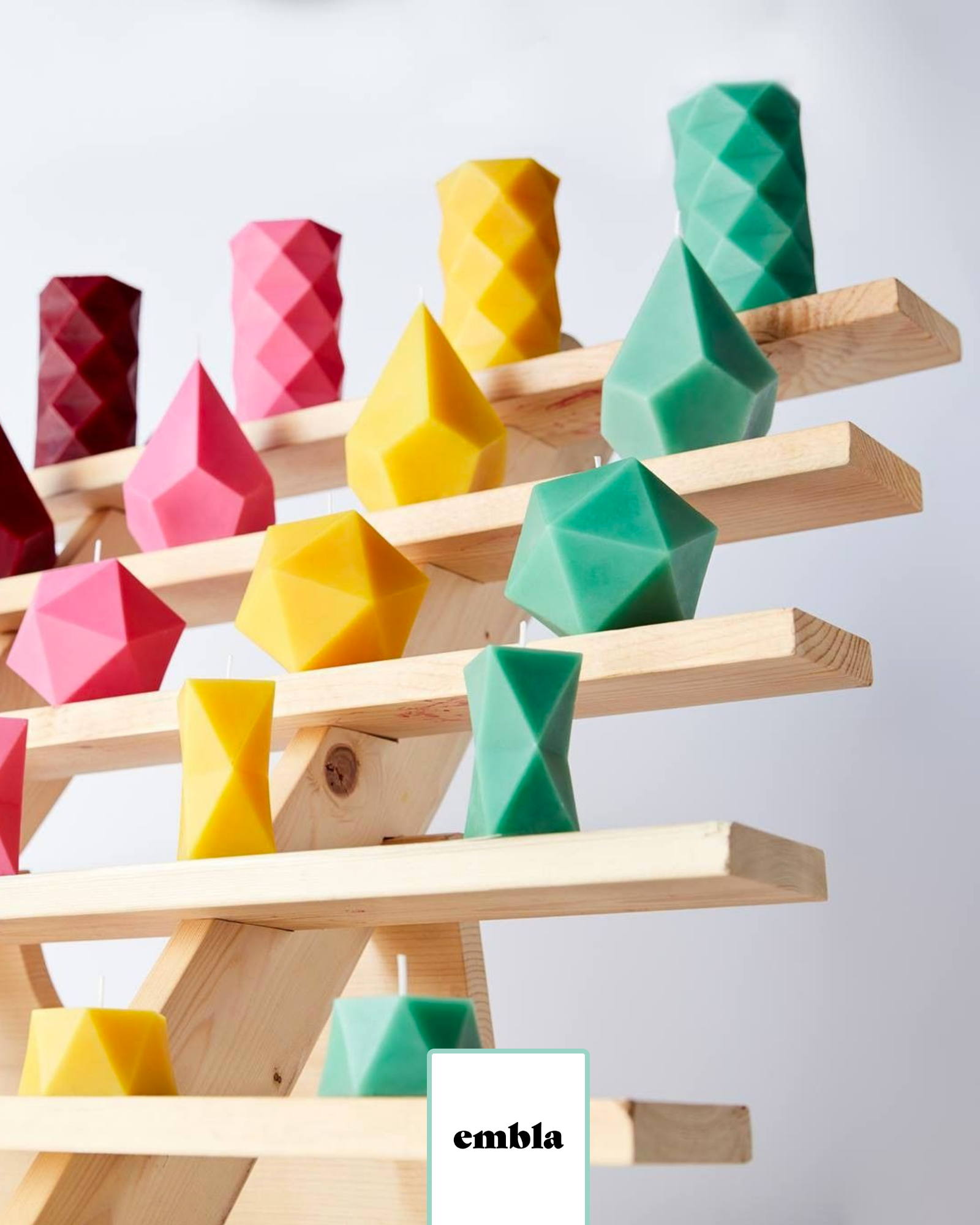 Meet Embla Home

Embla Home is the perfect amalgamation of old-school and contemporary, edgy and classic. It was through harnessing ancient techniques with the latest 3D printing technology that their first line of candles was born, inspired by the minimalist Scandinavian aesthetic with a touch of modern geometry, and dedicated to a noble cause - supporting the bee population and sustainable living.

Since then, the company has expanded its creative vision and now features a carefully curated selection of wall art, dinnerware, vases and planters, and other home goods, perfect for the curious, modern, and constantly evolving homeowner and tastemaker.

​Founded by university colleagues and friends Greg and Evgenia, Embla Home is an all-around trend setter, determined to debunk existing myths about candle-making and push the artform forward through technological advancements and quality resources.
The Challenge
Embla Home was looking for a channel that would allow them to communicate with their customers directly, earn their trust and loyalty, and in doing so - increase repeat purchases and grow their online business.


The Solution

No other channel spoke to them like SMS. A product of old-school and new-found, it's a communication medium that resonates with the brand's core vision - to combine the (seemingly) uncombinable.

Finding a partner to trust came to them just as easily.

"When we were evaluating SMS messaging platforms, Yotpo SMSBump had such glowing reviews that we knew that's the partner we have to go with. Since then, it has been the key tool to growing our business and building long-term customer loyalty. It's so easy to set up and you can start building relationships with your customers right away," co-founder Evgenia says.
The two decided to adopt SMS marketing and leverage its speed and unbeatable open rates. Furthermore, as SMS is entirely consent-based, the brand was sure that their subscribers would, without a doubt, be engaged with their text messages. And that this would fulfill their goal to offer the very best experience to active and loyal followers, and build strong connections.

The brand collects subscribers at checkout - the last step of the shopping process, which ensures the users that do opt in are, in fact, looking to communicate with them with text messages.

Their list of subscribers grew quickly. It was getting them to shop over and over again that was now the challenge.

As Embla Home relies heavily on returning customers, its main objective was to use a personal channel like SMS to send timely reminders to shoppers that haven't been active for a whilе and aim to re-engage them with tailored offers and a trouble-free shopping experience.

The Strategy
Automated SMS for 531x ROI

One of the very first things the brand did was enable a few automated messages to take care of customers for them. With an abandoned cart automated message that successfully convinces over 94% of all shoppers who clicked on it to go through with their order, Evgenia believes this should be every beginner's primary step into SMS marketing.

"People abandon their checkout for so many reasons and you want to make it easier for them to get right back into it. SMS marketing makes this possible," she says.

It is, however, Embla Home's winback automation that really makes a difference for the brand's grand mission to increase CLV. Generating unbelievable results - click-through rates of 76%, with 60% resulting in a conversion, the reactivation messages are absolutely cardinal to keeping their customers' fire burning. Having spent only $220 on text messages, the brand's ROI for this automation is over 531x, totaling at about $117,000.

"We originally tried SMS out to boost customer revenue but quickly found it was also a great way to build customer relationships and loyalty. We think retaining existing customers and making sure they have a great experience is one of the main components of brand longevity," comments Evgenia.

You might think that there's a super complicated recipe behind their enormous success but it's actually quite the opposite. The biggest determining factor when it comes to winback messages is figuring out the right time frame between purchases that makes sense for your brand specifically. For some stores, such as jewelry and other higher-end businesses that have a high average order value (AOV), allowing 6 months between orders is acceptable, while 1 month might be too much for other brands.

Embla Home, specializing predominantly in ephemeral goods and with an AOV of about $70, decided on a customer inactivity window of 60 days. The brand re-engages shoppers in the most non-invasive and friendly way: they simply remind them it's been a while since their previous purchase and nudge them with a 15% discount to show them how much they value them as a customer.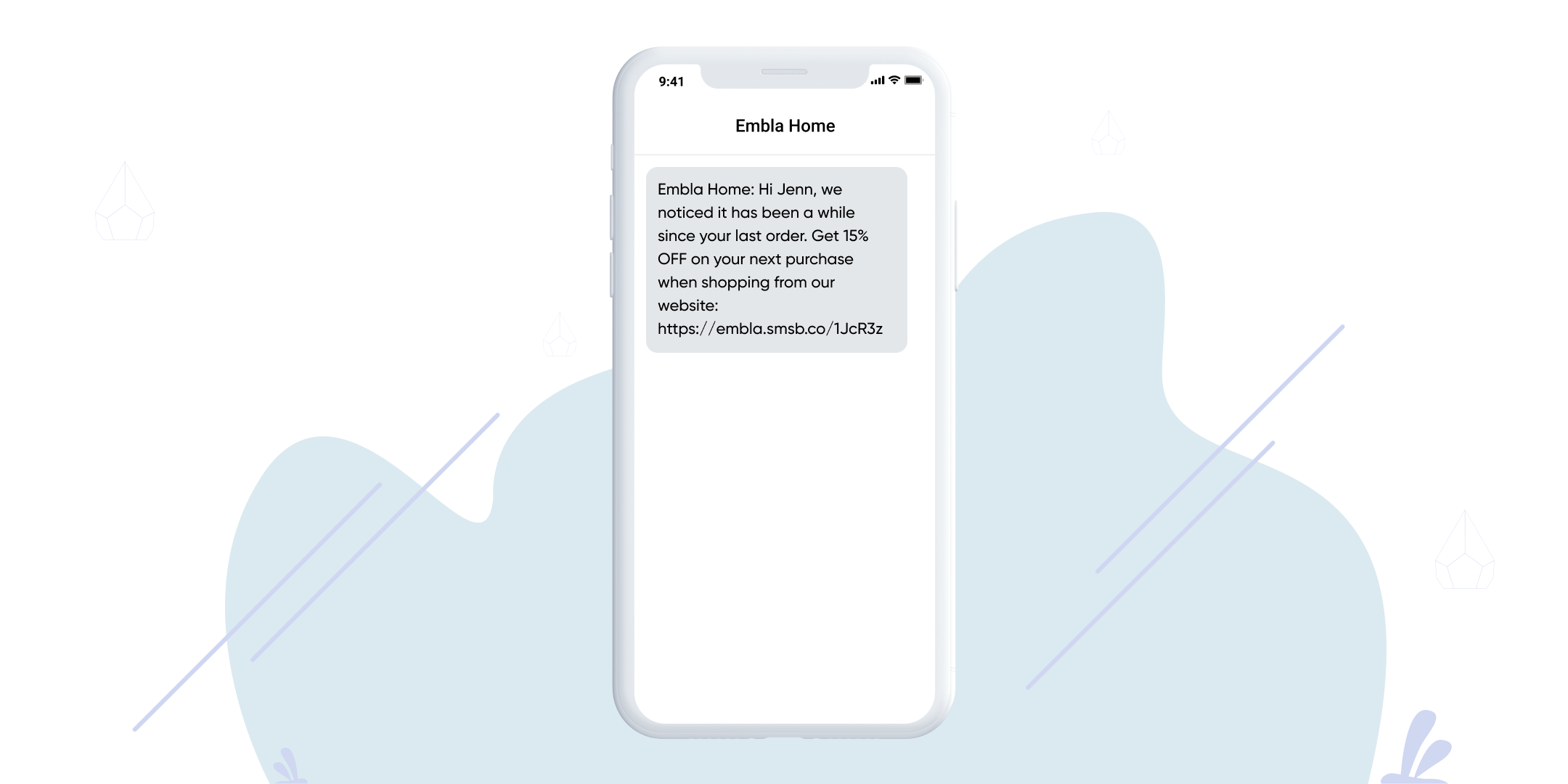 "Friendly but straight to the point message, with a clear call to action: that's our SMS recipe for success," Evgenia specifies.
Their winback automation did exceptionally well around Black Friday & Cyber Monday as well, boasting an unseen click-through rate of over 42%. Having spent only $9 on text messages, Embla Home was able to reengage inactive customers into accumulating revenue of over $4000, resulting in ROI of 443x.

Targeted One-off SMS Campaigns with 29x ROI

Another way for Embla Home to retain their customers is through exciting one-off SMS campaigns around major holidays such as Valentine's Day, Mother's Day, Fourth of July, Christmas, New Year's and more. Alternatively they'd connect with shoppers around events that resonate with their brand value such as Cousins Day, Kiss and Make up Day, World Smile Day and more. And finally - Flash Sales, Giveaways and Upsells are their go-to ways to clear up some shelves and make room for other, newer products.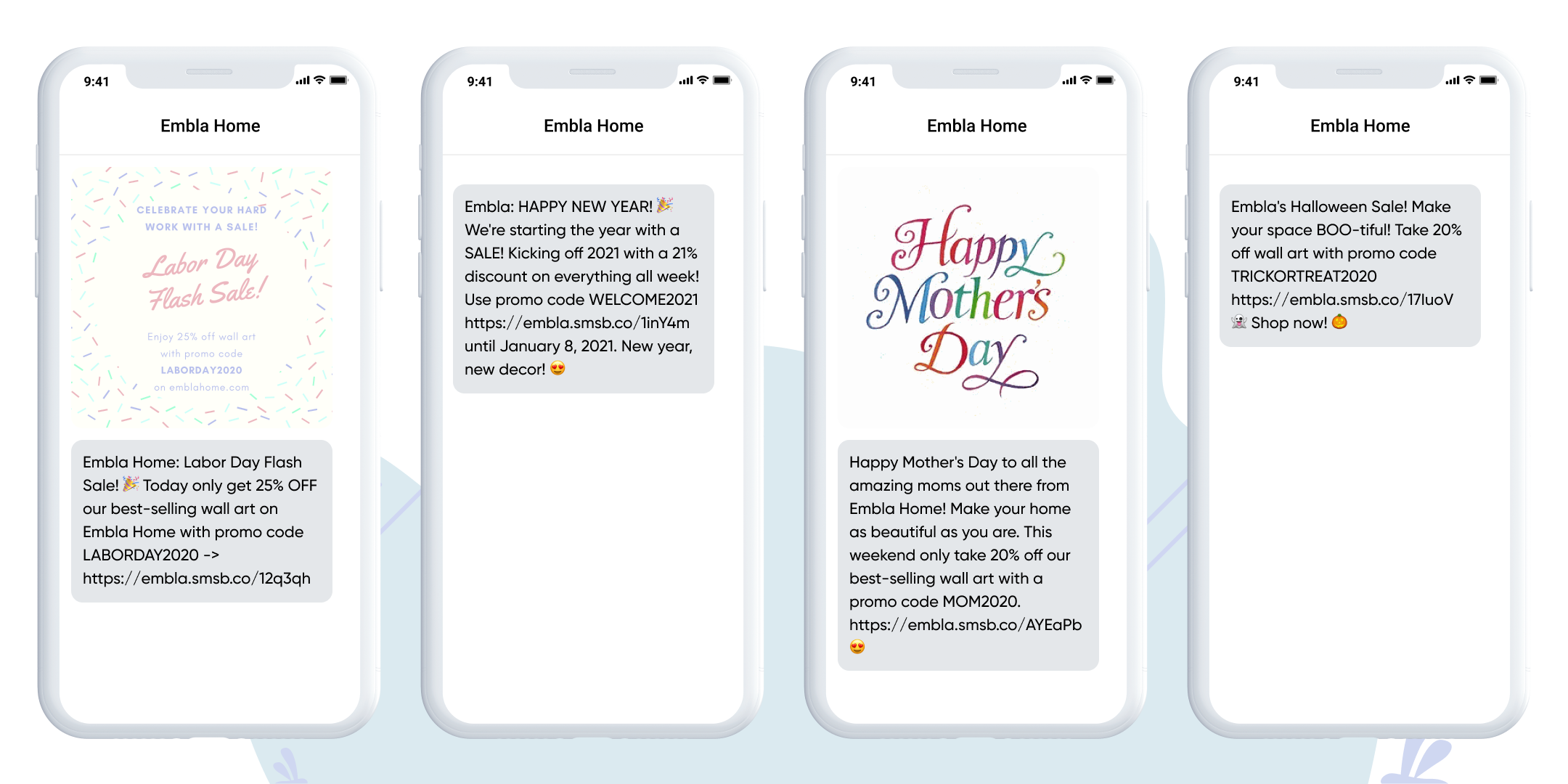 Pro Tip: if you are looking for inspiration for your next SMS marketing campaign, make sure to check out our SMS gallery "A+ texts".

While launching event-specific campaigns was а great source of sales, Embla Home quickly realized they could make even more out of SMS marketing by simply turning every interaction into a highly personalized experience for their customers. Using Yotpo SMSBump's Segmentation filters, the brand creates dynamic audiences based on a subscriber's purchase and engagement history, geographic location, and product preferences to deliver relevant updates and offers.

As a result, one of their most successful campaigns targets a very specific group of subscribers - female customers, who clicked on a link in a text message but didn't purchase. With over 20x ROI this extended Memorial Day campaign enticed lady shoppers that never purchased anything from Embla Home to reconsider and accumulate sales of over $10 000.
The brand has made use of many more robust segments which allow them to really narrow down the scope of every campaign, minimizing costs and maximizing conversions.
"Targeted SMS campaigns perform much better, feel more personal and overall help us save money. Since we pay for each text message that we send, we don't want to spam people who are not engaged with our brand, even though they might have signed up to our list. Segmentation also helps us send more personalized deals to customers that are engaged with our brand but have hesitated to make a purchase," Evgenia clarifies.
1:1 SMS Chat for Quick Support and Customer Happiness
Additionally to keeping their customers at arm's length and engaged with personalized, interactive campaigns, the brand realized that a key factor for boosting customer loyalty and happiness is providing a frictionless experience even after they've ordered. Or especially then.

To ensure this, Embla Home sends a shipping confirmation every time an order is placed, processed and sent out. These transactional messages are key to gaining customer trust, and in Embla Home's case - are truly valuable, with a click-through rate of over 75%.

Additionally, the brand wanted to give shoppers a way to reach out if they have any questions or concerns. And what's better than giving them the opportunity to connect with your brand straight on the device and channel you initially contacted them?

Embla Home's post-purchase message is very friendly and inviting, truly focused on getting the customer to open up and share their thoughts, good or bad. Results were quick to follow.

"We have a few automated post-purchase messages that ask to share any personal experience with a brand and we've been getting a lot of responses and feedback on how we can do better and what we can improve. Out of all the feedback channels that we use, SMS proved to be the most open and detailed. I think it comes very easy to most people and they just type on their phone as they would to their friend," Evgenia says.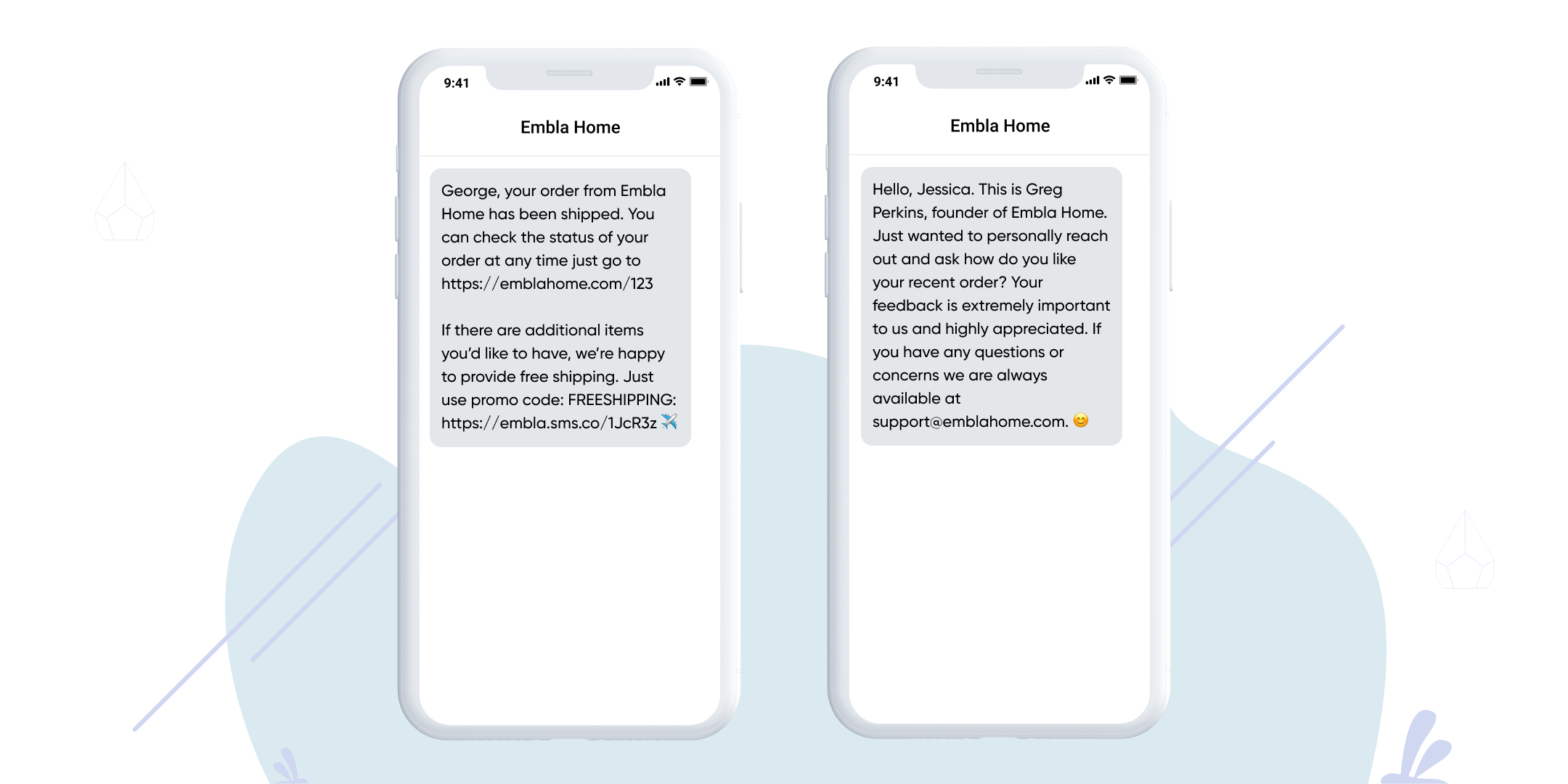 What's next for Embla Home and their SMS Strategy?

Embla Home's plans for their SMS marketing communication are more than exciting. The brand is looking into testing out much deeper segmentation, to provide all of their customers with a one-on-one treatment and a personalized approach that can't be beat.

Just the way their products symbolize the beauty of the old with the effectiveness and efficiency of the new, their SMS strategy will continue to nurture long-term relationships, while also creating more and more customer bonds, turning the channel into a top source for driving loyalty and revenue.

"We want to continue exploring segmentation and get even more granular targeting for our special deals. So far SMS is outperforming email marketing by far. We are looking forward to continuing to use it in new ways in the future," Evgenia says.
Follow Embla Home on their journey to revolutionizing people's homes and marketing experiences.
Start growing today
Sign up today and join 90,000+ eCommerce businesses making it big with Yotpo SMSBump