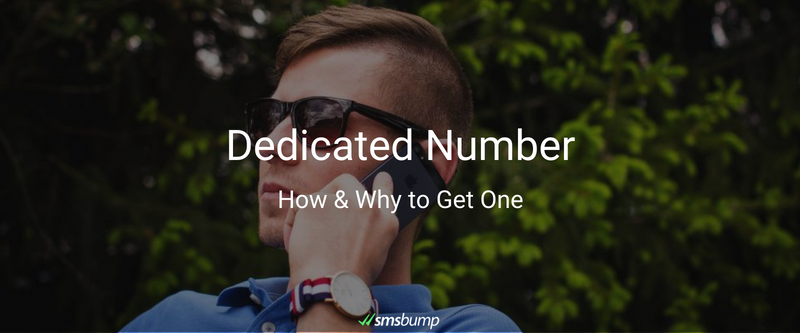 Why & How to Buy a Dedicated Number for SMSBump
Dedicated number is a virtual number which can be used as a FROM in your transactional and bulk messaging campaigns. This is particularly good for a couple of reasons:

1. You can get your own number to use on various campaigns
2. You can send messages
3. You can receive message replies
The replies to your texts are received in the SMSBump web app.
Let's say you are having a promotion and your customers need to text you back to take advantage of your great deals. This is where your dedicated number takes effect because they will be able to reply to your SMS.
To find a dedicated number for your country, first you need to login.
After that, go to your dashboard, and then click on Dedicated Number.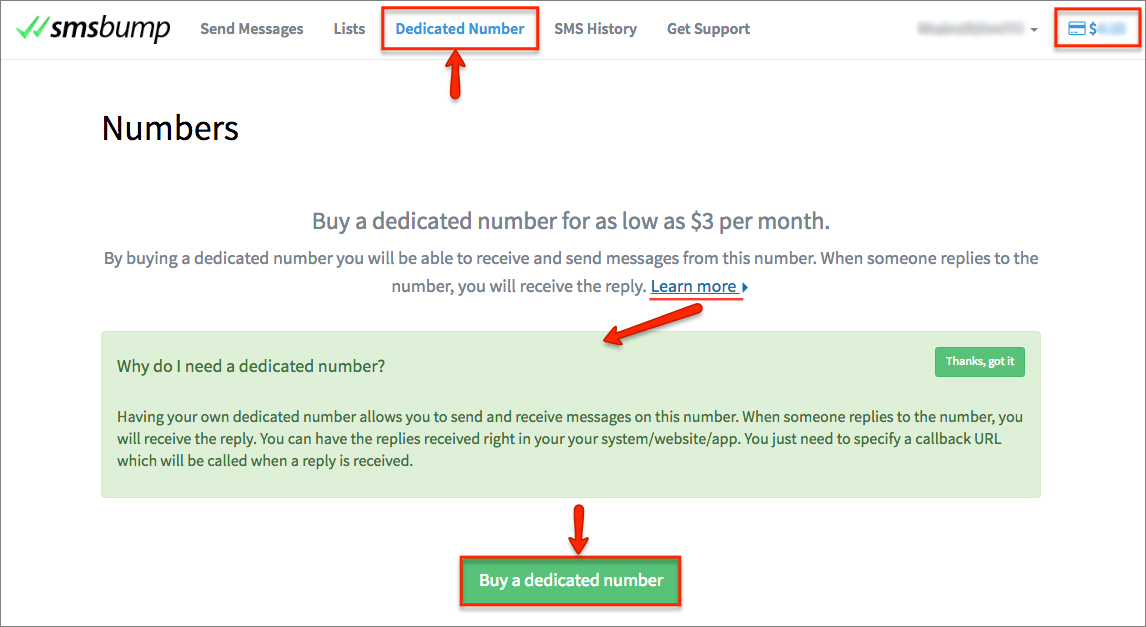 If you click on the Learn more link, you will get a bit more detail on what you get when buying a dedicated number. To be able to purchase one, you need to have enough credits for it.
You can re-charge your credits here.


The next step of buying a dedicated number is the one where you choose your country. Select it from the dropdown menu at the left. If you have preferences for the number, you can enter a part of the desired number in the field to the right. You can leave it free if you prefer the number to be random.
When you are done, click Look for numbers. This will show you a total of X numbers found for your country.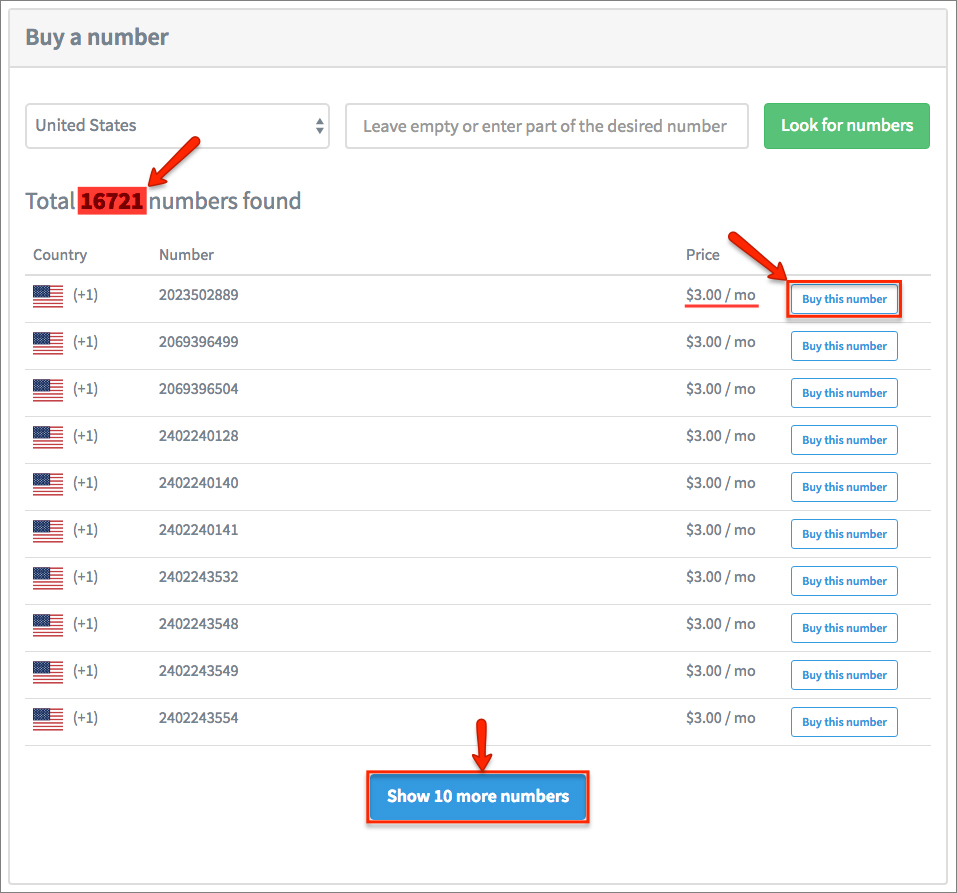 Each country has different rates for dedicated numbers. The lowest rates are $3.00 per number, like in the U.S.
Use the button below to Show 10 more numbers and view more options.
When you select a number you like, click Buy this number.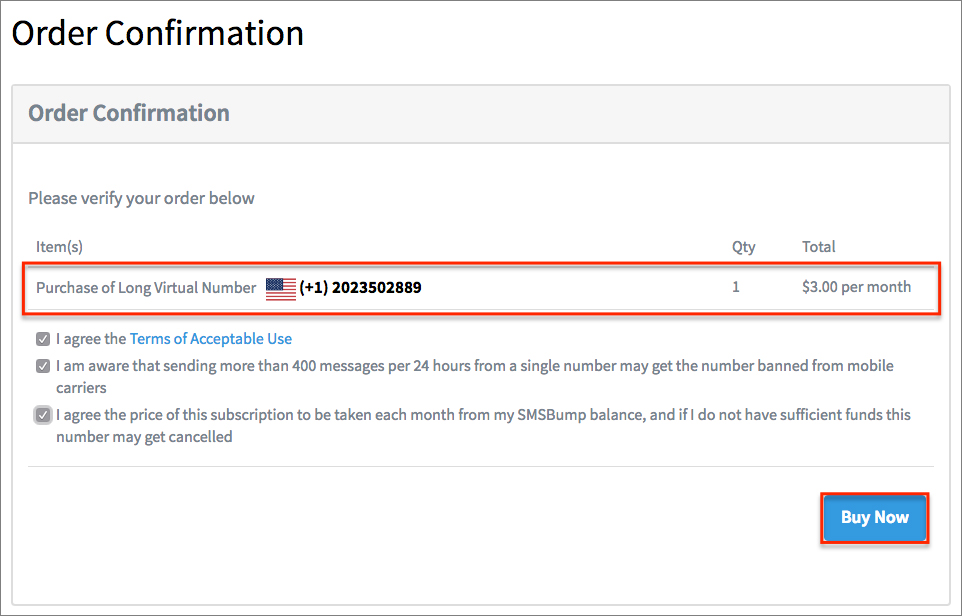 Last, is the order confirmation where you confirm the purchase of your new dedicated number.
You have to confirm that this is the number you want. Below, you have your Terms of Acceptable Use, as well as other terms and conditions you have to approve.
You must be aware that sending more than 150 text messages within 24 hours from a single dedicated number may get the number disabled from the mobile carriers.
Important Note: You shouldn't use Dedicated numbers for marketing messages, such as abandoned cart automations or marketing campaigns.
Also, the price of your subscription will be billed each month from your balance in SMSBump. In case you have insufficient funds, the number may get cancelled.
Important Note: If you are subscribed for the Priority Plus plan in SMSBump, you get 1 free dedicated number (for up to $3), which is also updated each month if you're still on the Priority Plus.

Summary
The dedicated number from SMSBump allows you to open an SMS channel for back-and-forth communication with your customers. This way, you will not only be able to send them transactional and marketing messages, but they will also be able to reply. Give it a try and let us know how things went for you!

Start growing today
Sign up today and join 90,000+ eCommerce businesses making it big with Yotpo SMSBump