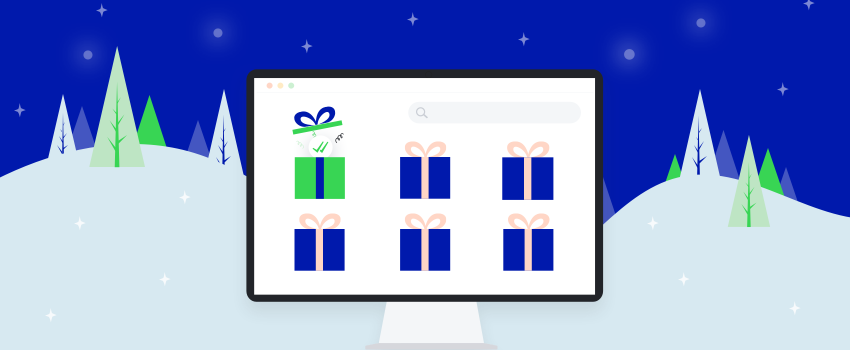 Unwrap These 6 Free Shopify Apps This Christmas
Are you ready to shovel in some extra profit this Christmas? We did research on the top 6 Shopify apps that will make your store stand out during the holiday season. With virtually no investment on your part.

Using the right apps will not only increase sales and boost customer engagement but will let you manage your store more effectively. Read on to learn more about the apps you should install before launching your holiday campaigns.
1. Checkout X: A Converting & Mobile-ready Checkout Process
Your customers should be counting the days until Christmas, not dealing with long and intimidating checkout pages on their way to buying the perfect gift.

With Checkout X you can turn your standard 3-step checkout into a simple, one-step checkout process, making it easier for your customer to finalize their order. Ultimately, that will decrease the churn rate and will boost your conversions. And your customers' satisfaction.

In addition to the frictionless, 25-second checkout process, you are able to configure a one-click upsell automation and track real-time stats on the performance of your upsell offers, such as revenue, show, and conversion rates. Run A/B testing to find out what works best for your customers.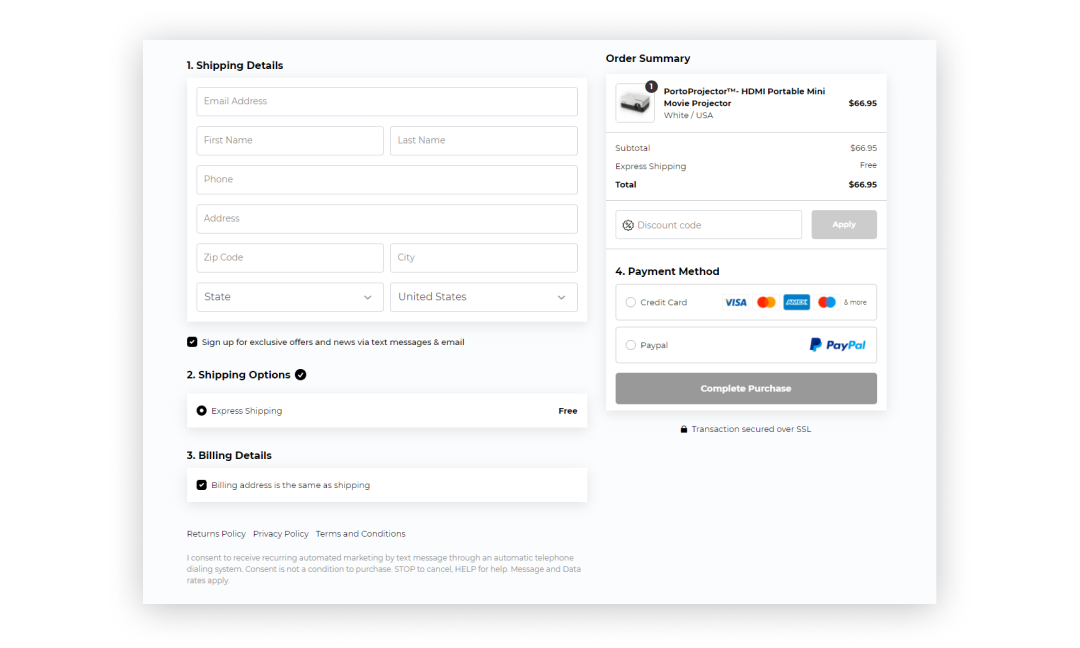 Source: Checkout X

Finally, you can integrate Checkout X with key apps from the Shopify ecosystem, such as your favorite SMSBump, to always stay on top of all of your systems and make the most out of their capabilities.

Checkout X offers an extended 30-day free trial to all SMSBump users, which will give you enough time to explore all the main features and see how your customers respond to the new and faster checkout experience you're providing.
2. Justuno: Conversion Optimization From the Future
While attracting customers is easy, converting those visitors into leads or sales is a science of its own. This is even harder to achieve around the holiday season, when bounce rates are higher than ever, making converting visitors into customers a true challenge.

Justuno understands all this. The app has a full onsite suite of tools to convert shoppers and collect important insights to help you build audience profiles and optimize campaigns.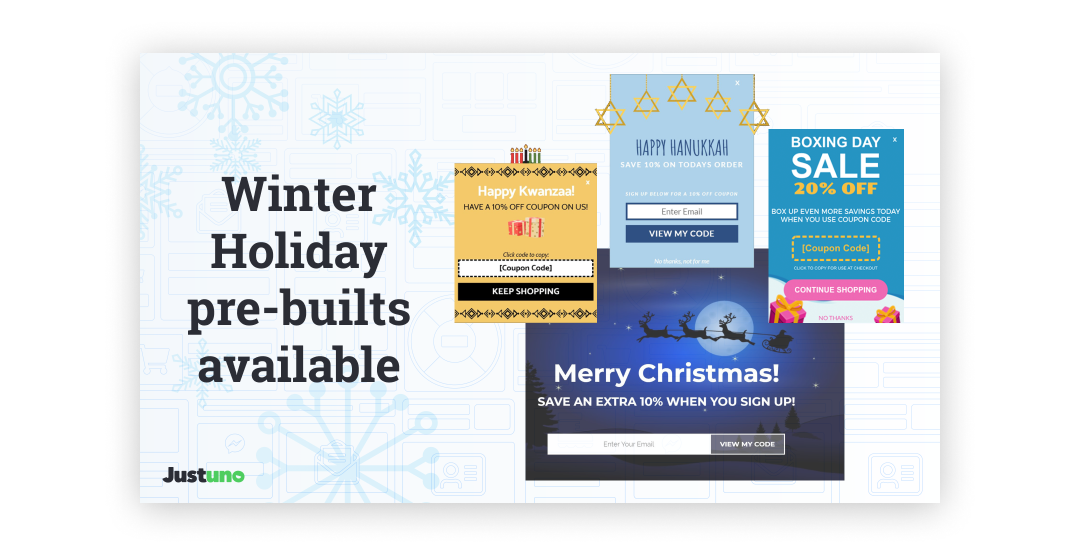 Source: Justuno

You're able to engage and convert website visitors with effective marketing touchpoints like interactive pop-ups to capture email and SMS subscribers, ecommerce promotions to lower bounce rate, personalized cross and upsells to boost AOV and more! All of this comes with a high level of customization to ensure your conversion tools are always on-brand and have the highest success rate. Not to mention, with its AI-powered technology, Justuno offers you one of the most advanced ways to collect, organize and analyze data to improve your predictive targeting and audience segmentation.

Justuno's pricing plans are based on your website's monthly visitor sessions and their starting plan is free of charge.

3. Pushowl: Customer Interactions Supercharged with Push Notifications
Push notifications enjoy a 5 times higher visibility than email campaigns. They appear straight on your customer's screen (desktop or mobile), which makes them great to communicate with shoppers, especially during the busy shopping times. Customers don't need to install or open any additional applications, which immediately means higher open rates as well.

Pushowl enables you to collect subscribers and collect important data about them and their behavior, and use that intel throughout their entire journey with you. Based on that you can then send push campaigns, accompanied by beautiful images, emojis and user-friendly, on-brand experiences. Businesses can automate a variety of events to ensure they never miss an opportunity to update their customers on a price drop, new product or one that's back in stock and more.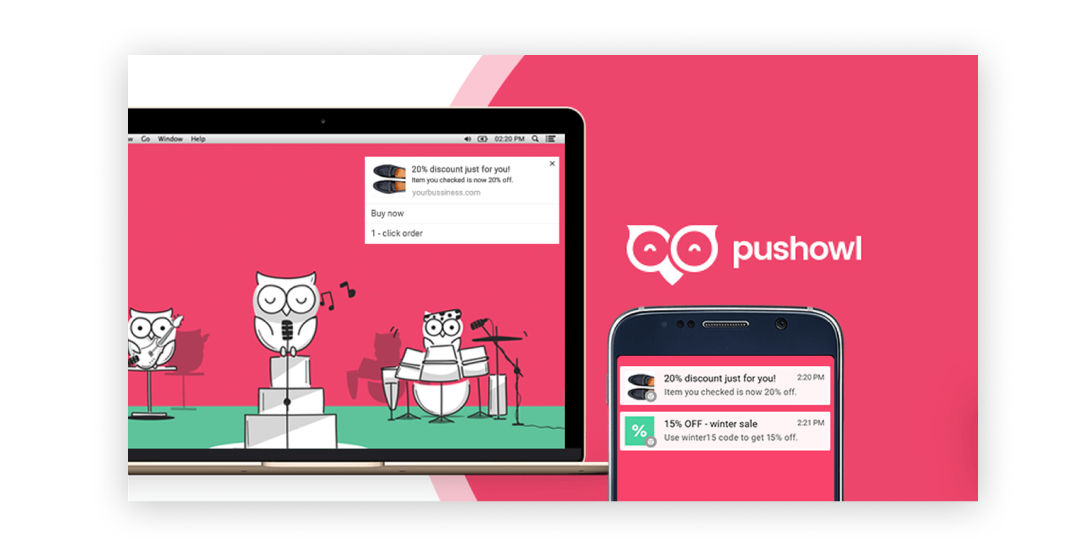 Source: PushOwl
What's more, you will have the performance of every push campaign you launch in check, giving you the opportunity to analyze which of them worked better and why, based on important stats such as impressions, clicks, and revenue.

Starting with Pushowl requires no initial investment. The app has a free version, which includes all the basic features you'd need to test out push notifications and generate impressions. And the approaching holidays are the perfect opportunity to try something new!
4. Gorgias: Growth Acceleration Through Exceptional Customer Service
Doing customer support simply to "support" your customers is quickly becoming an obsolete activity with the emergence of applications such as Gorgias, which have the ability to turn your customer service into a profit-making process.

Gorgias gives your brand a holistic view of all customers and at all times, centralizing all tickets in one place. In turn, this gives businesses the opportunity to provide fast and personalized help to customers, no matter where they are reaching out from, without needing to leave the helpdesk.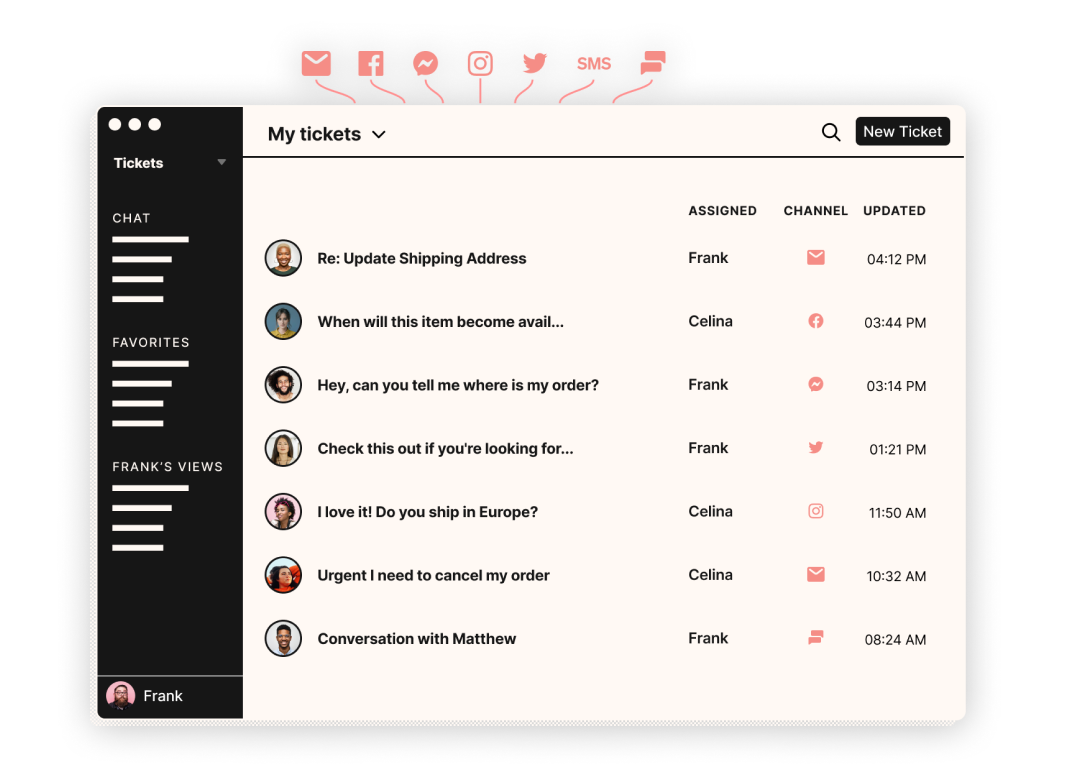 Source: Gorgias
Offering a seamless support experience, especially during hectic sales times such as Black Friday and Christmas, is one of the ways to guarantee higher conversions, even before people visit your website. Once they've visited, you'll be able to treat them to a personalized shopping experience due to Gorgias' robust data collection, giving you important customer information while you're talking with them.

With all of its partner integrations, Gorgias also provides you the opportunity to communicate with customers on the channel they contacted you from - SMS, email, social media and more.

The app has a special deal for all SMSBump users. Install Gorgias now and enjoy your first two months for free. Streamline all of your communication with customers and improve your support by a landslide just in time for the holidays! And beyond.
5. Reconvert: A "Thank you" Page, Yet so Much More
Your store's "Thank you" page gives you the perfect retention boosting opportunity to turn one-time shoppers into repeat customers! Which is absolutely crucial during the holidays, when your store traffic is through the roof.

With Reconvert, your "Thank you" pages won't just be a sweet after-sales touchpoint, but can be a powerful way to re-engage customers almost immediately after they've made a purchase.

Upgrade your page by adding a cross or upsell recommendation and catch customers when they are most likely to buy again. Display product and collection recommendations, special sales and offers, and watch your sales grow!

Additionally, you can get key information such as your customers' birthdays and retarget them again via SMS or email on their special day, with an exclusive offer. Grow your lists, boost your sales and show your appreciation with one simple action!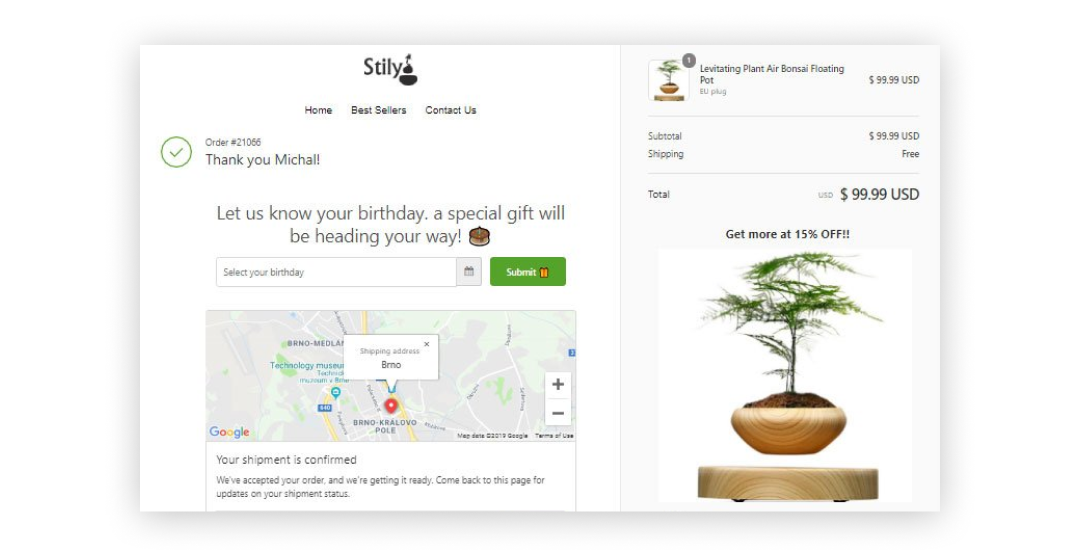 Source: ReConvert
And the best part? The simple drag and drop interface makes the process easy even for users at the very beginning of their online commerce experience.

Reconvert is running a special holiday promotion for SMSBump users. You can now do a free run of the app for 90 days and maximize the value of your "Thank you" page.
6. Yotpo: Boost Loyalty Across Multiple Touchpoints
Having customers join your loyalty program is always a great way to treat your most frequent (or long-term) buyers to special deals and items to increase CLV. However, what can make your loyalty program even more appealing is the holiday spirit! The holidays are a great time to push your loyalty campaign forward and add a bonus touchpoint for customers who will be purchasing from you anyway.

But a loyalty program has another advantage. In a world of constant competition, having a base of truly loyal customers and nurturing those relationships will help you build a sustainable brand. So not leveraging your customers' loyalty is leaving money on the table!

Using Yotpo's loyalty platform you can create a program that focuses entirely on the goals of your brand, whether they are related to decreasing time to second purchase, promoting new product lines, boosting AOV, inspiring engagement or something else.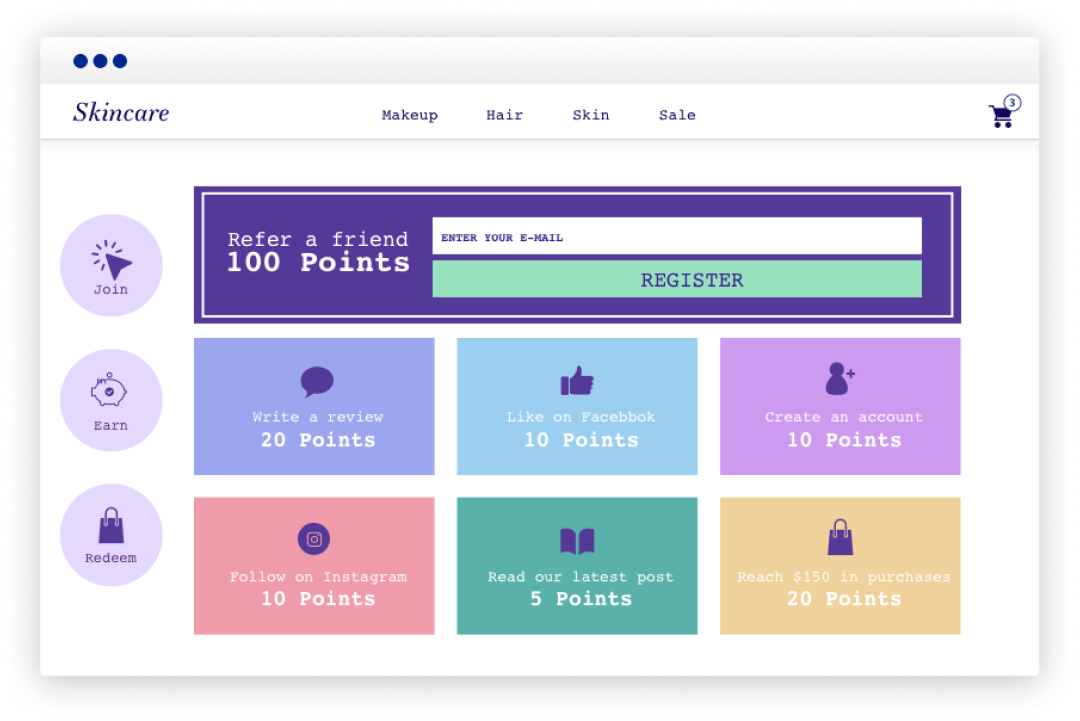 Source: Yotpo
Maximize the success of your loyalty program by using its appeal to generate more SMS or email subscribers. Create loyalty tiers, based on points, spend, purchases, or referrals, and notify customers when they achieve a certain milestone and can benefit from a special deal. Enjoy a detailed overview of the performance of each loyalty campaign and have a comprehensive understanding of the actions and behavior of each individual customer to personalize future activities.

You can start with Yotpo for free and upgrade as you grow! The platforms offer flexible plans to best suit your goals.
Install and Start Growing
Test out these apps, and let us know if they helped you grow your Shopify store this holiday season.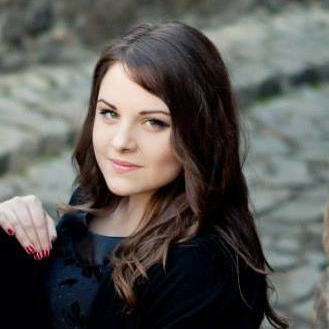 Start growing today
Sign up today and join 90,000+ eCommerce businesses making it big with Yotpo SMSBump