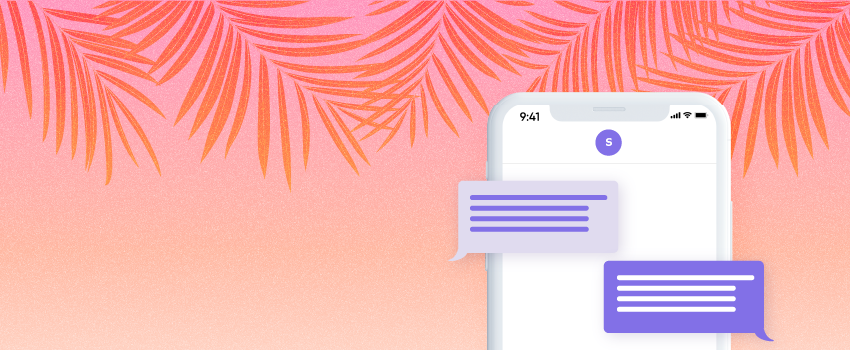 Five Ways to Use SMS to Battle the Sales Slump This Summer
Sun is shining, the temperatures are rising, and the sound of the sea waves melts along with the chilling music floating in the air of the beach bar. Traditionally, summertime brings a mood for a vacation, holidays, outdoor activities… and a drop in sales.
And this year's economic forecasts are not exactly encouraging. Despite rising prices and record inflation, consumer spending is still showing some resilience and is slightly increasing. However, according to a recent NRF study, consumers are changing their shopping behavior – almost half of them are on the search for cheaper alternatives and discount offers.
So if you want to effectively engage with your customers and grab their attention with your sweet deals, you'd need to reach out on a channel they are on. With its 98% open rate, SMS remains the go-to choice for brands that want to cut through the noise and drive more sales.
Here are five proven SMS marketing ideas to battle the sales slump and help your revenue increase along with the temperatures.
Summer Tip 1: Use SMS to Promote a Summer-Special
The best way to attract your customers' attention during the hot summer days is by offering them an equally hot summer offer. It could be anything from a special seasonal menu, a new breezy scent, or an exclusive bundle to get them beach-ready.
Your subscribers will really appreciate anything that will help them plan and enjoy the perfect looong-awaited summer days.
Use text messages to announce and promote your summer-special campaign. SMS marketing enjoys an unmatched open rate, so you know you'll reach your audience even at the most secluded beach or at the loudest pool party.
Add seasonal lingo or puns to grab people's attention and boost engagement. Don't forget to include appealing images to make shoppers crave your hot products.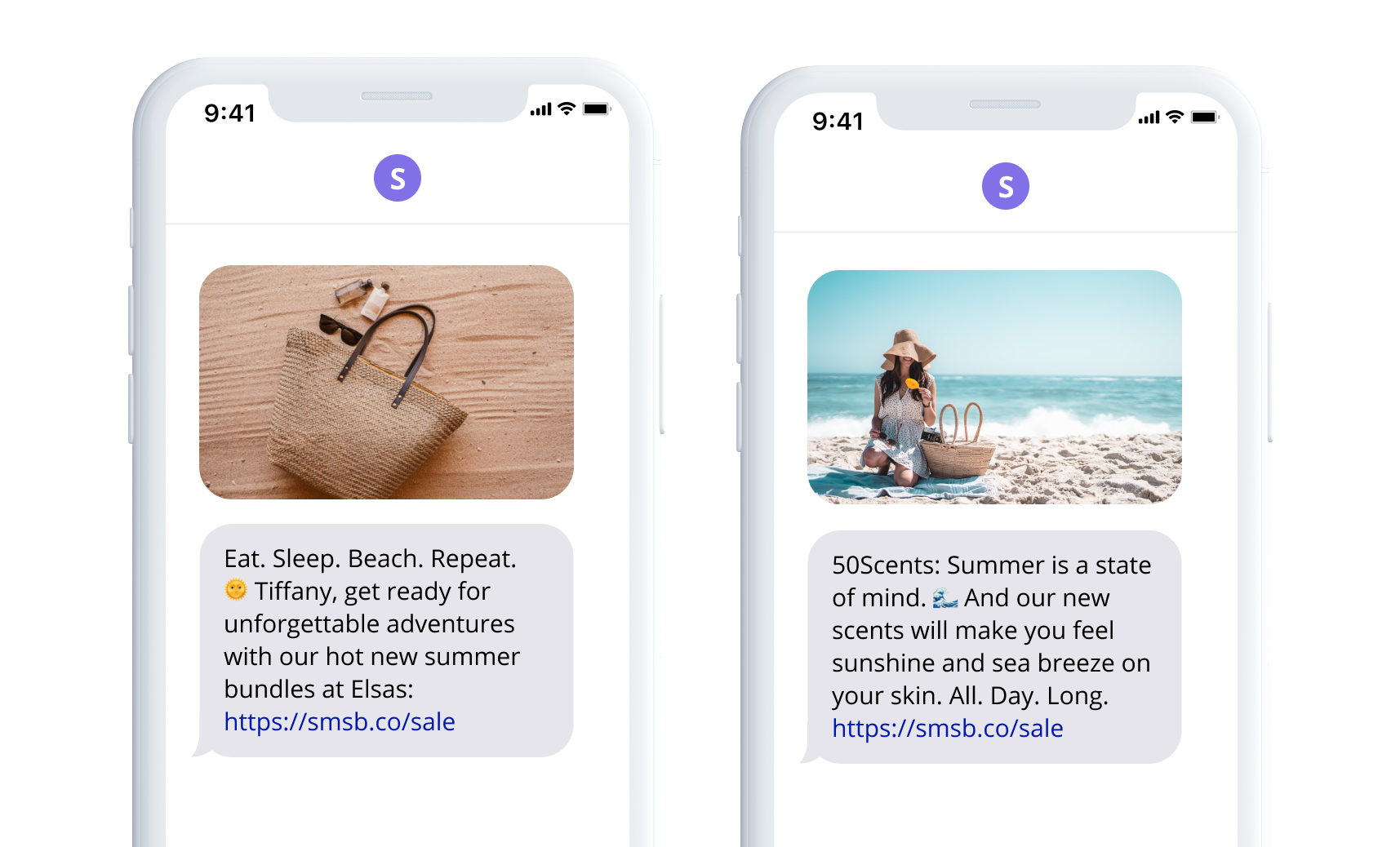 Summer Tip 2: Use SMS to Launch a Flash Sale
If you don't plan on releasing a seasonal product or a collection, but you still want a solid boost in revenue, it is time to turn to the oldest trick in the book: launch a flash sale!
A flash sale is a limited-time offer intended to grab the attention of people with massive discounts and strong FOMO. The goal is to create urgency, get customers to act fast, and make a direct purchase.
And what better way to reach out to your shoppers and grab their attention in between cocktail hours than a direct and brief SMS? With the help of our intuitive built-in template gallery, the perfect text message is just a click away!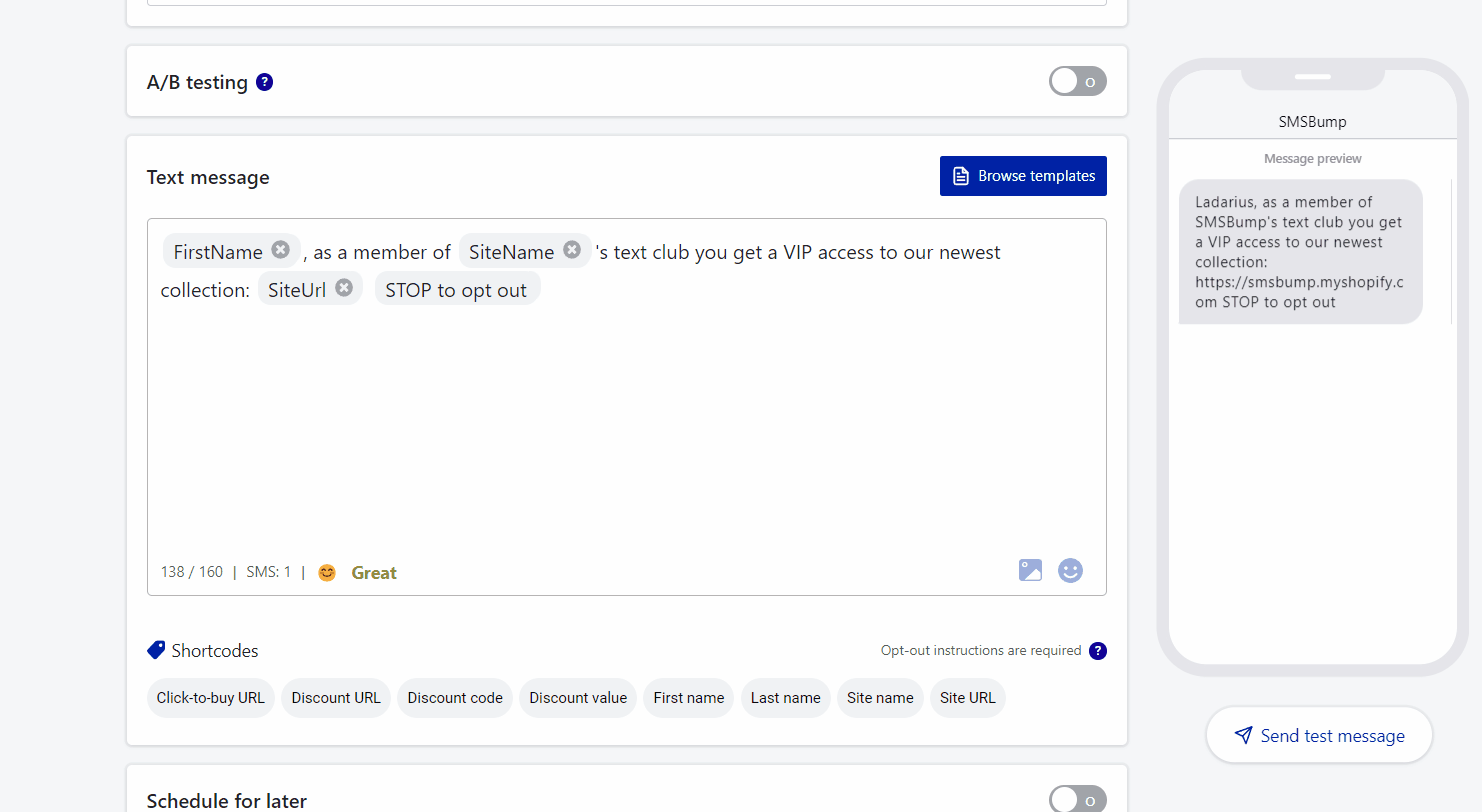 Make sure to let your customers know your flash sale won't last long and mention low inventory. Use phrases such as: "Hurry up," "Grab now," "While stocks last," "Limited Quantities," etc.
The "Christmas in July" trend continues to be popular among major retail brands around this time of year as it is a quick and seamless way to market any seasonal sale.
Another cool(ing) idea is to launch a Beat the Heat SMS campaign. It will help you leverage text marketing and promote last-minute deals that reflect the weather – lower the prices as temperatures rise.
When the forecast predicts a scorcher, send out an SMS campaign with limited-time offers on themed products, such as cooling items, beach accessories, etc. You don't need special preparation – a simple text message can do wonders for your sales:
"Beat the Heat with a 35% discount on beachwear – all day today!"
"Cool off with 10% OFF sitewide!"
Summer Tip 3: Use SMS to Leverage Summer Events
If you are looking for ways to make your promotions even more engaging and push your sales beyond a single day, you can tie your offer to specific summer occasions.
People LOVE all kinds of special events, as they provide the perfect excuse for extra spending – either when it comes to gifts for friends or families or to pamper themselves with well-deserved treats. We are here to give you some creative ideas for engaging SMS campaigns even during the traditionally slower summer months.
Beauty brands, for example, can leverage International Self-care Day (July 24) to promote self-indulgence through special offers or pampering products or bet on National Lipstick Day (July 29) to announce a new makeup collection.
Fashion brands can use summertime to promote various vacay-related items and collections, such as swimwear, sunglasses, beach accessories, skin care products, mini travel beauty sets, etc. And, as we all know, summer season = wedding season. Shoppers are actively browsing the web for the cutest outfit and the comfiest dancing shoes, so they would really appreciate your help in becoming the king or queen of the party.
Warm summer days are meant to be spent outdoors. It's when consumers are most active and have more time on their calendars to indulge in their favorite hobbies or activities. So if your brand sells sports equipment, health supplements, or other outdoor-related products, you should use the upcoming period to reach out to your customers with special offers and effectively drive more revenue to your store.

The first days of August are the perfect opportunity to start your Back-to-School campaign with promotional offers and discounts targeting students and their parents.
National Sisters Day (August 4) and Friendship Day (August 7) present online store owners with great opportunities to leverage BOGO (Buy One Get One Free) deals or promote gift cards or vouchers to get an additional boost in sales.
Attention, pet shop owners – get ready to celebrate International Cat (August 8) and Dog (August 26) days to engage with your fur-loving customers and make them an offer their pets won't refuse.
Summer Tip 4: Use SMS to Invite Shoppers to Local Happenings
As things are (almost) back to normal, expect a great variety of outdoor events this summer. Check up the calendar for some local community happenings that might interest your audience. Use the occasion to connect and engage with potential customers and set your brand top of mind.
Use SMS to invite your subscribers to а street fair or а local festival, where they can find your brand and products. Excite them more by announcing a special deal or a limited product bundle – available only for the time and place of the event.
And if there is no suitable occasion – just host your own summer event! Send a text message to your subscribers in the area to invite them to some in-store entertainment, exciting giveaways, and a chance to meet your brand and the people behind it.
Leverage SMS-only offers: give additional incentives to people to come to your event booth or local store by offering exclusive coupons with discounts – available only for SMS subscribers. This will boost the attendance but will also give an additional nudge to potential customers.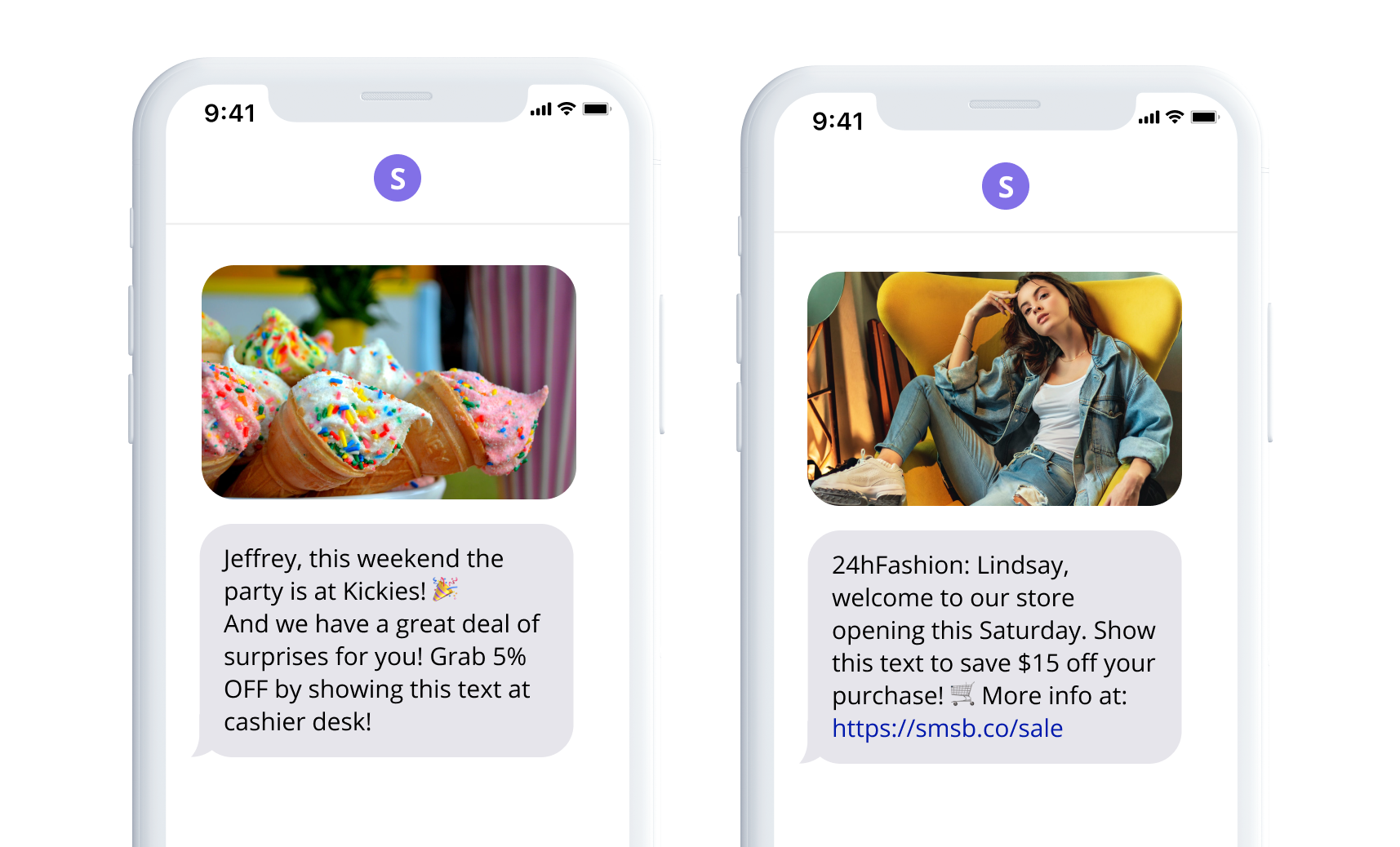 Summer Tip 5: Leverage Upsell and Cross-sell to Maximize Results
Especially in the summer season, it is crucial to have active upsell & cross-sell SMS campaigns. It was hard enough to grab your customers' attention, resting around a pool and enjoying a fresh cocktail, so now that they are in the shopping mood, you better make the most out of this interaction.
Try to be helpful by providing your customers with a matching deal or a discount on a product you know they want. Send them a relevant offer that complements something they have already purchased from you recently.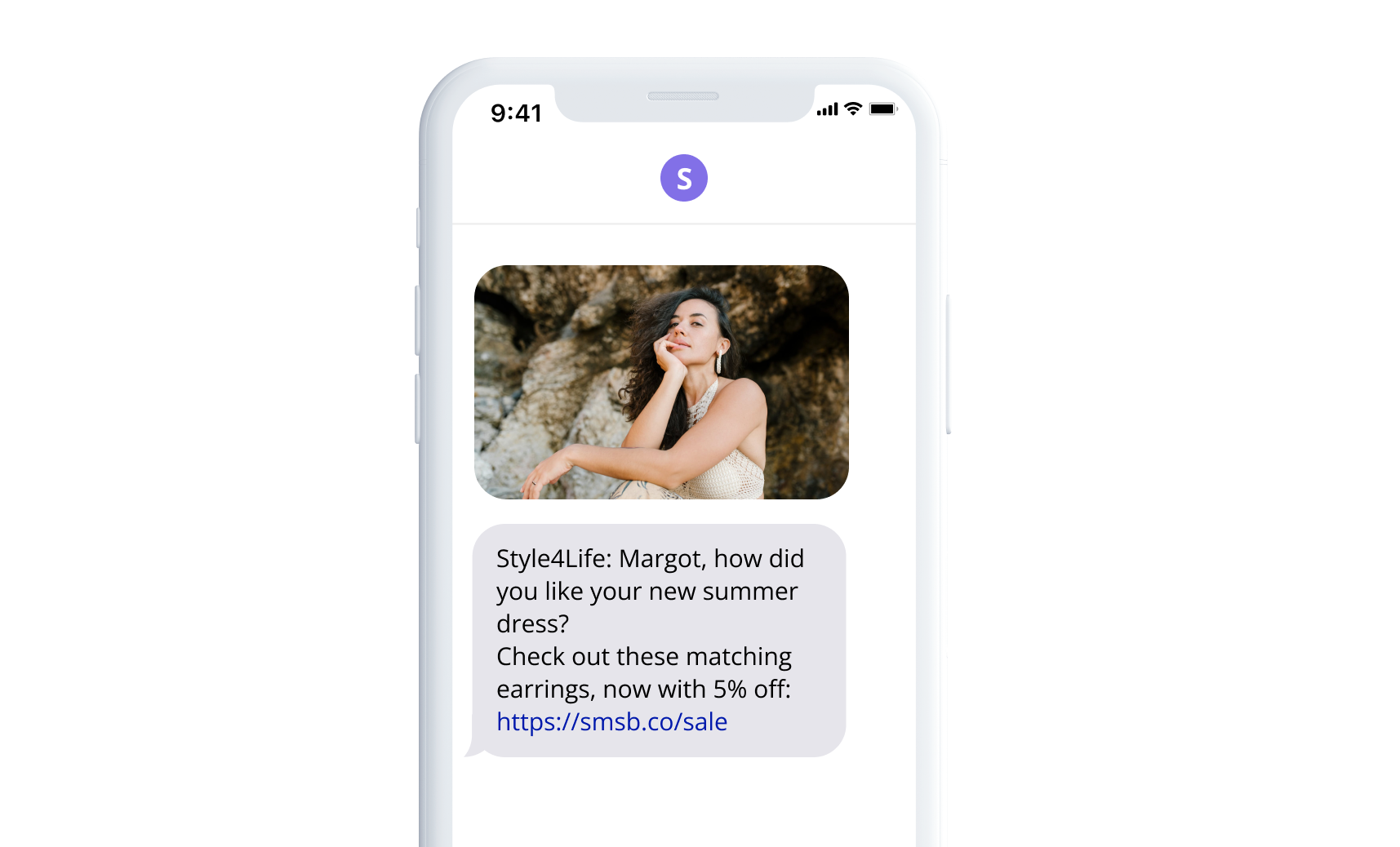 After all, it is summertime. If you miss out on your chances to score some extra sales, you can't be sure when you'll have your shot at it again. You know that acquiring new customers costs between 5 and 25% more than retaining an existing one. So focusing on your current shoppers by offering targeted deals and discounts using SMS might be the best decision you've made this summer.
Bonus tip: Focus on retention
And while we're on the subject of retention...
Grabbing shoppers' attention and driving more traffic to your website is awesome and can do wonders for your revenues throughout a slower summer season. But having a solid group of loyal customers coming again and again to your store and making repeat purchases can make a big difference in your path to success. And if there is one thing that nurtures loyalty and can help bridge the gap between brands and shoppers, it's offering excellent customer service.
How to achieve that? Remember to continue showing care even after the sale, go above and beyond for your customers, be responsive, and focus on building long-lasting relationships.
Have a Successful Marketing Summer
These were our top tips on how to avoid sales meltdowns this summer. Apply some of them to your business and don't be afraid to experiment!
Get creative and put yourself in your customers' shoes. Check out the calendar and brainstorm ideas on how to use the summer season to best promote your brand and products to keep your shoppers engaged and drive additional revenue.
Mariya Arabadzhieva Todorova
Start growing today
Sign up today and join 90,000+ eCommerce businesses making it big with Yotpo SMSBump