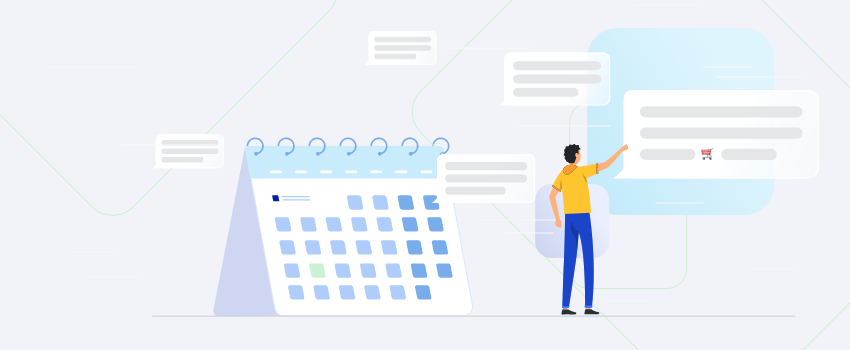 SMS Campaign Planner: Creating Winning SMS Campaigns Just Got Easier
What's on your wishlist for the upcoming Black Friday Cyber Monday?
More sales, a higher ROI? Sounds great, doesn't it...
They say a goal without a plan is just a wish. As it's too early for Santa and is highly unlikely that you keep a genie lamp nearby, let's cut to the chase, and start planning your most successful BFCM yet.
As the most hectic time of the year is upon us, planning ahead is not just an option - it's a necessity. And even if the list of tasks seems overwhelming, at least you don't have to worry about your SMS campaigns!
With our brand new SMS Campaign Planner and integrated SMS template gallery, we wanted to check an item off your to-do list and cut the process of launching powerful and engaging SMS campaigns to just a few clicks!
Meet the new SMS Campaign Planner!
Only 3 days left until Thanksgiving and you totally forgot? You heard that spending increases for Single's day but have no idea when that is? Worry not - we got you covered!
Setting up your next text marketing campaign is now easier than ever! Just go to your SMSBump Dashboard and there you have it - tucked under SMS Campaigns is the Campaign Planner, giving you a quick overview of all important retail events in the next few weeks. It is a great way to map out your upcoming SMS campaigns and never miss an opportunity to engage with your audience.

Just click on an event of your choice and you'll have a pre-built campaign draft with an actionable SMS template, all set and scheduled to launch on this exact date. You can leave the copy as it is, or customize it to better fit your brand voice and personality.
It is all super easy and most importantly - fully automated. You can now set your Single's Day, Halloween, Thanksgiving, and BFCM campaigns - all in just a few clicks.
With the SMS Campaign Planner, you'll make sure you stay on top of key calendar dates, send engaging text marketing campaigns, and maximize revenue throughout the whole year.
Meet the new SMS in-app templates
One of the key ingredients of a successful SMS is a good copy. It is even easier now to have one with our new built-in SMS template gallery!
Next time you are in your SMS Campaign editor and you find yourself struggling to find the right words - just go to Browse templates and you'll get quick access to creative ready-to-use templates, divided into different categories: Holiday Events, Sales, Product Launch, and SMS Only.

Choose a template that fits your goal, click on it, and voilà - your SMS campaign is now ready to be set off!
Use our gallery of top-performing templates to send powerful and high-converting text messages.
Every. Single. Time.
It's Time to Start Planning
Our new Campaign Planner and built-in SMS template gallery will enable you to communicate with your subscribers on more occasions, and, at the same time, more effectively, which will ultimately lead to a more engaged and loyal customer base. This will accelerate your marketing strategy and take your results to new heights!
So now, we'll ask again.
What's your game plan for the upcoming Black Friday Cyber Monday?
Mariya Arabadzhieva Todorova
Start growing today
Sign up today and join 90,000+ eCommerce businesses making it big with Yotpo SMSBump