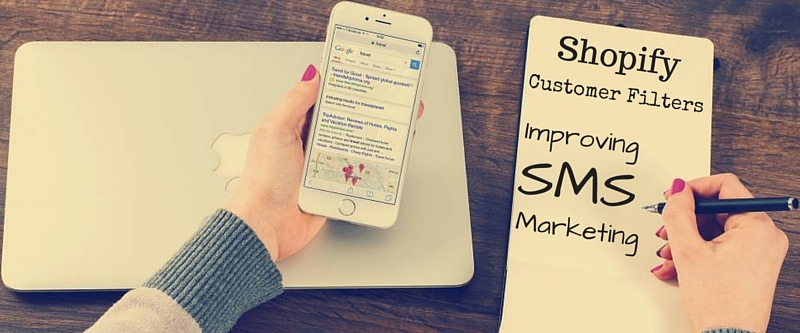 Shopify Customer Filters - Improve SMS Marketing with Better Targeting
Bulk messaging is a life-saver for marketers who have discovered the gold mine that is SMS marketing.
This function is part of SMSBump and allows to send text messages to multiple recipients at once.
The 4 Ps of traditional marketing are Product, Price, Placement and Promotion. However, modern marketing revolves around a 5th P… People.
To achieve success with your marketing campaigns, you need the right people. Targeting your recipients properly will help you define the right message fitting their profile.
The new Customer filters in SMSBump let you reach a specific crowd and tailor a text message that will appeal to them more than others.
You will find them in the Bulk Messaging tab. Check the field To.
The All Customers menu will show you the option to select Customer filters.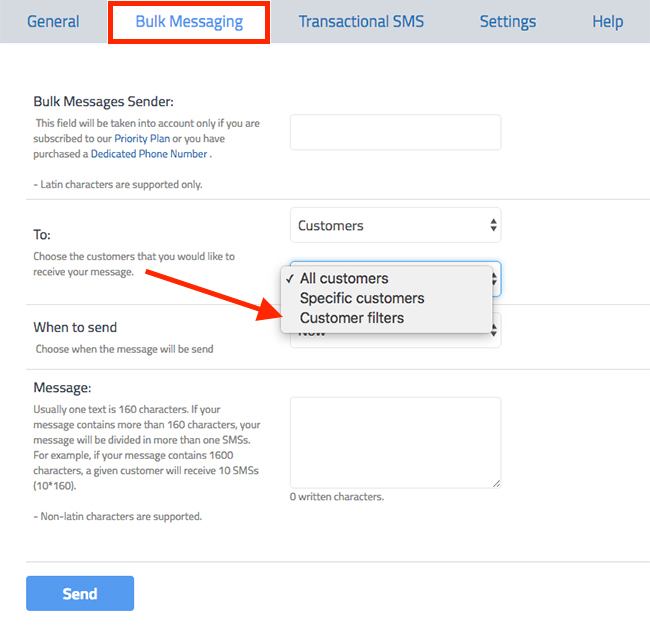 Selecting Customer filters will show you a new dropdown menu with all the possible filters you can use to narrow down the recipients of your text messages.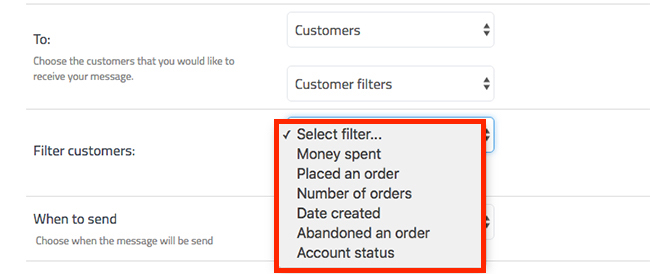 Let's analyze the filters and see what you can do with each of them.

Money Spent


When you can filter your customers based on the amount of money they have spent in your store, you can prepare marketing campaigns targeted at each group.
People who have spent less might need a little incentive to start making more purchases, which means you can use SMSBump to send promotional messages with a discount hook (possibly a discount code).
On the other hand, customers with a longer purchasing history might find a reward quite charming. This might be in the form of a "Thank you" message complemented with a free gift of some sort.
The Equal to, Less than, and Greater than options will let you narrow down the customers based on the money they have spent.

Placed an Order


Are your customers active enough? If you want to keep people and make them start buying from your store again, you can use this filter to prepare a fitting SMS marketing campaign.
If a customer hasn't made a purchase in the last year, you can try to get them back with something like a "We miss you" message and X% off their next purchase.

Number of Orders


Similar to the first filter for Money Spent, the number of orders shows you the most active customers and those who fall behind.
With this filter for instance, you can create a campaign stimulating new orders by suggesting that customers are "2 orders away from 45% off all products!"

Date Created


The Date Created filter allows you to send bulk messages to customers according to the date they created their accounts.
For example, customers that have created their accounts in the last year can get special treatment such as free shipping for the next 6 months.

Abandoned an Order


This is where SMSBump can truly shine with the new customer filters. People who have abandoned an order were just a second away from making a purchase. This means that they can click the Confirm Purchase button after all, they just might need a gentle push.
Since the #1 reason for cart abandonment in the Ecommerce sector is "unexpected costs", you can use that filter and try to fix the issue. Free shipping is a good incentive when struggling with high cart abandonment rates, and you can use SMSBump to send bulk messages offering to remove the shipping costs for customers who left without checking out.

Account Status



You can send text notifications to customers based on their account status. This type of information is usually sent via email, but with SMS having higher open rates, you can use this method to make sure your customers saw the notification.

Summary
We hope you find the new filters useful. We surely do, and invite you to try them out. You can really get creative with the opportunities they present and start experimenting with different discounts, promotions and other incentives to help you grow your sales. Let us know if you think we've missed anything in the comments section below!

Start growing today
Sign up today and join 90,000+ eCommerce businesses making it big with Yotpo SMSBump