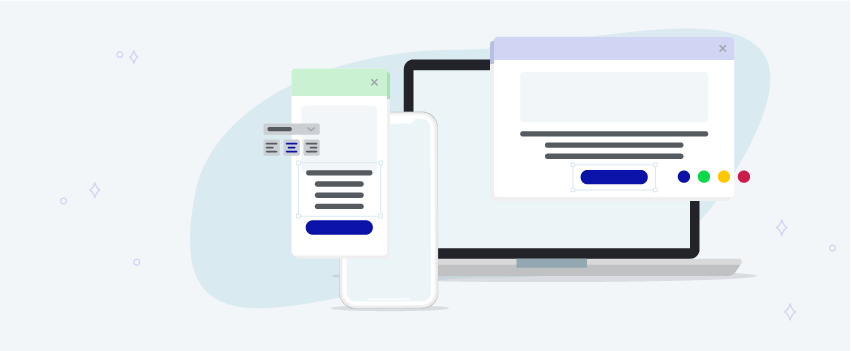 Supercharge Your Subscriber Collection with Our Revamped Subscription Tools
Collecting subscribers and building a strong base of loyal brand followers is at the heart of any good SMS marketing strategy. It's actually the very first thing every business should focus on. The more subscribers you have, the more people you will be able to contact and the more sales you'll be able to make. Subscribers are that important!

This is why we are more than thrilled to present you the completely revamped version of our Growth Tools. Meet Collect Subscribers - Reimagined!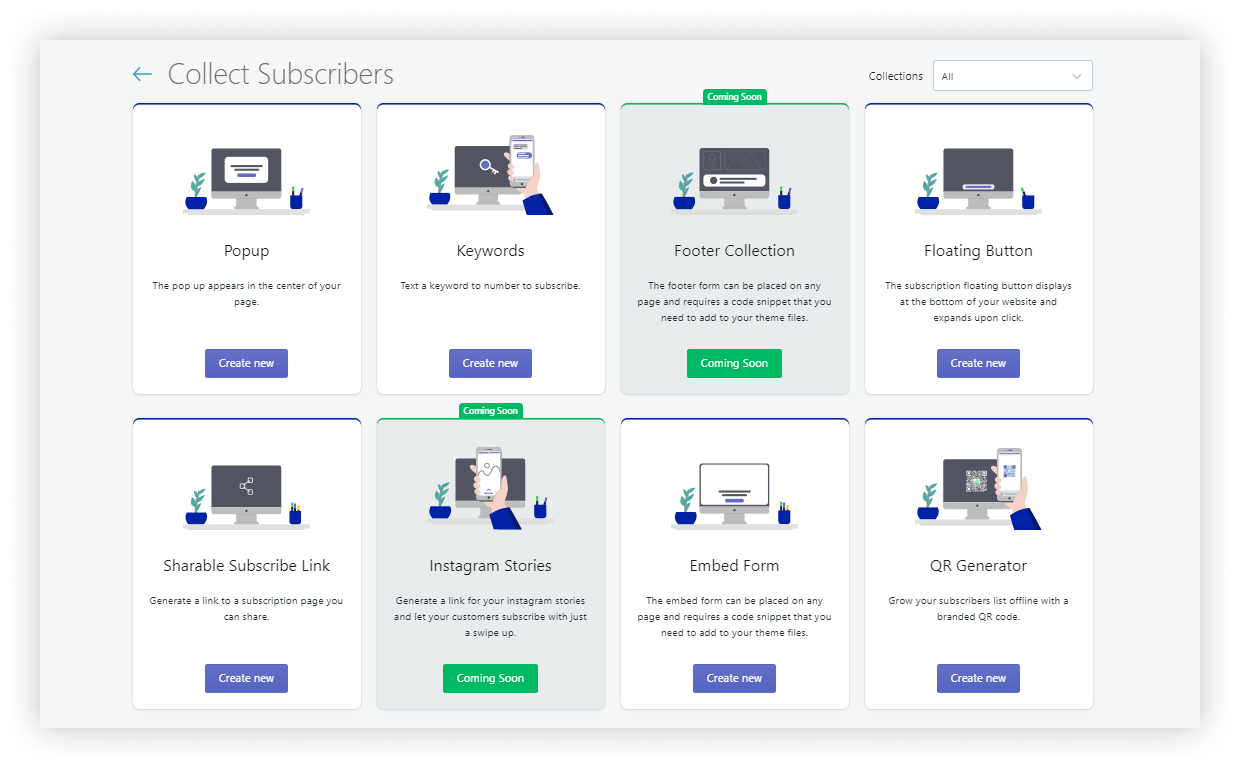 Our new and updated subscriber collection tools are here to help eCommerce brands accelerate their subscriber growth, leveraging their presence over various channels - social media, email, and even offline. The completely integrated suite of subscription options is here to provide your business with all the necessary means to offer your customers a seamless omnichannel experience with your brand at all times, while following all the necessary compliance regulations.

To the comprehensive stack of tools that were already available to you, like pop-ups, keywords, sharable link, floating button and embedded form, we've added the native Instagram collector, QR code generator, and footer collector.

We've rebuilt our leading subscriber collection tools to empower brands to create engaging on-brand experiences that increase and maximize SMS subscriber collection rates across channels. They are highly responsive, can be personalized to meet every customer's individual preferences and have robust analytics to ensure maximum effectiveness and conversion.

Full Customization
Creating a subscription unit that perfectly aligns with your brand is not just important, but with the reimagined version of our subscriber collection tools it is easier than ever! You can now get real nitty-gritty with the look and feel of your forms, to make them more attractive and intriguing to potential subscribers, but also replicate your brand image and voice on every touchpoint for better recognition. Your pop-up can now be a true extension of your brand!

Choose from a library of designed templates or create your own for the ultimate on-brand experience. Start by selecting one of the available themes, picking the correct font, size, weight, even editing elements like the subscribe and exit buttons, the position and alignment of the text and many, many more.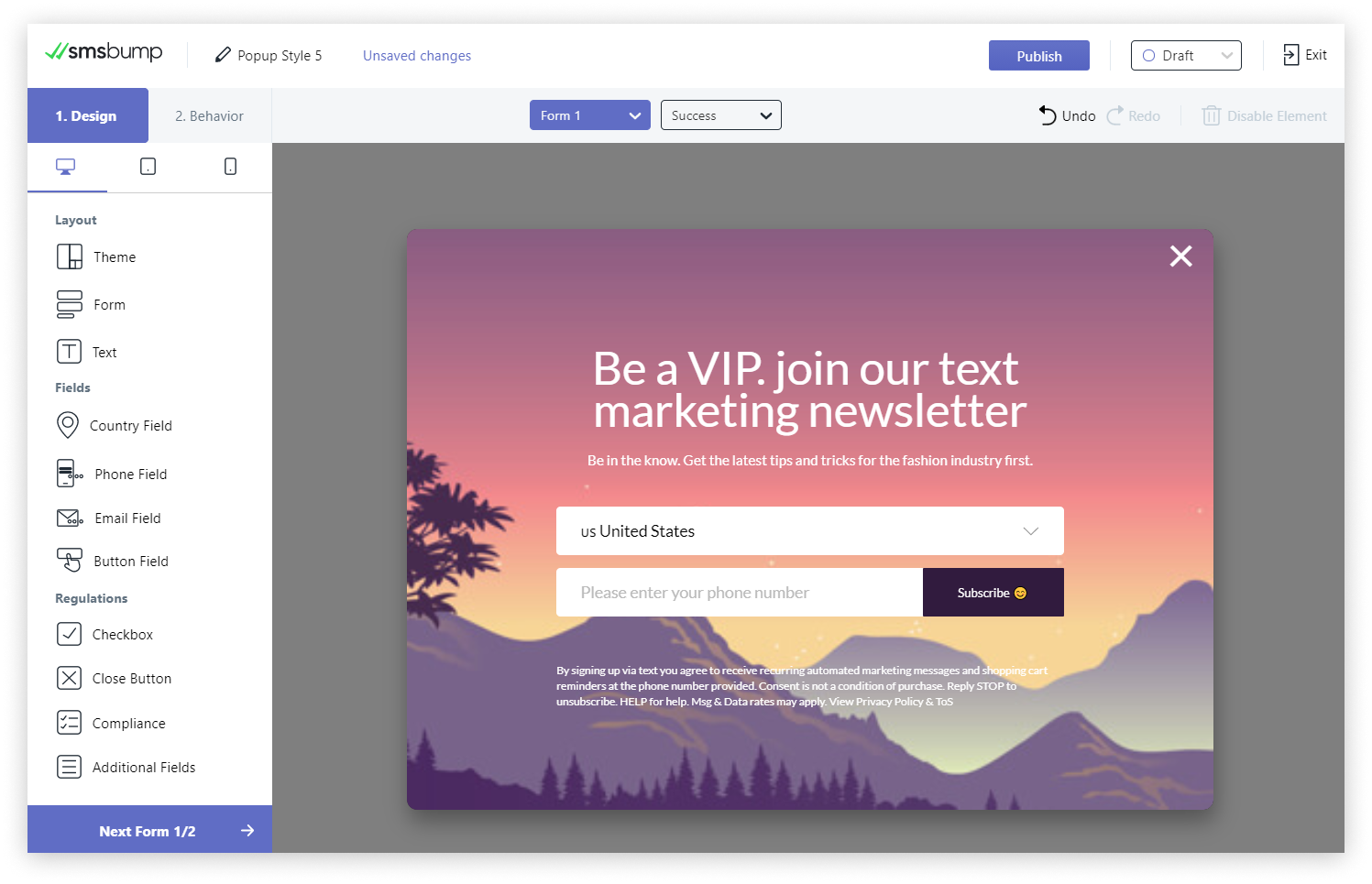 And that's not everything! The new version lets you customize the whole customer experience - from the form on your website (or other channel), through the thank you message for your new subscribers, and finally - the SMS they will receive when signing up.

The full customization makes it possible to create subscription forms that are truly native to your brand, thus less intrusive and with a higher chance to convert. Because of the consistency you've provided throughout your visitor's entire journey, they will be even more willing to become a loyal brand follower.
Next-level Personalization
We believe every SMS should be personalized. Which is why our new suite is built with personalization in mind - smarter, more targeted - so you can create a tailored experience even before your customers start receiving messages.

Our improved opt-in tools come with some of the most advanced segmentation filters to give you full control over targeting. Not only can you decide the timing and page location of each form, but specify the target audience and personalize the copy, design and offer to match their interests, behaviour, and even demographic factors. Brands can take a really deep dive into segmenting their forms and configure different ones for visitors coming from different sources (social media, email or other), geo-locations, have clicked on specific buttons or pages on your website, and many more.

Say you run an international store and want to create a pop-up for your spanish-speaking visitors, your german-speaking shoppers and one in English. You can have each of the pop-ups appear only to visitors from a specific geo-location: the one in spanish to those from Spain and Latin America and so on. Personalization on a whole other level!

Having different versions of the forms appear to store visitors, depending on their behavior, history with your store, level of engagement and other defining indicators, will guarantee you personalize every customer visit for the best experience and optimum conversion.
Maximize Every Visit
The best marketing strategy is the one that enables you to draw the maximum out of every interaction with a single customer. Realizing this, we redesigned our subscriber collection tools to be able to collect not just phone numbers, but emails as well.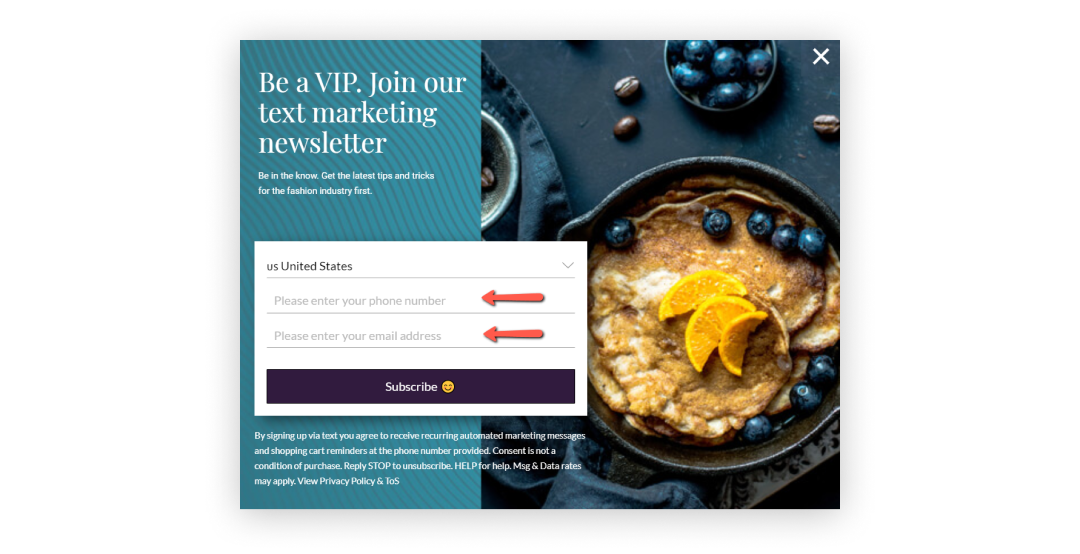 Collecting numbers and emails with one form will help you grow both lists simultaneously and much more effectively. Moreover, this update will boost your brand engagement and ROI as it provides customers the freedom to choose where to receive updates from you. Not to mention how mobile-optimized it is - visitors can subscribe easily with a double tap on your banners, without filling out long forms.

Dual collection for doubled results!
Improve Conversion on the Go
Knowledge is power! So knowing which of your subscription tools are the most successful and drawing conclusions based on actual data, is crucial for growing your business at scale.

With the improved Analytics you will be able to always track the performance of each and every one of your subscription forms once they are published, to ensure they achieve your goals. Keep a constant eye on the click-through rate of your forms, the number of subscribers they converted, ROI and more important data, and optimize them if they don't meet your expectations.



The detailed overview you will find there will help you improve your conversion rate and grow your subscribers exponentially.
More Tools. More Possibilities. More Subscribers.
The updated Collect Subscribers feature is geared up with the most advanced subscription tools you can ever wish for. Brands now have a much greater variety of forms they can use to build their base of subscribers, depending on their business, target audience and marketing strategy. With such a rich array of subscription tools and ways to customize them, gathering contacts will happen at an escalated pace, but steadily over time. And isn't that what it's all about?

Head over to your SMSBump account and play around with all the new forms. Refer to our help guide to learn more about how to create a new pop-up form from scratch, or take a look at our blog article for ideas how to use the newest additions to our subscription forms.

And let us know how you like them.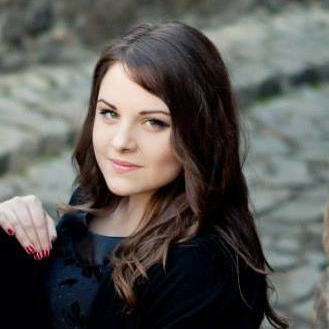 Start growing today
Sign up today and join 90,000+ eCommerce businesses making it big with Yotpo SMSBump