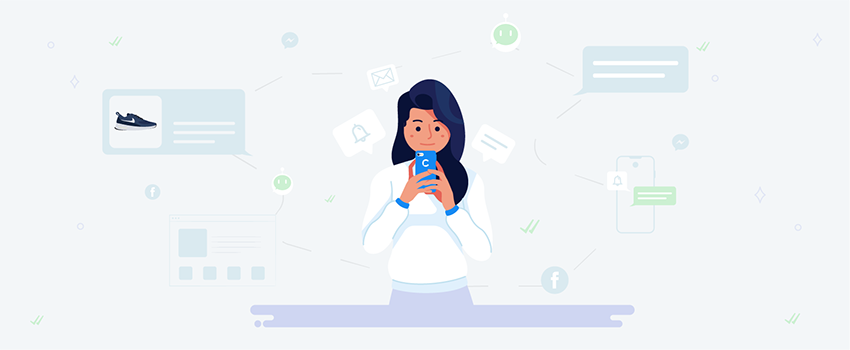 Why Omnichannel Marketing is the Key to a Cohesive Customer Experience
"Omnichannel" is one of those buzzwords you probably hear a lot these days. And there is a reason for that. Together with leading marketers from Chatfuel, PushOwl and Smartrmail we'd like to give you a better understanding of the term "omnichannel marketing" and show you why it's beneficial for you eCommerce brand to meet customers where they are.

When you communicate with friends and family, you probably use a few different channels. You might text them, do Zoom calls, and chat via social media. The channels you use depend on what's most convenient or useful for you in that moment. Brands should take the same approach when communicating with prospects and customers. If your brand isn't available on multiple platforms, you risk missing out on opportunities to connect with your audience how and when they want, and you may lose out on the chance to build brand awareness and trust and get more sales, too.
The Power of Omnichannel Marketing
There's a word for this type of marketing strategy that spans more than one platform: omnichannel marketing, or multichannel marketing. This approach ensures that prospects and customers will be able to keep up with you and interact with you wherever's most convenient for them. It also means that the experience will be the same on each channel and seamless between them.

An omnichannel strategy helps you reach a wider audience in general. While many consumers prefer different channels for different things, or at different times, some consumers favor just one or two channels for everything. So if your brand doesn't cover that particular channel, you have no chance of winning that consumer's business.

Finally, research shows that omnichannel shoppers tend to spend more overall. They're more valuable customers for your business, so it's in your best interest to cultivate relationships with them across multiple platforms.
Omnichannel Marketing in Action
To more clearly understand what omnichannel marketing looks like in practice, we can look at an example. Let's imagine we have a Shopify store that sells running shoes. Here's a step-by-step look at what our omnichannel marketing strategy could be like for a potential customer.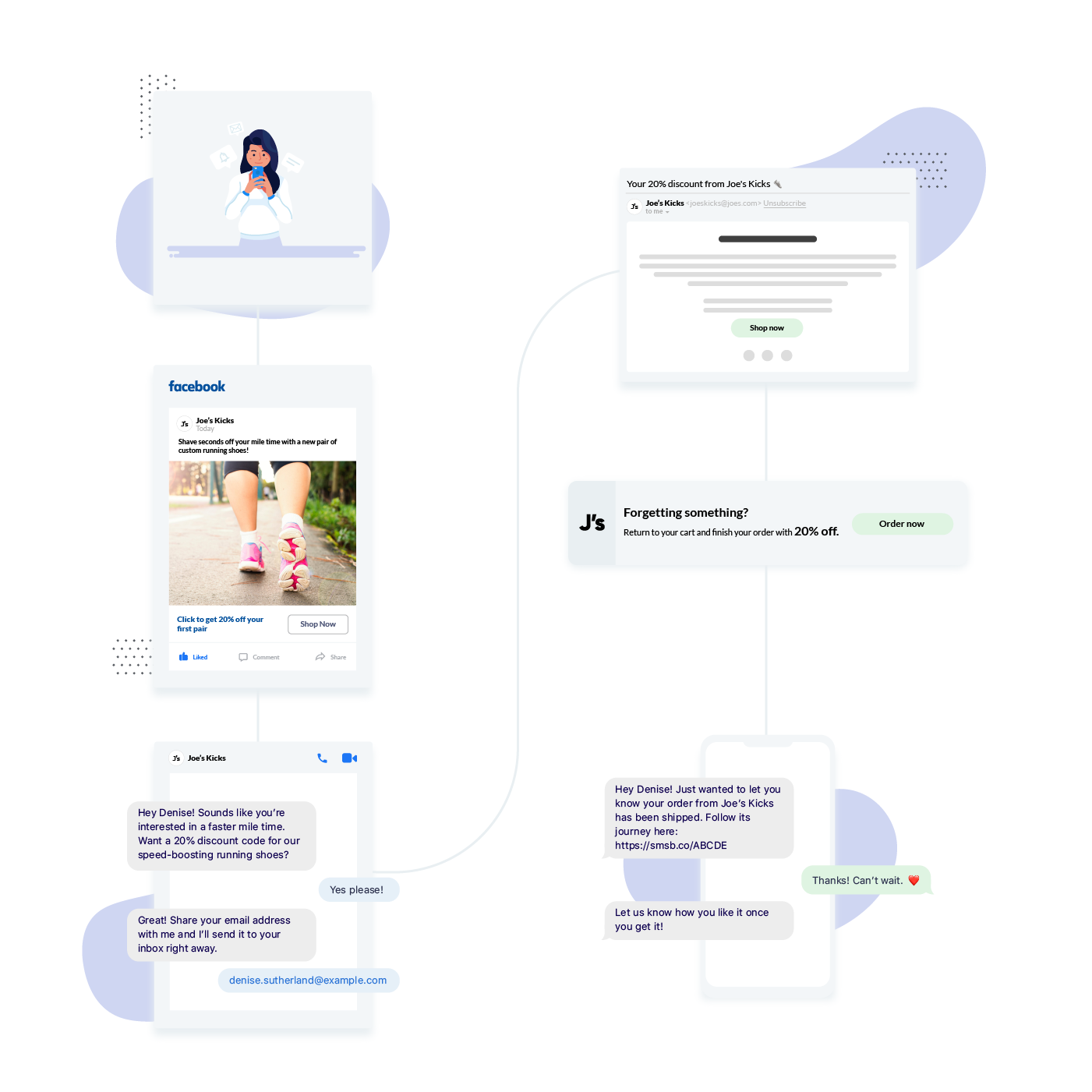 #1. The prospect clicks on our Facebook ad.
"Shave seconds off your mile time with a new pair of custom running shoes!," declares our expertly crafted Facebook ad. "Click to get 20% off your first pair," it says below. A prospect scrolling through her feed notices it and, curious, clicks through. She's immediately directed to Facebook Messenger.

#2. The prospect engages with our Messenger chatbot.
Our Messenger chatbot engages the prospect right away. It asks her if she's interested in getting 20% off her first pair of running shoes from us. She clicks the Yes! button, and the chatbot asks for her email address in return. She taps once to share her email address. The bot, which is integrated with our email marketing software, triggers an email with the code to be sent to the prospect. It replies by telling her to check her email now.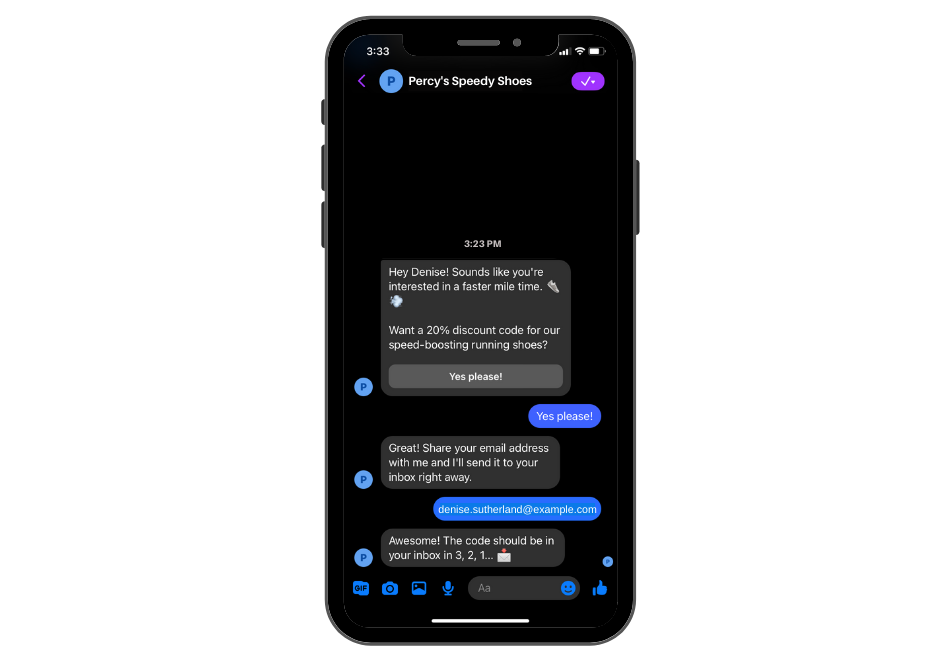 There are two main benefits of using a chatbot for this phase of the omnichannel marketing experience. First, it instantly engages the user instead of making them enter their email into the void of a landing page form. "Chatbots are an instant, immediate way to engage with potential customers," says Dmitriy Kachin, COO of Chatfuel, a no-code platform for building Messenger chatbots.

"Keeping a warm lead waiting is a great way to lose them," he adds, "and chatbots help you avoid this problem. And since Messenger already has 1.3 billion global users, it's a crucial component of any multi-channel marketing strategy." Second, a chatbot helps you build your email list for future follow-ups, announcements, and repeat business—in addition to moving the prospect down the sales funnel now.

#3. The prospect opens our email.
The email with the discount code appears in the prospect's inbox in seconds. It has a short video about how to find their perfect pair of running shoes, and is personalized with the prospect's name. "We know that personalized emails result in much higher email engagement in terms of opens and clicks, and—more importantly—they generate more sales," says George Hartley, co-founder and CEO of SmartrMail. "Just try not to cram too much into one email," he advises. "The emails that perform the best are those sent with a single purpose in mind, and funnel customers to a sales landing page with a single call-to-action."

The prospect clicks the Shop now button in the email message and is brought to our website. As she's shopping, a push notification appears in her browser asking her to opt in to desktop notifications, which she does. The prospect then continues shopping, finds the perfect pair of running shoes, and adds them to her cart—but then gets distracted and leaves the page without buying.
#4. The prospect receives our push notification.
A few hours later, our prospect is on her computer again when a cart reminder appears via push notification, following up about the perfect running shoes she left behind in her cart. "PushOwl's web push notifications are a highly effective marketing channel for broadcasting one-off notifications to all subscribers or a subscriber segment, or sending triggered notifications based on customer actions like abandoning a cart," says Felix Süllwold from PushOwl, a platform that lets you send these alerts for your Shopify store. "For every abandoned cart notification delivered to a potential customer, we see about every tenth subscriber return to the online store, ready to buy."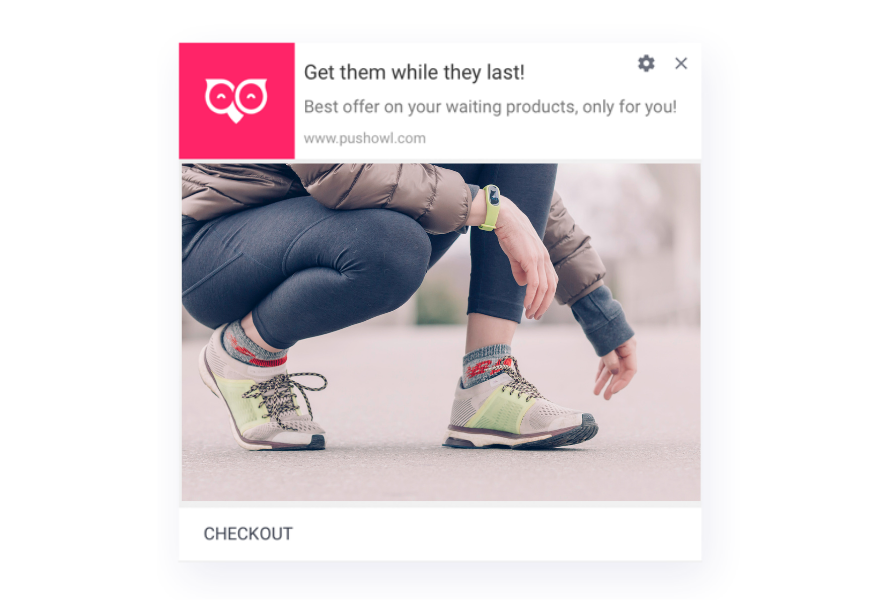 The prospect clicks the push notification and is taken back to her cart. She clicks through to the checkout page, finally ready to buy. She enters the discount code from our earlier email to get 20% off. On the checkout page, we have a box asking if she wants to opt into SMS text messages from us to get order updates.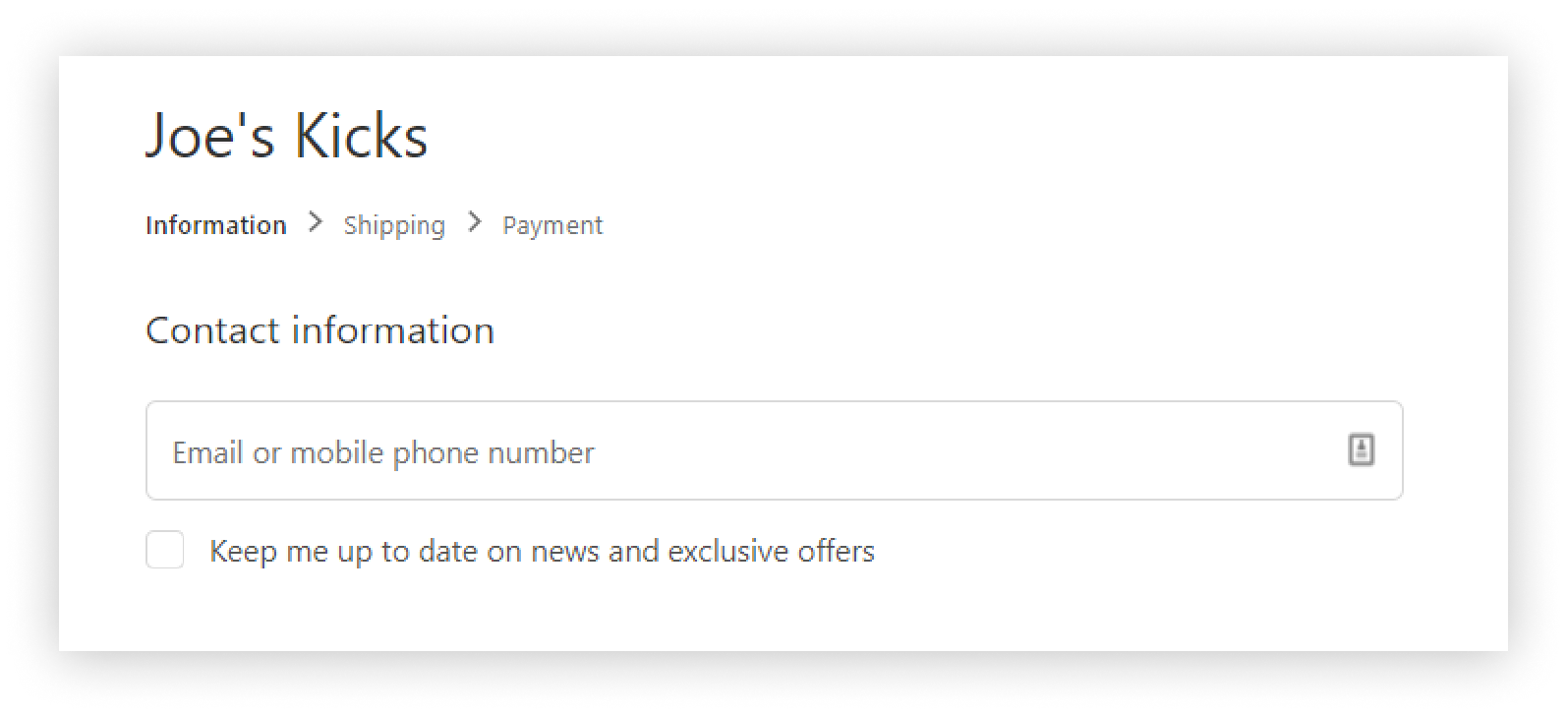 On average, over 45% of customers that have come this far in their shopping journey agree to receive marketing updates via SMS. Our prospect is no different and wants to receive exclusive deals on her phone, so she decides to sign up and enters her number, and then completes her order.

#5. The customer receives our text message.
When the customer's order has been dispatched, she'll automatically receive a text message letting her know. We might also text her to ask for feedback on her experience with us, or even to cross-sell accessories (shoe laces, water bottles), and give her a discount for future orders.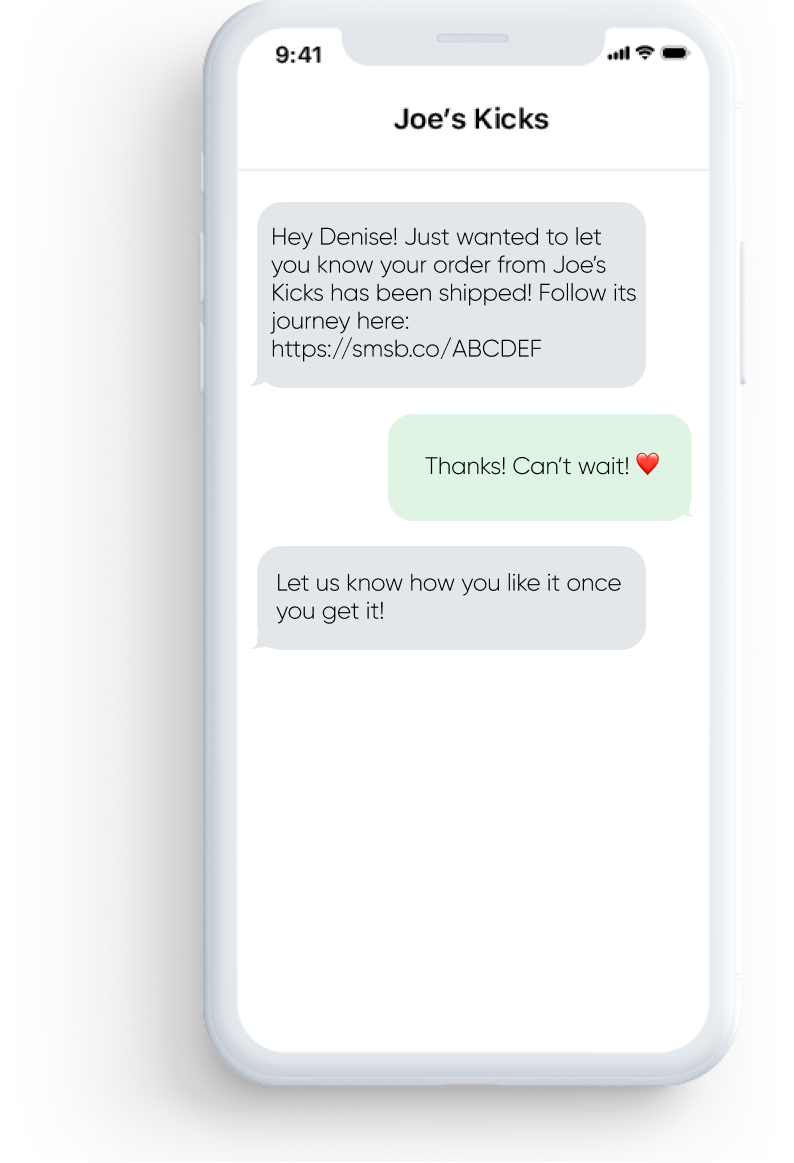 "Our most loyal customers appreciate SMS and it gives us the ability to engage with them in a way we never could. Using SMSBump by Yotpo, we can create personalized conversations that spark and sustain customer relationships, engaging at the most impactful points in the buyer journey," says Suhail Rivera, founder of Alkaline Herb Shop.
#6. We follow up in the future.
Throughout this sales funnel, we've communicated with the customer through five different channels. She took the opportunities we offered to keep in touch via different mediums. Now, we can reach out to her again on these channels to maintain her relationship with our brand and earn her repeat business. For example, we could notify her in the future when we have a sale or drop a new type of product by sending her...
A sponsored message through our Messenger chatbot

Another personalized email to her inbox

A push notification through her browser

An SMS text message to her phone

She can opt out of hearing from us on any of these channels, if she so chooses. She may well decide that it's more convenient for her to hear from our brand through social media, email, push notifications, or text ONLY and unsubscribe from the rest. Or, she may appreciate the updates and connect with us through all of these channels in the future. The point is, we've offered her multiple options through our omnichannel marketing strategy to make interacting with us easy, enjoyable, and on her terms.

As Felix Süllwold from PushOwl shares, "Omnichannel marketing is crucial, because adding more channels increases your chances of keeping in touch with one-time visitors." And that's certainly true in this example case. It all started with an ad that caught the attention of our prospect. From there, we gave her multiple opportunities to interact with us through different mediums - and that's how we eventually closed the deal.

Launch Your Own Omnichannel Marketing Strategy
"No marketing channel should work in isolation," says George Hartley of SmartrMail. An omnichannel marketing strategy is more convenient for your customers, and that's what it's all about! If you can provide an engaging, enjoyable, and seamless brand experience across all major channels, you're more likely to get more sales - and have fewer prospects fall through the cracks. And it's not just that - a multichannel marketing strategy can also help you build brand trust and loyalty, which can lead to repeat business and long-term success for your business.

Start expanding your marketing strategy to new channels like Messenger, SMS, email, and browser notifications today so your business can enjoy the results!

About the Author: Mary Rybakova is the Partner Marketing Manager at Chatfuel. She is a strategist on a mission to make chatbot-building easy for businesses. She closely monitors industry trends and the Chatfuel community to plan fresh, helpful content.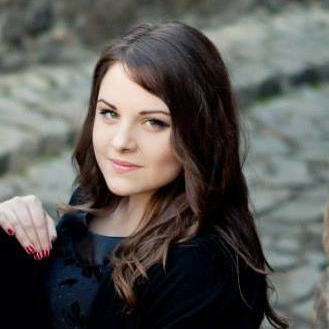 Start growing today
Sign up today and join 90,000+ eCommerce businesses making it big with Yotpo SMSBump