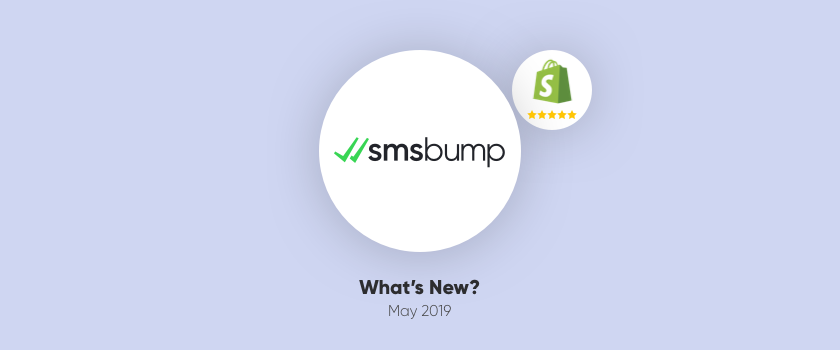 New SMS Marketing Features for Shopify | SMSBump May 2019
How to build an effective SMS marketing strategy that will keep growing your subscribers and orders exponentially?
The answer is by making the most of your SMS marketing software - SMSBump.
Our team is constantly pushing out updates, new features, and improvements that are meant to give you more SMS marketing power. If you're reading this, chances are you already sent a few campaigns or automations and felt the overwhelming ROI numbers.
"Very helpful provide an alternate method to target customer. Increased my Average order value by 2x at a minimal investment!"
- Via Dragon
To keep getting those numbers to go higher, we'll keep you informed and updated about all of the new features in SMSBump and how each of them helps you.
Let's do more than just send messages and get sales.
Let's build you an entire text message marketing strategy that can support your growth throughout each step of the customer journey in your Shopify business.

Introducing all the new features we rolled out during May 2019!

Product Upsell SMS Marketing Automations
Shopify merchants can now use the New Order confirmation SMS to send personalized product recommendations to customers who just finished an order.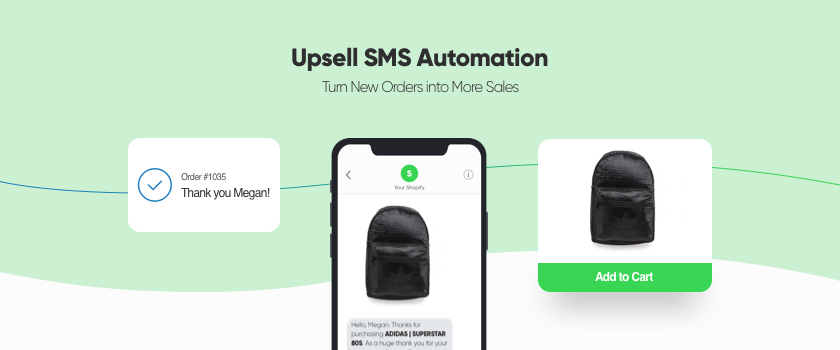 Personalized Product Recommendations
After each completed order, you can send customers additional relevant products based on what was in the cart. For instance, if the customer just purchased a laptop for you, you can add a laptop case in your automatic order confirmation text message.
Select the Purchased Product(s) that you want to trigger the Recommended Product(s). Create combinations that will personalize the most relevant product suggestions based on your preference of what product goes well with the other.

Add Recommended Product Images
The more relevant the suggestion, the higher the chance of your Shopify store making an extra sale! Use the recommended product's image to turn the text message into an MMS that sends a visual presentation of what you have to offer.
---
Product Image Grids for SMS Automations
Send customers more engaging text messages with a collage of up to 9 product images of all the items in their abandoned checkout or all the products they just purchased. All in a single message.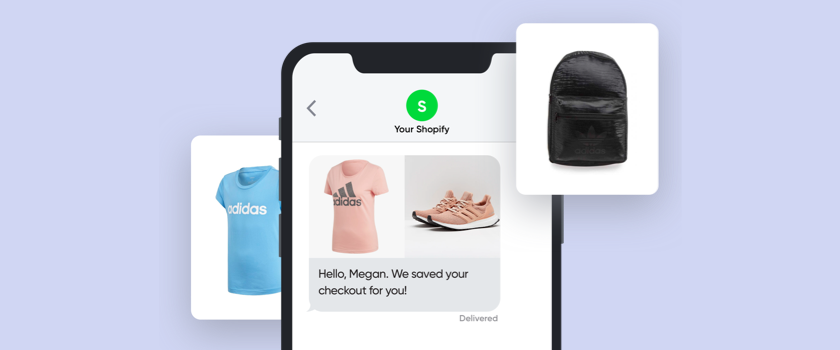 Your abandoned cart SMS automations are now much more engaging when you add all of the forgotten product images in a single grid.

The Product Image Grid feature works for the following Automation Types:

Abandoned Cart Reminders

New Order Confirmation

Shipping Confirmation

Order Delivered Feedback

Cash on Delivery

Order Paid

Order Cancelled

It's now much easier for customers to recognize their products and your brand because they don't even need to see the text message to realize this is coming from your store. All they need to see is the product images.
Much like emails, your text messages can now take a more visual form and help customers make choices faster, which greatly increases your abandoned cart SMS recovery rates.
---
Automated Cash On Delivery SMS Verification
The Cash On Delivery SMS Verification lets you send customers a confirmation message for products they ordered with a cash on delivery payment. They confirm their orders with a special link so you know whether or not to process them.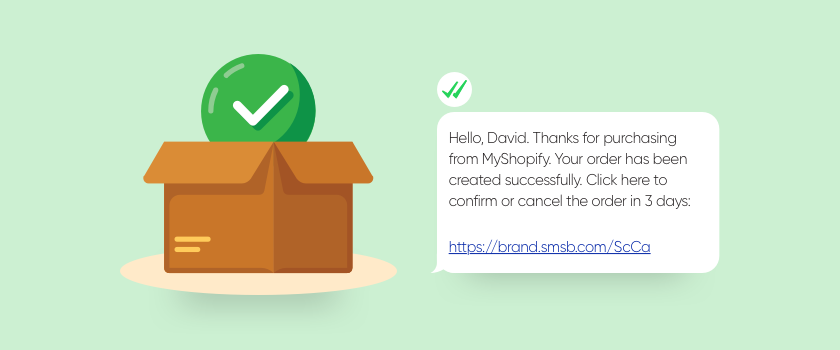 Cash on delivery orders can sometimes be invalid, fraudulent, fake or simply an accident. SMSBump now lets you sort through them easily, on autopilot. Enable the new SMS automation that's only sent to customers who order using the cash on delivery payment method.
They will receive a text message containing a confirmation link they need to click in order to confirm their purchase so you can start processing it.
Cash On Delivery SMS confirmations help you:

Get real and verified phone numbers

Prevent fraudulent orders

Gives customers confidence their order is confirmed
Bold Cashier Integration
One of the most popular custom checkouts for Shopify is now fully integrated with SMSBump and you can automate cart abandonment recovery SMS reminders, new order confirmations and more.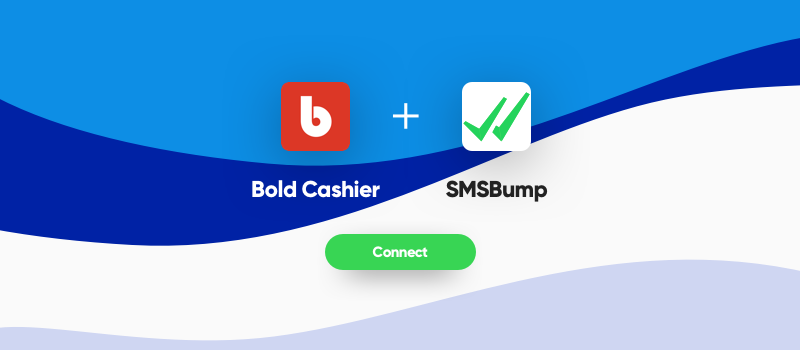 What's awesome about the Bold Cashier integration with SMSBump is that you can add a consent checkbox in your checkout process. This will let your customers opt-in explicitly for text message deals & news delivered via SMS.
Another powerful feature is the abandoned cart SMS reminders you can automate for customers who abandon their Bold Cashier shopping carts. They will receive automatic text message notifications with their cart contents and your custom message to get them to convert.
Boost your Shopify conversion rates off the charts with the powerful combination of Bold Cashier and SMSBump!
---
OCU Integration
The Zipify OneClickUpsell app lets you add post-purchase upsells for customers in your Shopify store. SMSBump will now automatically remind customers about them using text messages.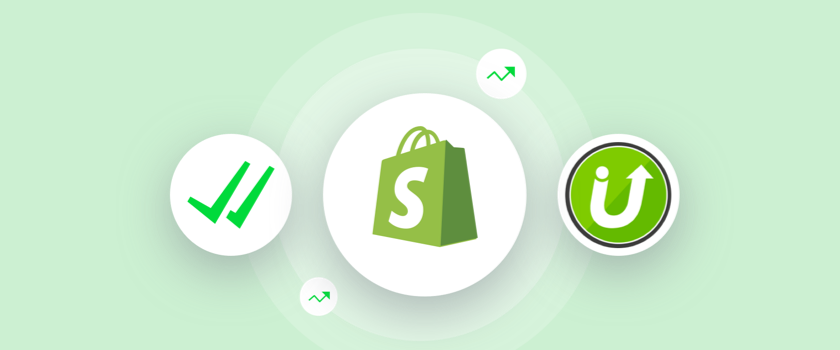 You can send recovery automations using text messages to customers who didn't complete their OCU orders. That's what SMSBump does best and you can now connect the two apps so your OCU checkouts get an even higher boost in conversion.
After a quick connection process, you are now able to see a new Automation Type in your SMSBump SMS Automations that you can use to send customizable text messages to customers who left their OCU shopping cart.
Never forget to use the unique OneClickUpsell Checkout URL short-code in your text message. It generates a unique link leading to the shopping cart of each customer with their individual products added.
---
PushOwl Partnership
Push notifications vs SMS. Why not both? PushOwl is Shopify's favorite app for push notification marketing and we officially announced our new partnership with them.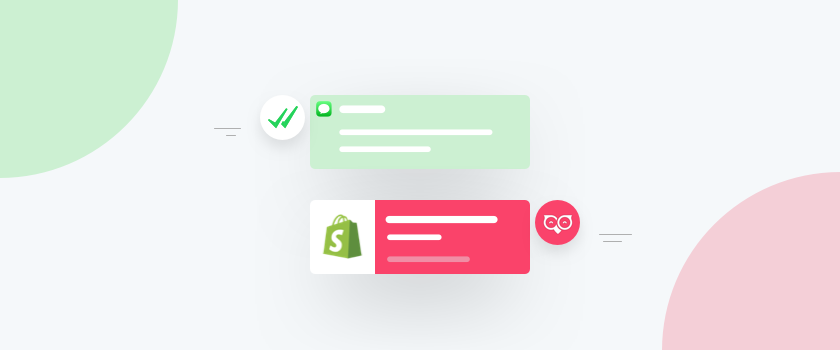 SMSBump and PushOwl are on a mission to boost your customer retention and we're using all of the differences and similarities between the apps to show you multiple ways you can combine them.
Both apps have a dominant presence in the abandoned cart recovery field, so combining them in a smart way is your ticket to much higher conversion rates from existing customers. We created a few example flows you can replicate in your Shopify store to get started.
Your Shopify store can safely run both apps together and you can create multiple sequences where SMS marketing messages and push notifications take turns with precise timings and placement so you can get the most out of your marketing strategy.
Let's Grow Together!
SMSBump has been growing extremely well thanks to our Shopify merchant community. Keep sharing your feedback and keep getting in touch with us so we can make our app better and easier for you to grow your sales and SMS marketing strategy. Let us know if you need a feature that you can't find in the app!

Start growing today
Sign up today and join 90,000+ eCommerce businesses making it big with Yotpo SMSBump