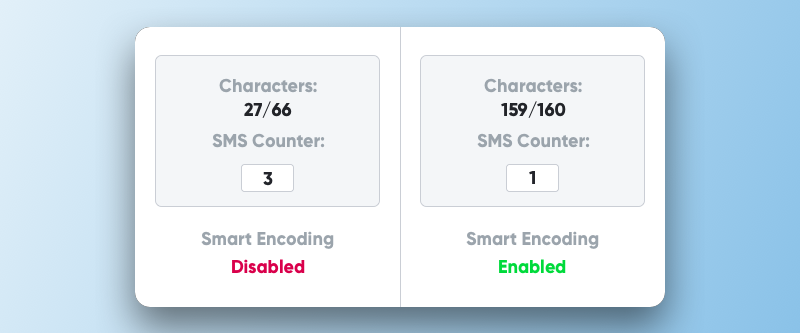 Keep Message Costs Low with Smart Encoding for Special Characters
The extremely low costs of text messages are one of the key factors that make them such an unbelievable strategy for high profit from little investment.
Whenever you are using a non-latin alphabet or special characters such as ç, ê, the encoding of your text message changes.

Essentially this diminishes your text length from 160 characters to 66 characters.

Adding even a single special character in a text message is counted as two or even three symbols (+ some emojis). This can increase your SMS count and make it more expensive for you to send.
To tackle this, SMSBump just launched Smart Encoding.

This is the message estimate with Smart Encoding disabled.

SMS Counter: 3 | Message cost per recipient: $0,2904

This is the message estimate with Smart Encoding enabled.

SMS Counter: 1 | Message cost per recipient: $0.0968
This adds up to $0,1936 savings per customer.
Multiply that by 1000 recipients, and you save $193,6 by enabling a single setting.
How to Enable Smart Encoding for Shopify Merchants
This is a new option you can enable in your app settings that automatically converts any special character to its default latin equivalent.
Let's show you how to enable it and how it works.
1. Go to your SMSBump app Settings in your Shopify store.

2. Scroll down to Smart Encoding. You have two options - Enabled and Disabled.
Click Enabled to turn Smart Encoding on and click the Save button at the bottom.


​

Now this setting is enabled globally and will work for all your Automations and Text Marketing Campaigns.

To see Smart Encoding in action, go to any Automation or create a Text marketing campaign and scroll down to the text editing field.
This is an example message written in French containing a few special characters.


​

The special characters are displayed in the Message preview just like you entered them in the text editing field.

Where do I see the transliterated message content?
The content in the text message editor displays the special characters as they are.
When you hit Send and go to the Campaign Overview, this is where the message is displayed with the characters transliterated.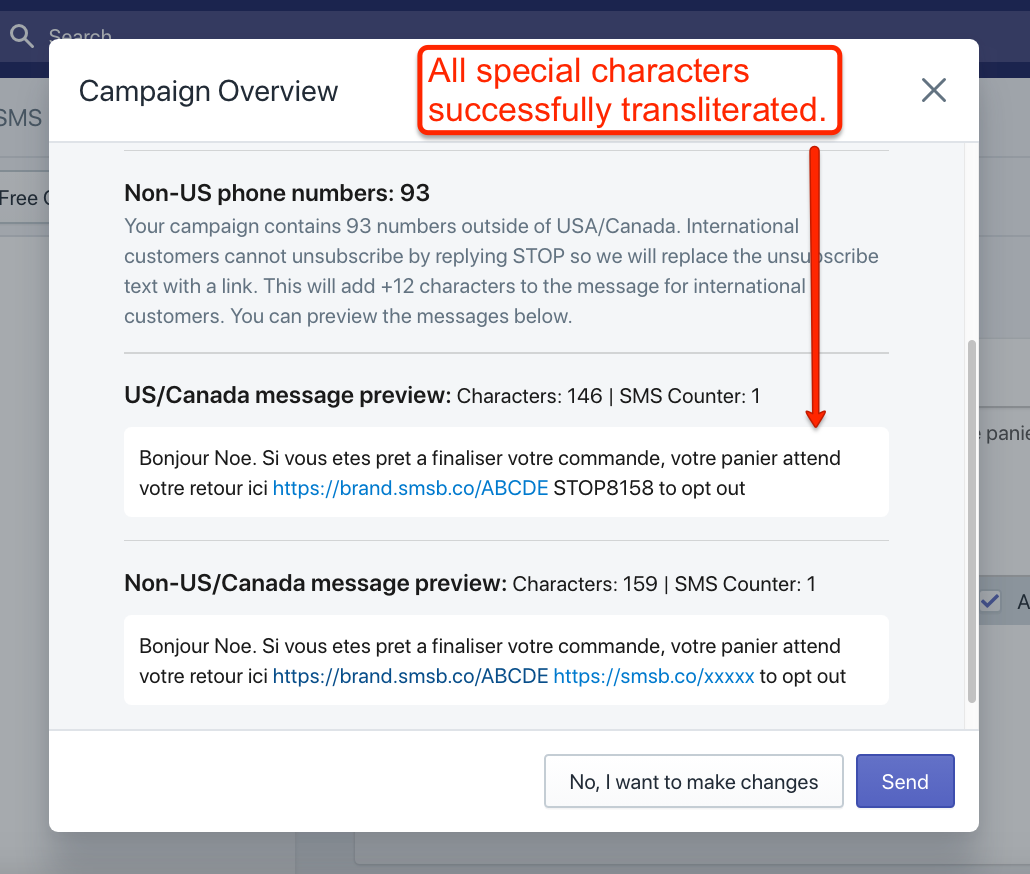 So, when your Smart Encoding is enabled, your messages will be delivered to customers with all the special characters converted automatically, so you avoid any unexpected increase in your message costs.
In case you're dedicated to sending your text messages with the special characters as they are, simply keep the Smart Encoding option Disabled and everything will be running normal.

Do you convert customer names?
SMSBump successfully transliterates customer names with special characters into standard latin letters so you can save characters and money.
In case some of your customers have longer names that contain special characters that can shorten the maximum message length, Smart Encoding removes the chance of that happening to your messages.

Conclusion
Let us know if you find the new encoding setting useful and whether you intend to keep it enabled for your Shopify store! If you have any questions, email us or message us in Facebook!
---


Start growing today
Sign up today and join 90,000+ eCommerce businesses making it big with Yotpo SMSBump