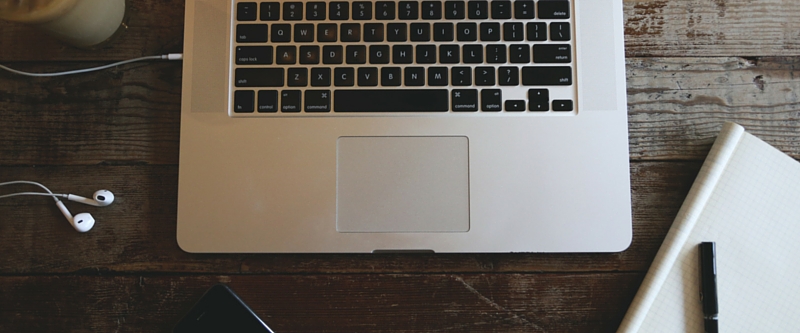 How to Install and Configure SMSBump in OpenCart
Installing SMSBump on your OpenCart store is as simple as with any other extension. You download the module, upload the .zip file in your OpenCart system via the Extension Installer, and voila!
Once you have installed the module, hit Edit and begin the setup.


Verifying your email and phone number
The next page will ask you to input the email address you have used for your account and the phone number associated with it.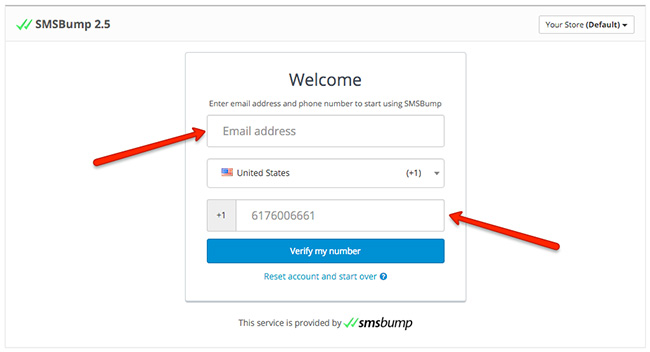 After you are done inputting your details, a popup message will ask you to confirm if this is the right phone number.


Upon confirming the number, the application will send you a message on your phone with a verification number that you will have to input in the next step.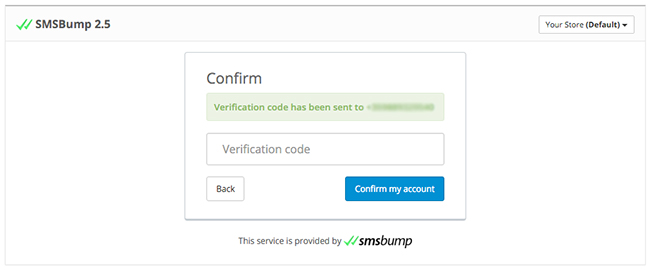 When you receive an SMS with the verification code, use it to confirm your account and you are ready to begin configuring the module for your OpenCart store.
General
As you see, your application is not enabled yet and there are a few settings to configure. Let's go over all of the fields and tabs first.

SMSBump Status: This field allows you to enable or disable the application. Click on the dropdown menu when you are ready to enable it.

Account Balance: Here you can see your current account balance. You can load funds in your balance at any time by clicking on the plus ( + ) button.

API Key: Your API key is automatically generated when you create your account. This key is used to establish a connection between the application and your OpenCart store.
Bulk Messaging
The bulk messaging function allows you to send a single message to multiple recipients of your choice.

Type: SMSBump allows you to send multiple types of messages besides regular SMS. You can also send MMS (Multimedia messages such as images), Voice (Recorded voice messages) and USSD (Unstructured Supplementary Service Data code) messages.

From: If you are subscribed for the priority plan, you will be able to configure a custom name for the sender.

To: Choose the recipients of the message. This function synchronizes with your OpenCart customers and customer groups.

Message: Define your message.
Transactional SMS
You have several options to configure when your customers will receive a message.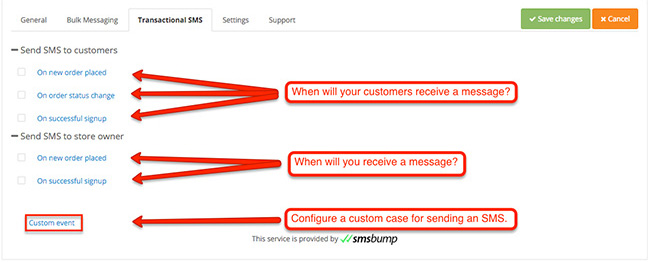 In the tab for transactional SMS, you have two categories - SMS to customers and SMS to store owner.
You can use these fields to choose when you or your customers will receive SMS notifications. Let's take the first option for example - On new order placed.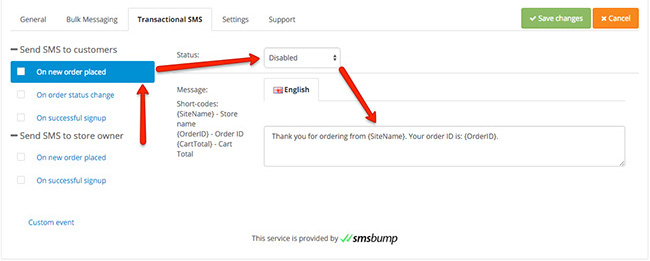 Enabling this option will allow you to send an SMS to your customers when they have placed a new order. You can customize the message to anything you choose. The short-codes will let you know how to add your store name as well as the order ID.
The next option is On order status change.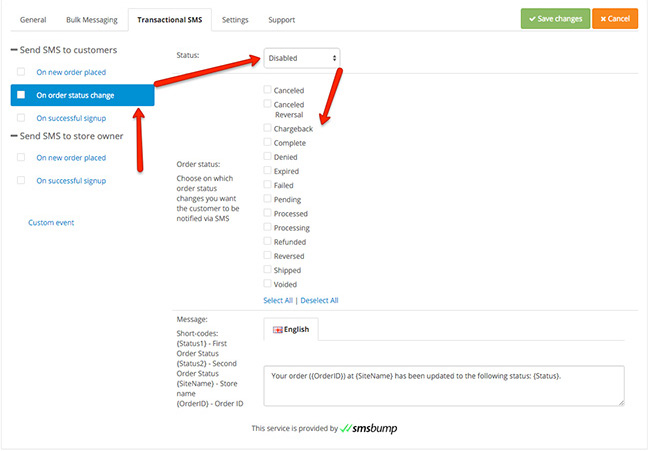 The module provides an option that notifies your customers via SMS when the order status changes. This will be useful if you have various order statuses and you want the customers to be in touch with their order progress.
Settings
A few last settings to configure before you can begin using SMSBump.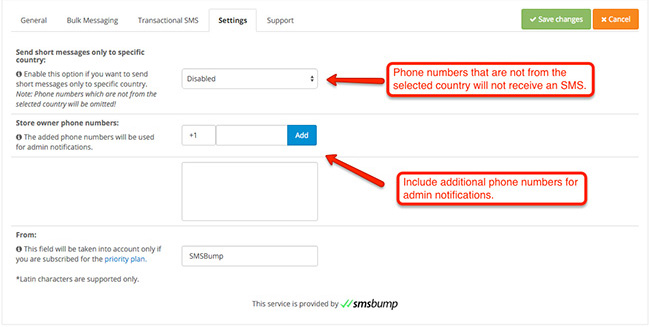 Send short messages only to specific country: Messages can be sent to phone numbers from a specific country. Please remember that a phone number that is not from the country you select will not receive a message.

Store owner phone numbers: You can add multiple phone numbers for receiving admin notifications from SMSBump.

From: If you are subscribed for the priority plan, you will be able to configure a custom name for the sender.
Enabling SMSBump
If you are ready with the configuration, you can enable SMSBump and start interacting more intuitively with your customers.



Start growing today
Sign up today and join 90,000+ eCommerce businesses making it big with Yotpo SMSBump