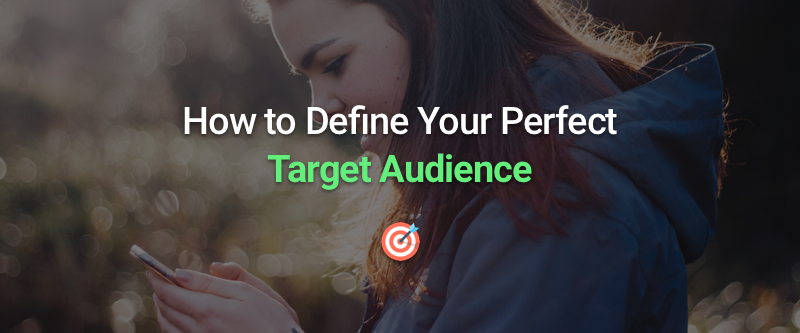 How to Improve Your SMS Promotions with Shopify Customer Filters
Your text marketing campaigns & SMS promotions can be highly targeted with SMSBump.
You can use the Shopify Customer Filters to easily reach the exact audience you want. The filters are integrated within the Text Marketing campaigns in your SMSBump app!
​
The News!
Your Custom Filters just got a performance enhancement and you now have a faster experience for reaching a vast amount of your Shopify customers.

Sending a message to all your Shopify customers is now as fast as sending a campaign to a massive List.

How to Apply the Shopify Custom Filters in SMSBump
---
Let's show you how to setup your SMS marketing campaign targeting before you launch it.
Head to Text Marketing > Shopify Customers and select the Custom filters in the Send To field.

Click the Plus icon to open up the dropdown with all the filters to select your audience segmentation method.


You have unlimited ways to structure and narrow down your targeting. You can reach just the right audience for the text marketing campaign you're launching.
Select your customer filter:


Money spent: Less than, Greater than, or Equal to a certain amount ($X.xx)

Placed an order: Last week, Last month, Last 3 months, Last Year, or custom

Order fulfillment status: Fulfilled, Unfulfilled, or Partially Fulfilled

Order payment status: Paid, Refunded, Pending, Voided, etc

Number of orders: Filter by Less than, Greater than, or Equal to a certain number (X)

Date created: Last week, Last month, Last 3 months, Last Year, or custom

Abandoned an order: Last week, Last month, Last 3 months, Last Year, or custom

Account status: Enabled, Disabled, Invited, or Declined

Tagged with: Select your preferred Shopify customer tags

Located in: Select Country (USA, Canada and Australia can also filter by state & regions)

Accepts marketing: Yes / No

Example #1
Let's say we want to send an appreciation message to all customers who came back and made a second order in our Shopify store.
Select Number of orders, Equal to and enter 2.


Click Apply and now your campaign will be sent only to customers who have purchased from you twice.
The filter is applied and now you can craft your message to show your customers you appreciate them. This is a great way to build customer loyalty.
You can decide whether you want to encourage customers to subscribe to one of your lists, or just give them a discount straight away.
For example, you can promote your VIP Discount club where subscribers will receive SMS promotions and updates with your latest deals.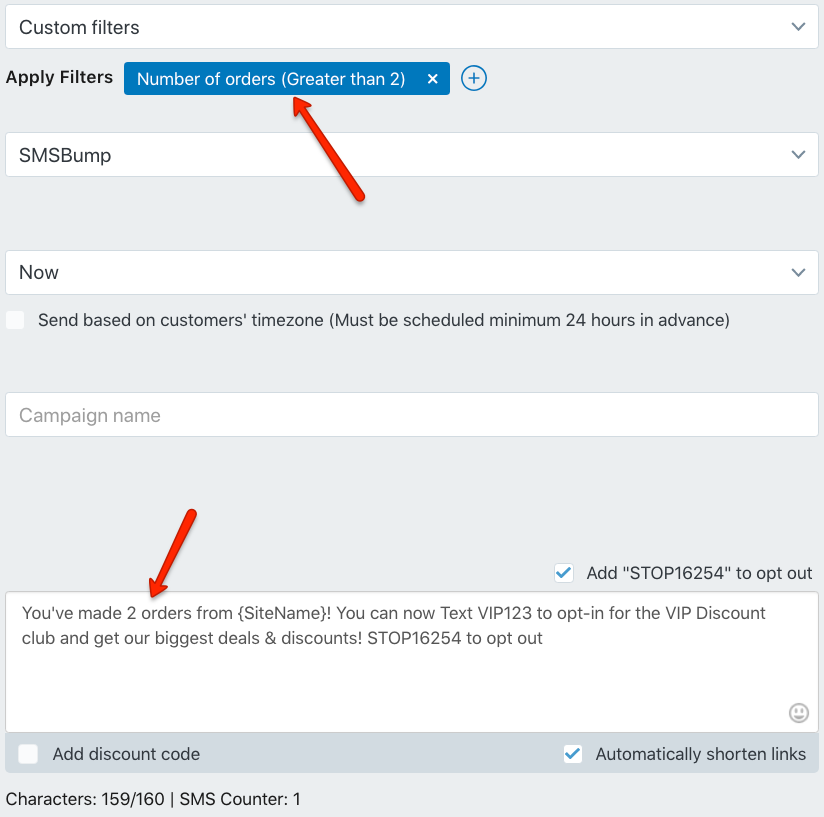 Example #2
Let's say you already have a number of customers that are important for you and you've given them a VIP tag.
You can use that tag and message all the customers in your Shopify store that have it.


Select the custom filter called Tagged with and enter VIP in the text field. (Learn about Shopify customer tags here)
Tailor your message so it's attractive to your customers and place the offer in a clear and simple way.
Paste the link to the products you want to promote and enable the link shortening.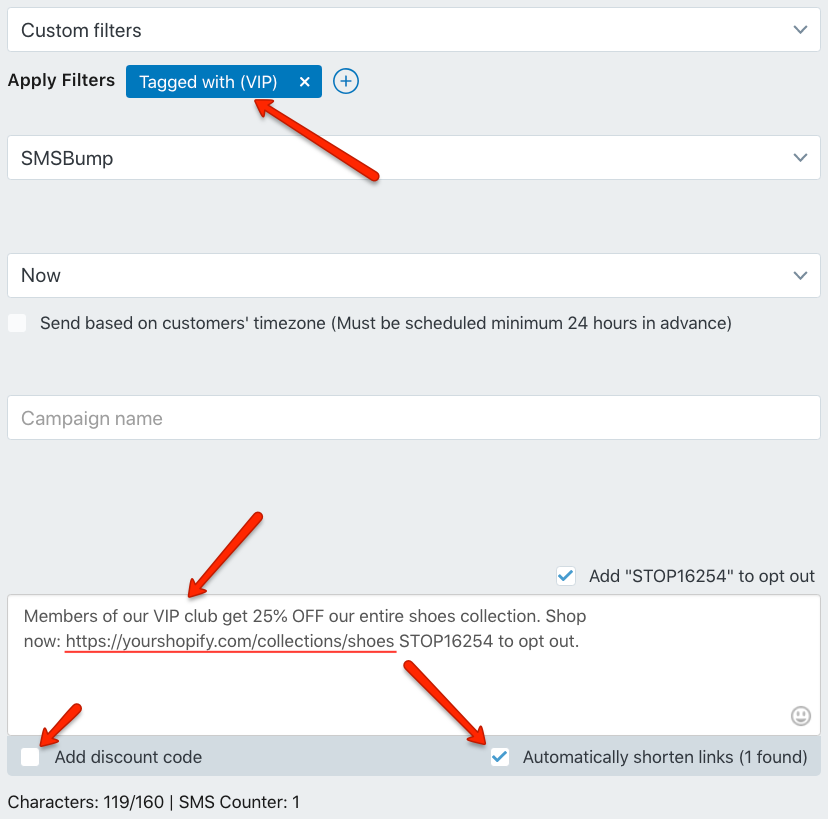 You don't even need to enter any discount codes in the message.
Simply embed them in the links, so customers will be able to shop and checkout with their discount already waiting for them.
Setup your Shopify discount code, click the Add discount code checkbox and select the code in the dropdown that will popup here: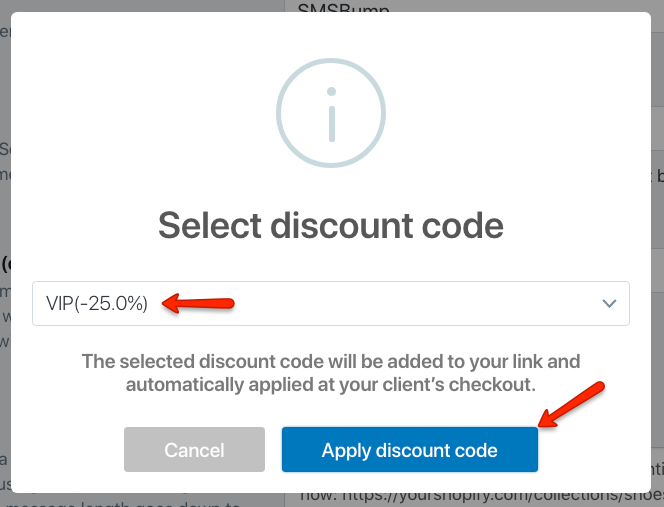 In the final campaign overview, you can check out how the message will look like.
As you can see, the link is shortened and it will lead your subscribers to the collection where they can start shopping with 25% off.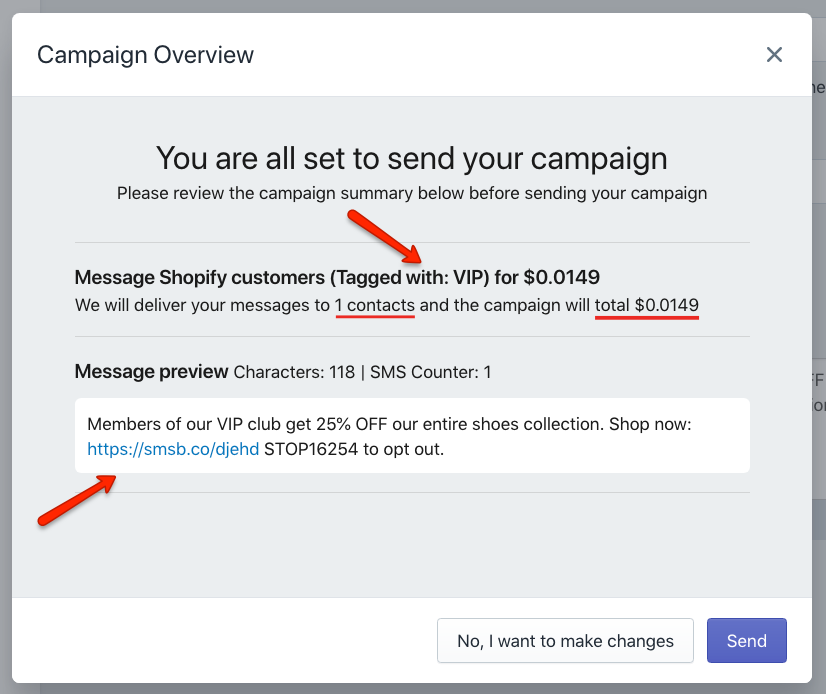 This is not all! We saved the best for last!
Combine Filters for Best Possible Audience Target
---
You can combine the filters and create the perfect audience for your SMS promotions!
With the latest upgrade, you can stack them up much faster and create a highly personalized campaign in seconds. Literally!


They can be time sensitive and targeted at customers who registered within a specific time period, spent a certain amount, accept marketing messages and are located in a specific location. The rest is up to your imagination and creative strategy skills.
Have fun with SMSBump and the improved Shopify Custom Filters!

Start growing today
Sign up today and join 90,000+ eCommerce businesses making it big with Yotpo SMSBump