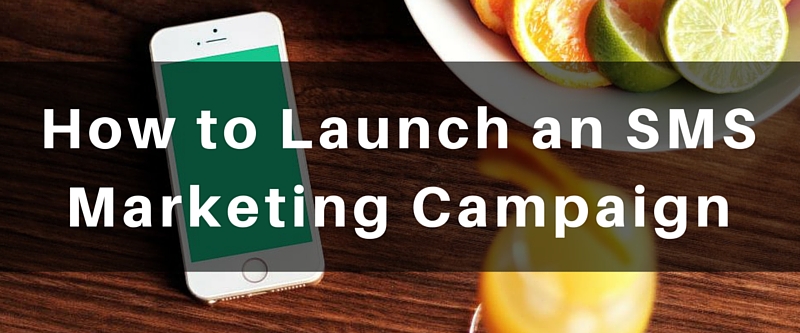 How to Create SMS Marketing Campaigns With SMSBump
If you are already familiar with how profitable SMS marketing campaigns can be, then you would probably want to know how to create and send one.
This blog post will walk you through the process of sending messages through SMSBump and explain all the steps you need to complete when creating your campaign.
To begin, sign up and enter the Dashboard.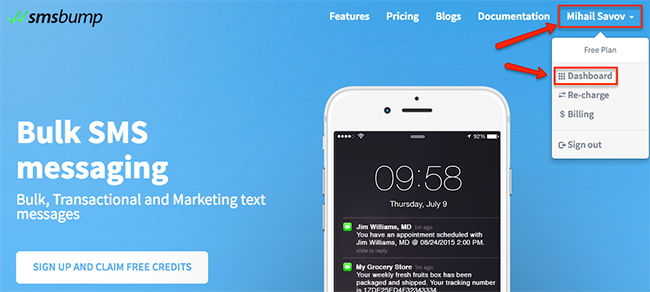 This will lead you to the user section of SMSBump.
You can access the Send messages section where you can configure all the details about the campaign.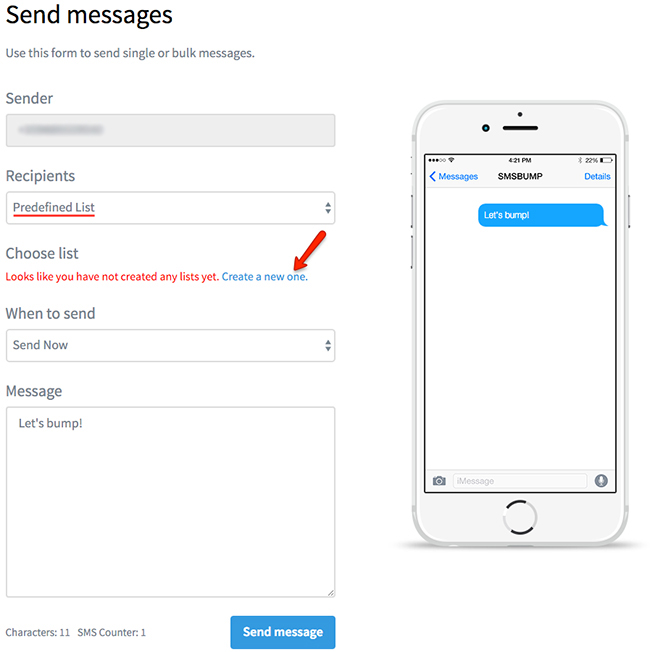 You can use the form to send a single message or bulk SMS to multiple recipients.

Sender
This is where you enter your phone number.

Recipients
This option lets you to choose between Specific Numbers or Predefined List.
By sticking with the first option (Specific Numbers), you will have to manually type in the numbers of your recipients. This is great for messaging a few numbers or if you have a CSV easy copy-paste file.
If you choose the second option (Predefined List), a notification will appear prompting you to create a new contacts list. To continue, click on Create a new one.
This will lead you to the page with your Contact lists. Since we presume this is the first time using the product and you don't have any lists, there will be a message inviting you to Create contact list.


By clicking on the green button, you will be redirected to a page where you will begin setting up your new Contact list.


Type a name for your Contact list and click on Create List to continue.


The next step will enable you to start adding contacts to the new list. Click on Import contacts to continue.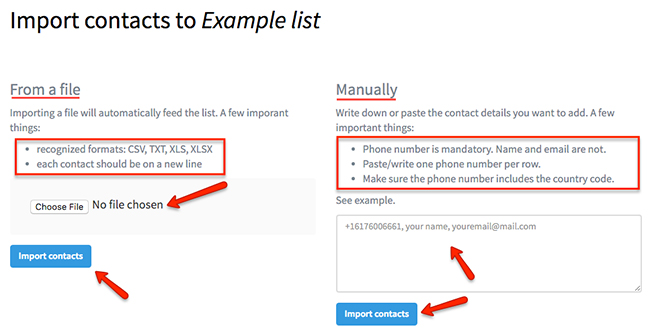 You have two options for importing contacts in your new list.

From a file
This option allows you to upload a file that will automatically fill the list with the contacts inside. The recognized formats are CSV, TXT, XLS, and XLSX. Remember that each contact in the file should be on a new line. To paraphrase this, make sure you press enter after you enter a new contact.
For example:
Create a normal TXT document and arrange the numbers on a separate row.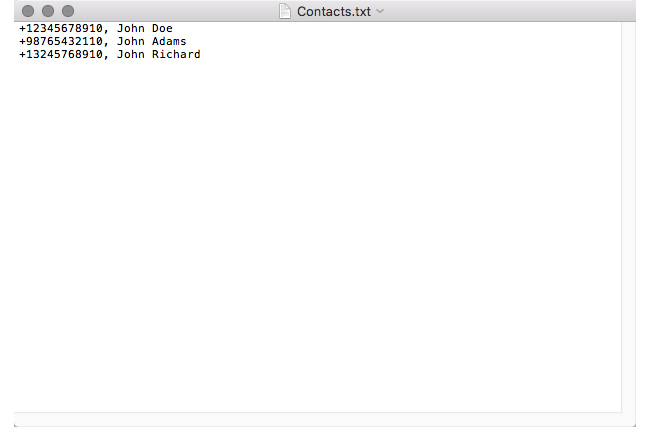 Find the file on your computer and upload it. Click on Import contacts.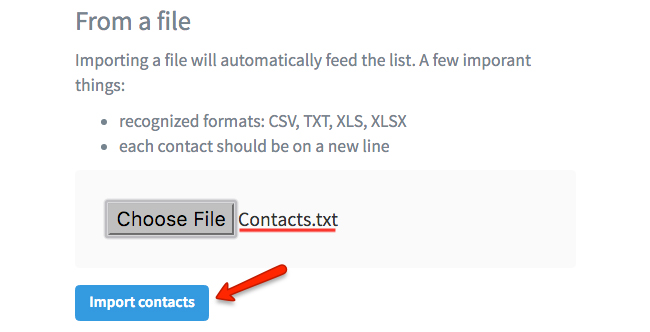 This will be the success message and the fields showing your contact details: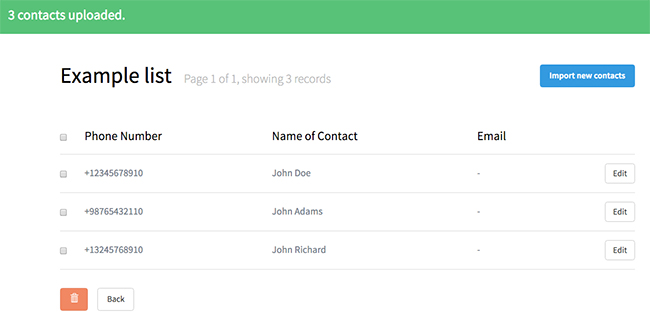 Important note: This is particularly helpful if you own an Ecommerce site on a platform like Shopify and Bigcommerce. You can export your users and import them to SMSBump as contacts for your marketing campaigns.

Manually
To import contacts manually, type or paste the details (phone number, name, email address) in the container above Import contacts. The important things to remember is that the phone number of your contacts is mandatory. Adding their name or email is not mandatory but you can do this as well in order to make things more organized.
For example: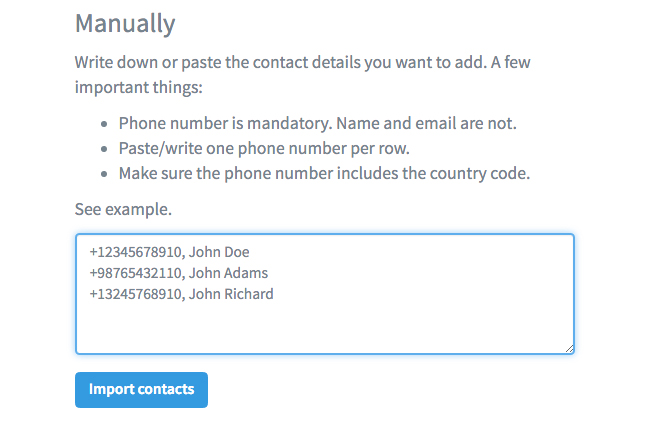 Type the numbers and names with a comma. Click on Import contacts.
This will be the success message and the fields showing your contact details: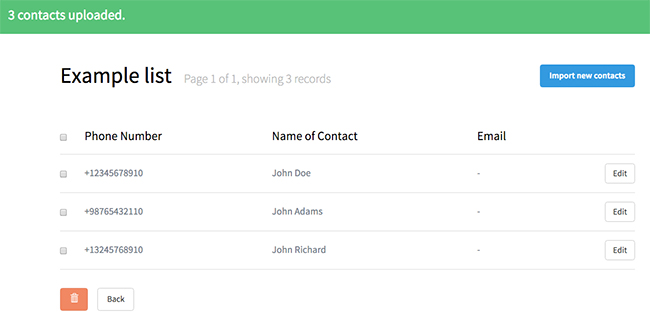 Write down one number per row.

The most significant thing to remember is that you must make sure the phone number includes the country code.

The number of contacts in your list will be indicated in brackets next to its name. Once your Contact list is ready, you can choose it from the form for sending messages.
Continuing, you will reach the field allowing you to choose when to send the campaign.

When to send
If you leave this field at Send Now, the message will be sent immediately after you click Send message.
If you choose the Send Later option, a drop down menu will appear, letting you choose the exact date and time you want your campaign to launch.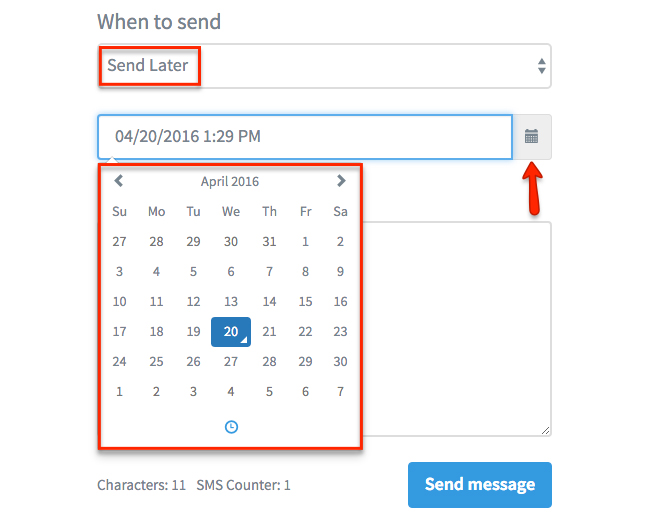 Message
The final and most vital part of your SMS campaign - the message.
Enter your message by keeping an eye on the Characters and SMS Counter below the text field.
Remember that a message that is brief will be much easier for your recipients to understand instantly. This tip and many more SMS marketing facts are available in this post.
Use the information in the post to decide what will be the most appropriate message to send for the marketing campaign you want to create.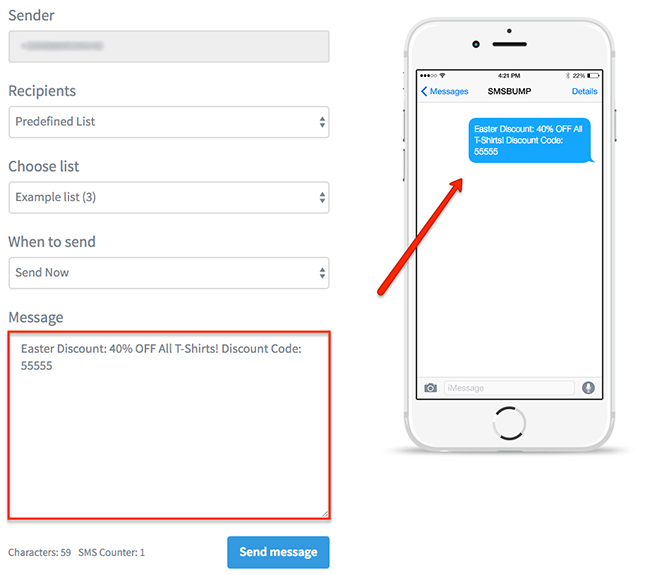 This is a simple example of what a marketing SMS might look like. Short, brief and to the point.

Start growing today
Sign up today and join 90,000+ eCommerce businesses making it big with Yotpo SMSBump