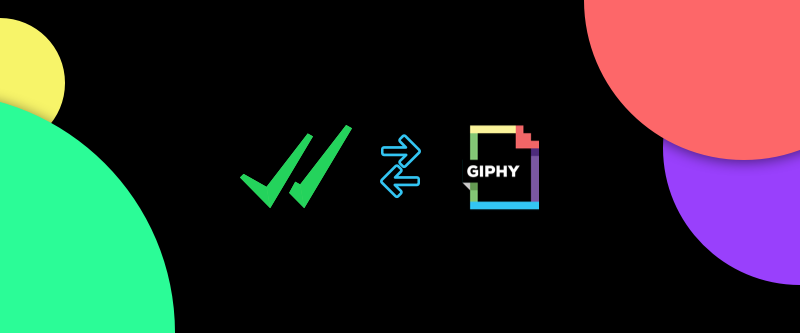 Giphy and SMSBump Combine to Improve Your SMS Marketing Engagement
SMSBump is happy to announce that Giphy is now part of your SMS marketing campaign & automation setup!
You can use the campaign or automation management sections to use Giphy's unlimited library of awesome GIFs and use them for your text messages.
In this post, you'll see how to use the new Giphy integration for SMSBump and search for the right Giphy GIFs to make your SMS marketing campaign or automation more engaging.

GIFs allow people to quickly express their emotional response when words just won't do. - IPG Media Lab

Add a GIF into an SMS marketing automation
To insert a GIF from Giphy in your abandoned cart SMS reminders or any other automation, follow these steps:
1. Go to Automations and click Edit or Create new automation.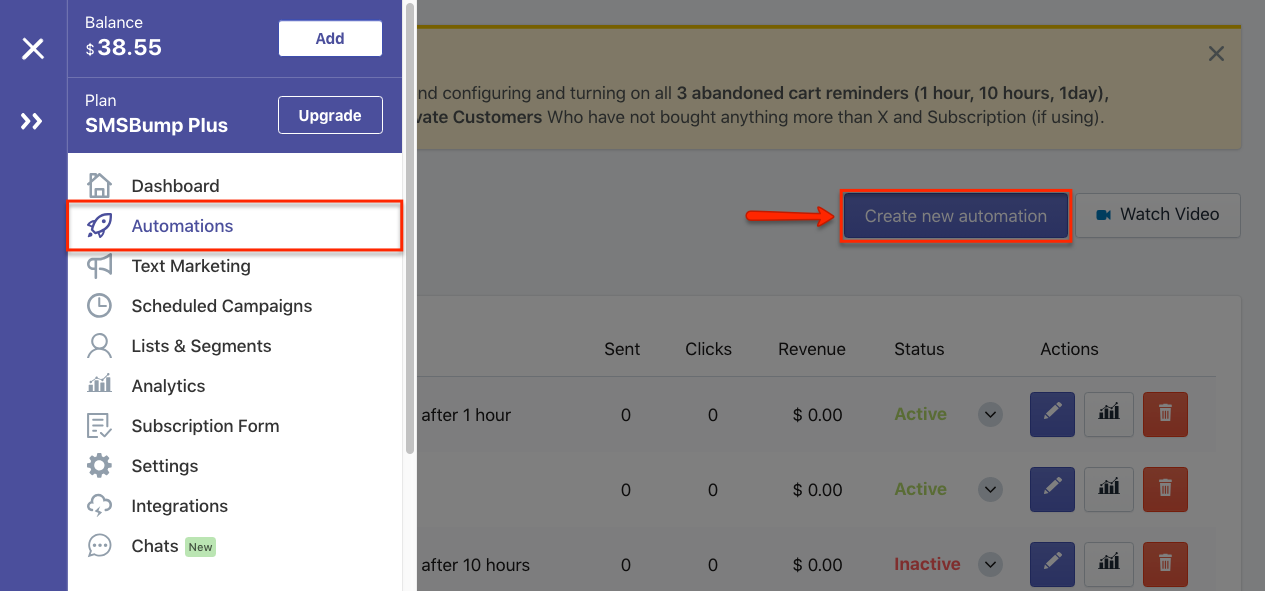 The marketing automation setup section in SMSBump lets you enable the option to add an image or GIF. This is where the Giphy integration will be available for you.
2. Click on the Select a GIF image from GIPHY link.


This will open the search field where you can either enter a phrase relevant to the GIF you want to insert or just scroll through them and select any GIF you like.
3. Enter a key phrase in the Search GIFs… field.
4. Click the GIF you want to add to your SMS marketing automation.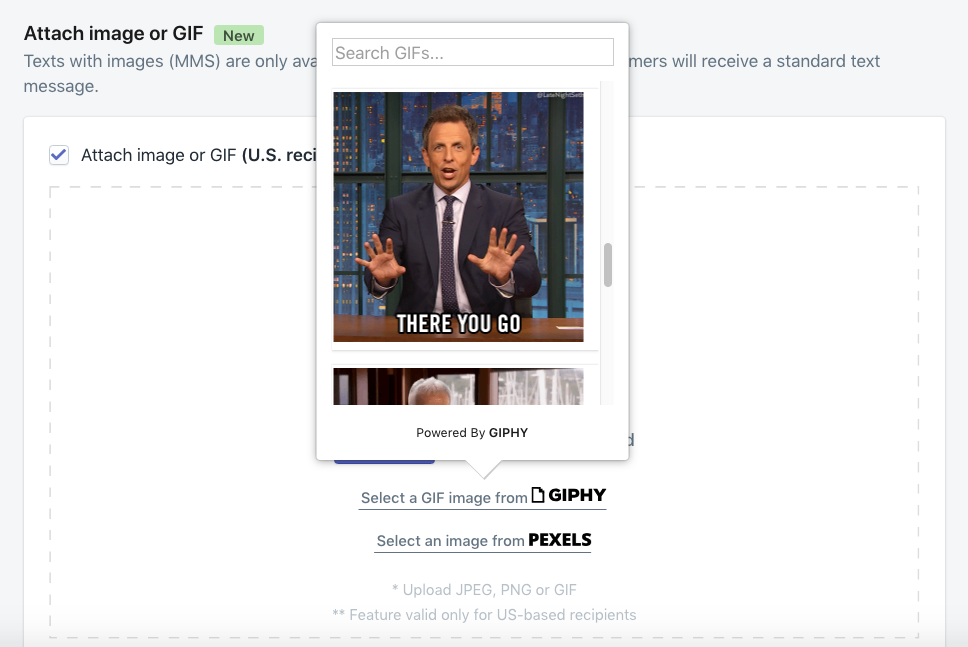 ​

Once the GIF is added to your text message, you can see it in the mobile preview to the right.

36% of millennials ages 18 to 34 who use "visual expressions" such as emojis, GIFs and stickers say that those images better communicate their thoughts - Time.com

In case you decide you want a different GIF after taking a look at the preview, you're able to remove it and find a new one.
5. Scroll up and click the dismiss button in the Image or GIF section.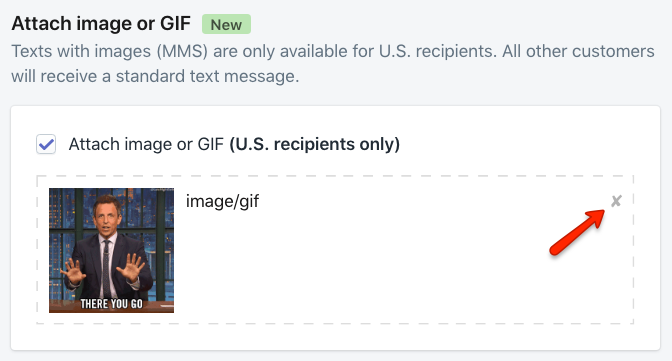 Ready with your GIF? If you want to continue saving your automation, scroll down to the text message field.
6. Configure your text message and make it relevant to the contents of the GIF.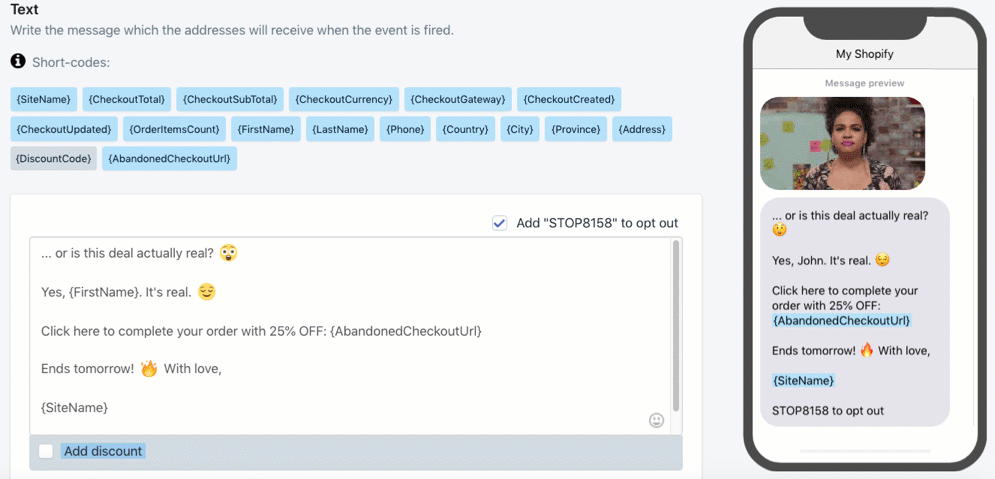 The visuals from the GIF and the text message should always complement each other to make your message as relevant and engaging as possible.
You're now ready to Save this abandoned cart automation!

Add a GIF into an SMS marketing campaign
Inserting a Giphy Gif into your text marketing campaigns is pretty much the same process as with your automations.


Enable the Attach image or GIF checkbox again and click on the GIPHY selection.
You'd be surprised how accurate Giphy can be when you start searching for GIFs.
No more searching the web and downloading GIFs to upload them again. Click, search, and enter.

Currently, GIF type of the format is shared more than JPEG or PNG format, according to the stats from W3tech. - Digital Doughnut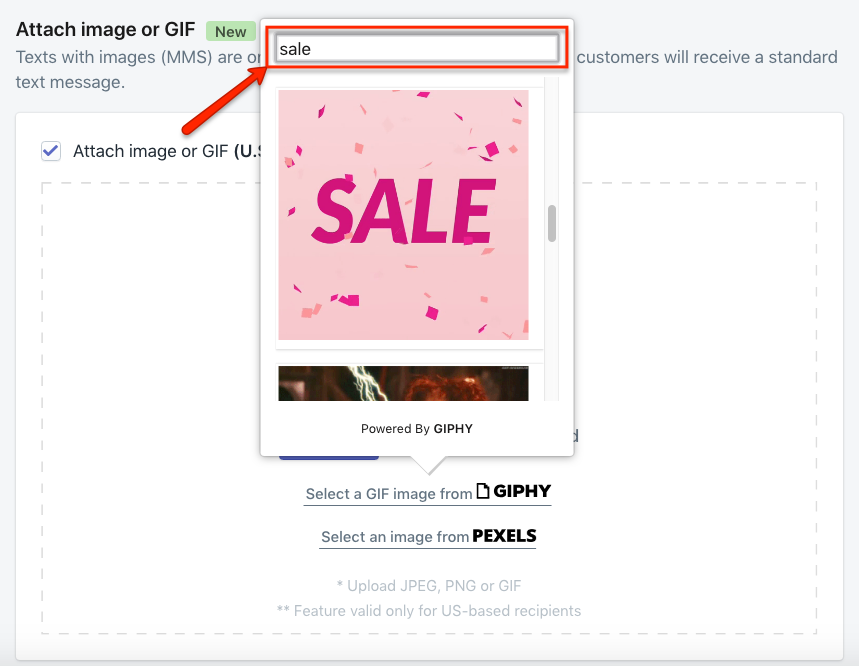 Found the perfect GIF?
Now you're ready to configure the right text message again and launch your SMS marketing campaign.
GIFs turn a normal text message into a much more engaging way of communication with your customers.
Take your brand voice, translate it into an animated GIF in your marketing text messages and watch as those click-through rates start going off the charts.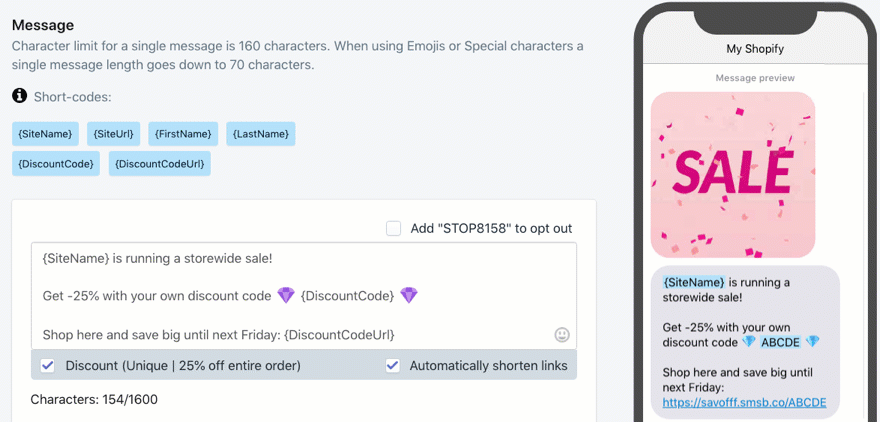 Get Started
The Giphy integration is now available in SMSBump for Shopify! Go to the app and start sending text messages that will engage customers, announce promotions and sell more products.
---


Start growing today
Sign up today and join 90,000+ eCommerce businesses making it big with Yotpo SMSBump